New Age Islam News Bureau
13 May 2014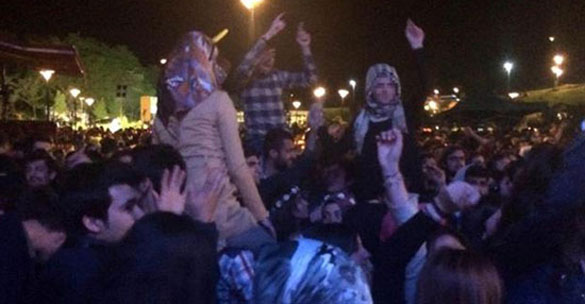 Performances from famous Turkish singers and bands rocked the crowd, mostly comprising university students, during the spring festival at Düzce University
-------------
• Should A Muslim Girl Ride Shoulders In A Concert? AKP MP Says 'No Way'
• Iranian Women Go Hijab-Free On Facebook
• Norwegian Commander First Woman to Head Peacekeeping Force
• Licensing Sought For Women Working From Home
• 36% Pakistanis Say Wife Earning More than Husband Causes Problems
• Egypt's Next First Lady? Meet Mrs. Sisi and Mrs. Sabbahi
• Five Held in Mansehra, Pakistan for Giving Two Sisters in Vani
• More Lebanese Women Are Choosing To Emigrate
• Afghanistan Seeks Advice from Victoria Police in Protecting Females
• Rights Violation against Women on the Rise in Afghanistan
• Don't Be Discouraged To Send Your Children to School: A Former President
• Dr Aafia Sues over Murder Conviction
• Rawalpindi: Pink Transport Service for Women Might Close Down Soon
Compiled by New Age Islam News Bureau
URL: https://newageislam.com/islam,-women-and-feminism/new-age-islam-news-bureau/nigerian-women-will-protest-'half-naked'-until-schoolgirls-released/d/77000
------------
Nigerian Women Will Protest 'Half Naked' Until Schoolgirls Released
13 May, 2014
Hundreds of men, women and schoolgirls marched in Lagos on Monday (May 12), demanding the release of more than 200 schoolgirls that continue to be held by Nigerian Islamist rebel group Boko Haram.
The protesters chanted 'Bring back our girls,' carried placards and sang 'We shall overcome' as they marched through the streets of the capital on what a group of women activists said would be a 14-day, multi-city protest culminating in a 'half-naked' protest at the site of the abductions, if nothing has happened by then.
"At the end of 14 days of the nationwide protest, if nothing is done, God forbid, all of us are going to protest half-naked inside Chibok, we are going there and we are ready to lay down our lives," said woman activist Joei Odumakin.
Other schoolgirls were out protesting in solidarity with the kidnapped girls, including Gambo Fredous who said all girls have a right to education.
"Without education, you can't go far in this world, and I don't know why some girls should be deprived of that," she said.
Militants fighting for an Islamist state stormed a secondary school in the northeastern village of Chibok on April 14 and seized 276 girls who were taking exams. Some managed to escape but around 200 remain missing.
The group has killed thousands since 2009 and destabilized parts of northeast Nigeria, the country with Africa's largest population and biggest economy.
http://english.alarabiya.net/en/webtv/reports/2014/05/13/Nigerian-women-will-protest-half-Naked-until-schoolgirls-released.html
------------
Should a Muslim girl ride shoulders in a concert? AKP MP says 'no way'
13 May, 2014
Images of female students wearing Islamic headscarves while riding shoulders during a university festival concert have annoyed a deputy from Turkey's ruling Justice and Development Party (AKP), who said he was "ashamed" of the scenes.
The spring festival at Düzce University, located in a small city in northwestern Turkey, just 200 kilometers from Istanbul, rocked with performances from famous Turkish singers and bands including Gökçe and Gece Yolcuları.
However, Selçuk Özdağ, an AKP deputy for the western city Manisa, slammed photos of the concert shared through the festival's official Facebook page.
"In Düzce University's spring festival yesterday, I was ashamed to see headscarf-wearing girls sitting on the shoulders of men. Ah, where are the values?" Özdağ tweeted on May 11.
"A human is where her mind is, not where her head is ... We need people who cover their minds with the scarf of light. There are many people with headscarves who are about to open up [abandon the scarf], while there are many others without headscarves who are about to cover up [don the scarf]," Özdağ added.
Özdağ's remarks triggered a heated debate on Turkish social media. While some users supported Özdağ, many others criticized him for being "discriminatory."
http://www.hurriyetdailynews.com/should-a-muslim-girl-ride-shoulders-in-a-concert-akp-mp-says-no-way.aspx?pageID=238&nID=66353&NewsCatID=341
------------
Iranian women go hijab-free on Facebook
13 May 2014
A Facebook campaign has encouraged Iranian women to let their hair flow free in snaps that have attracted more than 130,000 likes on the social media site.
Set up only 11 days ago, the campaign – named 'Stealthy Freedoms of Iranian Women' – has seen thousands of women taking off their veils in pictures posted to Facebook.
Iranian journalist Masih Alinejad launched the campaign, which has now sparked debate over the freedom of choice on whether a woman wears the Islamic head covering. The journalist herself has said she does not oppose the hijab, adding that her mother is veiled.
The page has become packed with hundreds of unveiled pictures taken in Iran's streets, parks and beaches. Iran's religious police are often deployed on the streets, cracking down on those who they deem to be wearing the hijab incorrectly or not wearing it at all.
Cool breeze
One woman, posting an unveiled picture showing her behind the wheel wrote: "My stealthy freedom while driving in the streets of Tehran … I like to feel the wind blowing on my face."
Another post showed a mother with her daughter. "The beautiful seaside in Kish [Island]," the younger woman wrote. "We strolled on the rocks and experienced the cool breeze flowing through our hair. Is this a big request?"
In comments to the Guardian, Alinejad said she has received a wave of messages and pictures since launching the campaign.
"I've hardly slept in the past three days because of the number of pictures and messages I've received," she said, adding that she does her best to verify that the pictures were sent from genuine accounts and asked people for permission before publishing them.
"I have no intention whatsoever to encourage people to defy the forced hijab or stand up against it," she said. "I just want to give voice to thousands and thousands of Iranian women who think they have no platform to have their say."
http://english.alarabiya.net/en/perspective/features/2014/05/13/Iran-women-go-hijab-free-on-Facebook.html
------------
Norwegian Commander First Woman to Head Peacekeeping Force
13 May, 2014
U.N. chief Ban Ki-moon named the first ever woman to serve as the head of a U.N. peacekeeping operation May 12, appointing a Norwegian commander to the U.N. mission in Cyprus.
Major General Kristin Lund of Norway, 56, will replace outgoing Major General Chao Liu of China in mid-August.
Lund, who has 34 years of experience at home and with UN forces, served as deputy commander of the Norwegian Army Forces Command from 2007 to 2009 and chief of staff of the Norwegian Home Guard. She was also involved in U.N. missions in Lebanon and the former Yugoslavia.
The U.N. peacekeeping mission for Cyprus, UNFICYP, was established in 1964 to prevent the recurrence of fighting between Greek and Turkish Cypriot communities.
A force of 930 soldiers and 66 police patrol the cease-fire lines and buffer zone, undertaking humanitarian activities and supporting the U.N. mission in general.
The island has been divided since 1974 when Turkish troops occupied its northern third in response to an Athens-engineered Greek Cypriot coup seeking union with Greece.
In 2004, Greek Cypriot voters rejected a U.N. blueprint to reunify the Mediterranean island at a referendum despite overwhelming acceptance by their Turkish counterparts.
Talks between the two sides under the auspices of the United Nations were largely fruitless and discontinued in 2012, only to resume again in February of this year.
http://www.hurriyetdailynews.com/norwegian-commander-appointed-to-un-cyprus-mission-first-woman-to-head-peacekeeping-force.aspx?pageID=238&nID=66389&NewsCatID=359
------------
Licensing sought for women working from home
May 13, 2014
Many unemployed Saudi female graduates have demanded that the work of Saudi women operating businesses from their homes be more organized and in accordance with international standards.
The Deputy Secretary General of Prince Sultan bin Abdul Aziz Fund for the Development of Women and a member of the Council of the Chamber of Commerce and Industry of the Eastern Province, Dr. Hana Al-Zuhair, said there is a confusion between women working from home and those working outside the home. She indicated that the phenomenon of women working from home is universal and takes place in most developed countries of the world according to a specific licensed system.
She confirmed that working from home is one of the best businesses that can be carried out by women and suited to their nature.
Al-Zuhair stressed that the existence of a license protects women and the community, noting that a lot of women are unaware of the dangers of working from home. She called upon the Labor Ministry to coordinate with the relevant ministries to organize the work of the women from their homes.
She noted that women can make and sell food, clothing, and accessories at home. This can spare women from having to pay rent and allows them to save at least 200 thousand riyals per year, as well as increased profits. But in order for this to happen, their work needs to be carefully structured. Control teams should access the project site for evaluation, monitoring and follow-up of the safety requirements, she added.
Nora Mehdi Al-Rafii, a businesswoman, said that the World Organization for Science and Technology confirmed that a large proportion of women in Arab societies are employed in the informal and non-formal sector, which includes mostly domestic production, such as sewing, clothing, food products, and marketing studies. Studies confirm that 80 percent of these women belong to the middle-income class and have a high rate of illiteracy, she said.
She added that the concept of women working from their homes in a structured manner emerged in the west. She said the work of the women from their homes needs guidance, training and awareness courses, in order to provide female students with information on how to protect their businesses and rights.
Badria Al-Sheheri, a researcher, said that the concept of working from home in the field of marketing studies is one of the best fields for Saudi women.
Market researchers can earn between SR1,500 to SR3,000 every two months, thus helping to support their families with very little effort.
The director of the Office of the Middle East Marketing Studies in Asir, Baha Abdul Majeed Kamel, said that working in marketing studies fits the nature of the Saudi society, as women can work from home over the phone or by visiting places for women to conduct this research.
With proper support, Saudi women can break the cycle of unemployment, he said, indicating that girls are trained in the art of dialogue and methods of extracting information, as well as understanding how to deal with others, listening to the customer, and delivering the information correctly.
The Secretary General of the Women's South Charity, Mona Al-Break, said that women could carry out any business from their homes and earn a living. She said that there are many productive family programs that are supported by the Abdul Latif Jameel initiatives, adding that many Saudi women are already working from their homes in a variety of areas and selling their products in the local markets.
http://www.arabnews.com/news/569986
------------
36% Pakistanis Say Wife Earning More than Husband Causes Problems
May 13, 2014
A latest survey stated that majority of the Pakistanis are of the opinion that if a wife is earning more than her husband, then it would certainly create problems in their marital life.
According to a Gilani Research Foundation Survey carried out by GallupPakistan, thirty six percent Pakistanis believe there will be problems if a woman earns more money than her husband, while thirty two percent disagreed to the statement.
A nationally representative sample of adult men and women, from across the four provinces was asked "Do you agree, disagree or neither agree nor disagree with the following statement: If a woman earns more money than her husband, it's almost certain to cause problems." Responding to this, thirty six percent said they agreed with the statement, twenty seven percent said they neither agreed nor disagreed and thirty two percent said they disagreed. However, five percent did not respond. A similar question was asked in Netherlands where only five percent said it would be a problem if a woman earned more money than her husband while ten percent neither agreed nor disagreed with the statement. Seventy six percent disagreed and nine percent did not respond. In China, twenty two percent agreed with the statement, twenty four percent neither agreed nor disagreed and forty five percent disagreed with the idea and nine percent did not respond. When asked in the United States, twelve percent of the respondents agreed that there would be a problem if a woman earns more money, thirty one percent neither agreed nor disagreed and fifty six percent disagreed with the idea and one percent did not respond.
http://www.pakistantoday.com.pk/2014/05/13/city/lahore/36-pakistanis-say-wife-earning-more-than-husband-causes-problems/
-----------
Egypt's next first lady? Meet Mrs. Sisi and Mrs. Sabbahi
13 May, 2014
Who will be Egypt's next first lady? Will she be former army chief Abdel-Fattah al-Sisi's wife Entissar Amer or leftist candidate Hamdeen Sabbahi's wife Siham Najem? They have not been in the public spotlight much, so here is a look into the lives of the two women married to the country's most talked-about men.
Amer is Sisi's maternal cousin. During a recent TV interview, he said he had loved her since high school, and married her after graduating in 1977. Amer has dedicated her life to raising their children Mustafa, Mahmoud, Hassan and Aya.
Analysts say her nature suggests she will not intervene in political life if Sisi is elected president, much like Gamal Abdel Nasser's wife Tahia Kathem, who also focused on raising her children.
Analysts say Amer does not like media appearances unless they are necessary, and believes that women's natural role is behind her husband and children. Although she had the chance to assume several posts or respectable jobs, she always refused, preferring to look after her family.
Refusing the 'first lady' title
Najem, however, has a history of political and legal activism. She attained a degree in commerce from Cairo University in 1977. She is secretary general of the Arab Network for Literacy and Adult Education, and is the only representative of the Arab world in the international committee of UNESCO's Education for All initiative.
Najem, who is a prominent member of civil society organizations, met Sabahi at a protest in 1972, married him in 1979, and has two children with him.
She says she refuses the title of first lady because "every woman in Egypt deserves such a title, and a woman is only preferred over another (thanks to) patriotic work, which must serve the country and not one's interests. This doesn't mean that a husband's authority should alter the wife's life. The woman must continue to work in the same field she worked in before her husband became president."
If Sabahi is elected, she added, "it'll be my role to continue my work and keep away from the media as much as possible. I'll refuse that any new aura be established around me."
http://english.alarabiya.net/en/perspective/features/2014/05/12/Who-will-be-Egypt-s-next-first-lady-.html
------------
Five Held in Mansehra, Pakistan for Giving Two Sisters in Vani
May 13, 2014
MANSEHRA: Police arrested five persons in Pulash area for trying to give two sisters in vani to settle a feud between two families.
The arrested persons included jirga members and father of the girls. "We have recovered two sisters, who were being given to the rival family in vani to settle an enmity," DSP Salman Khan told journalists.
He said that the arrested people attended a jirga that issued a decree about handing over the girls to the rival party. He said that a joint team of Mansehra and Oghi police raided at a house in Pulrah and recovered Gulnaz and her younger sister Saeeda, who were being handed over to rival party. Mr Khan said that a woman had married Mohammad Arif of her free without the consent of her parents. However, they were separated on the pressure of their families after some time of their marriage, he added.
The official said that a jirga was summoned to settle the feud and the jirga members decided that the family of Mohammad Arif would pay Rs350,000 to the family of his former wife as compensation. The jirga members also demanded two girls of Mr Arif's family in vani to settle the dispute, he added. Mr Khan said that though local prayer leader Maulana Israr, who led the jirga, opposed handing over of the two girls to rival party and left the jirga.
The official said that despite Maulana Israr resistance the other members of jirga decided to hand over the girls to rival family. "We raided when nikah was being solemnised and recovered the two girls and arrested five persons," he said.
The official said that the girls would be sent to shelter house in Abbottabad.
http://www.dawn.com/news/1105748/five-held-in-mansehra-for-giving-two-sisters-in-vani
------------
More Lebanese women are choosing to emigrate
13 May, 2014
The traditional excuses that parents have clung to can no longer deter young Lebanese women from emigrating to another country alone and without having acquaintances in that country, because the situation in Lebanon has become very difficult. Today, Lebanese women are like the men: looking to make a living and secure their future, away from the successive political and security crises in their country.
The excuse about "maintaining the reputation" has fallen. A newly graduated Lebanese woman faces great difficulties finding a job in Lebanon that provides her with a minimum salary. The excuse about the risks in a foreign country has also fallen, at a time when females face difficult challenges in a country where employment discrimination still exists between males and females.
If what people say annoys some parents who are trying to prevent their daughters from traveling, the difficult reality has made what people say not matter much. A Lebanese woman finds herself facing two choices: either to stay in Lebanon surrounded by her parents but often without work, or to take the harder choice and emigrate to a place that may appreciate her talents and capabilities and where she could gain the social and economic status she aspires to.
Unlike the traditional reasons for emigrating, such as following her husband, Lebanese women are emigrating to start their careers. Thus they leave Lebanon alone, in search of an alternative homeland that allows them to achieve their ambitions without worrying about social or employment discrimination.
Those who emigrated from Lebanon used to be mostly young men, but a few years ago young women joined the process in a big way. Looking at the figures released by the Central Statistics Administration shows that between 2004 and 2009, emigrants were 76.3% male versus 23.7% female. But the years-long economic crisis changed that ratio. According to a study published in 2013 by the Migration Policy Center, Lebanese emigrants are now 53.6% male versus 46.4% female. These figures clearly show the changes in the status of women in society. They are now looking at building a successful career away from the ongoing political, security and livelihood crises.
Social researcher Dalal Hammoud said that what is happening today demographically in Lebanon is very dangerous in terms of the country losing talented people, because the proportion of women with university degrees who are emigrating is approaching that of men with university degrees. Men have been emigrating to make a living and to help their families, and now women are doing the same. This means that Lebanon is gradually losing youth, both male and female.
Hammoud asserted that traditional barriers are no longer stopping Lebanese women from emigrating, such as the effect on their reputations or that they would remain single. Lebanese women also want to succeed professionally, even if that meant marrying later in life or not at all. Hammoud said that a young woman may find herself marrying a foreigner and settling abroad. That phenomenon has become more common.
Is life abroad like a dream?
Lebanon's tough living situation has made living abroad seem like a pleasant dream for young people. When they get an immigration visa they celebrate as if they won a lottery ticket. But is the reality really so rosy? The situation varies depending on what country the young woman emigrates to and the extent of openness and respect in that country for the rights of women — whether a citizen or an immigrant — in addition to the salary, the cost of living, and the ease of communicating with others to build social relationships, whether professionally or personally.
Dalia Hawat, for example, traveled to Canada three years ago. She believes that life is acceptable in terms of livelihood, stability and in terms of staying away from the bustle of politics and security problems. Also, employee rights are fully protected, which grant her employment security. In Canada, she doesn't get arbitrarily fired, her salary gets paid on time and managers don't evade their responsibilities.
But Dalia confirms that she feels lonely living in a strange land and that she lacks the social life she had in Lebanon. Her life is now about working and supporting her family as much as possible through remittances. Although she's been abroad for three years, Dalia hasn't been able to fully integrate into Canadian society. Canadians have different habits and they communicate with each differently. So she's trying to make Arab friends, with whom she shares customs and traditions, to ease her loneliness. Dalia doesn't deny that the idea of ​​returning to Lebanon haunts her daily, but she is working on saving some money before returning to Lebanon and starting her ​​own business. She also wants to get Canadian citizenship in the next few months to ensure her future and that of her family.
The geographical and social distance suffered by Dalia didn't get mentioned by Karen Badran when she discussed her emigration to Dubai, where she works in public relations. She said UAE and Lebanese societies have a lot in common, especially since there are many Lebanese in Dubai, which makes it easier to build friendships and even professional relationships.
Yet Karen drew attention to other kinds of challenges, the first being the high cost of living. Although she makes three times what she could have been making in Lebanon, most of her salary is spent on rent. Karen said that she can't send more than $500 a month to her parents because she wants to increase her savings. She tries to reduce her daily spending and refuted the popular notion that "whoever travels to the Gulf accumulates wealth," which she hears when she's visiting Lebanon. She said, "The quality of life certainly improves. But not the ability to save money." Karen is not about to return to Lebanon, at least not now, because in Lebanon the salaries are very low and below what university graduates should make. But there are a number of job opportunities in Dubai and there's heavy competition for skills.
http://www.al-monitor.com/pulse/culture/2014/05/lebanon-women-increase-emigration.html#ixzz31dQJSAi6
------------
Afghanistan Seeks Advice from Victoria Police in Protecting Females
Sydney Morning Herald
May 13, 2014
As police in Afghanistan start to look to life beyond the withdrawal of the international military force from their country, Afghan leaders this week met with members of Victoria Police to discuss the challenges they faced in protecting women and girls.
Najibullah Samsour, the chief of police of a part of Kabul known as District 10, said the goal was to win the support of the Australian government in combating an expected increase in violence against women after the forces withdraw.
''I want to give the Australian people and government an idea of the problems of the women – as well as the challenges of the Afghan police force,'' he said through an interpreter.
Mr Samsour said more stringent laws were being introduced to tackle violence, but his country would need the support and advice of the international community.
Advertisement
Zulaikha Rafiq, the director of Afghan Women's Educational Centre, indicated that change had begun. The centre runs more than 20 projects in 10 provinces focusing on empowering women.
She said the organisation had two focuses: education and economic strength. Ms Rafiq said they were trying to increase the literacy rate through ''informal education for women and young girls''.
The centre works at a grassroots level with individual women and uses what it learns there to help government and police develop and improve policy.
Victoria Police Assistant Commissioner Stephen Fontana said the force was committed to sharing its knowledge in helping change attitudes and behaviours.
''There are some big challenges ahead,'' he said.
The Afghan leaders are speaking at Oxfam-hosted events, called Afghanistan at a Crossroads, in Collins Street on May 16 and in Dandenong on May 17.
http://www.smh.com.au/national/afghanistan-seeks-advice-from-victoria-police-in-protecting-females-after-international-withdrawal-20140513-zrbhm.html#ixzz31dM0jw8N
------------
Rights violation against women on the rise in Afghanistan
13 May, 2014
Violence against women is on the rise here in Afghanistan. The forms of the violence differ. Some women are being sexually abused in their work-place and others are tortured by their husbands. Over the past 12 months alone, over 500 such cases have been documented by the United Nations in this country. Most of the victims are still demanding justice. These incidents mostly happened in northern parts of Afghanistan. But it does not mean women in other regions are safe. The entire country is a dangerous place for women. But most women do not go to the police to complain against the culprits because of the traditional society that they are living in. Afghanistan's Independent Human Rights Commission says that violence against women increased by 28 percent in 2013 alone compared to 2012. It is bad news, especially for women rights activists. The situation also seems promising. Right after the fall of the Taliban, Afghan women once again were given freedom of education. There are now millions of girls and women who go to school and college. These women were deprived of education when the Taliban were in power. Afghanistan has a very conservative society. Most families especially in remote areas do not let their daughters go to school or work because they believe it is against their pride. Others also fear sexual harassment. So it is too hard to expect a big change in the lives of Afghan women if these problems persist.
http://www.presstv.ir/detail/2014/05/12/362404/rights-violation-against-women-on-the-rise-in-afghanistan/
------------
Don't Be Discouraged To Send Your Children to School: A Former President
May 13, 2014
Former president says people should not be discouraged to send their female children to school.
A former President, Olusegun Obasanjo, on Monday condemned the abduction of more than 250 school girls from Government Secondary School, Chibok, Borno on April 15.
Mr. Obasanjo expressed his views during the signing of a Memorandum of Understanding, MoU, with the Jigawa Government to adopt a junior secondary school and a primary school in Kudai, Dutse.
He appealed to the abductors to release them without any condition because the girls were innocent and should not be made to suffer unreasonably.
"Whatever the grievances, objectives and anger of this group of people who are behind this abduction, they should not have acted on these innocent girls. We condemn their action and also appeal to them to release these girls unconditionally because they have important contributions for the future of this country," Mr. Obasanjo said.
The former president sympathised with the parents of the girls but added that people should not be discouraged to send their female children to school.
He said Nigerians should see what happened as a stumble and not a fall and be challenged to give their girls good education.
Mr. Obasanjo prayed and expressed the hope that the girls would be found and delivered to their parents.
He said that his visit to the state was to fulfill a promise he made during Jigawa Economic Summit to adopt a school and transform it to a model on the African continent.
Mr. Obasanjo said that the gesture was to complement the efforts of the state governor, Sule Lamido, in promoting girl-child education in the state.
Mr. Lamido thanked Mr. Obasanjo for his support and cooperation for the development of the state.
http://www.dailytimes.com.ng/article/missing-girls-dont-be-discouraged-send-your-children-school-obasanjo-begs-northern-mothers
------------
Dr Aafia Sues over Murder Conviction
May 13, 2014
New York- Dr Aafia Siddiqui, who was found guilty of trying to kill Americans while being detained in Afghanistan slapped the feds with a lawsuit saying her 2010 conviction should be overturned because she was provided with lawyers she never authorized.
Aafia Siddiqui told the Manhattan federal court suit that she wrongfully convicted without a fair trial in violation of her civil rights. She claims that she was forced to accept a team of defence lawyers that racked up a tab of at least $2 million and was paid for by the Pakistani government.
The lawyers "simply had no legal authority to take any action on her behalf," the suit says. Siddiqui, 42, was convicted of two counts of attempted murder, though the crime was not found by the jury to be premeditated. She was also found guilty of armed assault, using and carrying a firearm, and assault of US officers. Siddiqui was sentenced to 86 years in prison and the conviction was upheld by an appellate panel in 2012.
The Pakistani neuroscientist, who the feds claimed was an al Qaeda associate, was arrested in 2008 carrying handwritten plans for a radioactive "dirty bomb" along with a list of New York landmarks.
Federal prosecutors said that when FBI agents went to question her, she picked up an unattended rifle and shot at them. They claim Siddiqui was wounded by return fire. In court, Siddiqui veiled her face with a white scarf and often sat slumped in her chair. She openly sparred with the judge and her own lawyers, insisted she could bring peace to the Middle East. Despite claims that she was an al Qaeda sympathizer, Siddiqui was never charged with terrorism.
http://www.nation.com.pk/national/13-May-2014/dr-aafia-sues-over-murder-conviction
------------
Rawalpindi: Pink Transport Service for women might close down soon
May 13, 2014
Rawalpindi- The wagon service for women will be closed in the twin cities because multinational companies are not showing their interest in this service.
Pink Transport Service for women was started three months before without the help of the government. The company did not make any other new contract due to which it is expected that the service will be closed from May 17.
http://www.nation.com.pk/national/13-May-2014/rawalpindi-pink-transport-service-might-close-down-soon
------------
URL: https://newageislam.com/islam,-women-and-feminism/new-age-islam-news-bureau/nigerian-women-will-protest-'half-naked'-until-schoolgirls-released/d/77000