New Age Islam News Bureau
2 Oct 2012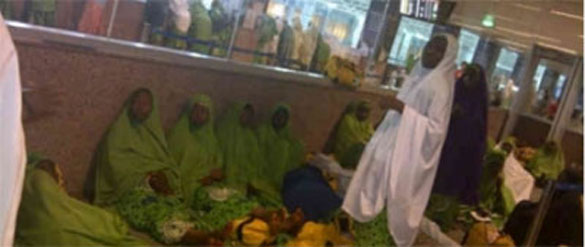 • Peshawar Court Orders Daily Religious Lessons for Brothel Owner
• Radical Nigeria Group Threatens Wives of Leaders
• Bangladesh: Six Girls Allegedly Take Their Lives in Three Districts
• More Women in Pakistan Now Confronting Cheating Spouses
• Famous French Singer, Melanie, Embraces Islam
• Panel in Pakistan Proposes Hindu Marriage Bill
• Controversial Ukrainian Feminist Organization Topless Tactics and Muslim Women in France
• Brazil Muslim Women Fear Attacks on All Sides
• Another 44 Nigerian Muslim Women Deported by Saudia Arabia
• Constitution Expert Blasts Islamist's Stance on Marriage of Young Girls
• Egyptian women fear regression on rights
• UAE Hospital Rolls Out Breast Cancer Awareness Drive
• Rimsha Case: Witnesses Who Testified Against Cleric Backtrack
• Global Furniture Company Apologises Removal of Women from Saudi Arabia Catalogue
Compiled by New Age Islam News Bureau
Photo: Nigerian Women Stopped From Reaching Mecca: 'We're Not Living in the Prophet's Times
URL: https://www.newageislam.com/islam,-women-and-feminism/new-age-islam-news-bureau/nigerian-women-stopped-from-reaching-mecca--'we're-not-living-in-the-prophet's-times!'/d/8851
-------------
Nigerian women stopped from reaching Mecca: 'We're not living in the Prophet's times!'
01/10/2012
Saudi Arabia has expelled over a thousand Nigerian women who had come on a religious pilgrimage to Mecca because they were not accompanied by male guardians. Our Observer, a Nigerian blogger, denounces this as an outdated vision of Islam.
After detaining the pilgrims for five days at Jeddah airport, Saudi authorities started sending them back to Nigeria. According to Saudi law, women need to be accompanied by their legal guardian - which can be a father, brother, or husband – in order to travel.
However, according to the Nigerian authorities, the two countries had struck a deal allowing groups of women to enter Saudi Arabia so long as representatives of the Nigerian Pilgrimage Commission accompanied them. This diplomatic spat led Nigeria to temporarily suspend flights to Saudi Arabia.
About 3 million Muslims travelled from all over the world to Mecca for haj last year. This pilgrimage is one of the five pillars of Islam; all Muslims who are able to do so must travel to Mecca at least once in their lives. About half of Nigeria's population of 160 million people is Muslim, but most practice a form of Islam that is less restrictive than in Saudi Arabia, where women wear veils and are prohibited from driving.
http://observers.france24.com/content/20121001-nigerian-women-stopped-going-mecca-prophet-male-legal-guardians-saudi-arabia-haj-pilgrimage-airport-photo
-------------
Peshawar Court Orders Daily Religious Lessons for Brothel Owner
By Umer Farooq
October 2, 2012
PESHAWAR: The Peshawar High Court (PHC) has accepted the bail application of a brothel owner on the condition that she will spend at least one hour daily at a mosque.
According to an FIR registered on September 6, police received information about a house situated in Hayatabad Phase 4, being run as a brothel.
Police raided the house and arrested Rabia, Sumaira, Khan Sultana, Rubi and the owner of the brothel, Neelam.
All the accused filed an application seeking bail from a lower court on September 14, however, Additional District and Sessions Judge Asad Hameed Bangash, rejected the bail request.
On Monday, during a hearing of their bail request, PHC Chief Justice Dost Muhammad Khan accepted the plea of four women and fined them Rs50,000 with two reliable sureties. Neelam's bail was approved conditionally.
The court ordered that Neelam must visit the Imam of Zarghuni Mosque in Hayatabad everyday for one month to repent for her sins.
The court had earlier sent police to another alleged brothel run by Aslam and his wife Shabana upon Neelam's information.
However, Aslam's daughter denied the charges by saying Neelam was a domestic helper at their house and had escaped after robbing them. The PHC had accepted the bail request for Aslam and Shabana.
http://tribune.com.pk/story/445562/court-orders-daily-religious-lessons-for-brothel-owner/
-------------
Radical Nigeria group threatens wives of leaders
October 01, 2012
By Jon Gambrell
LAGOS, Nigeria: The leader of a radical Islamist group has threatened the wives of Nigerian security agents and government officials in a new Internet video, while denying his group is in any peace talks to end the violence that has killed hundreds in the country's north.
In a video uploaded Sunday to YouTube, Abubakar Shekau also denied claims that the spokesman for the group known as Boko Haram had been killed by Nigeria's military. He said the group would continue to "follow our religion" and carry out attacks in Nigeria's predominantly Muslim north.
The Associated Press could not immediately authenticate the video Monday, but it appeared to be from the group and followed the pattern of other videos previously released by the group. In it, Shekau appears relaxed, wearing a checkered red-and-white Keffiyeh scarf. A Kalashnikov assault rifle leans against the wall behind him.
Speaking in the Hausa language of Nigeria's north, Shekau said that the nation's military and security agencies have seized 10 women who are wives of Boko Haram members. He claimed the women had been raped by the captors, though he did not elaborate on how he knew that. Those arrested by police in Nigeria often face torture, sexual abuse and the potential of being killed "extrajudicially," human rights groups have repeatedly charged.
At one point in the video, Shekau laughed and said: "You should wait and see what's going to happen to your own wives."
Shekau repeatedly denied that the group is in peace talks with Nigeria's weak central government and promised more attacks. Officials representing Nigerian President Goodluck Jonathan have made that claim several times in recent weeks, but the only attempt at talks through intermediaries failed several months ago when details leaked out in local newspaper reports.
The group leader also claimed that the group's spokesman, known by the nom de guerre Abul Qaqa, was still alive. Shekau did not give any details on that claim, which comes after soldiers in Nigeria's north said they killed the spokesman and another of the group's operational leaders outside of the city of Kano.
Boko Haram, whose name means "Western education is sacrilege" in Hausa, has been blamed for killing more than 690 people this year alone, according to an AP count. The group wants the federal government to release its imprisoned members and implement strict Shariah law across Nigeria, which is largely divided into a Christian south and a Muslim north.
The timing of the video's release coincides with the celebration Monday of Nigeria's Independence Day. Speaking earlier on state-run broadcasters, President Jonathan told the nation that Nigeria had "refused to be broken by sectarian crises."
"Our security agencies are constantly being strengthened and repositioned for greater efficiency," Jonathan said. However, Nigeria's military and police remain almost daily targets of the group's guerrilla insurgency.
On Monday in Maiduguri, the spiritual home of Boko Haram, a bomb targeting a military patrol vehicle exploded in the northeastern city. A witness later told the AP he saw one dead soldier and several others injured in the blast. A military spokesman confirmed the attack happened, but declined to immediately provide details about it.
Meanwhile, another bomb exploded at mobile phone tower in Maiduguri. Boko Haram recently claimed responsibility for the destruction of more than 30 of the phone towers across Nigeria's north, which has created communications chaos in a nation that relies on mobile phones.
http://www.dailystar.com.lb/News/International/2012/Oct-01/189808-radical-nigeria-sect-threatens-wives-of-leaders.ashx#ixzz287xbtyaN
-------------
Bangladesh: Six girls allegedly take their lives in three districts
October 1, 2012
Six girls have allegedly committed suicide in Sunamganj, Pabna and Jessore districts.
Two girls allegedly took their lives in Jagannathpur upazila of Sunamganj district early yesterday, reports our staff correspondent in Sylhet.
Police recovered the bodies of Shefa Begum, 19, daughter of late Abdul Towahed, and Rita Rani Das, 20, daughter of Ramdhan Das at Goragaon village, four kilometres off the upazila town.
Locals said, family members of Shefa and Rita, who were close friends, found them hanging from a tree branch on the bank of a river near their houses at about 8:30am.
On information, police recovered the bodies at about 9am and sent those to Sunamganj Sadar Hospital morgue for autopsy.
The reason behind the suicide could not be known immediately. Police quoting family members said that hours before the incident both the girls were seen in gaily and cheerful mood and singing together.
But in the early morning both went out of their houses and committed suicide together.
In Pabna, three girls allegedly committed suicide in Atghoria and Chatmohar upazilas on Saturday and Sunday, reports our correspondent.
The deceased are Nazma Khatun, 25, daughter of Nazrul Islam of village Kalamnagar in Atghoria upazila, also a student of Honours third year at Pabna Edward College, Jannatul Fardous Shima, 17, daughter of Hassan Ali of village Miahpara in Atghoria upazila also HSC student and Rashida Khatun, 12, daughter of Saran Ali of village Haripur Dharoil in Chatmohar upazila.
Officer in-charge of Atghoria police station Md. Monirul Islam said Nazma took poison on Sunday at her residence while Shima hanged herself in her room on Saturday night. They committed suicide due to family feuds, the OC said.
Officer in-charge of Chatmohar police station Md. Habibul Islam said, Rashida committed suicide by hanging herself in her room on Saturday night after an altercation with her mother in the evening.
In Jessore, a schoolgirl allegedly committed suicide by taking poison at Burulia village in Keshabpur upazila of the district on Sunday night.
The deceased was identified as Sonia Khatun, 10, a Class IV student of Burulia Government Primary School and daughter of Matiar Rahman Sheikh of the village.
Locals said Sonia took poison at about 11:30 pm in a huff after neighbour Chhabi Begum accused her of stealing a hook.
She was rushed to a local Clinic where attending doctor declared her dead.
http://www.thedailystar.net/newDesign/news-details.php?nid=252044
-------------
More women in Pakistan now confronting cheating spouses
BY AISHA CHOWDHRY, REUTERS October 2, 2012
LAHORE, Pakistan - Twenty-three years of military service come in handy when Masood Haider gets a call from a suspicious spouse.
He quickly dispatches a surveillance team to keep tabs on the partner believed to be heading off for an illicit rendezvous.
In deeply conservative Muslim Pakistan where arranged marriages are common and adultery can be punished by death, it is an illustration of how much the society is changing that Haider's private detective agency exists at all.
"What was taken as taboo 20 to 25 years ago is no more taken that way," said Haider, 53, a former army pilot who founded FactFinders, Pakistan's first licensed private detective agency.
The business of exposing cheating spouses, he says, is growing.
Full report at:
http://www.gmanetwork.com/news/story/276445/pinoyabroad/worldfeatures/more-women-
-------------
Famous French Singer, Melanie, Embraces Islam
2012-10-02
Famous French singer Diam's has announced in a newly-published autobiography that she has embraced Islam and decided to wear hijab.
The book tells about Diam's life, hardships, conversion to Islam and choosing to wear hijab.
"In the height of success I suffered from a major depression and visited different psychologists, but none of them could help me," she says in her book.
Diam's, whose real name is Melanie Georgiades, said she found that the way out of depression was in saying prayers and reading the Qur'an.
Full report at:
http://www.thefrontierpost.com/news/9518/
-------------
Panel in Pakistan Proposes Hindu Marriage Bill
By Zahid Gishkori
October 2, 2012
ISLAMABAD: A new bill proposed by a parliamentary panel, if passed, will enable members of the Hindu community to register their marriages, The Express Tribune has learnt. Currently, there is no mechanism in place to enable registration of this kind.
If enacted, the law will also authorise representatives of the minority community to form a council which will disallow the registration of marriage of a female under 18 years of age and a male under 21 years of age.
The three-member panel constituted by President Asif Ali Zardari has recommended "a quick passage of the Hindu Marriage Registration Bill". The president also directed Minister for Parliamentary Affairs Maula Bux Chandio, who is heading the commission, to look into other minority-related issues as well as probe the case of an alleged migration of Hindu families from Pakistan to India.
Full report at:
http://tribune.com.pk/story/445606/minority-rights-panel-proposes-hindu-marriage-bill/
-------------
Controversial Ukrainian Feminist Organization Topless Tactics And Muslim Women In France
October 1, 2012
By eren
Recently, Femen, the controversial Ukrainian feminist organization, has been established in France. Femen was founded in 2008 to protest sexism, patriarchy and violence while advocating for feminism. Its members became well-known for protesting naked against sexism, trafficking, religious institutions and sex tourism, among others. The group, which has become internationally known, has also been able to gather members in some other countries in Europe.
The movement's founder, Anna Hutsol, is an educated 28-year-old who created the organization to enable women to gain access to the public sphere in an environment where men are still favoured. For the members, Femen sets itself apart from traditional Western feminism in that they aim to advocate for a "real women's revolution" where women do not have "to be like men" to be recognized in society.
Full report at:
http://www.patheos.com/blogs/mmw/2012/10/muslim-women-get-naked-femens-topless-tactics-and-muslim-women-in-france/
-------------
Brazil Muslim Women Fear Attacks on All Sides
Jose Morales | 2 October 2012
RIO DE JANEIRO: Being Muslim and a woman in Brazil is a struggle for some, especially those who believe in their Brazilian culture, but are faced with a rising xenophobia that wants them out.
Salima and Jumana are both of Arab parents but consider themselves Brazilian. They enjoy the beach, in a bikini, and are die hard football fans. Still, they feel as though they are outsiders sometimes in their home country.
"When people hear our names they often just stare as if the world had come to an end," said 22-year-old Salima, whose parents arrived in Brazil two years before she was born. She told Bikyamasr.com that although her family is Moroccan, she is Brazilian.
Full report at:
http://www.bikyamasr.com/78926/brazil-muslim-women-fear-attacks-on-all-sides/
-------------
Another 44 Nigerian Muslim Women Deported by Saudia Arabia
01/10/2012
Ahlul Bayt News Agency) - Despite high-level diplomatic talks with their Nigerian counterparts, Saudi authorities this morning deported 44 female pilgrims, dashing their hopes to make the Muslim obligation of Hajj in Mecca. This adds to the 1,376 women already ruled ineligible to enter the Muslim spiritual capital since questions about the lack of male guardians arose.
The women flown back to Nigeria were from Kaduna and Kebbi States. Two men were said to be among the deportees.
According to the men, they were traveling with their wives but their surnames did not match and immigration officials refused to believe they were married.
Full report at:
http://abna.ir/data.asp?lang=3&id=352877
-------------
Constitution expert blasts Islamist's stance on marriage of young girls
1 Oct 2012
Prominent constitution expert takes issues with statements by Nour Party's Mohamed Omara in which latter references Quran to justify marriage of prepubescent girls
Constitution expert Nour Farahat on Monday criticised recent statements by Mohamed Omara, member of the Salafist Nour Party and Egypt's Constituent Assembly (tasked with drafting a new constitution), regarding the legal minimum age for women to marry.
During a televised interview on Saturday, Omara, who is also a professor at Egypt's Al-Azhar University, argued that Quranic references to divorcees who "have not menstruated" constituted proof that girls who had not yet reached puberty could be married.
Full report at:
http://english.ahram.org.eg/NewsContent/1/64/54417/Egypt/Politics-/Constitution-expert-blasts-Islamists-stance-on-mar.aspx
-------------
Egyptian women fear regression on rights
By Heba Saleh in Cairo
01/10/2012
High quality global journalism requires investment. Please share this article with others using the link below, do not cut & paste the article. See our Ts&Cs and Copyright Policy for more detail. Email ftsales.support@ft.com to buy additional rights. http://www.ft.com/cms/s/0/b203c126-06f5-11e2-92ef-00144feabdc0.html#ixzz288CkiKqC
A cartoon recently published in an Egyptian daily shows an elderly bridegroom dragging by the hand a little girl in bridal garb clutching a teddy bear. "Okay," he sighs, "I'll take you to the amusement park but only after we've consummated our marriage."
The joke, which is doing the rounds on Facebook, is part of an explosion of outrage in liberal circles provoked by Mohamed Saad al-Azhari, an ultraconservative Salafi cleric on the panel drafting Egypt's new constitution. Along with some others on the panel, he wants to abolish laws setting 18 as the minimum age of marriage for girls.
Full report at:
http://www.ft.com/cms/s/0/b203c126-06f5-11e2-92ef-
-------------
UAE Hospital Rolls Out Breast Cancer Awareness Drive
By Aftab Kazmi
September 30, 2012
Al Ain: Women can beat breast cancer through early detection and treatment, oncologists at Tawam Hospital said as the month-long awareness drive against the killer disease was announced.
Breast cancer is the second highest cause of death among UAE women, accounting for 28 per cent of the total deaths, Dr Mohammad Al Bashir, Consultant Surgeon and Director of Breast Care Centre at Tawam Hospital, said.
It is also the top cancer type in women worldwide.
Full report at:
http://gulfnews.com/news/gulf/uae/health/tawam-hospital-rolls-out-breast-cancer-awareness-drive-1.1082969
-------------
Rimsha Case: Witnesses Who Testified Against Cleric Backtrack
October 1, 2012
ISLAMABAD: Three witnesses who had testified against prayer leader Khalid Jadoon for levelling blasphemy allegations against Christian girl Rimsha Masih backtracked from their statements, saying that the police "forced" them to do it, Express News reported Monday.
The witnesses, including the mosque's muezzin Hafiz Zubair and Hafiz Awais and Khurram Shahzad, who endorsed Zubair's statement, submitted a sworn statement before a District and Sessions court in Islamabad.
Full report at:
http://tribune.com.pk/story/445178/rimsha-case-witnesses-who-testified-against-khalid-jadoon-backtrack/
-------------
Global Furniture Company Apologises Removal of Women from Saudi Arabia Catalogue
Ben Quinn
2 October 2012
Company says airbrushing women out of pictures showcasing company's products goes against its values
Ikea, the global furniture company, has apologised for deleting images of women from the version of its catalogue circulating in Saudi Arabia.
The issue was highlighted on Monday by the free newspaper, Metro, which compared the Swedish and Saudi versions of the catalogue and showed that women had been airbrushed out of otherwise identical pictures showcasing the company's products.
Ikea's Saudi catalogue, which is also available online, looks the same as other editions of the publication, except for the absence of women.
Full report at:
http://www.guardian.co.uk/world/2012/oct/02/ikea-apologises-removing-women-saudi-arabia-catalogue
-------------
URL: https://www.newageislam.com/islam,-women-and-feminism/new-age-islam-news-bureau/nigerian-women-stopped-from-reaching-mecca--'we're-not-living-in-the-prophet's-times!'/d/8851