New Age Islam News Bureau
9 May 2014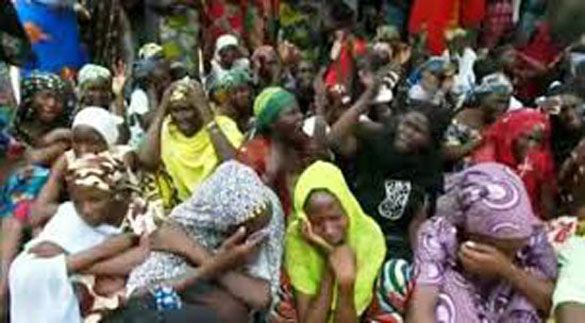 Photo: Nigerian Mothers Wait in Anguish for the Return of Missing Girls
--------------
• UAE Friday Sermon: Islam Raised Status of Women in Society
• Kidnapped Nigerian Girls Are 'My Sisters': Malala Yousafzai
• Thalassaemia test to be made mandatory before marriage in Paksitan
• Thousands Protest Breaches Of Iran's Female Dress Code
• Angelina Jolie 'Sickened' By Boko Haram Kidnap
• Muslim Woman Running For U.S. Congress
• Michelle Obama Joins Campaign Over Kidnapped Nigeria Girls
• Clinging To Hope — 700,000 Saudi Women with Non-Saudi Husbands In 2013
• Saudi Woman Killed In Car Crash While Defying Driving Ban: Report
Compiled by New Age Islam News Bureau
URL: https://newageislam.com/islam-women-feminism/nigerian-mothers-wait-anguish-return/d/76943
----------
Nigerian Mothers Wait in Anguish for the Return of Missing Girls
09 May, 2014
A short time ago, everyone in our news editing room suddenly went silent, as we watched the latest video to emerge from northeast Nigeria, where 300 girls were kidnapped by Islamic militants 24 days ago.
Across our TV screens for the first time, we saw more than a 100 loved ones of missing girls, most of them mothers, step into public view. Until now we'd been told, these families didn't want their faces known, for fear of being stigmatized by the assumption their daughters have been raped.
But now it appeared their desperation, more than three weeks after the kidnappings, could not be contained.
And neither could their tears. They cried out for their daughters, sobbing openly in this place where people rarely show their emotions in public.
One mother said she would rather have died than to see her daughter kidnapped in this way.
These girls were the greatest hopes of their families, striving for an education in a place where only 25 percent of girls are literate, aspiring to be teachers and doctors.
Most of the schools in the area had been closed because of a terror campaign by the extremists, called Boko Haram.
The kidnapped girls knew going to school was risky, but they wanted to take their physics exams.
And now their parents wait in anguish, fearing it may be too late to find them.
http://www.nbcnews.com/storyline/missing-nigeria-schoolgirls/nigerian-mothers-wait-anguish-return-missing-girls-n100801
----------
UAE Friday sermon: Islam raised status of women in society
09 May, 2014
ABU DHABI // The advent of Islam led to the elevation of women's status in society, worshippers will be told during Friday's sermon.
The sermon will explain how Islam brought happiness to humanity after the dark ages of ignorance "and among the features of this happiness is that religion preserved women of their dignity and saved them from the darkness".
The Quran has described how people before Islam received the news of a newborn girl: "When if one of them receiveth tidings of the birth of a female, his face remaineth darkened, and he is wroth in, wardly. He hideth himself from the folk because of the evil of that whereof he hath had tidings."
Islam changed this by making respectful treatment of women a way of entering heaven.
The Prophet Mohammed said: "Who has three daughters or three sisters, or two daughters or two sisters, and provided them with good company and was patient with them ... entered paradise."
The Quran describes many incidents in which women are treated as equals to men; a Quranic verse says: "And who so doeth good works, whether of male or female, and he (or she) is a believer, such will enter paradise and they will not be wronged the dint in a date-stone."
The sermon will conclude with a reminder that a woman is her husband's partner in building a family and raising children.
hdajani@thenational.ae
http://www.thenational.ae/uae/uae-friday-sermon-islam-raised-status-of-women-in-society#ixzz31GZVWJMX
----------
Kidnapped Nigerian girls are 'my sisters': Malala Yousafzai
09 May, 2014
NEW YORK: Malala Yousafzai added her voice to the outcry over the mass kidnappings of Nigerian schoolgirls by Boko Haram activists, saying that the international community must stand up for the girls.
Malala, who spoke to CNN via a satellite hookup from Birmingham, UK, said women are targeted by those who fear a society in which women are empowered.Malala has made a miraculous recovery after being shot in the head by the Taliban in 2012. She now lives in Birmingham.
"When I heard about girls in Nigeria being abducted, I felt very sad, and I thought, 'my sisters are imprisoned now,'" Malala told CNN. "The girls in Nigeria are my sisters, and it's my responsibility that I speak up for my sisters." Boko Haram are extremists who don't understand Islam, she said. The religion, she says, calls for empowerment through education, not a snuffing of it.
"They should go and they should learn Islam, and I think that they should think of these girls as their own sisters. How can one imprison their own sisters and treat them in such a bad way," she said.Everyone should speak up for the kidnapped girls, she said.
http://www.thenews.com.pk/Todays-News-13-30242-Kidnapped-Nigerian-girls-are-my-sisters-Malala
----------
Thalassaemia test to be made mandatory before marriage in Paksitan
09 May, 2014
LAHORE – The Punjab government on Thursday decided to make mandatory carrying out Thalassemia test before marriage in a bid to control the fatal disease.
The decision has been taken on the directive of Chief Minister Shahbaz Sharif. A committee headed by Advisor on Health Khawaja Salman Rafique has been constituted in this regard which will prepare their recommendations for lawmaking on the issued in the province.
http://www.dailytimes.com.pk/national/08-May-2014/punjab-to-make-thalassemia-test-mandatory-before-marriage
----------
Thousands protest breaches of Iran's female dress code
09 May, 2014
Thousands of religious hardliners protested in Tehran against what they said was the flouting of Iran's conservative female dress code, media reports said.
Under Islamic law in practice since the 1979 revolution, "hijab" -- which requires women to cover their hair and much of their body in loose clothing to prevent their figures being seen -- is obligatory.
"Some 4,000 demonstrators urged the authorities and people to take heed of the situation of hijab and chastity in the society," the official IRNA news agency said of the demonstration, which took place outside the interior ministry.
Pictures of the gathering showed both male and female protesters.
"Preserving public chastity, observing Islamic hijab and moral security are strategic matters which shall not be forgotten under the pretext of economic sanctions or government change... There are some people who are completely heedless of the Islamic hijab," read a statement issued by demonstrators.
Fars news agency reported that "the demonstration didn't last long after Tehran police chief Hossein Sajedinia appeared at the rally and pleaded for it to end."
Hossein Hashemi, governor of Tehran province, said the demonstration was not legal since no permission was granted by the interior ministry.
"One who seeks to prevent vice should not commit such a violation (of law)," he told ISNA news agency.
Iran's police force includes a "morality" unit tasked with checking women in the street to ensure their clothing follows the rules. Arrest and overnight detention is common.
President Hassan Rouhani, a self-declared moderate, asked Iran's police in October to be lenient on the hijab issue.
The soft-spoken president, who has the backing of reformists, moderates and some conservatives, campaigned for more cultural and social freedoms in the Islamic republic en route to winning last summer's election.
http://english.ahram.org.eg/NewsContent/2/8/100733/World/Region/Thousands-protest-breaches-of-Irans-female-dress-c.aspx
----------
Angelina Jolie 'sickened' by Boko Haram kidnap
09 May, 2014
Angelina Jolie may have taken to the silver screen to play an evil villainess in the new Disney movie Maleficent, but her humanitarian side shone through when she described the recent kidnap of more than 200 Nigerian schoolgirls by extremists as "unthinkable cruelty" in an interview this week.
"I'm absolutely sickened by it. And the thought of them out there right now, terrified and being abused, and sold ... it's infuriating, and it kind of goes beyond understanding that somebody could do this," she told French news channel i-Tele.
She also broached the subject at a Maleficent press conference in Paris, saying there is "real evil in the world.
"Sadly, there is of course real evil in the world, and you watch the news and you see all the people suffering, and so much cruelty, and it's unthinkable cruelty. Like those girls who were kidnapped in Nigeria. Unthinkable cruelty and evil," the actress said. "I do think that it is something for all of us to really, in a heavy deep way, for all of us to understand why it's there."
Extremist Islamist group Boko Haram has claimed responsibility for the gunpoint kidnappings of the schoolgirls in the village of Chibok. According to Agence France-Presse, the leader of Boko Haram, Abubakar Shekau, has threatened to "sell [the girls] in the market" into slavery.
Jolie commented on the group's beliefs and about the need for action on the matter.
"Not only do they believe that girls shouldn't have an education - which is absolutely wrong, it is appalling, it is of course their right and the most wonderful thing, the most important thing for young girls - but that they're taken as objects and going to be so violated and if the world does nothing then they get away this, then we set this horrible precedent," the actress said during i-Tele interview
Muslim leaders in various countries have criticized Boko Haram's leader for using Islamic teachings as his justification for threatening to sell the girls into slavery. Others have focused on what they view as a slow response by Nigeria's government to the crisis.
The British and French governments announced Wednesday that they would send teams of experts to complement the U.S. team heading to Nigeria to help with the search for the girls, and Nigeria's president said China has also offered assistance.
http://english.alarabiya.net/en/News/africa/2014/05/08/Angelina-Jolie-sickened-by-Boko-Haram-kidnap-urges-action.html
----------
Muslim woman running for U.S. Congress
09 May, 2014
Cheryl Sudduth is making history; she is the second Muslim woman to run for Congress in the United States. A 2014 democratic candidate, she is seeking election to the House of Representatives to represent the 11th congressional district of California; which consists of portions of Contra Costa County.
Many believe that she is the right person for this job and she is backed by women in her district, by the Muslim community, and the African American community.
"We still need more women legislators ensuring women's issues are priority," she wrote on her Facebook page.
Cheryl has spent a lifetime advocating for underserved youth, people with disabilities, and those living in disadvantaged conditions. She is well-known for providing job opportunities and training for hundreds of underprivileged men and women.
Cheryl's unrelenting pursuit of equality is witnessed in her actions. Over the course of the past eight years, she has created hundreds of opportunities for youth to gain invaluable life skills through sports through her non-profit club, 'ICYSports'. Through her volunteer work as a mentor, life coach, and etiquette trainer for young women, she has positively affected the lives of thousands of individuals.
She has fought steadily to hold elected officials accountable for public safety and fiscal responsibility. She has campaigned tirelessly for not just equal pay but fair pay, fighting gender, ethnic, and racial discrimination in the workplace. She believes that all people must be adequately educated and competent to compete in a global environment.
The center of her focus will be on improving the public education system, which she views as a financial investment, which will help close the achievement gap and subsequent economic disparities among underserved and vulnerable members of the community. Individuals need choices — real choices in education and job training. She aims for building a diverse workforce trained in a number of settings that best suits individual workers – college-based learning, industry training, skills-based learning, technology or technical training, hands-on or experiential or on-the-job training.
With a proven history of creating jobs for those considered 'unemployable', she will utilize her extensive experience to help create high quality jobs and create innovative ways to employ more people. As Senior Director of Contracts for Goodwill Industries of the Greater East Bay, Cheryl developed their employment strategy and helps shape their employment and training programs for people with significant disabilities. These programs have been instrumental in assisting hundreds of workers with disabilities to achieve self-sufficiency.
Supporters say that her expertise in negotiations, mediation, and problem resolution, along with her willingness to work tirelessly will make things happen for the district, the state, and the nation.
The proud mother of two sons and a daughter, Cheryl presents a much-needed voice in Congress, dedicated to social and economic justice, international peace, civil and human rights, safe communities, job training, affordable health care, higher wages, and protection of women's rights.
Cheryl believes the best method of knowing what's right for women is to start by asking women. That begins by ensuring women have seats at the decision-making tables – including legislative bodies, especially legislative seats.
All women, Muslim women too, must be represented at levels of equity and diversity as they are part of the American society. This starts today with women like Cheryl who are willing to step forward to lead the next generation.
Cheryl has established a stellar reputation for principled and independent leadership, unafraid to take on tough issues, create sound resolutions, and speak her mind for those she represents, for a more just society, a better America, a safer world.
http://english.alarabiya.net/en/perspective/profiles/2014/05/09/Muslim-woman-running-for-U-S-Congress.html
----------
Michelle Obama joins campaign over kidnapped Nigeria girls
09 May, 2014
The U.S. first lady, Michelle Obama, on Thursday sought to raise awareness of Nigerian militant group Boko Haram's seizure of more than 200 schoolgirls by tweeting out a message on social media.
Mrs. Obama tweeted: "Our prayers are with the missing Nigerian girls and their families. It's time to #BringBackOurGirls."
#BringBackOurGirls is a trending hashtag used as part of a worldwide campaign on the social media platform to raise awareness about the situation.
The hashtag was also picked up the United Nations when the international body tweeted on its official account: "#BringBackOurGirls [U.N. chief] Ban Ki-moon expresses deep concern for abducted schoolgirls in Nigeria."
In an interview this week, Angelina Jolie also expressed her concern over the issue.
She may have taken to the silver screen to play an evil villainess in the new Disney movie Maleficent, but her humanitarian side shone through when she described the recent kidnap of more extremists as "unthinkable cruelty" in an interview this week.
http://english.alarabiya.net/en/News/africa/2014/05/09/Michelle-Obama-joins-campaign-over-kidnapped-Nigeria-girls.html
----------
Clinging to hope — 700,000 Saudi women with non-Saudi husbands in 2013
09 May, 2014
SAUDI women married to non-Saudis continue to cling on to the hope that one day they will be allowed to pass on their Saudi citizenship to their children. However, despite their efforts, it is apparent that in order for their struggle to become a success, they need to overcome tedious complications and get the support of numerous officials.
According to a report by the Ministry of Justice, there were more than 700,000 Saudi women married to non-Saudis in 2013. That makes up 10 percent of all Saudi women. In 2012 alone, 13,117 Saudi women married non-Saudis inside and outside the Kingdom. Saudi men only married 2,583 non-Saudi women during the same period.
The Saudi Nationality System Charter works on a point system in which an applicant must earn a number of points in order to qualify for Saudi citizenship. Points are earned based on many factors, the main factor being the number of Saudi relatives the applicant has.
The closer the relation of the relative to the parents, the more points the applicant earns. Studies are being conducted to modify some of the conditions for obtaining the Saudi nationality, such as Article 7 pertaining to the mother's grandfather. Other conditions on the Saudi Nationality System Charter have been modified such as permanent residency of the mother in the Kingdom and the minimum education level of the child, which should be high school.
The Ministry of Justice considers children of Saudi women married to non-Saudi men as "special expatriates" and therefore, the mother cannot sponsor her own children to work for her nor is the mother's inheritance, including real estate, passed on to her children. Her inheritance is instead taken by a special authority and auctioned. A percentage of the proceeds are then distributed among the children.
The special authority also gets a certain percentage. If the children are under the sponsorship of the mother and the mother dies, the children must then search for another sponsor. The children are also treated as expatriates when it comes to social insurance and the likes. Educationally, the children are not eligible for the King Abdullah Foreign Scholarship Program.
There are also travel restrictions. The children are not allowed to spend more than six months abroad. In the case of the children being students, a six-month extension is possible provided that documents proving that they are students are submitted to the Passport Department.
Any government procedures regarding the children require the presence of their Saudi mother as their sponsor.
Obtaining Saudi citizenship through the sponsorship of the mother is not a choice as the children are registered as "son/daughter of a Saudi mother," something which creates many problems for the children, especially when they want to find employment.
According to Minister of Interior Prince Muhammad Bin Naif, who is very sympathetic to the case. He believes children born to Saudi mothers should be treated on an equal footing with their national peers.
Children born in the Kingdom to a Saudi mother and a non-Saudi father can obtain Saudi citizenship when they turn 18, provided the father has permanent residence in the Kingdom, a clean criminal record and speaks fluent Arabic.
Khalid Abdurahman Alfakhry, a consultant at the general secretariat of the National Society for Human Rights (NSHR), clarified that the law does not treat a Saudi woman marrying a non-Saudi man equal to a Saudi man marrying a non-Saudi woman. Children of Saudi fathers automatically obtain citizenship. The system used to allow Saudi mothers to sponsor their children under her as drivers or general workers, but nowadays, Saudi citizenship can only be obtained by a special recommendation from the minister of interior.
Alfakhry also said a non-Saudi father has a residency status depending on his job. If he is asked to leave the country due to contract termination, he may not be able to enter the country again. Such cases are treated as exceptional and fathers are often allowed entry into the Kingdom so they can remain with their families. The government allows, in such cases alone, for the Saudi wife to sponsor her non-Saudi husband.
Temporary residency
Talal Bin Hasan Albakri, the former head of the Social Committee at the Shoura Council, objected to the idea of a Saudi woman marrying a non-Saudi man.
"There are too many problems that ensue and non-Saudis might enter into such a marriage with impure intentions since there is an advantage for them in marrying a Saudi woman," he said.
"In some cases, the non-Saudi husband will exploit his wife's family and start his own business. There is too much at risk from these marriages as they are damaging to the Saudi economy and society," he added.
Fatima Abdullah, a school principal and a family affairs activist, also does not support Saudi women marrying non-Saudis due to the cultural and traditional differences and the many problems that arise due to these differences, which can then lead to an early divorce. "The children involved are another matter to consider. They will live a life being torn between their expatriate father, if he was not deported, and their Saudi mother who is helpless in front of the system," she said.
http://www.saudigazette.com.sa/index.cfm?method=home.regcon&contentid=20140509204523
----------
Saudi woman killed in car crash while defying driving ban: report
09 May, 2014
RIYADH: A Saudi woman was killed in a car crash in the capital on Thursday as she defied the kingdom's long-standing ban on female driving, local media reported.
The woman, in her 20s, lost control of her vehicle and crashed into the wall of a youth club in Riyadh, according to the website of the local Al-Jazeera daily.
The car caught fire and she died, it said.
Ultra-conservative Saudi Arabia is the only country in the world where women are not allowed to drive.
However, they usually get behind the wheel in desert regions away from the capital.
Thursday's deadly accident was not the first of its kind involving a woman driver. In January 2012, a female driver was injured and her companion killed when their car overturned in the northern Hael province.
And in November 2010, a woman driver was killed along with three of her female passengers in a similar accident.
Women in the kingdom who have the means hire drivers while others must depend on the goodwill of male relatives.
Women's rights activists make frequent calls to challenge the ban and those who do so post online videos showing themselves behind the wheel.
In addition to not being allowed to drive, Saudi women must cover themselves from head to toe and need permission from a male guardian to travel, work and marry.
http://tribune.com.pk/story/705853/saudi-woman-killed-in-car-crash-while-defying-driving-ban-report/
----------
URL: https://newageislam.com/islam-women-feminism/nigerian-mothers-wait-anguish-return/d/76943