New Age Islam News Bureau
4 Oct 2016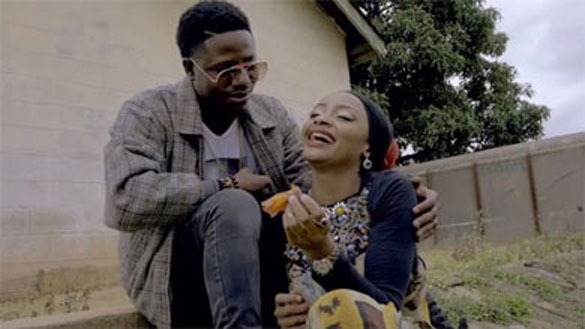 The ban was imposed after the singers released a music video where they embraced. FINESSE ENTERTAINMENT
------------
• Morocco Dismantles Female Islamic State Terror Cell, Arresting Ten
• Malaysian Woman Becomes First Solo Muslim to Ride Her Bike around the Globe
• Supreme Court will come through for Women's Right, Says Bhumata Brigade Leader
• Two Muslim Women Injured By Stray Bullets at Mosque Fundraiser in Germany
• Nurse Punched Muslim Taxi Driver 12 Times during Row over Women's Rights
Compiled by New Age Islam News Bureau
URL: https://newageislam.com/islam-women-feminism/nigerian-actress-rahama-sadau-banned/d/108757
-----
Nigerian Actress Rahama Sadau Banned After On-Screen Hug
3 October 2016
A leading Nigerian actress has been banned from the Hausa-language film industry because of her "immoral" behaviour, the main industry body says.
Rahama Sadau caused offence by "hugging and cuddling" pop star Classiq in a video, it added.
The industry, commonly known as Kannywood, has been under fire from conservative Muslim clerics who accuse it of corrupting people's values.
They regard it as taboo for men and women to hold hands or kiss in public.
Ms Sadau, who is said to be on a holiday in India, has not yet commented on the ban imposed by Motion Pictures Practitioners Association of Nigeria (Moppan).
Its chairman, Muhammadu Kabiru Maikaba, told the BBC Hausa service that the ban was "total".
"This is not the first time that she has been doing these wayward things. We have been warning her, but she still went ahead to dent our image," he said.
The Kannywood star appeared in the video with Classiq, in a song entitled I Love You.
In it, the Nigerian pop star is smitten with a vegetable seller in a market, acted by Ms Sadau.
Initially, she rejects his advances, batting him away with a bunch of vegetables, but he eventually wins her over.
They hold hands and engage in a bit of cuddling that would be considered demure in a Western film.
In a statement, Moppan said it hoped Ms Sadau's expulsion would serve as a deterrent for other actors.
Its code of conduct requires actors to avoid doing anything which violates Islamic and Hausa culture, reports the BBC's Isa Sanusi from the capital, Abuja.
Many people in northern Nigeria felt she had gone too far with Classiq in the music video, he adds.
Classiq cannot be banned because he is not a member of Moppan.
--
Morocco Dismantles Female Islamic State Terror Cell, Arresting Ten
4 Oct 20160
In a series of coordinated raids, Moroccan authorities have broken up a female Islamic State cell that was allegedly plotting suicide bombings and other acts of terror.
On Monday, Morocco's Central Bureau of Judicial Investigations conducted operations in eight separate towns and cities, arresting a total of ten Muslim women and seizing chemicals that could be used in explosives, according to a statement from the Moroccan Interior Ministry.
The women had "tried to obtain the chemicals used to make explosive belts" and had planned to attack "vital installations," according to the ministry.
The raids took place throughout the country, including towns and cities near the capital of Rabat, such as Kenitra and Sidi Slimane, and as far north as Tangier.
The Islamists reportedly had declared allegiance to ISIS and were trying to recruit other women to join in jihad. Several are related to Moroccan jihadists active in Syria or Iraq.
Islamic terrorists in countries like Cameroon, Chad and Nigeria have often used girls and women as suicide bombers, since they are better able to infiltrate areas with higher security.
According to Mahamat Ahmat, head of security of the refugee camp Dar es Salam in Chad, jihadists use women and girls as kamikazes to more easily elude military controls and checkpoints.
"Women and girls wear flowing garments and it is harder to detect whether they are carrying explosives underneath, and besides people tend to be less suspicious of them," he said.
Thousands of foreign fighters from North African states of the Maghreb, such as Morocco, Tunisia and Algeria, have joined Islamist militant forces in Syria's civil war, and some have threatened to return and create new jihadist wings in their home countries.
A 2015 study by the US-based Soufan Group found that as many as 1,500 Moroccans had joined the Islamic State or other Islamic terror organizations as foreign fighters.
Last July, Moroccan authorities arrested 52 people suspected of belonging to an Islamic State cell that planned to conduct attacks on government and tourist locations.
http://www.breitbart.com/national-security/2016/10/04/morocco-dismantles-female-islamic-state-terror-cell-arresting-ten/
--
Malaysian Woman Becomes First Solo Muslim to Ride Her Bike Around The Globe
4 October 2016
IPOH: The first solo Muslim woman rider, Anita Yusof, who rode her bike around the globe for a year received a warm reception from her colleagues, students and staff of Institut Pendidikan Guru (IPG) Ipoh Campus in Ulu Kinta today.
IPG Ipoh campus director Kamarullzham Hazizi, Education Ministry IPG deputy rector Dr Noriati Rashid and Ulu Kinta assemblyman Datuk Aminuddin Mohd Hanapiah were also present to give her a rousing welcome at 9am.
The 49-year-old lecturer who arrived in her Yamaha XZ 150 received gifts,souvenirs and plaque for her feat from the institute.
Anita, exhilarated by her achievement, told reporters that she intends to write a book on her globe travel as there were so many unforgettable experiences, incidents and events that she can share with others.
"My solo feat will definitely motivate others, especially women, to embark on. I have been invited to give talks and I will share my experiences with the audience," she said, adding that her next adventure is to Himalaya.
The mother of two sons said she is proud to become the first Muslim woman to travel solo around the globe on a motorcycle.
"There is always a negative perception, especially when it comes to women, travelling to countries alone. There were instances when I visited some countries and the people could not believe that I, as a Muslim woman, was travelling alone," she added.
Anita said she had to explain that not all Muslim countries discriminate women.
With only her hard-earned savings of RM120,000 in hand, she had to be careful with her expenses.
"By God's grace I did receive some cash and accommodation in some of the countries I travelled," said Anita whose bike was sponsored by Hong Leong Yamaha while GIVI Asia Sdn Bhd, (GIVI Malaysia), a manufacturer of motorcycle accessories, supported her with jackets, helmet and other necessities.
She travelled a distance of 65,369km from Sept 13, 2015, and returned to the country on Sept 16 this year to make it more meaningful on Malaysia Day.
Her feat also gained a place in the Malaysia Book of Records as the First Solo Motorcycle Ride Around The World.
http://www.thesundaily.my/news/1991418
--
Supreme Court will come through for Women's Right, Says Bhumata Brigade Leader
October 4, 2016
With the Haji Ali Dargah Trust approaching the Supreme Court, challenging the Bombay High Court decision to allow women in the internal portion of the Dargah, Bhumata Brigade leader Trupti Desai on Tuesday expressed confidence in the apex court to come through for women's equality. Desai asserted that the top court will pronounce a decision respecting the High Court's decision and will pronounce a verdict supporting the rights of women. "I am not really worried as I'm sure the Constitution will emerge victorious again and women will win here as well," Desai said.
On August 26, the Bombay High Court lifted the ban imposed on women from entering the inner sanctum of Mumbai's Haji Ali Dargah Noorjehan Fiaz and Zakia Soman, founders of Bharatiya Muslim Mahila Andolan (BMMA), had petitioned the Bombay High Court against the ban calling it unconstitutional.
The 2011 ban violates the women's right to freedom of religion enshrined in Article 25 of the constitution. The PIL stated that gender justice is inherent in the Quran, and there is no prohibition on women visiting graves.
Prior to 2011, the Dargah did not discriminate against women and allowed free entry of people across religions. On March 2011, the Dargah's board of trustees imposed a ban on women's entry, calling it a "grievous sin". It is a sin as per Islam for women to be in close proximity of a male Muslim saint's grave.
On Jul 10, 2015, Bench headed by Justice VM Kanade sets aside previous order framing eight questions by an earlier bench of HC on maintainability and decided to hear PIL on merits.
http://indianexpress.com/article/india/india-news-india/haji-ali-entry-supreme-court-will-come-through-for-womens-right-says-bhumata-brigade-leader-3064752/
--
Two Muslim Women Injured By Stray Bullets at Mosque Fundraiser In Germany
October 4, 2016
Two German women of Turkish origin were injured Monday due to bullets from still unknown sources at a charity sale in a mosque run by the Turkish community in the German city of Remscheid.
A 42-year-old and 36-year-old woman suffered minor injuries while they were organizing a charity sale in the garden of the mosque, which operates under the Turkish-Islamic Union for Religious Affairs (DITIB), the largest union of the Turkish community in Germany.
Himmet Ertürk, the head of DITIB in Remscheid, said the police launched an investigation to find out whether the bullet was from celebratory gunfire or an actual attack.
Last month, a mosque, run by the Turkish community in the eastern German city of Dresden, was attacked by a homemade explosive on Monday night, causing heavy damage to its door.
It was the third attack within a week that targeted a mosque run by the DITIB.
Another attack also took place at DITIB's mosque in Bebra, a small town in central Germany on September 25, this time with Molotov cocktails.
Another DITIB mosque in Schwabisch Gmünd, a small town in southern Germany, was also vandalized by unknown suspects on the same day, who wrote insulting comments on the walls of the mosque.
Last year, there were 99 attacks on mosques across Germany, according to the DITIB.
With a population of 81.8 million, Germany has the second-largest Muslim population in Western Europe after France. Among the 4 million Muslims in the country, 3 million are of Turkish origin.
http://www.dailysabah.com/islamophobia/2016/10/03/two-muslim-women-injured-by-stray-bullets-at-mosque-fundraiser-in-germany
--
Nurse Punched Muslim Taxi Driver 12 Times during Row over Women's Rights
October 04, 2016
A nurse repeatedly punched a Muslim taxi driver after drunkenly arguing with him about women's rights in Islamic culture.
Elaine Roots began berating the cabbie from the back seat after he picked her up following a night out in Nottingham.
After having a go at him about the treatment of women in Islam, she moved on to verbally attacking the Islamic faith, a hearing at the Nursing and Midwifery Council heard.
Roots, who had spent the night drinking wine, reached forward and grabbed the driver by the collar - pulling him towards her and ripping the buttons off his shirt. She then punched him 12 times around the head, neck and upper body.
At the time of the assault Roots, a mental health nurse, was employed by Nottinghamshire Healthcare NHS Foundation Trust, although she has now retired.
Roots was arrested following the incident in Porchester and taken to the Bridewell Custody Suite in Carrington Street. She claimed to only have a vague memory of the initial argument on June 10 last year, and no memory at all of her later behaviour, due to her drunkenness.
She pleaded guilty to religiously aggravated common assault at Nottingham Magistrates' Court on June 25 last year. Her address at the time was given as Bennett Road in Mapperley. She was given a community order placing her under curfew for 10 weeks; and ordered to pay compensation of £60, costs of £85, and a criminal courts charge of £180.
Last week, on September 26, an NMC panel found that her fitness to practice as a nurse was currently impaired and she was banned for six months. The decision means that Roots, 57, could be back to work in six months' time.
NMC panel chair Clive Powell said: "The panel considered that you accepted the charge served upon you from the outset of the criminal investigation and wanted to apologise to the victim as soon as possible.
"However, the panel considered that since the incident, you have not directly addressed the impact your conduct had on the victim or on the wider impact on people who are subject to racial abuse. The incident was unprovoked, racially charged and violent and you continued to be racially offensive in the police station after the incident."
But Mr Powell said Roots had shown remorse for her actions and that it had been a one-off incident in an otherwise unblemished career. He said there were mitigating circumstances to why she was so drunk that night. The panel were also shown positive testimonials put forward in support of Roots.
Today Umar Mahmood, chairman of the Nottingham Licensed Taxi Owners and Drivers Association, said: "We provide a very valuable service to the public, and in return we deserve respect for that service.
"No customer has the right to ask a question which you don't feel like answering. You would rather not have the conversation which leads to such incidents.
"It's happened to me once or twice. People ask you irrelevant questions, like what you think of ISIL. I just ask them if we can not have the conversation.
"Nobody has the right to attack the religion you belong to. All faiths should be respected."
A spokeswoman for Nottinghamshire Healthcare NHS Foundation Trust said: "This matter went through the usual disciplinary process at the time. We can confirm this lady has now retired and is no longer working for the Trust."
http://www.nottinghampost.com/nurse-punched-muslim-taxi-driver-12-times-after-row-over-women-s-rights/story-29776276-detail/story.html
--
URL: https://newageislam.com/islam-women-feminism/nigerian-actress-rahama-sadau-banned/d/108757
New Age Islam, Islam Online, Islamic Website, African Muslim News, Arab World News, South Asia News, Indian Muslim News, World Muslim News, Women in Islam, Islamic Feminism, Arab Women, Women In Arab, Islamophobia in America, Muslim Women in West, Islam Women and Feminism