New Age Islam News Bureau
13 Feb 2017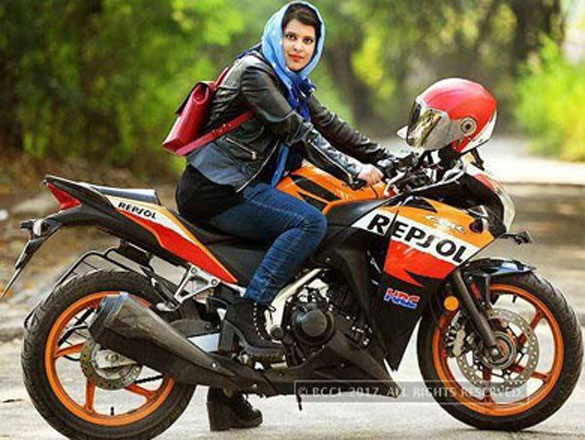 Roshni Misbah, the Fierce Hijabi Biker
-----
• Muslim Women Shouldn't Use Emoticons, Says the NMYA in Malaysia
• Meet Roshni Misbah, the Fierce Hijabi Biker of Jamia Millia, Delhi
• Women of Major Religions Challenge 'Homogenous' Way of Life
• Saudi Social Media Users Break Silence on Violence against Women
• Muzaffarnagar Riots: 7 Muslim Women Who Reported Their Gang Rape Are Struggling To Survive and Justice, Amnesty Reports
• Kiwi Muslim Woman Overwhelmed With Support after Abuse on Waikato Roadside
Compiled by New Age Islam News Bureau
URL: https://www.newageislam.com/islam,-women-and-feminism/new-age-islam-news-bureau/nigeria-s-muslim-women-oppose-inheritance-bill/d/110063
-------
Nigeria's Muslim Women Oppose Inheritance Bill
13 February 2017
An influential Muslim women's organization on Sunday said it strongly opposes a controversial bill designed to make women inherit the same share of their parents' or husbands' estate as their male counterparts, among other provisions.
Nigeria's parliament is currently considering the bill which was re-proposed last September after being rejected in March. It is now at the committee stage, where its compliance with the constitution will be examined.
"We do not and will not support anything that contradicts the Sharia which is the Islamic jurisprudence. Specifically, Islam has a strong rule on inheritance," Hameedah Sanni, president of The Criterion, told said on the sidelines of the group's annual seminar in the commercial city of Lagos.
She called on the parliament to "consider the sentiment of the Muslim community," while debating the bill.
Apex Muslim bodies say that the sections of the bill offend the Islamic law on inheritance which states when and how heirs can inherit from their deceased relatives. The bodies state, however, that they support provisions that protect women from all forms of maltreatment.
The bill was introduced as a response to discrimination against women in matters of inheritance in some parts of Nigeria where they are denied rights of inheritance.
Sanni also called on authorities to lift the ban on the Muslim head covering in some government offices and schools, urging officials to abide by court rulings on the subject.
"On Hijab, our request is simple. The government should allow Muslim female students and every Muslim female who wish to follow the injunction of their religion to cover their nakedness to do so. We do not ask the non-Muslims to follow suit," she said.
A court of appeals recently ruled against the Lagos state government's ban on the hijab dismissing it as unconstitutional. The government has appealed the ruling at the supreme court. No hearings have been scheduled.
According to Islamic law of inheritance, women are entitled to inherit money and property from their spouses, parents and family members, but shares of each heir vary based on their circumstances and closeness to the deceased.
http://www.worldbulletin.net/islamic-world/184681/nigerias-muslim-women-oppose-inheritance-bill
-------
Muslim Women Shouldn't Use Emoticons, Says the NMYA in Malaysia
FEBRUARY 13, 2017
KUALA LUMPUR — The National Muslim Youth Association (Pembina) in Malaysia advised Muslim women against using emoticons in text messages or wearing fragrance, ahead of Valentine's Day on Tuesday (Feb 14).
Pembina's guide published on its official Facebook page on Monday said Muslim women should avoid seven things while dealing with "non-Mahram", or men they can marry, even outside the day commemorating love.
Besides avoiding the use of emoticons and wearing "excessive" fragrance, the guide also urged Muslim women to avoid making their voice sound sweet, and to cover up their "aurat", or intimate parts.
The Malaysian Islamist group also warned Muslim women against being alone with "non-mahram" men, and to avoid inappropriate times by dealing with them only in daytime.
It also told Muslim women to keep their text messages simple for "non-mahram" men.
The guide is part of Pembina's annual anti-Valentine's Day campaign, claiming the celebration threatens the faith of Muslims and leads to illicit sex.
Earlier on Monday, the group released a list of five things Muslim youths can do to reject the day, such as publicly chastising unmarried couples who are dating.
The group also suggested youths wear Pembina's anti-Valentine's Day T-shirt, post its posters in public, and urge their friends to join Islamic or beneficial activities on the day.
The Malaysian Islamic Development Department (Jakim) has consistently opposed the celebration of Valentine's Day among Muslims, claiming it possesses Christian elements.
The global celebration was banned during the 71st meeting of the Malaysian National Fatwa Committee for Islamic Affairs in 2005.
An anti-Valentine's campaign called "Mind the Valentine's Day Trap" has also been held by Jakim since 2011, where volunteers approach youths to warn them of the celebration's alleged danger.
In addition, previous sermons had claimed the day originally worshipped ancient Roman deities, or celebrated the fall of Muslim rule in Cordoba, Andalusia, now in modern-day Spain.
Islamic enforcement agencies also regularly hold raids on budget hotels and public parks, detaining and charging unmarried Muslim couples with "khalwat", or being in close proximity with the opposite sex.
Originally a celebration of a Christian saint, Valentine's Day has long taken a commercial nuance to celebrate romantic love and is vastly popular in East Asia. MALAY MAIL ONLINE
http://www.todayonline.com/world/asia/muslim-women-shouldnt-use-emoticons-says-national-muslim-youth-association-malaysia
-------
Meet Roshni Misbah, the Fierce Hijabi Biker of Jamia Millia, Delhi
February 12, 2017
NEW DELHI: Known as 'Hijabi Biker' in her campus, 22-year-old Roshni Misbah, a student of Arabic and Culture Studies at the Jamia Milia Islamia University was passionate about riding bikes and took her first ride in class 9, also wearing her hijab.
"Biking was always in my genes.. I knew I wanted to ride.. But when? That was a big question mark," Misbah admits candidly.
She chooses to don it "as her passion for bikes does not interfere with her faith," reportedly told ScoopWhoop News
"Hijab is a part of my life, part of my culture. Hijab can never be a hurdle to anything. It is my choice to wear my hijab," she says further.
Speaking to the TOI, Misbah said, 'I am a member of groups like the Windchasers and Delhi Royal Enfield Riders, and was part of the Bajaj Avengers Club at the time I owned an Avenger bike'
http://www.siasat.com/news/video-meet-roshni-misbah-fierce-hijabi-biker-1130074/
-------
Women of major religions challenge 'homogenous' way of life
FEBRUARY 12, 2017
FORT WORTH
Members of Christian, Jewish and Muslim faiths gathered Sunday afternoon to urge fellow believers to reach across races, religions and lifestyles to develop an understanding of one another.
Called the Women In Faith Symposium, the event at Beth-El Congregation aimed to bring together diverse voices to engage in a constructive dialogue.
"Today, when people lie about each other's faiths and are afraid of each other's faiths, one of the most radical things we can do is gather in groups like this," said Rebekah Miles, a professor of theology at Southern Methodist University. "We can learn about each other. That might be the only remedy to the fear."
Christianity, Islam and Judaism are bound by a belief in hospitality, Miles said. Yet many, including herself, do not practice the idea as they should.
"It's a scary thing to do. … I think we are driven by a fear of the other," she said. "We live in homogeneous communities with people like us."
Opening oneself to others, Miles said, can be an "extraordinary, radical act of faith."
Saliha Malik, president of the Ahmadiyya Muslim Women's Association, told attendees the Quran dictates equal rights for men and women. The association is part of the Ahmadiyya Muslim Community, a sect of Islam.
"There is no denying that there are Muslim men who mistreat, oppress and abuse women," Malik said. "But such mistreatments are a gross violation of Islamic teachings."
In the United States, she said, a woman is sexually assaulted every 98 seconds.
"No reasonable person would blame Christianity for that," she said.
Upon converting to Islam, Malik recalled an acquaintance who asked, "Why is an emancipated woman like you joining Islam?"
Malik replied, "I feel I have become emancipated through Islam. I was freed from society's standards."
Representing the Jewish faith, Cantor Sheri Allen said traditional Judaism deemed women separate but equal. Women's duties were considered sacred, and they were encouraged to not pursue higher education for fear they would neglect duties as wives and mothers.
Today, acceptance for women clergy is growing in some traditional Jewish circles, she said, even as the Orthodox Union recently barred women from serving as clergy.
Allen grew up in a reform household but became interested in Orthodox Judaism when she lived in Los Angeles. She now leads the Congregation Beth Shalom in Arlington and serves on the Cantors Assembly Executive Council.
"When women are not being treated the way the Quran, Torah and Bible demands, then we just stand up for ourselves," Allen said.
Arlington Mayor Jeff Williams, who attended the symposium, said kindness toward others is critical in his city and beyond. Arlington, he noted, is one of the most diverse cities in Texas.
"Kindness trumps condemnation," he said. "Isn't it fascinating when we take the time to learn from our neighbors the amazing friendships that can be gained?"
http://www.star-telegram.com/living/religion/article132344939.html
-------
Saudi social media users break silence on violence against women
13 February 2017
JEDDAH: Saudi women found an innovative way to break their silence and expose stories of harassment, rape and physical abuse they face often on a daily basis.
The hashtag #Break_Your_Silence_Speak_Up went viral among Saudi women who started sharing their bitter stories that often go untold.
One woman said that she has been locked up for a year inside the house after her mother learned that her father had raped her over three years. She now needs to be treated for depression as a result of the psychological damage she endured.
Another woman named Sarah spoke up against her brother's sexual harassment with the knowledge of the father who, in return, slapped her in the face. "I was 8 years old," she said. "He taught me how to shut up every time I was molested."
The fact that such abuse continues to happen in a conservative Muslim society is shocking, the women wrote under the trending hashtag.
Along with sexual harassment, physical and verbal abuse takes place daily, according to some women.
Statistics released in 2016 show the continuous exposure of a large number of Saudi women to violence, despite a domestic violence awareness campaign launched in 2013 and a subsequent law criminalizing domestic abuse.
Research has shown that 37 percent of husbands in Saudi Arabia oppress their wives and children, in addition to depriving women of seeing their family.
Mashael Al-Bakri, a Saudi researcher, said in an interview with Al-Hayat newspaper one of the Saudi centers for domestic abuse victims that suppression of the wife or children and forbidding them from expressing their issues freely is prevalent and a form of psychological violence.
An estimated 53 percent of men in 2016 are willing to use violence against their wives in case of disobedience, where 32 percent have already used physical abuse against their wives, according to a study conducted by researcher Norah Al-Musaed.
The study also reported that 36 percent of the women expressed their acceptance of violence against them in case of misbehavior. Social media confirm that abuse is commonplace.
A college student said her father hit her after she failed to get home on time due to heavy traffic, and he threatened to deprive her of college if she does not change her schedule.
Professionals are also subjected to such treatment by their male guardians.
"My brother threatened my sister, who is a physician, to prevent her from working because she wanted to attend a conference in Kuwait," said Rahaf Al-Otaibi.
The abuse extends in some cases to depriving a woman of her own children. "I cannot describe the pain of losing my children," said another woman.
Violence against women can take many forms, not only physical or verbal. Psychological pain can result from constant threats or possibility of violence, one woman tweeted. "I may not have been exposed to physical or verbal violence but I suffer from psychological violence every day because my life could turn upside down if someone wishes."
#Break_Your_Silence_Speak_Up has been trending along with the hashtag that calls for the abolition of the male guardianship system, which reached day 220 of fighting.
"Don't back down from demanding your rights if you believe in justice," tweeted (@MARIAM_AL3TEEBE) who is an outspoken justice activist with 21,000 followers. She urged her Saudi sisters to demand their rights and not to be ashamed as long as they are protesting peacefully.
Meanwhile, the women's campaign to expose the forms of harassment against them was faced with rejection and accusations of lying. However, despite the attacks by some deniers, those women have the support of several international human rights organizations.
Amnesty International paid tribute to Saudi women last Thursday on International Women's Human Rights Defenders' Day.
http://www.arabnews.com/node/1053516/saudi-arabia
-------
Muzaffarnagar Riots: 7 Muslim Women Who Reported Their Gang Rape Are Struggling To Survive And Justice, Amnesty Reports
February 11, 2017
Muzaffarnagar: In one of the most infamous communal violence between Hindus and Muslims in India,
istricts faced one of its deadliest and gruesome riots which led to the killing of 62 people, mass gang rapes of Muslim women and the displacement of tens of thousands Muslims who migrated to Kairana and other parts of state.
Out of several rapes incidents during Muzaffarnagar Riots, Seven Muslim women showed courage and came forward to report that they had been gangraped by men from the Jat community. However, to date, there has not been a single conviction in any of the cases, said a new Amnesty International India (AII) report, Losing Faith, The Muzaffarnagar Gang Rape Survivors' Struggle for Justice, which was released on Thursday.
According to the report, two of the seven have changed their statements, following threats and intimidation. One died in 2016. In two cases, trial has not even begun.
The survivors also have not received any additional benefits from the state, apart from the compensation given to all who had lost their property in the riots.
"The security and compensation that the state government provided to the survivors came only after human rights lawyers filed petitions on their behalf before the Supreme Court in December 2013," the report added.
Shockingly, when researchers met the survivors, many did not receive regular information about the status of their cases from government authorities.
Some even said that they had not attended hearings for several months as they did not know about the dates of the hearings and had not met the government prosecutors handling their cases.
The Muzzaffarnagar district court counsel told AII that the delays were partly caused by difficulty in finding the survivors, and that he was unaware that one of survivors had died in August 2016.
Neglected Victims and Insensitive Politics
It seems that the political class has forgotten the cases. Though the Samajwadi Party and the BJP's manifestos for the UP election talk about women safety and empowerment, they have no mention of the
cases or promises for a speedy trial. Both districts go to polls on February 11.
The Allahabad High Court granted bail to the three of accused men in December 2014, January 2015 and February 2015, on the condition that they will not seek "adjournments on the dates fixed for evidence when the witnesses are present in court.
In an appeal made to the state government that will take over after March 11 results, the AII has urged that it must ensure that the investigations and prosecutions into the gangrape cases are pursued without delay; those responsible are brought to justice; investigate reports of threats, intimidation or harassment of survivors of their relatives, and bring suspects to trial; provide survivors effective legal assistance and services, keep them informed of the status of investigations and prosecutions, and address any concerns they may have; and also ensure that survivors are provided adequate rehabilitation, compensation and other measures of repatriation and that their economic and social needs are met.
"There is a pattern that follows communal riots and anti-Dailt violence in India. We have seen this happening in Gujarat and in Uttar Pradesh though the ruling parties were different: The police will either not file cases or even if they do, they will make the chargesheet weak. This is not just a failure but a deliberate design to deny justice to the victims. There is a huge majoritarian bias in the system," former bureaucrat Harsh Mander.
The fake story about Kairana Hindu Exodus
The dusty restless little town of Kairana in western Uttar Pradesh shot to the national limelight in June last year when its Lok Sabha representative, the BJP's Hukum Singh, mooted his "Hindu exodus" hypothesis. Hukum, who allegedly played a catalysing role in the 2013 Muzaffarnagar riots, suddenly woke up from his political hibernation to claim that 346 Hindu families were forced to migrate out of Kairana because of the lawlessness perpetrated by Muslims.
It was later found that many of these families had either migrated out for work or had left the town years ago. Most people in the area said that the prevailing lawlessness in Kairana had misleadingly been painted in a religious light, giving rise to the suspicion that the saffron party might have attempted to polarise the electorate on religious lines ahead of the 2017 assembly polls.
The Wire carried out an investigation in refugees camps and exposed shocking conditions and mental traumas facing there by refugees post Muzaffarnagar Riots.
http://www.siasat.com/news/muzaffarnagar-riots-7-muslim-women-reported-gang-rape-struggling-survive-justice-amnesty-reports-1129894/
-------
Kiwi Muslim woman overwhelmed with support after abuse on Waikato roadside
February 12 2017
A young Kiwi woman who was subject to a racial attack says she's been flooded with messages of support.
Mehpara Khan said on Sunday morning she was "overrun" with positive messages after she and her Muslim friends were targets of foul-mouthed comments at a rest stop in the Waikato town of Huntly.
"So good to know that we as Kiwis don't accept this as our NZ," Khan tweeted.
The woman who attacked Khan and her friends in Huntly was identified by police and arrested.
Senior Sergeant Pete van de Wetering said officers had identified the woman and an arrest was made on Sunday.
A 27-year-old woman has been charged with assault, assault with a weapon and offensive language. She will appear in Hamilton District Court on Monday.
Speaking at the Big Gay Out event on Sunday, Prime Minister Bill English called the attack "awful" and said that women should feel safe in the Huntly community.
Khan recorded the incident on her cellphone when she and four Muslim friends stopped for a break in Huntly on their way back to Auckland.
The 28-year-old corporate communications consultant said they had been travelling back from a trip to New Plymouth when two of their group needed a toilet stop.
"Two of the group went to the bathroom, the rest of us got out of the car to stretch our legs and were standing by the car," on State Highway 1 next to the Waikato River.
"All of a sudden this woman comes out of the bathroom and starts swearing at us and telling us that we don't belong there and that we are Muslim b......, that need to F-off, basically," said Khan.
The woman threw a beer can at Khan and her two friends.
"At this point I decided to start filming her. We couldn't leave because our friends were still in the bathroom."
The rest is captured in the video Khan recorded on her cellphone and posted to Twitter.
Van de Wetering said it is unfortunate that someone would act in such a disrespectful manner.
"It was an unprovoked act and we will endeavour to locate the woman and bring this to a speedy resolution."
The woman who carried out the attack is shown in the recording ordering Khan and her friends to get back in their car, then throws a beer can at her.
"Get in your f...... car, hurry up - do you not understand?"
When the woman realises she is being recorded, she approaches Khan and tries to hit her.
"Are you recording, you f......, stupid b..... Get the f... off," she shouts.
"Hey, I was born here, I've got the right to be here," Khan replied.
"F... off, I don't care if you were born here - you don't have the right to be here, I was f...... born here, I own the f...... land; now get the f... off - you ugly f...... b....."
The woman's tirade continued before she threw beer at Khan and her friends.
Khan said the abuser also took a swing at her, which she was able to block.
When she took another swing, her friend blocked it.
"She threw another beer can at us, which missed, thankfully, but now I stink like beer. I'm sticky and it's not great - especially considering we don't drink," she added.
Khan said the woman eventually walked away, but she came back as the group of women were securely in their car.
"We locked the doors and were about to back out when the woman returned and tried to get into the car and started slamming on the windows."
Eventually a man approached the attacker and tried to calm her down.
Once the group arrived back in Auckland, they lodged a complaint with the police in Manakau.
"We had only intended to stop for two minutes." Khan added.
She said it wasn't the first time she'd been abused for being Muslim. She'd been yelled at in a McDonald's once and decided to do nothing about it.
"That was in the back of my head when I decided to film it this time."
Khan says anti-Islamic sentiment is on the rise.
"This type of fear and reaction is happening more and more across New Zealand.
"I don't know why she felt more entitled to be there than I was, but at the end of the day it doesn't matter - we all deserve to be in this country."
"We all have the right to be at a public toilet in Huntly."
Race Relations Commissioner Dame Susan Devoy agrees.
"Muslim women and youngsters tell us they are increasingly targeted by strangers. This is not the New Zealand I love," Dame Susan said.
"We need to stand up for others and let them know they're not alone. We need to let those who think they can attack innocent people that we will not let them normalise hatred."
Khan added that while she was shaken by the attack, but said the recording had garnered enormous support online.
"We've had strangers reaching out, they don't accept this behaviour in New Zealand and it's not representative of us."
Representative of the Islamic Women's Council Anjum Rahman said she was disappointed by the attack, but not surprised.
"Muslim women are often the ones who bear the brunt of attacks by strangers in public places.
"We would be happy to meet with the young woman in the video, to have a dialogue about our contributions to New Zealand," said Rahman.
The group condemned all forms of racism and hope action would be taken in this case and Rahman urged people to report incidents of racial abuse and violence.
http://www.stuff.co.nz/national/89315539/kiwi-muslim-woman-overwhelmed-with-support-after-racist-abuse-on-waikato-roadside
-------
URL: https://www.newageislam.com/islam,-women-and-feminism/new-age-islam-news-bureau/nigeria-s-muslim-women-oppose-inheritance-bill/d/110063
New Age Islam, Islam Online, Islamic Website, African Muslim News, Arab World News, South Asia News, Indian Muslim News, World Muslim News, Womens in Islam, Islamic Feminism, Arab Women, Womens In Arab, Islamphobia in America, Muslim Women in West, Islam Women and Feminism, Moderate Islam, Moderate Muslims, Progressive Islam, Progressive Muslims, Liberal Islam