New Age Islam News Bureau
29 Apr 2014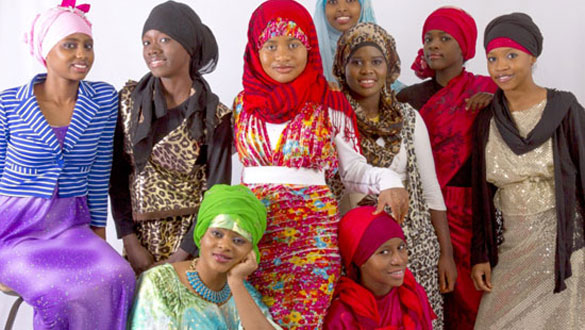 Sahro Hassan (centre) surrounded by friends and family modelling her designs
-----------
• Malala Yousafzai Makes It Again to Time's 100
• Bangladesh: 'No Qualm about Child Marriage'
• This Somali Teen Fashion Designer Goes Big With Animal Print Hijabs
• Ugandan Nun Is Helping Restore the Lives of War-Torn Young Girls
• 2-Month Jail, Fine for Well-Known Saudi Woman Academic for Illicit Relations
• Pakistan Jolted: Rape of Minors a Rising Trend
• Muslims File Complaint against Boomers for Not Allowing Hijabs on Go-Carts
• Women Urged To Follow Hazrat Faitma (Ra)
• HR Coordinator for Sindh CM Condemns Bomb Attack, Takes Notice of Torture on Woman
• Try Robot Housemaids, Tech Firms Urge Saudis
• Hillary Clinton to Address United Methodist Women as Keynote Speaker
Compiled by New Age Islam News Bureau
URL: https://newageislam.com/islam,-women-and-feminism/new-age-islam-news-bureau/nigeria-muslim-nurses-fired-for-hijab/d/76793
-------------
Nigeria Muslim Nurses Fired For Hijab
April 29, 2014
LAGOS – Barely two months after finding their dream job at a Lagos governmental hospital, two Muslim nurses were dismissed from work for refusing to take off Hijab after the hospital authorities told them to choose between job and their Islamic headscarf.
"At the commencement of the one month orientation, I was told to remove my Hijab," Fasilat Olayinka Lawal, one of the two nurses who were fired from the National Orthopaedic Hospital Igbobi Lagos (NOHIL), told OnIslam.net.
"I begged them to allow me and that I have a circular from the Nursing and Midwifery Council of Nigeria which I presented to the head of Nursing Department, hence I was allowed to do the orientation wearing Hijab."
The story of Lawal and Seminar Sanusi dates back to February when the two Muslim nurses did their medical examination to join NOHIL staff.
Asked to remove Hijab, Lewal said, "I responded by telling (them) that I know other federal hospitals that allow Hijab and I do not expect Igbobi to be an exception."
"After that day, I made contact with colleagues in University College Hospital Ibadan (UCH) and Obafemi Awolowo University Teaching Hospital Ile-Ife (OAUTHC) and I was made to realize that there is a circular to that effect which they promised to get on my behalf and this raised my hope and gave me the courage to pick up my letter of appointment when I was called."
The circular, cited by OnIslam.net correspondent, dates back to 11th February, 2002 and signed by the council's then Secretary General & Registrar, P.N. Ndatsu, said "female nurses should wear either a Nurse cap or a shoulder-length Hijab."
Receiving the circular, she forwarded it to the nursing admin office for orientation.
Argument over Hijab resurfaced again on March 23, Lawal said, when she accompanied her nursing dress with a shoulder-length Hijab and was told she was "improperly dressed as I was using Hijab and not a nurse cap."
"On March 31, I was told to leave the ward as I was still wearing a Hijab," she added.
Later on April, she was stopped from work and prevented from signing attendance register, a similar decision taken against Sanusi.
Legal Advice
The nurses' case developed further in April when a disciplinary committee asked them to remove Hijab and setting 15th April date to appear before the panel.
"We immediately sought a legal advice since we were determined not to remove our Hijab," Lawal told OnIslam.net.
"[We] decided to proceed to court to stop any disciplinary actions taken against us and also seek redress with the court of law on the violation of our fundamental human rights and be allowed to work and wear our Hijabs without let or hindrance as permitted by N&MCN, the only body permitted by law to regulate the nursing profession in Nigeria," she narrated.
Lawal said despite the court papers served on the authorities, they were still prevented from resuming work, promoting their attorney to write the authorities on April 17 warning them of the consequences of their actions.
The hospital authorities were not moved and on 23 April, giving the two women a memo each to appear before the hospital management board.
"We met with the board and was told that by not removing our Hijab we have committed an act of insubordination and disobedience which is punishable by the law of public service," he said.
"We were asked if we were ready to retrace our steps by removing our Hijab and we responded that we cannot remove our Hijab and more so the matter is in court and we cannot take further steps without informing our lawyer. Later that day, we were issued a letter of termination of service."
In a swift reaction to the sacking, the medical director of the hospital Dr O. O. Odunibi said both women were not sacked because of Hijab but for "insubordination."
"The newly employed two nurses had their appointments terminated for insubordination and not for wearing Hijab," the medical director reacted in a text message to OnIslam.net on Sunday.
"If you come to the hospital you will see many members of staff in Hijab. Case is in court at their instance, so (I) can't discuss further."
Efforts to speak to the chairperson of the NOHIL chapter of the National Association of Nigerian Nurses and Midwives, Mrs Agunloye, were turned down as she refused to comment on the incident.
"I cannot comment on it. Please direct your questions to the public relations officer of NOHIL," Agunloye snapped, angrily dropping the call.
Muslim Anger
A leading Nigerian Islamic organization has blasted the decision of NOHIL hospital to dismiss the two Muslim nurses for donning Islamic headscarf, or Hijab, expressing deep concerns over the increase of the level of discrimination in the country.
"By its latest action, NOHIL and the hospital management continue to show aggression against the victims and unrestrained and unaccountable hostility towards the Islamic faith," MPAC Executive Director Disu Kamor said in a strong-worded statement to the media.
The body also condemned the hospital's resort to self-help despite a court orders that status quo be maintained.
The statement added: "The sisters will continue to demand justice, and the resolve of the Muslim community to stand with them is only strengthened by this latest act of aggression. Ad these sisters continue to seek justice by all lawful means, MPAC honors them and their empowering stance.
"The decision to sack victims of discrimination is not only oppressive towards the victims; it is another stain on the history of NOHIL. Tyranny of employers, public and private, highlights the need for our lawmakers to do the right things and make laws that will criminalize discrimination on the basis of religions."
The body encouraged Muslims in such situation elsewhere to report and taker lawful actions "against any employer that is forcing them to have to choose between their religion and work."
MPAC urged all Muslim institutions and individuals to "lend their prayers and supports to these latest victims of discrimination against religion."
Islam sees Hijab as an obligatory code of dress, not a religious symbol.
The issue of Hijab has become controversial in Nigeria's southwest region where Muslims accuse public institutions of denying Muslim women/girls the right to wear Hijab, as allowed by the constitution.
At least three court cases have been instituted at different instances, although a court ruling allowing Hijab in public institution does exist.
A few years ago, Lagos authorities have banned the wearing of Hijab at schools. The Muslim outfit is also outlawed in most south-western states.
Muslims have sued the Lagos government on allowing Muslim students to wear the Hijab at schools.
In May 2013, Lagos government officially applied for an out-of-court settlement on the wearing of Hijab at public schools, ending the problem.
Muslim leaders say that banning the headscarf violates the religious rights of Muslim students as spelt out in the Constitution.
http://www.onislam.net/english/news/africa/471869-nigeria-muslim-nurses-fired-for-Hijab.html
-------------
Malala Yousafzai makes it again to Time's 100
April 29, 2014
NEW YORK: Malala Yousafzai is among the world's most influential people, according to a list published by the Time magazine on Saturday.
Malala, 16, is the only Pakistani on the list of people, who according to the magazine have inspired others around the world.
The list also includes a profile by another star, explaining why the person deserves a spot.
Former US Congresswoman Gabrielle Gifford who was shot in the head in Tuscon, Arizona, in 2011 paying tribute to Malala praises the Pakistani activist's courage and resilience.
Gifford wrote for Time that she, like many people, draws inspiration and strength from Malala Yousafzai, who was also shot in the head by the Taliban in 2012.
"Malala is a testament that women everywhere will not be intimidated into silence." "I have seen courage in many places, but Malala's courage is uncommon," Giffords wrote.
In July, Malala spoke at the UN and reminded viewers that everyone's voice matters in the fight for education. "One child, one teacher, one pen and one book can change the world."
The teen activist, who published her first book I Am Malala in October, was also nominated for the Nobel Peace Prize last year.
Giffiord wrote, "I have seen courage in many places in the thousands of our nation's military members I have met and represented; in those who ran toward the gunfire in a Safeway parking lot on January 8, 2011; and in our leaders who take the tough votes because it's the right thing to do, but Malala's courage is uncommon."
"In the face of oppression and bitter injustice, she demands education and opportunity. In the face of violence from the hands of cowards, she refuses to back down."
Malala was also selected to write the profile of former US secretary of state Hillary Clinton, a potential presidential candidate in the next election, who also figures on the list of world's most influential people, calling her "a symbol of strength for women across the world".
The Pakistani activist wrote, "It was she (Clinton) who famously said, 'Women's rights are human rights'. She not only spoke those words, but also dedicated her life to empowering women around the world through politics and philanthropy. She has been a source of strength for many women, including myself, my family and those who stood by me after I was attacked."
http://www.thenews.com.pk/article-146091-Malala-makes-it-again-to-Times-100-
-------------
Bangladesh: 'No Qualm about Child Marriage'
April 29, 2014
Bangladesh has one of the highest prevalence of child marriage in the world, but a startling study suggests people do not consider it a 'problem.'
An ICDDR,B study that explored the nature of early marriages and tried to understand the role of the community, revealed that people do not see any "visible" benefit in delaying marriage.
Young girls who suffered due to early marriage are the only ones aware of the pitfalls.
Early marriage that robs a girl's physical, psychological and social development leads to early pregnancy, resulting in complications and deaths.
According to law, 18 is the minimum marriageable age for a girl in Bangladesh. The country ratified the UN convention on child rights, meaning until 18 everyone is child.
But Bangladesh Demographic and Health Survey (BDHS) found two-thirds of women were married off before 18.
"Its (early marriage) a complex social issue," Dr Quamrun Nahar, an ICDDR, B associate scientist said while presenting the study results on Monday.
"Community does not see any visible benefit in delaying marriage especially when the risk of keeping girls at home outweighs the benefit," she said.
The study found social insecurity like sexual harassment, poverty, dowry, fear of breaking social norms, and pressure from others were the reasons behind early marriage.
USAID funded the study.
It deputy director (health) in Dhaka Gregory Adams says this was to generate data to address the root cause of child marriage.
The qualitative study was carried out in four villages in four corners of Bangladesh as researchers say marriage age has regional variations. The reasons of early marriage also differ.
For examples, in north-eastern Habiganj it was found "very difficult" to resist a marriage proposal from immigrants, but in south-western Jessore parents' fear of girls falling in love and its consequences like suicide led them to marry off girls early.
Coxs Bazar large family size and religious belief play the role while in northern Kurigram poverty and limited employment opportunities for girls' are mainly responsible for early marriage.
The study also tried to identify the roles of individuals, family, local authorities, law enforcing agencies, marriage registrars, and religious leaders in preventing early marriage and revealed a dismal picture.
The community perceived that as an individual or family they have 'little role' to play in preventing early marriage in the neighbourhood.
They identified some key local actors who have major role in preventing early marriage like local political leaders, marriage registrars and religious leaders like Imam.
Upazila Nirbahi Officer (UNO), police, lawyer, marriage registrar, union parishad chairman, upazilla member and imam (Muslim religious leader) were interviewed in the study that also reviewed different documents like marriage register and birth certificates.
But it is the parents who take the decision about their marriage, girls told the researchers. "We obey our parents".
But a few of them "sounded confident" that they would be able to convince their parents to delay marriage.
"If not they would ask help from local authority," the associate scientist Dr Nahar said.
But parents asked the researchers why they would wait?
"My neighbour's daughter is about the same age. She got married and is happy in her conjugal life" was one of the explanations parents gave to the researchers.
The government in 2011 introduced a rule to verify age through birth certificate before registering a marriage.
Upazilla chairman issues the certificate, but sometimes even marriage registrar doubts the age mentioned in the certificate.
Secretary at the women affairs ministry Tariq-ul-Islam said they had introduced a helpline '10921' in which they receive call.
But when they try to prevent a marriage, the parents ask, "then what?"
"Would you stop harassment, what about the financial support for her education," he said, adding that the government was keen to solve the problem.
He said the government offers stipend for girls' secondary level education so that they stay in schools and acknowledged that more need to be done.
ICDDR,B's director for the Centre for Population, Urbanisation and Climate Change Dr Peter Kim Streatfield said Bangladesh has long been known for early marriage.
"Only some West African countries (Niger, Mali, Chad) report earlier female age at marriage than Bangladesh," he said.
The research suggested raising awareness about the benefits of delaying marriage so that people understand the ill effects of early marriage.
Social security enhancement has been suggested along with empowering girls to tackle the menace.
http://bdnews24.com/bangladesh/2014/04/28/no-qualm-about-child-marriage
-------------
This Somali Teen Fashion Designer Goes Big With Animal Print Hijabs
April 29, 2014
Sahro is a Somali immigrant, one of thousands who immigrated to the United States to escape the violence back home in Somalia.
Like many Muslim women, Sahro wears a Hijab, a traditional headscarf, to cover her hair. But her Hijab is bright orange and sparkly.
"I wouldn't go Lady Gaga extreme, but I like something that people look at it and think, oh my god, that's interesting. Like, what is she wearing," Sahro says.
The high school senior lives in Lewiston, Maine, and she's mad for fashion, but the fashion scene in Lewiston isn't quite up to her standards.
"Oh god. Jeans. Sweatpants," she says.
Lewiston is blue collar, an old mill town. Thought Hijabs don't stand out there the way they did when the first Somali refugee families began arriving in 2001. The city is now nearly 10 percent Somali, and the downtown crowds are a mix of lumberjack flannel and East African influences.
Most Hijabs you see, though, aren't orange and sparkly. That's all Sahro. At 18, she's already launched her own fashion line for young Muslim women.
"Growing up, we didn't have a lot of options about what to wear and how to express ourselves," she says.
Sahro's designs are modern, yet modest — something you won't find at the mall. Her signature Hijabs come in neon, zebra stripes and more. Before she was designing Hijabs, though, she had to fight to even wear one.
Sahro was born in a Kenyan refugee camp; her parents fled Somalia after civil war broke out there. When she was 10, they were resettled in Indiana. It was a difficult time. She and her younger siblings were the only Somalis at their school.
"One day I was wearing my head scarf and I was brought to the office and I didn't speak a word in English," Sahro says.
The principal pointed at her scarf and told her to take it off. The school wouldn't let Sahro and her sisters wear their Hijabs because it had a "No Hats" policy.
Sahro says she tried to fit in.
"I started wearing pants and stuff, just trying to adapt and fit in with the kids there," she says. "Because I didn't know the language, I tried to imitate what they were doing. And I would have lost who I am."
Then Sahro's father heard about the growing Somali community in Lewiston.
"I felt like, man, I'm going to be lost forever," Sahro says, "but my parents were like, we're moving to Maine."
In Maine, Sahro put her Hijab back on. With her clothing no longer a source of conflict, she threw herself into learning English. And a great way to learn a new language? Turn on the TV.
Sahro has become a diehard fan of fashion reality shows like "Project Runway" and "What Not to Wear."
She says her mom watches too, though she's kind of shocked by what she sees.
"They do bikinis and stuff. My parents are against that because that's not how they raised us," Sahro says. "They're like 'no, that's literally naked.' I'm like, 'mom, they don't think it's naked.'"
Her parents don't need to worry. She's not inspired by what she sees on the shows: bikinis, mini-skirts, crop tops. She's inspired by what she doesn't see.
"I feel like I have potential because I don't see Somali girls on Project Runway, designing and wearing her Hijab, and I want to change that," she says.
She's well on her way. She's already held two runway shows in downtown Lewiston featuring more than 20 original designs. And she's done her first photo shoot, with the help of a photographer in Lewiston who volunteered his services.
Her models are her sister, her cousin, her friends. They parade in front of the camera in wild combinations: a purple tie-dye tiger print skirt; turquoise sequins head to toe; a pink and black striped blazer over hot pink lace. And there are green, blue, red, black and cheetah-print headscarves.
"I love animal print, I just die for print," Sahro says.
There's flash and glitter, but not an inch of arm, leg, or hair. These photographs are for her college application portfolio, and she's already been accepted to some of her top choices.
"My biggest dream is to continue my line, but make it big that it's known in the country, have my own store opened and even have a franchise," she says. "I want to be the CEO of my company.
She's ready to show the world her unique vision — without showing too much, of course.
http://www.pri.org/stories/2014-04-28/somali-teen-fashion-designer-goes-big-animal-print-Hijabs
http://www.somalinet.com/forums/viewtopic.php?t=346522&p=4208670
-------------
Ugandan Nun Is Helping Restore the Lives of War-Torn Young Girls
April 29, 2014
Ugandan Nun Rosemary Nyirumbe, recently named one of Time Magazine's 100 Most Influential People, joined HuffPost Live to discuss her struggle to rebuild the lives of young women who have been affected by the war in Uganda.
Nyirumbe has been sheltering, training, and empowering young girls who have fallen victim to infamous warlord Joseph Kony and the Lord's Resistance Army. She told HuffPost Live's Caroline Modarressy-Tehrani about the recent book and documentary, Sewing Hope, that traces her journey to help these young women whose lives have been devastated by the war.
"I discovered there were a lot of young girls who actually managed to escape from the rebels who abducted them, trained them as child soldiers, who used them as sex slaves," Nyirumbe said. "And a lot of them even had children from these rebel commanders and when they returned, they didn't know where to go."
She continued, "I decided to make the school to become like a family where these girls could be accepted, where they could find love and compassion, where they could be taught how to love these children they got from painful situations. I wanted them to live again and hope."
Saint Monica's Vocational School in Gulu, Uganda, provides girls with the skills they need to regain their independence through learning how to sew. Nyirumbe explained that these girls have been creating purses out of trash, which symbolizes more than just the value of working.
"I definitely love that idea of using trash making it become beautiful, teaching these girls they can produce beauty out of rubbish but it is also signifying these young women who were also put aside as trash and now, with what they are doing, we are actually letting the society understand that they are beautiful again and they are working their way. They are not begging, they are not going to go toward prostitution. They want people to buy these purses and just help them to restore their dignity and help their own children."
http://www.huffingtonpost.com/2014/04/28/rosemary-nyirumbe_n_5228337.html?utm_hp_ref=world
-------------
2-Month Jail, Fine for Well-Known Saudi Woman Academic for Illicit Relations
April 29, 2014
JEDDAH — The Summary Court recently sentenced a well-known Saudi female academic to two months imprisonment for having an illegitimate relationship with a married man.
She was fined SR2, 000 and made to sign a pledge never to repeat the offence, local daily Al-Madinah reported Monday.
The court also sentenced the man's wife to four days in prison and fined her SR2, 000 for defaming the defendant on Facebook after she had discovered her husband's relationship.
The wife told the court she had evidence that the academic had an illegal relationship with her husband and that the two of them travelled to a European resort together.
She said since the academic met her husband he had neglected his family and that cracks appeared in their marriage.
The judge ordered that the husband be questioned and a lawsuit against him be filed at the general court if necessary.
The woman had travelled with the husband to a European country where they stayed alone, the court heard.
She also sent him a number of flirtatious messages on his mobile phone and exchanged gifts with him.
The husband had bought her gifts including lingerie from a famous American department store.
The academic filed a lawsuit against the wife alleging that she had defamed her on the Internet and sent her filthy messages. The wife was also accused of visiting the home of the defendant's mother and attacked the former there.
The academic claimed that she only had a professional relationship with her male colleague and said he was about to announce his engagement to her.
http://www.saudigazette.com.sa/index.cfm?method=home.regcon&contentid=20140429203441
-------------
Pakistan Jolted: Rape of Minors a Rising Trend
April 29, 2014
KARACHI / ISLAMABAD: The sexual assault of five-year-old "S" who was then dumped outside a Lahore hospital jolted the nation. The story made headlines for several days. In her, each saw their own child. Much was written and promised, but some seven months later the rapists remain at large and the government continues to chase shadows.
In this particular case, there were some lessons to be learnt. The most shocking is that the rape of minors is a growing trend in the country. "The average age of the rape victim in Karachi, according to data collected, is now nine years," discloses Shiraz Ahmed, who works for the Karachi-based NGO, War Against Rape (WAR). "Child-rape is definitely on the rise. Many more cases are now being reported, but we can safely estimate that these are only 5 per cent of the actual number of cases."
Ahmed says that influential perpetrators or their allies intimidate or bribe victims and their families into silence. "And society encourages the issue to be brushed under the carpet," he adds.
In Punjab alone, there were 2,576 cases reported, according to a report of the Human Rights Commission of Pakistan (HRCP) released recently.
The father of "S" continues to fight for justice. "Due to weak laws and punishment, these beasts continue to destroy the lives of women. I demand action that would set an example," says Shafqat Mahmud. So far Chief Minister Shahbaz Sharif's government has been helpless. Possibly this inaction encourages rapists.
Experts say that the more accessible a child is, the more at risk he or she is. Street children top the list. No official numbers are available regarding their exact number, but it is estimated that there are 1.5 million street children in Pakistan, according to the Society for the Protection of the Rights of the Child (SPARC). To add to this, according to the HRCP's 2013 report, 1,400 juveniles are in jail and the country has some 12 million child workers, half of them below 10. They all fall under the high risk category.
The role of police and the media
WAR's Shiraz Ahmed says that on one level, more cases are being reported which shows a social change. At the same time he laments the fact that the trend of child rape is growing.
The media and the police also need to play a more positive role, he adds. The media has to be sensitized on how to handle such cases. "The media crosses lines. It shows the faces of the victims, their names and the images of the family," laments Ahmed, concerned on issues of privacy and safety. "More sensitive reporting of such cases, especially of minors, is what will help in the long run."
He also feels that the police need to be made more aware and more answerable. Sometimes corruption is the reason why they record complaints under sections that have loopholes.
Shiraz feels that the correct sections should be applied for the concerned crime.
Cycle of abuse
The cycle is never ending. Sarah Jafry, counsellor at WAR, comments, "a sexually abused child may indulge in risky sexual behaviour, wandering from one intimate relationship to another, because the child sees this as a way of feeling valuable and approved. Most of this is unconsciously done."
Once abused, most victims almost never recover. Dr Rizwan Taj, head of Psychiatry department at Pakistan Institute of Medical Sciences (PIMS) says that the younger the victim, the longer lasting the impact. "Young victims lose trust and confidence they had in relationships." The victim chooses isolation rather than trying to stabilize relationships with people.
Experts say that the government should arrange for free medical treatment and long-term counselling. This remains a dream for most, however. Many say that the government should wake up to what is becoming a crisis situation. So far, the government has only been sleeping, experts say.
Alarm: Rapid rise in child-rape
• 2,788 child sexual abuse cases were reported in 2012, as compared to 2,303 in 2011.
• On an average, eight children a day were abused during 2012.
• 71 per cent of minors who suffered abuse were girls.
• The age group most vulnerable to sexual abuse among girls and boys was 11 to 15 years.
• Some 5,689 abusers were involved in nearly 3,000 abuse cases, out of which 47 per cent were acquaintances
• 1,214 cases took place either at the acquaintances' or the victims' houses, according to the report.
http://tribune.com.pk/story/701607/nation-jolted-rape-of-minors-a-rising-trend/
-------------
Muslims File Complaint against Boomers for Not Allowing Hijabs on Go-Carts
April 29, 2014
Area Muslims have filed state discrimination complaints that the Boomers family entertainment centre in Irvine has refused to let female visitors wear Hijabs while riding go-carts, but company officials say it's a safety issue.
The Council on American-Islamic Relations and the UNITED SIKHS organization will hold a news conference Tuesday to outline complaints against Boomers, which is owned by Newport Beach-based Palace Entertainment. The San Francisco chapter and the national office of CAIR filed a complaint with the state Department of Fair Employment and Housing today.
A complaint against the Irvine location was filed last month.
On March 17, 2013, two women went to the Boomers in Irvine with their four daughters and two sons, said CAIR-LA's civil rights coordinator, Sammar Miqbel.
"The children waited a half-hour in line, but when they got up to the front the attendant told them they were not allowed to ride on the go-cart with a scarf around the neck," Miqbel said.
The children tried but failed to assure the employee that they had never had a problem before riding the go-carts with the religious head-dress, Miqbel said.
In June 2013, Muslim girls on a field trip from a local elementary school were told at the Irvine location they could not wear Hijabs on the go-carts, Miqbel said.
Female Muslims are required to wear Hijabs in public for "modesty" reasons, CAIR officials say.
The civil rights organization has received seven complaints in California and one out-of-state. Three Sikh men in the Northern California town of Livermore were told they would have to take off their turbans before riding go-carts, Miqbel said.
CAIR has tried to negotiate a compromise for the past six months, Miqbel said.
"We were optimistic we would reach a resolution," Miqbel said. "But we've reached a point where they're not proceeding in good faith to find an accommodation that would work for everybody."
Michele Wischmeyer, vice president of marketing and sales for Palace Entertainment, said the issue is one of safety.
"It is a matter of safety, and we ask that all head wear be removed," Wischmeyer said. "It doesn't matter if it's religious headwear or a wig or a baseball cap or visor or scarf or bandana."
Company officials warn on the website that head gear and long hair can get tangled up in the wheels of the go-carts.
"Our stance is safety is our number one priority," Wischmeyer said. "It is not a matter of race or religion. It's a matter of safety."
Miqbel said CAIR agrees with the priority on safety.
"We share their safety concerns as well, and we don't want to do anything that would jeopardize the safety of our community members and anybody else's safety, but we feel all these other amusement parks with more intense rides have addressed the safety concerns and allowed people with religious head gear on their rides, and we feel Boomers should be able to do the same," Miqbel said.
--City News Service
http://fountainvalley.patch.com/groups/business-news/p/muslims-file-complaint-against-boomers-for-not-allowing-Hijabs-on-gocarts55599
-------------
Women Urged To Follow Hazrat Faitma (RA)
April 29, 2014
SAHWILA-Seminars in connection with the birth anniversary of Hazrat Fatima tuz Zohra (RA) were held under the aegis of Imamia Organisation across the country especially in Lahore, Karachi, Sialkot, AJK, Faisalabad and Multan.
Religious scholars highlighted the golden aspects of the life of Syeda Fatima (RA). During a seminars held in Sahiwal, Organisation's Women Wing Markazi Nazma Khawhar Nazia Karar said that Seerat of Syeda Fatima Tuz Zohra is exemplary for the women of present era.
"We should follow in the footsteps of Hazrat Fatima (RA). She brought up Hazrat Imam Hassan and Imam Hussain who sacrificed their lives for Islam and were declared youth's leaders in the heaven while her daughter Syeda Zainab (RA) also protected Islam after Karbala incident."
The seminar was also addressed by Fazila, Khanam Rubab Rizwi, Shabnam Zia, Dur-e-Sabeen and Shaheen Trimizi. They said, "By following in the footprints of Syeda Fatima, we can bring up our new generation in better way. In this way, we can make Pakistan a welfare Islamic state with success not only in the world but in the world hereafter.
http://www.nation.com.pk/national/29-Apr-2014/women-urged-to-follow-hazrat-faitma-ra
-------------
HR Coordinator for Sindh CM Condemns Bomb Attack, Takes Notice of Torture on Woman
April 29, 2014
KARACHI: Coordinator to Chief Minister Sindh for Human Rights Nadya Gabol has strongly condemned the bomb attack on a madrasa at Orangi Town Karachi besides she has taken serious notice of a torturing incident on a woman by her husband in Sukkur. In a statement on Monday, expressing her deep sorrow and grief over the deaths and injuries caused by the explosion she said terrorist were targetting innocent people who had come to the madrasa for religious education, such people were open enemies of Islam and humanity. They are carrying out mindless massacres and terrorists' acts to destabilise Pakistan. Nadya Gabol said these kinds of brutal attacks were mean to create fear among students in order to keep away generation from education. She condemned the attack on journalist during the coverage of Orangi Town blast and told that it was a conspiracy hatched to malign facts and figures about the incidents to mislead the interrogation. She took serious notice of an incident of torturing on women who married some four years ago and was kept in unlawful detention by her husband and in-laws. The incident took place in jurisdiction of B-Section police station Sukkur in which she was imprisoned, tied with chains and subjected brutality by her husband Nadeem and in-laws since her marriage, while her two years daughter Naiba was also kept in detention. She expressed apprehensions over the incidents of human rights violation in general and specially woman rights violation in Sindh. She said women were the part of the society and would continue to contribute their role in all walks of life without fear.
http://www.dailytimes.com.pk/sindh/29-Apr-2014/nadya-condemns-bomb-attack-takes-notice-of-torture-on-woman
-------------
Try robot housemaids, tech firms urge Saudis
April 29, 2014
Several Japanese and Chinese technology companies have proposed exporting robots that can do house chores to cater for the growing number of Saudi families that cannot find housemaids in the local market.
Saudi families are struggling to recruit housemaids after many Asian and African countries stopped sending their citizens to work in the Kingdom in the wake of several crimes that took place last year.
Technology companies are under increased pressure to manufacture robots, which will be more cost-effective than paying monthly salaries in the long run.
Robots have already circulated in several Asian and western countries and have been proven to be able to clean kitchens and floors and carry out other tasks.
Technology companies have sold more than 10 million domestic robots globally this year.
Several companies have visited Gulf countries to showcase the ability of these robots and other "smart" products that offer solutions to domestic chores.
"This is a good idea, but Saudi society will not easily accept the idea of replacing manpower with robots, especially since they still need someone to cook and make tea," said Adel Al-Essa, director of operations at a technology company and an economic expert. "Nevertheless, the never-ending problems sponsors face in recruiting housemaids, including legal and crime-related issues, may just force society to accept having robots at home."
"Saudi women may, however, face difficulty working the gadgets, which operate in the English language," he said.
"The potential success of robots will certainly cause huge losses to housemaid recruitment firms," he told Arab News.
Yehia Al-Maqboul, president of the Recruitment Committee at the Jeddah Chamber for Commerce and Industry (JCCI), denied that this new technology will impact recruitment firms.
"Saudi society will need a long time to accept robots to replace housemaids," he said. "There are several chores that housemaids do that robots simply cannot."
Meanwhile, the Labor Ministry recently disclosed plans to recruit housemaids from Kyrgyzstan to meet the severe shortage.
"We are in talks with officials from former Soviet republics about the recruitment of domestic helpers," said Ahmed Al-Fehaid, deputy minister for international affairs.
"Maid-exporting countries are limited in number," he said. "Some Arab countries export manpower when their economy becomes weak, only to stop when the economy picks up again."
"Still, Saudis prefer domestic workers from Arab countries if they are ready to fulfill the ministry's conditions," said Al-Fehaid.
http://www.arabnews.com/news/562896
-------------
Hillary Clinton to Address United Methodist Women as Keynote Speaker
April 29, 2014
LOUISVILLE, Ky. (AP) — Hillary Rodham Clinton's faith in God was shaped by her grandmother's hymns and the bedtime prayers from her gruff Navy father, the former secretary of state told thousands of Methodist women.
Clinton said she struggled as a young woman between her father's insistence on self-reliance and her mother's concern for compassion. She reconciled those in the Biblical story of Jesus instructing his disciples to feed 5,000 people with just five loaves of bread and two fish.
"The disciples come to Jesus and suggest they send away the people to find food to fend for themselves. But Jesus said, 'No. You feed them,'" Clinton said. "He was teaching a lesson about the responsibility we all share."
It was a personal speech from a woman considered the front-runner for the 2016 Democratic nomination for president. And while the speech mostly steered clear of politics, she made the case on moral grounds for increasing the minimum wage and equalizing pay for men and women — two issues that have polarized Congress in the run-up to the 2014 midterm elections.
Clinton's remarks came at the quadrennial United Methodist Women's Assembly, where 7,000 women gathered for three days of teaching, singing and service. Clinton told the crowd her faith was rooted in her family. She talked about how her father — a self-made, independent man — would "humble himself before God" by her bedside every night. And her grandmother would sing hymns as she braided young Clinton's hair.
As she considers a run for president, Clinton has been brandishing her foreign policy experience lately with a recent speech at the University of Connecticut and by promoting the upcoming release of her new book, "Hard Choices." But Saturday gave Clinton a chance to tell thousands of women from across the country about her own faith and the church she attended growing up in Illinois.
"I love that church. I love how it made me feel about myself," Clinton said. "I love the doors that it opened in my understanding of the world, I loved the way it helped to deepen my faith and ground it."
Clinton said that while she was secretary of state, faith lead her to start initiatives that fought against human trafficking, promoted maternal health care in developing countries and, above all, inspired her to fight for women's rights.
"The truth is there are too many women in our country today trying to build a life and a family that don't just face ceilings on their aspirations and opportunities; it's as if the floor is collapsing beneath them," Clinton said. "These are our sisters, our daughters, granddaughters. Some are hungry, not just for nutritious food but for opportunity, for chance to thrive, for their own piece of the American dream.
"Don't think we can sit back and wait for someone else to step forward and solve these problems," Clinton added.
Her comments about women come as Democrats and Republicans across the country are appealing to women voters. In Kentucky, Democrat Alison Lundergan Grimes, a Clinton family friend, is trying to defeat Republican Sen. Mitch McConnell, the Senate minority leader.
But while Clinton's husband, former President Bill Clinton, campaigned for Grimes at a fundraiser in Louisville last month, Hillary Clinton made no mention of Grimes in her speech and did not appear with her during her short stay in Kentucky on Saturday.
Clinton is scheduled to appear with Republican Sen. John McCain at an event in Arizona on Saturday night.
http://www.huffingtonpost.com/2014/04/26/hillary-clinton-united-methodist-women_n_5218298.html?utm_hp_ref=religion
-------------
URL: https://newageislam.com/islam,-women-and-feminism/new-age-islam-news-bureau/nigeria-muslim-nurses-fired-for-hijab/d/76793