New Age Islam News Bureau
18 Apr 2014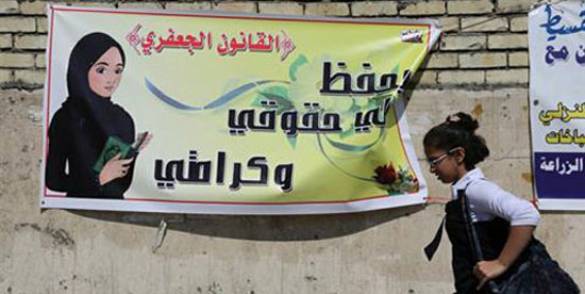 File - A banner in Baghdad: "The Jaafari Personal Status Law saves my rights and my dignity."
------
• Ancient Islamic Tradition Carried On By Chinese Female Imams
• Women-Only Theatre Carving a Cultural Niche in the Eastern Province
• Child Marriage Law Stokes Fears of Looming Theocracy in Iraq
• Couple on Murder Charge After Girl Dies in FGM Case in Kenya
• Two Somali Girls Die after Committing Suicide in Yemen
• More Saudi Women Join Hotel Sector
• Worshippers from a mosque and a church forge a women's group
• Anemia Affects 40% of Indonesia Female Factory Workers: Study
• Saudi Arabia Jails Organiser of Women's Protests for Six Years
• Filmmaker Exposes Flaws of Forced Marriages
Compiled by New Age Islam News Bureau
URL: https://www.newageislam.com/islam,-women-and-feminism/new-age-islam-news-bureau/nigeria-fears-captive-girls-will-be-held-as-sex-slaves/d/66619
-------------
Nigeria Fears Captive Girls Will Be Held as Sex Slaves
By ADAM NOSSITER
APRIL 18, 2014
LAGOS, Nigeria — Dozens of schoolgirls abducted by armed militants in northeastern Nigeria this week remained missing on Thursday amid fears that they would be turned into "sex slaves and cooks" if they were not rescued, a top official in the region said.
The girls were kidnapped early Tuesday from a state school in the heartland of the Boko Haram insurgency, startling a country already numbed by a steady drumbeat of horrific episodes — massacres, bombings, shootings — attributed to the Islamist militant group. A bus station bombing that killed more than 70 people on Monday in Abuja, the capital, was also attributed to the group. The mass targeting of teenage girls touched a nerve, with banner headlines recounting the girls' plight filling Nigerian papers this week.
Some of the girls managed to escape by jumping off trucks that the gunmen had crammed them into, and others slipped away as they were forced into cooking chores in the forest, said the governor of Borno State, Kashim Shettima. But as of Thursday, 52 parents were still reporting their daughters as missing, he said.
"This is the most traumatic incident yet," Mr. Shettima said, speaking from the state capital, Maiduguri, a city that has been battered by repeated killing over the past five years of the insurgency. "Very terrible, sad," he said. "These were innocent girls. They were studying."
"They are young men," he said, speaking of the kidnappers. "And most of these ladies will be turned into their sex slaves and cooks."
Ten of the girls escaped as they "were forced to cook for the Boko Haram," the governor said. "They were told to use the leaves of the trees to clean the plates. That is the opportunity they took to escape."
Another four jumped from trucks, and all 14 were "so traumatized," he said.
They were resting in Chibok, where the school is in a forested area known to be a Boko Haram hide-out. The group has targeted students in the past, killing young men and kidnapping young women. It has sometimes let the women go, but there was no indication it would this time. The Nigerian military said on Wednesday that only eight of the girls were still missing, but that was quickly contradicted by the school's principal, Asabe Kwambura, who said in a phone interview that it was not true.
The military has become notorious for exaggerating its successes against Boko Haram.
The gunmen arrived at the school on Tuesday under the cover of early morning darkness in 60 vehicles, including 40 motorcycles, a mode of transportation favored by Boko Haram, Mr. Shettima said. The students had been staying overnight at the school to take their final exams. The gunmen first attacked the village, setting buildings on fire, then shot and killed a soldier and a police officer guarding the school.
Some reports quoting the principal suggested that the gunmen were wearing army uniforms to fool the administrators and the students. But Mr. Shettima said he could not confirm that, though he noted that members of Boko Haram often dressed in stolen uniforms. The schools in Borno State have been closed after earlier Boko Haram attacks, and most students taking final exams were summoned to Maiduguri, or the southern town of Biu, for safety reasons. But Mr. Shettima said that in the case of the Chibok school, which is in a predominantly Christian area, "there was an assurance from the local people that they would do whatever it takes to protect the community."
Mr. Shettima said that a suspect in the attack had told investigators that the lead attackers, on two motorcycles, were youths from Chibok and members of Boko Haram. The governor said there was "an ongoing military operation" in the vicinity of the school to find the girls.
http://www.nytimes.com/2014/04/18/world/africa/nigeria-fears-captive-girls-will-be-held-as-sex-slaves.html
-------------
Ancient Islamic Tradition Carried On By Chinese Female Imams
Source: radioaustralia.net.au
April 18, 2014
Although China is not the heartland of Islam, it is the only country in the world to have a long history of female imams.
A small group of women in central China's Henan province have been imams in their community for centuries.
This part of China is home to less than four percent of China's roughly 23 million Muslims.
The believers are from an ethnic minority known as the Hui.
A group of Muslim grandmothers wander into a mosque behind an ancient city wall shortly before noon prayers on a Friday.
A crowd of 50 soon fill the prayer room.
Ge Caixia is their religious leader, a female imam in the mosque that's dedicated only to women.
She takes her place among them along the first row when it's time to pray.
If Ge Caixia were a male imam, the rest of the congregation would be standing behind her.
"When we have to conduct prayers at funerals, it's the man who leads," she said. "The woman can only participate."
These differences set her aside from her male peers.
Ge Caixia's standing in the community remains significant. There aren't many people like her in China, let alone the world.
Henan province has about 100 female imams. No other place in the country has such a high proportion.
Disclaimer: Womenofchina.cn is a non-profit, information-communication website. All of its content is only used for non-commercial purposes. When using articles and images from other websites which require permission, womenofchina.cn always credits sources and writers' names. Please understand that womenofchina.cn cannot reach every writer before using articles and images. For copyright issues, please contact us by emailing: website@womenofchina.cn
The articles published and opinions expressed on this website represent the opinions of our writers and are not necessarily shared by womenofchina.cn.
http://www.womenofchina.cn/html/womenofchina/report/172309-1.htm
-------------
Women-Only Theatre Carving a Cultural Niche in the Eastern Province
April 18, 2014
THE term 'women's theatre' at first glance seems to explain what it stands for — the fact that there are only women in theatre group. But it also stresses the sublime message of tackling the gender's and children's issues in art form.
The term 'women's theatre', historically and geographically, emphasizes their relationship with theatre in general and classical theatre in particular which enacts women's social and cultural status or discusses specific issues — purely feminine or dealing with the family and society.
It is not a recent term and nor is it concerned with one region or a certain culture or a specific period of time. Historically it has grown in the East and West for many reasons. And historically it has thrown up various perspectives.
All these historical differences thus raise questions such as what is cultural and critical and what is institutional and procedural in a particular form of theatre.
Individual Opinion Theater
Rawda Abd Rabb Al-Nabi, owner of Qabas Theatre Troupe, said regrettably there is no 'women's theatre' in the Eastern Province. It is not officially recognized by the Ministry of Culture and Information. Also, there is no women's theatrical movement that is capable of helping the theatre as a cultural topic.
She said: "The effort that we exert as a team is just our personal effort emanating from our belief on the importance of the theatre as a cultural subject and a form of recreation serving society. Secondly, our love for art and theatre leads us to strive toward research, knowledge and developments with all the practical tools and experience we possess that will develop our talents and our artistic inclinations."
She pointed out that the majority of the theatrical works presented by Qabas Troupe were based on social issues concerning women and children. Abd Rabb Al-Nabi started her theatrical hobby through children's theatre in kindergarten. This she did because she was a nanny for more than 10 years. She presented educational plays and special shows for children until she joined Al-Ata women's society.
Then she established her own troupe and she is looking forward to including talented children and young women in her troupe. The objective is to present all the talents the region has in this field and also to break the barrier of personal fear. She also hopes to overcome the rejection of arts experience by society, which is still governed by customs and traditions.
She said: "The works we presented earlier with Qabas Troupe was not restricted to children, but our ambition was to encompass all potentials including young women who have acting talents. That is why we presented many shows by the troupe. They included the plays "Usoom Al-Marakhah", "Al-Mu'annafat" (Victims of violence) and "Qul Lishamiteen" (Tell the Gloaters), among others.
"We also presented dramas and short plays. We were able to enter the children's theatrical competition in 2010 and 2011 — held at the Dammam branch of Saudi Arabian Society for Culture and Arts. We were the champions for the 7 and 12 years category."
Theater for all issues
Speaking about her experience, female director Saabiha Al-Hassan said: "I took my first steps toward theatre in the first women's forum in the Social Development Committee in Sanabis. It was an idea that later turned into reality through which I strove to establish an exclusively women's troupe."
Al-Hassan said: "It was a comedy entitled 'Cool Friends 2008'. It discussed girls' problems away from exhortation. In writing the script, I relied on their thinking, not mine so that the idea reaches the audience quickly and correctly."
Among the obstacles that faced Al-Hassan and prevented her from presenting her theatrical shows, was the difficulty of forming a troupe and maintaining it whenever necessary due to the unavailability of a suitable place to train actresses, aside from the high cost of these works and requirements like costumes, décor, sound system, lighting and cosmetics. The theatre does not bring money that could cover the basic cost. Society and the state still have reservations regarding an exclusively women's theatre. What is painful is that the women cannot document their work in sound and picture due to customs and traditions.
In addition, every time they need to present a show, one has to gather the troupe. This is increasingly difficult to do every time. This means that the work is shown once or twice due to the varying circumstances of many. Also, there are no incentives to show the work again.
Al-Hassan confirmed that the lack of official financial support for women's theatre in the region is one of the biggest obstacles facing women. She added that there is no special place to present women's drama in the region. Also, there is no financial support or financing for such projects.
http://www.saudigazette.com.sa/index.cfm?method=home.regcon&contentid=20140418202281
-------------
Child marriage law stokes fears of looming theocracy in Iraq
April 18, 2014
BAGHDAD: Proposals that would legalize the marriage of 9-year-old Iraqi girls are unlikely to become law, but indicate the growing role of religion in a country some fear is going down the path of neighboring theocracy Iran.
Based on Shiite Islamic jurisprudence, the Jaafari Law's advocates say it would bring regulation of personal status – comprising family law, wills and inheritance – into line with Shariah.
It describes girls as reaching puberty at 9, making them fit for marriage, grants fathers sole guardianship of their children from the age of 2, and entitles a husband to insist on sexual intercourse with his wife whenever he desires.
Iraq's clerical establishment does not back the bill, making its chance of success very slim. Critics say the draft is all about short-term political advantage, as Shiite parties compete with each other for votes in the runup to April 30 elections in a highly charged sectarian atmosphere.
"It's a completely shameless political stunt," said Haider Ala Hamoudi, associate professor of law at the University of Pittsburgh who writes on Iraqi, Middle Eastern and Islamic law.
Parliament adjourns this month for the national elections, so the bill will have to be taken up again by the next government, which is expected to take months to form.
The proposed legislation has nonetheless drawn the ire of secular and women's activists who fear their rights have been steadily eroded in Iraq in the years following the overthrow of dictator Saddam Hussein.
Critics say the law, which would apply only to the country's Shiite majority, also institutionalizes religious divisions.
"It creates sectarianism," said women's rights activist Hanna Eduar, who described the bill as a "crime against humanity."
"It destroys the unity of national legislation based on the personal status law."
The existing personal status law – passed in 1959 – is often held up as the most progressive in the Middle East. It does not differentiate between sects, and sets the minimum age of marriage for both men and women at 18.
Proponents of the new law say many girls are married off underage anyway, particularly in the rural south, so the bill would protect young brides by codifying their status.
"The law does not make the marriage of underage girls obligatory," said Shiite women's rights activist Thabat al-Unaibi, adding she would not let her own two daughters marry until they were old enough to have finished their studies.
Today's Shiite parties all trace their roots back to the 1950s, when Prime Minister Nouri al-Maliki's own Dawa party was formed in reaction to clerics' alarm that Islam was becoming irrelevant in 20th-century Iraq.
That has changed since 2003, as Shiite parties came to power through the ballot box.
"For more than 1,000 years, our sect was living underground, a sect which is not officially recognized," said Sheikh Mohammad al-Humaydawi, a Shiite cleric and candidate in the upcoming elections.
He backs the bill, but said: "I think this step proves our existence, more than being an expression of Shiite jurisprudence."
The Jaafari Law, named after a jurist from the early years of Islam, was approved by the Cabinet in February along with another draft that sought to return control over personal status matters to the clergy by creating a supreme council to preside over the judiciary.
For some, the move shows how far Iraq has fallen under the sway of neighboring Iran, where Ayatollah Khamenei holds ultimate authority at the apex of a political order known as "Velayet e-Faqih" ("guardianship of the jurist").
"Drafting a law showing clearly that a government institution lies beneath the authority of a supreme Shiite cleric means Iraq is likely to end as a state following the Velayet-e-Faqih," said lawyer and constitutional expert Ahmed Younis.
"This is a very dangerous precedent," he said.
Iraqi Justice Minister Hasan al-Shimari stuffed a copy of the draft law though the golden grate surrounding a tomb in the holy city of Najaf that contains the remains of Ali, a revered Shiite imam, in a gesture apparently intended to show the bill's significance.
Shimari, who proposed the draft law, is a member of the small Islamist Fadila (Virtue) party allied with Maliki, who is seeking a third term in office.
Political analysts say the law might increase Fadhila's share of seats in parliament – a modest seven – at the expense of Shiite parties opposed to Maliki's re-election bid.
"In a sense it helps [Maliki] too, even though he's not campaigning on this issue," said Kirk Sowell, a Jordan-based political risk analyst and publisher of Inside Iraqi Politics.
Defending the draft law, Shimari denied that it was politically motivated, dismissed secular and Sunni opposition and accused some Shiite parties of sacrificing higher principles by failing to come out strongly in favor.
"Of course, there are those who don't believe in Islam as a system to organize the affairs of life," he said in a television interview.
"Then there are others who have dealt with this law from a political vantage point, even if they share our ideological vision."
But how to turn that vision into legislation is itself a subject of contention, and the Jaafari Law has not won the crucial backing of the clerical establishment in Najaf.
One of Iraq's four main Shi'ite leaders, Ayatollah Basheer al-Najafi, said the law contained "vagaries" and no jurist would approve it, deferring to the country's most influential cleric, Grand Ayatollah Ali al-Sistani, who has yet to weigh in.
"Even Najaf, which I suppose would be most empowered by this sort of legislation, doesn't seem to support it," Hamoudi said.
http://www.dailystar.com.lb/News/Analysis/2014/Apr-18/253733-child-marriage-law-stokes-fears-of-looming-theocracy-in-iraq.ashx#ixzz2zBmQjAAV
-------------
Couple on Murder Charge After Girl Dies in FGM Case in Kenya
April 18, 2014
Nairobi — A couple has been remanded in custody for seven days after a 13-year-old girl under their care died after undergoing Female Genital Mutilation (FGM).
The accused are the guardians of the girl who is said to have bled to death after undergoing the cut on Sunday.
Her 12-year-old cousin who was also to face the knife with her managed to run away after realising what her mother and the circumciser wanted to do.
She managed to report to the authorities who immediately moved to the location to carry out the investigations.
But by the time they arrived at the homestead, they found the girl's body lying in a pool of blood.
Assistant County Commissioner, Central Division Kajiado Central Sub-location Abdullahi Osman told Capital FM News that by the time police and prosecutors arrived at the homestead, the family had already dug a grave ready to bury the girl.
"The terrain is very rough... only a four-wheel drive (vehicle) can pass through, but to go up to the homestead, people had to walk and carry the body down. They were about to bury the girl but the chief stopped the burial," he explained.
The man and his wife were arrested on Tuesday and appeared before the Kajiado Magistrate Court's on Wednesday to answer to charges of murder.
Outside the manyatta where the girl lived, lay a mat covered with blood where the body was found.
The circumciser fled on realising that the girl had passed on.
Prosecuting Counsel Peter Mwenda asked the court to have man and wife remanded for seven days to allow police to carry out investigations into the murder case.
The court on granting the request said it was a serious matter and that the couple should remain in custody until police complete the investigations and results of the post-mortem are out.
The case which will be mentioned on April 23, will however be transferred to the Machakos High Court which can handle murder cases.
In another case still at the Kajiado Magistrate's Court, a woman will also remain in custody for seven days pending investigations over her involvement in circumcising girls.
The woman told the court that she used to circumcise girls but has since stopped.
In Narok, a chief was interdicted after two girls who are now in a protection centre underwent FGM.
According to Prosecuting Counsel Christine Nanjala, the three cases are a step forward to fighting FGM which continues to take place despite anti-FGM laws in the country.
She is concerned that the deeply rooted cultural practice continues to put lives of young girls from vulnerable communities at risk, sometimes resulting in death like in the Kajiado case.
However, after the establishment of the FGM Unit in the office of the Director of Public Prosecutions, Nanjala believes through collaboration with organs like police and the courts, FGM will be dealt with decisively.
http://allafrica.com/stories/201404170700.html
-------------
Two Somali Girls Die After Committing Suicide In Yemen
April 18, 2014
Gulf News has published that two girls of Somali origin have committed suicide in Yemen.
Sources from Yemen Police confirmed to the Gulf News paper that one of the two girls died after she put herself on fire while the other girl shot herself with a bullet for reasons that are not yet clearly established by local police authorities.
These suicide killings were said to have happened four days ago in Al-Jawf province, Yemen.
The exact motive of this suicide committed by two Somali girls is yet unclear but as family member of the two girls informed the police that the two girls were suffering from their family problems.
Thousands of Somali refugees live in refugee camps in Yemen whereas this is not becoming the first kind of this incident committed by the Somali refugees in the refugee kinds.
However, this incident has left so many Somali people in sorrow.
http://www.yemenonline.info/news-4030.html
-------------
More Saudi women join hotel sector
April 18, 2014
RIYADH — More and more Saudi women are joining the hotel sector to work as accountants, receptionists, room service attendants and wedding planners, Nasser Al-Tayyar, chairman of Al-Tayyar Group for Travel and Tourism, said on Thursday. He said Saudi women now welcome the families on arrival at the hotel for wedding parties. "She also makes all necessary arrangements for the event," he said. Al-Tayyar said though there are no universities, colleges or schools in the Kingdom to teach tourism and hotel management, yet a large number of Saudi women have become hoteliers.
http://www.saudigazette.com.sa/index.cfm?method=home.regcon&contentid=20140418202285
-------------
Worshippers from a mosque and a church forge a women's group
Islington Tribune newspaper website
April 18, 2014
AT one end of the street is one of London's most high profile mosques. At the other end is one of the area's oldest Christian churches.
After sharing the same street since the North London Central Mosque in Finsbury Park opened in 1994 links between the two centres of worship are being forged by a unique women's group.
Worshippers from the mosque and St Thomas the Apostle Church, built in 1899, known as The Sisters, have been meet­ing for just over a year.
There has been a longstanding relationship be­tween the two worshipping communities but discussions have often centred on male voices. This friendship was one of the attractions to St Thomas's for Pauline Nashashibi when she was ordained as a Deacon.
The women had discussed forming a group for several months and then, on a snowy day in January last year, a dozen Muslim women walked the short distance to St Thomas's.
"It was an instant embrace," said Pauline. "They were so pleased to visit the church. And we have met fairly frequently since for afternoon tea with sisters. At the church we lay on cream tea and at the mosque they pro­v­ide a spicy tea selection."
She remembers one of the women looking up at a frieze portraying a veiled St Anne and exclaiming "Look! They are dressed like us!"
Naima Benzouaou was on that first visit. "I had never entered church in my life," she said. "I wasn't sure if I would do it at first to be honest, but that was more about thinking people will reject you, or not wanting you. It was so lovely and nice from the first cup of tea. There are no barriers now."
The group have visited Westminster Abbey, and organised meetings and children's events. They came together to fundraise for the Syrian school bags project and Islamic charity Hand in Hand in Syria.
Both women are obviously proud of the group's connections and the legacy it will create for the young people in the area.
"We can stay in our circles and miss opportunities but now we recognise each other and it's quite special," said Pauline.
"People will say very unkind things on each side as they grow up and as teenagers but if they have had some experience they will know it doesn't have to be like that."
http://www.islingtontribune.com/news/2014/apr/worshippers-mosque-and-church-same-street-forge-women%E2%80%99s-group
-------------
Anemia Affects 40% of Indonesia Female Factory Workers: Study
April 18, 2014
Jakarta. Nearly 40 percent of working women in Indonesia are anemic and another 20 percent are vulnerable to the iron deficiency, a new survey has suggested.
The survey, conducted recently by Project Hope Indonesia and the Buana Kusuma Foundation, two health NGOs, found that 39 percent of the total 365 working woman respondents surveyed suffered from anemia, while another 22 percent were at risk of being anemic.
All respondents were women working at four factories in West Java — three in Subang and one in Bekasi.
"When we performed anemia checks on them, we found their hemoglobin levels to be within the anemia category," Project Hope Indonesia country director Nasaruddin Sheldon told a press conference on Thursday. "This problem of anemia impacts on a body's ability to function and also reduces workers' productivity."
Untreated, anemic female workers may lose an average of 6.5 hours during the working week, while their productivity is around 10 percent lower compared with women who do suffer from the condition, Nasaruddin said.
In collaboration with Merck Sharp and Dohme, the two NGOs said they had been running the "MSD for Mothers" program for one year, which included anemic prevention for working women through education as well as hemoglobin checks.
"When we find any of them to be anemic, we immediately give them iron and vitamin supplements."
The program is scheduled to run for three years and is targeted at 10,000 women working for factories in Subang and Bekasi.
http://www.thejakartaglobe.com/health/anemia-affects-40-indonesia-female-factory-workers-study/
-------------
Saudi Arabia jails organiser of women's protests for six years
April 18, 2014
A Saudi court jailed a man for six years for organizing women's demonstrations and taking part in protests against the regime, the official Saudi Press Agency reported on Wednesday.
The report gave no further details of the demonstrations over which the defendant was convicted.
The same Riyadh court sentenced another man to three years imprisonment for lese-majeste and incitement against the King, in material that defendant published on the internet about detainees in the conservative kingdom.
Protests and political organisations are banned in Saudi Arabia, where power is concentrated in the hands of the ruling al-Saud family.
Amnesty International on Wednesday called for the release of Waleed Abu al-Khair, head of the Saudi Arabia Monitor of Human Rights, saying he had been taken into custody without explanation after a court hearing on Tuesday.
Mr. Abu al-Khair had been accused of charges including inciting international organisations against the kingdom, London-based Amnesty International said.
http://www.thehindu.com/news/international/world/saudi-arabia-jails-organiser-of-womens-protests-for-six-years/article5921246.ece
-------------
Filmmaker exposes flaws of forced marriages
April 18, 2014
ISLAMABAD: The Friedrich Ebert Stiftung (FES) aired 'Poles Apart', a documentary based on the menace of forced marriages, on Wednesday.
Directed by Samar Minallah, the short documentary focuses on individuals who managed to escape forced marriages amongst Pakistani families across the country and in Norway, to maintain links with their roots or other social cultural reasons.
The movie's director, who has been highlighting various forms of forced marriage, including compensation marriages such as vani/swara and early marriages, focuses on the parents as prospective agents of change.
Shot in Oslo, Norway, Jhelum, Gujrat and Lalamusa, the production captures glimpses from the life of Khadija, in Jhelum, who dared to return to Pakistan after enduring an abusive relationship with her husband for seven years.
The film shows how she lived now, content in giving driving lessons to girls in her hometown.
The documentary is not just restricted to women's issues but also shows the impact of forced marriages on men.
It contains shots of Tayyab Chaudhry, in Oslo, who stood his ground when he was also being forced to marry against his will.
With the underpinning that chains can not keep marriages together, the documentary emphasises the importance of individuals involved being given the choice to choose and refuse.
The director supports this message with comments from a former judge of Lahore High Court, Nasira Iqbal, who explained how marriages could only be between freely consenting parties. "This is the true concept of marriage in Islam," said retired Justice Nasira Iqbal.
The film reveals shocking statistics, stating that around 1,700 individuals were forced into marriages, in 2010, and one third of them were under the age of 18 years.
Samar Minallah explains, through moving images and examples, how in most cases the individuals were forced into marriages when families are trying to improve their station in life.
She gave the example of Najma Bibi, who was married to a man, who was ill and had been married twice before, so that her family could pull their relatives out of Pakistan to settle in a foreign country that presumably offered better living standards.
It shows how dreams turn into bitter reality, not just for the married couple, but they also sever family ties. The production depicts how younger generations walked into the traps and the parents emotionally blackmailed them into marrying persons who were poles apart.
"Young people become victims of values and customs of older generations, who are trying to uphold practices that have become obsolete," the documentary quotes one victim of forced marriage as saying.
It also reflects on parents who meant well, but misjudged the intentions of others, doing more harm to their children. Mental mismatches and barriers led to divorces within months, or in some cases many painful years later.
The film's screening was part of FES's efforts to spread awareness on the gender issues, in an informal atmosphere. The concept was to bring civil society together, to provide a platform and discuss such controversial issues.
Poet and writer Kishwar Naheed, said, "These issues are not resolving and the honor crimes are increasing, day by day. Choice of marriage is not only a crime but it is also considered as a sin."
The documentary was shown as part of the 'Movie-log' initiative of the three cooperation partners, German Political Foundation (FES), the German academic exchange Deustcher Akademischer Austauschdienst (DAAD), and the Centre of Excellence in Gender Studies at Quaid-e-Azam University.
http://www.dawn.com/news/1100412/filmmaker-exposes-flaws-of-forced-marriages
-------------
URL: https://www.newageislam.com/islam,-women-and-feminism/new-age-islam-news-bureau/nigeria-fears-captive-girls-will-be-held-as-sex-slaves/d/66619