New Age Islam News Bureau
18 Oct 2014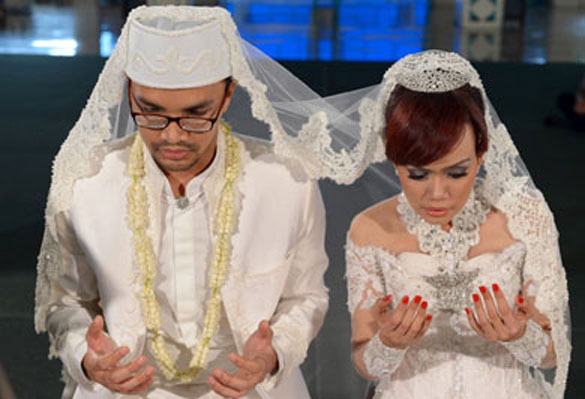 Indonesian bride and groom pray during their Muslim wedding ceremony at a mosque. (AFP Photo/Adek Berry)
------------
• Women MPs Want Help from Men in Fighting Teenage Pregnancies
• Muslim Hijabi Hipsters Fusing Fashion with Faith
• Pakistani Girl Kept As Slave in Cellar Awarded $160,000
• Muslims Fume As Nigeria Court Upholds School Hijab Ban
• Muslim Women Attack Border Police near Temple Mount
• Debate on Interfaith Marriage Highlights Indonesia's Separation of Religion and State
• Synod on Family: Marriage and Divorce Family Law in Morocco, Lebanon
• Female British Muslims as Vulnerable To Radicalisation as Men, Study Shows
'• Won't Even Let Us Kill Ourselves': Ordeal of Enslaved Yazidi Women
• The Real Story of Narin and the Kurdish Female 'Lions' Terrorising Islamic State
• Cash-Strapped Young Afghans Turn to Low-Cost Mass Weddings
• How a Women's Muslim Aussie Rules Team Stood Tall
• USAID Pledges $216 Million for Afghan Women's Empowerment Program
• English Hospitals' First Data on FGM A "Major Milestone"
Compiled by New Age Islam News Bureau
URL: https://newageislam.com/islam-women-feminism/nigeria,-boko-haram-reach-cease/d/99598
------------
Nigeria, Boko Haram Reach Cease-Fire, Agree to Free Schoolgirls
18 Oct, 2014
The Nigerian government says militant group Boko Haram has agreed to a cease-fire and the release of 219 schoolgirls kidnapped by the militants in April from the town of Chibok.
Top Nigerian presidential aide Hassan Tukur told VOA's Hausa service the militants have agreed in principle to free the schoolgirls. Tukur said the details still need to be worked out, but said he has no reason to doubt Boko Haram's sincerity.
Tukur added that Boko Haram has assured the government the girls are in good condition and that overall, he is cautiously optimistic that a peace process with Boko Haram will succeed.
The two sides reached the cease-fire deal Friday, after talks in Saudi Arabia that involved President Idriss Deby of Chad and high-level officials from Cameroon.
Nigeria's highest-ranking military official, General Alex Badeh, announced the the truce Friday, referring to Boko Haram by its formal Arabic-language name. He ordered all of the country's military chiefs to abide by the deal.
"I wish to inform this audience that a cease-fire agreement has been concluded between the federal government of Nigeria and al-Sunna lil-Daʿawah wa al-Jihad," said Badeh.
Boko Haram leaders "have announced a unilateral cease-fire," said Tukur. "The Nigerian government has responded accordingly, and we are now monitoring to see if the cease-fire is holding and I hope it will hold."
Tukur said the negotiations in the past had not yet "yielded any positive results, but I am cautiously optimistic that this time around ... we will be able to achieve some success."
Negotiated release
Tukur and Danladi Ahmadu, who calls himself the secretary-general of Boko Haram, told VOA's Hausa-language service the schoolgirls will be released Monday in Chad.
The girls are alive and "in good condition and unharmed," Ahmadu said.
The sources said the girls will be handed over to Deby for transfer to Nigerian authorities. They also said Nigerian and Boko Haram delegates will meet in the Chadian capital, N'Djamena, to discuss Boko Haram's demands, such as the release of imprisoned militants.
The cease-fire marks a possible end to the five-year insurgency in which several thousand Nigerians have been killed.
Nigerian leader criticized
Jonathan has been criticized at home and abroad for Nigerian troops' inability to quell violence by the militants, seen as the biggest security threat to Africa's top economy and leading energy producer.
Criticism intensified in mid-April, when dozens of Boko Haram fighters stormed a secondary school in the remote northeastern village of Chibok, kidnapping around 270 girls. Fifty-seven managed to escape.
In a video, the Boko Haram leader known as Abubakar Shekau threatened to sell the other girls as slave brides, vowing they would not be released until militant prisoners were freed from jail.
Boko Haram has said it is fighting to establish an Islamic state in Muslim-majority northern Nigeria.
The group has launched scores of attacks in the past five years, targeting markets, bus stations, government facilities, churches and even mosques. Militants recently took over some towns in the northeast for what Shekau said in another video would be an Islamic caliphate.
The Nigerian military says that Shekau was actually an impostor and that the real Shekau was killed several years ago. It says the impostor was killed last month during a battle in the town of Konduga.
http://www.voanews.com/content/exclusive-boko-haram-negotiating-cease-fire-abducted-girls-release-with-nigeria/2486781.html
-----------
Women MPs Want Help from Men in Fighting Teenage Pregnancies
18 Oct, 2014
MPs under the umbrella body Network of African Parliamentarians and Ministers on Maternal Health (NAWMP) Uganda chapter have embarked on a campaign to engage men in the fight against teenage pregnancies countrywide.
The MPs contend that men and boys perpetuate teenage pregnancies saying if they are engaged the country will reduce on the number of unwanted pregnancies.
In a statement to commemorate the Safe motherhood day cerebrated today, the NAWMP chairperson also the Mityana Woman MP Sylvia Namabidde noted that there was need to bring men on board in the fight against teenage pregnancies since they are the ones who impregnate the young girls.
"Previous effort has been directed at skilling girls in pregnancy prevention with less effort directed to the males who are their partners. The information imparted to the girls has yielded little, leaving many vulnerable girls exploited by the males." Said Namabidde.
Quoting the 2011 Uganda Demographic and Health Survey (UDHS) by Uganda bureau of Statistics, Namabidde said in Uganda one in four girls between the ages of 15 and 19 is either pregnant or already has her first child.
Statistics indicate that the eastern region of Uganda ranks highest with the number of teenage pregnancies at 30.6%, followed by central with 30.3%., Karamoja with 29.7%, West Nile (26.6%) and Northern Uganda at 25.6%.
The Bukooli MP Peter Okeyoh attributed this to poverty and lack of food among the causes of child pregnancies. "Busoga has the highest number of teenage pregnancies in Uganda. These people grow sugar cane for sugar production, leaving no land for food production. This leads children to attend schools without lunch which gives men advantage to deceive the poor girl with money to buy what to eat, and entice them into sex, causing child pregnancies," he said.
The Yumbe Woman MP advised the Muslim community, to desist from marrying off their daughters who are below 18 years. she said
"Since the girls' reproductive organs are premature they can not hold the pregnancy to term and in instances where they can, some complications like obstructed labour has led to death and obstetric fistula," she said.
The former Ntenjeru North MP, Sarah Nyombi, also a member of (NAWMP) said: "Parliament needs to devise means to discourage some cultures that advocate underage marriage. Girls should be given all opportunities to develop socially and economically, by completing schools and attaining at least professional training in various specializations," she added.
http://www.newvision.co.ug/news/660805-women-mps-want-help-in-fighting-teenage-pregnancies.html
-----------
Muslim Hijabi Hipsters Fusing Fashion with Faith
18 Oct, 2014
FASHION-CONSCIOUS Muslim women from Kuala Lumpur to Los Angeles who wear the Islamic headscarf, known as the Hijab, have had to get creative.
By fusing both their sense of fashion with their faith, this growing group is reinterpreting traditional notions of what it means to dress conservatively.
They're spawning a new market for niche fashion brands and finding unexpected supporters among some mainstream brands, as well as from conservative Christian and Orthodox Jewish women who also dress modestly.
"We want to be current in fashion and adhere to the tenets of our faith," said Ibtihaj Muhammad, who owns Louella, a fashion brand catering to women who combine modest dressing with fashion. The Los Angeles-based brand has sold nearly 4,000 pieces since its launch three months ago.
Muhammad, a professional athlete and member of the United States fencing team, said she struggled trying to find long-sleeved, floor-length dresses to wear when she traveled on speaking tours on behalf of Team USA and the State Department.
Her line, which include floor-length sheer cardigans and dresses, ranges from $45 for a colorful, Picasso-inspired print cardigan to $100 for a pink lace, empire-cut dress. Though there are countless Muslim-owned companies around the world making clothes that cater to women who wear the Hijab, many are selling traditional black-flowing robes known as abayas.
"I just got tired of spending money and chasing this idea of this perfect modest dress," she said. Some mainstream designers also have started to cater to this growing demand for stylish modest wear. This summer, DKNY released a collection during Ramadan that sold exclusively in the Arabian Gulf. Karl Lagerfeld also brought his Chanel Cruise Collection this year to Dubai, unveiling designs inspired by the rich culture and patterns of the Middle East.
Still, the market is ripe for more investment said Albert Momdijan, founder and CEO of Dubai-based Sokotra Capital. "The Muslim population is the second largest population in the world with roughly 1.8 billion people so it's a large population that you definitely cannot ignore. And 50 percent are below the age of 25," he said. "It's a young population, it's a growing population and it's a large addressable market." The hipster Hijabi movement is the by-product of a young generation of Muslim women coming of age.
It grew organically and continues to take on new meaning by the women who embrace it. Summer Albarcha coined her photo-sharing Instagram account "Hipster Hijabis" in 2012, when the teenager from St. Louis, Missouri was just 16. She now has almost 23,000 people following her on Instagram. Her loyal following prompted New-York based label Mimu Maxi, run by two Orthodox Jewish women, to send her one of their popular maxi skirts to model.
The collaboration caused a stir, with many Jewish customers blasting Mimu Maxi for featuring a Muslim woman in Hijab. Albarcha says the experience only reaffirmed the universal struggle women of all faiths and backgrounds have when trying to find stylish conservative pieces to wear.
"It came out that our ideas of wanting modest fashion and in promoting it is something really similar and something we have in common between our religions," she said. "We should both be working together to embrace this idea and expand it."
There are also challenges from within the Muslim community, as well. Women in Hijab wearing eye-catching styles often find themselves at odds with conservatives who say Hijab should be about covering a woman's beauty and concealing it from strangers.
"People are resistant to change and people like to keep things the same," said fashion blogger Maria Al-Sadek. "It's just like a stigma to be stylish and resemble Western wear sometimes."
http://www.saudigazette.com.sa/index.cfm?method=home.regcon&contentid=20141018221571
------------
Pakistani Girl Kept As Slave in Cellar Awarded $160,000
18 Oct, 2014
LONDON: A deaf and mute girl smuggled to Britain and kept as a slave for almost a decade must be paid $160,000 by her captors, a court ruled on Wednesday.
Trafficked from Pakistan aged 10, the victim was repeatedly raped by Ilyas Ashar, 85, who along with his wife Tallat, 69, forced her to work as their servant.
She was discovered in the cellar of their five-bedroom house sleeping on a cot bed by investigators looking into allegations of money laundering.
Now in her 20s, she learned a form of sign language to testify at the trial last year.
"The money will in no way make up for what she went through over a number of years, but it will help her move on with her life and continue her inspiring recovery from these awful events," said Salford Chief Superintendent Mary Doyle.
"I believe today's outcome also gives hope to any victim of trafficking.
It reminds us that there are people out there willing to bring people to this country purely to be exploited but, with the correct use of the law, the perpetrators can be brought fully to justice."
The court calculated the Ashars should pay the victim 101,300 pounds: what she would have been paid if she had earned the minimum wage working for the couple for 12 hours a day, every day since 2003 except for ten days off.
The two also must also pay back benefits to the state that they wrongfully claimed for the girl.
The victim could not read or write but was taught to write her name by the Ashars so that they could claim social benefits on her behalf.
http://www.dawn.com/news/1138532/girl-kept-as-slave-in-cellar-awarded-160000
-----------
Muslims Fume As Nigeria Court Upholds School Hijab Ban
World Bulletin/News Desk
18 Oct, 2014
A Nigerian court on Friday said the Lagos local government had acted correctly in banning Muslim headscarves (Hijab) at public schools, a ruling that drew the ire of the city's Muslim community, which has vowed to appeal the decision.
"The prohibition of the wearing of Hijab over school uniforms within and outside the premises of public schools was not discriminatory," Justice Modupe Onyeabor of a Lagos high court ruled on Friday.
She held that the ban did not violate constitutional articles guaranteeing freedom of religion, thought and worship, as had been claimed by the plaintiffs, the Muslim Students Society of Nigeria (MSSN).
The judge said that Section 10 of the national constitution made Nigeria a "secular state," stressing the government's obligation to maintain neutrality at all times.
She said the Lagos government had been correct in seeking uniformity of the students' dress code.
"The non-Hijab wearing students will feel inferior to those who are putting on Hijab," the judge asserted.
"The values of plurality and respect for the rights of others who have subscribed to a non-faith-based educational system cannot be breached. In that effect, the issue is resolved in favor of the respondents and the suit is accordingly dismissed," she added.
But MSSN President Kaamil Kalejaiye told Anadolu Agency that the contentious ruling would be appealed.
"We appreciate all the individuals and societies that attend the hearing, [and] we shall proceed to the court of appeal to secure our right [as is] guaranteed by the Nigerian constitution," Kalejaiye said after the ruling.
The lawyer for the plaintiffs, Gani Adetola-Kazeem, reiterated this rationale in a post-ruling statement.
"We are simply not satisfied with the court decision. The angle through which the court has looked at the issue is quite at variance with the provisions of the constitution. We will definitely appeal," the lawyer said.
The ruling comes at a critical time for Nigeria's ruling All Progressive Congress (APC), which already faces a possible backlash from Lagos State's sizable Muslim community.
Muslims in Lagos recently launched a "no Hijab, no vote" campaign ahead of 2015 state elections, in which candidates' religions often determine the outcome.
"The slogan of Muslims for Lagos 2015 is 'No Hijab, No Vote.' The Hijab here is a symbol of respect for the way of life of Muslims and a commitment by politicians to accept the legitimate demands of Muslims," Ishaq Akintola, director of Muslim Rights Concern, a local NGO, told a press briefing last month.
"These demands will be tabled before candidates when they meet leaders of Islamic organizations," he said.
Along with the current case, a number of legal challenges over the Hijab are pending in courts across Nigeria's south-western region. Two female nurses who were recently sacked – in part because they wore the Hijab – are also in court seeking redress.
http://www.worldbulletin.net/news/146454/muslims-fume-as-nigeria-court-upholds-school-Hijab-ban
-----------
Muslim Women Attack Border Police near Temple Mount
18 Oct, 2014
Restrictions on Muslim men entering Temple Mount not enough, footage reveals: Muslim woman savagely beats policewoman.
Shocking footage of Arab women attacking a female Border Patrol officer near the Temple Mount has emerged, showing the extent of violent Arab rioting and lawlessness near Judaism's holiest site.
The footage, posted on Tuesday, the day before the penultimate day of the eight-day Sukkot (Feast of the Tabernacles) holiday, shows Muslim women attacking a female Border Police guard and pulling her hair as she escorts visitors through the neighborhood.
The post spreading the footage on an Arab-language Facebook page claims that the attack is the other way around - with the soldier attacking the Arab woman - but the cameraman stands behind a throng of Muslim women rushing aggressively towards a police crew. Other posts on the page clearly depict a group of Muslim women attacking Orthodox Jews in Jerusalem's Old City.
This is just one incident of this kind being highly publicized in Arab media.
A photo of a Jewish man shouting at a Muslim woman at the Old City, published a few days ago, is being circulated worldwide.
On close examination, one can see that the woman is holding a Book of Psalms that she appears to have snatched from the man. Another photo shows a Muslim woman tugging his shirt. A part of her dress appears to also be visible in the first photo.
A video of the altercation also shows the Muslim woman apparently snatching the prayer book from the man, at approximately 5 seconds into the video.
Palestinian Arab incitement against Jews on the Temple Mount has reached a head, after Hamas recently vowed to "shed blood" on the site, provoking an escalation in the already-frequent riots.
Arab rioting has become a norm on Judaism's holiest site. The site is under the jurisdiction of the Jordanian Waqf, which heavily restricts access to Jews and bans all Jewish worship on the Mount.
Last week, rioting became so bad that Israeli police were forced to lock a band of terrorists in the mosque itself - as they lobbed a heavy cache of rocks and other projectiles at the forces.
To maintain order, police have ordered restrictions on access to the Mount on Friday - but only against Muslim men over the age of 50, not against women. Clearly, gender is not a factor in Arab rioting on the Mount as seen in the video, and incidents have continued regardless.
A similar restriction on Wednesday was not enough to prevent Arab rioting from succeeding in blocking Jewish entry to the site for Hoshana Raba.
Despite this, Prime Minister Binyamin Netanyahu has vowed to "maintain the status quo" on the Mount.
http://www.israelnationalnews.com/News/News.aspx/186239#.VEIaC7DF84U
-----------
Debate on Interfaith Marriage Highlights Indonesia's Separation of Religion and State
18 Oct, 2014
The recent filing of a judicial review to the Constitutional Court, arguing that interfaith marriage should be allowed in Indonesia, has re-triggered the voicing of some diverse views on Indonesia's founding principles.
Many opinions have angrily accused the judicial review petitioners of trying to install secular values in a religious country. Other opinions have argued that since Indonesia is not a religious state then marriages should not be dictated by religious law. So is Indonesia a secular state or a religious state? The answer is: neither.
The question has actually been solved long ago and reiterated by the Constitutional Court itself in 2008 when denying the request of a citizen to have the Sharia law apply to Muslims. It said: "Indonesia is not a religious state that is only based on one particular religion, nor is it a secular state that pays no attention to religion and wholly submits religious affairs to individuals and communities. Indonesia is a state based on belief in One Supreme God and protects the religious practices of every faithful citizen."
Former Constitutional Court Chief Justice Mahfud M.D. said in a speech on Pancasila and the Constitution in 2010 that "the state must protect citizens who wish to practice their religion properly. But the state must not impose or enact that religious law."
The following sentence in the above-mentioned 2008 Constitutional Court decision further clarified things a bit: "Islamic law can be a source of national law, but Islamic law cannot be the only source, because apart from Islamic law there is traditional adat law, western law and other sources of legal traditions which may all contribute to national law."
So far the conclusions are that people are free to practice their religion and the state will protect that freedom (this is in line with both religion state and secular state concepts); the state is not going to impose religious law on the people (this is not a religion state concept); and the state can absorb certain religious law traditions into the national law and impose that national law (this is not a secular state concept).
Now, go back and read point 3 again. Imagine the sheer amount of political and democratic variables that could enter the process of national lawmaking. Indonesians have all been made more educated recently of the complexity of lawmaking processes in the country, I am sure. We have witnessed how laws become enacted by result of compromise, negotiation, lobbying of interests, and political momentum. Laws are by no means the absolute truth. Likewise, the absorption of certain religious laws into the national laws are a reflection of that quirky dynamic lawmaking process. Which is why we see inconsistencies everywhere?
Let's take the much-revered Marriage Law as an example, enacted since 1974.
The clause being challenged at the Constitutional Court is Article 2, Paragraph 1, which says "Marriage is valid if performed according to the applicable religious laws of the couple". Article 2, Paragraph 2 then says the marriage must afterwards be registered to the civil state for formal validity.
Because Islam — specifically the Office of Religious Affairs, or KUA, which holds a monopoly on all Islamic marriage procedures — prohibits interfaith marriages, the majority of Indonesians cannot get married to a person of a different religion. Catholicism, Christianity, Buddhism, Balinese Hinduism, and Confucianism arguably allow interfaith marriages with certain conditions, or at least have shown examples of permitting it depending on the particular church, temple, or priest's willingness.
In the first paragraph, we see that religious law is absorbed into the national law. But let's look at other clauses.
Another one speaks of polygamy.
Article 4, Paragraph 2, sets out at least five requirements that would allow a man to take more than one wife. In this case, a man is allowed to practice polygamy only if his wife is unable to perform her duties as a wife, if she suffers an incurable disability or disease, if she cannot give birth to descendants, if the wife agrees, and, last, if the husband is financially capable and can guarantee fair treatment towards his wives.
This polygamy clause is actually not in line with the relevant religious law that allows polygamy, namely the Islamic law.
Under the Islamic law, there are only four nebulous requirements for a man to practice polygamy. The first requires him to treat his wives fairly, while the second is for him to steadfastly perform his faith to Allah. The man is also required to equally satisfy his wives, and, last, to equally support his wives financially.
Here it is clear that the Marriage Law imposes its own version of regulation on polygamy (which fortunately is a technically harder requirement to fulfil than the Islamic law version).
Another clause speaks of divorce.
Article 39 allows divorce as long as, one, the Court has tried and failed to reconcile the couple and, two, there is sufficient reason to conclude that the couple cannot reconcile. The divorce clause makes no mention of religion, and thus does not take into account the fact that divorce is prohibited under Catholicism. Therefore, in practice Catholic couples in Indonesia cannot be divorced by the church, but can get divorced through civil state law.
One last example out of many is the clause on children born out of wedlock. Article 43, Paragraph 1 used to say that "a child born out of wedlock only has a legal connection to the mother and the mother's family." This construction is exactly the same as Clause 100 of the Indonesian Compilation of Islamic Law. As a consequence, the illegitimate child is not entitled to livelihood, inheritance or guardianship from the father.
However, after a judicial review by the Constitutional Court in 2010, the article now says that "a child born out of wedlock has a legal connection to the mother, and the mother's family, and the father as evidenced by science and technology and/or other evidence that can prove a blood connection." Apparently this clause now has stepped away from the original source of Islamic law that inspired it in the first place.
So as we can see, at least the polygamy clause, the divorce clause and the clause on illegitimate children, pretty much make a separation between religion and state. Does that mean that Indonesia has become a secular state because of these three clauses? No it does not. It simply means that in these cases, religious law has not managed to permeate state law, or, in other words, state law has decided that the religious law in question is not — or no longer — appropriate for enactment into state law.
With that in mind, a similar fate could easily be imagined for interfaith marriages, without needing to get rattled about secularism.
Just as Muslims can choose to forego a state-registered marriage in favour of a Nikah siri, or religious marriage arrangement, in order to avoid the state's stricter polygamy requirements, then Muslims should also be able to choose to forego religious marriages in favour of a state-registered marriage. Just as Catholics can choose to ignore the Catholic rules on divorce in order to get a state divorce, then Muslims should also be able to choose to forego a religious marriage in order to get a valid state marriage.
In a country where interfaith marriages are so visibly common (achieved through various legal avoidance schemes), there is in fact a societal demand for the practice to be protected by our national laws. The good news is, it would still be perfectly in line with our country's founding principles.
http://thejakartaglobe.beritasatu.com/blogs/debate-interfaith-marriage-highlights-indonesias-permeable-separation-religion-state/
-----------
Synod on Family: Marriage and Divorce Family Law in Morocco, Lebanon
18 Oct, 2014
(Vatican Radio) Muslims, Christians and Jews share many family values and "can learn a lot from each other's experiences." That is according to Nouzha Guessous, a professor at the University of Casablanca and consultant on human rights and bioethics.
Guessous, who helped draft Morocco's 2004 Family Code, took part in the October 1 interfaith conference in Rome "Women and the Family: between Tradition and Modernity" looking ahead to the Synod on the Family. The conference, organized by the International Foundation for Interreligious and Intercultural Education and the Italian Women of Faith Network of Religions for Peace, brought together Muslim, Catholic and Jewish women, who discussed how their sacred texts contain the answers to how challenges to the family and to dialogue can be addressed in modern society.
In an interview with Vatican Radio about Morocco's advances in women's rights and family law, Guessous argues that societies in the Arab world have implemented Islamic principles under a "patriarchal interpretation of the sacred texts, not only the Koran, but also the Hadith, which are the Prophet's sayings."
Listen to Tracey McClure's interview with Professor Guessous:
Rethinking a distorted message
Guessous, who is a medical biologist by training, says since the 19th century, "There is a large movement of rethinking the way that we use our religious heritage and the way that cultures - Muslim cultures - have more or less distorted the original message of the holy Koran." She says today, there is a need to "rethink" the message imparted by Islam's sacred texts and be "aware that the rules that were settled in the 7th century can no more fit in the 21st century." "We must go back to the Koran to see that the founding principle of the Koran is equality between men and women, with respectful relationship; they are both equal before God and they should be equal in the daily life."
"Rethinking" this principle helped bring about the latest reforms to Morocco's Family code which was originally based on the Maliki school of Sunni Islamic jurisprudence (8th century) . It was first codified after the country gained independence from France in 1956 and was revised in 1993.
The reforms introduced in 2004 make polygamy acceptable only in rare circumstances, and only with the permission of a judge and a man's first wife. They also raise the age of marriage for girls from 15 to 18 and give wives "joint responsibility" with their husbands in family matters.
Guessous says new measures regarding divorce were also introduced "not to make divorce easier, but to make it fairer than it was." Prior to the reforms, men could unilaterally claim divorce. And women who sought a divorce often had to suffer for up to ten years in "very bad situations" which included physical abuse. They were prevented from divorcing she says, because they could not prove that violence had been committed. Now, Guessous explains, "a man cannot divorce his wife without having the authorization of the court" and without first "trying to find some way of negotiation, reconciliation between the two spouses and trying to find some kind of agreement" before a divorce is pronounced. The wife now also has the right to seek compensation in cases of abuse.
In addition, adult women, she notes, are no longer required to seek a man's authorization to marry. "They can do it by themselves or they can, for social reasons, let their father or someone else do it for them. So this was a way of recognizing that adult women can take a marriage contract (as they can) do in social life: they can buy, sell, work - they can do all kind of civil contracts, but they couldn't do their marriage contract."
The whole philosophy of family law has changed to one of partnership
What is important, Guessous says, is that "the whole philosophy of the family law has changed." "The new family law is based on partnership between the two spouses: respectful partnership, reconciliation, negotiation – rather than on obedience and hierarchy as was the case in the old code from 1957 to 2004. So I think that this was important because it could be the entry point of what I call cultural deconstruction and reconstruction of some stereotypes in the relationship within the family. And this is the way to strengthen the families, and to make people be harmonious in their marital life and to give to children a good and safe atmosphere. I think it's important not only for peace in the family, but for peace in the whole society."
Raising the age for girls' marriage to 18, Guessous adds, creates "more opportunities for girls to go to school and to get some profession and to be able to be autonomous financially. Because I think that the main question for women, even to benefit from the rights contained in the law, is to be able to be financially autonomous . If they are not able to be financially autonomous, they cannot seek divorce if their husband wants definitely to be polygamous for example…. Regulating the legal age of marriage is something that was important but the implementation was not so good. Still, people get exceptional authorization to marry their daughters earlier because of poverty, of ignorance of the law or simply because they don't want to be in some kind of family and community scandal if their girls have a boyfriend… In Morocco, like in all other countries, this is something that happens."
Marriage and Divorce in Lebanon
On the sidelines of the Synod in Rome last week, Lebanese Cardinal Bechara Rai, Patriarch of the Maronite Catholic Church, told reporters that Lebanon's different faith confessions, not the state, govern marriage and divorce in their own communities. Explaining that civil marriages and civil divorces do not exist in Lebanon, he said they are considered religious issues subject to each faith group's own regulations and procedures.
"In that way," he noted, "the law protects marriage and the family. There are no laws contrary to natural or divine law. The state does not legislate anything having to do with marriage."
He pointed out that one side effect of such a system can be seen in the example of a Catholic couple which wants to divorce. They can join another denomination such as the Orthodox churches which recognize divorce and second marriages. Citing another problem, the Patriarch said that when a Christian marries a Muslim but remains Christian, he or she cannot inherit the property of the Muslim spouse.
Christians, Muslims and Jews: learning from each other
We asked Professor Guessous if Christians, Muslims and Jews can learn from each other in terms of supporting the family?
"Definitely," she responds. "Islam came after Christianity and Judaism. So I think that we have this common heritage which is humanity's common heritage. And definitely, in the three religions, the family is something that is very important and I think that we share (many) more values than the values that are different… Definitely, speaking about families we share definitely the same values so we have to learn a lot from the experience of each other."
http://en.radiovaticana.va/news/2014/10/16/synod_moroccan_muslims_rethink_family_law_for_modern_times/1108721
-----------
Female British Muslims as Vulnerable To Radicalisation as Men, Study Shows
18 Oct, 2014
British Muslim women and girls are just as vulnerable to becoming radicalised as their male peers, according to the author of a study into the early stages of the process.
The news comes amid reports of girls as young as 14 travelling to Syria from the west, to marry Islamist fighters, bear their children and join their communities.
A study from the Queen Mary University of London has found that suffering from depression, being financially comfortable, well-educated and socially isolated were common factors among those sympathetic to acts of terrorism, identified by researchers as the first of two stages of early radicalisation. The second, it said, was contact with radical, unorthodox beliefs.
Those whose families had lived in the UK for generations were more vulnerable than migrants, the report found.
As many as 500 British fighters have travelled to Syria and Iraq, it has emerged, while academics say as many as 10% of them could be women.
Professor Kamaldeep Bhui, professor of cultural psychology and epidemiology at Queen Mary University, said that gender did not play a significant role in the risk of radicalisation: "Women are no less likely in our analysis to have sympathies" with terrorism, Bhui said. If anything, they were more likely to show such sympathy, but "not significantly so" he said. "There is an increasing epidemic of girls" he added.
Academics said as many as 60 British females have fled to Syria to join Islamic State (Isis), mainly between the ages of 16 and 24. They include Aqsa Mahmood, 20, a woman from Glasgow who fled to Syria in November last year. Twin sisters Zahra and Salma Halane, 16, left their home in Chorlton, Manchester, in July without their parents' knowledge to follow their brother to Syria. And in August, Amal El-Wahabi, 27, a mother of two from north London, and wife of a fighter, became the first Briton to be convicted under terror laws of funding jihadi fighters in Syria. Her friend, Nawal Msaad, 27, who tried to smuggle £15,000 in rolled-up banknotes in her underwear, on a flight to Turkey form Heathrow, was cleared of the same offence.
At a briefing organised by the Science Media Centre, at the Wellcome Collection in London, Bhui said that parents worried about their children should look out for signs of depression or disaffection and warned that those who indulged in fantasy worlds or alternative identities were more at risk.
He interviewed 600 Muslims aged 18-45 from the Bangladeshi and Pakistani community in Bradford and London and asked detailed questions about their lives and their views on terrorism, in order to find out what drives Britons to go abroad to fight. He calculated their risk of radicalisation according to a score of sympathy or condemnation of a series of protests against injustice, from non-violent to terrorism and suicide bombing.
"The group who sympathised were younger, in full-time education and generally wealthy," he said. "They were more likely to be depressed and socially isolated."
He found that those who expressed sympathy with terrorist ideologies were more likely to be middle class, with a household income of £75,000, and likely to be disaffected or depressed, with a smaller social network than those who condemned terrorist acts, he said.
Bhui said that these individuals, when they come into contact with "unorthodox thinking, connect with it". He said that mosques could act as a "protective factor". Those in the Bangladeshi community were more likely to condemn terrorism, in the group he surveyed, he said.
Interestingly, Bhui said that migrants were less likely to become radicalised because they are poorer, busier with the need to earn money and they remembered the problems of their homeland. "Those who are having a hard life, who are migrants, are too busy to have fantastic thoughts about attacks," he said.
The numbers of those who had sympathy with terrorism were small, he said, with 2.5% showing sympathy and 1.5% having sympathy for the most extreme acts of violence and terrorism.
He described government moves to strip Britons who travel Iraq or Syria to join Isis of their citizenship as a disaster. He said: "My personal view is that it would be a disaster, because you are criminalising them. Some of those kids are 15 to 18, young and probably inexperienced and police in Wales took a different stance. They didn't want to criminalise. I would be happy to work with them."
The Guardian
http://uknews24.net/news/female-british-muslims-as-vulnerable-to-radicalisation-as-men-study-shows
-----------
'Won't even let us kill ourselves': Ordeal of enslaved Yazidi women
18 Oct, 2014
Hundreds of women and girls belonging to the Yazidi religious minority have been enslaved by Islamic State militants, who are selling them, forcing them to marry and convert to Islam, ruining not only their lives, but also the lives of their families.
On the Iraqi-Syrian border, RT's Paula Slier contacted Amira, a woman whose life turned into a nightmare after her sister was captured by Islamic State (IS, formerly ISIS) jihadists about a month ago.
The 27-year-old managed to call her and revealed that the jihadists "are hurting us, exploiting us, many of us are being sold". Women can't do anything to save themselves. What's more, the militants even "won't let us kill ourselves."
The family fears that that it would be impossible to find the woman even if the jihadists are suppressed: "We are not sure if she is alive."
"My life is ruined, my mother's, my family's. I don't think we can ever go back to a normal life, not after losing our sister," Amira said.
Human Rights Watch (HRW) has recently released a report, confirming abuses against people belonging to Yazidi community, a minority Kurdish religious group, by the IS militants. HRW said it successfully tracked down 16 Yazidis who escaped slavery, and also interviewed two detained women via phone.
The women shared stories of multiple rapes and forced religious conversions, with some of the victims just children – militants just picked up "those they desired, sometimes with force." They revealed that it was a common practice for IS to separate its captives into categories, depending on their age and sex.
The IS militants recently published online justifications to all sorts of crimes its fighters may do in the name of Allah: "We will … enslave your women, by the permission of Allah, the Exalted."
A special attention of the IS militants went to Yazidi, whom they regard as devil worshippers.
"After capture, the Yazidi women and children were then divided according to the Sharia amongst the fighters of the Islamic State who participated in the Sinjar operations."
A religious sect with around 1 million followers, Yazidi has roots in Zoroastrianism, an ancient Mesopotamian religion, and some influences of Christianity and Islam. Hundreds of thousands of people had to leave their homes in a town of Sinjar in western Iraq to save themselves from IS militants.
http://rt.com/news/196512-isis-yazidi-women-slavery/
-----------
The Real Story of Narin and the Kurdish Female 'Lions' Terrorising Islamic State
18 Oct, 2014
Besieged since September 15, the Kurdish-majority city of Kobani in Syrian Kurdistan has mounted an all-out resistance to Isis (Islamic State) backed by state power and superior weaponry. This resistance, like our earlier struggle against Jabhat al-Nusra, has been empowered, if not led, by Kurdish female fighters.
Ever since Kurdistan was divided among Turkey, Syria, Iraq and Iran in the 1920s, self-defence against occupiers and aggressors has been a natural part of its people's daily lives. Throughout all those years, Kurdish female fighters have fought side-by-side with men.
During the 1925 Sheikh Said and 1938 Dersim resistance movements against the Turkish regime, for instance, women armed themselves and fought alongside men. Telli Xanim, a guerrilla and the wife of the Kurdish general Yado, a commander of the 1925 Sheikh Said resistance, is an idol of female Kurdish fighters today. Similarly, Zerîfe Xanim, the wife of Elîsêr, a Kurdish poet and politician who commanded the 1938 Dersim resistance, fought and died alongside her husband.
Among other leading symbols of Kurdish national female heroism are Margaret Shello, who at the age of 20 joined the ranks of the Peshmerga in their fight against the Iraqi Ba'ath regime, and Leyla Qasim, a Kurdish freedom fighter who was hanged by the Iraqi Ba'ath regime at age 22 while studying at Baghdad University.
The story of Narin Afrini
Today, due to the current escalation of the Isis attacks against the Kurds in Kobani, a new chapter of heroism is being written by Kurdish female fighters of the YPJ (Women's Protection Unit) which is affiliated with the People's Protection Unit (YPG), an armed group which is an official part of the autonomous administration of Syrian Kurdistan.
One of the most important figures of this resistance, and a subject of global curiosity, is the leader of the YPJ (Women's Protection Unit), Narin Afrini. Otherwise known as Maysa Abdo, she is the military commander of all YPJ female fighters in Kobani.
Kadar Sheikhmous, an independent Kurdish political consultant from the Kurdish region of Qamishli and co-founder of the Shar Development Organisation, told IBTimes UK: "Neither [Narin nor Maysa] is her real name, they are pseudonyms for the same person. And the photographs that are circulating of her are not her.
"She is a 40-year-old fighter who has been fighting for 20 years in the ranks of HPG/PKK [Kurdistan Workers' Party.] Before going to Kobani, she was fighting in Cezire, in the region of Qamishli, and she has been deployed in Kobani for a year and a half now.
"Ever since Isis started its attacks, the checkpoints of the YPJ [Women's Protection Unit] in Kobani have not withdrawn and have stayed in their positions. They have resisted many fierce attacks by Isis and shown competent armed force... many army brigades in both Syria and Iraq couldn't stand such attacks."
Lions with bullets in their pockets
Regarding the character of the female fighters, Sheikhmous says: "Most of these women were civilians before the outbreak of the war; some of them were university students. [Now] they always keep one bullet in their pockets so they don't get arrested by Isis."
Kenan Fani Dogan, a Kurdish political refugee, activist and blogger based in Stockholm, said that "the Kurdish society has always perceived female fighters as a symbol of bravery and valour.
"There is a common Kurdish saying about that: "Şêr şêre çi jine, çi mêre'', which means 'a lion is a lion – be it a female or male.' This mentality has developed even more today with Kurds who lean to and support the women's liberation and their right to have leading roles in all aspects of life.
"Both women politicians and fighters are hugely respected by the society. Kurds believe that women can take on all tasks including fighting and that the women's liberation and equal participation in social life will help liberate and develop the whole society.
"This is the same for female fighters in Kobani, as well. It is a great opportunity for Kurds that Kurdish women have skills more advanced than those of men, both in political administration and armed resistance. Kurdish female fighters have the support and admiration of all sections of the Kurdish society.
"I can even say that despite Kurds' political dividedness over many issues, their trust in and respect of their female fighters is the main subject that they entirely agree on. And I hope that female Kurdish fighters will set an example for all women to shatter the persecution imposed on them."
Kejê Bêmal, a Kurdish human rights activist and writer based in Antalya, told IB Times UK that "Contrary to what is believed, Kurds come from a matriarchal culture so female Kurdish fighters are not a new phenomenon in the Kurdish history. As a natural outcome of living in an occupied land, Kurds - with their children, men and women - have a fighting spirit in a defensive manner.
"Kurdish women have never left the men alone in their fights. The primary reason for that is that during wars, women are seen as spoils of war. So Kurdish women have tried to defeat that ill fate and defend themselves by fighting alongside men."
omen are the equals of men - and they can drag us forward
Hatice Cevik, an administrator of the Ankara branch of the pro-Kurdish Peace and Democracy Party (BDP) and an activist of the Democratic and Free Women Movement which is affiliated with the BDP, told IBTimes UK that gender equality is one of the most important principles of their party.
"Women are leading figures in our political movement. Our stance is that men and women are completely equal," she said.
"We have the biggest respect for the YPJ [Women's Protection Unit] because to us, the revolution in Rojava Kurdistan [Syrian Kurdistan] is a female revolution. All of the values we have embraced so far are realized in Rojava Kurdistan.
"Not all women fighting in Rojava Kurdistan right now were fighters before the war got started. They were women working or studying. Some of them were housewives. But now all of them have joined the YPJ forces and are resisting Isis. This resistance is our honour. Women in Kobani are fighting for their freedom and Kurdish men are also proud of that."
Kemal Bulbul, the head of the Pir Sultan Abdal Alevi Cultural Association, and a columnist of the pro-Kurdish Ozgur Gundem newspaper in Turkey, said that the female fighters in Syrian Kurdistan have the potential to lead the way for a new women's liberation movement in the Middle East.
"I believe that what Kurdish female fighters have been doing in Kobani will create a new women's enlightenment for the whole region. In many countries in the Middle East, women are severely persecuted.
"When ISIS took over Mosul, it proclaimed that women should only go outside if absolutely necessary. In such a region, Kurdish female fighters and politicians have become the leading figures of their society. And that is a female renaissance, a female revolution in the Middle East."
There are still some countries which discuss whether women may drive cars or vote. The struggle of Kurdish women in Kobani can shake the system of such backward countries. And this is one of the reasons why Isis, the AKP government and Arab states oppose the self-rule of Kurds in Syrian Kurdistan."
http://www.ibtimes.co.uk/frontline-isis-real-story-narin-afrini-kurdish-female-lions-terrorising-islamic-front-1470119
-----------
Cash-strapped young Afghans turn to low-cost mass weddings
18 Oct, 2014
The crowd bursts into applause as a hundred couples enter the hall, hand in hand, grooms in simple black suits and brides in modest white dresses, red flowers in hand.
Expensive, lavish weddings have boomed in war-torn Afghanistan in recent years, but some young couples are now bucking the trend and saving money by getting hitched in low-cost mass events.
A sign at the entrance of the hall where the happy couples tied the knot in the large-scale ceremony arranged by religious charity Abul Fazel read: "Blessed is the woman who is easily maintained."
There was no dancing and the guests were entertained with poetry, stage shows, songs by young girls -- and a few topical jokes aimed at Afghanistan's turbulent political year.
"Put in all your energy and clap hard so they can come in all at once -- we don't want a second round of applause like the second round of elections," a presenter on stage told the cheering guests as the couples were entering the hall.
"We want to finish everything in the first round happily, because there won't be any John Kerry to solve your problems later," the presenter joked.
ntervention by Kerry, the US Secretary of State, helped end Afghanistan's tense election standoff and ushered in a power-sharing "marriage" of sorts between new President Ashraf Ghani and his poll rival Abdullah Abdullah.
The Taliban banned showy weddings during their hardline 1996-2001 rule, but since the US-led invasion ousted them, billions of dollars have flooded Afghanistan's economy and the taste has grown for more and more extravagant weddings.
Showy limousines, huge wedding halls, multiple receptions and parties with hundreds of guests have become almost compulsory.
A single wedding day at a hall in Kabul can now cost between $10,000 and $20,000 -- a gigantic sum in one of the world's poorest countries.
For the country's small, rich elite this may not be a problem, but less fortunate couples find themselves under huge pressure to keep up.
For those who are postponing marriage because they feel unable to put on a big enough show, the cheaper mass alternative is highly appealing.
"I was engaged for two years, I really could not afford a big wedding party. And then I heard about this organisation through media. I registered and today I am getting married," Mujtaba Rahimi, 24, a journalist sitting beside his bride told AFP.
"It is not an extravagant party, it is more spiritual. I hope more couples are wedded through such weddings and this becomes common in Afghanistan," he said.
In Afghanistan, a country battered by nearly 40 years of war and whose economy is still largely reliant on foreign aid, it is the groom who traditionally pays for the wedding.
It also falls to the groom to pay for parties before and after the big day itself, buying jewellery for the bride and paying huge amounts as dowry.
Musa, 29, a civil servant who had been engaged for three years but could not afford a big wedding party, said people should be encouraged to cut wedding costs as the high cost of weddings prevent youth from getting married.
"Expensive marriages prevent people from marrying. The young couples should find other ways to marry such as mass weddings. I ask all the youth to stop spending thousands only for one night," he said.
Hassan Nazeem, from the charity organisation that hosted the mass wedding, said it had cost around $66,000 to organise, including home appliances as gifts for the newly-weds, and the party for around 3,000 guests.
He said the scheme was growing in popularity.
"This is the second time that we are holding such weddings. Last time 44 couples were wedded in a mass wedding. This time it is 100 couples all from poor families," he said.
"We make announcements through mosques and elders. And then the couples who cannot afford for their wedding parties come and register to get married," he added.
And it was not only the money-saving grooms who enjoyed the mass service. Shy bride Fatima, 19, her face covered by a veil, gave her approval.
I'm very happy today to get married. I hope these kind of weddings continue to happen so that young couples can start their new life," she said.
Sayed Baqir Kazimi, another organiser, said mass weddings and straightforward marriages would reduce "moral crimes" -- code for extra-marital sexual relations, deeply taboo in highly conservative Afghanistan.
"One of the problems that our youth face these days is the expensive weddings that will even force them to become criminals. Easy and inexpensive weddings are the only solution for this problem." he said.
The matrimony industry has boomed since the fall of the Taliban, who even banned music from weddings.
But where government efforts to clamp down on outlandish weddings have had little impact, the mass wedding movement seems to be making a dent.
"We already have around 200 other couples on our waiting list." Nazeem said.
http://english.alarabiya.net/en/life-style/art-and-culture/2014/10/16/Cash-strapped-young-Afghans-turn-to-low-cost-mass-weddings.html
-----------
How a women's Muslim Aussie Rules team stood tall
18 Oct, 2014
Australian Football is a prolific producer of underdog stories and this year one quietly unfolded deep in what Collingwood Chairman Eddie McGuire once dismissed as "the land of the falafel".
I had read about the Auburn Giants Australian Football team, the first to be made up of Muslim women, and assumed it would disband when the grant money ended or the girls lost interest and fled back to their soccer DNA – an assumption that proved to be false.
The Giants were originally an offshoot of the Auburn Tigers men's Muslim team, which recently folded, leaving the ladies to carry the torch for Auburn's civic pride.
Earlier in the year I had stumbled upon a video which showed the Auburn Giants celebrating a win after a GWS Giants curtain raiser game at Spotless Stadium. In a unique post match celebration, the Lebanese drums banged amongst joyous whooping with each player taking turns to show her best Arabic dancing moves; it was certainly a sight to behold in an Australian football dressing room.
I decided to check out their last game of the season at Blacktown Sports Park where they were playing the Southern Power who were undefeated on 15-0 and one game away from a perfect regular season.
It turned out to be a tale of two cities. Southern Power proudly represent the Sutherland Shire, the land of Cronulla, Scott Morrison and Puberty Blues: their players were mostly Anglo, strong, tall and athletic.
The Auburn Giants charged onto the field, proud players from the diverse City of Auburn, a land of 100 tongues and 1,000 dishes with a Turkish mayor and a population that according to the last census was 42% Muslim. The Giants, despite their name, were smaller than Southern Power, mostly Lebanese – the team also included Fijian, Anglo and Chinese players – some in black or white Hijabs and others in tracksuit pants or long shorts, now acceptable as part of the new inclusive AFL uniform rules. A lone pram sat empty on the sidelines and a young baby was smothered in hugs and kisses by the interchange players.
Unfortunately, with Giants players down injured, the game descended into a mismatch with Southern Power winning 92-0. Pedigree had trumped passion.
The Giants coach, Christian Kunde, was philosophical. "It was really great to see they didn't give in. One thing I have tried to instil in them is to crack on no matter what. That's what they did today."
He had reason to be positive. The Giants won four games in their first three years of existence and this year they had won seven to make the finals. No wonder the girls were so upbeat and seemingly immune to the loss.
Kunde became the Giants coach almost by accident. He had volunteered to be the club doctor for 2014 but after an advertisement for a permanent coach failed to attract interest, he took on the position. His coaching model is unique: he phones and emails in the drills for each week's training from Albury, where he is based on a clinical attachment. He drives eight hours each weekend to visit his family home on the Central Coast and down the M1 to coach the Giants.
I asked Kunde what his biggest challenges were. He said they were still getting a mixed reaction from some of the players' families, and added that racism was still a problem. "We've lost 10 or 15 players who have left the game due to racism," he said.
The following week the Giants got their first taste of finals football as they took on the UTS Shamrocks in the women's second division elimination semi-final. Blacktown Sports Park was bleak, the sky gunmetal grey and spitting angry rain with spectators of both teams up close and personal in the dry covered area.
The first quarter was all Giants as they came out with finals intensity. Their No6, Lael Kassem, was everywhere, smothering and running the ball: football poetry in a white Hijab. Kassem co-founded the team, her love of Australian football passed on by osmosis from her nine brothers.
After a head clash, the Giants' No5, Amna Karra-Hassan, was bleeding from the cheek but waved the stretcher away. She is a perfect example of the new generation of Australian Muslim leaders. She works for the Australian federal police as a community liaison officer and serves on the Youth Advisory Council for the Community Relations Commission.
Karra-Hassan is another co-founder of the Giants, and the story of getting the team sanctioned by the community is a triumph of persistence. Wishing to be respectful to her religion and elders, Karra-Hassan followed the appropriate processes to establish the team, which included engaging the local imams to gauge whether participation was acceptable.
The applicability of the Islamic legal concept of Maslaha (for common good) was discussed and it was finally agreed that a women's team would bring benefit to the community by removing players from wasting time or negative influences. Uniforms could be adapted for modesty and casual interactions with men managed through scheduling, including the absence of night games. The club was to be founded and run independently of men, which meant that they had to learn fast about how to run a footy club. With these guidelines in place, the Imams gave her approval and in 2011 the adventure began.
And here they were, the co-founders in torrential rain, side by side, fighting a muddy arm wrestle with the UTS Shamrocks. They were joined by Amna's sister Liali Karra-Hassan, number 32 also in a white Hijab and team captain.
Kunde shook his head: "Liali's got a grade two ankle ligament tear and can't change direction. She was in a moonboot last week and shouldn't be playing but she insisted. She's hardcore, like all personal trainers. She introduced the ice water punishment at training for any major skill errors."
Liali and Lael had both been selected to play in the Sydney AFL Women's representative team this year, a huge leap forward for a community that did not have a single player five years ago.
The second quarter kicked off and quickly reverted to rugby style trench warfare, both teams ferreting for the ball in puddles. Brave and limping slightly, Liali sailed through the pack to collect a loose ball.
"That's over 20 possessions today, on one leg!" Kunde said with a wince and a smile. "We have four of our top five players out. One with a broken leg, another with a broken arm, but other girls have stepped up in new positions."
The security guard for the game was standing next to me in fresh fluro. "Mate, I can't believe it," he said out the side of his mouth. "I'm a Leb and I never seen this – Lebo women playing footy. Part of me says no good, another part says, why not?"
The siren sounded with the Shamrocks victorious 47 to 14. The Shamrocks had finally ground down their exhausted opponents and peppered seven unanswered goals. The fairytale was over.
As the brutal battle for Australian sporting hearts and minds moves into its next phase, the AFL's most important future asset is not the next draft pick from country Victoria but new immigrant converts like this group of women with Phar Lap-sized hearts. If you get a chance next season, check out this merry band of sister pioneers, who have overcome great barriers to play a game they have grown to love. It's an Australian story.
http://www.newsrt.co.uk/news/how-a-women-s-muslim-aussie-rules-team-stood-tall-2694543.html
-----------
USAID pledges $216 million for Afghan Women's Empowerment Program
18 Oct, 2014
The United States Agency for International Development (USAID) pledged $216 million for a major women's empowerment program for Afghanistan.
USAID following a statement said the funds will be spent through Promoting Gender Equity in National Priority Programs ("Promote") which will seek to advance opportunities for thousands of Afghan women to help them become leaders in the political, private, and civil society sectors.
The statement further added that Promote programs will help 75,000 young Afghan women become leaders in their fields over the course of the five-year program. USAID is providing $216 million to Promote, with other donors possibly contributing an additional $200 million.
The Promote program's main goal is to strengthen Afghanistan's development by boosting female participation in the economy, helping women gain business and management skills, supporting women's rights groups and increasing the number of women in decision making positions within the Afghan government, the statement said.
"Young Afghans are the future of their country, and our aim is for the young women who participate in this program to be the future leaders of all sectors of Afghan society," said Mission Director Bill Hammink.
According to the USAID statement, the Promote program was designed in consultation with the Afghan Government, civil society, and the private sector. Promote will be implemented in partnership with the Afghan Government and a consortium of Afghan organizations.
http://www.khaama.com/usaid-pledges-216-million-for-afghan-womens-empowerment-program-6848
-----------
English hospitals' first data on FGM a "major milestone"
18 Oct, 2014
(Thomson Reuters Foundation) - England published for the first time the number of patients in English hospitals who had undergone female genital mutilation (FGM), data hailed by the government as a "major milestone on the road to ending FGM ... in the United Kingdom."
More than 1,700 patients treated in English hospitals in September had been subjected to FGM, the Health and Social Care Information Centre (HSCIC), a Health Department body, said.
The patients included 467 newly identified as having undergone FGM and 1,279 already known to have undergone FGM in the past, it said, citing National Health Service figures.
It did not say how many of the patients were in hospital as a direct result of undergoing FGM - the partial or total removal of the external female genitalia, which can cause haemorrhage, shock, complications in childbirth, fistula or death.
Jane Ellison, a minister in Britain's Department of Health, said understanding the scale of the problem was "essential to tackling it effectively".
"That is why, for the first time ever, hospitals are reporting information on FGM - a major milestone on the road to ending FGM in one generation here in the UK," Ellison said in a statement as the figures were released.
"This data will help us care for women who have had FGM, and prevent more girls from having to suffer this traumatic experience."
About 60,000 girls under 14 years old and born in England and Wales may be at risk of FGM or may already have been cut, the rights group Equality Now and City University London estimated in July.
An estimated 140 million girls and women worldwide are thought to have undergone FGM or be likely to undergo cutting, a tradition practised widely in African and some Muslim countries.
Many countries are now trying to stop the practice, a custom stretching back generations in some communities.
English hospitals now report monthly the number of female patients they have newly identified as having been subjected to FGM and the number treated who were previously recorded as having suffered the practice, the HSCIC said.
Patients are included in the figures whether they are being treated for an FGM-related problem or for another reason, it said. The data do not include hospitals in Wales, Scotland or Northern Ireland, joined with England in the United Kingdom.
HSCIC Chairman Kingsley Manning said that having accurate data about the crime was an important step in helping prevent it being carried out in the future.
FGM has been a criminal offence in Britain since 1985, but new legislation in 2003 introduced a maximum prison sentence of 14 years and made it an offence for British citizens to carry out or procure FGM abroad, even in countries where it is legal.
"The information will support the Department of Health in their FGM prevention programme, and we hope to expand the dataset over time so that it provides a more complete picture across a wider variety of care settings," Manning said. (Reporting By Kieran Guilbert, editing by Tim Pearce)
http://www.reuters.com/article/2014/10/16/foundation-england-fgm-idUSL6N0SB26O20141016
-----------
URL: https://newageislam.com/islam-women-feminism/nigeria,-boko-haram-reach-cease/d/99598