New Age Islam News Bureau
24 Jun 2014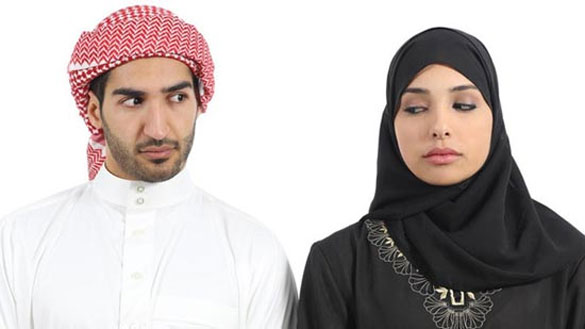 Mohammed Al-Saif claims that 40 percent of the husbands have sexual issues with their wives. (File photo: Shutterstock)
----------
• Muslim Council of Britain Declares Female Circumcision Un-Islamic
• Man Shaves Wife's Head before Divorcing Her Over 'Honour 'in Pakistan
• Sexual Problems 'Cause Half of Divorces' In Saudi Arabia: Saudi Academic
• Sudan Frees Christian Woman Sentenced to Death for Apostasy
• Pardoned By King, Indonesian Maid Returns Home
Compiled by New Age Islam News Bureau
URL: https://newageislam.com/islam-women-feminism/nigeria-another-60-women-abducted/d/97706
------------
Nigeria: Another 60 Women Abducted in Borno
June 24, 2014
At least 60 women and girls have been reportedly abducted in a Borno village by gunmen suspected to be members of Boko Haram, locals and security sources have said.
The abduction took place in a village called Kummabza, a farming community not more than 25km away from Lassa town in Askira-Uba local government area of Borno State.
But the fresh abduction, which was said to have been carried out on Saturday, was not made public until Monday when members of the local vigilante broke the news to journalists in Maiduguri, Borno State capital.
The security officials in Maiduguri have, however, denied knowledge of such abduction which occurred in a location not more than 150 kilometres away from the state capital.
A senior local government official in Damboa local council told LEADERSHIP in confidence that the abduction did take place. He, however, stated that he was not authorised to make categorical statement on the matter to the press.
The Secretary of Damboa local government area of the state, Modu Mustapha did not confirm or deny the abduction. He simply said, "I am not in the position to tell you anything. Only the chairman has the authority to talk to you, please get across to him."
Efforts to get the chairman of the local government, Alhaji Alamin Mohammed, proved abortive at press time as he did not answer his calls or respond to the text messages sent to him.
But a local member of the vigilante from that area, Aji Khalil, had a different figure on the abduction. According to him the total number of women abducted by the insurgents was 91.
He said, "The women were abducted between Thursday and Sunday in Southern Borno villages of Kummabza, Yaga and Dagu, Damboa local government area, Borno State.
Khalil said, "Some suspected Boko Haram members invaded Kumanza, Yaga and Dagu villages and kidnapped 91 persons. More than 60 married women and young girls were kidnapped while the rest 31 young men were forcefully taken away by Boko Haram terrorists. Four villagers who tried to escape were shot dead on the spot" Khali said on phone today".
When contacted, the Borno State Police Public Relations Officer (PPRO), Gideon Jubrin, denied knowledge of the latest abduction. He said, "Honestly the command has not received any of such report concerning the abduction of women or girls; but we will still investigate and if we get anything, we will get across to you"
http://allafrica.com/stories/201406240277.html?aa_source=mf-hdlns
------------
Muslim Council of Britain Declares Female Circumcision Un-Islamic
June 24, 2014
Britain's largest Muslim organization has spoken out against female genital mutilation (FGM), for the first time explicitly condemning the practice as un-Islamic and against the teachings of the religion, the Guardian newspaper reported Monday.
"Some people who practice FGM believe it to be an Islamic practice. This is NOT true. FGM is NOT a Muslim requirement," the Muslim Council of Britain (MCB) wrote on a leaflet that will be distributed to 500 mosques and community centres associated with the group.
FGM – also sometimes called female circumcision – refers to procedures that involve partial or total removal of the external genitalia, or other injury to female genital organs for non-medical reasons, according to the World Health Organization (WHO).
MCB argued that one of the basic principles of Islam is "do not harm yourself or others," and that the practice risks bringing the religion into "disrepute."
"FGM is not an Islamic requirement. There is no reference to it in the holy Quran that states girls must be circumcised. Nor is there any authentic reference to this in the Sunnah, the sayings or traditions of our prophet. FGM is bringing the religion of Islam into disrepute," MCB said in the flyer.
FGM affects 125 million girls and women around the globe, but is carried out largely in Africa and Middle East, according to the WHO. It is "recognized internationally as a violation of the human rights of girls and women," and can cause severe bleeding, problems urinating, infections, infertility and diminished sexual sensation, according to the WHO.
"It reflects deep-rooted inequality between the sexes, and constitutes an extreme form of discrimination against women," the WHO has said.
"We can end this practice and ensure it is no longer linked to the religion of Islam or the teachings of the Prophet Muhammad," Shuja Shafi, secretary general of the MCB, has said in a press release.
The MCB flyer also informs Muslims that there are legal consequences for carrying out FGM in the United Kingdom. Practitioners could face up to 14 years in prison, it warns.
"FGM is practiced contrary to the teachings of Islam and is prohibited in the U.K. and most [European Union] countries. Many girls could be saved from their cruel fate, if there was more awareness among the community of the consequences of FGM," Yunes Teinaz, Foundation for Women's Health, Research and Development (FORWARD) trustee, said in a press release.
http://america.aljazeera.com/articles/2014/6/23/fgm-muslims-britain.html
------------
Man Shaves Wife's Head Before Divorcing Her Over 'Honour 'in Pakistan
June 24, 2014
ABBOTABAD: A woman has accused her husband of shaving her head before divorcing her in the name of honour in the city.
Shifa Bibi*, 29, of Mohalla Thanda Choha, Nawanshehr, told the police her parents had married her off to Asif, son of Hussain of Mirpur village. She added they had two children and after two years Asif entered into another marriage.
Shifa said she had a difficult relationship with Asif's second wife, Rubina, and even though she supported the family financially by selling embroidered products, Asif often beat her up. Shifa claimed whenever she left the house, Rubina used to brainwash Asif saying she was having an extramarital affair with a man in Bilal Town.
On Saturday afternoon, when Shifa returned home after selling the embroidered handicrafts, Asif's mother Nisa Bibi and Rubina started assaulting her and accused her of having met a man, Babar, who Rubina dubbed as Shifa's "lover".
"After thrashing me, they locked me in a room and waited for Asif to return. He then beat me black and blue and shaved my hair off with a razor before divorcing me," Shifa told the police. She added Asif also forcibly took their two minor children into his custody.
Mirpur police have registered a criminal case against Asif, Rubina and Nisa Bibi but the accused are yet to be arrested. (Name has been changed to protect the victim's identity)
http://tribune.com.pk/story/725958/domestic-violence-man-shaves-wifes-head-before-divorcing-her-over-honour/
------------
Sexual Problems 'Cause Half of Divorces' In Saudi Arabia: Saudi Academic
June 24, 2014
A Saudi academic has called for teaching sex education to students in schools as part of the syllabuses for Islamic culture, sociology and psychology, claiming around half of divorces in the Kingdom was because of sexual issues between couples.
Mohammed Al-Saif, professor of sociology at Qassim University, told Al-Hayat newspaper that sexual problems were the main cause of the rising rate of divorces and crimes.
"Most sociologists and researchers deliberately avoid mentioning sex as a main cause for divorce and focus, instead, on other reasons," he said.
He added about 40 percent of the husbands have sexual issues with their wives.
Al-Saif called for teaching sex education in school syllabuses and said books containing information and scientific facts about the topic should be distributed among boys and girls in each family.
"Male and female students in general education, universities and technical colleges should be provided with books on sex, marriage and love," he said.
Al-Saif said books on sex education should be made part of a comprehensive strategy to inculcate ethical values in society.
"About 50 percent of divorce cases are due to sexual issues while the remainder are caused by the wrong choice of partner," he said.
Discussing why people keep quiet on sexual problems, he said the reason was social stigmas.
"Many family affairs researchers do not want to delve in these matters because they believe they are personal," he said.
Al-Saif said researchers and sociologists prefer to talk about the obvious causes of divorce such as the husband not giving money to his wife, family interference, domestic violence rather than dealing with the main reasons, which he said are often of a sexual nature.
He recalled that he asked a student to write down the causes of her divorce and she wrote a 500-page essay that ended with her saying that sex was the single main reason.
Al-Saif called for teaching sex education to students aged 10 to 30.
He said 10-year-old students should be taught the concept of passion and its significance in life because they would not be able to understand all matters concerning sex.
He said: "Some Saudi families abstain from talking openly about sexual issues because of their private nature.
"This stereotype should, however, be changed."
He said many families usually promote the importance of manhood for their sons instead of teaching them how to respect their women partners when they grow up.
Al-Saif, on the other hand, noted that so-called crimes of an "ethical nature", relating to illegal seclusion and adultery, are the top types of crimes committed in the Kingdom, according to statistics from the Ministry of Interior.
He said he spent three years working for prisons and met a number of men and women prisoners, the majority of whom were locked in for such offenses.
http://english.alarabiya.net/en/life-style/healthy-living/2014/06/23/Sexual-problems-cause-half-of-divorces-in-Saudi-Arabia.html
------------
Sudan Frees Christian Woman Sentenced to Death for Apostasy
June 24, 2014
Khartoum — A court of appeal in Khartoum cancelled a death sentence issued last month against Meriam Ibrahim for apostasy, the official Sudan News Agency (SUNA) reported on Monday.
"The Court of Appeal in Khartoum North overturned a judgment of the trial court of Haj Youssef and issued a decision to release the prisoner Abrar Hadi Mohammed Abdullah (alias Meriam Ibrahim), after the pleadings submitted by her defence," SUNA said.
Her lawyer later said that authorities released her from jail.
Ibrahim was convicted of apostasy on May 15th and sentenced her to death by hanging after refusing to revert to Islam. The court also sentenced her to 100 lashes for adultery as her marriage to a Christian man is considered invalid under Sudan's Islamic Shari'a law.
Ibrahim, who was reportedly born to a largely absent Sudanese Muslim father, was raised according to her Ethiopian mother's Christian faith.
She has been imprisoned with her 20-month-old son, Martin, since her arrest in December of last year and gave birth to a baby girl in prison on 27 May.
The head of the women's committee at Sudan's National Commission for Human Rights (SNCHR), Meriam Takas, told Sudan Tribune following the court's decision that the Omdurman Women's Prison authority received a judicial order to release Ibrahim if she was not convicted in other crimes, stressing that the order referred both the death and flogging sentences.
Ibrahim's sentence drew widespread international condemnation, with Amnesty International calling it "abhorrent." The US state department said it was "deeply disturbed" by the sentence and called on the Sudanese government to respect religious freedoms.
UK Prime Minister David Cameron told The Times that he was "absolutely appalled" when he learnt of the death sentence against Ibrahim and called for lifting the "barbaric" verdict.
However, earlier this month Sudan's foreign minister, Ali Karti, said at a joint press conference with his German counterpart Frank-Walter Steinmeier in Bonn that handling the case is governed by a legal appeal process to achieve justice to the satisfaction of all parties, stressing that the government does not interfere in judicial decisions.
Sudan's foreign ministry said in a statement on Monday that the court's decision came within the framework of the independence of judiciary and in fulfillment of the provisions of the law, constitution, and the bill of fundamental rights.
The statement pointed that Sudan faced unprecedented pressure campaign from governments, organisations, international figures, and the media, saying this campaign sought to push the government to interrupt the judicial process and ignore independence of the judiciary and the principle of the separation of powers.
It underscored that the government refused to intervene in the judicial process, noting they continued to remind the international community of the necessity to respect the judiciary and its rulings.
The foreign ministry considered the court decision an opportunity to remind the international community of the continued injustices against 35 million Sudanese people due to unilateral sanctions imposed on Sudan by the United States government since 1997.
It said those sanctions adversely impact importation of live-saving drugs, production inputs, and the development efforts in the country as a fundamental human right, adding that the sanctions also allows confiscation of assets belonging to Sudanese companies and individuals unlawfully which represents a gross violation for human rights and international law.
The statement called on the same governments, organisations, and individuals who expressed concern and demanded release of Ibrahim to express solidarity with the Sudanese people against the unjust unilateral sanctions.
Amnesty international in a statement on Monday described the court's decision to release Ibrahim as "a step towards undoing the horrific injustice visited on her".
"Today's ruling is a small step to redressing the injustice done to Meriam," said Sarah Jackson, deputy director at Amnesty International.
"However, she should never have been prosecuted. Meriam was sentenced to death when eight months pregnant for something which should not be a crime. Furthermore, her abhorrent treatment, including being shackled, violated international human rights law against ill-treatment."
The rights group also said it will continue to urge the Sudanese authorities to repeal provisions that criminalise acts of apostasy and adultery so that nobody else in Sudan has to endure the same ordeal as Ibrahim.
The US state department said today it welcomes the release of Ibrahim and called on Sudan to "repeal its laws that are inconsistent with its 2005 interim constitution, the Universal Declaration of Human Rights, and the International Covenant on Civil and Political Rights".
"These actions would help demonstrate to the Sudanese people that their government intends to respect their fundamental freedoms and universal human rights. And as you know, this is a case we raised quite frequently with the government there and welcome today's news," deputy spokesperson Marie Harf told reporters.
The Popular Congress Party (PCP), led by Islamist figure Hassan Al-Turabi, previously described the death penalty against Ibrahim as "a scandal, extremism, and intellectual backwardness", saying there is no punishment for apostasy in Islam.
Kamal Omar, PCP's political secretary said at a press conference last week that freedom of belief is an asset of Islam, noting the death sentence against Ibrahim is a violation of the basic principles of Islam.
He emphasised that PCP leader and members are against the conviction of Ibrahim, describing the judge who issued the apostasy sentence as "ignorant".
http://allafrica.com/stories/201406240359.html?viewall=1
------------
Pardoned by king, Indonesian maid returns home
June 24, 2014
An Indonesian maid who was sentenced to two years and 400 lashes on charges of sorcery has been repatriated home safely, said Dede Achmad Rifai, a spokesman of the Indonesian Embassy, here Sunday.
Rifai refuted allegations of capital punishment handed down to the maid by a Saudi court saying that the maid, Ati Abeh Inan, 40, was never given a death sentence. Referring to the misleading reports published in a section of the press, Rifai said that the official documents clearly state that Ati was proved guilty of sorcery against her employer's wife and family members by the General Court in Al-Ahsa but was not on death row.
"She was sentenced to two years and 400 lashes for violating civil rights and one year for violating private rights according to the diplomatic note sent by the Saudi Ministry of Foreign Affairs to the Indonesian Embassy," the official said.
The diplomatic note clearly says that the housemaid was not sentenced to death. Since she had completed her sentence she was free to go and was sent to Indonesia early this year, the official asserted.
However, a number of Indonesian domestic workers are confined in jails across the country facing potential death sentences for practicing witchcraft, sorcery or murdering their employers.
Some of them have exhausted all judicial appeals. Migrant Care, an Indonesian NGO which is following up their cases says most of the convicted Indonesian female workers acted in self-defense against maltreatment by employers including sexual or physical abuse.
Saudi Arabia is home to over one million Indonesian workers, mainly domestic helpers and housemaids.
http://www.arabnews.com/news/590891
------------
URL: https://newageislam.com/islam-women-feminism/nigeria-another-60-women-abducted/d/97706