New Age Islam News Bureau
15 January 2022
• Hijab-Clad Students Of The Government PU College For Girls In Udupi Prevented From Attending Classes
• Female Iranian Crafter Wins Top Prize At Intl. Craft Awards
• Four Including Two Women Shot Dead For Honour In Pakistan
• ICRC Urged To Check Women Detainees' Conditions In Israel's Damon Jail
• 'Nour' Journal by Arab Women Writers Digitalized for the Public
• Girl Gunned Down In Taliban's Check Post In Kabul
• Turkish Woman's Dried Fruit Hobby Turns Into Major Export Business
Compiled by New Age Islam News Bureau
URL: https://www.newageislam.com/islam-women-feminism/nigar-johar-female-general-saudi-arabia/d/126164
--------
Nigar Johar, Pakistan's First Female General Hails Saudi Arabia For Women-Centric Reforms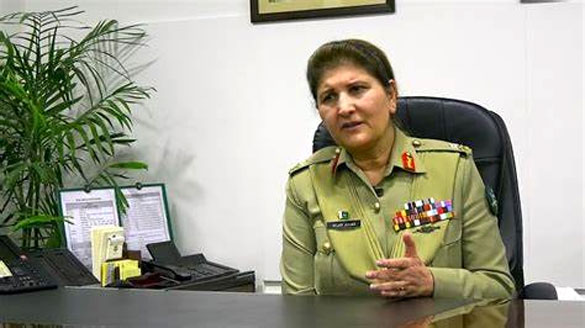 Nigar Johar, Pakistan's First Female General
----
January 14, 2022
RAWALPINDI: Pakistan's first female general, Nigar Johar, who in November was appointed colonel commandant of the Army Medical Corps, has hailed Saudi Arabia for introducing "commendable" reforms for the welfare of women.
Lt. Gen. Johar joined the Army Medical College in 1981 and graduated four years later. She subsequently became the only woman in the history of the Pakistan Army to reach the rank of a three-star general, and was asked to lead a corps.
A native of Swabi, a small settlement in the conservative Khyber Pakhtunkhwa province in Pakistan's northwest, Johar said the environment of her town when she was growing up did not prevent her from dreaming of a professional career, adding women should believe in themselves as they are capable of excelling in any field.
She also praised the recent reforms undertaken by Saudi Arabia to empower women.
"In Saudi Arabia, where there were restrictions, females are driving there after commendable steps taken by His Majesty (King Salman)," she told Arab News in an exclusive interview earlier this week. "I was recently there for Umrah and saw female drivers there which made me very happy."
Women's rights are one of the issues that have benefited most from Saudi Arabia's reform push in recent years. Saudi women have been appointed to high-ranking positions in the public and private sectors, as well as diplomatic missions. More Saudi women are also working in the legal profession and have opportunities to represent clients in court and work at public prosecution offices.
In her own case, Johar attributed professional success to a clear sense of purpose along with a system of meritocracy in the Pakistani armed forces.
"If you know your job and work hard with clear direction and sincerity, there is no reason why you would be left behind," she said. "The army system is merit-based. This is also exemplified by my presence here."
Explaining her passion for the armed forces, she said her father was an artillery officer who inspired her.
"He was my ideal," she said. "I had seen him in uniform from the beginning which influenced my decision to become a doctor and join the army."
Johar's dedication and professional excellence captured the attention of her superiors, who gave her positions of command and authority, making her feel she was facing "the biggest challenge" of her life.
She said her first leadership role arrived when she was asked to command a hospital as a brigadier
"That was definitely a huge challenge, since you have to prove yourself," she said. "Then you feel a burden of responsibility because you know that you are there to make it or break it for females coming there after you."
With the outbreak of the coronavirus disease pandemic, Johar was asked to convert the Military Hospital Rawalpindi into a fully equipped COVID-19 center within a week.
She recalled the daunting challenge, saying: "We converted it into a COVID hospital by spreading oxygen services to over 100 beds and expanding its intensive care unit."
As the disease started spreading in the country, she took the initiative to add a further 3,000 beds by taking over the Army Public School building.
"We worked day and night with our team to manage the emergency situation," she said. "Now, I can proudly say that we did quite well, because our mortality ratio was very low."
In the beginning of her career, Johar said she had faced gender-based discrimination, which was a global issue present in every field.
She remembered how female doctors were initially not allowed any specialty other than gynecology in the army, but said things have now changed.
"I wanted to be a cardiologist but I couldn't because I was a female and they were not allowed to be cardiologists," she said. "Now, we have females in so many areas in the army."
Although her initial dream of a medical career did not come true, she believes her life took a better turn.
"I feel that my destiny turned out to be better than what I had planned for myself," Johar said. "I could not become a cardiologist but I am sitting here now, which is better for me."
Source: Arab News
https://www.arabnews.com/node/2004581/world
--------
Hijab-Clad Students Of The Government PU College For Girls In Udupi Prevented From Attending Classes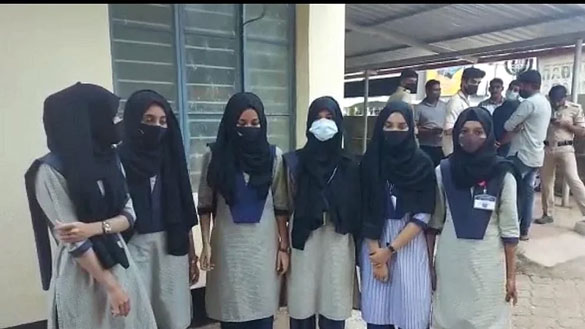 Six Muslim girl students of the government women's PU College in Udupi have alleged that the principal is not allowing them to wear 'hijab' (headscarf) in the classrooms (Photo: National Herald)
-----
14th January 2022
Muslim students of the Government PU college for girls in Udupi are missing out on attendance and classes as the school reportedly imposed a ban on the hijab, early in January. The students adorning Hijab have not been allowed to attend classes since then.
The students are left with little choice but to while away time around the campus, as they choose to cover their heads with scarves, despite the ban.
The college reportedly banned the use of Hijab, the Urdu language, and the Arabic greeting (Salaam), recently, following which the students stood outside classrooms in protest of the college's decision.
They also are allegedly being barred from speaking in Urdu, Arabic, and Beary languages. The principal of the college, Rudhra Gauda had earlier refused to discuss the issue with the parents even though the students had mentioned that they were not being given attendance.
Gauda reportedly has claimed that the students have always been removing hijab and burqa after they enter classrooms. He says that under the insistence of some groups only a few Muslim students are making this a controversial issue.
Gauda had earlier said, "The students can wear hijabs in the school premises but not inside the classrooms. The rule is being followed to ensure uniformity in classrooms,". He also mentioned that they would hold a parent-teacher meeting on the issue.
Source: Siasat Daily
https://www.siasat.com/karnataka-hijab-clad-students-prevented-from-attending-classes-2258412/
--------
Female Iranian crafter wins top prize at Intl. Craft Awards
January 14, 2022
Arabian, who is a master of metalwork and Minakari (enamel), participated in the event with one of her exquisite works, a lavishly-decorated metal bowl designed for serving gaz (nougats with pistachios and almonds), CHTN quoted Vida Tavahodi as saying on Friday.
Minakari is an ancient art of painting natural motifs such as flowers and birds on the surface of metals, mostly copper.
Due to the outbreak of the coronavirus, the event was held virtually in India, but the artist will soon be awarded the prize at a ceremony, the official added.
The award for the Male Craftsperson of the Year went to Dalavayi Kullayappa from India, while Zohra Said from Morocco and Ismael Arturo Rodriguez Moreno from Mexico named Female Craft Designer of the Year and Male Craft Designer of the Year respectively. ICA is organized by Craft Village, a social organization, based out of New Delhi, India, working towards training and promotion of handicrafts.
ICA sets a new benchmark in the world with the highest level of skill and design excellence. The awards provide an open platform for makers working in a wide variety of materials and media to have their work assessed by a professional jury and international craft experts.
These awards promote, inspire and encourage talent of the highest standards, making International Craft Awards an annual global feature.
With 14 entries, Iran ranks first globally for the number of cities and villages registered by the World Crafts Council, as China with seven entries, Chile with four, and India with three ones come next.
In January 2020, the cities of Shiraz, Malayer, and Zanjan and the village of Qassemabad were designated by the WCC- Asia Pacific Region, putting Iran's number of world crafts cities and villages from ten to 14.
Shiraz was named a "world city of [diverse] handicrafts". Malayer was made a global hub for woodcarving and carved-wood furniture. Zanjan gained the title of a "world city of filigree". And Qassemabad village, which is nationally known for its traditional costumes, was also promoted to a world hub of handicrafts. Chador Shab, a kind of homemade outer garment for women, was, however, the main subject for the WCC assessment for the village.
The value of Iran's handicrafts exports stood at $120 million during the first eleven months of the past Iranian calendar year 1399 (March 20, 2020 – February 18, 2021), Mehr reported. The country's handicrafts exports slumped during the mentioned months in comparison to the same period last a year earlier due to the damage the coronavirus pandemic has inflicted on global trade.
The Islamic Republic exported $427 million worth of handicrafts during the first eleven months of the calendar year 1398. Of the figure, some $190 million was earned via suitcase trade (allowed for customs-free and tax-free transfer) through 20 provinces, according to data compiled by the Ministry of Cultural Heritage, Tourism and Handicrafts.
Ceramics, pottery vessels, handwoven cloths as well as personal ornamentations with precious and semi-precious gemstones are traditionally exported to Iraq, Afghanistan, Germany, the U.S., the UK, and other countries.
Source: Tehran Times
https://www.tehrantimes.com/news/469045/Female-Iranian-crafter-wins-top-prize-at-Intl-Craft-Awards
--------
Four Including Two Women Shot Dead For Honour In Pakistan
January 15, 2022
MANSEHRA/DERA ISMAIL KHAN: Four persons, including two women, were killed in the name of honour on Friday, the police said.
A man killed his wife and a ninth grade student for honour in Jijal area of Lower Kohistan district.
"The accused suspecting his wife to have illicit relations with a boy, first killed the ninth grader and then went to his home and shot his wife dead," district police officer Zulfiqar Khan Jadoon told reporters.
"The student was on way to school when the accused shot him dead," Mr Jadoon said.
Meanwhile, a married woman and a man were killed for honour in Darazinda tehsil of Dera Ismail Khan.
A police official said unidentified attackers opened fire at the man, 36, in Darazinda Bazaar, killing him on the spot. The attackers escaped.
Soon after the man's killing, the attackers also shot dead a woman inside her house in Kot Falak area of the tehsil.
The deceased man's father told the police that his son was killed over an alleged affair with a married woman. The deceased woman's father told the police that his married daughter was killed by her in-laws over suspicion of having relations with a man.
The police registered a case against the accused and his brother, residents of Kot Falak area. The bodies were handed over to relatives after postmortem.
Source: Dawn
https://www.dawn.com/news/1669453/four-including-two-women-shot-dead-for-honour
--------
ICRC Urged To Check Women Detainees' Conditions In Israel's Damon Jail
Awad Rajoub
14.01.2022
RAMALLAH, Palestine
The Palestine Liberation Organization (PLO)-run Commission for Detainees and Ex-Detainees' Affairs on Friday called on the International Committee of the Red Cross (ISRC) to visit women prisoners in Israel's Damon prison and check their health conditions. In a statement, the commission urged the ICRC to send an "urgent medical team to Damon prison to inspect the health conditions of the infected female prisoners and the female prisoners who are subject to sanitary isolation, and to provide them with all the necessary medicines, food, and sterilizers."
"The number of female prisoners infected with the coronavirus has risen to seven which doubles the anxiety and fear for them," the statement said.
The Palestinian Prisoners Society (PPS) reported on Thursday that the number of prisoners infected with the coronavirus since April 2021 climbed to 410.
According to Palestinian NGOs, there are around 4,600 Palestinian inmates in Israeli jails, including at least 600 sick prisoners.
Source: Anadolu Agency
https://www.aa.com.tr/en/middle-east/icrc-urged-to-check-women-detainees-conditions-in-israel-s-damon-jail/2474430
--------
'Nour' Journal by Arab Women Writers Digitalized for the Public
14 JANUARY 2022
Nour, a quarterly review of books by and about Arab women published from 1994 to 2004, has been digitized by the Centre for Arab Unity Studies.
Sharing a wide range of works by Arab women in literature, research and translations, the quarterly review presents brief biographies of Arab women researchers, writers, scientists and artists to allow the public to learn more about these writers.
In total, 22 issues were published, and the total books reviewed or mentioned are about 650 books.
The review includes a long list of 164 women writers from Egypt, Lebanon, Syria, Bahrain, Iraq, Morocco, Tunisia, and Palestine.
Arab women's writing has existed for centuries, with the likes of 'A'isha al-Taymuriya and Zaynab Fawwaz being early pioneers in Egypt and the Levant. For 3,000 years, Arab women have written a variety of works and literature in different styles, contexts and creative expressions, yet not a lot of works have documented their history and work.
One example of another book that documents Arab women's writings – first published in Arabic in 2004— is 'Arab Women Writers: A Critical Reference Guide' by Radwa Ashour, which traces the development of Arab women's literature through the end of the twentieth century, and also includes a comprehensive bibliography of Arab women.
The Center for Arab Unity Studies is an independent and scientific research institution, focused on tackling the issues of Arab unity as well as culture, sociology, the Palestine cause and youth and women's issues.
The Centre also publishes a monthly Arabic scholar journal, called "Al-Mustaqbal Al-Arabi" or The Arab Future.
Source: Egyptian Streets
https://egyptianstreets.com/2022/01/14/nour-journal-by-arab-women-writers-digitalized-for-the-public/
--------
Girl gunned down in Taliban's check post in Kabul
15 Jan 2022
A family in the western Kabul Dasht-e-Barchi claimed that their 25-year-old daughter has been shot dead in a check post of Taliban.
Family members of the slain Zainab said that they or the way home back from a wedding function who were stopped in a check post and were then shot at.
The Father of Zainab asked for justice and the arrest of the culprits.
The motive behind the shooting is not yet clear but the Islamic Emirate of Afghanistan pledged to be investigating the case and bring to justice the perpetrators.
It is worth mentioning that, last month a 22-year-old Faisal was shot dead in a check post of the Taliban in Kabul city.
The Taliban affiliate was arrested but the family of the slain Faisal pardoned him.
Source: Khaama Press
https://www.khaama.com/girl-gunned-down-in-talibans-check-post-in-kabul-8756587/
--------
Turkish woman's dried fruit hobby turns into major export business
JAN 14, 2022
Female entrepreneur Merve Anıl from Turkey's Aegean province of Uşak, who entered the dried fruit sector with the two drying ovens she bought for her home, increased her production capacity with a workshop she opened in April last year and started exporting her products.
Mother of one Merve Anıl, who initially produced dried fruit at her home in Banaz district to prevent waste and sold her products over social media, established a workshop equipped with a cold storage unit in April last year.
Adding noodles and pasta colored with vegetables to its product range, Anıl started to export products to the United Kingdom, Austria, Germany, the United States and France.
Her success comes on the heels of all-time highs of Turkish agricultural exports.
Anıl told Anadolu Agency (AA) that the demand for dried fruit is quite high, and those who want to adopt healthier eating habits are increasingly turning to dried fruit and similar products.
"I am happy I am providing employment for women"
Touching on her aim to increase her business' capacity by 30% and to process 500 tons of products next year, Anıl said: "We can process 250-300 tons of products at the moment. When the demand for our products increased, I couldn't keep up with the work on my own. I have three other women working with me in the winter season, and eight-nine people in the summer. I feel very happy to be able to provide employment for women. My next goal is to provide employment to more women and to do better things with them."
Explaining that she fulfills incoming customer orders by courier, Anıl continued as follows:
"We have reached 81 provinces of Turkey. The demand for natural products is increasing day by day. Health nutritionists support us in this regard. Therefore, we have become a unique opportunity for our citizens who prefer natural products. We have started to dry vegetables as well as dried fruits. We also produce vegetable powders.
"Since there is not much fresh fruit in winter, the demand for dried fruit is quite high. In summer, there is not much demand because the amount of fresh fruit is quite high. Therefore, we produced vegetable powders to be used in natural colorings to be used in yogurts and cakes and put them on the market. At the same time, we started to produce noodles and pasta with vegetables by steaming them before drying them. We also offered them for sale."
Woman entrepreneur Merve Anıl's vegetable pasta product, Uşak, Turkey, Jan. 12, 2022. (AA Photo)
Preparation of woman entrepreneur Merve Anıl's vegetable pasta product, Uşak, Turkey, Jan. 12, 2022. (AA Photo)
Anıl explained how she started to send her products overseas. "The happiest development for me this year is that my products are also in demand abroad," she said.
"I first started on this path to prevent waste, and now tons of my products are sent to countries. I am honored to be able to process tons of products," she proudly said.
Anıl said her biggest goal is to increase her exports. "Being a female entrepreneur, I am very happy that our products are sent to the whole world," she added.
Her wish is to introduce her products to the entire world.
Source: Daily Sabah
https://www.dailysabah.com/turkey/turkish-womans-dried-fruit-hobby-turns-into-major-export-business/news
--------
URL: https://www.newageislam.com/islam-women-feminism/nigar-johar-female-general-saudi-arabia/d/126164
New Age Islam, Islam Online, Islamic Website, African Muslim News, Arab World News, South Asia News, Indian Muslim News, World Muslim News, Women in Islam, Islamic Feminism, Arab Women, Women In Arab, Islamophobia in America, Muslim Women in West, Islam Women and Feminism