New Age Islam News Bureau
14 October 2020
• Trump Pleas with Suburban Women: 'Please Like Me'
• Pushing the Boundaries of Indian Tech: Women on the Frontlines
• MPs Need To Prioritise the Sexual Harassment Bill
• Another Love Jihad? Harassed By Muslim In-Laws, Hindu Woman Attempts Self-Immolation outside UP Assembly
Compiled by New Age Islam News Bureau
URL: https://www.newageislam.com/islam-women-feminism/ngozi-okonjo-iweala-yoo-myung/d/123140
---------
Ngozi Okonjo-Iweala and Yoo Myung-hee - Two Women Who Are the Finalists for Leading the WTO
October 13, 2020
cnbctv18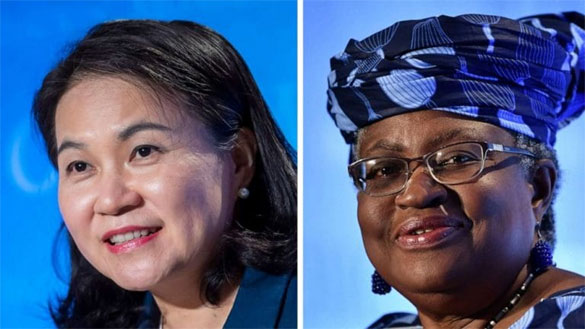 Nigeria's Ngozi Okonjo-Iweala and South Korea's Yoo Myung-hee.
-----
Studies done in the aftermath of the COVID-19 pandemic suggested women may be better leaders than men in critical situations.
With COVID-19 tipped to accentuate the growing de-globalisation trend and rising trade barriers, the World Trade Organization is set to have a female leader for the first time in its history.
In a statement last week, the Geneva-based body announced that these two female candidates have sealed the highly competitive post for the next WTO Director-General: Nigeria's Ngozi Okonjo-Iweala and South Korea's Yoo Myung-hee.
One among the two women of colour will replace Roberto Azevedo, the former WTO Director-General, who resigned after the heated trade war between United States and China, before his tenure ended.
Experts said Okonjo-Iweala and Yoo are both highly qualified for the position and have political and international experience.
Okonjo-Iweala is a reputed economist and had a short tenure as the Finance minister of Nigeria. She has spent a long tenure of 25 years at the World Bank. In 2018, she was added to the Board of Twitter (TWTR).
She is also a chairman of the board of the international vaccines alliance, Gavi.
If finalised for the job, Okonjo-Iweala would also be the first African to be director general of the WTO.
Elated by the announcement of her nomination, Okonjo tweeted, "Happy to be in the final round of the @WTO [director general] campaign. Thanks, WTO members for your continued support of my candidacy."
Yoo presently acts as South Korea's Minister for Trade, and is also the first woman to do so. She has a prolific 25-year career in trade. Additionally, she has been involved with the WTO in Korea since 1995. She also shortly worked at the Korean Embassy in Beijing, China. Yoo completed her master's in public policy from Korea's Seoul National University.
In her tweet thanking the WTO, Yoo wrote,"Deeply grateful and honored to be selected for the final round" in the selection process for the next director-general."
https://www.cnbctv18.com/world/meet-the-two-women-who-are-the-finalists-for-leading-the-wto-7185491.htm
----------
Trump Pleas with Suburban Women: 'Please Like Me'
14th October, 2020
By Associated Press Television News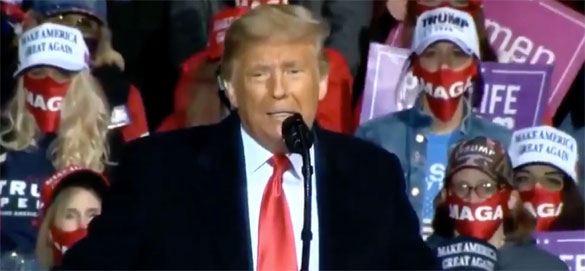 President Donald Trump hit the battleground state of Pennsylvania Tuesday and urged suburban women to support his campaign
-----
President Donald Trump hit the battleground state of Pennsylvania Tuesday and urged suburban women to support his campaign and help give him four more years.
Speaking at a rally of thousands at the airport in Johnstown, Trump said, "Can I ask you to do me a favor? Suburban women will you please like me? I saved your damn neighborhood."
It's part of an effort to fire up a conservative base that Trump will have to turn out in droves to secure the 270 electoral votes needed to retain the White House.
With 20 electoral votes, Pennsylvania is anchored by Philadelphia to the east, Pittsburgh to the west. But the rest of the state is largely rural, comprised of small cities and towns where Trump ran up the score four years ago.
He will need to again, in even greater numbers, as his prospects have slipped since 2016 in places like vote-rich suburban Philadelphia, where he underperformed by past Republican measures.
"You damn well better vote for me, Pennsylvania," Trump said, insisting his administration is "going to crush" the coronavirus "very quickly."
The president also revised a popular line from his rally Monday night in Florida, saying again he'd like to "kiss everyone, man and woman."
"Look at that guy, how handsome he is. I'll kiss him," Trump said. "Not with a lot of enjoyment, but that's ok."
This story has not been edited by www.republicworld.com and is auto-generated from a syndicated feed.
https://www.republicworld.com/world-news/us-news/trump-pleas-with-suburban-women-please-like-me.html
-------
Pushing the Boundaries of Indian Tech: Women on the Frontlines
NISHA HOLLA
OCT 14 2020
Technology is an integral part of India's socio-economic growth story. The country houses the third largest startup ecosystem in the world, after the US and China. Over 50,000 startups have created north of US$500 billion in value over the last decade[1]. Technology has powered this trajectory, particularly with the development of the multilayered technology network IndiaStack, which has led to unprecedented financial and digital inclusion. India is witnessing two pivotal women-centric phenomena at this time — one, there is an unparalleled inclusion of women in the Indian economy, boosted by technology platforms; and two, women are increasingly pushing the boundaries of technology development. This Global Policy-ORF report on 'Women on the Frontlines' showcases the latter.
When India's Mangalyaan mission was launched a few years ago, the iconic image that captured millions of hearts was that of the scientists behind the achievement — a group of women, in saris with flowers in their hair, celebrating the launch. This is emblematic of many women in science and technology today, particularly in India — they are pushing the boundaries in their respective fields, but often from behind the scenes. It is worthy to note that Indian women enter STEM fields in far greater numbers than in peer countries. Women now make up 34 percent of the IT workforce in India. We are also at 50:50 gender parity rate in STEM graduates[2]. This is far higher than in Europe (18 percent) and the US (about 25 percent)[3]. India's higher education system also reflects this directional movement; last year for the first time, women's gross enrolment ratio (26.4) exceeded that of men (26.3)[4]. Indian women are rising with clear aspirations.
This report aims to showcase women on the frontlines of technology development and deployment and to highlight both their professional achievements and their individual stories. We first meet four trailblazers, who started working in technology when it was a relatively new field in India and, in a time that was far less welcoming to women. We then showcase the leaders of tomorrow, women who started their journeys more recently but are already seeing success across a range of ventures.
The contribution of the trailblazers has been invaluable in building India's tech ecosystem. Kiran Mazumdar-Shaw, founder, chairperson and managing director of Biocon Ltd. and one of India's few self-made women billionaires, has fearlessly steered her company into a global pioneer in the biopharmaceutical space. Nivruti Rai, country head of Intel India, has risen through the ranks of one of the world's foremost technology companies and brings her multi-dimensional product experience to pushing the boundaries of Indian research and development. Dr Renu Swarup, Secretary of the Department of Biotechnology (Ministry of Science and Technology, Government of India), straddles the critical juncture of science and governance and has been crucial in setting up a pipeline of early-stage highrisk scientific development ventures in the country. Vani Kola, founder and managing director of Kalaari Capital, has pioneered the role and deployment of early-stage risk capital in the development of indigenous technologies. These trailblazers are role models to the millions who have been inspired to follow them into various technology fields.
Our 'Leaders of Tomorrow' section features women who have founded and built companies at the cutting-edge of technology across a range of segments — finance, data analytics, media, scientific innovation and education. They have brought technical and management expertise to bear on a range of problems, using either digital platforms or deep technology for their growth and value proposition.
In the field of financial technology, India has emerged a leader of innovation. The entrepreneurs who have contributed to the 'Financial Technology' section have all developed proprietary fintech platforms to solve specific market gaps. Mabel Chacko and Deena Jacob from Open, the world's largest SME-focused neo-banking platform, help over 500,000 small enterprises resolve challenges in accessing and managing finances. Jayalakshmi Manohar, of Streak, brings state of the art technology to the average retail investor, earlier available only to large institutional investors. Chaitra Chidanand, formerly of Simpl, created a platform to provide temporary credit to users conducting purchases with cutting-edge machine learning technology to manage credit risks. A common theme with our four features is the use of technology to assist previously underserved groups.
Our 'Data Platforms at the Edge' section features three women who are harnessing the infinite potential of data platforms. Infibeam, co-founded by Neeru Sharma, uses data platforms across a range of services including online retailing, digital payments, e-commerce, software and internet services. Neha Singh, of Tracxn, deploys data intelligence and research at scale to help venture capitalists and institutional investors identify potential areas of investment. Ashwini Asokan, of Mad Street Den, is working to build generalised artificial intelligence at scale, with use cases across a range of industries starting with retail. An underlying theme in this section is the deployment of extensive tech platforms to develop strong value propositions that address a variety of market gaps.
Internet penetration has risen exponentially in India over the past decade; the average Indian today consumes 11GB of data per month[5]. This has fundamentally changed the way Indians access media, creating enormous challenges to the advertiser-based models of traditional media. Our 'Media and Content' section showcases entrepreneurs who have taken advantage of this trend to build thriving digital-only media platforms. Shradha Sharma of YourStory launched her platform to tell the stories of aspiring changemakers and entrepreneurs, with a distinct lens on women via the HerStory platform. Her focus, to a great extent, matches that of this series — she wanted to give a voice to rising stars whose achievements merited greater visibility. Aditi Shrivastava from Pocket Aces has fundamentally altered India's digital entertainment space, with a mission of 'alleviating boredom.' These entrepreneurs use data-backed insights and digital platforms to connect to and create content for their ever-growing audiences.
Our 'Science at the Frontier' features have been chosen with a strong focus on sustainability. The innovation of the last century has brought us the technologies of today, but also threaten our planet. The COVID-19 crisis has demonstrated the fragile relationship between nature and humanity, and the high costs when this relationship loses balances. The biggest shift humanity will need to make in the coming decades is to clean sources of energy, and Sri Sailaja Nori and Sowmya Balendiran of Sea6 Energy are among those leading this charge. Their company uses micro-algae to create ethanol and natural gas, reducing reliance on carbonintensive forms of energy. Ezhil Subbian's String Bio creates alternatives to products from biodegradable plastic to high-performance polymers for stents and sutures, creating circular value chains for organic waste, methane and plastic. Kavitha Sairam is founder of FIB-SOL, a company that provides solutions to two areas that are ripe for disruption — agriculture and health. Their nanofibre applications help fertilise large tracts of farmland with small quantities of fertiliser, without degrading soil quality.
Our last segment looks at 'Education Technology,' which has gained a considerable amount of attention as children are forced to study remotely during the pandemic induced lockdowns. BYJU's, co-founded by Divya Gokulnath, has become a household name as the world's most highly valued edtech company. Their aim of making children fall in love with learning is particularly relevant today as we hurtle towards an uncertain future of work. Priyanka Subramanian, of Uable, focuses on the 6-14 age group, one of the first generations in the world born as digital natives. While online learning can often be a lonely experience, they meet this challenge through peer learning environments to ensure every learner discovers and develops their potential. Charu Noheria, of Practically, works to use online platforms to deliver experiential learning. They use new technologies like simulations as well as augmented and virtual reality to provide interactive experiences, successfully bridging the gap between digital and real-life learning. High-quality, affordable and accessible education will remain imperative even after the pandemic, to ensure that India's young population, the largest in the world, is equipped to enter the workforce as productive members of society. These three entrepreneurs are redefining the way our youth is educated.
Our primary thought, as we put this report into the world, is how inspiring it has been to read the stories of these incredible women and the work they have done. While we have just scratched the surface, we hope this selection of essays and conversations will provide a view into the myriad solutions technology has to offer in a variety of fields, and the brilliant women who have taken transformational steps in this direction.
https://www.orfonline.org/research/pushing-boundaries-indian-tech-women-frontlines/
---------
MPs need to prioritise the Sexual Harassment Bill
13 Oct 2020
Following the change of the Federal Government in Malaysia in March 2020, existing Parliamentary Select Committees were dissolved, including the Gender Equality and Women's Empowerment Select Committee. While a gender or women's committee was not among the new committees proposed, after an application by Alice Lau (Lanang Member of Parliament) and support from the public, the House Committee later agreed to set up the Special Select Committee on Women, Children and Social Development. The Women's Aid Organisation (WAO) learnt this information through Lau's Facebook page.
This is one step towards ensuring that the system and laws that protect the rights and dignity of women are upheld through Parliamentary reforms.
Moving forward, we propose to the MPs who will be members of this committee some legal reforms to prioritise:
1) Pass the Sexual Harassment Bill – Sexual harassment can affect women's economic empowerment in a multitude of ways, from adversely impacting their employment status or selection for a promotion to hindering their education and social life. According to a 2019 study by YouGov, 36% of women and 17% of men in Malaysia have experienced sexual harassment.
The Bill, which is slated to be tabled in Parliament later this year, is a critical measure to address sexual harassment that occurs in any context, ensuring survivors have access to redress, and driving organisations to take a more proactive stance towards preventing sexual harassment and countering its normalisation in our society.
2) Make stalking an offence in the Penal Code – Stalking is currently not a crime in Malaysia, which means that if someone were to repeatedly contact you, follow you, or show up at places you frequent – classic forms of stalking – there is little that the authorities can do.
University of Toronto researchers found that stalking can lead to a host of mental health consequences, including anxiety, depression, and symptoms of post traumatic stress disorder. Stalking can also escalate into more severe forms of violence – in Canada and the United States, 90% of women who were murdered by their partners had been stalked.
The anti-stalking laws would protect against both offline and online stalking and harassment, including various forms of gender-based cyber-violence like harassment, spying, and doxing (releasing private and identifying documents such as a person's address); they would also make available protection orders for survivors.
3) Amend the Employment Act to include at least seven days paternity leave and protection from discrimination for job seekers – The amendments to the Employment Act that the Human Resources Ministry has committed to tabling in Parliament this year include the introduction of three days of paternity leave, the extension of paid maternity leave to 90 days, the ability to request flexible working hours, and the introduction of anti-discrimination protections for employees on the basis of gender, race, disability and religion.
WAO has urged the government to introduce at least seven days of paid paternity leave for fathers working in the private sector, as three days is simply not enough. Seven days would send the message that caregiving is a shared responsibility, enable fathers to play a more active role when their child is born, and has also been found to reduce the gender wage gap within households.
Additionally, the proposed anti-discrimination provisions must be extended to job seekers. So far, the Human Resources Ministry has no plans to protect job seekers in the Employment Act, although this proposal is supported by various parties including trade unions, NGOs, Suhakam (Human Rights Commission of Malaysia), lawyers, including the former chairman of the Malaysian Bar Council, and others.
In the midst of the Covid-19 pandemic, women are increasingly burdened with unpaid care work and forced to further juggle personal and professional responsibilities. Without protections for job seekers against discrimination based on gender and pregnancy, it is likely that many women who are seeking employment will be excluded from the workforce.
4) Gender Equality Act – The Gender Equality Act is also in the process of being drafted by the government, together with NGOs. The Act would comprehensively protect women from discrimination, not just in the workplace but in public space. It would also mandate the government to take proactive steps to accelerate gender equality. This enactment should not be delayed further if we want to create a Malaysia where women are able to grow and continue to progress.
The formation of the eight Special Select Committees is a positive step in reforming Parliament. It is hoped that the committees' functions can be implemented effectively to improve policymaking and ultimately benefit Malaysians, especially women and children.
Lastly, we urge the Dewan Rakyat to form all Select Committees as soon as possible, at the next Dewan Rakyat session which starts in November 2020.
https://www.thestar.com.my/opinion/letters/2020/10/13/mps-need-to-prioritise-the-sexual-harassment-bill
---------
Another Love Jihad? Harassed By Muslim In-Laws, Hindu Woman Attempts Self-Immolation Outside UP Assembly
Ravi Dubey
Oct 14, 2020
An alleged victim of 'Love Jihad' who tried to immolate herself yesterday is reported critical. The woman burnt herself in front of the Uttar Pradesh Assembly building in Lucknow, alleging that her in-laws refused entry into their house after her husband left for a Gulf country for work. This incident is from the Hazratganj police station. It is being told that the woman's condition is critical, and the police have admitted her to the civil hospital.
The woman has set flames on her by putting flammable material, in which her body has burnt a lot. This incident is from the Hazratganj police station. The woman's condition is critical, and the police have admitted her to the civil hospital.
According to the information, the 35-year-old woman alleged that she was married to Akhilesh Tiwari, a resident of Maharajganj, after which she got divorced. After this, the woman converted and married a young man named Asif. After marriage, Asif went to Saudi Arabia. BJP has alleged that this is a matter of 'Love Jihad.'
It is alleged that Asif's family was constantly harassing the woman. Troubled by the torture, the woman set herself on fire by putting flammable material in front of the assembly. The police reached the spot and admitted the woman to the civil hospital where the woman's condition is said to be critical.
According to DCP Central Somen Verma, preliminary investigation is being done right now, and the whole matter is being investigated. The woman is from Maharajganj, about which other information is also being collected.
According to the police sources, a person named Alok has been arrested. He also hails from Maharajganj, but his location was traced near the UP Vidhan Sabha building at the time of the incident. Alok is the son of former Governor Sukhdev Prasad and was in touch with the woman.
The woman's husband left for a Gulf country for work, a few days back. The woman approached authorities after her in-laws threw her out of the house. She also staged a dharna outside her house but was denied entry.
Later she came to Lucknow to meet senior officials and ministers but could not meet them. Anguished with the attitude, she tried to immolate herself by pouring kerosene.
The UP government was contemplating a law against 'Love Jihad' aimed at barring religious conversions through force, cheating, and allurements and would also cover conversions under pretenses. This self-immolation incident came when the Yogi government of UP and the police are facing criticism for crime related to women. Significantly, the government is on the backfoot after the Hathras incident.
This is not the first such case in front of the Assembly building. Earlier, a mother and daughter had similarly burnt themselves. After this, they died. This mother and daughter were residents of Amethi. They had a dispute with the neighbour about the drain. The matter also reached the police station. But the police did not take any action on the plea of the mother-daughter, after which she reached Lucknow to meet the top officers. Meanwhile, both of them had set themselves on fire in front of the assembly. The media persons present there had also tried to save both, but both died later.
https://www.dnaindia.com/india/report-another-love-jihad-harassed-by-muslim-in-laws-hindu-woman-attempts-self-immolation-outside-up-assembly-2849694
----------
URL: https://www.newageislam.com/islam-women-feminism/ngozi-okonjo-iweala-yoo-myung/d/123140
New Age Islam, Islam Online, Islamic Website, African Muslim News, Arab World News, South Asia News, Indian Muslim News, World Muslim News, Women in Islam, Islamic Feminism, Arab Women, Women In Arab, Islamophobia in America, Muslim Women in West, Islam Women and Feminism