New Age Islam News Bureau
23 Oct 2012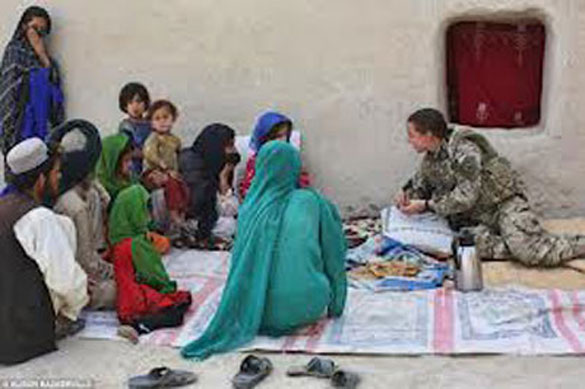 • How Female Troops Are Winning Hearts and Minds in Afghanistan
• Early, Forced Marriage Limits a Girl's Opportunity to Education
• Women and Saudi Majlis Al Shoura: Presence with Impact?
• Afghan Woman, Allegedly Killed By Husband for Wanting Job
• Malawi women living with HIV/Aids petition Speaker
• Begum Bhutto, Malala and Benazir's Historic Vindication
• Palestinian reporter Asmaa al-Ghoul aims to keep thorn in Hamas' side
• Egypt's National Council for Women rejects constitution draft
• Iranian Nobel Peace Prize Winner Predicts Persian Spring
• South Asian Int'l Film Festival Nominates Pakistani for Best Actress
• Early release of Aafia Siddiqui demanded
• Role of Agri Universities Underscored for Ensuring Women's Right To Land
• Beirut girl hurt by car bomb needed 300 stitches
Compiled by New Age Islam News Bureau
Photo: How Female Troops Are Winning Hearts and Minds in Afghanistan
URL: https://newageislam.com/islam-women-feminism/ngo-decries-endorsement-girl-child/d/9078
--------------
NGO Decries Endorsement of Girl Child Marriage by Sudan's State-Controlled Clerics
22 OCTOBER 2012
Khartoum — The head of Sudan's main clerical authority, the Religious Scholars Committee (RSC), has publicly advocated girl child marriage, drawing the ire of women activists rights who called for an immediate ban against the practice.
According to The Strategic Initiative for Women in the Horn of Africa (SIHA ), a local NGO, RSC's chairman Mohamed Osman Salih, made his endorsement of girl child 0marriage in the Sudanese capital Khartoum on 17 October during a debate organized by the United Nation Fund for Population (UNFPA) in collaboration with the Sudanese Ministry of Religious Guidance on Girl's Child Marriage.
SIHA reported that Salih argued that girl child marriage is an appreciative matter in Islam and has many advantages including the prospect of being able to produce many offsprings.
The NGO recalled that in 2009 the RSC issued a Fatwa endorsing female circumcision despite much lobbying by activists to ban the harmful practice.
SIHA further criticized the fact that the Sudanese government has failed to amend the laws that allow girl child marriage, referring to the Sudan Personal Status Act of 1991 which contains an article allowing for the marriage of girls as young as 10.
"As women activists, women's human rights defenders and community leaders across the Horn of Africa, we are saddened by the lack of progress Sudan is demonstrating and the lack of will to amend and revise the country's laws and legislations towards respecting the human rights and dignity of women and girls" SIHA's statement reads.
SIHA called on the Sudanese government to conform the country's personal laws with international obligations and to immediately ban and criminalize the granting of marriage licenses for girls under the age of 18.
It also called for abolishing all legislations that seek to undermine and violate women's human rights.
http://allafrica.com/stories/201210230361.html
--------------
How Female Troops Are Winning Hearts and Minds in Afghanistan
By SARAH JOHNSON and IAN DRURY
23 October 2012
Even when you're 8,000 miles from home on the Afghan frontline, it seems a girl's gotta do what a girl's gotta do.
It might be reserving the shower for a hair wash, then letting your hair down after a hard day's work.
And even though you're in the desert, it's essential to bring all the toiletries you have at home to allow yourself a little pampering, as well as your non-regulation knickers.
These remarkable photos capture the everyday lives of the Army's women 'engagement officers' who fight in the vital battle for hearts and minds across Helmand.
Trained in Pashto, the Afghan language, they accompany infantry on patrols and build relationships with Afghan women in some of the most dangerous parts of Helmand - something local culture forbids their male colleagues from doing.
The women's lives have been documented by Alison Baskerville, a former RAF officer, who was granted access to the British Army's Female Engagement Officers (FEOs) and the women at the Afghan National Army's training centre in Kabul.
A spokesman for The Royal British Legion, who commissioned her trip, said: 'The images captured by Alison highlight how women, both British and Afghan, respond to the often austere conditions in which they find themselves and how they maintain their morale and individuality in the face of demanding circumstances.'
Miss Baskerville, who spent six weeks in Helmand, told the London Evening Standard: 'I'm trying to show the alternative view of life on the front line for women.
'I don't want to highlight that these women are exceptional or different from men. they want to show they're doing this job - to them a very essential job - and it's their passion and drive to do it well.
'It was nice to "lift the uniform off" and capture all the things they like to do, like watching Downton Abbey. I'm just trying to show the human element of being a female solider.'
During the six weeks Miss Baskerville spent in Helmand, she followed Captain Anna Crossley, 31, a nurse at UCL hospital and Lieutenant Jessica French who spent six months going into villages and small settlements to talk to women and earn their trust.
On one occasion, she was taking photographs of Captain Crossley chatting to Aghan women when they came under gunfire and had to make an escape.
Captain Crossly told the London Evening Standard that one of the highlights of the tour was 'seeing the absolute fascination of women in the compound when I removed my helmet and protective glasses to speak to them in their own language'.
She added: 'Women are known throughout the world to bring people together, to focus on family and community. Just by being female, even in military uniform, you are seen to promote such things and are therefore more accepted.'
Lieutenant French said: 'The photographs demonstrate the more feminine traits of female soldiers can be used as a strength on operations.'
Both Captain Crossley and Lieutenant French met many brave women in remote parts of Afghanistan where a patriarchal society still reigns.
Captain Crossley told the Guardian: 'In the areas where I was working there is still a long way to go. There are so many things that need to happen. Sadly, they have been a little left behind.'
They realise that education is vital in order to secure a brighter future for the women of Helmand.
Lieutenant French, who is due to return to the country for another six-month tour in 2014 added: 'It's a tough world, but some of the women we met were so determined and positive. I hope they have a better future ahead of them.'
The images will be on display from 25 October to 11 November 2012 as part of an exhibition entitled 'The White Picture' at Oxo Tower Gallery.
http://www.dailymail.co.uk/news/article-2221475/Our-women-war-Portraits-Afghan-frontline-female-troops-winning-hearts-minds-Afghanistan.html?ITO=1490
--------------
Early, Forced Marriage Limits a Girl's Opportunity to Education
BY FATOU SOWE
22 OCTOBER 2012
The executive director of Action Aid International the Gambia (AAITG), has emphasised that early and forced marriage limits a girl's opportunity to go to school or benefit from alternatives or vocational education.
Dr. Kujejatou Manneh was speaking at the start of a one-day symposium held to mark the International Day of the Girl Child, at the Kanifing Municipal Council Multi Purpose Centre in Kanifing. The day is set aside by the United Nations to promote girls' rights and highlight the gender inequalities that remain between girls and boys. The theme for the celebrations this year is "Early Marriage; Girls not Brides".
The Action Aid Gambia boss explained that early marriage often means the end of a girl's schooling and the beginning of a life at home for which she is often ill-prepared. "Girls generally would have few opportunities to find work, and if they do, lack of education means it will be poorly paid, making it almost impossible to break free from poverty," she said.
Whilst emphasising the importance of education for the girl child, Dr. Manneh also called on girls not to give their parents the cause to anxiously give them away for early marriage.
Meanwhile, the opening ceremony was followed by a symposium featuring Dr. Liz Forbes of Soul Talk, Yadicon Njie Eribo of the Forum for African Women Educationist The Gambia (FAWEGAM), Fanta Bai Secka of the Department of Social Welfare, Njundu Drammeh of the Child Protection Alliance and the Police Child Welfare Unit, all of whom spoke on the theme from different perspectives. Their interventions generated a lot of discussion from the students.
Numerous questions such as 'what legislation is in place to protect the girl child from early marriage'; 'how can the girl child be helped to finish her schooling when her parents cannot afford her school fees?'; and 'can the girl child be allowed back in school if she gets pregnant'; were just a few of the questions posed by the students to the panelists.
The symposium, which was punctuated by drama performances and puppet shows on early marriage from Soul Talk and Nova Scotia Gambia Association, attracted a lot of students, parents and teachers from a cross-section of society. Prior to the symposium, schoolchildren, parents and teachers joined in a march past led by the Scout Band, from Westfield Junction to the KMC Multi-purpose Centre along Jimpex Road, meant to enhance awareness on the challenges faced by the girl child.
http://allafrica.com/stories/201210221294.html
--------------
Women and Saudi Majlis Al Shoura: Presence with Impact?
FATIN BUNDAGJI
23 October 2012
Events are moving… and moving fast.
Last Friday, it was publicly announced that logistical preparations are being carried out to accommodate the 35 women to be appointed to the highest level of advisory and legislative assembly in the Kingdom of Saudi Arabia: An assembly known to the international community as The Saudi Consultative Council, but better known to us as: "Majlis Al Shoura."
As history begins to etch its first few chapters on reform measures for Saudi women empowerment, the clock is ticking relentlessly — not necessarily against us but rather — quite positively for us. Last year, after the king's speech (that mandated the appointment of women into Majlis Al Shoura, as well as their inclusion as contestants and voters in future Municipal Council elections in the Kingdom) people were either skeptical or hopeful.
The sceptics believed that any change related to women empowerment was not going to see the light of day. For them, the ultra-conservative nature of Saudi society would work hard to exert its entire prowess to guarantee that such a reform would never come to bear. Ironically enough, their assumptions were well founded as it had been proven — not once but twice — after all, weren't women excluded from Municipal Council elections in 2005 and once again in 2011 under the pretext of logistical delays?
As for the hopefuls, the speech symbolized the green light that society had long waited for. Not only did the speech show courage and statesmanship against all odds, but it also validated all acts of courage that sought to bring about such critical reforms. Coming from the highest authority in the Kingdom, the speech was a tipping point that dotted all of the i's and crossed all of the t's of the conflicting nature of our social dialogues. It called for a new form of public debate in which the subject of women's issues would no longer be dealt with in isolation and seclusion — but would be included as an integral part of the total development of our nation.
Having said, I have my concerns. First, we are very fortunate to have such a quick and positive response to the king's speech taking place within such a short time frame; and secondly and more importantly, assigning the quota of 23 percent for women inclusion is actually a good kick-off point. However, as positive as these two points are, the burning question remains: What role and responsibilities will future women members of the Shoura Council have in this strategically influential assembly?
It is a heavy mandate that lies ahead for them, and this mandate will clearly be defined once the new Council is in session in 2013. Women's inclusion in Majlis Al Shoura must have positive impact at all levels of national development. Up until now, their participation has been limited to issues relating to women and family affairs. But if we want to advance equitably in all areas and issues of concern, our inclusion as women in the decision-making process must reflect the reality of our society clearly and this can only happen through the diversity of opinion we will bring onto the decision-making table.
The Shoura Council has within its structure 12 committees entrusted with a wide range of issues. If the Majlis wishes to bring about relevant reforms in all topics under deliberation, then our women must have the freedom and authority to study and scrutinize all issues treated by the 12 committees which are related to human rights, education, culture and information, health and social affairs, urban services and public utilities, foreign affairs, security, the economy, industry and finance.
Only by contributing to all of the above can we be assured that our integration and acceptance as equal partners will have the impact that our sovereign leader intended for us to have.
Fatin Bundagji is the president of TLC Consultancy
fatinbund@yahoo.com
http://www.arabnews.com/women-and-majlis-al-shoura-presence-impact
--------------
Afghan Woman, Allegedly Killed By Husband for Wanting Job
By RAHIM FAIEZ
10/22/12
KABUL, Afghanistan — A man in a western Afghan city has confessed to stabbing his wife to death to prevent her from taking a job outside the home, police said Monday.
Mohammad Anwar, who was arrested in the provincial capital for the murder, said he killed his wife during an argument over whether she should work at private company in the city, Herat province police spokesman Noor Khan Nekzad said.
The woman's relatives disputed the account, saying her husband was a drug addict who killed his wife because she refused to give him money.
Full report at:
http://www.huffingtonpost.com/2012/10/22/ghulam-anwar-killed_n_2001640.html
--------------
Malawi women living with HIV/Aids petition Speaker: On access to treatment and drugs
By Patricia Masinga
October 23, 2012
The Coalition of Women Living with HIV and AIDs in Malawi (COWLHA) and the Pan AFRICA Positive Women Coalition (PAPWC) on Monday presented a petition to the Speaker of National Assembly, Henry Chimunthu Banda for government to scale up efforts on access to HIV and AIDS treatment, in particular for women and children who are more vulnerable.
In a letter which was also copied to the Office of the President and Cabinet (OPC), the women would like to see government putting more resources in Sexual and Reproductive Health and Rights (SRHR) activities in the country, as it has been discovered that the women living with HIV and Aids are least funded, yet women carry the highest burden of HIV and AIDs.
Full report at:
http://www.nyasatimes.com/malawi/2012/10/23/malawi-women-living-with-hivaids-
--------------
Begum Bhutto, Malala and Benazir's Historic Vindication
By Wajid Shamsul Hasan
23 October 2012
As I sat down to pen my thoughts on the first death anniversary of Begum Nusrat Bhutto – one of the greatest leaders of Pakistan by her own right – I received the good news that brave Malala Yousufzai targeted by the TTP is on her way to recovery. She is fully conscious and managed to stand on her own feet with assistance in Birmingham's Queen Elizabeth Hospital.
Soon after came yet another historic news. Supreme Court of Pakistan – after 16 years – vindicated Benazir Bhutto's charge that elections in 1990 were stolen from her through a conspiracy by the then president Ishaq, army chief Aslam Beg and their intelligence apparatus in collusion with IJI politicians that included some of those leaders who even today continue to masquerade as champions of democracy and never get tired of pot calling the kettle black.
The Supreme Court concluded that all those high and mighty in power in cahoots with their political puppets shamelessly violated the constitution and should be given draconian punishment.
Full report at:
http://www.dailytimes.com.pk/default.asp?page=2012\10\23\story_23-10-2012_pg7_12
--------------
Palestinian reporter Asmaa al-Ghoul aims to keep thorn in Hamas' side
October 22, 2012
By Ben Sales, J
TEL AVIV (JTA) — She can't stay out of trouble there, but Asmaa al-Ghoul always comes back to Gaza.
A secular, feminist Palestinian journalist, al-Ghoul, 30, has been harassed by Hamas. She's also been beaten and arrested by Hamas police for protesting its Islamist policies and suppression of human rights.
But unlike most residents of the impoverished coastal strip where Hamas reigns, al-Ghoul has been able to get out, traveling as far as South Korea and spending considerable time in Europe in the course of her work. On Wednesday she will be in New York to receive the Courage in Journalism Award from the International Women's Media Foundation.
Then she will return to Gaza City.
Full report at:
http://azjewishpost.com/2012/palestinian-reporter-asmaa-al-ghoul-aims-to-keep-thorn-in-hamas-side/
--------------
Egypt's National Council for Women rejects constitution draft
22 Oct 2012
Attendees at a conference organised by the state council for women's issues chanted against 'Muslim Brotherhood rule'
Egypt's national body for women's issues, the National Council for Women, held a conference on Monday entitled "Egyptian women reject the draft constitution."
According to the Council's head, Mervat El-Tellawy, the draft constitution has not taken into consideration various international charters and agreements which Egypt has signed. Furthermore, the Al-Azhar document of suggested principles for all parties to abide by while writing the constitution has not been incorporated into the draft.
Full report at:
http://english.ahram.org.eg/NewsContent/1/64/56259/Egypt/Politics-/National-Council-for-Women-rejects-constitution-dr.aspx
--------------
Iranian Nobel Peace Prize Winner Predicts Persian Spring
By: Sophie Claudet
Oct 22, 2012
DEAUVILLE – Nobel Prize winner Shirin Ebadi spoke to Sophie Claudet last week on the sidelines of the Women's Forum in Deauville, France.
Ebadi told Al-Monitor that Iran would soon have its own revolutionary spring. "It is not going to be too long before that day arrives," she said, warning that the exact timing "was difficult to predict." An uprising against the government, she explained, is "a function of Iran's relationship with the United States, Iran's relationship with neighboring states and the economic situation of the country."
Tens of thousands of people took to the streets of several Iranian cities following the June 2009 presidential election to protest what they believed was a rigged contest that returned President Mahmoud Ahmadinejad to a second term.
Full report at:
http://www.al-monitor.com/pulse/originals/2012/al-monitor/ebadi-persian-spring.html#ixzz2A7SzndIm
--------------
South Asian Int'l Film Festival Nominates Pakistani for Best Actress
23 October 2012
Model-turned actress Humaima Malik is on her way to New York to attend the first-ever South Asian Rising Star Film Awards, where she has been nominated for the Best Lead Actress category for her role in 'Bol'.
The awards will be a part of the 9th annual South Asian International Film Festival (SAIFF); the largest entertainment gala related to South Asian entertainment industry organised in collaboration with HBO.
Full report at:
http://www.dailytimes.com.pk/default.asp?page=2012\10\23\story_23-10-2012_pg9_10
--------------
Early release of Aafia Siddiqui demanded
23 October 2012
KARACHI: A public rally here demanded early release of Pakistani mother, Dr Aafia Siddiqui. The rally named 'Karawan-e-Gairat' was held by Aafia Movement at Ajmeir Nagri, New Karachi Sunday evening. Dr Aafia's sister, Dr Fowzia Siddiqui, while addressing the gathering said that "Pakistan is on a verge of nervous breakdown. And the nation is suffering from a chronic depression resulting from daily loss of innocent lives leading to instability and chaos. Full report at:
http://www.dailytimes.com.pk/default.asp?page=2012\10\23\story_23-10-2012_pg12_12
--------------
Role of Agri Universities Underscored for Ensuring Women's Right To Land
23 October 2012
ISLAMABAD: The women's right to land is key to promoting sustainable agriculture and the agricultural universities in Pakistan have a bigger role to play in terms of initiating research studies on the issues of women farmers who produce more than 60 percent food but they own merely 2 percent of farm land.
While addressing a seminar on "Women's Right to Land and Sustainable Agriculture: Role of Agricultural Universities" held on Monday at a local hotel by Action Aid Pakistan in collaboration with Arid Agriculture University, Rawalpindi, the speakers, including academia, the agricultural economists, media, students and development specialists, highlighted the role of women farmers in ensuring food security across the globe particularly in Pakistan.
Full report at:
http://www.dailytimes.com.pk/default.asp?page=2012\10\23\story_23-10-2012_pg11_2
--------------
Beirut girl hurt by car bomb needed 300 stitches
October 23, 2012
By Bassem Mroue
BEIRUT: Jennifer Chedid had just arrived home from school and she was hungry. As she asked her older sister what she could eat, a massive explosion shook their entire block and turned the glass of their fourth floor apartment into flying knives that slashed 10-year-old Jennifer from head to toe.
Their father Richard was climbing the stairs to the apartment on his way back from buying bread for the family when the car bomb struck Friday afternoon less than 20 meters away, shaking doors and shattering his home.
He grabbed his bleeding daughter from the arms of her older sister Josianne and rushed her downstairs.
Full report at:
http://www.dailystar.com.lb/News/Local-News/2012/Oct-23/192397-beirut-girl-hurt-by-car-
--------------
URL: https://newageislam.com/islam-women-feminism/ngo-decries-endorsement-girl-child/d/9078