New Age Islam News Bureau
16 Dec 2013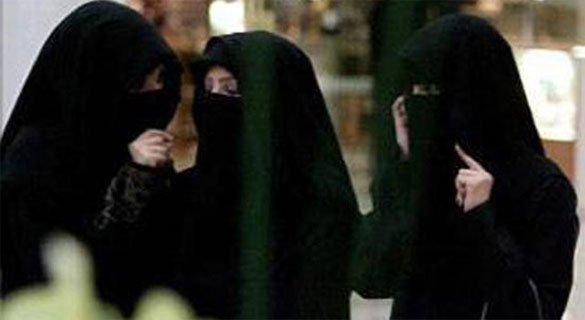 Saudi Arabia to set minimum marriage age following surge in such weddings
----------
• Oman Best GCC Country for Women to Live In: Survey
• Malala Figures among Washington Post's 15 Top Women
• Canada Should Condemn Efforts to Roll Back Afghan Women's Gains
• Dubai Bomb Threat Woman Pleads Not Guilty
• HEC Paris Organizes Leadership and Entrepreneurship Workshop for Women in Qatar
• EU Parliamentarians Visiting Iran Meet Female MPs
• Off-Broadway Play on Iraq's War Women Comes To City
• Malaysian women team wins karate's seventh gold
• British Women Support Thalassaemia Patients through Fundraiser
Compiled by New Age Islam News Bureau
URL: https://newageislam.com/islam-women-feminism/new-law-set-marital-age/d/34867
------------
New Law to Set Marital Age Of Consent in Saudi Arabia At 18
December 16, 2013
RIYADH — A long-awaited personal affairs law that regulates family relationships and decides the rights of women and children will include an article setting the minimum age of marital consent at 18, Al-Hayat newspaper reported Sunday.
Legal sources said under the new law, a girl under this age will not be allowed to marry without a court decision even if her male guardian has given his consent.
They said the Shoura Council would soon discuss the law before it is sent to the Council of Ministers for final approval.
The law will be based on the 282-item Muscat Document on personal affairs adopted by the GCC ministers of justice in 1998.
The sources said the law, which will be issued in the coming few weeks, includes chapters on marriage, separation between husbands and wives, maturity of men and women and inheritance.
The new law aims to achieve parity between men and women in all aspects of life.
The sources said the law would cancel the right of guardianship for men over women except in marriages, where Islamic Shariah gives them this right.
They said the wife could ask to include a stipulation in the marriage contract indicating her right to divorce if the husband marries another woman and she has the right to stay in the marital home if a divorce between them has not been made final.
According to the sources, the new law has described the relationship between married couples to be a partnership, not qiwamah (supremacy of men over women) as it used to be.
http://www.saudigazette.com.sa/index.cfm?method=home.regcon&contentid=20131216189654
------------
Oman Best GCC Country for Women to Live In: Survey
By Swapna Tarafdar
December 15, 2013
MUSCAT - Oman is the best country in GCC and second overall for women to live in, a survey conducted among 22 member states of the Arab League including suspended member Syria has revealed.
The next best GCC country for women to live in was Kuwait followed by Qatar, UAE, Bahrain and Saudi Arabia.
According to the survey, Comoros is the best country for women to live in the entire Arab League while Egypt was the worst.
The overall ranking was based on six categories - women in politics, society, economy, family, their reproductive rights and violence against them.
Titled, 'Women's Rights in the Arab World', the survey was conducted by Thomson Reuters Foundation.
During the survey, which was carried out in August and September, 336 gender experts spoke on the issue in different categories.
To express their views on any issue, experts answered by selecting from among options such as strongly agree, agree, neither agree nor disagree, disagree and strongly disagree.
Answers were converted into scores and higher the score, the worst the country was.
In the overall survey, the sultanate was ranked third on the issue of 'Women in Politics', second on 'Women in the Economy', fifth in 'Women in Society' and 'Reproductive rights for Women' categories, tenth in 'Violence against Women' and ranked 12 in 'Women in the Family'.
http://www.muscatdaily.com/Archive/Oman/Oman-best-GCC-country-for-women-to-live-in-Survey-2s4g
------------
Malala Figures among Washington Post's 15 Top Women
December 16, 2013
WASHINGTON - Pakistan's Malala Yousafzai, who was shot in the head by a Taliban gunman for speaking out in support of the girls right to education, was on Sunday named by the Washington Post, the leading American newspaper, among the 15 "Women who made a difference in 2013."
"From the mighty to the humble, these women made a mark on the world this year," according to Post's "She the People" blog, that referred to Malala and 14 other distinguished women from various walks of life.
The Post's citation said, "As she recovered last year, she collected awards from the United Nations and the European Union (and was mentioned as a possible Nobel Peace Prize winner).
"Everywhere she went, from Harvard to the World Bank, her poise and unrelenting passion impressed." The citation was placed under Malala's photograph with US President Barack Obama, First Lady Michelle and their 15-year-old daughter, Malia, when she visited them at the White House in October.
http://www.nation.com.pk/national/16-Dec-2013/malala-figures-among-wp-s-15-top-women
------------
Canada should condemn efforts to roll back Afghan women's gains
Dec 14 2013
Is this what Canadian troops fought for in Afghanistan?
So that President Hamid Karzai's government could reduce the clout Afghan women have in the country's provincial councils? So that some benighted lawmakers could muse about bringing back the barbaric practice of stoning people for adultery? And so authorities could turn a blind eye to violence against women?
While Afghan women have chalked up major achievements in the 12 years since the Taliban's dark five-year reign was toppled, their precious gains in schooling, politics, jobs and legal rights are fragile and are under ugly pressure as the country nears a critical turning point.
That's something that should concern Prime Minister Stephen Harper's government, given the sacrifices our troops have made and the $2 billion in aid we have provided. Our current contribution, $227 million between 2014 and 2017, aims specifically to help empower women and girls in the areas of education, human rights and humanitarian assistance.
Yet conservative pressures in Afghanistan are gathering strength as the country heads into a turbulent political year. In elections scheduled for April 5, Karzai will be replaced as president. He has served two terms and cannot run again. Provincial councils will be elected at the same time. Meanwhile, U.S. President Barack Obama is pressing Karzai to sign a security deal that would see 12,000 to 14,000 mostly American troops stay in the country for a decade, while Canadian and other foreign troops pull out.
And the Afghan government is hoping to receive at least $10 billion annually in continuing American and other foreign aid — money that is critical to establishing a functioning state.
Yet obtaining that aid won't be a given if the Afghan government's shaky commitment to women's rights unravels. Canada and other major donors can't be expected to underwrite conservative efforts to revictimize women. And that's just what appears to be happening.
Earlier this year Karzai approved a new electoral law that cut from 25 per cent to 20 the number of seats reserved for women on 34 provincial councils, in what Human Rights Watch warned was part of a "broad-based attack on women's rights."
Meanwhile, some Afghan lawmakers drawing up a new law code reportedly favour bringing back the appalling Taliban-era practice of public stoning for adultery, although the government says no such proposal has been formally put forward. At the same time, the number of women and girls jailed for "moral crimes" has doubled in the past year, Human Rights Watch reports. Many so-called "criminals" are in fact victims of domestic violence and forced marriages.
And the United Nations has just pointed out that Afghan efforts are stalling in bringing to justice men who abuse women. While official reports by police and prosecutors on violence against women — including rape, child marriage and physical abuse — jumped by 28 per cent this past year, prosecutions rose just 2 per cent. That doesn't encourage women to assert their rights by reporting crimes.
This is an ominous spate of backsliding as Afghanistan prepares at long last to take its political destiny, and its security, into its own hands. The Canadian government and its allies should remind Afghanistan's power brokers, forcefully, that rolling back women's gains will only embolden the Taliban, discourage foreign donors and drag the country back to darker days.
http://www.thestar.com/opinion/editorials/2013/12/14/canada_should_condemn_efforts_to_roll_back_afghan_womens_gains_editorial.html
------------
Dubai bomb threat woman pleads not guilty
December 15, 2013
Dubai: A woman who threatened to detonate an explosive belt at the Dubai Public Prosecution has pleaded not guilty to the charges against her.
The 33-year-old Uzbek woman, Z.H., had taken hold of the Dubai Public Prosecution building and demanded a family house, Dh3 million, an Emirati passport for her 10-year-old son and a DNA test to confirm that an Emirati soldier, J.S., fathered her child, according to prosecution records.
Dressed in a pink prison outfit and a veil covering her face, Z.H. repeatedly denied the accusations against her when she appeared before the Dubai Court of First Instance on Sunday.
The incident took place on September 1 at the Dubai Public Prosecution's building near the Dubai Creek.
According to the charges filed, prosecutors accused the Uzbek woman of threatening to harm J.S. and DPP's visitors and employees by detonating an explosive belt that turned out to be fake.
Z.H. was charged with threatening to blow herself up inside the DPP's building over a dispute involving a paternity test for her ten-year-old child. Prosecutors said the woman caused public disorder, hampered general safety and security, frightened the public and endangered people's lives.
An Emirati military man, M.Y., was charged with aiding and abetting Z.H. to commit the aforementioned incident by providing her with the belt, which he prepared, and encouraging her to carry out the threat to force the authorities to yield to her demands. The Uzbek was heard repeatedly saying no in Russian when she entered a not-guilty plea before presiding judge Maher Salama Al Mahdi.
"I deny sir. I did not prepare the belt. I did not do all of that...," argued M.Y. when he defended himself in courtroom seven.
Advocates Mona Saif and Hamed Al Menhali, who are defending Z.H. and M.Y. respectively, asked the court to adjourn the hearing until they photocopy the case file and prepare their defence arguments.
Prosecutors have asked for the implementation of the toughest punishment, a maximum of seven years in jail, against the defendants.
The solider testified during prosecution questioning that he first met Z.H. in 2003.
"Ten days after we started our relationship, she started causing me trouble and claiming that I impregnated her. An Ajman court acquitted me and jailed her for a month for adultery.
"Three years later she lodged a case against me before the Sharjah Sharia Court to confirm that I am the boy's father. The case was dismissed. She lost all the lawsuits that she lodged against me...that all caused for me family problems. Few months prior to this incident [explosive belt] she called me repeatedly. As of August 20, she sent me several SMSs in which she threatened me.
"She forwarded me photos of the supposed explosive belt...and sent me a voice message claiming that I would see the blast. I did not take her seriously until I was summoned for interrogation by law enforcement officers who informed what happened," J.S. claimed to prosecutors.
The Emirati soldier was cited admitting: "She demanded me to pay her Dh3 million and get her villa and prove that I fathered the boy. She also asked me to issue a passport for her son. I cannot confirm that I am the father and asked her to take the required legal action."
An Iranian man testified that he was present at a DPP counter when the incident took place.
"I heard [loud] clapping and when I turned to look what was happening, I spotted the woman with a bulgy belt surrounding her waist when she stood near the reception. She was also holding a remote control in her hand and threatened to blow the place. A state of panic and chaos hit the place...people dashed out of DPP's building and I injured my legs and toe while rushing out. I suffered nightmares and still do from what happened," he claimed.
An Emirati law enforcement officer testified that Z.H. demanded to see rulers, sheikhs, the Uzbek Consul General and her lawyer when the incident took place.
Presiding judge Al Mahdi adjourned the case until December 25.
http://gulfnews.com/news/gulf/uae/courts/dubai-bomb-threat-woman-pleads-not-guilty-1.1267364
------------
HEC Paris organizes leadership and entrepreneurship workshop for women in Qatar
15 December, 2013
HEC Paris School of Management - a leading global business school - held an interactive plenary session and workshop for ladies in Qatar that focused on the theme of leadership and entrepreneurship.
The workshop entitled 'Facing Your Leadership Challenges' was implemented by Prof. Valérie Gauthier, a full-time faculty member of HEC Paris.
As part of a global project launched this year by HEC Paris aimed at creating learning and development programs for women, the workshop is also considered an integral part of the core mission of HEC Paris as a leading global business school and member of Qatar Foundation - specifically in terms of contributing to the realization of the 2030 Qatar National Vision. Additionally, this event is also seen as a launch pad for more workshops in the future exclusively for women.
"The objective of the workshop is to further develop the leadership and entrepreneurial capabilities of women in Qatar," said Professor Laoucine Kerbache, Chief Executive Officer and Academic Dean of HEC Paris in Qatar. "This is in line with our fundamental role of developing managerial skills and unlocking talent which contributes to greater economic diversification and sustainability, and an improved global corporate competiveness for Qatar.
"Within this context, we plan to organize more of such workshops. In the long-term, we aim at developing recurrent management development programs designed for women in Qatar," he added. "Based on the active involvement and positive feedback of participants, we are to pursue this goal intensively."
During the interactive plenary session and workshop, participants learned about their sense relational leadership skills that could be developed further and was also able to share and discuss ideas on entrepreneurial projects.
"Undoubtedly, the women of Qatar today have a lot to offer in the ongoing and continued development of the country," said Prof. Gauthier. "Through the right programs and courses, especially through HEC Paris, such abundance of talent and skill can even be further enhanced and utilized in its maximum potential.
"This country has indeed a bright future ahead and every stakeholder, especially women, have an important role to play," she added. "As the country then moves forward into realizing its aspirations, I am therefore eager to participate and lead more formal programs for women in Qatar in the near future."
At the end of the workshop, a panel discussion about its outcome was also moderated by Prof. Gauthier. Among the panelists were Michelle Wu, Business Solutions IT Leader at General Electric's Growth & Operations in Middle East, North Africa and Turkey; Diana Al Dajani, Founder of eduTechnoz, a curriculum-based gaming platform that aims to entertain and engage children while teaching them Arabic.
Prof. Gauthier is an Associate Professor at HEC Paris. She launched the Entrepreneurship Track Program with Tsinghua School of Management in 2008 which supports training of women entrepreneurs in China. Drawing on her vast expertise in leadership and cross-cultural relationships, she taught various relational leadership and business communication courses.
She was a Visiting Professor at MIT Sloan Management and NYU Stern and is currently finishing her book 'Sense Leadership' to be published in 2014 by Stanford University Press. Elected best HEC Paris Professor a few years ago, Prof. Gauthier was selected as one of eight Fortune Global Forum Visionaries.
-Ends-
Media inquiries:
Salwa Ghorayeb
Account Manager, Action Qatar
Tel: 00974 44361499
Email: salwa.g@actionprgroup.com
HEC Paris in Qatar
HEC Paris joined Qatar Foundation in June 2010, bringing world-class Executive Education programs and research activity to Doha and the region. Qatar's first international EMBA was launched by HEC Paris in February 2011. The HEC Executive MBA (EMBA) is a part-time program which provides executives with a set of fundamental skills to expand their knowledge and leadership capabilities. In addition to the EMBA, HEC Paris provides in Qatar a Specialized Master Degree in Strategic Business Unit Management. The institution also offers non-degree management programs for executives, in the form of open enrolment programs as well as custom-designed programs for individual companies. The programs and research activities of HEC Paris in Qatar build corporate competitiveness within the global economy and are fully aligned with Qatar National Vision 2030 to support the transformation of Qatar into an advanced, competitive and knowledge-based economy. HEC Paris was ranked number one in the world for Executive Education in 2013 by the influential UK-based Financial Times media group.
www.exed.hec.edu/hec-qatar
HEC Paris
A leader in Europe, HEC Paris specializes in management education and research. HEC Paris offers a full, unique range of courses to the leaders of tomorrow: Masters Degrees, MBA, PhD, Executive MBA and Trium Global Executive MBA. Founded in 1881, HEC Paris has a permanent faculty of 109 professors, 4000 students on its campus (40% of whom are foreign) and over 8500 managers and executives trained in executive education programs each year. HEC Paris was ranked number one in the world for Executive Education in 2013 by the influential UK-based Financial Times media group. http://www.exed.hec.edu/
Qatar Foundation
Qatar Foundation for Education, Science and Community Development is a private, non-profit organization that serves the people of Qatar by supporting and operating programs in three core mission areas: education, science and research, and community development. The Foundation strives to nurture the future leaders of Qatar. By example and by sharing its experience, the Foundation also contributes to human development nationally, regionally, and internationally. In all of its activities, the Foundation promotes a culture of excellence in Qatar and furthers its role in supporting an innovative and open society that aspires to develop sustainable human capacity, social, and economic prosperity for a knowledge-based economy. http://www.qf.org.qa/
http://www.zawya.com/story/HEC_Paris_organizes_leadership_and_entrepreneurship_workshop_for_women_in_Qatar-ZAWYA20131215105714/
------------
EU parliamentarians visiting Iran meet female MPs
Dec 15 2013
For the first time in over five years a delegation from the European parliament has travelled to Tehran to meet with Iranian lawmakers and officials including a group of female MPs, representatives of nongovernmental organisations, and human rights activists. The aim of the week long visit, which began on Thursday, is to strengthen relations.
Fatmeh Rahmar, leader of the women and family group said "there are clear differences between the two parties, but that is mostly cultural, which is very important. In Iran, every measure that we pursue has to be in accordance with the culture and religion of the country ."
Just nine of the 290 members of the Iranian parliament are women, another visible reminder of the cultural differences.
Tarja Cronberg, a Finnish Green MEP said "the fact women in the Iranian parliament form their own fraction, have their own group, discuss things and do research is an evolvement in the society. But you must also acknowledge that Iran as a whole is a conservative society.'
The EU delegation is also set to meet the country's Foreign Minister, Mohammad- Javad Zarif, and the Honourary Chairman of the Expediency Council, Hashemi Rafsanjani, during their visit.
http://www.euronews.com/2013/12/15/eu-parliamentarians-visiting-iran-meet-female-mps/
------------
Off-Broadway play on Iraq's war women comes to city
Dec 14, 2013
GURGAON: An award-winning off-Broadway play that explores the impact of war on women will be staged in the city on Monday. Heather Raffo's '9 Parts of Desire', with Ira Dubey playing the parts of nine women who live within the siege of conflict in Iraq between the first and second Gulf Wars, is at once a social commentary, a love story, a feminist act and a freedom fight.
Directed by Lilllete Dubey, it's a portrait of the extraordinary, and ordinary, lives of Iraqi women - an attractive painter, a radical communist, a doctor, an exile and wives, mothers and lovers. "There are nine different characters, from a nine-year-old child to a 70-year-old woman who c0ome from different classes and social set-ups," says Lillete, who was initially apprehensive about daughter Ira pulling off the solo act.
It wasn't easy. Ira had to devote months of research and reading to prepare herself for the roles. "She's put everything into the act. Within five minutes of the play, you are transported to Iraq," says Lillete. With only one set of clothes - a simple gown which can be altered with a scarf or a jacket - for the play, Lillete's brief to Ira was simple. "You are one actor who has to make me believe that you are nine." So it's Ira's show at the end of the day as she seamlessly dives in and out of characters, becoming a kaleidoscope of Iraqi society.
Lillete said Raffo's phenomenal writing made her job directing the play simpler. The half Iraqi, half American Raffo didn't let the script become grim despite its war theme. "To give humour which is not comic in a material like war can only be Raffo's work," Lillete said, adding, "For me, the play goes beyond the political impact and horrors of war. It's a feminist point of view of everyday women in a war-torn Iraq."
A line in the play sums up how women and largely people are similar all over the world. It comes from an Iraqi woman to an American woman as follows: "the only difference between us is the colour of our passports".
The 75-minute play is brought by The Primetime Theatre Co. It will be staged at Epicentre.
http://articles.timesofindia.indiatimes.com/2013-12-14/gurgaon/45189620_1_ira-dubey-lillete-daughter-ira
------------
Malaysian women team wins karate's seventh gold
By Fadhli Ishak
15 December 2013
MYANMAR: The national karate team ended their Sea Games campaign in style after bagging the women's team kumite event title with a 2-0 win over Indonesia in the final this afternoon.
The gold is the seventh won by the team at the games.
The men's team had earlier taken silver in the team kumite event.
They lost 3-1 to Thailand in the decider at the Wunna Theikdi Indoor Stadium in Naypyitaw.
http://www.nst.com.my/latest/malaysian-women-team-wins-karate-s-seventh-gold-1.433559?cache=03%2F7.224093%3Fpage%3D0%3Fpage%3D0%3Fkey%3DKuala+Lumpur%2F7.336142%2F7.358894%2F7.358894%2F7.358894
------------
British Women Support Thalassaemia Patients through Fundraiser
December 16, 2013
KARACHI: To support thalassaemia patients, British Women's Association (BWA) organised a grand charity bazaar at the Beach Luxury Hotel on Sunday.
The organisation has been working to help thalassaemia patients through the collection of funds at the fundraiser. The huge attendance showed that many families intended to support the BWA team through the purchase of different items, including clothing, artificial jewellery, decorating items, packed vegetable items and other commodities.
"It is a real cause to help the needy and the deserving people," said Jean Scott, a member of the BWA. The 50-year-old member Scott has been working for the association for the last five years. She believes that the real satisfaction is when one is a helping hand for many. She had also set up a stall and all her items were sold out within four hours.
Another elderly female volunteer said, "We support those who work for humanity, which is a great work," she said with smiling face adding that the association has been supporting different projects across Sindh
"The situation in the city has reduced such activities," said a visitor, Ameen, who has been visiting such bazaars for the last 15 years. He regretted that he could not directly help the organisation, adding that he purchased many items from such charity bazaars feeling that it helps the needy and the deserving. He further said that he would bring his relatives and friends to visit and support the cause.
Maleeha, who set up her artificial jewellery stall, said that she set up her stall to support the cause as well as introduce her products to the market.
http://tribune.com.pk/story/645881/for-a-greater-cause-british-women-support-thalassaemia-patients-through-fundraiser/
------------
URL: https://newageislam.com/islam-women-feminism/new-law-set-marital-age/d/34867