New Age Islam News Bureau
31 Aug 2014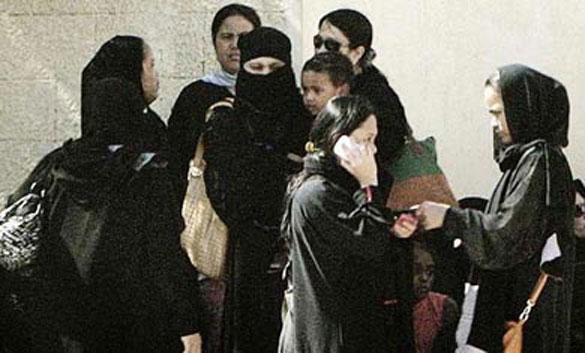 Photo: No Change in Indian Housemaids' Recruitment Pact across the Saudi Kingdom
---------
• Jamaat-E-Islami Pakistan Calls for Law to Veil Women
• Jeddah: Marriages Don't Have To Cost a Fortune
• No Change in Indian Housemaids' Recruitment Pact across the Saudi Kingdom
• Turkey's First Women-Only Beach Hit By 'Topless' Crisis
• Egypt Fatwa: Men, Women Online Chats 'Un-Islamic'
• BBC Announces Its First Ever Female Chairperson
• Family of Aafia Siddiqi ISIS Denounces Violence
Compiled by New Age Islam News Bureau
URL: https://newageislam.com/islam-women-feminism/nepal-muslim-women-forced-abortions/d/98819
-------------
Nepal's Muslim Women Forced Into Abortions and Contraceptives
World Bulletin / News Desk
31 August 2014
A number of Muslim leaders in Nepal have complained that non-governmental organizations operating in the country have been forcing Muslim women to use contraception and get abortions.
Nepalese Muslim leader from Banke district Hassan Miya told AsiaNews that humanitarian aid organizations "impose contraception, abortion and family planning on Muslim women from the poorest districts. If these do not agree, they lose access to humanitarian aid and the ability to send their children to schools for free. This is really a despicable method that goes against our faith and exploits our poverty."
Complaining that Nepalese Muslim families from remote areas who are so poor that they cannot afford to send their children to school are being targeted, Miya said the NGOs were "offering money and free education but in return they impose family planning."
"From my point of view it is a conspiracy against the country's minorities," Miya said, citing difficulties for Muslim minorities in the mainly Hindu country.
Similar claims have been increasingly made in the media, prompting Nepal's Health Minister Gopal Parajuli to call for an investigation on the issue, saying that NGOs can only work in Nepal if they comply with the laws and are accepted by the society.
http://www.worldbulletin.net/muslim-world/143351/nepals-muslims-forced-into-abortions-and-contraceptives
-------------
Jamaat-E-Islami Pakistan Calls for Law to Veil Women
August 31, 2014
LAHORE- Jamaat-e-Islami chief Sirajul Haq has called upon the government to make effective legislation for the protection of women rights and ensure enforcement of the rights granted to the women by Islam.
Talking to the media after addressing a Hijab Conference organised by the JI women wing at Mansoora, Sirajul Haq announced that the Hijab Day would be observed all over the world including Pakistan on September 4.
The JI ameer said that Pakistan was the second Islamic state in the world after the state of Madina but the mental slaves of colonialism and the west were bent upon depriving it of its identity. However, he said, all such conspiracies would fail.
The JI chief called upon the government to ban the Indian films and dramas as these were promoting obscenity and nudity and ruining the youth's character. He said that the TV channels and cable owners must be forced to abide by the Pemra rules.
He also demanded an end to the evil practices of Wani, dowry, Karokari, exchange marriages. He also urged the Supreme Court to give its final verdict on the petition field by the late Qazi Husain Ahmed against the promotion of immorality and obscenity through the media.
Expressing concern over the alarming increase in the divorce rate in Pakistan lately, he said besides price hike and unemployment, the promotion of the Hindu culture through Indian dramas and films was the main cause of divorce. He said it was the government's responsibility to control social perversion and to promote the culture of modesty in the country.
Referring to the political impasse in the country, Sirajul Haq said that both sides were trying to prove that they had not invited the armed forces to interfere. He said this showed that the masses were not in favour of the armed forces involvement in politics.
The JI chief once again urged the two sides to sit together and find out a constitutional way out of the present situation. He said that the JI would like the participants of the sit-in to return successful and the country to gain strength and emerge as an Islamic welfare state as a result of the sit-in.
He said that the three-week-long peaceful protest had also falsified the impression that the Pakistanis were extremists. He said that the leadership of all the political parties should sit together and sign an agreement that all the allegations regarding rigging in the election would be honestly investigated. He said that all those found responsible for rigging must be handed down exemplary punishment. He said that the electoral reforms must be carried out in order to ensure that the elections were fair, free and transparent and fresh elections should be held after that.
http://www.nation.com.pk/lahore/31-Aug-2014/ji-calls-for-law-to-veil-women
------------
Jeddah: Marriages Don't Have To Cost a Fortune
31 August 2014
Couples are being urged not to spend thousands on a wedding and advised to opt for cheaper weddings to escape from heavy debt. A forum highlighting how families can ease the financial burden on the groom was held recently in a local function hall in Jeddah. Several wedding planners and families with aspiring couples attended the forum.
The forum discussed ways of restraining the cost of weddings and to avoid starting married life burdened with debt. Weddings can cost up to SR100,000 and extravagant ceremonies reach SR1 million.
Mona Rub, a wedding planning expert said that the burden of dowry stresses out grooms and the additional wedding expenses lead to more strain. Likewise, the brides-to-be need not imitate people who spend thousands of riyals on their big day.
"Money is the biggest reason for the collapsing of a relationship. One should not dream of the big fantasy wedding but dream instead of a happy married life and the best way to attain then is not to start with a heavy debt.
The aim of this gathering is to raise awareness on less expensive weddings," she added.
Sadia M., also a wedding counsellor mentioned that several couples demand the best decorations and unique entrance. "It is amusing to hear the ideas of the couples. The majority of them are ready to spend around SR30,000-SR50,000 only on a table and stage decorations excluding other expenses. Sometimes such expensive wedding lead to debt and even end in divorce. It is important to create awareness about less expensive weddings," she said.
Other speakers motivated the attendees to go for mass weddings and advised aspiring couples and their families to avoid unnecessary expenditure.
Saher Al- Saggafi, an observer said, "Weddings these days have simply become a show-off. The true meaning of marriage is lost. Prophet Muhammad (peace be upon him) said the best wedding is the simple one. So it is important to keep the essence of a real wedding."
"I have arranged my daughter's wedding with three other girls from my family, in order to place less pressure on the groom," Al-Saggafi said.
http://www.arabnews.com/saudi-arabia/news/622521
-------------
No Change In Indian Housemaids' Recruitment Pact Across The Saudi Kingdom
31 August 2014
Agreement for the recruitment of Indian housemaids across the Kingdom is very much intact as the recruitment process is in progress and not stalled as reported in a section of local media.
Reports published in local media quoting a labour official said that recruitment efforts for housemaids from India have been stalled because of New Delhi's stipulation of SR2,500 as the minimum wage for each worker.
When contacted, a surprised Indian Embassy official said, "We have not received any official communication in this regard from the Saudi side so far. Even the amount being cited is not correct to the best of our knowledge," the official said.
He asserted that the developments on the recruitment process are well in progress as after signing a comprehensive labour agreement the embassy is executing the provisions of recruitment on day-to-day basis.
The new labour agreement stipulates that maids must be given free time for at least eight hours daily and a paid vacation of 15 days annually or 30 days after two years of service.
The National Recruitment Committee has fixed the monthly salary of Indian maids at SR 1,200, plus maids must also be given return economy air tickets to visit home.
Employers must deposit maids' salaries in their bank accounts in the Kingdom at the end of every month and show proof of payment to their domestics.
Employers are also obliged to help workers transfer their salaries back home and maids should be given enough freedom to contact the embassy or the consulate, or their family members.
Indian maids looking for employment in Saudi Arabia must be between 25 and 50 under the new employment agreement.
http://www.arabnews.com/saudi-arabia/news/622516
-------------
Turkey's First Women-Only Beach Hit By 'Topless' Crisis
31 August 2014
Local authorities were on high alert on Aug. 29, amid rumours that the more conservative visitors to Turkey's first ever women-only beach were complaining about topless swimmers.
"We are recording every single complaint filed to our company. I have checked all reports about the rumour and spoken to our personnel responsible. However, there is no such controversy. Women who come to our beach freely use the beach and its facilities," said Gökalp Dinçmen, the chief executive director of ANET, the company responsible for the beach, which is owned by the Antalya Municipality.
Dinçmen claimed that the rumour was fabricated by a "paparazzi journalist" who wanted to take photos at the beach. "Women from all over the world can come to our beach wearing whatever they want," he said.
The Women's Beach in the Sarısu neighbourhood of Antalya is a social facility exclusively designed for women. The facility incorporates a kebab house, a fish restaurant, a beach buffet, a marketplace with six shops, a playground for children, a sports park, and a masjid for prayers. The facility serves women between the hours of 09.00 a.m. and 19.00 p.m., before becoming a mixed meeting place for families between 19.00 p.m. and midnight.
The beach houses 500 sun beds, 200 sunshades and 200 tables, as well as free-of-charge showers and changing rooms. All of the personnel who work at the beach are also women, including six security guards and two coastguards.
http://www.hurriyetdailynews.com/turkeys-first-women-only-beach-hit-by-topless-crisis.aspx?pageID=238&nID=71103&NewsCatID=341
-------------
Egypt fatwa: Men, women online chats 'un-Islamic'
31 August 2014
The Egyptian Dar al-Ifta's latest fatwa prohibited online chatting between men and women "foreign to each other," Ahram Online reported.
Dar al-Ifta, an authority responsible for issuing edicts on Islam, issued the fatwa in an online statement to answer "frequently asked questions," according to the news website.
Online chat rooms are "frivolous, evil and open the door for the devil, corruption and Fitna[disorderly behavior that leads to un-Islamic acts]," the edict read, adding that these conversations are permissible in "cases of necessity."
Also, Dar al-Ifta said a woman should never send a picture of herself to strangers in order "to protect herself" and "preserve her dignity," Al Ahram Online said.
These photos are then used "in corrupted acts by deviants, and it is deemed foreign to our religion," the post explained.
According to the fatwa, "repeated experiences prove that in our time [online chats] waste time and are a purposeless utilization of time."
Al Ahram Online reported that Egyptian social media users ridiculed edict.
http://english.alarabiya.net/en/media/digital/2014/08/31/Egypt-fatwa-bans-online-chats-between-men-women.html
-------------
BBC announces its first ever female chairperson
31 August 2014
United Kingdom ministers are expected on Sunday to appoint to the BBC its first permanent female chair, the Daily Mail reported.
Former Financial Times boss Rona Fairhead has been awarded the job three months after Prime Minister David Cameron said he was "determined" to appoint a woman to the position.
Fifty-three year-old Fairhead, a non-executive director of HSBC Holdings and PepsiCo, and recently on a board of the Cabinet Office, was the government's "preferred candidate" to follow Lord Pattern as BBC chairman.
Fairhead was caught in controversy earlier this year following a $1.8 million pay-off that angered shareholders of parent company Pearson.
Pattern said he was stepping dow after his heart surgery.
Lord Coe, a previous candidate for the $180 thousand-a-year job said he did not have the "capacity" to serve the position considering his other commitments.
"Just because she is female does not mean that is the reason she was appointed. She has an excellent CV and wide experience, and I look forward to seeing her in front of the select committee," Chairman Tory MP John Whittingdale is quoted as saying in the Daily Mail.
Whittingdale earlier warned Cameron against pushing through the appointment based on gender, rather than merit.
"The BBC is a great British institution packed with talented people, and I'm honored to have the opportunity to be chairman of the BBC Trust," Fairhead said according to the British daily.
"I'm under no illusions about the significance or enormity of the job but am excited to have the chance to lead the BBC through the coming years," she said.
Fairhead is expected to appear before the Culture, Media and Sport Select Committee later this month for a "pre-appointment scrutiny."
http://english.alarabiya.net/en/media/television-and-radio/2014/08/31/BBC-announces-its-first-ever-female-chairperson-.html
-------------
Family Of Aafia Siddiqi ISIS Denounces Violence
31 August 2014
The Islamic State demanded a $6.6 million dollar ransom to release a 26-year-old American woman captured in Syria. They also reportedly called for the U.S. to release female neuroscientist Aafia Siddiqi, who was sentenced to 86 years in prison in 2010 for attempted murder of U.S. authorities.
Siddiqi's Pakistani relatives have responded in outrage to the demand from the extremist group. In a letter obtained by ABC News, they said they want nothing to do with the group's tactics.
"While we deeply appreciate the sincere feelings of those who, like us, wish to see the freedom of our beloved Aafia, we cannot agree with a 'by any means necessary' approach to Aafia's freedom," they wrote. "Nor can we accept that someone else's daughter or sister suffer like Aafia is suffering."
The Islamic State had also previously demanded that the U.S. release Siddiqi in exchange for American journalist James Foley, whose beheading by the group was shown in a video released last week.
Siddiqi's sister, Fowzia, told a Pakistani news outlet that the family's campaign for Aaifa's release rejects all forms of violence, and that people connecting her family to the Islamist militants are "enemies of the nation."
Siddiqi, a mother of three, moved from Pakistan to the U.S. in 1990 and spent more than a decade studying at MIT and Brandeis University, where she earned a bachelor's degree and a Ph.D. in cognitive neuroscience, respectively. She married a Pakistani doctor in 1995 and had three children with him. They later returned to Pakistan and got divorced, and Siddiqi then married Ammar al-Baluchi, the nephew of 9/11 mastermind Khalid Sheikh Mohammed.
In 2003, Siddiqi disappeared for five years after the FBI issued an alert for her and her husband. The following year, the FBI announced that she was wanted in connection with a terrorist threat on the U.S., calling her an "al Qaeda operative and facilitator."
Initial reports in Pakistani media said that Siddiqi was in Pakistani custody during this time, but officials later denied this. Siddiqi's lawyers said in 2011 that they had evidence she was held by Pakistani intelligence services. Meanwhile, many in Pakistan believe that she was in U.S. custody at the notorious Bagram base in Afghanistan. The U.S. military, FBI and CIA have all denied this.
In July 2008, Sidiqqi turned up and was arrested in Ghazni, Afghanistan. She reportedly had documents that explained how to make explosives in addition to notes alluding to attacks on the U.S. During an interrogation by the U.S., she seized a soldier's gun and fired, shouting "death to Americans," according to prosecutors. She was found guilty of attempted murder and assault of U.S. officers.
Thousands of protesters took to the streets of Pakistan after her conviction, and the government vowed to work for her release.
Michael Semple, a former European Union representative in Kabul, told the Telegraph that the Islamic State might be including Siddiqi in its demands because militants originally from Afghanistan and Pakistan have taken on her cause. Another possibility, he said, is that the group is "trying to mobilize people in righteous condemnation of [what they see as] oppression of the Muslim nation at the hands of the West."
http://www.huffingtonpost.com/2014/08/27/aafia-sidiqqi-isis_n_5699221.html
-------------
URL: https://newageislam.com/islam-women-feminism/nepal-muslim-women-forced-abortions/d/98819