New Age Islam News Bureau
07 October 2020
• Women in Saudi Arabia Are Reaping Rewards of Reforms, Envoy Tells UN
• Turkish Woman to Face Investigation for Poking Fun at Misogynistic 'Hadith'
• Khamenei's Representatives Vow To Make Streets "Unsafe" For Iranian Women
• Malaysia: Lawyer in Quarantine, Hearing on Woman's Religious Status Postponed
• Indonesian Nun Lightens Load on Poor Single Mothers
• Saba Kord-Afshari: Women's Rights Defender Denied Necessary Treatment on The Pretext Of Cost
• Report Says Zeinab Jalalian Is In Dire Health Condition in Kermanshah Jail
Compiled by New Age Islam News Bureau
URL: https://www.newageislam.com/islam-women-feminism/nearly-two-three-young-arab/d/123068
--------
Nearly Two In Three Young Arab Women Believe They Get Equal Rights: Poll
Saman Haziq
October 7, 2020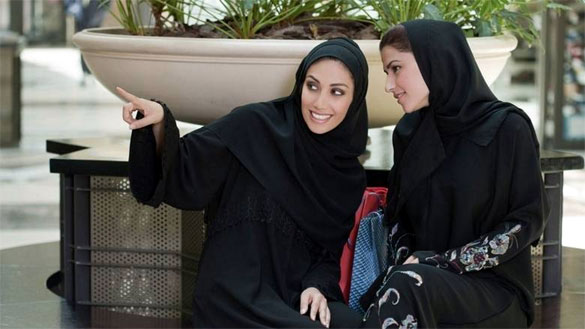 (Alamy Image)
When Covid-19 struck, young Arab women have seen an increase in family responsibilities.
----
When Covid-19 struck, young Arab women have seen an increase in family responsibilities.
Debunking the stereotypical notions about the region on gender equality, nearly two in three young Arab women believe they have the same rights as men, this year's Arab Youth Survey has shown.
"During the survey which saw a 50:50 ratio of men and women, we asked young Arab women about their rights and opportunities and the data revealed that a strong majority - 64 per cent - of young Arab women said they have the same rights as men and another 11 per cent felt they have even more rights than men in their country," said Margaret Flanagan, executive vice-president for strategy and client experience at ASDA'A BCW.
"We did not see any big regional splits in this throughout the Arab world, it remained fairly constant acorss the GCC, North Africa and the Levante region," Flanagan said during a virtual discussion of the survey on Tuesday.
The same sentiment echoed when young Arab women were asked about education and employment opportunities, with a majority of them saying "they have the same rights as men in accessing quality education and finding a career".
Both women (76 per cent) and men (70 per cent) also agree that a woman can benefit her family more by working, instead of staying at home.
Virus effect
When Covid-19 struck, young Arab women have seen an increase in family responsibilities, Flanagan pointed out.
Fifty-four per cent of both male and female respondents said women are more likely to look for a job in the time of Covid-19. A larger percentage, 67 per cent, said they are also more likely to have greater family responsibilities.
https://www.khaleejtimes.com/uae/dubai/nearly-2-in-3-young-arab-women-believe-they-get-equal-rights-poll-
--------
Women in Saudi Arabia Are Reaping Rewards of Reforms, Envoy Tells UN
October 07, 2020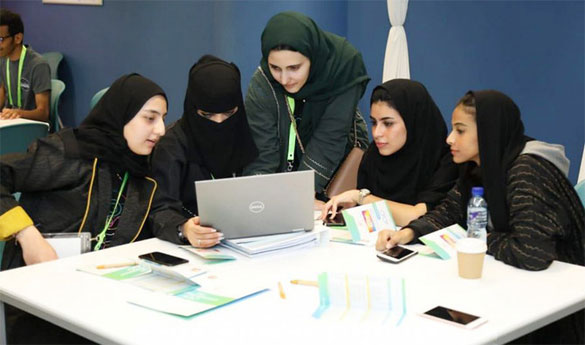 Saudi women are working in the legal profession and have more opportunities to represent clients in court and work in public prosecution offices. (SPA/File)
-----
JEDDAH: Women's rights is one of the issues that has benefited most from recent reforms and development projects in Saudi Arabia, according to a member of the Kingdom's permanent delegation to the UN.
During a speech to the Third Committee on Tuesday, during the 75th session of the General Assembly, Mohammed Khashaan, second secretary of the Saudi mission to the UN, highlighted the range and scale of measures his government has implemented in the past few years. The committee examines social, humanitarian, cultural and human rights issues affecting people all over the world.
Some of the most important reforms in the Kingdom have included changes to laws designed to enhance the rights of women in a number of fields and promote gender equality, he said.
As a result, Saudi women have been appointed to high-ranking positions in the public and private sectors, as well as diplomatic missions, Khashaan added. In addition, more Saudi women are working in the legal profession and have more opportunities to represent clients in court and work in public prosecution offices.
May Alobaidy, who was the first Saudi woman to be appointed an adviser to a minister, believes that increased participation by women is a vital step toward achieving sustainable development and economic prosperity, which is a challenge facing many economies around the world.
"If we look at the empowerment of women worldwide, we see that Saudi Arabia has the biggest share, and it is proceeding at an extremely fast pace," she said. "As a Saudi woman holding a leading position, I do see a real impact of these social reforms in society.
"Women's empowerment is noticeable in the increasing participation of women in the labor market, which has hugely pushed for gender equality. Moreover, a growing number of women are occupying leadership positions, locally and globally. Also, new government policies and legislation have been introduced in the past few years to increase the employment of women in all fields."
Khashaan highlighted a number of initiatives that aim to empower Saudi women, including the Children Hospitality Service Subsidy Program for Working Mothers (Qurrah), which helps women working in the private sector find child care, and the Female Transportation Program (Wusool), which provides subsidies for safe and secure transport to and from work.
In addition, he said, a remote-work program, which includes a portal for self-employment and freelancing, and a wage protection system from the Ministry of Human Resource and Social Development have increased women's options and provide opportunities to boost income and economic empowerment.
Khashaan added that a national platform for female leaders, called Qiyadiyat, has been established to provide training for female leaders, along with a number of other programs and initiatives. In addition, the Saudi Human Rights Commission was reconstituted this year to ensure equal representation for men and women.
Alobaidy praised the work of the Saudi leadership in support of the empowerment of women, and their social, economic and developmental efforts, which form a significant aspect of Saudi Vision 2030.
"Recently the Labor20 Summit, which was held as part of Saudi Arabia's presidency of this year's G20 Summit, stressed the importance of empowering Saudi women and youth," she said.
"Saudi Arabia has proven its commitment to building on the achievements of previous G20 presidencies by ensuring tangible progress in youth and female empowerment.
"Women do have a responsibility to themselves to take advantage of these reforms and empower and support one another while investing in their careers — so you do not just dream about success, you have to work for it."
Saudi Arabia also recently amended its social security system to ensure equality between genders with regards to retirement age, and granted female employees 70 days of maternity leave with full pay.
Khashaan said that the Kingdom has also made progress in strengthening and protecting children's rights through the introduction of initiatives such as new child protection laws and executive regulations. The laws provides a comprehensive legal framework designed to protect children under the age of 18 from harm or neglect, and to aid enforcement of the child protection system by setting a minimum age for marriage and a system for prosecuting violators.
https://www.arabnews.com/node/1745296/saudi-arabia
--------
Turkish Woman to Face Investigation for Poking Fun at Misogynistic 'Hadith'
Oct 06 2020
A Turkish woman is facing a police investigation over a tweet playing on what is believed to be a derogatory prophetic saying on women posted five months ago, Maaz Ibrahimoğlu reported for news website Serbestiyet.
"A society that leaves its business at the hands of a man cannot find salvation," Zeynep Algı had tweeted, joining this summer's popular trend on Turkish Twitter of turning misogynistic proverbs and traditions on their heads.
Algı's tweet referred to an unconfirmed hadith, sayings attributed to the the Muslim prophet Muhammad, which refers to women.
Many women were tweeting in protest of misogyny at the time, saying men could work if their wives permitted them, should watch what they wear to avoid harassment, and other similar tropes.
The spontaneous campaign, under the hashtag "let men know their place," spurred condemnation from the Women and Democracy Organisation (KADEM), an initiative whose vice president is the daughter of Turkish President Recep Tayyip Erdoğan. The group said the tweets had "reached a level that will damage the values" Turkey holds.
One professor of Islamic Sciences, from the now-shuttered Istanbul Şehir University, protested Algı's tweet, saying that hadiths were no laughing matter.
Professor Mustafa Özel tagged Turkey's Interior Ministry and police headquarters in one tweet accusing Algı of being a sinner, questioning how the young woman "dared" to write the opposite of the hadith.
Five months later, Algı received a call from the police and was informed of the investigation against her over charges of inciting hatred.
In her testimony at the police station, Algı said she was a devout Muslim and had wanted to raise awareness against the hadith that she believed was not authentic.
"I was disturbed because young people would shy away from religion due to such fabricated hadiths," she said. "I do not accept made-up hadiths imposed as religion by a patriarchal system that insults women."
The young woman told Serbestiyet that she didn't believe criticism of any faith was deserving of punishment.
"A chief of medicine calling for taking second wives, or his anger against secularism for not being able to wear traditional Islamic dresses did not draw this much attention," Algı said in a tweet. "As a person who chooses to have faith, I have a responsibility to lead a virtuous life. I fulfilled that obligation."
https://ahvalnews.com/turkey-women/turkish-woman-face-investigation-poking-fun-misogynistic-hadith
--------
Khamenei's representatives vow to make streets "unsafe" for Iranian women
3 October - The head of Friday Prayers in Isfahan, central Iran, incited attacks against Iranian women the regime deems "improperly dressed" in controversial remarks yesterday. "The environment of the community must be made unsafe for these people and they should not be allowed to easily break the norms on the streets and in parks," Yousef Tabatabai Nejad said in a meeting with the province's General Staff of the Armed Forces Deputy Chief of Intelligence and Security and Isfahan's Chief of Police.
According to state-run news agencies, the cleric who represents the "Supreme Leader" in Isfahan said that "Western governments" must not interfere with the implementation of the regime's misogynist laws.
"Just as they have their own laws, we have our own laws and we must not be afraid that if we deal with norm breakers, they might carry out a hostile measure against us."
He also asked that special branches be set up in courts in the regime's judicial system to deal with what he called cases of "moral anomalies". Tabatabai Nejad said that the police should have "more authority" in dealing with women "who take off their veil".
Another senior cleric in Bojnourd, northeastern Iran echoed his threats. Speaking at a Friday Prayer sermon, Abolqassem Yaghoubi, the city's head of Friday Prayers said that "improper veiling was a dangerous virus" and that the "police should make the lives of those who are improperly veiled unsafe".
Social media reaction
Following these remarks, Iranians took to social media to condemn the threats against women. They said the clerics' remarks encouraged violence against Iranian women such as were seen in 2014 in Isfahan when "Islamic vigilantes" reportedly affiliated with the regime, attacked women they deemed improperly veiled with acid.
The Deputy Minister of Communications and the head of Iran's Information Technology Organization tweeted that, "In order to prevent previous tragedies like acid attacks, the Friday Prayer Leader should specify what he means by 'unsafe' and that he does not mean physical attacks and acid attacks."
"The Isfahan Friday Prayer leader is a small replica of the Islamic Republic in general; People who are above the law and think they own human lives and property and try to impose their ideas and decisions on us in any way possible. In any other place in the world, such threats would have led to prosecution," another Iranian tweeted.
Another angry Iranian said in a tweet, "This is a command to acid attackers to 'fire at will". People who are on the payroll of the Basij and IRGC!"
Tabatabai Nejad's history of controversial remarks against Iranian women
Yousef Tabatabai Nejad has been the Isfahan Head of Friday Prayers since September 2002. In 2016, he claimed women taking pictures of themselves contributed to the drought in Zayandeh Rud river. He said, "Iranian women who wear immodest clothing have caused the nation's rivers to run dry and damage the environment". He also said that that a strict Islamic dress code must be enforced to ward off drought.
2014 Isfahan acid attacks
Isfahan has a history of acid attacks against women who do not conform to the regime's dress code. Six years ago, in October 2014, there was a chain of acid attacks in Isfahan which targeted eight women. One woman died, while others suffered severe burns on their face and hand. Some of the women lost their eyesight in one or both eyes. The suspects have yet to be identified and detained. Iranians believe the attackers were affiliated with the regime's hardliners.
The case was closed on July 19, 2018, according to state-run news agency.
Head of Friday Prayers handpicked by the "Supreme Leader"
The Head of Friday Prayers in Iran are the representatives of the regime's Supreme Leader Ali Khamenei in each city and are directly appointed by him. The clerics have to pass a political exam to prove their loyalty to the regime. Each Friday prayer has two sermons, one religious, the other political. A council specifies the outlines of the contents in the weekly sermons, dictating the influence of Khamenei in their cities.
https://irannewswire.org/khameneis-representative-vows-to-make-streets-unsafe-for-iranian-women/
--------
Malaysia: Lawyer in Quarantine, Hearing on Woman's Religious Status Postponed
V Anbalagan
October 6, 2020
PUTRAJAYA: An appeal hearing by a woman for a declaration that she is a not a Muslim was vacated today after a lawyer appearing for a party came in close contact with a minister who tested positive for Covid-19.
Senior lawyer Sulaiman Abdullah, representing the Selangor Islamic Religious Council (Mais), made the application as the co-counsel, whose identity was kept confidential, has been quarantined.
Federal Court registrar Jumirah Marjuki said Chief Justice Tengku Maimum Tuan Mat, who was scheduled to lead a nine-member bench to hear the appeal, allowed the case to be adjourned.
"The rest of the parties had no objection to the application," Jumirah told reporters, adding that case management would be held on Oct 27 to fix a new hearing date.
Rosliza Ibrahim, who was born to a Muslim father but raised as a Buddhist by her Buddhist mother, is seeking a declaration that she is a not a Muslim.
The government is brought in as amicus curiae, or friend of the court, to assist the judges in the proceeding.
Rosliza has taken the position that the Islamic laws of Selangor do not apply to her and that the shariah court has no jurisdiction over her.
She said it had been presumed that she had been born a Muslim, based on an assumption of a valid marriage between her parents and an assumption that her late mother had converted to Islam.
The High Court in Shah Alam had dismissed her suit in April 2017 on grounds that the evidence she produced had failed to prove, on a balance of probabilities, that she was not a Muslim at birth.
The court also ruled that her remedy was in the shariah court.
Rosliza said she had gone to the religious authorities in 10 other states and obtained confirmation that her parents did not have any records of her mother converting to Islam or that a Muslim marriage had taken place.
However, in 2018, the Court of Appeal affirmed the findings of the High Court.
Early this year, a three-member bench allowed Rosliza's application for leave to appeal based on two legal questions.
They were whether the civil court had the exclusive jurisdiction to determine whether a person is or is not a Muslim under the law and whether any information contained in the identity card was conclusive proof that one is a Muslim.
Lawyer Gopal Sri Ram, who appeared for Rosliza, said this appeal would also touch on the 1988 amendment to Article 121 of the Federal Constitution that was deemed unconstitutional as the basis structure of the charter was violated.
"The amendment has made the court subservient to Parliament. As a result, the doctrine of separation of powers was also violated," he told reporters.
He said Rozliza's case was an opportunity to revisit a 2007 case involving Lina Joy, a Muslim woman who sought, but failed, to be allowed to change her religion from Islam to Christianity.
The Federal Court had ruled that she must first obtain a certificate to leave the religion before presenting it to the National Registration Department for the word "Islam" to be removed from her identity card.
https://www.freemalaysiatoday.com/category/nation/2020/10/06/lawyer-in-quarantine-hearing-on-womans-religious-status-postponed/
--------
Indonesian Nun Lightens Load on Poor Single Mothers
Konradus Epa
October 05, 2020
Franciscan Sister Maria Katharina has made it her mission to be a friend to single mothers struggling to survive on Indonesia's Sumatra island.
"Their lives have been turned upside down by domestic violence or because of their husbands dying," says the nun from Tanjungkarang Diocese.
"Most of them have practically nothing and either live alone or with relatives who don't understand their needs and tend to look down on them."
In 2016, Sister Katharina began helping them by establishing the Association of Single Mothers, a group that reaches out to more than 500 women from various social and religious backgrounds.
Through the association the nun teaches them various skills such as hairdressing, cooking, making accessories, sewing and embroidery. The goal is to help them earn enough money to support their families and for the education of their children.
"We want to help them stand on their own two feet and not rely on the goodwill of others," Sister Katharina, 61, says.
The nun, who joined the Franciscan Sisters of St. Gregory Martyr congregation in Lampung in 1978, says things are really tough for mothers who have more than three children, especially when it comes to higher education.
"Many of their children end up as elementary or junior high school dropouts and become street singers or manual workers in markets," says the nun, who has worked in Tanjungkarang Diocese since joining the congregation.
"It makes it difficult for their children to get decent jobs."
To help the nun, who comes from Klaten in Central Java, are other single mothers whom she previously trained to look after themselves.
"Some of them have earned money from their own business, while others have managed to find employment," she says.
Sister Katharina says what she does is God's calling to stand up for the poor and marginalized.
She was also inspired by the spirit of St. Francis Assisi, who loved the poor, and the founder of her congregation, Sister Maria Anselma Bopp, who was called to serve the poor.
Her work with the poor began when she was a young nun with street children and pedicab drivers in Lampung.
"My love for the poor, happiness in my work, and prayers have shaped me," she says.
One of the things she enjoys about her work is working with people from various religious backgrounds — including Muslims — who do not see the fact that she is a Christian as a problem.
Shepherd with the smell of sheep
Sister Katharina says she is always inspired by the words of Pope Francis who called on priests and nuns to "be shepherds with the smell of sheep."
It means she must face up to the "smell" which symbolizes the distress, pain and suffering faced by the poor and marginalized, including single mothers.
Pope Francis asked the Catholic Church to become a church for the poor. He wanted a church that is "dirty and smelly" representing its delving into the problems that beset people.
"It inspires me to do something, not only to pray but go out to help and meet people, as well as the single mothers and feel their suffering," says Sister Katharina, who also heads the Franciscan Sisters' Justice, Peace and Integrity of Creation Commission.
The shepherds who smell like sheep mean to fight injustice and serve with love, which is a calling for all Catholics, said the nun, who is also a member of Talitha Kum Indonesia, a group run by women religious congregations to help human trafficking victims.
Susi, 40, one of the single parents helped by the nun, says the sewing and embroidering skills she learned have enabled her to take care of herself and her three children.
"I am happy and proud because, thanks to the nun's help, I can train other single mothers," the Muslim woman told UCA News.
Juli Nugrahani from the Indonesian bishops' women and gender secretariat also praised the nun's work.
"The nun's dedication shows the Church's mission and Christ's face among the marginalized," she says.
https://www.ucanews.com/news/indonesian-nun-lightens-load-on-poor-single-mothers/89757
--------
Saba Kord-Afshari: Women's Rights Defender Denied Necessary Treatment on The Pretext Of Cost
29 September - On 19 September 2020, Saba Kord Afshari was returned to Evin prison without receiving required medical treatment. She was transferred to Taleghani hospital the same day after her health seriously deteriorated. Her doctor had advised that she needed an ultrasound, colonoscopy, and endoscopy. However, she was returned to prison after undergoing only an ultrasound. The defender was told that she would not receive the other procedures as she did not have the money to pay for them. However, according to regulations of the Organization of Prisons, the expenses for medical treatment of prisoners should be paid by that organization. Saba Kord Afshari's family had been told that she was in a different hospital in order to ensure they would not be able to meet with her or pay for her treatment.
Earlier this year, on 29 May 2020, the human rights defender was transferred to Taleghani Hospital for the first time, after a year of complaints of poor health. It was discovered in hospital that the women rights defender suffers from gastrointestinal complications and stomach ulcers.
https://www.frontlinedefenders.org/en/case/womens-rights-defender-saba-kord-afshari-sentenced-15-years-prison
--------
Report Says Zeinab Jalalian Is In Dire Health Condition in Kermanshah Jail
30 September - Kurdish political prisoner Zeinab Jalalian is in dire health condition in the notorious Dieselabad Prison of Kermanshah, in western Iran, the latest reports indicate.
Ms. Jalalian suffers from Covid-19. Health facilities and medical resources in this overcrowded prison are scarce. There is grave concern about her health conditions.
An informed source said Zeinab Jalalian is in dire health condition: "After contracting the coronavirus in Qarchak Prison, Ms. Jalalian's lungs suffered serious damage due to the absence of medical care. During this period, she was constantly coughing. She has serious respiratory problems."
"Her right eye has inflated, and her vision has been once again impaired," the source added.
Her wrists and ankles are all injured and bruised. The intelligence agents transferring her to Kerman and Kermanshah prisons dragged her on the ground by her hand and foot cuffs.
On September 23, 2020, the authorities of Dieselabad Prison initially refused to admit her due to her dire health condition. Eventually, the Public and Revolutionary Prosecutor of Kermanshah intervened to allow her in the prison.
Zeinab Jalalian is sentenced to life in prison. She was abruptly taken out of the Central Prison of Khoy on April 28, 2020, and relocated to the notorious Qarchak Prison in Varamin, southeast of Tehran.
She contracted the virus in Qarchak where she was ill-treated and denied medical care. Eventually on June 25, 2020, she was transferred to the Central Prison of Kerman while she was on hunger strike, demanding to be returned to Khoy.
For three months, she remained in solitary confinement in Kerman Prison with undetermined status. Then she was transferred to the Prison of Kermanshah, also known as Dieselabad.
Zeinab Jalalian is serving her 13th year in prison. She suffers from various illnesses, including asthma, pterygium, an oral thrush condition, and GI complications.
https://women.ncr-iran.org/2020/09/30/report-says-zeinab-jalalian-is-in-dire-health-condition-in-kermanshah-jail/
--------
URL: https://www.newageislam.com/islam-women-feminism/nearly-two-three-young-arab/d/123068
New Age Islam, Islam Online, Islamic Website, African Muslim News, Arab World News, South Asia News, Indian Muslim News, World Muslim News, Women in Islam, Islamic Feminism, Arab Women, Women In Arab, Islamophobia in America, Muslim Women in West, Islam Women and Feminism