New Age Islam News Bureau
26 May 2022
• 'Tanzania's 1st Female President, Samia Suluhu Hassan, Improves Human Rights Situation'
• Tanzanian President Samia Suluhu Hassan and Afghanistan Journalist Hoda Khamosh among Time's 100 'Most Influential People Of 2022'
• French Court Scraps Rule Allowing 'Burkinis' In Swimming Pools
• Kanpur Muslim Woman Marries Juvenile after His Conversion
• Ludhiana Woman Given 'Triple Talaq' On Paper, Matchmaker among 4 Booked
• Diriyah Gate Project Has 36% Saudi Female Staff, Says CEO
• Iranian Weightlifters Fight For A Stolen Childhood Dream
Compiled by New Age Islam News Bureau
URL: https://newageislam.com/islam-women-feminism/nayla-baloushi-emirati-mount-everest/d/127098
--------
Nayla Al Baloushi becomes first Emirati woman to scale Mount Everest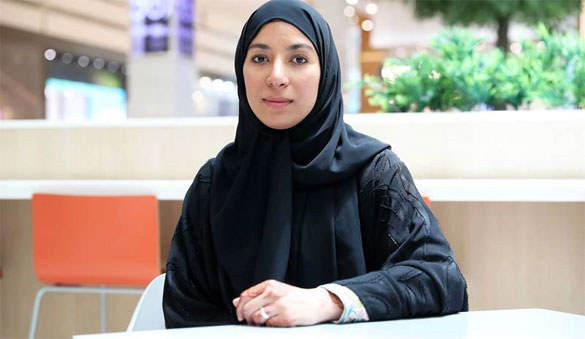 Nayla Al Baloushi is back home after becoming the first Emirati woman to climb Mount Everest. Pawan Singh / The National
-----
May 26, 2022
Nayla Al Baloushi has become the first Emirati woman to climb Mount Everest.
The UAE citizen reached the 8,849-metre summit on May 14 and had one word to describe the top of the world – "amazing".
"I'm so happy, I'm really happy," Ms Al Baloushi told The National.
"I still cannot believe that I did this."
Mental and physical strength were both vital in the expedition through treacherous, icy terrain in which temperatures dropped to chilling minus 40°C.
"There was no other thought in my mind but that I'm going to do Everest," she said.
"I had no doubt, nothing else, just Everest."
Ms Al Baloushi said she was inspired by her husband Saeed Al Memari, a fellow adventurer who has climbed Mount Everest twice.
Mr Al Memari, 45, has already completed the explorer grand slam; a mountaineer's goal to reach the North Pole and South Pole and climbing the world's seven highest summits.
He is currently halfway through his Peak for Peace mission, spreading the message of harmony from the UAE by climbing the highest mountain in every country. He has so far climbed 100 mountains.
"My aim is to reach 193 countries," he said.
First Arab couple to conquer Everest
Mr Al Memari was the first Emirati to scale Mount Everest in 2012 and part of the first Emirati team in 2016 with the UAE armed forces.
Ms Al Baloushi's successful climb makes them the first Arab couple to conquer the world's highest mountain.
"I thought about doing it three months before I went to Nepal," she said. "My husband did not know.
"I was not sure I could do it so I called a company and they took some information and asked me a few questions. Last year I climbed Broad Peak in Pakistan. I did not summit, I reached 7,300m.
"But because of this they told me it was possible for me to climb Everest."
Proud of his wife's success, Mr Al Memari said it would show young Emirati women that they can achieve their goals with determination and focus.
"My wife worked hard to be number one, the first Emirati woman on Everest. It's a great message for young Emirati women that nothing is impossible," said the Emirati adventurer who has also scaled K2, the world's second-highest mountain.
"They will think 'if she did it, so can we'."
'Everest is easy'
The Emirati mountaineer set herself a goal to conquer the world's highest peak only three months ago.
Support from Mr Al Memari gave her the motivation to take on the Himalayan peak.
"Saeed used to tell me 'Everest is easy' and he put this idea in my head," she said.
"Everest was not on my mind at all before. I decided only three months before that I would climb Everest.
"He was really encouraging and it stayed in my mind that Everest is easy, I have to just keep walking.
"And to be honest it was just like that; an uphill walk. You need to be patient and keep walking."
She climbed with a Nepalese Sherpa guide, taking 10 days from base camp to summit and staying for six days at camp 2, which at 6,400m is a launch pad to the peak.
Modest and down-to-earth about her achievement, Ms Al Baloushi said favourable weather, with sunny skies and low winds, played a part in her success.
She has met several climbers who were forced to turn back in previous years due to storms and high winds that swept across the slopes, often with little warning.
"You have to respect the mountain because you don't know when the weather will change," she said.
"For me the weather was perfect, it was a little windy but there were no surprises.
"It can get scary with high winds, you may get frostbite but I did not face any of this."
Fitness a way of life
Ms Al Baloushi is no stranger to an active lifestyle and she runs and cycles as part of her daily routine, as well as being a qualified free diver.
She began taking on high altitude peaks over the past two years, often climbing with her husband.
Since 2020, Ms Al Baloushi has climbed Greater Ararat in Turkey and Armenia, Mount Cameroon and Mount Hoverla in Ukraine.
"Before you start any sport you have to be fit," she said. "Exercising is my lifestyle.
"It's not something I have to do, I enjoy doing it. I'm a dive master and I do free diving.
"I don't train for climbing. It's just my life."
Ms Al Baloushi believes her Everest triumph will inspire women in the country and region to scale new heights, metaphorically speaking.
"They have to hold on to their dreams," she said, "they have to have faith. You have to be sure that it's your dream and you will achieve it."
The adventure is not over for this ambitious Emirati couple, who plan to travel to Djibouti this weekend to tick another mountain, Mousa Ali, off the list of summits reached around the world.
Source: The National News
https://www.thenationalnews.com/uae/heritage/2022/05/26/nayla-al-baloushi-becomes-first-emirati-woman-to-scale-mount-everest/
--------
'Tanzania's 1st Female President, Samia Suluhu Hassan, Improves Human Rights Situation'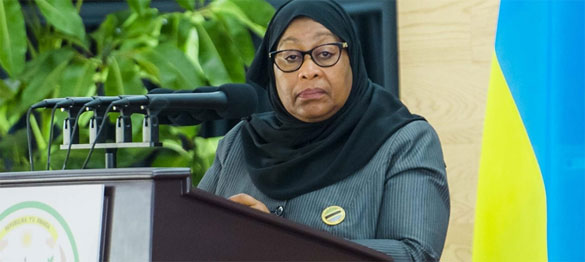 Photo: aa.com
----
Kizito Makoye
26.05.2022
DAR ES SALAAM, Tanzania
Human rights defenders in Tanzania said over the past year, they have heaved a sigh of relief under the first female President Samia Suluhu Hassan by her moves like lifting the ban on 30 media outlets, and assuring review repressive laws.
Hassan, who took over last year in March after the death of President John Magufuli has rekindled hope in the country characterized by strict authoritarian rule, claim the activists.
In an exclusive interview with Anadolu Agency, Onesmo Olengurumwa, the national coordinator of Tanzania's Human Rights Defenders Coalition (THRDC), said the country now needs wider legal reforms to ensure current developments related to protecting civil rights are not reversed and remain sustainable.
"What we see today is just the political will of the president, we still have some laws that affect the operations of civil society organizations and human rights defenders. Others curtail the right of journalists, freedom of expression, and association. Comprehensive legal reforms are needed to repeal laws and put a sustainable legal environment in place for us to enjoy our rights" he said.
The THRDC was forced to suspend its operations in 2020 after the government ordered a freeze on its bank accounts, alleging that the group was financing terrorist activities.
The group, however, denied the allegations.
Since late President Magufuli had assumed office in 2015, Tanzania had been reporting curbs on civil rights, affecting the media and human rights defenders.
Authorities passed a series of repressive laws that stifled independent reporting and restricted the work of media, non-governmental organizations (NGOs), and political opposition groups.
Rights groups accused the Magufuli regime of being intolerant to criticism, raising doubts about the state of democracy and free speech in the country.
Olengurumwa said the new government has shown a commitment to fulfilling rights obligations stipulated in the country's constitution as well as in regional and international treaties that Tanzania has ratified.
- Proper COVID-19 data
The prominent human rights activist said that unlike in the past, the new government has ensured the release of proper and accurate COVID-19 data and has encouraged Tanzanians to vaccinate against the killer disease.
"The president's belief in human rights is real. For example, she has strengthened the right to freedom of expression by lifting the ban against 30 media outlets and ordered the release of our bank account which had been frozen for several months," Olengurumwa said.
He said President Hassan has acted quickly to reverse some of the most controversial policies such as expelling pregnant girls from schools.
"Young girls who dropped out of school for various reasons including pregnancy have been allowed to resume their studies through an alternative means," he added.
Olengurumwa further said that President Hassan has shown a willingness to promote, improve and strengthen the criminal justice system, urging the country's judiciary to reduce the backlog and decide cases based on justice.
According to Olengurumwa, the president has also appointed 30 judges in the high court and the court of appeals, making their numbers 106, and has employed 245 magistrates to accentuate court cases.
He said that on the president's orders police have expedited investigations against state agencies found violating human rights. At the same time, 140 cases have been withdrawn due to a lack of evidence.
- Previous regime stifled voices
Olengurumwa said the previous regime had made life difficult for the NGOs, restricting their activities by arbitrarily deregistering them.
He said the authorities had used the 2015 Cybercrimes Act to prosecute journalists and activists for allegedly publishing "false information" in the media and social media platforms.
Bloggers were also heavily penalized under the Electronic and Postal Communications (Online Content) Regulations adopted in 2018, which required them to pay up to $900 for posting content on their websites, the rights groups said.
Olengurumwa hailed the new president for changing the tide and allowing people and activists to perform their duties.
"In many of her speeches, she has talked about human rights, the rule of law, and equality. We will feel very proud if she can lead the process to enact a new constitution, which will leave a lasting legacy even when she is not in power," he said.
- President's assurances encouraging
Olengurumwa, a trained lawyer, said he was relieved to hear President Hassan recently while attending the 10th anniversary of the establishment of the THRDC. She asked human rights activists to raise awareness about the country's constitution and the rights it guarantees to the citizens.
"The constitution is a mother law, which embodies all the rights of humans living in Tanzania. I call upon you to educate the people to know their constitution," she said.
On the issue of controlling foreign funding of NGOs, the president said it has been taken to deter money laundering and is in line with global requirements.
"We don't intend to seize your money, we just want to know, how much you have received, and what is the action plan. How have you spent the money and what is the impact on the community" she said.
Source: Anadolu Agency
https://www.aa.com.tr/en/africa/-tanzania-s-1st-female-president-improves-human-rights-situation-/2597875
--------
Tanzanian President Samia Suluhu Hassan and Afghanistan Journalist Hoda Khamosh among Time's 100 'Most Influential People Of 2022'
Sakina Fatima
24th May 2022
Two noted Muslim women— President Samia Suluhu Hassan and Afghanistan journalist Hoda Khamosh have been named among the 100 most influential people of 2022 by Time magazine on Monday.
Samia Suluhu Hassan
62-year-old Samia Suluhu Hassan is a Tanzanian politician who is serving as the sixth and current president of Tanzania.
She has given Tanzania a diplomatic face-lift after the isolation during the Magufuli era.
"President Samia Suluhu Hassan took office in March 2021, and her leadership has been well received. That year has made a big difference to Tanzania. A door has opened for dialogue between political rivals, steps have been taken to rebuild trust in the democratic system, efforts have been made to increase press freedom, and women and girls have a new role model," wrote the magazine about the first female President in the history of Tanzania.
Hoda Khamosh
26-year-old Hoda Khamosh is a well-known women's rights activist, journalist, and campaigner who has launched several public programs to raise awareness of issues related to women's health.
"Before the Taliban returned, Khamosh visited schools to promote empowerment and broke taboos around women's health issues. She wrote poetry, and spoke of running for President. After Kabul fell, Khamosh risked arrest among the many brave women publicly demanding their rights," wrote Time.
As per media reports, Khamosh was one of six Afghan women who were invited to sit with Taliban officials as they made their first invited visit to a Western country since taking control of Afghanistan in August 2021 to discuss the humanitarian and economic situation in Afghanistan.
100 celebrities of the world have been included in it from different fields from business to politics. Adani Group chairperson Gautam Adani is also included in this list from India's side. At the same time, the name of Ukrainian President Volodymyr Zelensky, who became popular all over the world after the Ukraine war, is also in this list.
Here is the full list
TITANS
Gautam Adani
Tim Cook
Oprah Winfrey
Christine Lagarde
Michelle Yeoh
Kris Jenner
Andy Jassy
Sally Rooney
Hwang Dong-hyuk
Sam Bankman-Fried
Megan Rapinoe, Becky Sauerbrunn, and Alex Morgan
Elizabeth Alexander
David Zaslav
LEADERS
Karuna Nundy
Khurram Parvez
Mia Mottley
Volodymyr Zelenskyy
Ketanji Brown Jackson
Joe Rogan
Xi Jinping
Ursula von der Leyen
Ron DeSantis
Joe Biden
Yoon Suk-yeol
Vladimir Putin
Olaf Scholz
Samia Suluhu Hassan
Kevin McCarthy
Abiy Ahmed
Kyrsten Sinema
Gabriel Boric
Letitia James
Valeriy Zaluzhnyy
Lynn Fitch
Umar Ata Bandial
Sun Chunlan
INNOVATORS
Zendaya
Taika Waititi
Miranda Lambert
Derrick Palmer and Chris Smalls
Josh Wardle
Michelle Zauner
Demna
Timnit Gebru
Mike Cannon-Brookes
Bela Bajaria
Sevgil Musaieva
Francis Kéré
David Vélez
Michael Schatz, Karen Miga, Evan Eichler, and Adam Phillippy
ARTISTS
Simu Liu
Andrew Garfield
Zoë Kravitz
Sarah Jessica Parker
Amanda Seyfried
Quinta Brunson
Pete Davidson
Channing Tatum
Nathan Chen
Mila Kunis
Jeremy Strong
Faith Ringgold
Ariana DeBose
Jazmine Sullivan
Michael R. Jackson
ICONS
Mary J. Blige
Dmitry Muratov
Issa Rae
Keanu Reeves
Adele
Rafael Nadal
Maya Lin
Jon Batiste
Nadine Smith
Peng Shuai
Hoda Khamosh
PIONEERS
Candace Parker
Frances Haugen
Ahmir "Questlove" Thompson
Sônia Guajajara
Stéphane Bancel
Emily Oster
Valérie Masson-Delmotte and Panmao Zhai
Eileen Gu
Tulio de Oliveira and Sikhulile Moyo
Nan Goldin
Mazen Darwish and Anwar Al Bunni
Emmett Schelling
Cristina Villarreal Velásquez and Ana Cristina González Vélez
Gregory L. Robinson
Source: Siasat Daily
https://www.siasat.com/2-muslim-women-among-times-100-most-influential-people-of-2022-2333251/
--------
French Court Scraps Rule Allowing 'Burkinis' In Swimming Pools
May 26, 2022
Grenoble, France: A French court stepped into a row over the wearing of burkinis in municipal swimming pools, suspending a council's decision to allow Muslim women to wear them.
The administrative court in the Alpine city of Grenoble blocked the rule change by the council there, arguing that it "seriously violated the principle of neutrality in public service".
Interior Minister Gerald Darmanin welcomed the court ruling as "excellent news" in a post on Twitter Wednesday evening.
The ruling was the latest development in a long-running dispute that has set defenders of France's secular values against those arguing that a burkini ban constitutes discrimination.
The all-in-one swimsuit, used by some Muslim women to cover their bodies and hair while bathing, is a controversial issue in France where critics see it as a symbol of creeping Islamisation.
The governor of the Isere region in southeast France had asked the court to intervene to stop the rule change from coming into effect in June.
The new rule had been championed by Grenoble's mayor Eric Piolle, one of the country's highest profile Green politicians who leads a broad left-wing coalition locally.
The rule changes the council had approved would have allowed all types of bathing suits, not just traditional swimming costumes for women and trunks for men. Women would also have been free to bathe topless if they chose to.
- Legal battles -
The judges delivered their ruling on Wednesday evening after hearing arguments earlier the same day.
In their judgment, they said that the council's rule change meant some people could invoke religious grounds for not respecting the usual dress code in council pools.
Under a new law to counter "Islamist separatism" passed by parliament last year, the government can challenge decisions it suspects of undermining France's strict secular traditions intended to separate religions from the state.
Attempts by several local mayors in the south of France to ban the burkini on Mediterranean beaches in the summer of 2016 kicked off the first firestorm around the bathing suit.
The rules, introduced after a string of terror attacks in France, were eventually struck down as discriminatory.
Three years later, a group of women in Grenoble forced their way into a pool with burkinis, sparking a political row.
French sports brand Decathlon found itself at the centre of controversy and was in 2019 forced to back down from plans to sell a "sports hijab" enabling Muslim women to cover their hair while running.
The debate about the burkini comes as French Muslim women footballers are battling to overturn a ban on the wearing of religious symbols during competitive matches.
The French Football Federation currently prevents players from playing while wearing "ostentatious" religious symbols such as the Muslim hijab or the Jewish kippa.
A women's collective known as "les Hijabeuses" launched a legal challenge to the rules in November last year.
Source: ND TV
https://www.ndtv.com/world-news/french-court-scraps-rule-allowing-burkinis-in-swimming-pools-3010090
--------
Kanpur Muslim Woman Marries Juvenile after His Conversion
Kanpur
May 24, 2022
Kanpur: Four people have been arrested for their alleged involvement in an abduction case of a 16-year-old Hindu boy and getting him married to a 30-year-old Muslim woman in Uttar Pradesh's Kanpur. The family of the minor has alleged religious conversion and claimed that the boy, who went missing on Sunday, was married to Simran, mother of two children, daughter of Mohammad Hanif.
The mother of the boy alleged that the minor was kidnapped and was taken to Jajmau where he was married to an elderly woman and said that the accused forced him to convert his religion.
According to the victim's family, the teenager, living in Naveen Nagar of Kakadev came in contact with the family a few days back. The boy went missing on Sunday and the family grew suspicious.
The incident has been reported from Kakadeo police station and police have arrested four people, including the woman, her mother and the Maulvi, who performed the nikkah. The aunt of the woman who arranged the marriage is yet to be arrested and efforts are underway to nab her.
Police have also arrested the Maulana who performed the Nikkah (Photo: India Today)
BAJRANG DAL CREATES RUCKUS
After the purported video of the marriage and religious conversion of the minor came to the fore, Bajrang Dal activists created a ruckus at the Kakadeo police station. Police filed an FIR and several teams were formed to arrest the accused.
The workers of Bajrang Dal created a ruckus at the Kakadeo police station (Photo: India Today)
BBGT Murthy, DCP West, Kanpur, said, "Four people have been taken into custody. The woman, her parents and the Maulana who performed the marriage are in police custody. We have launched a search for the aunt of the woman who made arrangements for the marriage. All the accused are being questioned.
'European' harmonium caught in Akal Takht's instrumental nationalism
'European' harmonium caught in Akal Takht's instrumental nationalism
Princeraj Srivastava, the provincial student head of Bajrang Dal, said that the boy was forced into religious conversion. The family reached the police station thrice to file a complaint, but the police did not listen to them, he said.
Initially, police did not file a complaint citing territorial jurisdiction, but later on, a report was filed at the behest of senior police officials.
Additional DCP (West) Brijesh Srivastava had said, "The mother of the minor filed a complaint at the Kakadev police station. We will arrest the accused and take strict action against those found guilty."
Source: India Today
https://www.indiatoday.in/india/story/kanpur-news-minor-kidnapped-married-elderly-woman-family-alleges-religious-conversion-1953514-2022-05-24
--------
Ludhiana woman given 'triple talaq' on paper, matchmaker among 4 booked
May 26, 2022
Almost a year after a newlywed man allegedly attempted to divorce his wife through 'triple talaq' for not bringing a car in dowry, police booked him, his parents and a matchmaker on Wednesday.
The accused, Gulzar Nabi, his father Gulam Nabi, mother Sakina of Chamba in Himachal Pradesh, and matchmaker Noor Mohammad of Jagraon, have been booked under Section 498A (cruelty to woman by husband or relatives) of the Indian Penal Code, and Section 4 of the Muslim Women (Protection of Rights on Marriage) Act, 2019.
The woman's father, Yusuf of Kubba village, Samrala, said his daughter had married Gulzar Nabi on March 11, 2021. "When our daughter visited us for the first time after marriage in August, the groom's family demanded an alto car from us as dowry. However, when we were unable to arrange the car, Noor Mohammad, who had brokered the alliance, handed my daughter a slip of paper with the word 'talaq' written on it thrice in Urdu."
The Muslim Women (Protection of Rights on Marriage) Act, 2019, makes the practice of instant divorce through "triple talaq" a punishable offence.
Investigating officer, Satnam Singh, said the complainant had approached the police in August, 2021, and a case was registered after probing the matter. No arrests have been made so far.
Source: Hindustan Times
https://www.hindustantimes.com/cities/chandigarh-news/ludhiana-woman-given-triple-talaq-on-paper-matchmaker-among-4-booked-101653510212996.html
--------
Diriyah Gate Project has 36% Saudi female staff, says CEO
May 25, 2022
RIYADH: The majority of Diriyah Gate Project staff, 83 percent, are Saudi nationals, out of which 36 percent are women, said Jerry Inzerillo, group CEO of the Diriyah Gate Development Authority.
Inzerillo, who was speaking at the Future Hospitality Summit, said that 16 percent of the project's women workforce are operating in the management sector.
"Just build a giga-project and leave your community behind it. It would be immoral," said Inzerillo.
He added that 40 percent of the workforce in the Diriyah Gate Project are from the local community.
According to Inzerillo, the project will be an iconic initiative which will offer a future grounded in Saudi Arabia's glorious past.
Inzerillo revealed that the project, upon completion, will have 20,000 residential units, and the contracts to build these settings are being awarded to Saudi builders.
Source: Arab News
https://www.arabnews.com/node/2089456/business-economy
--------
Iranian weightlifters fight for a stolen childhood dream
David Vorholt, Farid Ashrafian
25.05.2022
Her biggest sporting dream was so close and then suddenly it was gone. Parisa Jahanfekrian wanted to be the first weightlifter from Iran to compete at the Olympic Games, in Tokyo in 2021. But the Iranian weightlifting association (IRIWF) and the national Olympic committee prevented the now 27-year-old from doing so by suspending her from the Games, robbing her of a "childhood dream."
"Since I started weightlifting, I have always been fighting for the realization of this childhood dream," Jahanfekrian told DW in Berlin, where she fled to. Instead, her dream "was just destroyed."
The systematic oppression of female athletes in Iran has brought weightlifters and many other athletes, to the point where they make such dramatic decisions. Even after fleeing to Germany, Jahanfekrian's future remains unclear. But at least her hope has returned.
"I came here to Germany to show how much an Iranian woman living in freedom can develop personally," she said.
After qualifying for the Olympics, she hardly had any opportunities to train in Iran. "I repeatedly pointed out these grievances to the officials, but they ignored even the simplest of requests from me," Jahanfekrian said, recalling a difficult time and adding that the decision to leave was "sadly the best option for me."
$90 in three years
One of the main factors behind the decision was financial discrimination against female athletes in Iran.
"Once I had qualified for the Olympics, I should have received a bonus from three organizations; the association [IRIWF], the national olympic committee and the ministry for sport and youth," the 27-year-old told the online magazine "inside the games." Only the ministry paid, the others refused, "even though they said they would pay."
Jahanfekrian received the equivalent of around $90 (€84) in three years, while male athletes received multiples of that amount on a monthly basis. The association had not fulfilled its financial obligation, said Jahanfekrian after she left, adding that they also ban external sources of income such as sponsors. Inadequate financial support, a lack of respect and the discrimination of women ultimately convinced her to leave the country.
Departure despite constant surveillance
It was not a decision Jahanfekrian made alone, either. Around 20 to 30 Iranian athletes are said to have taken the opportunity to flee during competitions abroad and are currently in various countries where they have applied for asylum. That includes famous judoka Saeid Mollaei, who competed for Mongolia at the Games in Tokyo and is the only Olympic medal winner (bronze in 2016 in Rio) from Iran. Taekwondo star Kimia Alizadeh lives in Aschaffenburg, Germany today, but after fleeing in 2020, described herself as "one of the millions of oppressed women in Iran."
Weightlifter Yekta Jamali is another to follow the same path, and the teenager fled at the same time as Jahanfekrian. Her life also took her to Germany, after she became the first Iranian to win a medal at the World Youth Championships (silver in 2021 in Jeddah). The 17-year-old disappeared from her hotel in the city of Heraklion on May 10, after the World Youth Championships in Crete, where she won another silver medal. The Iranian delegation confirmed this and contacted the local police and Jamali's family, but didn't learn anything about her whereabouts. "I don't know what happened," IRIWF Vice-President Zahra Pouramin said.
IRIWF President Ali Moradi, who was a part of the delegation in Greece, apparently personally searched for Jamali after her disappearance. Jamali told the London-based Iranian broadcaster "Iran International" that she was under constant surveillance after her escape. Her minders had "not thought it possible that I would abscond from the national team's quarters". Early in the morning, however, she managed to disappear unnoticed from the hotel: "I had to wait for the right moment to flee. When it came, I went to the airport in Athens," Jamali said.
A big deposit
Her case made waves across Iran, with even state-run television reporting on the 17-year-old's escape. The enormous personal risk that female athletes like Jamali are ready to take so as to avoid oppression and discrimination is an indication how dramatic the situation is for women in sport in Iran. The risks of being caught and punished during an escape are combined with the tragic difficulty of leaving family behind.
"The absence of my family will hurt me a lot. I will do all I can to make them proud with my performances," said Jamali.
Families are already involved when it comes to travel for competitions abroad because they have to financially support their children. To get an exit permit, the Iranian state demands deposits.
For example, handball player Shaghayegh Bapiri absconded from the team during the Women's Handball World Cup in Spain in December 2021 and applied for asylum. Afterward, she reported that before the trip to the tournament every player on the Iranian team had to pay a deposit of a billion Toman ($30,000). Real estate and other valuables are also said to have been used as deposits to discourage athletes from fleeing.
Future in Germany
Even in the face of difficulties for family and potential struggles in a new country, many Iranian athletes don't turn away from departure.
"In Germany, I will almost certainly have to face a tough time as a refugee," said Jamali. "But that is far less problematic than the kind of discrimination I had to endure in Iran."
Her goal is to develop her sporting ability so much in Germany that "the begrudging officials in Iran realize who they have lost from their ranks."
A dream realized in Paris?
Parisa Jahanfekrian paid a high price, like many others, to flee to Germany. But she is looking forward now and told DW she is "overjoyed to live in a free country."
Jahanfekrian says she is now living without stress or concern and that her move to Germany is "sort of a start for the condemnation of the repressive measures to which women in the Islamic Republic of Iran are subjected to by those in power." Jahanfekrian wants to "be the voice of progressive Iranian women who are not given the opportunity for personal fulfilment."
Jahanfekrian also has a lot of plans for her sporting future too and is currently training in Berlin. "I will do everything possible to be at the 2024 Olympics," Jahanfekrian told DW. "A huge dream of mine would be realized if I could make that happen."
Jahanfekrian wants to obtain a permanent residence permit for Germany and perhaps even citizenship so that she might compete for Germany in Paris in 2024. "It would be a great honor to wear the eagle on my chest," said the 27-year-old, who has lost an old dream but gained a new one.
Source: DW
https://www.dw.com/en/iranian-weightlifters-fight-for-a-stolen-childhood-dream/a-61925367
--------
URL: https://newageislam.com/islam-women-feminism/nayla-baloushi-emirati-mount-everest/d/127098
New Age Islam Islam Online, Islamic Website, African Muslim News, Arab World News, South Asia News, Indian Muslim News, World Muslim News, Women in Islam, Islamic Feminism, Arab Women, Women In Arab, Islamophobia in America, Muslim Women in West, Islam Women and Feminism