New Age Islam News Bureau
20 March 2021
• Libyan Women Reach High Office But Activists Say Long Road Ahead
• Meet Mogadishu's First Female Rickshaw Taxi Driver
• Saudi Arabia Prohibits Men from Marrying Women from Pakistan, Bangladesh, Chad and Myanmar: Report
• Turkey Withdraws From European Treaty Protecting Women from Violence
• Afghan Peace Summit Includes Just One Female Delegate
• International Cooperation Minister among 9 Egyptian Women to Receive Champions Of Change Award
• Tunisia: Women's Access to Justice - Parity Based On Gender Approach in Judicial Sector
Compiled by New Age Islam News Bureau
URL: https://www.newageislam.com/islam-women-feminism/naila-shamal-pakistan-asked-books/d/124592
--------
Naila Shamal From Pakistan Asked For Books worth Rs 100,000 as Haq Mehr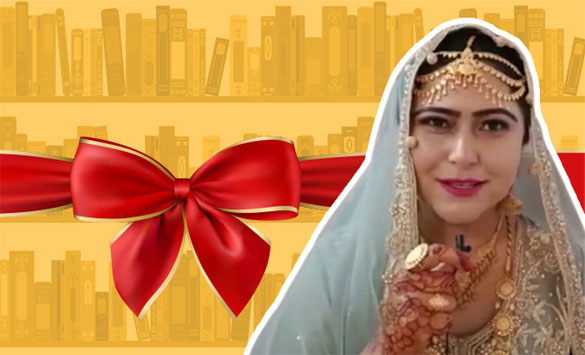 Naila Shamal/Photo: Screengrab
-----
DNA Web Team
Mar 18, 2021
In a break from tradition, a newly-wed Pakistani bride is winning praises online for her unique demand as Haq Mehr, which is a wedding gift a husband gives to his wife on their marriage. Naila Shamal from Pakistan's Mardan city asked for books worth Rs 100,000 instead of money and jewellery as Haq Mehr.
In a viral video, she is delivering a strong message to eliminate wrong customs from the society. She is seen sitting and speaking near a bookshelf.
Naila, who is a writer, is dressed in a bridal outfit and says, "As you all know, I have demanded books worth Rs100, 000 for Haq Mehr." "One reason for this is that due to rising inflation in our country, we cannot afford expensive gifts. On the other hand, it is also important to eliminate wrong customs from our society."
https://www.dnaindia.com/viral/report-pakistani-bride-demands-books-worth-rs-1-lakh-as-haq-mehr-from-husband-video-goes-viral-2881887
--------
Libyan Women Reach High Office But Activists Say Long Road Ahead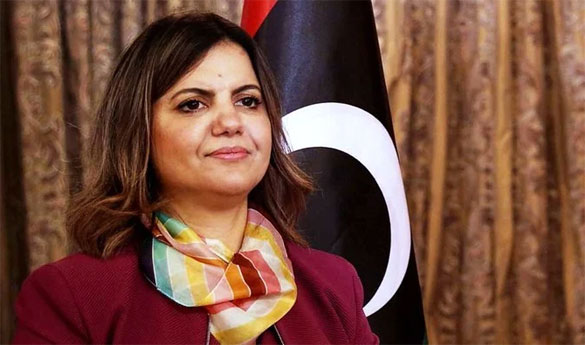 Foreign Minister in Libya's transitional Government of National Unity (GNU) Najla al-Mangoush poses for a picture in the capital Tripoli, on March 17, 2021. (AFP)
-----
March 20, 2021
TRIPOLI: Libya's new government includes five women, with two in key portfolios — a first for the country nonetheless criticized by activists as insufficient and as not living up to a UN commitment.
The country descended into conflict after Libyan leader Muammar Qaddafi was toppled and killed in a NATO-backed uprising in 2011, with an array of forces battling to fill the void.
The transitional Government of National Unity (GNU), which took office this week, faces daunting challenges, including unifying the country's institutions, ending a decade of fighting marked by international interference and preparing for December elections.
The Cabinet comprises 26 ministers and six ministers of state, with women assigned to five posts, including the key foreign affairs and justice portfolios.
The US ambassador to Libya, Richard Norland, has called it a "historic time for Libyan women," while UN Women hailed the appointments as "a major step for advancing women's rights."
Some Libyans on social media have welcomed the announcements as "a big step," a "leap for society" and a "promising start."
But activists are less enthusiastic, arguing that the new executive had the opportunity to do more.
In a statement to the UN Human Rights Council this week, Britain urged the GNU to "work toward the full, equal and meaningful participation of women, including in conflict resolution and decision-making."
"Women remain under-represented in all governance institutions and processes in Libya," it warned.
The five women in Cabinet hail from across the country.
Activist and lawyer Najla Al-Mangoush, from the main eastern city of Benghazi, is the country's first female foreign minister.
Mangoush rose to prominence in 2011 as part of the National Transitional Council, the political arm of the rebellion that brought an end to Qaddafi's 42-year rule.
She will be working alongside jurist Halima Ibrahim Abderrahmane, from the western town of Gharyan, who takes the justice portfolio, and Mabrouka Touki, an academic from the southern Fezzan region, who has a degree in nuclear physics and will head the culture ministry.
Wafaa Al-Kilani is in charge of social affairs and Houria Al-Tormal the women's ministry.
Interim Prime Minister Abdul Hamid Dbeibah, sworn in on Monday, was selected last month alongside a three-member presidency council as part of a UN-sponsored process launched in November.
Activists point to his pledge when a candidate in the UN process to allocate 30 percent of ministerial positions to women.
Under the current lineup, women account for just half that amount.
"We are proud to see Libyan women named to key posts, but also unhappy that the prime minister failed to keep his commitment," said Ghalia Sassi, president of the women's association Maaha (With Her).
She vowed activists would keep up pressure on the government to adjust its course, but said there was "a long road ahead."
Activist Laila Ben Khalifa, who began the push for the 30 percent quota, echoed her disappointment over the shortfall.
She alleged that ministries had been distributed according to "region rather than competence."
Although Libyan women played a key role during the 2011 uprising, they have had a limited presence in previous transitional bodies and in the current parliament.
The GNU's predecessor, the Government of National Accord, headquartered in western Libya and established in 2016, had just two women from some 30 portfolios.
A parallel eastern administration, not recognized by the international community, had just one.
And while a decade of insecurity and conflict has had a profound impact on daily life in Libya, a worrying development has been violence against rights activists, including women.
In November, unidentified armed men gunned down lawyer and women's activist Hanan Al-Barassi in broad daylight in Benghazi.
Human Rights Watch urged authorities to investigate the "apparent politically motivated killing," while the UN mission to Libya said Barassi's death showed "the threats faced by Libyan women as they dare to speak out."
Her killing came after the disappearance of lawmaker Siham Sergewa, who was taken from her home in Benghazi in July 2019.
Her abduction came shortly after the airing of a television broadcast in which she criticized eastern strongman Khalifa Haftar's offensive on Tripoli, launched months earlier. Sergewa's whereabouts are still unknown. At the UN Rights Council this week, Britain also expressed concern over violence against women in Libya. "Libyan authorities must address the silencing of women journalists and activists, and tackle sexual and gender-based violence," it said.
https://www.arabnews.com/node/1828506/middle-east
--------
Meet Mogadishu's First Female Rickshaw Taxi Driver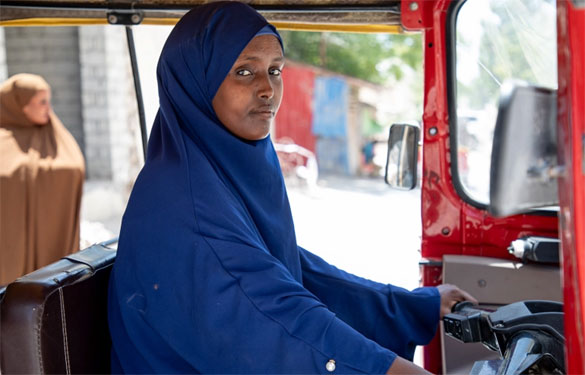 Saynab has been driving tricycles on the streets of Mogadishu for 11 months [Nuur Mohamed/Al Jazeera]
------
By Nuur Mohamed and Hamza Mohamed
7 Mar 2021
Saynab Abdikarin turns heads everywhere she goes in Mogadishu. The 28-year-old is the first woman to drive a rickshaw taxi in the streets of Somalia's conservative capital, where the tricycles commonly known as "bajaaj" have long been operated just by men.
"I believe that whatever job men can do, women can do, too," says Saynab.
A mother of five, Saynab took on the job out of necessity 10 months ago after her husband left her and their children.
"I don't have anyone to support me," she says. "If one of my children is not feeling well, I have no one to help me. I work to support my children."
But driving a rickshaw in Mogadishu "has a lot of challenges", Saynab acknowledges. Besides the occasional social disapproval – "some of the men support you, but others say women should be at home and not working", she says – Saynab is also exposed to the many dangers associated with the job.
In April 2019, three people died when security forces opened fire during a protest that saw hundreds of drivers take to the streets of the city over the killing of a rickshaw operator by a security officer.
Rickshaw drivers have also been caught up in attacks by the al-Shabab armed group, whose fighters frequently target security checkpoints in Mogadishu.
On February 13, at least seven tricycle drivers were wounded at a checkpoint during a suicide bombing.
In response to attacks or as a preventive measure, the government has shut down several roads in Mogadishu – a move that is hurting Saynab and her colleagues financially.
"When roads are closed, it is a problem," Saynab says, calling on authorities to reverse the policy.
Meanwhile, the city's female residents, who for long wished there were female rickshaw drivers they could call on, have welcomed Saynab.
"I choose her because she is a woman; I choose her because I want to encourage her," says Safiya Ali, who has been taking Saynab's tricycle to work and back for the past six months.
A shop owner in Mogadishu's Hodan district, Safiya says she has never been happier in a taxi.
"I would like other women to also take her taxi and encourage her even more," she told Al Jazeera.
But Safiya says she worries "a lot" for Saynab's safety, especially when she works after sunset.
"Mogadishu's security can be bad," she says.
Welcomed by other drivers
Insecurity is a major concern for all rickshaw drivers in Mogadishu, and like her male colleagues, Saynab says there are certain neighbourhoods she avoids going to, particularly at night.
"You can get robbed or get killed," she says, listing Kaaraan, Shiirkoole and Dayniile as some of the areas she will not drive to. "I prefer to work in the downtown area."
Police officers often give rickshaw drivers a hard time at the many checkpoints dotting the seaside city, but Saynab says being a woman has worked to her advantage when it comes to dealing with security officers.
"Because I'm a woman, most soldiers do not stop me. They don't bother me. They understand I'm a mother working to support my family. They treat me with respect," she says with a smile.
Male drivers have also welcomed her and say they are happy a woman has finally joined their industry.
"It is really good seeing a lady working as a rickshaw driver," says Noor Aden Isse, a colleague of Saynab, urging more women to follow her example.
"I would like to tell all girls to work and not depend on anyone," he told Al Jazeera. "I also want to tell all the young men that there is work, that they can find work like Saynab."
Somalia has one of the youngest populations in Africa, with more than 70 percent under the age of 30. But three out of four young Somalis are without formal employment, according to the World Bank, as conflict and insecurity drag on.
More than 60 percent of the country's youth plan to leave to look for better livelihood opportunities abroad, according to the United Nations.
But Saynab says young people should not abandon Somalia.
"There are jobs in our country if someone wants to work," she says. "I want to tell the ladies, especially those divorced, you can drive a rickshaw and provide for your family. It is better than to ask for a handout from someone else."
https://www.aljazeera.com/features/2021/3/7/saynab-abdikarin-mogadishus-first-female-rickshaw-taxi-driver
--------
Saudi Arabia Prohibits Men from Marrying Women from Pakistan, Bangladesh, Chad and Myanmar: Report
20 Mar 2021
RIYADH (SAUDI ARABIA) : Saudi Arabia has prohibited its men from marrying women from Pakistan, Bangladesh, Chad and Myanmar, Dawn reported citing a report in Saudi media.
According to unofficial figures, there are about 500,000 women from these four countries currently residing in the kingdom.
Saudi men wishing to marry foreigners now face tougher regulations, says a report in Makkah daily quoting Makkah Police Director Major General Assaf Al-Qurashi.
The move is aimed at discouraging Saudi men from marrying foreigners and additional formalities have been placed before issuing permission for marriage with foreigners, the Dawn reported.
Those wanting to marry foreign women should first obtain the consent of the government and submit marriage applications through official channels, Qurashi was quoted as saying.
Qurashi said divorced men would not be allowed to apply within six months of their divorce.
The official said applicants should be over 25 and attach identification documents signed by the local district mayor as well as all other identity papers, including a copy of his family card.
"If the applicant is already married, he should attach a report from a hospital proving that his wife is either disabled, suffering from a chronic disease or is sterile," he said.
https://www.livemint.com/news/world/saudi-arabia-prohibits-men-from-marrying-women-from-pakistan-3-other-nations-11616211574411.html
--------
Turkey withdraws from European treaty protecting women from violence
20 March ,2021
Turkey has withdrawn from a landmark European treaty protecting women from violence that it was the first to sign 10 years ago and that bears the name of its largest city.
President Recep Tayyip Erdogan's decree early Saturday annulling Turkey's ratification of the Istanbul Convention is a blow to women's rights advocates, who say the agreement is crucial to combating domestic violence.
For all the latest headlines follow our Google News channel online or via the app.
Violence against and killing of women is on the rise in Turkey, according to rights groups.
A total of 77 women have been killed since the start of the year, according to the We Will Stop Femicide Platform. At least 409 women were killed in 2020, according to the group.
Some officials from Erdogan's Islam-oriented party have advocated a review of the agreement, claiming it encourages divorce and promotes LGBT culture which they say are contrary to the country's conservative values.
Turkey was the first country to sign the Council of Europe's "Convention on preventing and combating violence against women and domestic violence" at a committee of ministers meeting in Istanbul in 2011. The law came into force in 2014.
The Istanbul Convention states that men and women have equal rights and obliges state authorities to take steps to prevent violence against women, protect victims and prosecute perpetrators.
https://english.alarabiya.net/News/middle-east/2021/03/20/Turkey-withdraws-from-European-treaty-protecting-women-from-violence
--------
Afghan peace summit includes just one female delegate
18 Mar 2021
A three-day conference aimed at breathing life into Afghanistan's stalled peace process has been launched in Moscow, but Afghan human rights activists have raised the alarm that the delegates included just one woman.
Habiba Sarabi, an activist and politician, was the only female delegate on the 12-member team representing the Afghan government and political leaders at Thursday's summit in Moscow. The 10-member delegation sent by the Islamist Taliban had none.
Sarabi addressed a vast table of male counterparts at a Moscow hotel, calling for a ceasefire. "Why should [I] be the only woman in the room? We have not been part of the war, we can certainly contribute to peace," she said, according to a tweet from a fellow negotiator that she shared. "51% of people should not be ignored."
With just six weeks left before a deadline for foreign troops to withdraw from Afghanistan, Shaharazad Akbar, who leads Afghanistan's Independent Human Rights Commission, said it was unacceptable that only one woman attended the meeting. It was also a worrying sign for the future: "It's setting the tone for things to come in terms of inclusivity," she said.
The Moscow summit was the start of a series of international meetings reflecting a shift in focus by Washington, as the 1 May deadline for the withdrawal of US and other foreign troops looms, and negotiations between the government and Taliban in Doha have been stalled.
Diplomats said Washington wants support from regional powers to push Afghans to form a power-sharing government. At the talks in Moscow, the United States was joined by Russia, China and Pakistan in calling for an Afghan ceasefire.
Women's rights activists fear that the shift will further dilute the role of the few women involved in the peace process, in favour of traditional male political figures.
In many cases, the regional powers owe their influence in Afghanistan to ties with warlords who held sway throughout four decades of conflict, all of them men.
"A number of our colleagues in the international community are going to ... the same leaders, who ruled Afghanistan 20 years ago," said Fauzia Koofi, one of just four female negotiators among the 42 representing the Afghan sides in Doha.
A spokesperson for the US state department said Washington wished there had been more than one woman in the Moscow delegation. The United States would advocate for "meaningful participation" by women in upcoming gatherings.
A spokesman for Afghanistan's presidential palace did not immediately respond to request for comment.
During the Taliban's 1996-2001 rule, women were required to fully cover their bodies and faces in a burqa, and were barred from education or work – or from leaving the house without a male relative. The Taliban say they have changed but many women remain sceptical.
https://www.theguardian.com/world/2021/mar/18/afghan-activists-warn-over-absence-of-women-in-peace-process
--------
International Cooperation Minister among 9 Egyptian women to receive Champions of Change Award
Mar 20, 2021
Egypt's Minister of International Cooperation Rania Al-Mashat is among nine Egyptian women to receive the Champions of Change Award.
The awarding ceremony was held on Thursday morning, at the residence of the Mexican Ambassador in Cairo, Jose Octavio Tripp.
The Ambassador handed out the awards together with Canada's Ambassador to Egypt Louis Dumas, and the Chargé d'Affaires of Sweden, Per-Axel Frielingsdorf. The awards were handed out as a part of the celebrations for Egyptian Women's Day by the respective embassies.
The ceremony witnessed the honouring of Minister Al-Mashat, along with eight other women who have all contributed to making Egypt a more gender equal society.
Among the awardees were: Mona Korashi, a pioneer in the field of women's rights in Egypt and a member of the International Women's Alliance; Heba Rashid, founder and CEO of the Mersal Charity Foundation, which had a prominent role in supporting the medical sector in facing the novel coronavirus (COVID-19) pandemic; and Souad El-Sayed Abdel-Rahim, Head of Nursing at Al-Qoutrien Hospital in Aswan.
Other awardees are: Nadine Ashraf, founder of the "Assault Police Egypt" Instagram page, an unprecedented online platform that aims to raise the awareness of survivors of sexual harassment about their rights guaranteed by the law; Mirna Abdel Azim, an official at the International Organization for Migration (IOM), where she works to provide protection for migrants and refugees; Rawan Bassem, Managing Director of Enpact Egypt, who leads the empowering entrepreneurship initiative into closing the gender-gap every day; Eman Rasmy, a successful model for women in the field of innovation and information technology in Upper Egypt; and May ZeinElDein, Founder & President of Alhassan Foundation
"Women's participation is micro critical, and we know that if there is gender parity, Egypt's GDP goes up by 34%, so with our international partners we are working hard to achieve these goals," said Minister Al-Mashat, "I take this opportunity congratulate the other women who have received this very distinguished awards. This will be more appetite to do more for the beautiful ladies and men in Egypt."
The Champions of Change awards were established to recognise the contributions of Egyptian gender equality pioneers and their efforts in building a stronger country. Gender equality is a priority for Sweden, Canada and Mexico, three countries that all have feminist foreign policies. The award ceremony takes place in conjunction with the celebration of International and Egyptian Women's Day.
Sweden was the first country in the world to adopt a Feminist Foreign Policy and Sweden works in Egypt and the Arab region more broadly to promote women's economic empowerment through a number of initiatives.
The Swedish Development Cooperation Agency (Sida) funds a programme focusing on the social, economic and legal empowerment of Egyptian women, in partnership with the Egyptian Government, UN agencies, and civil society actors.
"It is crucial to include a gender perspective in the COVID-19 response," said Frielingsdorf, "With our feminist foreign policies, we seek ways to mitigate the consequences of the pandemic and improve the situation for women and girls, also in the long term, as we build back better so that women and girls will have the rights, the representation and the resources that are theirs."
Mexico was the first country in Latin America to adopt a feminist foreign policy, joining countries from around the world, including Canada and Sweden, that put women and girl's rights as a top foreign policy objective.
Ambassador Tripp said, "We support efforts to eliminate structural differences, gaps, and gender inequalities in order to build fair and prosperous societies. Women are at the core of the fight against the COVID-19 crisis: they are leading the health crisis response, where women make up almost 70% of the health care workforce."
Ambassador Dumas said, "Our feminist foreign policies are directed towards measures that build a more peaceful, inclusive and prosperous world. None of these goals can be achieved without empowering women and girls. The emerging coronavirus pandemic makes this priority more important than ever."
https://dailynewsegypt.com/2021/03/19/international-cooperation-minister-among-9-egyptian-women-to-receive-champions-of-change-award/
--------
Tunisia: Women's Access to Justice - Parity Based On Gender Approach in Judicial Sector
18 MARCH 2021
Tunis/Tunisia — Minister of Women, Family and the Elderly Imene Zahouani Houimel participated, on Thursday, on the sidelines of the 65th session of the United Nations Commission on the Status of Women in New York, in a VTC event on the theme "Women's Access to Justice: Gender-Based Parity in the Judiciary Sector".
"Women's equitable access to justice and the challenges of achieving gender equality based on the gender approach" were the main themes discussed during this meeting, organised at the initiative of the International Development Law Organisation (IDLO), the Associations of Women Judges, the American Lawyers Union and the African Women's Organisation.
Recommendations will be made to obtain as much data and information as possible to consolidate the 16th point in the sustainable development goals relating to peace and justice.
The Minister for Women stressed that women are not properly represented in decision-making positions in Tunisia, despite their presence in the judicial sector as magistrates.
"The council of peers for equal opportunities was created to integrate the gender approach in planning and programmes and to fight against all forms of discrimination against women, she added.
Tunisia is participating by VTC in the 65th session of the United Nations Commission on the Status of Women held from March 15 to 26 in New York.
https://allafrica.com/stories/202103190457.html
--------
URL: https://www.newageislam.com/islam-women-feminism/naila-shamal-pakistan-asked-books/d/124592
New Age Islam, Islam Online, Islamic Website, African Muslim News, Arab World News, South Asia News, Indian Muslim News, World Muslim News, Women in Islam, Islamic Feminism, Arab Women, Women In Arab, Islamophobia in America, Muslim Women in West, Islam Women and Feminism