New Age Islam News Bureau
6 March 2020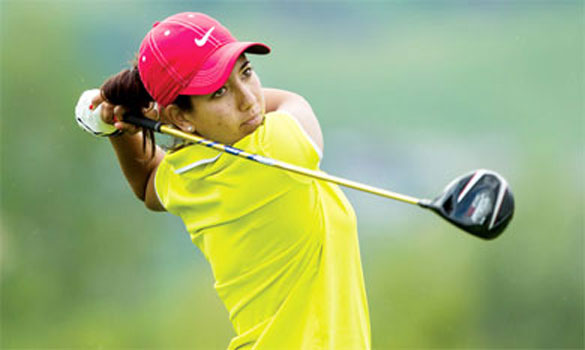 Maha Haddioui will be competing for a share of the $1 million prize pool in the Kingdom's inaugural Aramco Saudi Ladies International golf tournament. (Supplied)
-------
• Arab Golf Star Salutes Saudi Women's Tournament As a 'Dream Come True'
• UN: Pakistan Leads World Population In Bias Against Women
• North Carolina Woman Says She's First Muslim American Woman To Win Elected Office In The State
• Pakistani Women In Uphill Battle For Their Rights
• Ahmadiyya Muslim Community Dallas Brings Women Together For Interfaith Symposium
• Women Bid Goodbye to Their Submerged Homes In Ancient Town Of Turkey
• UN: Over 80% Of Syria Refugees Are Women And Children
Compiled By New Age Islam News Bureau
URL: https://www.newageislam.com/islam-women-feminism/my-body-choice-—-pakistani/d/121240
--------
My Body, My Choice — Pakistani Women's War Cry
March 6, 2020
At the famously crowded Hussain Chowk in Lahore, a vandalized mural of a veiled woman stands out.
"I am what I am. What do you know? No more despair," states a new poster emblazoned on the wall by organizers of the Aurat March (Women's March), an annual rally calling for female equality in Pakistan. Students of Jamia Hafsa, a female madrassa in Islamabad, confessed to defacing a similar mural last week.
Aurat March organizers shared their manifesto and a charter of demands at a press conference on March 5 at Lahore Press Club.
"Abuses are hurled at women at religious rallies. Most of the abuses in society target sisters or mothers," said Tanveer Jahan, one of the panelists.
"This is the first time that women are speaking publicly about their bodies. Now men are worried and society is disturbed. In our society, a diseased woman tries to hide herself even from the doctor. Our slogan is a warning that others cannot trespass us."
The conference concluded abruptly when the speakers, including transgenders, started clapping and chanting the slogan "My body, my choice."
The slogan has sparked controversy and debate, with social media users uploading photos of some of the offensive placards used in last year's march. "I can warm the food, warm the bed yourself," read one.
The opposition
On March 3, Lahore High Court dismissed a petition seeking a permanent ban on holding the Aurat March. The complainant accused organizers of having an agenda to "spread anarchy, vulgarity, blasphemy and hatred" against Islam.
Chief Justice Mamoon Rashid Sheikh observed that placards should be allowed that could hurt the sentiments of any segment of society but the marchers should refrain from hate speech, slogans and immorality.
Several religio-political parties have called on their followers to forcibly stop the third annual Aurat March in Lahore on March 8, International Women's Day. Police claim the march faces a threat from radical groups including Tehreek-e-Taliban Pakistan militants.
"Trampling the Quran, Sunnah and our culture in the name of human rights will not be allowed. If anyone thinks they can come on roads under different banners and threaten our culture and Islamic values in the name of obscenity and vulgarity, they should know that we will also come out to stop them," Maulana Fazlur Rehman, chief of Jamiat Ulema-e-Islam, told a gathering last month.
"Wherever you see such elements, ask the law [enforcement authorities] to stop them, but if the authorities provide protection to such protests, then get ready for any sacrifice. We cannot let Islam and our cultural values be bad-named."
The women's wing of Jamaat-i-Islami will launch a 20-day campaign on International Women's Day. The group will observe the event as a day of Muslim women's dignity.
Khadim Hussain Rizvi, leader of the hardline Tehreek-Labaik Pakistan group, claims the Aurat March aims to mislead "pious and veiled" women.
"Can a daughter of a Muslim say that her body is her choice. Prophet Muhammad has already narrated women's rights. Today the women in our country have become so arrogant. These people want to make our society dirty," he said.
"When you utter the Kalima [Muslims' declaration of faith], the choice will be made by Allah and his prophet. Your choice ends there."
Taimur Rahman a professor of political science at Lahore University of Management Sciences, suggests that "My body, my right" is the right slogan.
"The UN and all human rights organizations accept it as a basic human right. There is a huge intellectual dishonesty in the slogan going viral. It is intentionally or ignorantly misinterpreted as total freedom," he said.
Church reaction
Meanwhile, church women's groups have supported the annual march.
"Looking forward to having an exciting Aurat March. We will keep raising our voice against patriarchy that hinders women to have a life of their own choice. In solidarity with all my feminist friends. Long live Aurat March," said Arya Inderias Patras, the women's desk secretary in the Church of Pakistan's Lahore Diocese, in a Facebook post.
Sister Genevieve Ram Lal, national director of the Catholic Women's Organization, condemned the ongoing threat to feminists.
"The woman inside me is crying after seeing a drama writer abusing a female activist in a live show. Nobody uses such language for his daughter or sister," she told UCA News.
"The controversial slogan can be reworked considering the cultural sensitivities. The difference of opinion is crucial for a healthy debate. If I was in Lahore, I would have been at the forefront of the march."
The annual Human Rights Monitor of the National Commission for Justice and Peace of the Catholic Bishops' Conference of Pakistan recorded 12 crimes against minority women in 2018. Most were rape cases and abductions of Christian and Hindu girls, including a forced conversion of a 12-year-old Christian girl.
The Human Rights Commission of Pakistan reported 845 incidences of sexual violence against women in 2018, plus 316 crimes in the name of "honor" perpetrated against both men and women. Pakistan ranks third from last, at number 151, on the 2020 Global Gender Gap Index.
https://www.ucanews.com/news/my-body-my-choice-a-womans-war-cry/87385
--------
Arab Golf Star Salutes Saudi Women's Tournament As a 'Dream Come True'
March 06, 2020
JEDDAH: The Arab world's first female golfer to compete on the Tour has revealed she never dreamt of seeing professional women's golf come to Saudi Arabia — let alone a tournament she describes as "a huge step forward" in expanding the women's game globally.
Moroccan Maha Haddioui, who has played on the Ladies European Tour (LET) since 2012, will be competing for a share of the $1 million prize pool in the Kingdom's inaugural Aramco Saudi Ladies International golf tournament from March 19-22.
The four-day event at Royal Greens Golf & Country Club in King Abdullah Economic City (KAEC) on the Kingdom's Red Sea coast will feature many of the game's biggest names in what will be Saudi Arabia's first professional women's competition.
Haddioui, 31, said that the tournament highlights the opportunities now available to Arabic women, with the Middle East helping to push women's sport to new heights.
"I never thought I would go to Saudi Arabia to play golf. Now, to be able to represent Arab women's golf in the Kingdom is amazing and something I never thought would happen.
"I'm excited that Arab countries are taking a step forward in helping women's golf grow. The Lalla Meryem Cup in Morocco has been one of the largest women's tournaments for years. Now having Saudi Arabia up there with the biggest in the sport is something I'm hugely proud of as an Arab woman.
"I'm just happy to play in new events no matter where they are. Playing a professional women's event in Saudi is amazing and proof that things are moving forward. I am so proud to be part of that and to have the LET be part of that."
Asked about the impact a leading women's event such as the Tour could have on the Kingdom, Haddioui said that it could help transform the sporting ambitions of the Kingdom's women.
"As a professional player, I get a lot of questions along the lines of: 'Is this your job? How can you have this as a job?' In response, I always offer the comparison with professional football players, and how they travel the world playing their sport. As soon as I explain that it opens people's minds and they understand that a woman from our culture, from our part of the world, can do a job like this.
"When young girls look at that, they realize they can do the same — and not just with golf, but with any sport. I think it's important to have someone you can look to who has already done these things, reached those levels. I pride myself in being able to demonstrate that.
"When I was still an amateur and thinking of turning pro, because no one had done it before, everyone all told me 'No.' They almost kind of joked about it. Today, young girls in Morocco and places such as Saudi Arabia who are thinking about golf and want to take it seriously don't see it as a joke anymore — because somebody has done it. That is something I'm proud of and I hope will produce more Arab sportswomen in the future."
The Aramco Saudi Ladies International will include England's two-time LET Order of Merit winner Georgia Hall, last weekend's NSW Open champion Julia Engstrom, 12-time LET tournament winner Lee-Anne Pace of South Africa, and a host of Solheim Cup and international players.
The tournament will also feature a family entertainment zone with food trucks, games and challenges.
https://www.arabnews.com/node/1637476/sport
--------
UN: Pakistan Leads World Population In Bias Against Women
06.03.2020
Nearly 90 percent of the world's population – of every gender – holds some prejudice against women, according to a UN study published on Thursday, ahead of International Women's Day.
The percentage of those holding at least one sexist bias was largest in Pakistan – where 99.81 percent of people held similar prejudices – followed by Qatar and Nigeria, both at 99.73 percent.
The United Nations Development Programme studied 75 countries representing 80 percent of the world's population and found that nine in 10 people – including women – hold such beliefs.
The prejudiced views include: that men are better politicians and business leaders than women; that going to university is more important for men than women; and that men should get preferential treatment in competitive job markets.
Countries with the lowest population of those with sexist beliefs were Andorra, at 27.01 percent, Sweden with 30.01 percent and the Netherlands, 39.75 percent.
France, Britain and the United States each came in with similar scores, 56 percent, 54.6 percent and 57.31 percent of people respectively holding at least one sexist belief.
The numbers show "new clues to the invisible barriers women face in achieving equality" despite "decades of progress," the UN Development Programme said in a statement accompanying the report.
"The work that has been so effective in ensuring an end to gaps in health or education must now evolve to address something far more challenging: a deeply ingrained bias – among both men and women – against genuine equality," UNDP Administrator Achim Steiner said.
The agency called on governments and institutions to change discriminatory beliefs and practices through education.
Beyond inequalities in education, health and the economy, the statement also called out one of the report's most chilling findings: 28 percent of people believe it is okay for a man to beat his wife. (Reuters)
https://en.qantara.de/content/un-pakistan-leads-world-population-in-bias-against-women
--------
North Carolina Woman Says She's First Muslim American Woman To Win Elected Office In The State
March 6, 2020
(CNN)Nida Allam made history on Tuesday night when she became the first Muslim American woman to be elected to office in North Carolina, her campaign says.
Allam, who ran as a Democrat, was one of five women to win the party's primary for the Durham County Board of Commissioners' five seats, according to the North Carolina State Board of Elections. She finished fourth with 39,523 votes.
Since there are no Republican candidates running in the general election, Allam and the four other candidates will presumptively take office in November.
"People of Durham you made history last night by electing me as the FIRST Muslim Woman to serve the state of North Carolina," Allam tweeted Wednesday morning. "I can't even express how grateful I am to have earned your trust and support."
The campaign told CNN that officials looked back at previous North Carolina election data, county by county, and found no previous Muslim American women who had won elections to hold office in the state.
"That's when you realize -- this hasn't been done," Allam told CNN.
Muslim advocacy groups, such as the Council on American-Islamic Relations and Muslim Advocates, celebrated the win.
"She succeeded where others weren't able to break through that glass ceiling," Robert McCaw, the council's Government Affairs Department director, told CNN.
CAIR National
@CAIRNational
Congrats @NidaAllam on this amazing accomplishment!
"History was made in Durham County after voters elected the first Muslim woman to hold office in the state of North Carolina."https://www.cbs17.com/news/local-news/durham-county-news/durham-county-commissioner-elect-becomes-first-muslim-woman-to-hold-office-in-nc/ …@WNCN
Durham County commissioner-elect becomes first Muslim woman to hold office in NC
DURHAM, N.C. (WNCN) — History was made in Durham County after voters elected the first Muslim woman to hold office in the state of North Carolina. Nida Allam was voted on Tuesday as Durham Co…
cbs17.com
24
9:02 PM - Mar 5, 2020
Twitter Ads info and privacy
See CAIR National's other Tweets
Allam's campaign priorities include a $15 minimum wage for county workers, boosting mental health services in schools and investing in businesses run by women and people of color, according to her website.
"Marginalized communities don't have a voice at the table," Allam told CNN. "I'm not just running to be their voice -- I'm running to create a space for them."
Allam's campaign website describes her friendship with Yusor Abu-Salha, Abu-Salha's husband, Deah Barakat, and her sister Razan Abu-Salha -- three Muslim college students who were murdered in Chapel Hill in 2015. A North Carolina man has since pleaded guilty to the killings.
"I reflected and asked myself how can I be content with all the blessings I have been given in this world when there is so much to do to fight injustice, uplift each other, and to make our communities better for future generations," Allam's website reads. "I'm fighting for a better Durham so that others don't have to suffer the pain my community did."
Allam was a political director for 2020 Democratic presidential candidate Sen. Bernie Sanders' 2016 campaign for the White House. She was elected third vice chair of the North Carolina Democratic Party in 2017 and was appointed to the Durham Mayor's Council for Women in 2018.
https://edition.cnn.com/2020/03/05/politics/north-carolina-nida-allam-muslim-trnd/index.html
--------
Pakistani Women In Uphill Battle For Their Rights
By IMAD ZAFAR
MARCH 5, 2020
The debate in Pakistan currently is focused on the Aurat March that coincides every year with International Women's Day. Annually on March 8, Pakistani women display slogans against men who do not believe in gender equality or feminism.
The issue came to the fore recently on a talk show when a well-known TV drama writer, Khalil-ur-Rehman Qamar, used abusive language against human-rights activist Marvi Sirmed. A strong advocate of feminism and women's rights, Sirmed was blatantly attacked on air by Qamar, who is a strong critic of feminism and believes that women in Pakistan already enjoy equal rights and much better lives than those in Western and developed countries, where gender equality is considered a fundamental right.
Qamar is not alone in his delusions. Most Pakistanis live in the hallucination that women are meant to live according to the traditions and religious interpretations defined by men. The bottom line of this mentality is that women should respect the traditions set by the mullahs and the insecure conservative segment of society and must not express their desires to make their own choices about sex, dress, and the right to education and right to work, and refuse to be submissive to a male-dominant society.
Every year International Women's Day brings forth controversies in Pakistan, as women raising their voices for gender equality and for the protection of women's rights are often abused and shamed by misogynists like Qamar.
The theme for International Women's Day this year is "I Am Generation Equality: Realizing Women's Rights." Much of the world long ago realized that gender disparity between men and women not only affects economic conditions of society as a whole but also is a form of theft, snatching away the rights of women in the name of religion, values, and traditions. In Pakistan when it comes to giving equal representation to women in every walk of life, most people see women's rights as a threat to the patriarchal sphere of society.
Women who demand freedom from rotten traditions and false religious interpretations and ask for sexual rights are either considered women of bad character or agents of a Western agenda to destroy the social fabric of society. Many believe that life in Pakistan is superior for women because Western societies have no concept of families.
The ill-informed masses who are largely subject to the propaganda of the mullahs and religious and right-wing political parties are convinced that Pakistan is far superior when it comes to women's rights, as confining women to their homes or marrying them off against their will or at minor age is considered good for them.
Yet most of these interpretations are influenced by the Saudi Arabian school of religious thought, that women must not be allowed to choose a life of their own as they do not have the same intellectual level as men. This medieval-age thinking has become part of the daily routine of most Pakistanis, and hence domestic violence, harassment against women, and marital rape are not considered crimes.
In most cases of domestic violence where women are subjected to torture by their fathers, brothers or husbands, no one blames the male members of the family, and women are always advised to remain submissive to their family's menfolk. Likewise harassing women is not considered a sin, and whether through social media or everyday life, girls and women are regularly subjected to harassment.
On social media males often send pictures of their penises to women and consider it an act of heroism, while girls going to college or university or to work are subjected to verbal harassment in public places, and often on public transport, their private parts are touched by male passengers.
Marital rape is not considered a sin at all. A woman after getting married is supposed to satisfy the sexual lust of her husband at any time, and if she refuses to do so she is either considered a sinful woman or is divorced.
Divorce remains a taboo here, as not many people have realized yet that it is a hundred times better to leave a toxic marriage and save their children from the consequences of an unhealthy and violent relationship.
Most of the Urdu media have bought into the popular narrative and as a result, Urdu literature, talk shows, and television dramas aim to show the supremacy of men and infiltrate the minds of younger generations with the concept that a good woman is the one who bears mental and physical torture and yet never raises her voice against such oppression.
So in a society that prefers to live in the dark ages and where women exist primarily for the sexual pleasure of men and are considered machines to produce children and do the cooking, low-caliber intellectuals and writers who themselves are ignorant of the modern-day world and its dimensions are fooling the masses by mixing religion and so-called traditions in their TV dramas and their books.
Most of the political parties are also happy to align with the conservatives and try to suppress those voices who want to change the tradition of suppressing women and their rights. Jamiat Ulma-e-Islam Fazal has announced that it will stop the Aurat March this coming Sunday at any cost, as the annual women's march promotes vulgarity by raising slogans for women's rights.
JUIF leader Fazal-ur-Rehman's hypocritical style of politics is no surprise, as he enjoys the support of a cult religious vote bank. However, the Pakistan Muslim League-Nawaz, which claims to be the champion of democracy, is also against the Aurat March, and most of its leadership and vote bank think that women are living comfortably in Pakistan.
The PML-N seems to have revived its policy of exploiting the right-wing vote bank by going with the popular sentiment against women's rights, but the question remains how a party that is banking on a woman, Maryam Nawaz, to lead it in the future is so unaware of the ordeals suffered by the women of our society.
Only the Pakistan Peoples Party has shown the guts to stand against the mullahs and traditional mindset, as its leader Asif Ali Zardari has openly announced the Sindh provincial government's support for the Aurat March, while his son and PPP co-chairman Bilawal Bhutto Zardari is as vocal as his mother the late Benazir Bhutto was on the issues of women's rights and human rights in general.
For the women of Pakistan, the agony continues, as not only do they have very little support from the mainstream political parties but they are hostage to the ignorance of the mullahs and misogynists like Qamar, who continue to exploit them in the name of religion and tradition.
As the famous Urdu fiction writer Saadat Hasan Manto said, "A man remains a man no matter how poor his conduct. A woman, even if she were to deviate for one instance from the role given to her by men, is branded a whore. She is viewed with lust and contempt. Society closes on her doors it leaves ajar for a man stained by the same ink. If both are equal, why are our barbs reserved for the woman?"
Unless the rotten traditions and exploitation of the religious card for short-term gains by the mullahs the political parties are stopped, women in Pakistan are unlikely to win their fundamental rights of living freely and the right to work and education.
In Pakistan, where gender equality remains a dream, events like the Aurat March are necessary to make society realize that women are just as entitled to life in all its colorfulness as men are.
More power to women in Pakistan, and across the globe.
Imad Zafar is a journalist and columnist/commentator for newspapers. He is associated with TV channels, radio, newspapers, news agencies, and political, policy and media related think-tanks.
https://asiatimes.com/2020/03/pakistani-women-in-uphill-battle-for-their-rights/
--------
Ahmadiyya Muslim Community Dallas Brings Women Together For Interfaith Symposium
March 6, 2020
The Women's Auxiliary of Ahmadiyya Muslim Community Dallas held its women-only Peace Symposium, "Women as Architects of Peaceful Nations" on Sunday, bringing together 250 women of all faiths under the banner of unity at the Allen ISD Distribution Center.
The event featured speakers from all walks of life including Allen City Council Member Lauren Doherty, FISD Board Trustee Anne McCausland and journalist and human rights activist Mona Kazim Shah. The keynote speaker was Dhiya Bakr, national president of Women's Auxiliary of the Ahmadiyya Muslim Community USA (AMWA).
The four women, while serving their communities in different ways, all had similar messages: How women can contribute to making the world a better place.
Bakr of Zion, Illinois, said the founder of the Ahmadiyya Muslim community, Hazrat Mirza Ghulam Ahmad, had a mission to not only "revive the true teachings of Islam but also bring mankind together," she said. So Lajna, the AMWA, holds peace symposiums throughout the country.
"Really it's to bring women together from different faiths and across different socioeconomic statuses to come together and identify what we can do to contribute to building our country – and the world, because we're an international organization – to a better place for our next generations," Bakr said. "Across the globe women have been ... working hard to have a place in society and be acknowledged for all the work that we do, whether it's raising children or whether it's being activists in society."
Doherty, said that when she was elected, she thinks she was likely the first liberal many of the other council members had to work with in a political setting. And, while they don't always agree, she said she's come to respect and like her fellow council members.
"Because that's what happens when you come face to face and talk and share a meal with someone else," she said. "It's just a little thing, but it makes an enormous difference. It's just hard to be mean up close."
Building on that experience, Doherty started Better Angels Allen, an organization that works to bring people of differing political views together for meaningful communication.
"We have to see that we can either sit down with each other and listen or we can follow the path wrong, which isn't going any place good," Doherty said.
The event recognized two people who were nominated for their contributions to peace in the community: Richardson ISD Superintendent Jeannie Stone and Frisco student Naiya Vaden.
Stone received the Dallas AMWA Peace Award for her work in promoting the "Equity Policy" in RISD.
"If you think about a cafeteria, there may be thousands of students sitting in a cafeteria, and there are so many differences – differences in the color of our skin, differences in religion, there's so many things that we can describe," Stone said. "And what we're searching for at Richardson ISD is that every single student will be accepted for who they are and they will feel welcome and that our schools will be free of bias and barriers that might inhibit them from having a wonderful experience every day."
Ten-year-old Vaden was honored for her work in her school inviting her peers to "Let's Be Friends!"
Vaden's mother, Ida Vaden, said Let's Be Friends is not an anti-bullying campaign.
"We already know how to not be mean, how to not say words that are hurtful, but a lot of times we don't know to give people compassion, understanding, give them grace. We never know what has happened to someone," she said.
The campaign started when Naiya had trouble with a classmate at Carroll Elementary School. According to Ida, Naiya knew it wasn't personal.
"This is something that Naiya is blessed to do naturally," Ida said. "She is able to understand that if someone is mean, she'll say, 'They weren't mean to me, because they don't know me personally. Maybe they're just having a bad day.'"
Now, with the support of school staff, students wear Let's Be Friends T-shirts and use the simple statement as a credo to spread kindness.
Naiya was nominated for the honor by McCausland, who said adopting social and emotional learning (SEL) in Frisco ISD is one more way for students to learn how to handle difficult situations. SEL is a focus on the "whole child" model that teaches children the skills to understand emotions, empathy and to establish positive relationships and make responsible decisions.
"My husband and I worked hard to instill in our children the value of respect and kindness to all people, even people who may not look, think or speak the same as us," McCausland said. "We are all created equal in relation to God, and we all have equal dignity before our father.
"If we truly want our students and children to become agents of peaceful nations, then we must focus on SEL," McCausland said.
https://starlocalmedia.com/allenamerican/news/ahmadiyya-muslim-community-dallas-brings-women-together-for-interfaith-symposium/article_2b6a109c-5f27-11ea-b6ae-a3e1f8feb01b.html
--------
Women Bid Goodbye to Their Submerged Homes In Ancient Town Of Turkey
Mahmut Bozarslan
March 6, 2020
Habibe Sacik sat at the banks of the Tigris River and wept.
"I came to see my village one last time," she said a few days before the waters of the controversial Ilisu Dam inundated her village along with dozens of others. "Wherever you go, how far you travel, home is home. You feel its loss."
Sacik is one of two women who tell the story of the region through the eyes of women, in a new documentary called "Siya Ave," which means "Shadow of the Water" in Kurdish. Traveling along the banks of the Tigris River, the two women tell of their lives impacted by the Turkish government's pet project in southeastern Anatolia, the Ilisu Dam. Ilisu is Turkey's largest hydroelectric dam and the crown jewel of the Southeastern Anatolia Project. But it also submerges Hasankeyf, a 12,000-year-old town in the southeastern province of Batman and home to many of the civilizations of Mesopotamia. Some 80,000 people have already left their ancestors' lands and reluctantly moved to the new settlements offered, some 10 kilometers (6 miles) away.
Sacik's village, Celtikbasi, is not in internationally known Hasankeyf but further into the east, in the Kurtalan district of Siirt. Located in the Tigris Valley, Celtikbasi, along with half a dozen nearby villages, was vacated last year, too.
Sacik, who has moved to Batman, visited her village one last time, along with her best friend from childhood, Firyaz Yoksu, who had moved to Istanbul decades ago. Yoksu is also the mother of the director of the documentary, journalist Metin Yoksu.
The 25-minute documentary shows how the women travel to their village and to other parts of the region one last time, sharing memories and telling their family history. "We will not forget our village — not ever," Yoksu said on camera. "But our grandchildren will not see it."
Sacik added, "It was our great-grandfather who settled here, my parents were born here. I was cooking when I heard that the rising waters had reached the village next to us. So I came immediately, I knew I had little time to see it one last time."
While Sacik took a bus from the next town, Yoksu got her son to drive her from Istanbul, which took a whole day. "I had to see it one last time," she said. "I know I will carry the longing for my natal town to my grave."
The history of the controversial dam in the southeast goes back to the 1950s and more than 60 years of campaigning against its construction, despite the advantages it would bring to the water-scarce region. After much zigzagging from consecutive governments, the construction kicked off with a ceremony in 2006 attended by then-Prime Minister Recep Tayyip Erdogan. Eleven years later, in May 2017, the authorities relocated the mausoleum of the 15th-century warrior Zeynel Bey in a stage-managed spectacle designed to silence critics by supposedly showing that the government respects historical heritage.
For the residents, the move of the tomb was the final nail in the coffin. "I knew that once the tomb was moved, nothing, no one could remain in Hasankeyf," said Sacide Yagan, who watched the move from the terrace of her old home, now underwater. "I knew that we would have to move very, very soon — both the living and the dead," she told Al-Monitor.
More artifacts were moved, though some remained and residents were gradually moved to their own homes. The slowly rising waters started to swallow the valleys, then the nearby villages and finally the historical district.
Many of the women say they were the ones who minded most leaving behind their homes, where they have spent most of their lives. "I lived in the same house for 50 years, brought up all my children there," Emine Demirkan, a 70-year-old resident of Hasankeyf, told Al-Monitor. "We built this house ourselves, making improvements whenever we had a bit of money. Then we stopped because we realized that we had to leave the house. We will get 230,000 Turkish liras [$37,800] for this house. We did not want it at first but we would have to take it, what else can we do?The new house is far too small, we spent a good deal to make it habitable."
Another woman stood crying, "I have so much to say, but no words, only pain. I do not want to leave my house, but what can I do?" she sobbed, but shook her head when asked her name, reluctant to give it.
Not all the residents of Hasankeyf have been offered a new house in the new town, some 10 kilometers away. Those who did not apply in time were rejected on the grounds that there were no houses left for them.
Nilufer Iridil, 34, whose husband is unemployed, told Al-Monitor that she did not know what to do because they had been late in applying and got no house in the new town. "This is my house and it is all I have. We have no jobs, no employers. We have three children. Where will we go? We will go live in caves if we have no choice."
Her mother, Remziye Celik, lived in the cave dwellings that surrounded the town and gave birth to her first child in the cave before moving to a house in old Hasankeyf, Iridil said. The Celik family now has a house in new Hasankeyf. "But my mother is not happy," Iridil added. "She misses the old town, the old neighborhood and she misses me."
Kadriye Atmaca, a 67-year-old mother of eight children, was packing up when Al-Monitor talked to her. "We love our homes very much and it is with tears we leave. We only do that because we have to. We grew up here, we love it here. We do not go voluntarily. I will not forget Hasankey — my paradise — until I die. I will tell my grandchildren about it and show the photos," she said.
Mahmut Bozarslan is based in Diyarbakir, in Turkey's predominantly Kurdish southeast. A journalist since 1996, he has worked for the mass-circulation daily Sabah, the NTV news channel, Al Jazeera Turk and Agence France-Presse, covering the Kurdish question as well as local economy and women's and refugee issues. He has also frequently reported from Iraqi Kurdistan. On Twitter: @mahmutbozarslan
https://www.al-monitor.com/pulse/originals/2020/03/women-bid-goodbye-to-their-homes-in-hasankeyf.html
--------
UN: Over 80% Of Syria Refugees Are Women And Children
March 5, 2020
The United Nations' Syria envoy has acknowledged that over 80 per cent of recently displaced Syrians are women and children.
The UN special envoy for Syria, Geir Pedersen, told the Arab League's foreign ministers in Cairo yesterday that "More than 900,000 people have been displaced since 1 December. Women and children together comprise 81 percent of the newly displaced population."
Adding that the battles between Turkish forces and Syrian regime forces are "a worrying change in the nature of the conflict."
Alluding to the nine-year-long Syrian civil war between the regime of President Bashar Al-Assad and the opposition forces, Pedersen warned that "with five international armies active inside Syria, the dangers of wider international conflagration remain".
He stressed that in order to avoid "a bleak and uncertain future, with dire regional consequences," the main aim should be a "meaningful political process".
Pedersen's comments come almost a week after Turkey opened its borders with Syria and Greece to allow Syrians refugees to make their way to Europe. Since then, over 130,000 refugees have crossed into Europe.
The Greek border and naval guards have been caught using violence and abuse in an effort to prevent their entrance, with one refugee having died on Monday as a result of the Greek border guards' firing of tear gas canisters.
Pedersen warning comes as many in Europe have said the majority of those escaping Syria and Turkey are men who are "invading" Europe.
https://www.middleeastmonitor.com/20200305-un-over-80-of-syria-refugees-are-women-and-children/
--------
URL: https://www.newageislam.com/islam-women-feminism/my-body-choice-—-pakistani/d/121240
New Age Islam, Islam Online, Islamic Website, African Muslim News, Arab World News, South Asia News, Indian Muslim News, World Muslim News, Women in Islam, Islamic Feminism, Arab Women, Women In Arab, Islamophobia in America, Muslim Women in West, Islam Women and Feminism