New Age Islam News Bureau
12 Jun 2012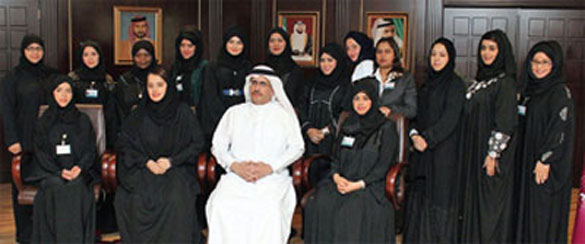 • Six Foreign women held for immoral activities in Muscat
• Emirati women make a mark in Dubai Electricity and Water Authority
• Syrian Woman blogger gets human rights award
• Women in UAE target career advancement: survey
• Quota of women in govt jobs enhanced to 25% in the Sindh Budget
• Civil society condemns Asma Jahangir murder plot
• Sibling rivalry costs Shazia a seat in PM flight
Complied by New Age Islam News Bureau
Photo: Women's Committee at the Dubai Electricity and Water Authority
URL: https://newageislam.com/islam-women-feminism/muslims-protest-'sexual-health'-program/d/7598
----------
Muslims protest 'sexual health' program for Muslim teen girls
BY PETER BAKLINSKI
Jun 11, 2012
OTTAWA, Ontario, June 11, 2012 (LifeSiteNews.com) – Muslims of a traditional bent hope that a lack of funding will force Planned Parenthood Ottawa to cut a program aimed at teaching their Muslim teenage daughters a version of "sexual health" that they say is contrary to their "faith-based values and family values."
"Information and education is always good, but when it comes with a clear message of promoting a certain lifestyle which may be in conflict with both the faith-based values and family values [of Muslims] then I have an issue with it," Shahina Siddiqui, executive director of the Islamic Social Services Association (ISSA) in Canada, told LifeSiteNews.
Last year United Way reduced funding to Planned Parenthood Ottawa's sex-education programs for young people. To keep the programs running this year, the abortion giant has appealed to the public in the hope of covering a $60,000 budget shortfall, or what amounts to a quarter of the organization's budget.
One of Planned Parenthood Ottawa's sex-education programs that may be cut was specifically tailored for Muslim teenage girls.
The creators of "Visiting 'Girls Chat'" state that the "messages in mainstream sexual health education can sometimes be experienced as contradictory to the religious and/or cultural messages being received by young people at home. The Visiting Girls Chat project has involved the adaptation and tailoring of Planned Parenthood Ottawa's sexual health programming to better suit the needs of a particular group in the community—Muslim girls."
Pro-family organizations have repeatedly shown, however, that for Planned Parenthood "sexual health" for young people typically takes the form of the promotion of unrestricted sexual activity, of contraception as a way to pursue sexual activity separated from its natural outcome, and of abortion as a solution to failed contraception or an unplanned pregnancy.
"Young people are sexual beings," states Planned Parenthood's guidebook for teens titled 'Exclaim: Young People's guide to Sexual Rights'. The guide states that it is "important for all young people around the world to be able to explore, experience and express their sexualities in healthy, positive, pleasurable and safe ways."
In the guide for teens, contraception is enshrined as a "right" of "every young person" and the organization advocates for the "removal of laws that require parental, guardian or spousal consent, which prevent young people from accessing effective contraceptive services."
Planned Parenthood also writes that it considers abortion a legitimate "pregnancy option" and also enshrines accessibility to that option as a woman's right.
Siddiqui told LifeSiteNews that she was "flabbergasted" by the values that Planned Parenthood was passing onto Muslim girls through the outreach program. She said that the organization's vision for healthy sexuality is the "polar opposite of our values."
"There are very strong values around sexual morals within Islam," she explained.
"Sexuality can only be expressed within a marital relationship. Sex outside of marriage or before marriage is forbidden. Sex can only be enjoyed between a husband and a wife."
"It's one of the major principles in our faith and this is what we teach our young children," she said, adding, "I don't know of a single Muslim organization that is backing [Planned Parenthood's program]."
Planned Parenthood Ottawa says that the program was developed with the help of a "youth co-facilitator from the Somali community in Ottawa" and with the collaboration of the "Ottawa Rape Crisis Centre, who has significant numbers of Muslim-identified clientele."
Siddiqui said that if Muslim girls are accessing the Planned Parenthood program it is simply a sign that "they have been failed at the family level, or at the community level [such] that they could not turn for help or ask and be counseled in our own value system."
"But you don't cover up one mistake with another," she said.
http://www.lifesitenews.com/news/muslims-protest-planned-parenthoods-sexual-health-program-for-muslim-teen-g/
----------
Six Foreign women held for immoral activities in Muscat
10 June 2012
Six foreign women have been detained in the Muscat governorate for violating the Labour Law and indulging in immoral activities.
They were arrested in raids on hotels in Al Khuwair area carried out by the Directorate-General of Inquiries and Criminal Investigation along with the Ministry of Manpower.
The raids were conducted after a tip-off to authorities. Four of the women arrested were Africans and the other two Asians.
ravindranath@khaleejtimes.com
http://www.khaleejtimes.com/kt-article-display-1.asp?xfile=/data/middleeast/2012/June/middleeast_June110.xml&section=middleeast
----------
Emirati women make a mark in Dubai Electricity and Water Authority
Dhanusha Gokulan / 12 June 2012
Stressing on the importance of encouraging Emirati women to work in all sectors, Khawla Al Mehairi, Chairperson of the Women's Committee at the Dubai Electricity and Water Authority (Dewa), pointed out that the UAE has the highest percentage of women graduates in the GCC and the highest percentage of women in the workplace.
She was speaking at the second sitting of the new members of the Women's Committee on Sunday.
The event was attended by Saeed Mohammed Al Tayer, Managing Director and CEO of Dewa; Dr Mona Bahar, Member of the Federal National Council and Assistant Director-General for Care and Community Services at the Dubai Foundation for Women and Children. Al Mehairi added that currently, the total number of female employees at the Dewa is 981 with roles in all sectors and departments. This number constitutes 11 per cent of all staff recruited by the authority. Meanwhile, Emiratis account for 77 per cent of the total female workforce. There are 200 Emirati female employees working in the Dewa's technical branches and 556 in the administrative sectors. The Women's Committee was established in 2010 and its primary responsibility is to educate the society about the importance of women in the workplace, who are managing their personal and professional lives, remarked Al Tayer.
Also speaking at the event, Dr Bahar quoted instances of her life in the United States when she was pursuing her PhD. She said that it was a very tough route for her as an Arab woman, and she had more challenges to face as compared to her colleagues.
"When we started in 2010 and according to the statistics from the HR division, there were around 756 women employed at the Dewa. This has increased in the past two years. Now, there are women working in various divisions. It is not just Customer Service, HR or Marketing, but we have several women in the technical field and are working head-to-head with their male counterparts," said Al Mehairi. The committee holds several activities, events, talks, lectures and awareness programmes to educate women on health and family life.
She said the committee works very closely with the Dubai Association for Women and Children and pays close attention to women who have been victims of domestic abuse. Such cases are taken very seriously and the committee gets involved with other agencies to help them out. "We provide these women with a platform to network and opportunities to maintain a work and family life balance. We give them with all these facilities because there is a huge lack of knowledge among the women here," she said.
She also noted that since the inception of the committee, the female workforce of the Dewa has improved drastically. "We take a great interest in women's issues and with the introduction of these initiatives, the productivity of women in various departments has increased considerably," added Al Mehairi.
dhanusha@khaleejtimes.com
http://www.khaleejtimes.com/kt-article-display-1.asp?xfile=data/todayevent/2012/June/todayevent_June12.xml&section=todayevent
----------
Syrian Woman blogger gets human rights award
9 June 2012
DUBLIN — Syrian woman blogger Razan Ghazzawi has been honoured with this year's Human Rights Defenders at Risk award by the Dublin-based Front Line Defenders foundation, the group announced on Friday.
Ghazzawi, who has become a symbol of the Syrian uprising, is currently on trial before a military court charged with "possessing prohibited materials with the intent to disseminate them".
Front Line said she was presented with the award at a ceremony in Dublin's City Hall by Aryeh Neier, president of the Open Societies Foundations and a founder of Human Rights Watch, for her "exceptional contribution" to human rights.
Her colleague Dlshad Othman, who has himself been a target for the authorities because of his human rights work and had to leave Syria two months ago for his own security, accepted the award on Ghazzawi's behalf.
In a statement read out on Ghazzawi's behalf at the ceremony she said she saw the award as being was for all citizen journalists "who died trying to tell the world what's happening in Syria, when the traditional media have failed to do so".
"Syrian citizen journalists and filmmakers tell the revolution in all its colours, through the good times and the bad times. And many have died doing so," she said.
Ghazzawi and six other female activists were recently freed from detention. They had been arrested during a raid on the Syrian Centre for Media and Freedom of Expression. — AFP
Her colleague and director of SCM, Mazen Darwish is currently being held in incommunicado in detention with four other colleagues.
http://www.khaleejtimes.com/kt-article-display-1.asp?xfile=/data/middleeast/2012/June/middleeast_June95.xml&section=middleeast
----------
Women in UAE target career advancement: survey
Staff Reporter / 12 June 2012
Four out of five women professionals in the UAE have taken on more responsibility to advance their career prospects, according to a survey by Accenture.
The results show that women working in the UAE are more ambitious than their counterparts elsewhere in the world. In the survey conducted across 31 countries, 80 per cent of women in the UAE said they have taken on more responsibility to further their careers, compared to 58 per cent elsewhere in the world on average.
"The survey reiterates Accenture's commitment to the Middle East region as our tribute to the spirit and effort of women," said Omar Boulos, managing director of the global management consulting, technology services and outsourcing company in the Middle East. "It has successfully managed to portray the support and programmes companies currently provide for their employees, particularly women, and helps identify what needs to be done to attract, develop and retain high-performing employees."
Full report at:
http://www.khaleejtimes.com/kt-article-display-
----------
Quota of women in govt jobs enhanced to 25% in the Sindh Budget
12 June 2012
KARACHI: Quota of women for recruitment in government jobs has been enhanced to 25 per cent from existing five per cent in the Sindh budget for the fiscal year 2012-13.This was announced by Sindh Finance Minister Syed Murad Ali Shah in his speech for Sindh Budget 2012-13, in the Sindh Assembly here Monday. He said women empowerment was very close to the heart of our visionary leader Shaheed Mohtarma Benazir Bhutto and she had the credit for pushing through historic initiatives to lessen the plight of women. He said the PPP-led government at the centre as well as in the province is following her footsteps by putting women empowerment at the centre of the agenda as we stand firm in our belief that there is no tool for development more effective than empowerment of women. Shah said that a revolving fund has been created to provide legal aid to poor women, who otherwise would not have access or resources to legal support. Similarly, a revolving fund has been created for providing relief to the women/ juvenile prisoners, he added.He said the skill training in various trades is being imparted to reduce poverty.
http://www.dailytimes.com.pk/default.asp?page=2012\06\12\story_12-6-2012_pg7_23
----------
Civil society condemns Asma Jahangir murder plot
12 June 2012
ISLAMABAD: Human Rights activists and representatives of civil society organisations on Monday strongly condemned the recently unearthed plot to assassinate Asma Jahangir.
They express shock and horror at the revelations made public by Asma Jahangir herself at a press conference in Lahore.
Expressing solidarity with her, they demanded the government urgently set up an impartial judicial commission – with wide and extensive powers, mandate, and authority – to investigate the matter in a transparent manner, and subsequently make public its findings.
The civil society activists also demanded exemplary punishment for the conspirators.
They hugely commended Asma Jahangir's tireless and iconic role in championing democracy, the rule of law, peace, and human rights causes, particularly in relentlessly pursuing the issues of enforced disappearances (missing persons), target killings, sectarianism, extremism, women's rights, minorities' rights, child labour, bonded labour, freedom of religious belief, media freedoms, independence of the judiciary and the election commission, as well as issues of transparency and accountability across the board, under both civilian rule and military dictatorships.
Full report at:
http://www.dailytimes.com.pk/default.asp?page=2012\06\12\story_12-6-2012_pg7_15
----------
Sibling rivalry costs Shazia a seat in PM flight
By Dipanjan Roy Chaudhury
12 June 2012
THE sibling rivalry over representing an over fivedecade- old family- owned Urdu daily on the Prime Minister's trip to Mexico and Brazil has come a full circle. The confusion created by two brothers, each claiming to be the editor of the Lucknow edition of Siyasat Jadid, has cost their sister Shazia Ilmi a seat on Prime Minister Manmohan Singh's flight for the G- 20 meeting in Mexico and the Rio- 20 summit in Brazil from June 16 to 23.
Not only Shazia, the paper itself has been dropped from the PM's media delegation. The role of the Prime Minister's Office is not clear in this episode since Shazia is a Team Anna member and whether her presence would have created discomfort for Manmohan on a long trip is open to debate.
Full report at: Mail Today
----------
URL: https://newageislam.com/islam-women-feminism/muslims-protest-'sexual-health'-program/d/7598