New Age Islam News Bureau
20 June 2022
• Australia's Fatima Payman Becomes Parliament's First Hijab-Wearing Muslim Woman
• Giant Puppet of Syrian Girl, Amal,, Starts England Tour to Mark World Refugee Week
• Saudi Minister Orders Woman Employee Replace Her Boss
• 'Fatima Hossain' the Muslim Woman Fighting Islamophobia in Spain's African Enclave
• Saudi Arabia Sets Its Sights on Hosting Women's Tennis Tour with WTA
• Nigeria: Intels Graduates 38 Beneficiaries of Women Empowerment Scheme
Compiled by New Age Islam News Bureau
URL: https://newageislam.com/islam-women-feminism/muslims-girls-marriage-islamic-sharia-rule/d/127280
--------
Muslims Girls Can Marry At 16: Punjab and Haryana HC Upholds Minor Marriage Citing Islamic Sharia Rule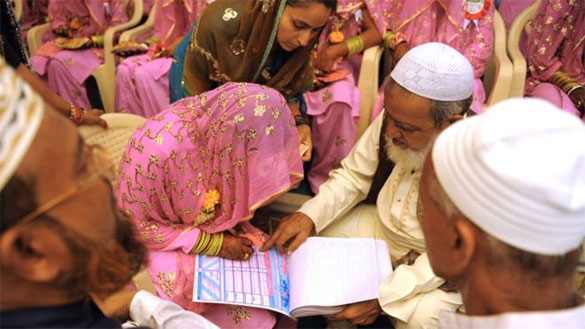 Citing the Muslim Sharia law, a single-judge bench of the Punjab and Haryana High Court upheld minor marriage. (Photo: Organiser)
-----
Sanjay Sharma, Kanu Sarda
Chandigarh
June 20, 2022
While giving protection to a Muslim couple aged 16 and 21 years from their family members, the Punjab and Haryana High Court ruled on Monday that a Muslim girl over 16 years of age is competent to enter into a contract of marriage with a person of her choice.
The single-judge bench of Justice Jasjit Singh Bedi passed the order on a plea by a Pathankot-based Muslim couple who had approached the court for protection.
"Merely because the petitioners have got married against the wishes of their family members, they cannot possibly be deprived of their fundamental rights as envisaged in the Constitution of India," the bench said.
Citing Islamic Sharia rule, Justice Bedi said the marriage of a Muslim girl is governed by the Muslim Personal Law.
"As per Article 195 from the book 'Principles of Mohammedan Law' by Sir Dinshah Fardunji Mulla, the petitioner No. 2 (girl) being over 16 years of age is competent to enter into a contract of marriage with a person of her choice. Petitioner No.1 (boy) is stated to be more than 21 years of age. Thus, both the petitioners are of marriageable age as envisaged by Muslim Personal Law," he said.
The court held that it "cannot shut its eyes to the fact that the apprehension of the petitioners needs to be addressed". It has directed SSP Pathankot to provide proper security to the couple and take necessary action as per law.
According to the petitioners, their marriage was solemnized on June 8, 2022, as per Muslim rites and ceremonies. However, their families are opposed to the union and had allegedly threatened them for marrying without their permission.
The petitioner couple had contended that in Muslim law, puberty and majority are one and the same, and that there is a presumption that a person attains majority at the age of 15 years.
Source: India Today
https://www.indiatoday.in/india/story/muslims-girls-can-marry-at-16-high-court-upholds-minor-marriage-1964431-2022-06-20
--------
Australia's Fatima Payman Becomes Parliament's First Hijab-Wearing Muslim Woman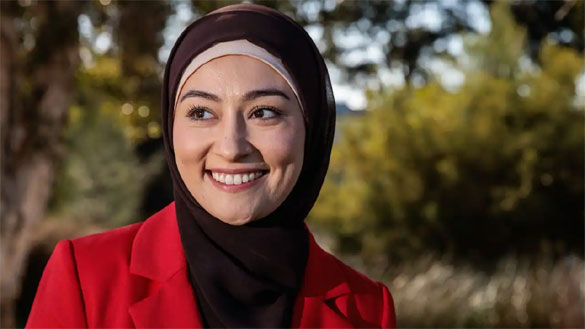 New WA Senator Fatima Payman is an Australian Muslim with cultural roots from Afghanistan. Source: AAP / RICHARD WAINWRIGHT/AAPIMAGE
-----
20 June 2022
Fatima Payman has won Western Australia's sixth and final Senate seat, becoming the first Afghan Australian and the first hijab-wearing Muslim woman in parliament.
She is the state's only new senator, after Labor senators Sue Lines and Glenn Sterle were re-elected, along with Liberal senators Michaelia Cash and Dean Smith.
The final seat is held by Green senator Dorinda Cox, who in 2021 became the first Indigenous woman to represent WA in the Senate.
The new senator was jubilant on Monday after her win.
"WE WON!!!! I'm proud to announce that I've officially been elected as a Senator for Western Australia," she announced on Facebook.
"Thank you everyone for your love and support! We did it!"
Ms Payman arrived as a refugee from Afghanistan with her parents and three siblings, before growing up in Perth's northern suburbs.
In her early years, her father worked around the clock as a kitchen hand, a security guard and a taxi driver. Her mother looked after the family before starting her own small business of providing driving lessons.
Inspired by the hard work of her parents when she was younger, Ms Payman became an organiser for the United Workers Union and, after losing her dad to leukemia in 2018, decided she wanted to represent hard working Australians like him who strived to make ends meet.
She is passionate about breaking down barriers for women, young people and culturally diverse communities.
Fellow Labor representatives were quick to congratulate Ms Payman on Monday.
"I am so proud that our state is sending Fatima to represent us in Canberra," WA MP Patrick Gorman said. "Senator-elect Payman is an Australian Muslim with cultural roots from Afghanistan, the eldest of four children and a strong advocate for workers."
While fellow WA Labor Senator Ms Lines said she was "making history today".
Meanwhile the Afghan Embassy in Australia said they were pleased to hear the news, particularly on World Refugee Day.
"On this #WorldRefugeeDay we are pleased to hear that Ms FatimaPayman, an Afghan Refugee, now an Australian citizen, has made her path towards the Senate of the @Aust_Parliament. Many congratulations, Senator FatimaPayman!"
Source: SBS
https://www.sbs.com.au/news/article/making-history-today-fatima-payman-becomes-parliaments-first-hijab-wearing-muslim-woman/uuy0e3ohl
--------
Giant Puppet of Syrian Girl, Amal,, Starts England Tour to Mark World Refugee Week
June 19, 2022
LONDON: A giant puppet designed to highlight the plight of child refugees embarked on a tour of England on Sunday and will visit landmark destinations as part of World Refugee Week.
Little Amal, the giant puppet of a 10-year-old Syrian refugee girl, became an international symbol of human rights after she journeyed from the Turkish-Syrian border to Manchester last July. Amal means "hope" in Arabic.
This year, the 3.5m puppet began her New Steps New Friends tour in Manchester, where she will be the special guest at the Manchester Day Parade with thousands of children and families all celebrating in the city.
She will visit 10 towns and cities across England to share her resilient and hopeful message: "Don't forget about us."
Artistic director Amir Nizar Zuabi said: "It is because the attention of the world is elsewhere right now that it is more important than ever to reignite the conversation about the refugee crisis and to change the narrative around it.
"Yes, refugees need food and blankets, but they also need dignity and a voice. The purpose of The Walk is to highlight the potential of the refugee, not just their dire circumstances.
"Little Amal is 3.5 meters tall because we want the world to grow big enough to greet her. We want her to inspire us to think big and to act bigger," Zuabi said.
After participating in the Manchester Day Parade, Amal will go on to visit Bradford, Leeds and the Liverpool docks. She will also meet communities in Birmingham, Cheltenham and Bristol's historic Old City and Harbour.
She will return to the Southbank Centre in London and visit Stonehenge before finishing her journey on the beach in Folkestone in Kent.
In May, Amal landed in Poland, bringing aid relief packages for Ukrainian refugee children and their families.
"The machine of war is faceless, it's metal grinding metal, but victims of the battles grownups fight have names and children are often the worst victims. That's why Amal went to Ukraine. She's a big girl so she can remind us there are many Amals and many Annas and many Andriys and many Abduls," Zuabi said.
In September 2022, Amal will travel to New York City. She will travel through all five boroughs, meeting artists, civic leaders, community groups and New Yorkers of all backgrounds.
Source: Arab News
https://www.arabnews.com/node/2106441/world
--------
Saudi minister orders woman employee replace her boss
June 18, 2022
Ramadan Al Sherbini
Cairo: Saudi Arabia's Minister of Islamic Affairs Abdul Latif Al Sheikh has ordered a young female employee be appointed as a media spokesperson for the ministry in the holy city of Mecca, replacing her boss due to their educational backgrounds, according to media reports.
A video circulated on social media showed the minister talking to a young employee at the media department in the ministry's Mecca branch and asking her about her specialization and that of her manager.
On learning that the recently graduated employee holds a BA degree in media while her manager studied accountancy, Al Sheikh ordered the woman head the department while her manager be transferred to the minister's office in the port city of Jeddah.
The reshuffle makes the employee, identified as Shahad Manshi, the first spokeswoman for the Saudi Ministry of Islamic Affairs, said Saudi news portal Sabq.
The minister's decision has stirred controversy. Proponents said the replacement ensures putting the right employee in the right place while critics saw it as hasty.
Shahad, who graduated in 2020 with honours majoring in public relations, later defended her picking for the post.
"I have an experience in media coverage and writing reports for different newspapers," Shahad said in an interview with Rotana Khalijia TV.
She added that she has participated in organising several events and media campaigns.
In recent years, Saudi Arabia has taken strides for women's empowerment and further engaging them in public life.
In 2018, the kingdom allowed women to drive for the first time in its history, ending a decades-old ban on female driving.
Source: Gulf News
https://gulfnews.com/world/gulf/saudi/saudi-minister-orders-woman-employee-replace-her-boss-1.88677652
--------
'Fatima Hossain' the Muslim woman fighting Islamophobia in Spain's African enclave
June 20, 2022
On the main street of Ceuta, the autonomous Spanish enclave of 85,000 people in North Africa bordering Morocco, Fatima Hamed Hossain greets everyone who crosses her path with a smile and a hello in Spanish and Darija, the Moroccan-Arabic dialect.
Charismatic, self-made and from humble beginnings, Hossain's outspokenness against a rising far right has turned her into a national symbol for the fight against hate speech.
Having first entered the Ceuta political scene in 2007 as part of the Caballas Coalition, a left-wing regionalist organisation, Hossain later left to form her own party, the Movement for Dignity and Citizenship in Ceuta (MDyC).
Among the many occasions when Hossain has stood up to the far right, one of the most memorable came during a plenary session in the summer of 2020 in response to the far-right Vox party and its hardline stance against Islam in a city that is 43 percent Muslim.
"You can't measure how Spanish I am by my surname or how I dress," she said in her speech. "You cannot say that Muslims, Jews or Hindus do not belong to this society."
Hossain was born in 1978 in Los Rosales, one of the poorest suburbs of Ceuta, along with Hadu and El Principe, according to the Spanish Institute of Statistics (INE). As an only child of Moroccan parents, Hossain says that politics were never discussed at home; she just remembers seeing her father working all hours, loading trucks, in order to provide for the family.
"I never heard anyone talking about politics. I guess as an immigrant family, the only focus was on getting ahead," Hossain tells Middle East Eye while drinking Moorish tea in the main street of Ceuta.
"I got involved in politics because many of us have grown up in forgotten and abandoned areas," she adds, referring to the striking inequalities in Ceuta, where 40 percent of the population live at risk of poverty and social exclusion. "That makes you aware that there are citizens who, although they are equal in law, are not equal in rights."
Hossain's family was able to pay for her college through scholarships, and today she is a lawyer specialising in human rights and gender equality, a profession she balances with her duties as a political representative.
Insult to Ceuta's Muslims
In the 2015 regional elections, Hossain's MDyC won three seats in a parliament of 25, and she became the first and only Muslim woman to lead an elected political party in Spain.
The eruption of the far-right Vox party in 2019 as a major political force affected the order and stability of Ceuta. MDyC lost one seat and the conservative People's Party, which has held a majority since 2001, also lost seats to the far right.
Anti-immigrant and anti-Islam, the far-right, in parliament and on social media, tries to discredit Hossain by calling her" jihad," "sharia" or "pro-Moroccan". She says that these insults aim to portray Ceuta's Muslim population as being foreigners in their own country, linking them with illegal immigration. Carlos Verdejo, an MP and Vox's spokesman in Ceuta, once tweeted a threat to deport Hossain "back to Morocco".
"We cannot remain silent before those who come to spread hatred and insults," she says. "They have not only been disrespectful towards us, but towards the entire city. We believe in democracy, and their lies must be dismantled with facts and dialogue."
Other examples of hateful rhetoric include the conversations leaked to the press in January 2020. In WhatsApp and audio messages, the leaders of Vox in Ceuta asked for "a third world war against Islam" and compared Ceuta with Palestine by claiming that the Muslim population was "invading and occupying" the city.
Rise of the far right in Ceuta
Born amid domestic tensions generated by Catalan separatism and an increase in the number of immigrants arriving on Spanish shores from Africa in 2018, Santiago Abascal's Vox party won its first parliamentary seats (24) in the general election of April 2019. In the November general elections that same year, Vox became the country's third political force when it secured 3.6 million votes and 52 seats in the congress of deputies.
In Ceuta, Vox also entered the political scene in 2019, deploying more hostile rhetoric than in other parts of the country, due to the city's ethnic composition and economic situation.
With a population of 85,000, Ceuta has historically welcomed all beliefs and traditions due to its strategic position by the Strait of Gibraltar.
The city has always taken pride in the harmony and coexistence between four religions: there is a Hindu temple and a synagogue, the Islamic celebration Eid al-Adha is a public holiday and Catholic processions are celebrated every Easter.
But behind the cultural and religious mix hides an unequal reality. Beyond the clean and prosperous centre, the crowded Muslim-majority suburbs have Spain's highest rates of unemployment (up to 30 percent, according to the INE).
"We calculate that between 75 percent and 80 percent of the unemployed are Muslims," says Adbelkamil Mohamed, in charge of the neighbourhood association in El Principe, the most depressed quarter in Ceuta, with an average income among the lowest in Spain.
Mohamed thinks "the damage is institutional," since the conservative and Christian-democratic People's Party had been ruling Ceuta for the past two decades (until it lost in the April 2019 elections) "without focusing on improving education or employment here".
The feeling of institutional abandonment that many people have in Ceuta also applies to the central parliament in Madrid, adds Emilio Postigo, general secretary of the Ceuta branch of Comisiones Obreras, Spain's biggest trade union.
"Lack of projects and investment leave our economy at the expense of Morocco," says Postigo. Around €700m ($735m) a year, more than a quarter of the city's gross domestic product, comes from the illegal trade of goods with Morocco, according to local estimates.
In this fertile breeding ground, the far right win votes by making promises to build a bigger wall along the Moroccan border, deport illegal immigrants or defend "the Spanish identity of the territory" from "Islamisation".
Hossain's growth and national support
Hossain's voice and public interventions standing up for Ceuta's diversity and claiming her own "Spanish and Muslim" identity have earned her national recognition and support.
Proof of that growth, from local to national politics, was reinforced when she took part in an event last November in Valencia, alongside some of the most progressive female politicians in Spain.
The meeting was held to discuss feminist issues and to share common perspectives, but the reason why it grabbed wide media attention was because of the attendance of the minister of labour and social economy, Yolanda Diaz. Diaz is one of the most popular figures in the leftist Spanish government, currently preparing a platform to run for the 2023 general elections.
"We are proud and happy to be recognised and to see ourselves alongside this amazing woman," says Hossain, when asked about the possibility of her entering national politics. "But our focus is in Ceuta, and in the problems we have here."
'I love Fatima'
These days in the streets of Ceuta, Hossain is well known, and her reputation for standing up to the far right is well established.
"Fatima is highly qualified, her team always responds to our calls, and she speaks her mind against those who want to divide us," says Piedad, 40, a Christian who works as a cleaner and lives in the Hadu neighbourhood, an MDyC stronghold.
In El Principe, sisters Sara, 25, and Ahlem, 27, are also enthusiastic about Hossain.
"I love Fatima. I love what she says and how she says it, everything. She gives everything in each plenary session and stands up to Vox," says Sara.
"Big traditional parties have failed here [in Ceuta], because they haven't been able to understand the idiosyncrasies and character of this region," says an unemployed Muslim man at a market in Hadu.
Not everyone has good words for the MDyC leader, however. Rahma Mokhlis, 45, is the representative of the neighbourhood association in Benzu, a small suburb in the north of Ceuta with barely any functioning public services. She acknowledges that Hossain is "a fighting woman who stirs consciences" and serves as an example for many women. However, she criticises her "individualism".
"At a national level she portrays an image, but at the local level she shows a different face," Mokhlis says. "She does not reach agreements, she does not sit down with the rest of the parties to confront the right part of the regional parliament."
For the moment, Hossain avoids talking about next year's elections.
"There is a lot of work to do every day, and I only hope that citizens take good note of each other's contributions," she says. "Ceuta is and will always be an intercultural and diverse city, even for those who want a society based on hate and fear."
Source: ABNA24
https://en.abna24.com/news//fatima-hossain-the-muslim-woman-fighting-islamophobia-in-spains-african-enclave_1268366.html
--------
Saudi Arabia sets its sights on hosting women's tennis tour with WTA
By Simon Briggs
18 June 2022
Saudi Arabia is plotting to make a major push into tennis by trying to entice a women's tour event to their country, Telegraph Sport can reveal.
It follows the controversial £2 billion launch of the breakaway LIV golf series as well as investments into football and Formula One as part of their "sport-washing" ploy to normalise an unpalatable regime.
The Saudis have been seeking a deal with the ATP Tour for at least five years but have been repeatedly rebuffed by the men's game.
Yet the Women's Tennis Association – who enjoy far less financial security than the ATP – declined to rule out the concept when contacted by Telegraph Sport.
A spokesperson confirmed that "We have received inquiries from Saudi Arabia as to interest in bringing a WTA event to the region. As a global organisation, we are always interested and appreciative of inquiries received from anywhere in the world and we look seriously at what each opportunity may bring [but] we have not entered into formal negotiations."
The WTA Tour has been sailing into strong financial headwinds ever since chief executive Steve Simon took a moral stand on China's apparent silencing of Peng Shuai last year. Although admirable in principle, this knocked out one of his central sources of funding.
When the WTA signed a four-year deal with health provider Hologic in March, Telegraph Sport understands that they had to request more than half the total sum – which works out at around £16.4 million ($20m) per annum – to be paid upfront in order to tide over cash-flow worries.
An alternative solution is the large fee – reported to be in excess of £100m – being offered by private-equity firm CVC for a stake in a new, jointly-run WTA Tour, along with access to the WTA's commercial rights.
CVC have already invested in Formula One, rugby and cricket. In December, they offered £491m ($600m) for a stake in a unified tennis model combining both men's and women's tours.
While not ruling out the possibility of a private-equity alliance, the ATP have thus far declined to commit themselves. Now the WTA are seen as more likely partners for CVC, at least in the short term, owing to their financial pressures.
Some believe that the CVC deal could be struck over the next month or two, adding yet another stakeholder to the already convoluted governance of this sport.
Asked about private-equity investment, a WTA spokesperson said. "We have been in discussions in this space and one of the discussions is with CVC. We have not made any decisions as to what we intend or do not intend to do."
Source: Telegraph UK
https://www.telegraph.co.uk/tennis/2022/06/18/saudi-arabia-sets-sights-womens-tennis-repeatedly-rebuffed-atp/
--------
Nigeria: Intels Graduates 38 Beneficiaries of Women Empowerment Scheme
20 JUNE 2022
Nigeria's oil and gas logistics giant, INTELS Nigeria Limited, has graduated 38 women under its Women Empowerment Project Scheme Synergy (WEPSS).
WEPSS is a Corporate Social Responsibility (CSR) initiative of INTELS Nigeria Limited. It was established in 2013 to empower 5,000 community women over a 20-year period through training in fashion design and tailoring. The beneficiaries are trained in two batches every year.
Since inception nine years ago, more than 1,540 women drawn from various communities across the country have benefited from the empowerment scheme.
Speaking during the graduation ceremony of Class of 2022 Batch A at the WEPSS Training Centre, Federal Lighter Terminal, Onne Port, Rivers State on Thursday, the General Manager, Legal and Corporate Services of INTELS Nigeria Limited, Amaopusenibo Mike Epelle, said the scheme was designed to uplift the economic status of the beneficiaries.
"It is a joyous occasion to celebrate determined trainees who have succeeded in acquiring new skills to make a decent living. WEPSS is a special centre set up to equip women in the community with competent tailoring skills," he said.
Also speaking, the Manager, Government and Public Affairs of INTELS, Rex Asaikpuka, encouraged the beneficiaries to utilise the skills imparted on them during their training.
He said, "I encourage you to run with the baton. It took time and resources to facilitate this training and we have succeeded in equipping you with the skills and start-up kit to takeoff."
The Project Manager of WEPSS, Nancy Freeborn, commended the management of INTELS for its commitment to the empowerment of women, promotion of Nigerian content and support for local communities despite the present economic challenges in the country.
She encouraged the beneficiaries to put their skills to adequate use and build successful careers and businesses that will generate employment opportunities for others.
Source: All Africa
https://allafrica.com/stories/202206200091.html
--------
URL: https://newageislam.com/islam-women-feminism/muslims-girls-marriage-islamic-sharia-rule/d/127280
New Age Islam Islam Online, Islamic Website, African Muslim News, Arab World News, South Asia News, Indian Muslim News, World Muslim News, Women in Islam, Islamic Feminism, Arab Women, Women In Arab, Islamophobia in America, Muslim Women in West, Islam Women and Feminism