New Age Islam News Bureau
7 Jul 2016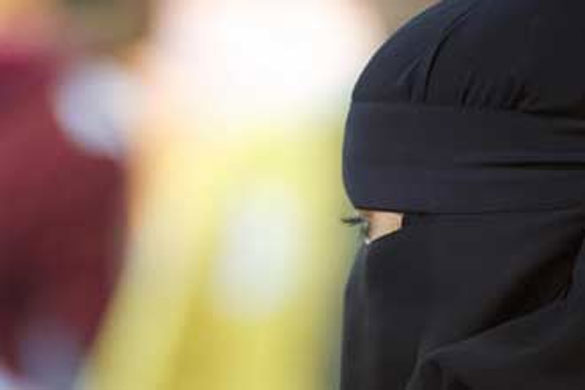 Photo: Anti-burka laws have also been introduced in France and Belgium Getty iStock
---------
• Muslim Woman Performs Last Rites of a Hindu Man in Karnataka
• Trupti Desai Dubs Women's Entry in Lucknow Mosque 'Historical Beginning'
• Muslim Population Share Decides Their Mentality: RSS Women Wing Wisdom
Compiled by New Age Islam News Bureau
URL: https://newageislam.com/islam,-women-and-feminism/new-age-islam-news-bureau/muslims-face-fines-up-to-£8,000-for-wearing-burqas-in-switzerland/d/107883
----
Muslims face fines up to £8,000 for wearing burkas in Switzerland
July 7, 2016
A controversial Swiss law prohibiting Islamic dress has been used to fine a Muslim convert and a businessman, who protested the ban.
The rule, which came into effect in Ticino on Friday, was voted in by referendum and outlaws face-covering headgear.
Nora Illi and Rachid Nekkaz, who are prominent campaigners for the rights of Muslims, walked in the streets of Locarno in full Islamic dress soon after the rule was introduced.
They were stopped by police officers, who fined Mr Nekkaz, a French-Algerian national, £180 (CHF230). Ms Illi, from Zurich, who converted to Islam when she was 19, will receive a penalty of up to £7,700 (CHF10,000).
In 2011, Mr Nekkaz set up a million euro fund to help women all over the world who chose to wear a veil or burka where it is not allowed.
As the protest was being carried out by Ms Illi and Mr Nekkaz, local government officials collected signatures calling for a nationwide ban on the burka.
The law, which began as a people's initiative, received 65 per cent of the vote in Ticino in 2013. The majority of Ticino are Roman Catholic.
It was approved by the local government in November, after the country's Parliament ruled it did not contradict Swiss federal law.
Georgio Ghiringhelli, who drew up the proposal said the ruling would send a message to "Islamic fundamentalists" who he claimed were in the country.
"Those who want to integrate are welcome, irrespective of their religion, but those who rebuff our values and aim to build a parallel society based on religious laws, and want to place it over our society, are not welcome," he said.
independent.co.uk/news/world/europe/muslims-fined-8000-wearing-burkas-niqab-switzerland-ticino-islamic-dress-a7124586.html
----
Muslim woman performs last rites of a Hindu man in Karnataka
July 7, 2016
Humanity has no religion - there can be no better example than this.In a faith-restoring act, a Muslim woman, who is a member of an old-age home in Hanmakonda town of Warangal district of Telangana performed the last rites of a old man after his death as per Hindu tradition.
75-year-old K. Srinivas had joined Sahrudaya old-age home in Hanmakonda town of Warangal. He died on Tuesday evening after a prolonged illness.
As a protocol, the old age home informed Srinivas's family about his death at the old-age home. But shockingly, Srinivas's son Sharath, did not turn up for the last rites of his father's cremation. He, instead, paid a quick visit, and left the place.
Srinivas's other relatives too visited but no one came forward for the cremation.
Finally, Md. Yakubee, the old age home member decided to perform the last rites of Srinivas as per Hindu tradition. She took part in the final procession of the body to the cremation ground.
Carrying a pot of water on her shoulder, she was the one who lit the funeral pyre.
The incident has shown the the two sides of society where one hand a lady of other religion came forward and performed the last right, on the other hand the own family member refused to perform their duty.
indiatoday.intoday.in/story/happens-only-in-india-muslim-woman-performs-last-rites-of-a-hindu-man/1/709553.html
--
Trupti Desai dubs women's entry in Lucknow mosque 'historical beginning'
July 7, 2016
Pune : Welcoming the entry of women in Lucknow's Aishbagh Eidgah on the occasion of Eid, Bhumata Brigade activist Trupti Desai on Thursday said it was a very big change and a big historical beginning.
"For the first time women were allowed to enter the mosques in Lucknow. The women are offering prayers there. It's a matter of great happiness. We had started the movement so that the Muslim women get this right. We want equality in temples, mosques and Dargah. This is a very big change. It will be a very big historical beginning," Desai told ANI.
Wishing the women on the occasion of Eid, Desai lauded the step of the trustees and called it a 'historical step'.
"The step taken by the trustees of Lucknow is a historical step. All other trustees should follow it," she added.
She said the Bhumata Brigade somewhere got support by this step of the Lucknow trustee.
"Somewhere, we got support through this. It's a very big beginning. If women are given equality everywhere, then I think our movement will very soon become successful," she added.
In an unprecedented move, Lucknow's famous Eidgah Aishbagh for the very first time opened its doors for women where they read the Eid-ul-Fitr namaz earlier today to celebrate the end of the Holy month of Ramazan.
A separate enclosure was put in place for the women to offer Eid prayers.
According to reports, the move comes at a time when instances of women being denied entry to Haji Ali Dargah and sanctum sanctorum at Shani temple in Maharashtra have made headlines with women organisations demanding equal rights on access to places of worship at par with their male counterparts.
siasat.com/news/trupti-desai-dubs-womens-entry-lucknow-mosque-historical-beginning-983134/
--
Muslim population share decides their mentality: RSS women wing wisdom
July 7, 2016
Claiming "Islam is not a religion, it's a political aggression", the Rashtriya Sevika Samiti, the women's branch of the RSS, Wednesday said wherever Muslims are in majority, they create problems.
These remarks were made by Asha Sharma, Akhil Bhartiya Sahkaryavahika of the Samiti, at a seminar in New Delhi — the topic was 'Religious Terrorism: A Global Threat' — which was attended, among others, by Lok Sabha Speaker Sumitra Mahajan who was the guest of honour.
Sharma was critical of Islam: "Jahan Islam jaata hai, wahan par vidhwans saath lekar ke gaya hai. Yah itihas hai, isko hum inkaar nahin sakte (Wherever Islam goes, it brings destruction. This is history, we cannot deny this)."
Noting that "aaj bhi unki soch yahi hai (their mentality is still the same)," Sharma said: "Jahan dus per cent hain, wahan chup kar ke rahenge. 15 per cent ho gaye toh apni baat keh ke chup karenge. 25 per cent ho gaye toh apni baat ko manvane ka prayas karenge, aur adhik badh gaye to kisi aur ki baat sunenge nahi (Wherever they are ten per cent, they remain silent. If they are 15 per cent, they go quiet after making their point. Where they are 25 per cent, they ensure that people follow whatever they say. And if they are more than this, then they do not listen to anyone else.)"
Sharma said Islam has proliferated due to the absence of education, whereas Christianity has spread due to poverty. In the absence of these two factors, she said, these religions will disappear. "Jahan shiksha hai, wahan Islam nahi hai. Jahan jahan shiksha badh rahi hai, jahan samriddhi aayi hai, wahan ye dono sampraday dheere dheere khatam ho rahe hain… Jahan gareebi hai, wahan Christianity hai. Gareebi door hogi to Christianity ka prabhav dheere dheere kam hota jaata hai (Where there's education, there is no Islam. In places where education is increasing, prosperity has come, these two religions have gradually declined… Christianity exists in areas where there is poverty. If poverty is removed, the influence of Christianity gets reduced gradually)."
Sharma said that the Samiti has taken up the task to fight terrorism and "this mentality". "If women want, they can change the face of the world. If mothers want, they can change the thinking of the entire world," she said.
Samiti speakers referred to Mahajan as a "sevika" who in turn called them "sakhi" (friends). Mahajan told the gathering that religion is a "misunderstood word" since "religion is not dharma, it is panth… there are so many panths in India… dharma is duty, whatever duty one does in life, it marks his dharma".
Mahajan also referred to the Dhaka attack and said Bangladesh Prime Minister Sheikh Hasina has rightly said "jo Ramzan ke dinon mein is prakaar se goliyaan chalane wala, Musalman ho hi nahin sakta (those who open fire during Ramzan cannot be Muslims)".
The seminar was held to mark the birth anniversary of Samiti founder Laxmibai Kelkar. The Samiti's Pramukh Sanchalika Shanta Kumari alias Shantakka was also present.
The Samiti has some three lakh members, and holds 4,350 shakhas daily across India, besides an active presence in 45 countries.
indianexpress.com/article/india/india-news-india/rss-women-wing-muslim-majority-terrorism-mentality-dhaka-attack-2898440/
URL: https://newageislam.com/islam,-women-and-feminism/new-age-islam-news-bureau/muslims-face-fines-up-to-£8,000-for-wearing-burqas-in-switzerland/d/107883
New Age Islam, Islam Online, Islamic Website, African Muslim News, Arab World News, South Asia News, Indian Muslim News, World Muslim News, Womens in Islam, Islamic Feminism, Arab Women, Womens In Arab, Islamphobia in America, Muslim Women in West, Islam Women and Feminism