New Age Islam News Bureau
14 Sept 2013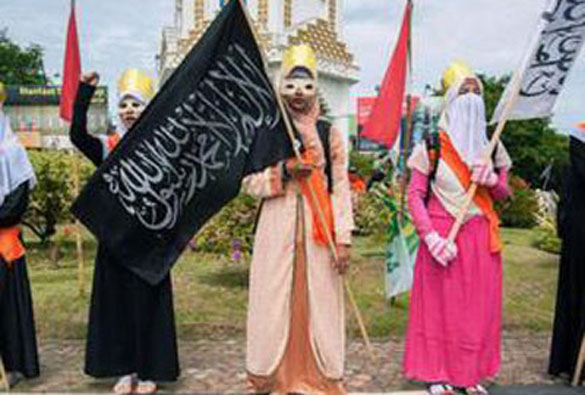 Photo: Muslim women stage a protest against the Miss World beauty pageant contest this month. (AFP)
---------
• Tajik Woman Detained For Recruiting Fighters for Jihad
• Bill to Stop Child Marriages in Sindh, Pakistan Soon
• UN Agency Says there's 'Backlash' Against Equality for Women
• Sidra Symposium Calls For Focus on Breastfeeding as National Initiative In Qatar
• Women More Prone To Depression: Shrink
• Bangladeshi Woman Discovers Her Relatives after 35 Years in Pakistan
• Saudi Who Had a Run-In with Haia Claims Harassment
• Palestinian Seeks Husband's Body, Held by Syrian Rebels
• New Breast Cancer Drug Approved
Compiled by New Age Islam News Bureau
URL: https://newageislam.com/islam-women-feminism/'muslimah-world'-indonesians-hold-islam's/d/13499
-------------
'Muslimah World': Indonesians Hold Islam's Answer to Miss World
14 September 2013
The Miss World beauty contest held this year in Indonesia has attracted vehement opposition by Islamic groups in the nation, who have in response set up a rivalling beauty pageant only for Muslims.
The Muslimah World contest is Islam's answer to Miss World, according to its founder Eka Shanti, and is to be held on Wednesday in the Jakarta, Indonesia's capital.
"Muslimah World is a beauty pageant, but the requirements are very different from Miss World - you have to be pious, be a positive role model and show how you balance a life of spirituality in today's modernized world," Shanti told AFP.
20 Muslimah World finalists were chosen from more than 500 who took part in an online selection process.
The process involved the competitors reciting the Quran and sharing anecdotes of how they can to wear the headscarf, which is a requirement of the show.
The competition's finalists hail from countries with large Muslim populations, including Bangladesh, Iran, Malaysia, Nigeria and Brunei.
The finalists will wear fashionable yet Islamic garments in what Shanti says is an opportunity to show young Muslim women that they do not need to show their hair and bare shoulders to be considered beautiful.
Diverse
However, Shanti said that she did not support calls to cancel the Miss World contest, saying the Indonesia was a religiously diverse country.
"We don't just want to shout 'no' to Miss World. We'd rather show our children they have choices. Do you want to be like the women in Miss World? Or like those in Muslimah World?" said Shanti, according to AFP.
After unrelenting protests, Indonesian government officials said last week that the Miss World final would be shifted to Bali, which has a Hindu majority population who do not oppose the contest.
Miss World pageant in response dropped the bikini from one of its rounds. So far, the show has attracted more than a month of protests demanding that the show is terminated.
Some protestors have burnt effigies of the organizers and have called the contest "pornographic."
http://english.alarabiya.net/en/variety/2013/09/14/-Muslimah-World-Indonesians-hold-Islam-s-answer-to-Miss-World.html
-------------
Tajik Woman Detained For Recruiting Fighters For Jihad
By RFE/RL's Tajik Service
September 11, 2013
DUSHANBE -- A 37-year-old woman in Dushanbe has been detained for allegedly helping recruit and send men to fight in jihadist groups.
Court documents surfaced on September 11 showing Nigina Toshkhojaeva had helped two men wanted in Tajikistan to flee the country to join terrorist groups in Afghanistan.
Tajik authorities say both were members of the Islamic Movement of Turkestan.
Toshkhojaeva was apprehended at the Dushanbe airport with another man who is suspected of "going for jihad" to Afghanistan.
Toshkhojaeva's husband is in an Afghan jail after being caught and sentenced for membership in a terrorist group.
Toshkhojaeva faces charges of organizing and leading an illegal group and of helping recruit Tajik citizens to fight abroad.
http://www.rferl.org/content/tajikistan-arrest-afghan-jihad/25103259.html
-------------
Bill to Stop Child Marriages in Sindh, Pakistan Soon
September 14, 2013
KARACHI - Sindh Minister for Women Development, Special Education and Social Welfare Departments, Rubina Saadat Qaimkhani on Thursday unveiled that a bill would be presented in Sindh Assembly about making a law to fix maximum 18-year age limit for both bride and groom for marriage with proposing imprisonment and fine to stop early marriages in the province.
She announced this while talking to the media during a visit to the Karachi Press Club on Thursday. She added that if any parent was found involved in arranging a marriage for his/her daughter before reaching the age proposed in the law would be sentenced with one year imprisonment and a huge fine.
She said the bill for Child Marriage Act would be tabled in Sindh Assembly to convert it into law so that child marriages could be stopped. She said that a consultative session with the civil society, media and Ulema was underway and soon a bill would be tabled in the provincial assembly.
Rubina said two percent job quota for disabled would be implemented with letter and spirit in Women Development, Special Education and Social Welfare departments after withdrawal of ban imposed on jobs.
The minister said provincial government was also planning to establish Women Complaint Centres in every district of Sindh. The implementation on the law against sexual harassment on women at workplaces would be implemented in letter and spirit.
She said all the three departments of her ministry would be equipped with latest technology with coordination of provincial government and foreign donors.
She said Sindh child protection bill had already been passed in the province and soon it would be implemented.
On the occasion, Rubina announced Rs0.3 million as grant for Karachi Press Club on the behalf of her department.
http://www.nation.com.pk/pakistan-news-newspaper-daily-english-online/karachi/13-Sep-2013/bill-to-stop-child-marriages-soon
-------------
UN Agency Says there's 'Backlash' Against Equality for Women
September 14, 2013
UNITED NATIONS — The new head of the UN agency promoting women's rights says there is "a definite backlash" against equality for women despite some significant progress, pointing to an upsurge in violence against women and the uphill fight to escape poverty and crack the glass ceiling.
Phumzile Mlambo-Ngcuka, who was South Africa's first female deputy president, said that 18 years after world leaders adopted a blueprint to achieve equality for women at a UN conference in Beijing there are still major economic and social barriers and new crimes to confront including trafficking of women and girls and cyber bullying.
"All of those means that we do need to go back to the drawing boards and strengthen the mechanisms and options that we have to engage in the fight to advance women's equality and emancipation," she said in an interview Wednesday.
Mlambo-Ngcuka said the campaign for equality of the sexes has been dominated by women and it needs to be broadened to include boys and men as well as the private sector.
"You need men — you just cannot crack these issues without winning over men," she said. "We need to win the priests, the rabbis, the traditional chiefs" to tackle religious and cultural barriers.
UN Women was created three years ago by the General Assembly to combine four UN bodies dealing with the advancement of women under a single umbrella. Its first leader, former Chilean president Michelle Bachelet, stepped down to run for president again.
As the second executive director, Mlambo-Ngcuka said she plans to take "a very collaborative approach" with the 193 UN member states, other UN offices and agencies, and civil society groups "who are crucial for success." Bachelet's greatest success came in March when 131 conservative Muslim and Roman Catholic countries and liberal Western nations approved a UN blueprint to combat violence against women and girls. Data from the World Health Organization and other research has shown that an average of 40 percent — and up to 70 percent of women in some countries — face violence in their lifetimes.
Ending violence against women and girls remains a top priority for UN Women, and Mlambo-Ngcuka said she wants to take this campaign to every city in the world and mobilize local governments, non-governmental organizations, religious leaders and interested citizens to fight the scourge and create safe communities.
UN Women's other priorities include expanding women's leadership, economic empowerment and participation in peace and security efforts. "Women's voices need to be heard in the household, on corporate boards, in peace talks, and in public institutions," Mlambo-Ngcuka told a news conference Thursday.
"Women need equal access to education, opportunities, and to economic resources such as credit and land, and to justice," she said. "Women need to have choices and for this sexual and reproductive health and reproductive rights are essential."
Access to finance for women is a big issue, Mlambo-Ngcuka said, and she will be pressing for more small loans to help women escape poverty but also for "big bucks" to help them climb the economic ladder.
"There's no reason why women should not be in the commanding heights of economy," she said, pointing to the success of women in China from rural areas and poor families who have been able to "crack the city and crack the big markets."
Looking ahead, Mlambo-Ngcuka said "the elephant in the room" is money.
In 2012, UN Women's revenue was $220 million and its expenses were $235 million. This year, she said the agency needs $100 million to end 2013 "in a healthy way."
Mlambo-Ngcuka said one of her immediate priorities is to expand the donor base and try to tap the private sector, foundations, philanthropists and private individuals. Much greater investment is needed to "help us do things with real people in real situations" to promote equality for women," she said.
http://www.saudigazette.com.sa/index.cfm?method=home.regcon&contentid=20130914180365
-------------
Sidra Symposium Calls For Focus On Breastfeeding As National Initiative In Qatar
September 14, 2013
Sidra Medical and Research Centre (SMRC) yesterday held a symposium to address the need to focus on breastfeeding as a national programme as well as to raise awareness about the social and health consequences of inadequate breastfeeding rates and the use of artificial formula in Qatar.
With a breastfeeding rate of 12% in Qatar, which is among the lowest regionally, experts explored ways in which Qatar can reach the National Health Strategy (NHS)'s breastfeeding objectives.
World Health Organisation (WHO)/Unicef's Baby-friendly Hospital Initiative (BFHI) was discussed as one such programme, which, if implemented as a national initiative, would support Qatar in reaching the NHS objectives.
The symposium called for the implementation of BFHI nationally as one of the initiatives to increase exclusive breastfeeding rates in Qatar.
The symposium moderated by Sidra's deputy chief medical officer and founder of the Sidra Symposia Series, Dr Joachim Dudenhausen, featured local and international speakers, including Randa Saadeh, who recently retired as director of the Nutrition in the Life Course Unit, Nutrition Department at WHO; Dr Shaheen Manzur, general practitioner at Dukhan Medical Centre and founder of the first breastfeeding clinic at the primary care level in Qatar; and Laura Fisher, business manager of Step2 Education - an online education company that assists institutions striving to achieve the baby-friendly designation.
"We need to raise awareness of the critical role healthcare professionals play in promoting breastfeeding and the issues we experience here in Qatar by failing to create an environment where women and families are able to breastfeed or find help and support with breastfeeding. The speakers gathered for this symposium are pioneering the promotion of breastfeeding as a common practice both in Qatar and internationally, and we hope it will help us make greater strides in meeting the NHS goals," Dr Dudenhausen said.
Unicef data from 2005, the latest available, reported the exclusive breastfeeding rate in Qatar as being 12% in the early months of infancy. Project 3.8 of the NHS (2010) identifies increasing exclusive breastfeeding rates to 25% as a key concept (project 3.8.1) to improve the health of newborns, infants and women.
Improving breastfeeding rates will also have a positive influence on reaching other key health targets identified in the NHS as breastfeeding has lifelong health and social benefits for mothers and their babies.
Hospitals can achieve the baby-friendly designation if external reviewers evaluate them as adhering to each of the "Ten Steps for Successful Breastfeeding" and the "International Code of Marketing of Breast-milk Substitutes", something Sidra is integrating into all clinical planning.
During the symposium, Saadeh discussed BFHI, a global movement launched in 1991, detailing challenges in its implementation and the steps needed to move forward to ensure the best start for all Qatari children.
BFHI seeks to implement practices that protect, promote and encourage breastfeeding. It also aims to improve the role maternity services play in educating mothers about the importance of breastfeeding by improving the care pregnant women, mothers and newborns receive at healthcare facilities.
Saadeh said she hoped Qatar implements it across hospitals in the country. "I hope that Sidra becomes the key driver of BFHI implementation throughout Qatar and the region."
Dr Manzur touched upon the health and social consequences of low breastfeeding rates in Qatar. "Far too many mothers give up breastfeeding quickly after their child's birth because of the false impression of insufficient milk supply, insufficient support from their husbands, families and health providers as well as lack of education.There is a growing need for education and professional assistance to ensure mothers and their families are taught the skills they need to succeed because family support is a key factor in initiating and sustaining breastfeeding," she said.
The symposium marked the fifth event of the Sidra Symposia Series, a quarterly medical conference hosted and organised by SMRC.
The series is designed to address the most important topics facing women's and children's healthcare in the region and share medical knowledge, research and best practices. Request to attend future events can be sent to events@sidra.org.
http://www.gulf-times.com/qatar/178/details/365522/sidra-symposium-calls-for-focus-on-breastfeeding-as-national-initiative
-------------
Women more prone to depression: Shrink
September 14, 2013
AL-KHOBAR — Head of medical services at Dammam's Al-Amal Mental Hospital Dr. Waleed Al-Melhem said women are more prone to depression. In comments made to Al-Hayat newspaper recently, he called for greater understanding of the disorder.
Al-Melhem, who is a consultant psychiatrist, said depression represents the majority of cases that are treated at the hospital and called upon the concerned authorities to prevent sorcerers from using herbs and other methods to treat depression.
According to Al-Melhem, the most common causes of depression are: loss of a child, a loved one, a friend, money or prestige. In addition, hereditary factors, the patient's readiness, life and social pressures also contribute to the condition.
"Al-Amal Hospital works like one team, consisting of doctors, psychiatrists and specialists to evaluate such conditions and recommend an appropriate treatment. Urgent cases are admitted immediately to the hospital, while other patients are given appointments to visit outpatient clinics," he said.
The expert said sorcerers are one of the major reasons behind society's negative view of depression and other mental conditions.
"Some of these so-called healers actually convince patients that the medication which was prescribed to them by qualified medical doctors actually worsens their condition. This in turn causes patients doubt the psychiatric treatment they are receiving," he said.
http://www.saudigazette.com.sa/index.cfm?method=home.regcon&contentid=20130914180314
-------------
Bangladeshi Woman Discovers Her Relatives after 35 Years in Pakistan
NABEEL ANWAR DHAKKU
2013-09-14
CHAKWAL: It is an account of a shattered life; a life devastated by criminals involved in women trafficking.
The year was 1978 when her husband died. Two months later, Ayesha Bibi gave birth to a baby boy in Dacca, the capital of Bangladesh. By that time her parents had already died.
Due to poverty, her relatives also gave her a cold shoulder.
She was trying to get on with life by labouring in the houses of wealthy people. But the arrival of a baby boy forced Ayesha to rethink about her financial worries.
"Someone told me that one could get a handsome amount of wage by working in Karachi and I made up my mind to migrate to Pakistan," Ayesha Bibi recounts as she talks to Dawn in Nara Mughlan, the remotest village on the eastern side of Chakwal district.
"Taking the widowed and poor Bangladeshi women to Pakistan was a thriving business running secretly after the 1971 War," she remembers.
Ayesha was a typical illiterate woman and vulnerable to fall prey to the traffickers. An agent of 'women trade mafia' assured her that he would take her to Karachi which was a 'city of lights' and 'a land of opportunities' at that time.
Ayesha, 64, does not know the name of that agent. "If you want to take your child along you have to pay Rs3,000 and if you leave the child behind I would only take Rs2,000," the agent told Ayesha. Being a mother how could she opt for the second option? "My child was the sole ray of hope for me who could mitigate my pains and I arranged three thousand rupees in the hope of getting a new lease of life," she stated.
As the diplomatic relations between Pakistan and the then seven-year-old Bangladesh were strained due to the 1971 war, the long journey into the lights of Karachi was to be taken illegally, keeping out of the sight of security forces of Bangladesh, India and Pakistan.
"I was not only one woman but there were many other hapless women in the convoy," she said. Ayesha does not remember the date or month of that dark journey but she does know that they set out in the summer. "The journey was really hard as we travelled only by nights and spent the daytime by hiding in the crops of sugarcanes and cotton." According to her, she and other women were kept on the outskirts of Delhi for six days and then reached Lahore after 10 days. "From Dacca to Lahore it took us 16 days," she maintained.
The agent took the women to Karachi and sold them to a man whose name according to Ayesha was Shamsul Haque. "Shamsul Haq resold five of us to another person at the rate of Rs5, 000 each," she recalled.
Here entered Mirza Mohammad Hussain who belonged to Nara Mughlan village of Chakwal and was posted in Karachi as a soldier of Pakistan Army. He had lost his wife and was in search of another one. How did he reach Ayesha is a mystery but he expressed his desire of marrying her and Ayesha accepted it. "He was much older than me and was about to retire from the army but despite being young I decided to marry him as I badly needed a person who could support me," she said.
After retiring from the army, Mirza Hussain joined a private organisation and served there for a few years. The couple, including Ayesha's child, returned to Nara Mughlan village two decades back.
Ayesha did not bear any child from Hussain and the couple focussed on bringing up the sole son Ayesha bore from her first husband in Dacca.
Ayesha's son Sajid Mehmood now works in Islamabad with a private organisation. Ayesha's husband passed away in 1997.
After his death, life became harder for Ayesha as Hussain's relatives snatched all the property she owned. "They subjected me to severe torture. They tried to stop my husband's pension by writing a fake letter to the army that I had married again."
Due to the torture by Hussain's cousins, Ayesha had to take refuge in a shelterhome.
Ayesha's language was Bangali but now after spending 35 years in Pakistan she neither has any grip on her mother tongue nor can speak Punjabi and Urdu fluently.
Recently, a Bangladeshi couple from Karachi went to Dacca and they informed the relatives of Ayesha about her.
Ayesha's niece phoned Ayesha three months back. Both aunt and niece never saw each other before as Ayesha's niece had not born when she left Dacca in 1978. "For many minutes, we both kept on weeping and could not utter a single word," she said.
Ayesha, who is now dying to visit her native country, looks for help as she neither knows the means of travelling abroad nor has money to get her passport and visa. "I have only one desire now and that is to meet my nephews and nieces," she said.
http://www.dawn.com/news/1042715/bangladeshi-woman-discovers-her-relatives-after-35-years
-------------
Saudi who had a run-in with Haia claims harassment
September 14, 2013
UNAIZAH — A man who claimed members of the Commission for the Promotion of Virtue and Prevention of Vice (Haia) bullied him and harassed his wife vowed to fight for his rights till the end.
"I will not relinquish my right nor my wife's right whatever happens," Muhammad told Al-Jazirah Arabic daily. Muhammad requested the interview to talk about the recent run-in he had with the Haia members in Unaizah, Qassim.
The Saudi national said he had an appointment with a contractor who is building his new home in Al-Khuzama district.
He said he waited for the contractor at the location, which is the highest point in the district.
After an angry telephone conversation with the contractor over constant delays in construction, he said he left the place accompanied by his wife.
After a few meters, he noticed that he was being followed by another car and the driver was signalling for him to stop. The car belonged to the Haia and Muhammad stopped and disembarked from his vehicle.
"Immediately, he demanded that I present my identity card. He asked whether a woman was accompanying me. I said, 'Yes, she is my wife'." He asked me to present my family registration card."
Muhammad said he was surprised at the request to prove he was married to his wife and instead asked the Haia member whether he was wanted or whether there were any violations registered against his.
"His reply was: I have no right to ask questions and it is only the Haia members who can ask."
At this point, Muhammad said he asked the Haia member to prove that he was officially working for the commission.
He refused and Muhammad got back into his car and drove to King Saud Hospital where his wife wanted to visit her sister who had recently undergone a surgery.
After arriving at the hospital, Muhammad and his wife were greeted by two men who claimed to be from the Haia.
"I hurried toward them and scolded them. The security guards and several witnesses saw the scene. The two men wanted to take my wife's mobile phone by force. A quarrel broke out between us. At this point, my wife's father and mother came out from the hospital and told them that my wife was their daughter."
Still unconvinced with Muhammad's story, the commission members called a security patrol team, and shortly afterward, the field supervisor of the Haia arrived and apologized to Muhammad for what happened. But he asked him to sign a paper that said he had insulted the Haia members.
"I refused to sign because it is impossible to let them falsely accuse my wife in public of not being married to me and then ask me to sign a paper saying that it was me who had insulted them."
When Muhammad refused to sign the piece of paper, he was asked to go to a nearby police station. Once there, he was given a report of the incident in which the commission members accused him of insulting them.
He was then told to go to the Bureau of Investigation and Public Prosecution (BIP) where Muhammad claims he was asked to admit to his wrongdoings or he would lose his wife and job.
"I denied all the allegations. I swore that I will not relinquish my right and that of my wife. My father and father-in-law defended me. They issued an order to imprison me for five days," Muhammad said.
Al-Jazirah called the spokesman of the Haia in Al-Qassim region, Abdullah Al-Mansour, who said Muhammad had been detained in an isolated place and he did not heed Haia members' request to identify himself.
Furthermore, he drove off to a public place where the woman he was with left the vehicle and ignored members' calls to stop.
Al-Mansour said the suspect was then arrested and referred to the investigation authorities.
http://www.saudigazette.com.sa/index.cfm?method=home.regcon&contentid=20130914180386
-------------
Palestinian seeks husband's body, held by Syrian rebels
September 14, 2013
DAMASCUS — Arriving at the rubble of the Palestinian Yarmuk refugee camp in Damascus, Hadia Al-Fut discovered that her husband had been killed while fighting in the ranks of a pro-regime Palestinian group.
Worse still, she found there was little chance she would be able to recover his remains because the rebels who killed him in an ambush a day earlier were holding out for an exchange for bodies.
Hadia, a Palestinian, had fled Yarmuk because of ongoing fighting there, but was back at the camp to meet her husband.
"We had an appointment because we had to register our 19-month-old son," she said between sobs.
"When I arrived, I was told that he and his whole group were killed in an ambush by Al-Nusra Front," she added, referring to a jihadist rebel group.
Her husband Mohamed had been fighting in the ranks of the Popular Front for the Liberation of Palestine-General Command, a pro-regime Palestinian group led by Ahmed Jibril.
Just 27, he was a taxi driver before the war, and decided to join the PFLP-GC a year ago despite being Syrian. "I want to see my husband one last time. I want to know where he was buried," Hadia said tearfully.
But the possibility of retrieving his body seemed slight because the rebels who killed him were holding out for an exchange for bodies.
She discussed it with with a PFLP-GC leader, as the sounds of battle — gun and automatic weapons fire — continued around them.
"I need to have him close to me, but there's no hope, because his friends don't have a body to exchange for his," she said, holding the hands of her son and seven-year-old daughter Sira. In an apartment in part of the camp controlled by the faction, the smell of death hovered over a body wrapped in sheets.
The Palestinian pro-regime fighters said it was that of a foreign rebel, but opposition forces refused to accept it in an exchange because the corpse couldn't be identified.
Yarmuk has been the scene of fierce clashes for months between opposition fighters and forces loyal the regime of President Bashar Al-Assad.
The area was established in 1957 as a camp for Palestinian refugees, but has gradually become a district of the capital. It is home to around 450,000 people, including 150,000 Syrians, and many mixed marriages like that of Hadia and Mohamed.
The 500,000 Palestinians in Syria stayed largely outside of the conflict between the opposition and regime for its first 18 months.
http://www.saudigazette.com.sa/index.cfm?method=home.regcon&contentid=20130914180337
-------------
New breast cancer drug approved
JEDDAH: ARAB NEWS
14 September 2013
Breast cancer is spreading three times faster in the Kingdom than in other countries.
Issam Mirshe, chairman of the Saudi Oncology Society and oncology and radiation therapy consultant, said that there were 11,862 female breast cancer patients in the Kingdom and only 125 male breast cancer patients over a period of 16 years.
There was also a 65 percent recovery rate among those diagnosed early and those who sought follow-up treatment.
Mirshe said the Saudi Food and Drug Authority (SFDA) allowed a new drug in the market that treats patients with advanced breast cancer. The drug halts cancer cells from multiplying and is expected to treat 53 percent of cancer patients in the Kingdom.
Abdulaziz bin Ali Al-Turki, president of the Saudi Oncology Society, said that statistics available with the National Oncology Register revealed that breast cancer was the most common, accounting for 25.9 percent of all cancer cases, with the Eastern Province registering the highest number of patients.
Abdulmuhsin Al-Milhim, director of Al-Ahsa Health Affairs, said breast cancer patients in the Eastern Province constitute 22 percent of total cases registered in the Kingdom. Saudi Arabia accounts for one percent of breast cancer cases worldwide.
"Breast cancer accounts for 25 percent of the total number of female cancer patients who are registered with cancer treatment centers in Riyadh and 35 percent in Jeddah, according to an annual report published by the Ministry of Health in 2009," said Dean of the College of Medicine Walid Albuali.
Abdulrahim Qari, internal medicine, hematology and oncology consultant in Jeddah, said chronic lymphocytic leukemia is one of the most common forms of cancer.
http://www.arabnews.com/news/464557
-------------
URL: https://newageislam.com/islam-women-feminism/'muslimah-world'-indonesians-hold-islam's/d/13499