New Age Islam News Bureau
8 Jan 2018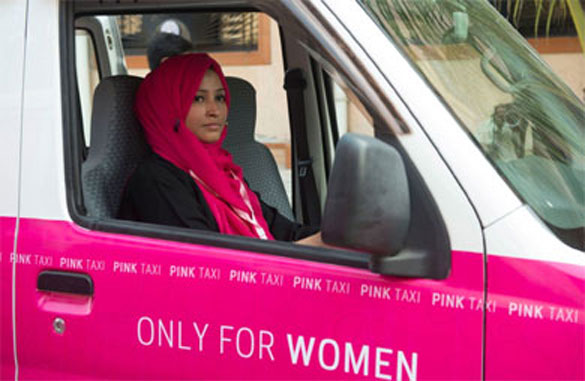 The women drivers say they have faced harassment from other road users, but will persevere with the service. Photo: Reuters
-----
• Haj Policy Panel Head Suggests Removing Age Bar on Women Travelling Without Mehram
• With A Green Light From Karachi, Pakistan's Women-Only Taxis Eye New Cities
• Refugee Women in Malaysia Unprotected Against Violence
• Three-Quarters of Swiss Back a Burqa Ban
• Female Squash Professionals Including KSA Player "Making History" At Saudi Tournament
• 10% Saudi Women above 32 Unmarried
Compiled by New Age Islam News Bureau
URL: https://www.newageislam.com/islam-women-feminism/muslim-women-misuse-triple-talaq/d/113858
--------
Muslim Women Will Not Misuse the 'Triple Talaq' Law
By Mariya Salim
6 Jan 2018
Immediately after the Indian government announced a bill criminalising "triple talaq", the proposal has been mired in controversy.
Banning the practice of a husband divorcing his wife by uttering "Talaq" three times within Muslim communities has been under discussion in India for years now. The practice has rendered hundreds of Muslim women homeless, forced out of their matrimonial homes overnight, with many learning that they have been divorced from relatives, by phone or even by a text message. A recent study found that 79 percent of women divorced through "triple talaq" did not receive any maintenance from their former husbands. Despite the Supreme Court having declared the practice void in August last year, activists on the ground confirm that it continues unabated.
Last week the lower house of the parliament passed a bill seeking to criminalise instant "triple talaq". If the bill is voted into a law, men found guilty of divorcing their wives through "triple talaq" could face jail time of up to three years.
The reactions to the "triple talaq" bill within the Muslim community have been varied.
As a feminist, what has troubled me the most are critics of the bill saying we should reject it because it is a right-wing government that is putting it forward. Equally disturbing are claims that the criminalisation of "triple talaq" could be misused with it being a ploy to jail more Muslim men.
The government's track record of safeguarding the rights of minorities is quite poor indeed. It has failed to provide proactive relief or justice to families of those lynched by cow vigilantes and has taken little to no action against its own party members allegedly using hate speech against minorities.
But to use this failure to reject a legal amendment that is in line with a decades-old struggle of ordinary Muslim women is prejudicial. It is important to remember that this bill has not come about in a vacuum and is a result of years of struggle of Muslim women's groups demanding codification of Muslim Family Law in India.
There is nothing wrong with Muslim women activists rejoicing and celebrating the fact that they will not have to study court rulings in divorce cases or find ways to incorporate "triple talaq" as cruelty under the Domestic Violence Act any more.
Critics also argue that the government, as well as Muslim women, are likely to misuse the law. They say that survivors of "triple talaq" are guided merely by concerns of maintenance and economic security and not dignity.
Arif Mohammad Khan, Islamic scholar, former cabinet minister of the Congress party and one of the chief architects of the present bill has the right response to these accusations: "Why are we undermining the intellect of a Muslim woman? Are we not naive to argue that despite wanting to save her marriage, she will misuse this law to put her husband behind bars? If anything, this law will ensure that a Muslim man thinks a hundred times before uttering the word talaq thrice in one go and then forcing her to leave her matrimonial home," he told me.
We have to recognise the importance of deterrence in law, the quantum etc can of course be debated. There are other civil law violations, such as bigamy, which invite penal action, why should triple talaq be an exception?
Making "triple talaq" an invalid practice under the civil code has not really worked. Activists working on the ground with Muslim communities confirm that cases of "triple talaq" continued even after the Shayara Bano judgment by the Supreme Court which rendered the practice void in August 2017.
One must remember that right after this judgment, religious leaders of well-known Islamic organisations openly defied it saying: "If you want to punish the person for it, you can do so, but the divorce will be recognised."
There have also been some academics who have argued that fixing a high amount of dower could serve as a deterrent to divorce. But this is in a complete contradiction with the demands of Muslim women who have been asking for dower to be paid at the time of marriage.
They do not see dower as a deterrent to divorce, but rather as a right of a Muslim woman to receive financial security from her husband at the time of marriage. These arguments are in a lot of ways taking the movement for gender equality by Muslim women, many steps back.
Yet it is right to argue that that the government should have consulted Muslim women's groups before tabling the bill, and accepted suggested amendments to it to make sure it meets its purpose: that of stopping Muslim men from continuing to give irrevocable divorces to their wives despite the Shayara Bano judgment.
Noorjehan Safia Niaz, cofounder of Bharatiya Muslim Mahila Andolan (BMMA) - an organisation which has worked for the ban on "triple talaq" for years - has suggested that penal action must be undertaken at the behest of the aggrieved wife, and must be non-cognizable and bailable.
"The ordinary Muslim women are with us and are celebrating," says Zakia Soman, cofounder of the BMMA. In an appeal to the Rajya Sabha to pass the bill, BMMA also calls for the need of a comprehensive codified Muslim family law based on Quranic injunctions and in compliance with constitutional provisions.
It is not too late for the government to listen to Muslim women activists and amend the bill.
The reason why activists who work with Muslim women on the ground and with scores of survivors of "triple talaq" support the bill is because they see the destitution that this practice has caused. They do not see merit in losing an opportunity for reform because the party in power is right-wing.
This bill could be a stepping stone towards a more comprehensive codification of gender-just Muslim family law reform in India.
Mariya Salim is a Kolkata born Indian with a degree in human rights law from the School of Oriental and African Studies.
http://www.aljazeera.com/indepth/opinion/muslim-women-misuse-triple-talaq-law-180103150031202.html
--------
Haj policy panel head suggests removing age bar on women travelling without Mehram
January 7, 2018
The head of the committee that framed a new Haj policy has said the government should allow women below 45 years of age to go on Haj without a "Mehram". Afzal Amanullah said it had suggested to the government that the age limit on women travelling without "Mehram" – a term for a close male relative a woman cannot marry, such as her father, brother or son – be removed.
"If a male major can go alone for Haj, why not a woman," Amanullah said. The Centre has for the first time decided to allow women pilgrims over the age of 45 to undertake the pilgrimage in groups of at least four sans 'Mehram'. Till now, women pilgrims would be required to be accompanied by their husbands or 'Mehrams' during the annual pilgrimage.
Amanullah, the former Consul General of India, Jeddah, said no restrictions on age and "Mehram" had been imposed by Saudi Arabia's government and the conditions had been set by India. Prime Minister Narendra Modi, during his 'Mann Ki Baat' radio address recently, had said the policy of allowing Muslim women to perform Haj only in the company of a male guardian was unjust and discriminatory and his government had removed the restriction following which hundreds of women had applied to travel without male guardians for the pilgrimage.
Modi's claims were met with criticism from some leaders such as All India Majlis-e-Ittehadul Muslimeen chief Asaduddin Owaisi. Owaisi had dismissed Modi's claim that it was his government which had enabled Muslim women to perform Haj without being accompanied by male guardians. "This regulation was passed by the Saudi Haj authorities many years ago," the Hyderabad MP had said.
However, Amanullah, a retired IAS officer, said the restriction regarding "Mehram" was imposed by the Indian government and not Saudi Arabia. "The Indian government has now removed the restriction. I consider it a very important step," said Amanullah, who was the convener of the committee on preparing the new Haj policy for 2018-2022.
It was on the basis of the report submitted by this committee that the government decided to do away with certain restrictions regarding "Mehram". "I fail to understand why such a restriction was imposed by the Indian government for so many years. When we contacted the Saudi administration in the course of preparing the draft of the new Haj policy, we came to know that there was no such restriction from them," Amanullah said.
More than 1,300 women from across the country have applied to go for Haj without 'Mehram' and will be exempted from the computerised lottery system which shortlists pilgrims every year.
http://indianexpress.com/article/india/haj-policy-panel-head-suggests-removing-age-bar-on-women-travelling-without-mehram-5015382/
--------
With a green light from Karachi, Pakistan's women-only taxis eye new cities
07 JANUARY, 2018
KARACHI — Braving whistles, catcalls and vulgar remarks, Karachi's female taxi drivers are determined to stay on the road to ferry women safely around the teeming city - from home to the office, to college and even to late night wedding parties.
Since March, women in Pakistan's commercial hub have been able to hail the pink taxis - called Paxis - by phone, app or simply by flagging one down on the street.
The women drivers say they have faced harassment from other road users, but will persevere with the service.
"This (harassment) that we face is the occupational hazard of this job. It's best to ignore such people, they will get used to sharing the roads with us!" said Shamina Bano, 43, a mother of grown-up sons and one of the drivers with the first ever gender-segregated taxi service.
Wearing a hot pink headscarf, Ms Bano said she left her previous job as a personal secretary after her boss started making "untoward advances".
"Working in an all female environment feels so much more comfortable; I don't have to look over my shoulder anymore," she said.
The app asks potential riders the number of passengers and if there are any men accompanying them. If the man is between 12 and 70 years old, the request will be turned down.
Mehreen Faizan, 28, also a Paxi driver, had initially applied to work for another taxi service.
"When I found out I'd have to chauffeur male clients as well, my husband was not very happy about it. He then suggested I apply here," she said.
Commuting in the sweltering city of 20 million is often an ordeal for women.
A report by Karachi's Urban Resource Center found most female commuters experience some form of sexual harassment while using public transport.
And before the pink taxis, getting a cab in Karachi could also be unpleasant for women.
From sitting in "messy and smelly cars" to being driven by drivers who are lost but refuse to use the GPS system, to being stared at through the rear view mirror or driven too fast, there is a long list of complaints women commuters have against male taxi drivers.
Women drivers, however, are careful and happy to accept directions, said regular pink taxi users.
"It's very reassuring and comfortable," said Sobia Athar, a college lecturer, who uses the service regularly despite it being a bit more expensive than other taxis.
Ms Bano said during the wedding season from December to March she is busy shuttling women to festivities which may continue till very late at night.
Nuzhat Siddiqi, an environmentalist and working mother said she prefers the idea of women drivers for her family.
"I would certainly not be too keen to send kids and young maids or teenaged daughters with male taxi drivers alone," she told the Thomson Reuters Foundation.
By the end of this year the company would have doubled its fleet of cars from 15 at its launch to 30.
And Paxis are soon to appear on the streets of Sukkur in Sindh province and then to Peshawar close to Pakistan's border with Afghanistan, said Shaikh M. Zahid, the founder of the service.
Peshawar lies in the highly conservative province of Khyber Pakhtunkhwa where strict purdah is observed.
"It has a much higher ratio of educated women, but due to lack of a safe transport system, their mobility is greatly compromised and their full potential to be productive citizens gets somewhat lost," said Mr Zahid.
"I got very good vibes from informal talks I've been conducting with women there who say they would love having women drivers ferry them across the city," said Mr Zahid, who has also held informal talks with religious leaders to explain the advantages of a women-only transport service.
The challenge is finding enough female drivers.
"It was initially difficult to convince parents and families to let their womenfolk take this up in Karachi," said Mr Zahid.
"Today, these same women have become such strong role models for others and the response has been amazing." THOMSON REUTERS FOUNDATION
http://www.todayonline.com/world/green-light-karachi-pakistans-women-only-taxis-eye-new-cities
--------
Refugee women in Malaysia unprotected against violence
JAN 8, 2018
Rolling up the sleeves of her long black robe to reveal a scar from a cigarette burn on her arm, refugee Sara shows how her husband pressed a pillow over her face to shut her up when he attacked her.
The abuse began as soon as they got married in 2009, just a year after Sara had fled her home in Myanmar, where her fellow Rohingya - an ethnic Muslim minority - are shunned and persecuted in the Buddhist-majority nation.
She landed in Malaysia and married her husband, a 42-year-old Rohingya man, the following year.
"I wanted to be a good wife but he was always very angry. He would not allow me to go out, he would expect me to have all the food ready, and prepare him a hot towel and a glass of water when he gets home.
"He would hit me if he was not happy. If I cried, he covered my mouth with a pillow so our neighbours could not hear me," said Sara, who used a pseudonym for fear of retaliation from her husband.
The 30-year-old eventually escaped her home with her six-year-old son and the pair have been living for five months in a shelter run by an organisation that supports migrant workers and refugees.
Stories like Sara's are not unusual among the refugee community in Malaysia, which hosts over 150,000 refugees and asylum seekers, the majority of them from Myanmar and some of whom have lived in the country for over a decade.
Rights groups say uncertainty over their future and years of living in a host country where they are considered illegal migrants have taken a toll on their mental health, and driven up cases of domestic violence among refugee families.
'Silent in fear'
Kuala Lumpur-based Tenaganita, a campaign group which works with refugees, said there was "extensive" gender-based violence against refugee women in Malaysia.
Since last year, the group has been working with the University of Colorado in the US to conduct a two-year survey among some 500 Rohingya families in Malaysia on the prevalence of gender-based violence.
Tenaganita's executive director, Glorene Das (photo), said although the survey is still underway, early indications showed both male and female respondents acknowledged physical and emotional abuse happened within their families.
"Not being able to resettle or taking a long time adds stress to the family," Das told the Thomson Reuters Foundation.
"Ultimately husbands or the male family members tend to take it out on their female partners."
She added that the fact refugees are not recognised by the government also means that victims of violence have no legal avenue to turn to when they want to seek recourse.
"Their deemed 'illegality' renders the women silent in fear," Das said.
While the refugees are recognised by the UN's refugee agency UNHCR, Malaysia is not a signatory to the 1951 UN Refugee Convention, which means all refugees are viewed as illegal migrants awaiting resettlement in a third country.
The country also does not extend protection, job opportunities or education to them, leaving many refugees end up finding odd jobs in the informal sectors as cleaners, waiters or construction workers.
Campaigners say the lack of a formal status often leaves refugees vulnerable to abuse, and at risk of arrest as well as deportation under immigration laws.
Some refugees are resettled by the UN in so-called third countries, such as the US, Canada, the Czech Republic and Australia.
Responding to a query from the Thomson Reuters Foundation, the UNHCR could not say how long on average it takes for a refugee in Malaysia to be resettled because applications are handled on a case by case basis.
But its data showed number of refugees who left Malaysia for resettlement fell from over 12,500 in 2015, to about 8,100 in 2016 and plummeted to 2,338 to the end of Oct 2017.
"Given the limited numbers of resettlement places, UNHCR must prioritise those with acute and pressing vulnerabilities," UNHCR spokeswoman Yante Ismail said in an emailed reply.
"For those who do not have a pressing need for resettlement, the process can take much longer, or may not even be an available option," she added.
Refugee ban
Although President Donald Trump lifted a temporary ban on most refugee admissions in October, the number of refugees admitted to the US has dropped, according to a Reuters analysis of State Department data.
UNHCR's Yante said the uncertainty refugees feel about their future brings a "corrosive effect" on their mental and physical health and called on Malaysia to do more to protect them in the country.
Meanwhile violence - especially against women - continues. Noor Arifah Bujang, who provides counselling to refugee women, said they often told her stories of how their husbands were in constant fear of being arrested and struggled to make ends meet.
"The (husbands) become stressed and they tend to beat up their wives or children. Marital rape is the most common," she said.
https://www.malaysiakini.com/news/407916
--------
Three-quarters of Swiss back a Burqa ban
JAN 8, 2018
A nationwide ban on face-coverings – a de facto Burqa ban – would currently get the thumbs-up from 76% of Swiss voters, according to a poll in the SonntagsZeitung and Le Matin Dimanche. Around half also support the idea of Islam becoming an official Swiss religion.
Six out of ten respondents said they would definitely back the ban on face-coverings, put forward by the rightwing Swiss People's Party. Some 16.5% said they were leaning towards a ban, 7% were leaning against it, 13% were definitely against it and 3% said they had yet to decide.
Almost 70% of respondents also wanted to see headscarves banned from schools.
But while the Swiss appear to be against Burqas and niqabs, that is not the case for Islam as a religion: 48% backed official recognition of Islam as a state religion, like Christianity. This idea has been proposed by the leftwing Social Democratic Party, on condition that the Islamic communities adhere to a moderate form of Islam and organise themselves transparently.
The online surveyexternal link by market researchers Marketagent asked 1,264 Swiss aged 18-75 in German- and French-speaking Switzerland between December 7-18.
Ticino is the only canton so far to introduce a total face-covering ban in public places. St Gallen has a less restrictive form of ban, but voters have rejected the idea in Zurich, Solothurn, Schwyz, Basel City and Glarus. Valais lawmakers recently outlawed a cantonal vote on the wearing of headgear on the grounds that it would violate the constitution.
https://www.swissinfo.ch/eng/politics/islam-in-switzerland_three-quarters-of-swiss-back-a-Burqa-ban/43805692
--------
Female squash professionals including KSA player "making history" at Saudi tournament
7 January 2018
LONDON: The Saudi Arabia Squash Federation President says the world's top female players "are making history" by competing in the first professional women's squash tournament to ever take place in the Kingdom.
The world's leading female players are in Riyadh for the first World Series event of 2018 — the Saudi PSA Women's Squash Masters — which got underway today and runs until Friday.
The tournament, held at Princess Nora bint Abdul Rahman University in Riyadh, features 32 international players, including Nada Abo Al-Naja, Saudi's wildcard player. She plays world No. 3 and No. 2 seed Camille Serme tomorrow.
Following recent initiatives from the General Authority of Sports in Saudi Arabia to increase sporting participation and awareness across the country, the $165,000 tournament will play a crucial role in inspiring a new generation of Saudis to become active within sport.
"Things are changing in Saudi, and they are changing fast," said Ziad Al-Turk, who is also the Chairman of the PSA, at the official tournament dinner. "Win or lose, you [the players] are making history."
Eight-time world champion Nicol David tweeted: "Truly honored to be part of this historical moment in Saudi Arabia."
The tournament was scheduled to take place in November but was postponed due to "logistical challenges."
"Bringing professional squash back to Saudi Arabia for the first time since 2010 has been an ambition of mine and I am grateful for the support of the Women's Department of the Saudi General Authority for Sport to see this come to fruition," said Al-Turk. "Not only is squash one of the healthiest sports it is the perfect sport for the Saudi climate. I'm hoping that this tournament will increase local participation in Saudi Arabia, and I look forward to working with all parties involved throughout the next six months, ensuring continued success for years to come."
The staging of the tournament comes hot on the heels of the Saudi General Sports Authority approving three football stadiums to allow women to attend Saudi Professional League matches for the first time
"We look forward to growing the female participation of the sport of squash," said Princess Reema bint Bandar bin Sultan, President of the Saudi Federation for Community Sports. "It is a dynamic game that involves fast thinking and fast reaction times, skills that are well reflected in the women of Saudi Arabia."
With no qualifying rounds featured at the tournament, 32 of the world's top players — comprised of 12 nationalities — go straight into the main draw, with stars such as world champion Raneem El-Welily, world No. 3 Camille Serme, world No. 5 Nouran Gohar and Nicol David joining the battle for the prize purse.
Egypt's World No.1 and tournament top seed Nour El-Sherbini will get her tournament under way against France's world No. 30 Coline Aumard and is seeded to meet compatriot and world No. 5 Nouran Gohar — who starts her tournament against Australia's former world champion Rachael Grinham — in the last four.
The Egyptian two-time world champion is also predicted to face off against world No. 3 Camille Serme in the final should they both play to their seeding. Serme is scheduled to meet eight-time world champion Nicol David in the quarter-finals.
The pair have met 17 times on the PSA World Tour — with the Frenchwoman only winning one of those encounters against the Malaysian icon in the quarter-finals of the recent Hong Kong Open this season. David will start her tournament in Riyadh against Egypt's World No.31 Mayar Hany.
Meanwhile, newly crowned world champion El Welily — who triumphed over El Sherbini in December to win squash's biggest tournament — will start her tournament against Belgium's world No. 27 and Open International de Squash de Nantes runner-up Nele Gilis as she seeks to keep her strong run of form going in her first tournament since lifting the PSA World Championship crown in Manchester.
Other big names in the draw include US Open winner Nour El-Tayeb, who comes up against Hong Kong's world No. 36 Liu Tsz-Ling in round one of the World Series tournament, and English pair Alison Waters and Sarah-Jane Perry, who take on Egypt's Heba El-Torky and Hong Kong's Joey Chan, respectively, in the opening round of the historic event.
In addition to the lucrative $165,000 prize fund up for grabs, the players will also be battling it out for points on the PSA World Series Standings — which are currently headed up by Egypt's El-Welily — as players aim for a top eight finish, which will guarantee their participation at June's PSA World Series Finals.
http://www.arabnews.com/node/1220681/sports
--------
10% Saudi women above 32 unmarried
JAN 8, 2018
MADINAH — The General Authority for Statistics (GaStat) has reported that 10.3 percent of women in the Kingdom beyond the ideal marriage age remained spinsters in 2017, Al-Madina newspaper reported.
The GaStat report said 230,512 women out of 2.2 million aged above 32 years remained unmarried in the year 2017.
It meant that one in every 10 women in Saudi Arabia are unmarried. The ideal marriage age in the Kingdom for women is considered to be between 15 and 32 years.
The report showed 2.83 percent of women got married at the age of 32 years. It said 33 percent of all unmarried women in the country are in the age group of 15-32 years.
It said 58.8 percent of the women in the same age group are married, 5.6 percent are widowed and 2.5 percent are divorced.
The report also showed that 42 percent of Saudi men above 15 years are unmarried while 56.3 of them are, 0.5 percent of them are widowed and 1.2 percent divorced.
The lowest ratio of unmarried women in the age group of 15-32 years was in Baha with 25.57 percent. Qassim had the highest ratio with 35.48 percent.
The average age of men at the time of their first time marriage was 25.3 years while the average age for women was 20.4 years.
The report said 46 percent of women got married for the first time when they were below 20 years.
The ratio of women who got married between the ages 25 and 29 was 26.7 percent while it was 35 percent for the age group of 30-34 years.
http://saudigazette.com.sa/article/525594/SAUDI-ARABIA/10-Saudi-women-above-32-unmarried
--------
URL: https://www.newageislam.com/islam-women-feminism/muslim-women-misuse-triple-talaq/d/113858
New Age Islam, Islam Online, Islamic Website, African Muslim News, Arab World News, South Asia News, Indian Muslim News, World Muslim News, Women in Islam, Islamic Feminism, Arab Women, Women In Arab, Islamophobia in America, Muslim Women in West, Islam Women and Feminism