New Age Islam News Bureau
8 Jun 2016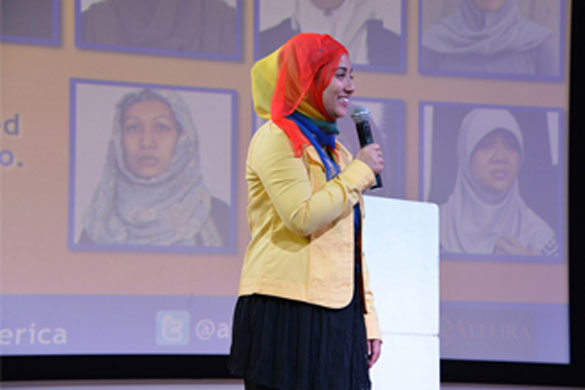 Photo: Sahar Ishtiaque Ullah, co-founder of the Hijabi Monologues, at an event in Jakarta, Indonesia.
---------
• Lahore Woman Torches Teenage Daughter for Marrying Man of Choice
• 4 Ways Pregnant Women Partake In Ramadan without Fasting
• Campaign's Letter to Rouhani: Allow Women Spectators to Attend World Volleyball Games in Tehran
Compiled by New Age Islam News Bureau
URL: https://newageislam.com/islam-women-feminism/muslim-women-tap-power-telling/d/107571
-----
Muslim Women Tap the Power of Telling Their Own Stories
Wednesday, June 8, 2016
WOMENSENEWS)— A petite woman, dressed in black save the white silk scarf wrapped around her head, takes her place at the center of a stage.
"Do you know what it's like to represent a billion human beings everyday you walk out of your house?" she asks the audience. "To be looked at as a representation of an entire world religion? It's exhausting…I'm tired," she goes on. "I'm tired of not going to class because I didn't do the reading and if I don't say something brilliant, my silence will be attributed to being inherently oppressed by my men, religion and clothing, rather than the fact that I was on Facebook the previous class for 90 percent of the time."
The audience laughs.
"I'm not another angry Muslim, I'm not a bad example, a good example, I'm not a representation, I'm just a human being," said Sahar Ishtiaque Ullah, closing her monologue.
Ullah is the co-founder of the Hijabi Monologues, a project she helped launch 10 years ago. The Hijabi Monologues, "Hijabi" referring to Muslim women who where the head scarf, is a live theater show featuring monologues written by Muslim women and about Muslim women's experiences. It is performed throughout the United States and internationally.
Ullah, a Ph.D. candidate and teacher at Columbia University who is originally from Florida, was a speaker at a panel of storytellers at this year's U.N. Commission on the Status of Women, which took place in March.
Ullah and the other panelists discussed various platforms of creative expression taken on by Muslim women in an attempt to empower themselves and to change the discourse around what it means to be a Muslim woman.
"I think Muslim women have always been in charge of their own narratives," said Ullah. "Growing up, it was our mothers, our aunts, our sisters who shared stories in our communities; the rest of the world doesn't see that."
Ullah explains that's why when she crafts a show it's important for her to have a range of emotions and to share a collective experience with the audience. "So not just the tragic, which I think people are more accustomed to hearing about Muslim women," she said.
There are 1.6 billion Muslims in the world, more than a fifth of humanity, but in a time of rising Islamophobia, the dialogue around Muslim women is often either tied to radicalism or oppression.
A Powerful Tool
Ullah and the other panelists talked about how storytelling is a powerful tool in relating the broader realities of Muslims, especially Muslim women.
"Story telling is transformational," said Cailey Cron, a project specialist at StoryCorps, a nonprofit organization that records, preserves and shares stories of everyday Americans from diverse backgrounds and beliefs across the country. "Through sharing these stories we are humanizing important issues and creating a more just and compassionate world."
Ullah started the Hijabi Monologues with two friends while studying at the University of Chicago. For Ullah, a Muslim woman who wears the hijab and grew up involved in theater since childhood, the Hijabi Monologues allowed her to address the problems she saw in the representation of Muslims in both media and academia. Those portrayals bore no resemblance to her own experiences.
Ullah said she has come to love live theater as a better way to relate to an audience of all people-- men, women, Muslims and non-Muslims.
"I loved theater and was very involved when I was young, but as I grew older I felt like there weren't roles for me in a theater space,"said Ullah, "so this allowed me to tell these stories and get back to a space that means a lot to me."
While the Hijabi Monologues aims to share lived experiences in an entertaining way, other programs take a different path.
Aisha Al Adawiya, founder and chair of Women in Islam, an organization that focuses on human rights and social justice, said her organization began after 1992 in response to genocide and gender-based violence against Bosnian Muslim women during the war. The group is based in New York but organizes initiatives nationally and internationally.
At first Al Adawiya and the other founders began discussions about reclaiming their religious heritage in relation to how women access the mosque and other Islamic organizations.
"We no longer want to be seen as second-class citizens in our spiritual spaces," Al Adawiya said. "We wanted not to reform Islam, or to create a 'new' Islam or an 'American' Islam, but rather we wanted to reclaim the legacy of the Prophet Muhammad and to garner that example which was very inclusive of women in the mosque. So we root our work in our Islamic tradition."
Muslim Women's Story Lab
Women in Islam began the initiative Muslim Women's Story Lab in New York to provide Muslim women with the tools to access spiritual spaces, discuss Islamophobia and encourage leadership.
Maha Marouan, director of Women in Islam, also spoke at the panel and said their Muslim Women Story Lab workshops are full of different perspectives. The point is not to agree on everything, but to have a space to themselves where they can talk about issues important to the community, she said.
Ullah agrees that dialogue is healthy for community building. "I feel that when women are empowered, it's always good for the community," said Ullah, citing Islamic history during the time of the prophet when women in the community were empowered to own property, to defend their own bodies and to choose whom they wanted to marry.
"I sometimes get annoyed when people are like 'well Islam gave us all these rights all these hundreds of years ago'…I mean, there's the abstract, but how do we live it? I can draw inspiration, but I also have to live it and practice it and that's what's needed today."
Ullah said panels like the one at the U.N. this spring are an important opportunity to highlight voices that are not being heard and decrease the stigma about women in Islam.
"When people talk about Muslim women's oppression they think, over there really far away in the mountains of Pakistan or among tribes in different countries in Africa," said Ullah.
But the experience of living in the United States, she said, should also be examined. "There's a specific matrix of our own oppressive structures here," she said. "Like the way Islamophobia affects Muslim women in the United States. Islamophobia leads to a particular type of oppression, from inside the community and outside the community."
Ullah gives the example of sexual harassment cases in Muslim-American communities. "When Muslim women want to speak out, there's a reaction from within the community that says, 'think about representation, think of what people will say, this will feed into Islamophobia.' So that's another level of, what do we do then?"
womensenews.org/2016/06/muslim-women-tap-the-power-of-telling-their-own-stories/
--
Lahore woman torches teenage daughter for marrying man of choice
Wednesday, June 8, 2016
LAHORE: A woman set her daughter to fire for marrying the man of her choice here on Wednesday, police said. The 18-year-old girl died on the spot.
The victim, a resident of Mast Iqbal Road, had eloped with a man she liked and who her family disapproved of, said Station House Officer (SHO) Sheikh Hammad Akhtar.
Two days before the incident, the family coaxed the deceased to come back home on the pretext that they will send her off with their consent. However, when once she returned, her mother doused her with petrol and set her alight.
Police claim the victim's mother, while professing her crime, admitted to pouring petrol on her daughter and then torching her.
The police shifted the girl's body to a mortuary and arrested her mother.
Second Division Superintendent Police Ibadat Nisar said the deceased girl's brother, who had arrived from Dubai, has been missing since the incident happened, and police is looking for him.
There has been no mention of the victim's husband since her death.
Earlier this month, a 19-year-old school teacher was set on fire in Murree for refusing to marry a man twice her age.
Last month, police arrested 13 members of a local tribal council who allegedly strangled a local girl and set her body on fire for helping one of her friends elope.
The charred body of 17-year-old Ambreen Riasat was found in a burned van in the tourist resort of Donga Gali on April 29.
Nearly 1,000 women are killed each year in Pakistan in so-called "honour killings" for allegedly violating conservative norms on love and marriage.
dawn.com/news/1263542/lahore-woman-torches-teenage-daughter-for-marrying-man-of-choice
--
4 ways pregnant women partake in Ramadan without fasting
June 7, 2016
Without a doubt, fasting is a huge part of Ramadan. But not everyone can fast during this holy Islamic month. For instance, pregnant women or women who are breastfeeding may be excused from fasting during the month of Ramadan if they feel that fasting will negatively affect their pregnancy or their breast milk supply.
This year, I will be one of these women, for I'm a mother to four children, one of which– 6 weeks old– I'm nursing every two to three hours, and even every hour on some days. But this is exactly why I love the fact that I'm excused from fasting, because instead of fasting, I'm able to nurse my baby without worrying about my supply decreasing.
Now, the fact that I will not be fasting this year does not mean that I won't be partaking in Ramadan, for there are many other ways Muslims can participate in Ramadan.
Prayer: Aside from the five daily prayers that is obligatory for Muslims, there are other prayers that Muslims can perform during Ramadan. Such prayers are the Taraweeh prayers- the evening prayers, and the prayers during Laylat al Qadr- also known as the Night of Power, this is the night in which the Quran was first revealed to Prophet Muhammad (may peace and blessings be upon him); it is believed that prayers performed during this night will be answered.
With that said, it may be difficult for pregnant women to pray due to their growing bellies- this was certainly the case with me, but, there is always the option of praying on a chair instead of the regular way of praying while standing.
Recitation of the Quran: Ramadan is a time where Muslims set a goal to become closer to their faith, one way of doing this is to recite and study the Quran.
While most Muslims strive to recite the entire Quran within the month of Ramadan, this may be a difficult task for a breastfeeding mother due to the needs of her baby. This Ramadan, my goal is to read half of the Quran instead of all of it, for this is more realistic for me and a goal I'm sure I can complete.
Preparing Iftar for Others: Iftar is the meal you consume when breaking your fast, and while pregnant and breastfeeding women don't typically prepare an iftar for themselves (because they aren't fasting), they certainly can prepare one for others and gain reward this way.
It's important to know that you don't have to spend countless hours in the kitchen preparing a lavish iftar, for this will take time away from worship- therefore it is possible for pregnant and breastfeeding women to prepare a simple meal for others and still have time to rest or to attend to her baby in most cases.
Personally, I make iftar for my husband and I keep it simple with some dates and fruit salad- leaving me with plenty of time to spend with my baby.
Charity and Generosity: The Prophet Muhammad (may peace and blessings be upon him) was very generous, but he was the most generous during Ramadan, therefore being generous and giving to charity is recommended during this month.
Other forms of generosity, besides charity, includes volunteer work, helping your neighbors, visiting the sick, and etc.
Remember, Ramadan is a month of bettering yourself and feeling empathy, and while fasting is a means to accomplish this, there are other ways pregnant and breastfeeding women can achieve a similar result, so they don't feel left out during the holy month of Ramadan.
blogs.babycenter.com/mom_stories/4-ways-pregnant-and-breastfeeding-women-partake-in-ramadan/
--
Campaign's Letter to Rouhani: Allow Women Spectators to Attend World Volleyball Games in Tehran
JUNE 7, 2016
From July 1-3, 2016, Iran will host the Fédération Internationale de Volleyball (FIVB) Volleyball World League in Tehran. As of this writing, only Iran's male sports fan will be able to attend the events and cheer on the nations' team, as women will not be allowed to attend.
The Islamic Republic's ban on women's attendance at sports stadium events is in direct violation of the FIVB's own constitution, which forbids discrimination, as well as the guiding principles of the world's major international sporting body, the International Olympic Committee.
The International Campaign for Human Rights in Iran urges the Government of Iran to allow female spectators to purchase tickets and attend the July 2016 Volleyball World League games without limitation. Accordingly, the Campaign has written a letter to Iranian president Hassan Rouhani, requesting that he use all the powers of his office to ensure this by immediately repealing the ban on women's attendance at sports stadiums, instructing Iranian volleyball officials to announce publicly how women can buy tickets online and attend the games, and requiring Iranian authorities to issue instructions to security officials and other law enforcement bodies to ensure that women and girls can safely attend the matches.
The full text of the Campaign's letter to Rouhani is below:
June 7, 2016
Dear President Rouhani,
We would like to extend our congratulations to the Iranian people and to Iran's national volleyball team for its historic qualification to compete in the Games of the XXXI Olympiad in Rio de Janeiro this summer.
As Iran approaches this historic event, we are writing to address the upcoming July 1-3 FIVB Volleyball World league in Tehran, and to urge Government of Iran to allow female spectators to purchase tickets and attend the July 2016 games without limitation.
The Fédération Internationale de Volleyball (FIVB) calls for "no discrimination" in the Fundamental Principles of its Constitution.
It is incumbent upon Iran to honor fully the principles governing international sport, clearly set out in the FIVB Constitution, the International Olympic Committee's Agenda 2020, and the Olympic Charter, including those regarding gender equality and access.
When Iran's athletes participate in the Olympics in Brazil in August, their athletes will be cheered on by males and females alike from around the world. The inability of female spectators to support Iranian and international athletes when Iran hosts the FIVB World Volleyball League tournament will violate these principles and stain the image and record of the Islamic Republic in the eyes of the international community.
The Olympic Committee's Agenda 2020, unanimously agreed at the 127th IOC Session in Monaco in December 2014, calls for "gender equality" in its core Recommendations, and for the International Olympic Committee to work with the International Federations to "stimulate women's participation and involvement in sport by creating more participation opportunities at the Olympic Games."
The Olympic Charter, in its Fundamental Principles of Olympism, states, "The enjoyment of the rights and freedoms set forth in this Olympic Charter shall be secured without discrimination of any kind, such as race, colour, sex, sexual orientation, language, religion, political or other opinion, national or social origin, property, birth or other status."
The Islamic Republic of Iran will be in the international spotlight as it hosts the FIVB Volleyball World League, showcasing the talents of the athletes and Iran's commitment to international sport. So too it should showcase its full and robust adherence to the rules and guiding principles of international sports competitions and charters.
We urge you, as president of the Islamic Republic, to use all your capacity and all the powers and authority of your office, to ensure full female participation as spectators in the FIVB Volleyball World League in Tehran this summer by:
Immediately repealing the ban on women's attendance at sports stadiums and events in place since 2012 beforethe FIVB World League tournament in July 2016.
Instructing Iranian Volleyball Federation officials to announce publicly how women can buy tickets online and attend the FIVB World League games.
Requiring the Iranian authorities to issue instructions to security officials at the games, and to all other law enforcement bodies, to ensure that women and girls can safely attend the matches.
We thank you for your support of Iran's athletes, Iran's citizens, and the guiding principles of international sports.
Sincerely,
Hadi Ghaemi, PhD
Executive Director
The International Campaign for Human Rights in Iran
iranhumanrights.org/2016/06/campaigns-letter-to-rouhani-allow-women-spectators-to-attend-world-volleyball-games-in-tehran/
URL: https://newageislam.com/islam-women-feminism/muslim-women-tap-power-telling/d/107571
New Age Islam, Islam Online, Islamic Website, African Muslim News, Arab World News, South Asia News, Indian Muslim News, World Muslim News, Womens in Islam, Islamic Feminism, Arab Women, Womens In Arab, Islamphobia in America, Muslim Women in West, Islam Women and Feminism