New Age Islam News Bureau
18 Jun 2016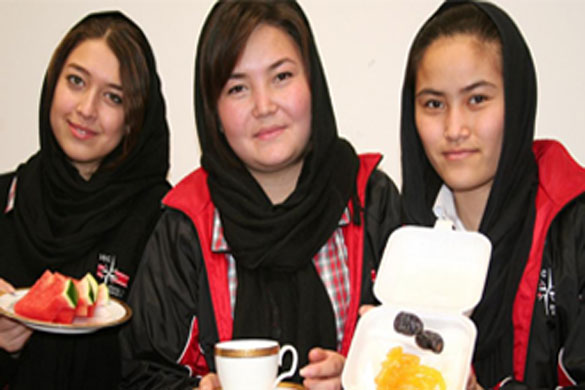 Photo: North Geelong Secondary College students Zeinab Ghobuni, Freshta Haidari and Favzana Misdadi organised a party to help educate their schoolmates about Ramadan. Picture: Danny Lannen
--------
• Pakistani Woman Arrested For Killing Pregnant Daughter over Love Marriage
• Geelong's Muslim Girls Share Ramadan Learning with Schoolmates
• Pakistani Man Beats Sister to Death over Marriage Argument
• Nationwide Children's Paediatrician Discusses Being a Muslim Woman in Central Ohio
Compiled by New Age Islam News Bureau
URL: https://www.newageislam.com/islam-women-feminism/muslim-women-swabbed-explosives-italian-airport--their-hijabs/d/107691
---
Muslim women swabbed for explosives at Italian airport 'because of their hijabs'
June 18, 2016
British Muslim women were subject to an explosives search for at Florence airport earlier this month.
The woman had travelled with family members for a weekend break on June 3. A majority of whom were women in hijabs. She confirmed to Tell MAMA staff that they had no issues entering Florence. But searches were carried out under their hijabs before they could return home.
A video of the incident was also passed to our staff confirms the allegations. We learn from the video that airport security
"This is Italy. This is policy. But this is how they teach us how to do it. And we have to do it. It is nothing personal".
The women were informed that they could complain about the policy. Despite their upset, they did not object to the search, they only sought to establish its justification.
One victim told security, "In London we check under the hair – they put their hand under the hair and touch," in reference to a drug test.
A member of the security staff then replied: "This is not a drug test. This is for bombs".
When asked "what is the problem now?" One of the Muslim women replied "My problem? Is that you guys are racist".
It's clear from the video that frustrations grew when staff did not address the complaint of racial profiling. The woman who sent this video to Tell MAMA had to delete the video before she was allowed to fly. She emailed it to a family member before deletion.
Tell MAMA will raise the issue further on behalf of the victim with the Italian Embassy.
tellmamauk.org/muslim-women-swabbed-for-explosives-at-italian-airport-because-of-their-hijabs/
--
Pakistani Woman Arrested For Killing Pregnant Daughter over Love Marriage
June 18, 2016
ISLAMABAD: Police say they have arrested a woman who is accused of killing her pregnant daughter for marrying against the wishes of her family near Gujranwala.
Police Official Arshad Mahamood said Saturday that the mother and her son slit the throat of 22-year-old Muqaddas Bibi in the village of Butranwali in Gujranwala district. Bibi had a 10-month old daughter and was seven months pregnant when she was killed. He said Muqaddas was lured into her parental home before she was killed on Friday. Her husband Mohammed Tofeeq reported the murder.
Violence against women is not uncommon in Pakistan where nearly 1,000 women are killed each year in so-called "honour killings" for violating conservative norms on love and marriage.
Last week sixteen year-old Zeenat Bibi was killed in Lahore by her mother for marrying a man of her own choice in a case that sparked condemnation throughout the country.
It was swiftly followed by another killing, of a couple in Lahore who married without their family's consent. On Sunday a young girl was killed by her brother for insisting on marrying the man of her choice in Sialkot.
dawn.com/news/1265683/woman-arrested-for-killing-pregnant-daughter-over-love-marriage
--
Geelong's Muslim girls share Ramadan learning with schoolmates
June 18, 2016
MUSLIM girls enlightened their North Geelong Secondary College community about the rituals of the holy month of Ramadan as they broke a daily fast together this week.
A group of almost 30 girls spent the best part of two months organising an 'Iftary Party' as part of a leadership program in partnership with the Australian Muslim Women's Centre for Human Rights, and almost 200 friends and family members joined the feast.
Iftar is the sunset evening meal for breaking of Ramadan fasts and the girls shared traditional dates and sweets before fruit, samosas and dishes including rice and meat dish qabuli.
As well as sharing food, girls led activities including calligraphy, henna tattooing, trying on of Hijabs and discussion.
Year 11 student Freshta Haidari welcomed the opportunity for others to learn about Ramadan.
"Some ask 'why do you fast' and I say 'do you see the poor people who don't have anything, we fast so we are able to feel how they feel'," she said.
"We actually help each other and we share love, that is all it is about, peace and sharing love and also good health."
Teacher Katherine Roberts said about 70 non-Muslim people attended what had grown into a 'mega' event.
"It's about breaking down the barriers and establishing some friendships and knowledge," she said.
Australian Muslim Women's Centre for Human Rights chief operations officer Dr Dalal Smiley said the girls' organising had been outstanding.
"They are amazing, the school is so rapt," she said.
"Once you give them an opportunity to rise to the occasion they did it.
"They've been really so excited about it, the timing has been around exams as well but nevertheless they have committed to it and shown a lot of energy to make it work."
geelongadvertiser.com.au/news/geelong/geelongs-muslim-girls-share-ramadan-learning-with-schoolmates/news-story/bc0a1c2540d25c23dd34dbda7ee75b37
--
Pakistani man beats sister to death over marriage argument
June 18, 2016
Sialkot, Pakistan (CNN)A Pakistani man has beaten his teenage sister to death, smashing her skull with a large wooden stick, because he didn't want her to marry her boyfriend.
Police said Anum Masih, 19, was murdered by her brother Saqib Masih, 21, on the evening of June 10.
"She wanted to marry, we didn't agree on this wedding. We were arguing," Saqib told CNN from a police cell in the city of Sialkot.
"She was my sister. I didn't mean to kill her. I've been crying ever since. She was my sister."
Police said Saqib Masih, 21, beat his sister to death on the evening of June 10.
Police said Saqib Masih, 21, beat his sister to death on the evening of June 10.
A family photograph of Anum of shows a young woman smiling, long dark hair and her eyes hidden behind a pair of black sunglasses.
Yousuf Masih, the victim's father, said that he was against the match because the two families were related.
"They started arguing. He hit her with the stick, he has no intention to kill her, " the father told CNN.
"Things just got out of hand, he reacted in anger. In the end I guess it did become an issue of honor."
He added that he filed the police report against his own son.
Rampant violence
Violence against women is rampant in Pakistan, according to the independent Human Rights Commission of Pakistan.
It said that in the first five months of 2016, as many as 212 women were killed in the name of 'honor'. In a case earlier this month, a Pakistani teen was burned to death by her mother and brother for eloping against their wishes.
The crimes originate from tribal and cultural practices and are often meted out as punishment for behavior viewed as bringing dishonor to a family or village.
Honor killings in Pakistan's Christian community, of which the Masih family is a part of, are "extremely rare", says Peter Jacob, a minority rights activist and secretary at the National Commission for Justice and Peace.
The death of Anum, he says, showed that Christians weren't immune to this custom.
"The incident in Sialkot shows that not only the peer pressures but cultural norms and patterns have crept into minority communities as well," he said.
Pakistan's population is 95% Muslim.
'No honor'
Nawaz Sharif, Pakistan's Prime Minister, has vowed to tackle the problem of honor killings, but critics say few concrete steps have been taken.
"There is no honor in honor killing, in fact there can be nothing more degrading than to engage in brutal murder and to refer to it as honor," he said in a press statement five months ago.
On the walls of Anum's spartan family home are pictures of Jesus and Mary. Beneath them her mother weeps.
Sajilia Masih, told CNN, she wasn't home when the murder took place. She has two other children, who weren't involved in the incident.
"He had no intention to kill her. I guess what happened, happened. I want my son to be released, he is my child after all."
edition.cnn.com/2016/06/17/asia/pakistan-christian-woman-killed-by-brother/
--
Nationwide Children's pediatrician discusses being a Muslim woman in central Ohio
June 18, 2016
Dr. Iram Jafri, 47, a Pakistani and American citizen who came to the United States 22 years ago for education and safety, works as a pediatrician at Nationwide Children's Hospital. She lives in Galena with her husband and three American-born sons, ages 13 to 20, her mother and her in-laws.
Her brother, Dr. Raza Jafri was 39 when he was killed 15 years ago in an Islamic terror attack in Pakistan, and she said he was among the first professionals killed when extremist ideology began to take hold. So many families there, she said, were affected by the terror.
Q: What does Islam mean to you?
A: To me, Islam means a way of life. It's a religion of love. It's a religion of patience, compassion, humility. So those are the values that you try to instill in your daily life.
Q: What are some common misconceptions you have encountered about Islam?
A: Everyone is aware of the rhetoric that is going around in the media. For the most part, it has been very negative. There are times when you encounter people who have these misconceptions: that it's a very harsh religion, that it promotes violence. And it's actually not. It's a religion of love. It's a religion of very basic values.
As far as central Ohio is concerned, for the most part, I have not encountered negativity, and I am in a profession where I meet new people all the time who don't know me.
Q: How do you feel about that negative rhetoric in the media?
A: It's offensive. You are taken aback. You are painted with that same brushstroke. The ideology that is promoting this kind of rhetoric doesn't have anything to do with Islam. The values that they have, those are not the values of Islam. So to be viewed through the lens of that rhetoric, it's very sad. It hurts.
Q: Do you feel responsible for living in a certain way because you wear the identifying head scarf?
A: I guess everyone does in a way, and especially if an incident or event happens that mars the reputation of Muslims, then yes, you feel that burden, that you have to go back out there in the world and again be an ambassador of the positive things that are taught by your religion. At times you feel you're back to square one, and you have to start all over again.
Q: How do you feel about going into public when news breaks about Muslims committing violence? (Note, Dr. Jafri was interviewed before the attacks in Orlando, Florida.)
A: After the December killings in San Bernardino, California, the feelings that I had at the time were so depressive. I just did not want to go out that day. How will I be able to look at a person who is walking by me, in their eyes? I would not know what they will be thinking about me. I guess a lot of us go through that whenever something like this happens. God forbid it happens again.
That sense of belonging you have for this country ... you lose that for a little bit.
Q: Would it be inappropriate for someone to offer kindness?
A: If someone, even a stranger, comes up and says something nice, says something positive, that just is going to boost my morale. It's going to help ease the pain, and it'll just reinforce the fact that for the most part there are good people.
If there's a (negative) remark that's passed, you forgive, and you think in your heart that this person is not aware of what we are all about. And that's one of the things that our religion teaches: Forgive and forget and move on; educate people; don't hold grudges.
You're living in a country that has so many cultures and ethnicities. People use the term be ' tolerant' of each other. No. You have to 'cherish' each other. You have to cherish what they're about. If you do that, I'm sure that they'll be reciprocation of the same feelings.
dispatch.com/content/stories/local/2016/06/17/1-the-face-of-islam-irams-story.html
URL: https://www.newageislam.com/islam-women-feminism/muslim-women-swabbed-explosives-italian-airport--their-hijabs/d/107691
New Age Islam, Islam Online, Islamic Website, African Muslim News, Arab World News, South Asia News, Indian Muslim News, World Muslim News, Womens in Islam, Islamic Feminism, Arab Women, Womens In Arab, Islamphobia in America, Muslim Women in West, Islam Women and Feminism