New Age Islam News Bureau
19 Dec 2017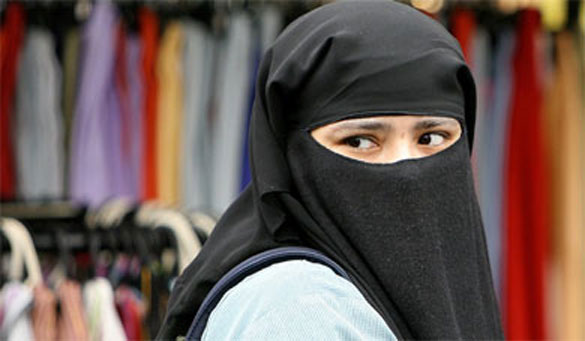 'A thousand stories that would have remained unsaid are being told' CREDIT: JOHN D MCHUGH/AFP/GETTY IMAGES
-----
• German Muslim Women Cause Havoc at Swimming Pool, Threaten Employees
• American University in Cairo Retracts On-Campus Niqab Ban
• Jeddah to Host Conference on Women in Conflict Areas
• We Should Respect Women for Being So Brave: Shah Rukh Khan
• Belgium Becomes First Country To Make A Woman Its Ambassador To Saudi Arabia
• Nigeria: Sultan Faults Harassment of Muslims Adorning Hijab
• Malaysian Housewife Handed Jail Term for Insulting Islam
• Sayidaty Honours Women's Excellence and Creativity
Compiled by New Age Islam News Bureau
URL: https://www.newageislam.com/islam-women-feminism/muslim-women-shouting-metoo-be/d/113623
--------
Muslim Women Shouting #MeToo Must Be Heard
ALIA WAHEED
18 DECEMBER 2017
For many Muslim women, cultural pressures mean it's difficult to speak out about sexual abuse, but inspired by big names such as Salma Hayek, they are finding ways to have their own #MeToo moment.
While some people have criticised the way the movement has focused on celebrities, it should be applauded for creating a support community for women for whom it's harder to raise a voice, and encouraging women who would have otherwise suffered in silence to speak out.
Behind every Hashtag or article by a big name star, a thousand stories that would have remained unsaid are being told. Whether it's a newspaper article, or whisper from behind a veil, these voices are finally getting heard.
Ironically, many Muslim women were inspired to speak out after a controversial opinion piece written by Big Bang Theory actress Mayim Bialik, which suggested dressing modestly and 'not being pretty' protected you from unwanted attention. The idea that there is a direct correlation between how you are dressed and how much harassment you face is a guilt trip most Muslim women live with every day.
As someone who has faced more harassment as a nerdy teenager with braces and salwar kameez than I ever have in my Karen Millen biker and skinny jeans, the idea that modest dress acts like some kind of a pervert repellent is another example of misplaced victim blaming that women, not just of Muslim backgrounds face.
Hafsa Quraishi, a 20-year-old student from Tampa, spoke out to challenge the misconception that women who dress modestly are somehow immune from harassment. She said the #MeToo hashtag also helped her to come to terms with her experience of being assaulted in a crowded market at the age of 12, while on holiday in Pakistan.
"Like many women, I've had multiple experiences with sexual harassment. I don't think many women knew the range of what counts as sexual harassment before #MeToo. The one I was referring to in my tweet was the only one I've always acknowledged as being sexual harassment: my chest was groped in a market when I was 12.
"#MeToo made me think about it and for the past few months I've been constantly telling myself that it happened and that it's okay to say that. I guess I always felt really embarrassed that it happened to me, especially at 12... I just felt that it was my fault to an extent."
However, many women have found safe spaces to take the first tentative steps towards opening up about their own stories behind the #MeToo hashtag in private, culturally-specific Facebook groups.
Ayesha* said: "I was sexually abused by my Uncle and it's always been my family's dirty secret, but the burden of slience has always been on me. My mum was scared of my dad's reaction because it was her brother, but also scared of the backlash from the community. There was family pressure to hide it otherwise the girls in our family would be tainted and our virginity would have a question mark over it.
"When I saw the #MeToo hashtag, I felt envious and admiration for the women brave enough to speak out. I was too scared to write something on Twitter, but still wanted my opportunity to say #MeToo. It wasn't so much to be acknowledged by others, but to own my experience of abuse."
Zamiha Desai, Founder of RecommendAsian, a closed group for Asian women which has more than 53,000 members, said: "Closed groups are a safe place to speak. It's important that these kinds of environments exist. Talking more openly will dispel taboos slowly but surely."
Lawyer Abda Khan works with victims of sexual abuse and honour based violence, and said the fear of being ostracised or even punished was a silencer for Muslim women.
http://www.telegraph.co.uk/women/life/muslim-women-shouting-metoo-must-heard/
--------
German Muslim Women Cause Havoc at Swimming Pool, Threaten Employees
18 Dec 2017
Staff at a swimming pool in Hanover, Germany, has faced threats after telling Muslim women not to wear jeans or street clothes in the pool, dye their hair, or leave large amounts of rubbish in the pool during Friday "women's days".
The staff claims to have received threats from the male relatives of the Muslim women according to leaked confidential documents from a city committee meeting. The city spokesman Ulrike Serbent confirmed the women who were causing the problems were Muslims, Die Welt reports.
"We wanted to avoid creating a xenophobic tone," Serbent said, claiming that was the reason the problems were not publicised.
"The women come from a different culture, in which bathing is understood more as a joint meeting and less as swimming," Serbent said adding: "We are working on effective measures. So we are thinking about whether to include the Integration Advisory Councils to talk to the women so that they behave differently with us."
The Muslim women are said to not only wear street clothes in the swimming pools and use the water to dye their hair, but also bring in food and have "picnics" by the side of the pool and leave large amounts of rubbish in their wake.
Due to the threats against staff who attempt to enforce the facilities rules, newspaper Hannoversche Allgemeine Zeitung claims that security will be hired to guard the swimming pool starting next month.
Female Muslim bathers who wore the Islamic swimwear, known as the burkini, caused controversy in German swimming pools last year as some attempted to ban the garment claiming it was unhygienic.
While "women's day" is expected to continue at the pool in Hanover, in France a Muslim women's association based in the city of Marseille caused outrage after proposing a gender-segregated women-only burkini day.
German swimming pools have also become the site of a high increase in sex attacks and sexual molestation incidents, many of which feature migrants as alleged attackers.
A leaked internal report from Düsseldorf claimed that the number of swimming pool child sex attacks had dramatically increased, reading: "In particular, offences of rape and sexual abuse of children in bathing establishments is significant," and adding: "The perpetrators are, for the most part, immigrants."
http://www.breitbart.com/london/2017/12/18/muslim-women-cause-havoc-swimming-pool-threaten-employees/
--------
American University in Cairo Retracts On-Campus Niqab Ban
18 December 2017
The American University in Cairo (AUC) retracted a decision banning women form wearing the niqab, a full face veil, on its campus premises after students and faculty members voiced their concerns.
Less than a week ago, the AUC announced that it will prevent female students, faculty members and workers from donning the face veil on campus and inside lecture halls, a local news report said.
The university retracted their decision through email, saying that they will allow the niqab after some students and staff members expressed concerns over the ban, and were "affected" by the decision.
People opposing the ban argued that it goes against the university's policies, Masrawy news website reported.
Meanwhile, supporters of the ban claim that the step is aimed at boosting security.
The university said its security policies and procedures will guarantee the safety of all students and faculty on its campus.
In 2016, Cairo University, Egypt's premier public university, imposed a ban on staff members from wearing the niqab. The decision, which triggered huge controversy at the time, said the reason for the ban was because it hindered direct communication with students.
https://english.alarabiya.net/en/News/north-africa/2017/12/18/American-Univeristy-in-Cairo-retracts-on-campus-niqab-ban.html
--------
Jeddah to host conference on women in conflict areas
17 December 2017
JEDDAH: Difficulties faced by women in areas of conflict will be the focus of a major conference in Jeddah on Monday.
It will take place at the invitation of the Organization of Islamic Cooperation (OIC), in coordination with Turkey's Ministry of Family and Social Policy.
The conference will address the challenges faced in the process of empowering women in OIC member states, especially in areas of conflict and under occupation.
It will also consider ways to strengthen coordination between parties tasked with empowering women.
http://www.arabnews.com/node/1210281/saudi-arabia
--------
We should respect women for being so brave: Shah Rukh Khan
Dec 19, 2017
MUMBAI - Following in the footsteps of its Western counterparts, Bollywood has been encouraging women to speak up against any sexual misconduct as well. Just recently, actress Kangana Ranaut opened up about being a victim to harassment and how it is the skepticism of society that stops victims from coming out with their experiences in the open.
Now, Shah Rukh Khan and Akshay Kumar have expressed their views on the matter as well, reported The Indian Express.
In an interview with Business Insider, Kumar said sexual misconduct is "everywhere" and that the allegations against entertainment stars in the US may encourage other women around the world to speak up. "It's just that when [sexual misconduct] happens in Hollywood, it comes out so big. Everybody knows about it, but it's everywhere," he said.
His wife Twinkle Khanna added that women are fed up of being mistreated and hence, are voicing themselves. "It's an outreach that's been suppressed for very long," she stated. "Women are tired of being grabbed and groped. Women are tired of bending over backwards to get ahead in the workforce, bending over backwards to the point where sometimes they have to lie horizontal in order to go forward."
Khan said that women should be lauded for coming out so bravely. "We should not just let it be about, 'Oh this man behaved like this' and 'This is so shocking,' or all of that. We should respect the emotion of the women taking such a strong step in coming out, and being so brave, and help stop this from happening in our individual industries," explained the actor, who accepted that he is a successful man in a patriarchal system. "The sad part of it is that you don't know if it could be happening right under your nose." - Agencies
http://www.saudigazette.com.sa/article/524379/Life/Life-Style/We-should-respect-women-for-being-so-brave-Shah-Rukh-Khan
--------
Belgium becomes first country to make a woman its ambassador to Saudi Arabia
Dec 18, 2017
Belgium has become the first country in the world to appoint a woman as its ambassador to Saudi Arabia, in an apparent show of defiance to the oil-rich autocracy notorious for its abuses of women's rights.
Dominique Mineur, who is currently posted in the United Arab Emirates, will move to the Saudi capital Riyhad to head up the embassy there from next summer, Belgian public broadcaster VRT reports.
The public broadcaster cites Belgian government sources saying Ms Mineur's appointment sends a "clear signal" to Saudi Arabia, which has been slow to reform in comparison to its neighbouring countries.
In the restricted circumstances where Saudi women are allowed to work, they are not allowed to freely mix with members of the opposite sex, and they require signed permission from a male "guardian" to travel alone.
Women were also banned from driving and attending sports stadiums until a change of policy announced in October 2017.
They are still forbidden from appearing in public without a long black full-length head covering, and require male permission to marry or conduct certain business. Restaurants also often segregated and a woman's testimony in court is by held in lower esteem than that of a man.
The move by Belgium is an international first. Yekaterina Majering Mikadze, a Georgian diplomat appointed in 2010, previously had responsibility for Saudi Arabia, but was based in Kuwait and covered a number of neighbouring countries. When Georgia later opened an embassy specifically for Saudi Arabia in 2015, it appointed a male ambassador there.
Belgium will also be appointing Véronique Petit as its ambassador to Iran, where women also have fewer rights than men. Women in Iran are forced to cover their hair and face unequal treatment in the country's justice system, though they participate in the labour market and have a higher representation than men in many academic fields, including engineering and the sciences.
Britain's ambassadors to Saudi Arabia have always been men. The incumbent, Simon Collis, converted to Islam and in 2016 was the first UK ambassador to perform the Hajj pilgrimage.
http://www.independent.co.uk/news/uk/politics/saudi-arabia-belgium-woman-ambassador-dominique-mineur-a8116691.html
--------
Nigeria: Sultan Faults Harassment of Muslims Adorning Hijab
18 DECEMBER 2017
The Sultan of Sokoto and President-General of the Nigerian Supreme Council for Islamic Affairs (NSCIA), Alhaji Muhammad Sa'ad Abubakar III, has faulted the action of the Council of Legal Education (CLE) who last week refused a University of Ilorin (UNILORIN) Law graduate, Miss Firdaus Amosa, call to bar for refusing to remove her hijab during the Call to Bar ceremony.
The Sultan who was represented by the Wazirin of Katsina, Professor Sanni Abubakar Lugga, at the national convention of Muslim Public Affairs Centre (MPAC) with the theme: 'Public Trust and Accountability' in Lagos at the weekend, said: "wearing of hijab was not only an Islamic mode of dressing but a Christian mode of dressing and that it is a dressing for every decent woman. It is a dressing for any woman who wants to preserve her chastity in public."
According to the News Agency of Nigeria (NAN), he further questioned why should Nigerian Muslims be molested and even denied their right? saying "Nigerian Constitution it is absolutely clear. Why should Nigerian Muslims be molested and even denied their own right? The Appeal Court ruling in Ilorin is there, the Appeal Court in Lagos and also the High Court all delivered judgments in favour of hijab.
"Justice Alooma, the former CJN, Justice Bukalchuwa and other senior justices in Nigeria wear their hijab and then the wig on top of it. The Nigeria Judicial Council (NJC), the highest body in the judiciary has not said, 'no, they should stop' which means the Nigerian Constitution allows the hijab, the Nigerian courts through these three judgments have allowed the hijab and the NJC through these senior judges has allowed the hijab.
"Why will a legal school refuse our sister's induction into the judiciary simply because she is wearing hijab? Is the law school saying they are above the NJC, are they above the Nigerian Constitution, are they above these three senior courts?" he said.
http://allafrica.com/stories/201712180523.html
--------
Malaysian housewife handed jail term for insulting Islam
2017-12-15
Kuala Lumpur - A Malaysian woman was given a six-month jail term on Friday for making offensive remarks about the Prophet Mohammed in a mosque, state media said, a fresh sign of growing tensions in the multi-ethnic country.
Tham Yut Mooi, from the country's ethnic Chinese minority, was found guilty of three counts of insulting the prophet at the mosque in northern Perak state in May 2016, the state-run Bernama news agency said.
The 46-year-old housewife was also fined $3 700 at a magistrate's court in the city of Ipoh.
However the mother-of-two will not begin serving her jail term immediately as she is appealing the conviction.
The case highlighted the long-simmering tensions between the Muslim Malay majority and the country's ethnic and religious minorities.
Malays make up about 60% of Malaysia's 32 million inhabitants, and the country is also home to substantial ethnic Chinese and Indian minorities.
Critics say the government has exacerbated religious and ethnic divisions by pandering to Muslim hardliners and cracking down on anything deemed un-Islamic in a bid to maintain support in the Malay heartlands.
https://www.news24.com/World/News/malaysian-housewife-handed-jail-term-for-insulting-islam-20171215
--------
Sayidaty Honours Women's Excellence and Creativity
NADA HAMEED
19 December 2017
JEDDAH: Sayidaty magazine held its annual awards ceremony for women's excellence and creativity in Jeddah on Sunday, in the presence of dignitaries, community representatives and reporters from various local media outlets.
Twelve Saudi females, distinguished by their creativity, innovation and uniqueness in eight different fields were honored including Princess Rima Bint Bandar Bin Sultan for the sports category; Noha Al-Yousuf and Dr. Magda Abu Ras for management; Sulafeh Batrji and Dr. Malak abu Nuri in the category of education; Hind Al-Fahad in the field of art and culture; Dr. Malak Al-Thaqafi and Dr. Khawla Al-Kareeh for medicine and science; Lulwa Abdullah for the disability challenge category; Rania Nashar and Reem Asaad for economics; and Amal Al-Mualami for humanitarian and social work.
Sayidaty Editor-in-Chief Mohammed Al-Harthy described the historical shift that Saudi Arabia lives by as the "Golden Era" in which women were honored with a number of supportive resolutions. "Societies that breathe through two lungs rather than one are always healthier," he said.
He noted, noting that women are partners with men in building nations toward a bright future.
Institutions and men who contributed to the empowerment and support of women were honored as well including the MiSK Charitable Society; chairman of the board and president of the Abdul Latif Jameel Group, Mohammed Abdul Latif Jameel; and Khaled Al-Khudair the CEO of Glowork.
Award winners talked to Arab News and gave a boost to motivate ambitious Saudi women.
Dr. Sulafeh Batirji, executive president of the Droob Waqf Company, the second waqf company to be registered in the Kingdom, told Arab News: "It is really great of Sayidaty magazine to remind us of how great Saudi women are. I am really proud to be among these awarded women as each one of them has excelled in her field."
Dr. Malak Abu Nuri, assistant professor and dean of higher education and scientific research at Effat University told Arab News: "It is our responsibility as women to raise our society, the young ladies and the new generation to make a greater Kingdom of Saudi Arabia. We shouldn't be afraid of challenging ourselves and following our dreams because we have a better present and we will defiantly will have a better future."
The ceremony was hosted by the well-known Saudi presenter from Rotana Khalijiiah Kholood Al-Nimr.
Sayidaty (about her), a weekly Arabic and a monthly English women's magazine, offers an intimate look into the lives of influential Arab women through award-winning features and fascinating real-life stories. It is published in both Dubai and Beirut, and distributed throughout the Middle East, North Africa, Europe and America. It is among the most popular magazines in Saudi Arabia.
http://www.arabnews.com/node/1211216/media#photo/0
--------
URL: https://www.newageislam.com/islam-women-feminism/muslim-women-shouting-metoo-be/d/113623
New Age Islam, Islam Online, Islamic Website, African Muslim News, Arab World News, South Asia News, Indian Muslim News, World Muslim News, Women in Islam, Islamic Feminism, Arab Women, Women In Arab, Islamophobia in America, Muslim Women in West, Islam Women and Feminism