New Age Islam News Bureau
14 Feb 2017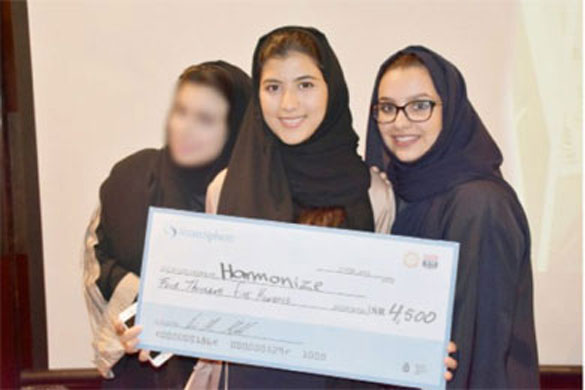 Winning students of Dar Al-Hekma. — Courtesy photo
-----
• Shia Women sans Mehram May Proceed For Haj, Pak Court Told
• Tehmina Janjua Becomes First Woman to Be Appointed Pakistan's Foreign Secretary
• Saudi Arabia Dar Al-Hekma Girls Excel in Entrepreneurship Workshop
• Sharjah Court Orders Death Sentence to Pakistani for Killing Wife
• Network Aims to Increase Number of Saudi Working Women By 2030
Compiled by New Age Islam News Bureau
URL: https://newageislam.com/islam-women-feminism/muslim-women-shouldn-t-use/d/110075
--------
Muslim Women Shouldn't Use Emoticons, Says Malaysian Association
February 13, 2017
Ahead of Valentine's Day on Tuesday, the National Muslim Youth Association (Pembina) in Malaysia has advised Muslim women against using emoticons in text messages or wearing fragrance.
Pembina's guide published on its official Facebook page on Monday said Muslim women should avoid seven things while dealing with "non-Mahram", or men they can marry, even outside the day commemorating love.
Besides avoiding the use of emoticons and wearing "excessive" fragrance, the guide also urged Muslim women to avoid making their voice sound sweet, and to cover up their intimate parts, Malay Mail Online newspaper reported.
The Malaysian Islamist group also warned Muslim women against being alone with non-mahram men, and select the appropriate time to deal with men like daytime and not at night. It also told Muslim women to keep their text messages simple for non-mahram men. The guide is part of Pembina's annual anti-Valentine's Day campaign, claiming that the celebration threatens the faith of Muslims and leads to illicit sex.
Earlier on Monday, the group released a list of five things Muslim youth can do to reject the day, such as publicly chastising unmarried couples who are dating.
The group also suggested youth to wear Pembina's anti-Valentine's Day T-shirt, put up its posters in public, and urge their friends to join Islamic or beneficial activities on the day.
The Malaysian Islamic Development Department (Jakim) has also consistently opposed the celebration of Valentine's Day among Muslims, claiming that it possesses Christian elements.
http://www.business-standard.com/article/news-ians/muslim-women-shouldn-t-use-emoticons-says-malaysian-association-117021300732_1.html
--------
Shia Women sans Mehram May Proceed For Haj, Pak Court Told
WAJIH AHMAD SHEIKH
February 14, 2017
LAHORE: Shia women may proceed for Haj without "Mehram" from this year as religious affairs ministry has assured the Lahore High Court of incorporating requirements of Fiqh-i-Jafria in the new Haj policy.
In a recent hearing of a petition questioning discriminatory treatment meted out to Shia pilgrims by the ministry in Haj process, Lahore Haj Director Saeed Ahmad Malik stated before the court, "New Haj policy will be issued shortly and the requirement under Fiqh-i-Jafria to allow Shia women to proceed for Haj without a Mehram (a close male relative) will be incorporated in the policy and facilitated for the purposes of filing online applications."
The director further told the court that Haj policy would clearly set out the Fiqh-i-Jafria requirements for the purpose of Haj so as to ensure that members of Shia community could perform Haj as per their faith.
Justice Ayesha A Malik has been hearing the petition filed by Syed Ali Hadi Kauser last year.
Representing the petitioner, Barrister Maqsooma Zahra Bokhari argued that Shia pilgrims had been facing discriminatory treatment at the hands of the ministry on account of Haj facilities. She said Shia women had been denied permission to perform Haj without a mehram as online Haj forms did not accept an application from any woman sans mehram.
The counsel sought a direction for the ministry to specify and provide facilities to Shia pilgrims as per their Fiqh.
She also asked the court to order the authorities concerned for specifying quota for Shia pilgrims to avoid non-transparent selection of Haj applicants.
The court would resume hearing on Feb 21.
Published in Dawn February 14th, 2017
http://www.dawn.com/news/1314650/shia-women-sans-mehram-may-proceed-for-haj-court-told
--------
Tehmina Janjua Becomes First Woman To Be Appointed Pakistan's Foreign Secretary
NAVEED SIDDIQUI
February 14, 2017
Tehmina Janjua, currently serving as Pakistan's permanent representative to the United Nations (UN) in Geneva, has been appointed the new foreign secretary by Prime Minister Nawaz Sharif, said a statement issued by the Foreign Office on Monday.
Janjua, the first woman appointed to the Foreign Office's top post, was long considered a favourite for the position.
Having joined the Foreign Service in 1984, her experience has mainly been in multilateral diplomacy. Her only remarkable bilateral posting has been as ambassador to Rome from December 2011 to October 2015. Among her other overseas postings are stints at the UN in New York and Geneva.
Janjua has not served on a major territorial desk at the headquarters, except for a year-long posting at the Soviet Union and Eastern Europe desk at the start of her Foreign Service career.
At the headquarters, she worked as a director at the foreign secretary's office, director general strategic planning, and briefly as spokesperson in 2011.
Janjua will resume her new duties from the first week of March 2017.
Janjua replaces Aizaz Chaudhry as foreign secretary, who was appointed in 2013 as the successor to Jalil Abbas Jillani.
Chaudhry is a career diplomat who joined the Foreign Service in 1980.
Prior to his elevation as foreign secretary, Chaudhry was serving as additional secretary of the UN division with the additional responsibility of foreign ministry's spokesman. He earlier held diplomatic positions in Cairo, Doha, Tehran, Washington and New York.
Chaudhry was also involved in the peace process with India as director general of the South Asia desk at the FO.
http://www.dawn.com/news/1314552/tehmina-janjua-becomes-first-woman-to-be-appointed-pakistans-foreign-secretary
--------
Saudi Arabia Dar Al-Hekma Girls Excel in Entrepreneurship Workshop
Feb 14, 2017
JEDDAH — As part of its to graduate accomplished women, leaders, and entrepreneurs, Dar Al-Hekma University ensures that its students participate in several courses and extra-curricular activities. Recently, 36 Dar Al-Hekma students participated and received 3 credits in a 70-hour, 10-day entrepreneurship workshop and competed for cash prizes at a final pitch competition. Winning teams included Harmonize, a virtual reality interior design app, Fit Kids, a summer camp for youth with health and weight challenges, and iSave, a medical information storage technology.
The course was organize by StrateSphere LLC, a Columbus Ohio-based company specializing in creating private-public partnerships specializing in the education sector, and implemented a Venture Highway entrepreneurship education class for the university students.
The class was held from Jan. 28 to Feb. 7 on the Dar Al-Hekma University campus.
"I advise all educational institutions for women to combine their efforts through the cooperation with private institutions to find a stimulating environment for women entrepreneurship and to develop systems and procedures that encourage their participation and ensure their sustainability," said the President of Dar Al-Hekma University, Dr. Suhair Hassan Al Qurashi.
"StrateSphere is committed to carrying out our mission to inspire and educate young entrepreneurs in collaboration with local partners around the world and are pleased to have been able to offer our cutting-edge blended learning entrepreneurship workshop in partnership with Dar Al-Hekma University," stated Tariq Farwana, StrateSphere's founder and managing partner.
"Dar Al-Hekma University is ahead of the game in offering best-in-class courses for its students and we look forward to continue our partnership by offering more Venture Highway entrepreneurship workshops on campus in the very near future," Farwana said.
The workshop content tied nicely to the Saudi Arabia's Vision 2030, the country's recently announced strategic plan to revamp its economy by, among other things, boosting women participation in the workforce and increase SME share of the national GDP.
Hanan AlGamdi, StrateSphere's senior consultant located in Jeddah, noted the quality and talent of the Dar Al-Hekma University students. "These young ladies showed us quickly how talented and driven they are. This workshop was, for many of the participants, their first exposure to business and entrepreneurship training, yet they came up with many brilliant ideas that can become viable, successful businesses in the near future. There's no doubt that these women will take on leadership roles in Saudi Arabia and we can't wait to see what they will achieve".
Dar Al-Hekma University thrives to pave the road to success by developing entrepreneurial skills through entrepreneurship courses. During the course, Dar Al-Hekma University along with Venture Highways celebrated the winners of the competition.
http://saudigazette.com.sa/saudi-arabia/dar-al-hekma-girls-excel-entrepreneurship-workshop/
--------
Sharjah court orders death sentence to Pakistani for killing wife
February 14, 2017
SHARJAH: A Pakistani husband who killed his wife in Sharjah last year has been granted death sentence by the Sharjah Court.
The 37-year-old man killed his 27-year-old wife in their room. He had claimed that he killed his wife because of the constant fights that ensued between them. The family of the victim, however, felt that the husband had ego problems with the wife as she was the only earning member of the family. The couple lived as paying guests in a three-bedroom apartment in Abu Shagara, Sharjah.
During police interrogation and court hearing, the accused confessed to the crime and presented the wife's death certificate. The couple has a son. The accused said he stabbed his wife, Zaheera, on the left side of her neck and in the chest near the heart and that she died on the spot. The crime took place on January 30, 2016.
http://nation.com.pk/international/13-Feb-2017/sharjah-court-orders-death-sentence-to-pakistani-for-killing-wife
--------
Network aims to increase number of Saudi working women by 2030
LULWA SHALHOUB
14 February 2017
JEDDAH: Engaging more women in the workforce in Saudi Arabia is a key pillar in turning the recommendations of Vision 2030 into reality.
Shahd Attar, a Saudi young professional who co-founded the "CellA Network," utterly disagrees with the saying: "Women are their own worst enemy."
She told Arab News: "It makes me sad when I hear this (saying). In CellA (a network for professional women in Saudi Arabia), the idea is to surround yourself with positive energy by meeting other women who are encouraging, who believe that when they see you succeeding in your organization, it's a success for all women."
CellA, which means "connection" in Arabic, is the brainchild of Attar and her partner Ghada Al-Arifi.
Since they started the non-profit initiative in 2011, they have managed to connect qualified, talented women with employers who wish to utilize their skills and create a gender balance in the workplace. They hold regular meetings in Jeddah, Riyadh and the Eastern Province.
Since the beginning of the 2000s, the number of working women has been increasing in Saudi Arabia.
According to the Labor Ministry, as of 2016 there were 477,000 Saudi women working in the private sector.
The number is set to rise further following Vision 2030, which states that a major goal is "to increase women's participation in the workforce from 22 percent to 30 percent" by 2030.
"Sometimes we have companies who are looking to implement (Vision 2030) and hire more women, but they ask: 'Where are the women? We can't find women'," said Attar.
"That baffles me, because through this network I've met so many talented women who are ambitious, well-educated and want to find rewarding careers.
"So there's a gap. I hope CellA is filling at least a small part of that gap to help women find rewarding careers and pursue their dreams."
Attar's career in the male-dominant field of information technology (IT) drove her to stand for all working women in her society. She believes the great thing about technology is that "it levels the playing field."
Recruiters need hard work and talent, but she thinks Saudi society still has a long way to go to encourage more women in STEM fields (science, technology, engineering and math).
After finishing high school, she could not find an engineering school that enrols women. So she went to Dar Al-Hekma Private University for women in Jeddah and studied management information system (MIS), which she thought was "a great place to grow and flourish."
She then pursued a master's degree in business, specializing in entrepreneurship and technology management at the University of Waterloo in Canada.
Being a working mother with two children, she chose to do another master's degree in software engineering and take evening classes at Prince Sultan University in Riyadh, where she is now finishing her thesis.
In 2006, she started working in business operations at Cisco in Riyadh, staying there for 10 years before joining the Saudi Telecommunication Co. (STC) as the female segment's consumer insights manager.
"We'd like to have a better flow of opportunities where women can get the same access to opportunities," said Attar.
"If she's looking for a job, if she's an investor and looking for business ideas, or if she's a business owner and looking for clients, we're creating a platform for women to empower and enable each other. We're developing an environment where women help women."
CellA invites inspirational figures who broke the glass ceiling to speak about their stories. They have invited businesswoman Lubna Al-Olayan and Nahed Taher, CEO of Gulf One Investment Bank.
"What I'm most proud of is that a lot of these women come out of these events with very powerful positive energy that they see other women who've done it," said Attar.
"They feel inspired and learn from others, or they find a woman to hire or a partner, so it's amazing what stories have come out just by enabling these women to meet and help each other."
The initiative also run development workshops where small groups of women strengthen their networking and self-introduction skills.
"We offer a safe environment where you can practice, and other women you trust can give you feedback, so you can feel more confident," said Attar. "The more you know about people and what they can do, the better you can recommend them."
The meetings are for women only, but men can support them by recruiting, sponsoring meetings and recognizing talented women.
The challenges faced in the technology job market are that women need the right training and internships to become favored candidates.
"I think women need more experience in technology in order for them to develop their talents," said Attar.
Her experience in IT was enhanced by joining internships at Cisco, developed by a Saudi management that focused on both men and women.
"I wish more companies would take on the challenge of inviting interns and giving them real projects to work on."
http://www.arabnews.com/node/1053971/saudi-arabia
--------
URL: https://newageislam.com/islam-women-feminism/muslim-women-shouldn-t-use/d/110075
New Age Islam, Islam Online, Islamic Website, African Muslim News, Arab World News, South Asia News, Indian Muslim News, World Muslim News, Womens in Islam, Islamic Feminism, Arab Women, Womens In Arab, Islamphobia in America, Muslim Women in West, Islam Women and Feminism, Moderate Islam, Moderate Muslims, Progressive Islam, Progressive Muslims, Liberal Islam