New Age Islam News Bureau
15 Dec 2016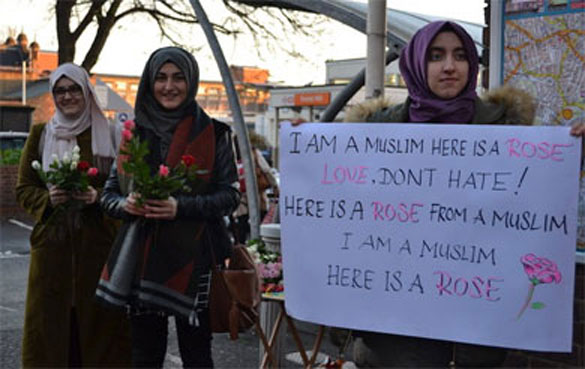 Volunteers with The Dialogue Society and the Mevlana Rumi Mosque joined Arun to hand out flowers to passersby.
------
• Drug Test Mandatory for Marriages in Saudi Arabia
• Skirt-Wearing Israeli Parliament Aides Protest Dress Code
• Women Shunned In Some Muslim Neighbourhoods in France – Report
• Trends in Census Data: More Muslim Women Not Marrying, Not Having Kids
• Higher LinkedIn Usage By Women In The Arab World
• Gender Gap In Social Media Usage Wide In Arab World
• How Technology Is Empowering Muslim Women
• Farkhunda Zahra Naderi appointed as President Ghani's senior adviser to UN
• UAE off to Winning Start in Women's Tournament
Compiled by New Age Islam News Bureau
URL: https://newageislam.com/islam-women-feminism/muslim-women-respond-attack-forest/d/109386
------
Muslim Women Respond to Attack at Forest Hill, London, by Handing Out Roses
DEC 14, 2016
As you may have read earlier this week, a stabbing took place on Monday at a train station in Forest Hill, London. The attacker, 38-year-old Adrian Brown, reportedly shouted, "I want to kill Muslims" during the act. Brown has been charged with attempted murder, possession of an offensive weapon, and assault by battery after his arrest.
And while it may be easier to respond to hate with violence and nasty words, these Muslim WOMEN are taking the high road. Today a young woman named Iysha and a few of her friends decided to spread a message of love by passing out roses at Forest Hill Station.
As you may have read earlier this week, a stabbing took place on Monday at a train station in Forest Hill, London. The attacker, 38-year-old Adrian Brown, reportedly shouted, "I want to kill Muslims" during the act. Brown has been charged with attempted murder, possession of an offensive weapon, and assault by battery after his arrest.
And while it may be easier to respond to hate with violence and nasty words, these Muslim WOMEN are taking the high road. Today a young woman named Iysha and a few of her friends decided to spread a message of love by passing out roses at Forest Hill Station.
http://www.elle.com/culture/news/a41448/muslim-women-respond-to-attack-by-handing-out-rose/
------
Drug test mandatory for marriages in Saudi Arabia
December 15, 2016
Manama: TOP authorities in Saudi Arabia have reportedly endorsed a proposal to include a drug test in the premarital medical check-ups required for foreigners wishing to marry Saudi women.
All health ministry hospitals and clinics have been instructed to add the drug test to the medical check-ups mentioned on the application, Saudi daily Al Madinah reported on Thursday.
Both the would-be bride and groom must undergo the drug check-up.
The call for the drug tests has been made by several families to ensure there are no serious problems for their relatives resulting from a spouse being an addict.
The new requirement will also help reduce drug addiction among young people and will limit the domestic issues impacting couples as they start their lives together, and subsequently decrease the number of divorces, the families said.
Saudi Arabia has been particularly vigilant about marriages between Saudis and non-Saudis.
Under new rules announced in October, a Saudi woman has to be between 30 and 55 years old if she wants to take a non-Saudi husband, while a Saudi man has to be between 40 and 65 to be able to marry a non-Saudi woman.
The 17-point rules governing the marriages of Saudis with foreigners also stipulate that a Saudi man has to earn at least 3,000 Saudi riyals (Dh2,935) a month and to have an adequate house or apartment to have his mixed marriage approved.
The foreign woman whom he wants to marry must be at least 25 years old and the age difference between the two spouses in all cases must not exceed 30 years.
If the applicant is divorced, at least two years should have passed following the separation before he applies to marry a foreigner, and in case he is already married with a Saudi woman and wants a foreigner as a second wife, he must produce a certificate from a public or private hospital stating that his first wife is unable to assume all her marital responsibilities or is infertile. The certificate must be endorsed by the ministry of health.
The applicant must also sign a document stating that the approval of the marriage does not necessarily mean that his foreign wife would be granted the Saudi citizenship.
The rules for Saudi WOMEN planning to marry foreigners include a clause that stipulates that the age difference between them must not exceed 10 years.
The condition was set to ensure there is no exploitation of Saudi women.
The only exception for the minimum age for the woman is the existence of a physical handicap or special needs, including being born to unknown parents.
A non-Saudi cannot take a Saudi wife if he is already married, or if he had married a Saudi woman. He must also present a certificate showing that he has no criminal record both in his country of origin and in Saudi Arabia.
He must also present evidence he is not suffering from any infectious or genetic diseases.
He must not have been a member of the military in a foreign country, must not be on the lists of those banned from entering Saudi Arabia, must have a monthly salary of at least 5,000 Saudi riyals and a valid residence permit and must possess an appropriate family residence.
He must not be stateless and must have a specific nationality and must prove it with a passport from his country that has at least another 12 months of validity. He must also clear all security checks to be carried out by the competent authorities in Saudi Arabia.
The Saudi woman has to sign a statement that her marriage with a foreigner did not necessarily mean he or their children would have the right to be granted the Saudi citizenship.
The new regulations call for the establishment of a committee tasked with looking into all applications by Saudis to take foreign spouses.
The members should give their opinion on the request within one month of receiving the application.
Around one third of the 28 million people living in Saudi Arabia are foreigners, working mainly in the construction and service sectors.
http://gulfnews.com/news/gulf/saudi-arabia/drug-test-mandatory-for-marriages-in-saudi-arabia-1.1946773
------
Skirt-Wearing Israeli Parliament Aides Protest Dress Code
Dec 15, 2016
JERUSALEM: Skirt-wearing Israeli parliament staffers protested dress code rules at the building's entrance on Wednesday after several of their colleagues were denied entry because their dresses were deemed too short.
Staffers say security at the Knesset, or parliament, had in recent days started to strictly enforce rules on the length of skirts, without giving a reason.
At one point on Wednesday morning, around 50 staffers and some parliament members gathered at the entrance to parliament in support of those refused entry, participants said.
Many of them wore skirts above the knee with stockings underneath on a cold and rainy day in Jerusalem.
They posted pictures and videos of themselves standing outside parliament together in protest.
One older MP, Manuel Trajtenberg, stripped down to his undershirt in protest at one point and yelled, "You'll all have to wear burkas!" Israeli media reported.
Around 10 to 15 women were denied entry for dress code reasons on Wednesday, but some were later allowed in, staffers said.
"I've worn this same dress many times," said Kesem Rozenblat, 30, an adviser to parliament member Ilan Gilon of the leftwing Meretz party who was refused entry. "Maybe they're scared of women's legs, I don't know," she told AFP as she stood in the security hall to enter parliament along with supporters.
She said security officers did not measure her skirt, but a woman guard "simply looked me up and down and said it wasn't appropriate".
The issue emerged on Sunday when an aide to MP Merav Michaeli of the opposition Zionist Union was denied entry due to her skirt length.
Photos showed the aide, Shaked Hasson, wearing a blue dress that stopped above her knees, with stockings underneath.
Speaking to Israeli radio, Michaeli called the sudden strict enforcement an "attempt to impose fundamentalist standards," referring to dress rules followed by ultra-Orthodox Jewish women requiring them to cover their arms and legs as well as their heads with a scarf.
Michaeli's spokeswoman Naama Shahar said: "We don't know what's the reason for it but we won't accept it — because we just want to work."
Knesset officials denounced the protest in a statement as an "organised provocation" and said security staff were just "doing their work to enforce a dress code that has been in place for years." Israeli media reported that the code prohibits T-shirts, shorts, sandals and short dresses or skirts.
However, women protesting outside on Wednesday said they were not told how short is too short. "They just said we cannot go in like this today," said Shira Amiel, a 27-year-old aide to Karin Elharar, a legislator of the opposition Yesh Atid party.
One person tweeted a photo of US First Lady Michelle Obama and Sara Netanyahu, wife of Prime Minister Benjamin Netanyahu, wearing dresses above the knee and said they would also not be allowed inside the Israeli parliament.
Parliament member Gilon, who was outside in support of his aide who had been denied entrance, said: "This is not Iran. It's crazy. I have a lot of very important things to do, but I spend my time with idiocy and stupidity."
Israeli society sees frequent tensions between ultra-Orthodox Jews demanding strict observance of Jewish law and secular citizens. The ultra-Orthodox account for around 10 per cent of the country's population.
Published in Dawn December 15th, 2016
http://www.dawn.com/news/1302438/skirt-wearing-israeli-parliament-aides-protest-dress-code
--------
Women Shunned In Some Muslim Neighbourhoods In France – Report
14 Dec, 2016
Cafes which are no-go for one sex, streets full solely of men, and women veiled from head to toe… No, not a highly-religious neighborhood in Saudi Arabia, but a Paris suburb with predominantly-Muslim population, investigation by French media reveals.
The investigation was launched by France 2 TV with the aid of Brigade Des Mères (BDM) group which aims to restore gender equality across France.
Two BDM representatives – both women – carried out a social experiment. They chose Sevran commune in the northeastern suburbs of Paris and analyzed the reaction of local men towards women. The response was probably well-suited to some neighborhood in Saudi Arabia, the women later said.
In one café, which solely consisted of male customers, they received a cold welcome. The women were asked if they were looking for a "man."
"There are men in the café," explains one of the men to them, while the women respond: "It's OK, in the world there are men and women."
Answering the question if such behavior is normal, the men in the café answer: "It's Sevran, not Paris. We have a different mentality."
"It's not like in France, it is like back home!" one of the men says.
"But it's France," one of the women replies. Sevran is located 16km from the center of the French capital.
Later in the video the camera captures a woman dressed in burqa, a full-body cloak worn by some Muslim women.
All dialogues were filmed with secret cameras. BDM later wrote that in some neighborhoods in France women have become "undesirable in public places."
"Walking in a skirt or having a coffee on the terrace can become a real challenge for them," the group said.
Sevran, however, is not the only neighborhood in which women are shunned by Muslim men living there. Similar reaction was seen in Rillieux-la-Pape in eastern France, BDM wrote.
People on social media thanked the brave women for the investigation and for their "combat" against sexism.
"Extremely shocked [by men's reaction]!" and "That is the France of the suburbs," people commented under the video.
Tensions are running high in France and confrontation between Muslims and anti-Muslims has been rising. According to a September poll commissioned by Ifop, more than a quarter of French Muslims, mostly under 25, support an ultra-conservative form of Islam, including women wearing of a full-face veil.
During this summer tensions ran high on French beaches in towns where local authorities introduced a 'burkini' ban. Public reaction has been divided, with some accusing police of using "Nazi" tactics, and others supporting the move.
By August this year, French authorities had closed about 20 mosques and prayer halls considered to be preaching radical Islam.
https://www.rt.com/news/370265-women-shunned-in-france/
------
Trends in Census Data: More Muslim Women Not Marrying, Not Having Kids
By ZEESHAN SHAIKH
December 15, 2016
Observations by the Allahabad High Court on triple Talaq last week underlined concern over the plight of Muslim women in the matter of marital rights. Government figures show Muslim women between the ages of 20 and 34 are more likely to be divorced than women of any other community in the same age group. The figures, however, show other trends that caution against drawing generalised conclusions.
Census figures from 2001 and 2011 show the percentage of Muslim women aged 20-39 who were never married nearly doubled over the decade — the percentage increase of 94% was significantly higher than among Buddhist (72.78%), Hindu (69.13%) and Sikh (66.21%) women.
Watch What Else is Making News
Muslim Reservation: Telangana Deputy CM Urges to Fill Their Memorandum Before Dec 19
Nearly 33.70 lakh Muslim women — 12.87% of 2.1 Crore Muslim women aged 20-39 — were unmarried in 2011, figures show.
During the same decade (2001 to 2011), the percentage of Muslim women in this age group without children increased by 39%, a rate of increase that was second only to Buddhist women (45%). The number of Hindu women in this same group increased by 29.5% between the two Censuses.
The 2011 Census recorded the number of married women between the ages 20 and 39 who did not have children at 2.73 Crore. This was an increase of 31% from the 2.08 crore women in this group in the 2001 Census.
Activists claim better conditions in urban areas have allowed younger Muslim women greater choice in leading their lives.
"Improving socioeconomic conditions within the community have played a role in helping women become more assertive. Women to a certain degree have greater control over their lives than they did earlier," Noor Jehan Safia Niiaz, convener of the Bhartiya Muslim Mahila Andolan, said.
"The trend may not be so obvious in rural areas but urban Muslims, as they become empowered, are taking time to plan their families. The increasing numbers of Muslim girls who are stepping out to work has also played a role in this," Rubina Feroz, general secretary of Ishterak Education Society and member of the Association of Muslim Professionals, said.
http://indianexpress.com/article/explained/muslim-women-marriage-allahabad-high-court-triple-talaq-marital-rights-census-data-4427353/
------
Higher LinkedIn usage by women in the Arab World
December 14, 2016
Dubai: While men continue to dominate the percentage of social media users in the Arab World, more WOMEN are using LinkedIn to search for job opportunities, showed the Arab Social Media Report 2017.
Set to be launched by the Mohammad Bin Rashid School of Government in January 2017, snapshots of the report were presented by Fadi Salem, director of Governance and Innovation Programme, during the second day of the Arab Social Media Influencers Summit on Wednesday.
The report, which includes 22 countries in the Arab World, showed that while the number of overall male social media users is double that of women, 32 per cent of Facebook users are women and 27 per cent of LinkedIn users are women.
"The number of WOMEN using social media in the region has stayed constant more or less, however, the change is seen in the number of women who are using LinkedIn in specific to approach job opportunities and for business reasons," said Salem.
The report also showed that two-thirds of all social media users in the Arab World are youth, with the number of users above the age of 30 steadily increasing. "There is a slight maturity in the age groups using social media, with some countries in the region showing an increase of usage by those over 30 on some social media platforms," explained Salem.
Another trend found in the study was the countries that are used most in conversation and on posts among social media users. The report showed that Saudi Arabia is mentioned most on social media followed by Yemen, Syria and the UAE.
Meanwhile, the UAE showed to be one of the countries with least usage of the Arabic language on FACEBOOK. With Arabic being greatly used in countries such as Yemen, Egypt and Palestine, English proved to be the leading language among UAE social media users.
The report also showed that Qatar and the UAE are the only two countries with the highest Facebook penetration of more than 80 per cent of the population.
YouTube influence
Discussing the increase in the number of YouTube followers and the evolution of video content, YouTube influencer and comedian Omar Hussain told the audience at the summit the trends will continue to change.
A social media survey showed that 70 per cent of youth said the production of content has changed the society and impacted them, while 50 per cent believe it has changed their lives.
"Content on YouTube has evolved — it started from basic video clips, then moved to video series that attracted lots of followers, then moved to vlogs and now other creations like shows," said Hussain.
He explained that while creating one episode a week used to be enough for followers, the demand for more content has moved influencers to create daily content.
http://gulfnews.com/news/uae/media/higher-linkedin-usage-by-women-in-the-arab-world-1.1945144
------
Gender gap in social media usage wide in Arab world
December 14, 2016
Only 32 per cent of Facebook users were woman
While social media use in the Arab World has been increasing, a new study has revealed a gender gap in usage.
Early findings from the upcoming Arab Social Media Report 2017, which will be fully released in January by the Mohammed Bin Rashid School of Government (MBRSG), showed that only one third of the Arab social media users are WOMEN, which equals one female for every two males in the Arab region.
Only 32 per cent of FACEBOOK users were woman and only 27 per cent were on LinkedIn, according to the study conducted on the 22 countries of the Arab World.
"Previous research showed that social media is empowering women, but the number of Arab female social media users is much smaller than the global average," said Fadi Salem, Director of Governance and Innovation Program at MBRSG, who made the announcement during the Arab Social Media Influencers Summit.
However, he added, women's use of social media to access the job market is increasing, indicating the presence of job opportunities for women in the Arab World.
With over 120 million social media users, Twitter and LinkedIn showed a slower growth here, said Salem. The largest number of Facebook users are in Egypt and Saudi Arabia, and it was the first time Algeria ranked in the third place.
However, the UAE and Qatar were the two countries with highest penetration of Facebook, with more than 80 percent of their populations using the platform. "These are the only two countries above 80 per cent," said Salem. Yemen, Egypt, Palestine and Libya were the other top countries to use Facebook in 2016. Globalisation also showed its impact, as the use of Arabic language within the GCC was much less than other Arabic countries. The UAE was placed after Comoros in the countries that used Arabic language the least on Facebook.
On Instagram, English was the most used language in the Arab World, followed by Arabic.
Another trend noticed was the maturity of age groups using social media - the report showed that two-thirds of users in the Arab World are young, with the number of users above the age of 30 in constant increase. In UAE, for example, almost 50 per cent of FACEBOOK users are over 30.
Among the countries mostly mentioned on social media in 2016, Saudi Arabia came on TOP, followed by Yemen, Syria and the UAE. The highest number of tweets per day came from Kuwait, Saudi Arabia and Palestine.
Over the past six years, the MBRSG released seven reports monitoring the use of social media platforms in the Arab World and its role in the growth and development of Arab societies.
In the future, it will monitor public policy, decision-making and the government of the future.
http://www.khaleejtimes.com/nation/general/gender-gap-in-social-media-usage-wide-in-arab-world
------
How technology is empowering Muslim women
Dec 15, 2016
On November 2, the Chicago Cubs made sports history by winning the World Series baseball championship in Cleveland for the first time in 108 years. The victory was partly attributed to their use of big data: a set of people on their computers going over skeletal reconstructions of the players' past movements to tag their strengths and weaknesses.
Some of them happened to be young Muslim women from a low-income locality in Kolkata. In 2012, data services company iMerit set up a base in Metiabruz to train young women from the local Muslim community in serving its global clients in technology, financial information and internet retail. The venture-backed startup has trained over 2000 Muslim women in information technology at its Kolkata centre over the last four years. Of them, 200 currently work across its two-storey offices in Metiabruz providing tech-enabled services for clients as wide-ranging as eBay and Catholic Relief Services.
Rehana Khatoon, 21, is one of the senior technicians at iMerit's global service desk. Her current assignment is to take care of technical issues faced by the global network of Catholic Relief Services over the phone. Khatoon was a high school graduate in 2012 when she heard about iMerit. "I had told my father that I want to take admission in a college, but he said he had no money. He said if you want to go to college, do something yourself."
Khatoon has learnt a range of tech skills over the last four years. "I hadn't seen a computer before 2012 so I first learnt the basics. Then, data entry, e-publishing, programming, internet searching." Khatoon has used the money she makes from the job to see herself through college. "I did my BA in political science. I am now doing an MA. I am fulfilling my dream of higher education."
Women from the local Muslim community receive training at a centre of data services company iMerit in Metiabruz, Kolkata. (Photo: iMerit)
The lives of Muslim women in India have been in news since the central government wrote to state governments and other stakeholders seeking their opinion on the abolition of triple talaq and introduction of a uniform civil code earlier this year.
The debate over Muslim women's rights within marriage and family isn't new. As they watch it being sucked into India's messy politics over religion once again, young Muslim women from underprivileged communities across the country are using novel ways to turn around their lives. One of them is technology.
Twenty four-year-old Tabassum from Haryana remembers the day she told her father she wanted to be a radio professional at Mewat's new community station.
"I wanted to get to meet new people, connect with them. No matter how educated a girl is, if she doesn't know how to talk to people, her worth is nothing. But most people among Muslims don't approve of women doing work that requires them to go out." The community radio station is an initiative by an NGO, Seeking Modern Applications for Real Transformation, to empower rural communities.
Since 2014, Tabassum has hosted her own show on women's health, Your Health is In Your Hands, on Radio Mewat. Before she greets her listeners at noon every day, she writes her script for the day, records her interviews in the field and edits the programme. "At first there used to be all kinds of rumours in my village—some used to say all I do is play songs, some said I sing on the programme myself," said Tabassum, as she prepared herself to host the day's show on pre-menstrual discharge.
Slowly, people in her village started to see her all over the place interviewing people alongside her male colleagues. "They used to come to my father and tell him that I roam with boys. 'We saw your daughter in a village, in a market, on a street,' they would say. I said to my father, 'you have to trust me, I will never do anything wrong.'"
Today, Tabassum told us, she is widely recognized in Mewat as the face of the community station. "People turn to each other in streets when I am walking by to say 'this is the girl who hosts the programme on the radio.'" She is not the first young woman in Mewat to become a public figure through her work with the station.
In 2014, Warisa Bano, then a host with Radio Mewat, was popular enough in the district to contest the Zila Parishad elections. She lost by a narrow margin. Scores of young women in Mewat want to follow in her footsteps.
Twenty-year-old Farheen has been with Radio Mewat for two months. She's already hit the field dozens of times. "I used to be terrified of talking to men earlier. Now, I can talk to anyone about anything." She's also picking up tricks of analogue mixing and live broadcast. Deep into a village in Mewat, where we followed Farheen on a field trip, we asked a grizzled patriarch how he felt about young women taking over the radio station. "My youngest daughter asked me the other day to sign a form so she can take the exams to class 10. She wants to join the radio station after that."
Often, their families are the biggest hurdle the women face in their decision to strike out on their own. It's also, often, their families who offer them their biggest support along the way.
Sanatkada, a local NGO from Lucknow, is training women in a free year-long course on computers, photography and videography. (Photo: Sanatkada)
"I still face conflict with the family every time I take up an outstation assignment," said 24-year-old videographer Aisha Khatoon at her studio in Lucknow. "But they come around every time." In 2011, Khatoon joined a batch of 24 other women who signed up with a local NGO, Sanatkada, for a free year-long training in computers, photography and videography. Since she graduated from the programme, Khatoon has shot a series of weddings and birthday parties in Lucknow and nearby areas.
She tells us it's not easy for a Muslim woman to walk around with a video camera in a place such as Lucknow. The biggest problem her team faces is unsolicited concern of strangers. "We are in someone's house shooting a birthday party of their kid, and the moment their guests realise we are Muslim, they start with the questions: 'How does your family allow you be out so late? How will you go home?' It goes on." Once, she said, a qazi refused to solemnize a wedding if she and her colleague didn't leave the room with their camera. "And this other time, the bridegroom and his friends at a Muslim wedding had a problem that we were shooting them in the men's section. We argued if the male videographers can enter the female section, why not the reverse."
It was after 12 years of her marriage that Kaikashan Beg, Khatoon's 38-year-old colleague, decided to become a videographer. "Every other girl can work in an office. I wanted to do something different." How did her husband react? "I was informing him of my decision, not asking for his permission."
Today, Beg is in charge of her life. "I wear a burqa to work, to give you an example, but I take if off when I am shooting. I don't care who says what. Dekh lenge, toh dekh lein, humein use koi vaasta nahin, humein kaam karna hai. (I don't care if anyone sees me. I have nothing to do with that. All I care about is getting the work done.)"
http://www.hindustantimes.com/india-news/big-data-to-cameras-how-technology-is-empowering-muslim-women/story-Rmu0IuX9zpIiQaxekYU2hN.html
------
Farkhunda Zahra Naderi appointed as President Ghani's senior adviser to UN
Dec 14 2016
The former Afghan lawmaker and a prominent rights activist Farkhunda Zahra Naderi has been appointed as the senior adviser of President Mohammad Ashraf Ghani to United Nations.
According to a President Decree, Ms. Naderi's appointment is approved for the post as President's senior adviser for the United Nations Affairs in accordance with the Paragraph 13 and Article 64 of the Afghan constitution for the addition of this high level government position.
The former female lawmaker in the Lower House of the Parliament, Wolesi Jirga, continued to serve as a prominent WOMEN's rights activist after her term ended as a member of the parliament.
Her appointment as the special presidential adviser in United Nations could play a key role in empowering the Afghan women who have suffered the most in decades of devastating civil war and insurgency, still being faced by the citizens of the country.
Some of her major contributions during and following her service as a prominent female parliamentarian and activist, include the tireless efforts to secure a prominent position for the women in the Supreme Court and a major campaign to align the responsibilities of the citizens of the country and the Afghan National Police, which plays a key role in strengthening the civil society.
As part of her campaign to strengthen the women's role and secure their presence in Supreme Court, a historic move in the Afghan history, Ms Naderi, said "Our institutions are steeped in patriarchy. I can't see how women will achieve their basic rights as long as the Supreme Court has not opened its DOORS to women. Women's rights are imprisoned in that institution and it is men who define those rights."
Ms Naderi further added "But I also represent and advocate for men's rights. If men are being oppressed, I won't just stand by and ignore it. But our statesmen do exactly this when it comes to WOMEN's rights being violated: with respect to half the Afghan population, they keep silent. They do not see; or at least, they don't want to see."
Speaking in another major event earlier this year, Ms Naderi emphasized on the power of the Afghan women and said "I learned one thing in life that the most ordinary Afghan women are in fact the most extraordinary women and human of our land! They are like unseen and unknown treasure but they make mountains higher with pride: they are beautifully powerful!"
This comes as efforts are underway by the government of national unity to strengthen the role of the Afghan women in the governance with the Minister of Women's Affairs Dilbar Nazari saying late last month the ministry is intending to introduce 10 women to Afghan Ulema Council.
http://www.khaama.com/farkhunda-zahra-naderi-appointed-president-ghanis-senior-adviser-to-un-02476
------
UAE off to winning start in women's tournament
December 14, 2016
Ajman: The UAE got off to a wining start in the first-ever UAE International Women's T20 tournament organised by Emirates Cricket Board, defeating Malaysia by six wickets at the Eden Garden Ajman ground on Wednesday.
Nisha Ali with an unbeaten 23, Natasha Michael (19) and Roopa Nagaraj (15) ensured UAE's victory after Malaysia were restricted to 81 for three in 20 overs. The pick among the UAE bowlers was Samiya Salim, who took two of the three wickets that fell giving away just eight runs from her three overs.
She bowled opener Emylia Eliani for two and also bowled Winifred Anne for a duck. Only Dewi Idora withstood the tight UAE attack to score an unbeaten 28.
Seven countries are taking part in this tournament which took off with Kenya defeating Qatar by 72 runs at the Sharjah Cricket Stadium. Kenya, after posting an impressive 133 for 3 in 20 overs, restricted Qatar to 61 in 18.5 overs.
Margaret Banja topscored with 31 runs while opener Mary Wambui scored 30 runs. Wambui then went on to bag three wickets for eight runs and was well supported by Sarah Bhatika, who also took three wickets for 10 runs. Kenya have arrived after intense training in Nairobi.
Uganda playing in a tournament for the first time outside Africa after tours to Kenya, South Africa and Zimbabwe, recorded an emphatic 87 runs over Oman. Uganda skipper Barbara Mukankusi, who opened the innings, hit 23 runs but her team lost wickets in regular intervals. No. 8 batswoman Franklyn Najjumba hit 35 and No. 9 batswoman Carol Namugenyi chipped in with an unconquered 23 runs to help Uganda post 126 for 7.
Oman were then bowled out for 39 in 19.5 overs. Namugenyi was the chief destroyer with a spell of four wickets for just three runs. She was backed by Aweko Consy and Lelia Namaganda with two wickets each.
UAE will meet Kenya in their second match today at Sharjah Stadium while Qatar play Malaysia in Ajman. Kenya and Qatar will also clash at the Sharjah stadium.
The semi-final of the tournament will be held on September 18 and final on September 19 at the Sharjah Stadium.
http://gulfnews.com/sport/uae/cricket/uae-off-to-winning-start-in-women-s-tournament-1.1946100
------
URL: https://newageislam.com/islam-women-feminism/muslim-women-respond-attack-forest/d/109386
New Age Islam, Islam Online, Islamic Website, African Muslim News, Arab World News, South Asia News, Indian Muslim News, World Muslim News, Womens in Islam, Islamic Feminism, Arab Women, Womens In Arab, Islamphobia in America, Muslim Women in West, Islam Women and Feminism, Moderate Islam, Moderate Muslims, Progressive Islam, Progressive Muslims, Liberal Islam