New Age Islam News Bureau
28 March 2018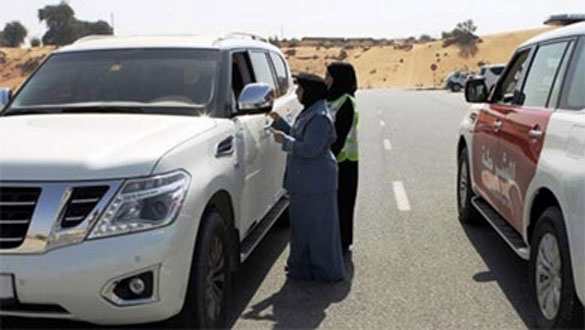 (Supplied Photo) The female-only traffic patrols have started operation on Saturday, March 24.
----
• Gulf Female Sports Stars Set to Headline Dubai Women's Festival
• Arab Women Forum Launches in Saudi Arabia
• First Female Traffic Patrols on Ras Al Khaimah Roads
• Afghanistan's First Female General Calls for More Women in Military
• Afghan Women Join Anti-War Protest in Helmand, Plan to March to Taliban Base
• Iran: Young Woman Sentenced To Imprisonment in Tabriz
• Women Play to Win at US-Saudi Business Meet
• Kindergarten teacher, Indira Gandhi, Nominated for US International Women of Courage Award
Compiled by New Age Islam News Bureau
URL: https://www.newageislam.com/islam-women-feminism/muslim-women-rally-triple-talaq/d/114745
-------
Muslim women rally against Triple Talaq Bill in Rajasthan's Fatehpur
March 27, 2018
Thousands of Muslim women took out a protest rally in Rajasthan's Fatehpur against the Triple Talaq Bill today. The protestors demanded the government should take back the Triple Talaq Bill and should not interfere in religious law in any way.
"The Constitution has given us complete right that every religion has the right to follow its law. So, why are we being broken by bringing changes in our law? If this country wants us to progress, then this bill should be withdrawn. If this law is forced upon us, we will not stay alive. That is why we request the Prime Minister and the President that this bill is withdrawn," one of the protesting women said.
The protestors took out a rally in an area two kilometres from Fatehpur area of Rajasthan's Sikar district.
The protestors carried placards and flags in their hands. A memorandum for the Prime Minister was also handed over to the SDM by representatives of protesting women.
The protestors, which also included the city cleric, claimed that the Triple Talaq Bill was against Muslim women and children.
"I really request the Government, please allow every person... to follow his/her own religion and don't curb it by a law...," another protestor said.
https://www.indiatoday.in/india/story/muslim-women-rallies-against-triple-talaq-bill-in-rajasthan-s-fatehpur-1198767-2018-03-27
-------
Gulf female sports stars set to headline Dubai women's festival
27 March 2018
CAIRO: Three female Arab fitness stars have been announced as the crowd-drawing speakers at a Dubai-based women's empowerment event scheduled for next month.
Saja Kamal, Elham Al- Qasimi and Amna Al-Haddad are set to deliver inspirational speeches about their sports achievements alongside other speakers at the "Ladies with Zest" event on April 9.
The event encourages entrepreneurs, activists, philanthropists and sporting personalities who break boundaries to share their knowledge to inspire other women.
Saudi football player Kamal has represented her nation at several sports competitions around the world. She joined the UK-based Arsenal Ladies Club at the age of four and describes herself as passionate about human rights. In 2017, she broke the Guinness World Record along with 29 other women when they played the world's highest FIFA-regulated football match atop Mount Kilimanjaro.
UAE national Al-Qasimi became the first Emirati and Arab woman to reach the North Pole in 2010 and also carried the Olympics torch at the 2012 games held in London.
Meanwhile, Emirati weightlifting champion Al-Haddad was the first Arab woman to compete in the Reebok CrossFit Asia Regionals in Seoul in 2012. The following year, she became the first competitive hijab-wearing weightlifter from the Gulf to qualify for the Olympics.
http://www.arabnews.com/node/1274326/offbeat
-------
Arab Women Forum launches in Saudi Arabia
27, March 2018
The new forum aims to enhance and support the growing contribution of Arab women to the region's economy and society and will serve as an elite gathering of top female executives, decision-makers, professionals and experts on women empowerment and business leadership.
"By launching the 'Arab Women Forum,' we aim to create a platform for open and candid discussions on the evolving role of women in the business world, the societal attitudes towards their inclusion and success and their challenges and opportunities at work, in society and in politics. With the proportion of women in C-level positions still far from where it should be, the ultimate goal of the forum is to identify ways to improve parity and help women claim the senior positions that they deserve," said Julien Hawari, Co-CEO of Mediaquest.
The forum will feature a series of keynote speeches and panel discussions focusing on business topics including The Economic Revolution, which will discuss the economic benefits of heightening the inclusion of women in business; Boardroom, which will explore what can be done to optimise the number of women in management circles; and Entrepreneurs, which aims to empower women to kick-start their own businesses. Other business topics will include Tech Discrimination, a look at gender discrimination in the tech industry and how women can be better included in regional tech projects and The Community-Based New Economy, where participants will consider what technologies can be used to boost the involvement of women in society and business. Dr. Lama Al Sulaiman, Vice Chair and Board Member of Jeddah Chamber of Commerce is also expected to take part.
The forum will also explore the societal challenges that women face in business, with sessions dedicated to Arab Women's Image, Transforming Laws, Achieving Quality, Political Representation and The Broken Transition: From University to Corporate. Attendees will also hear from businesswomen who have achieved a successful work-life balance in a session dedicated to Balance, as well as breakthrough business moments in a session called The Turning Point.
http://cpifinancial.net/news/post/44598/arab-women-forum-launches-in-saudi-arabia
-------
First female traffic patrols on Ras Al Khaimah roads
March 28, 2018
The Ras Al Khaimah Police have launched the first female-only traffic patrols on the roads of the northern emirate.
The two patrols are concerned with specific missions, according to Major General Ali Abdullah bin Alwan Al Nuaimi, Commander-in-Chief of the RAK Police.
"Boosting and ensuring traffic flow on the roads of the emirate are part of their duties."
They are also tasked with handling the vehicles driven by women, he added. "They also investigate the traffic accidents where one or both parties are women and children."
The female-only traffic patrols have started operation on Saturday, March 24, he disclosed. "The two patrols are run by Emirati nationals who have gone through an intensive training programme."
The quantum leap is in line with the RAK Police tireless effort to empower Emirati women, and boost her role in building the nation, Maj-Gen Bin Alwan underlined.
"This is also in pursuance with the directives of the prudent leadership."
Col Ahmed Saeed Al Sam Al Naqbi, acting director of the traffic and patrols department, RAK Police, said the 'women patrols' will be deployed at night.
"The two women-only patrols start their duty from 8 pm to 2 am on every Thursday, Friday, and Saturday."
Wafaa Saqr, an Egyptian teacher, said the pioneering move reflects the RAK police effort to empower women.
"It is so convenient for any woman involved in a traffic accident to have the issue handled by a woman officer."
https://www.khaleejtimes.com/nation/ras-al-khaimah/first-female-traffic-patrols-on-ras-al-khaimah-roads
-------
Afghanistan's First Female General Calls for More Women in Military
March 27, 2018
Khatol Mohammadzai was active in the Afghan army for more than 30 years. She earned many awards and made nearly 600 parachute jumps from an airplane. In addition, Mohammadzai has trained hundreds of Ministry of Defense members.
But it took the U.S.-led military coalition's defeat of the Taliban in 2001 to make it possible for Mohammadzai to become a general. She is the first woman in Afghanistan to reach the rank of general. For years, the Afghan National Army has been considered a man's army.
Khatol said, "When I move around the city with my uniform, people show great affection…I have motivated many young people to join the army. People from the provinces say they love me and my professions."
In Afghanistan, joining the military is not an easy choice for women. They face opposition from families and male co-workers. Reports say they are denied promotions, training and security.
But the 103 female cadets at the Marshal Fahim Military Academy in Kabul want to change the military culture.
Gulaly is an army cadet. She said she is working for the security of her country. She said, "My goal from the beginning is to promote myself to the level of General Khatol or even higher than her."
Women and men train separately at the academy. However, Afghan officers say their programs are similar. Both receive physical education, weapons and medical care training.
Cadet Sima Amiri says that she is one of the few women who had her father's support to join the army.
She said, "My message to the families is to encourage their daughters and help them in their decision to join the National army."
Khatol has urged for the expansion of service for women.
She said, "It was my education and hard work that enabled me to raise the Aghan flag in the world. I request my heroic brothers and sons to strive for education of their daughters."
The Ministry of Defense says 1,700 women serve in the Afghan Army, about 1 percent of the total.
https://learningenglish.voanews.com/a/first-female-general-in-afghanistan-calls-for-more-women-in-military/4316932.html
-------
Afghan Women Join Anti-War Protest in Helmand, Plan to March to Taliban Base
March 27, 2018
ISLAMABAD —
Afghan women took to the streets Tuesday in Afghanistan's conservative Helmand province and joined an ongoing man-only sit-in demanding Taliban insurgents stop hostilities.
A deadly suicide car bombing at a sports stadium last Thursday in the provincial capital, Lashkargah, provoked young men to stage the anti-war protest at the site of the attack.
Officials said the blast killed at least 14 people and wounded over 40 others.
Women clad in burqas arrived at the stadium and installed their own tent next to those housing men protesters to add their voice to calls for the insurgents to stop fighting and talk peace.
Many of the women protesters are said to have lost loved ones in the war. Women in ethnic Pashtun-dominated regions of Afghanistan rarely step out of their homes for attending protests.
"We have lost our relatives and we want peace in our province," a female protester at the rally told reporters.
"Stop making us widows and making us cry over the death of our children," said another woman at the rally.
Organizers of the first-ever anti-war demonstration in Helmand say they plan to march towards the insurgent-controlled district of Musa Qala on Thursday with a message of peace for the Taliban.
The district is about 90 kilometers from the provincial capital.
Insurgents, they added, have been informed about the planed "long march" with a request to ensure security of the marchers and a response from them is still awaited.
A Taliban official requesting anonymity told VOA his group is looking forward to meeting with and talk to the protesters.
"It is a totally new subject for us. We are studying it and we will meet with these people and listen to their demands and will try to find out why they are making such demands from the Taliban alone," the insurgent official said
The Taliban controls or contests most of the districts in the largest Afghan province, a major opium-poppy-producing region.
Insurgents routinely carry out battlefield attacks and suicide bombings against Afghan security forces in Helmand and claim responsibility for such acts.
The Afghan government has recently announced an unconditional offer of peace talks to the Taliban to end years of war in the country. But the rebels have ignored the overture.
On Tuesday, an international conference in the neighboring Central Asian state of Uzbekistan voiced strong backing for Kabul's offer of a peace dialogue and called on the Taliban to accept it.
https://www.voanews.com/a/afghanistan-helmand-women-join-anti-war-protests/4319256.html
-------
Iran: Young woman sentenced to imprisonment in Tabriz
27 March 2018
A young woman, Roya Saghiri, 24 was tried and sentenced to nearly two years' imprisonment. Seven other protesters who had also participated in the December-January Iran uprising were also put on trial simultaneously.
Ms. Saghiri and another protester, Nariman Validokht, were tried by the 2nd Branch of the Revolutionary Court of Tabriz and sentenced to 23 months in jail for disseminating propaganda against the regime and insulting the mullahs' leader.
Ms. Saghiri is also accused of "appearing in public without the religious Hijab (veil) by removing her scarf on the street."
Ms. Saghiri was arrested at Sa'at Square of Tabriz on December 31, 2017, and has been detained since in the Women's Ward of the Central Prison of Tabriz, capital of the northwestern Iranian Province of East Azerbaijan.
The Women's Committee of the National Council of Resistance of Iran has condemned the arrest of women for opposing the compulsory veil and calls for the immediate release of women who are detained and mistreated for removing their veil.
http://www.women.ncr-iran.org/iran-women-news/4904-iran-young-woman-sentenced-to-imprisonment-in-tabriz
-------
Women play to win at US-Saudi business meet
28 March 2018
NEW YORK: They may have been outnumbered by men but women executives were not sitting on the sidelines of this year's Saudi-US CEO Forum, which gathered members of the business elite under one roof in midtown Manhattan on Tuesday.
Mounira Jamjoom, CEO of Emkan Education, a consultancy, was one of about two dozen women among the 200 business chiefs assembled in Gotham Hall.
"I'm a woman in business so it's important to mingle with the men and the top companies in the US and Saudi Arabia for the visibility of what we do," Jamjoom told Arab News. "I'm also a female entrepreneur and I understand the hurdles female entrepreneurs face in Saudi Arabia."
This year's forum comes as Crown Prince Mohammed bin Salman implements his Vision 2030 reform agenda, which aims to raise the participation of women in the Saudi workforce from 22 percent now to 30 percent by 2030.
Women make up 56 percent of Saudi university graduates, officials say. About 205,000 female students receive grants to study abroad each year and women are bagging an increasing number of jobs in private, public and government institutions.
The forum featured women such as Adena Friedman, CEO and president of NASDAQ, one of the exchanges vying to host the sell-off of oil giant Saudi Aramco, expected in the next couple of years.
Lubna Olayan, a trailblazing Saudi entrepreneur and deputy chairperson and chief executive of Olayan Financing Company, kick-started proceedings by tackling the obstacles facing a fast-changing nation.
"Saudi Arabia is a G-20 country that is undergoing massive reforms, both economic and social," Olayan told the crowd, citing the role of women as one of the issues being addressed in an evolving economic landscape.
This year's forum was titled "An Era of Transformation: from Vision to Implementation." Panelists were set to take part in an afternoon session called "Saudi Women Scale New Heights."
For Jamjoom, a graduate of New York's Columbia University, reforms are changing the landscape, but the Kingdom is playing catch-up even with some of its Gulf neighbors when it comes to women's rights.
"It is getting better but we still have a long way to go," added Jamjoom.
"For a long time, women were executors of national plans rather than leaders. More and more, you're seeing women in leadership positions. By hiring more women, the government can pave the way for seeing more jobs in the private sector and in semi-government institutions."
Deem AlHajjaj, a consultant on the National Transformation Program of the Vision 2030 reform agenda, was on-hand to explain how business is changing in Saudi Arabia through female empowerment drives and other initiatives.
She traveled from Riyadh to take part in the forum, and offered advice to young ambitious women in the Kingdom who want to get ahead — saying that jobseekers must sell themselves in a competitive market.
"You need hard work, of course, a good education and a passion to help the country achieve this vision," AlHajjaj said.
"It can take a lot of effort and dedication, but everything is possible. The country is transforming. You go away for a year and come back and everything is different. Never lose hope in your ability to help the country."
Jamjoom said women need to be self-starters and cannot sit on the sidelines.
"Success really depends on the woman having the persistence and perseverance to continue," Jamjoom told Arab News.
"They can seek support from other women who've made it, and raise their hand and ask for support from men, which is something they didn't do years ago because of segregation, but it's necessary because most seniors in government and the private sector are men."
The forum was the second installment in a series of annual events that began in Riyadh last May during US President Donald Trump's first overseas visit since he entered the White House. That event led to deals worth hundreds of billions of dollars.
It was held under the domed roof of the grand, elliptical banking room of what was once the Greenwich Savings Bank building, a venerable 1920s edifice of limestone, sandstone and steel at 1356 Broadway.
Behind the scenes, the crown prince was understood to be talking with business heavyweights such as Jamie Dimon, CEO of JPMorgan, and others.
http://www.arabnews.com/node/1274831/saudi-arabia
-------
Kindergarten teacher, Indira Gandhi, Nominated For US International Women of Courage Award
BY LOGHUN KUMARAN
March 27, 2018
IPOH, March 27 ― Kindergarten teacher M. Indira Gandhi, who won a high-profile court battle against the unilateral conversion of her children to Islam, has been nominated for the US Department of State's International Women of Courage award.
Indira will be honoured at a reception, held in conjunction with International Women's Day 2018 and Women's History Month, at the residence of United States Ambassador Kamala Shirin Lakhdir in Kuala Lumpur tomorrow.
"I had known about this for a while, but I tried to keep it to myself. It's a strange and wonderful feeling because it's something I never expected," she told Malay Mail today.
"This was never part of my agenda, because I only wanted to get my children back. But I'm excited and grateful to be honoured in this way."
Indira, 43, said her family members ― including her two older children Tevi Darsiny, 20, and Karan Dinish, 19 ― would be accompanying her to the reception. Her youngest child Prasana Diksa, aged 10, remains with her ex-husband, whose whereabouts are unknown.
While excited by her nomination as Malaysia's candidate for the International Women of Courage award, Indira has not lost sight of the ultimate goal driving her battle for her children over the past nine years.
"I hope this puts some pressure on the authorities to find Prasana," Indira said.
"And I also hope that this encourages women in similar situations to keep going and never give up."
The US nomination represents another notable success in Indira's nine-year battle against the unilateral conversion of her children, as she struggles to recover Prasana Diksa from her ex-husband.
In January, the Federal Court nullified the conversion of Indira's three children to Islam, which was done without her consent.
The landmark ruling also stated that only the civil courts have jurisdiction to decide on such matters.
On April 2, 2009, K. Pathmanathan―now known as Muhammad Riduan Abdullah ― covertly converted his three children to Islam without their knowledge and without Indira's consent, before going to the Shariah court just a few days later to obtain custody rights for them.
Indira previously secured a mandamus order compelling then Inspector-General of Police Tan Sri Khalid Abu Bakar to retrieve Prasana and return the child to her mother.
However, Khalid reportedly said police could not execute the order, citing the jurisdictional conflict between the civil courts and their Shariah counterparts ― which had issued an order in favour of Mohd Riduan.
But after January's landmark decision, current Inspector-General of Police Tan Sri Mohamad Fuzi Harun said police will track down Prasana Diksa and Muhammad Riduan.
http://www.themalaymailonline.com/malaysia/article/indira-gandhi-nominated-for-us-international-women-of-courage-award
-------
URL: https://www.newageislam.com/islam-women-feminism/muslim-women-rally-triple-talaq/d/114745
New Age Islam, Islam Online, Islamic Website, African Muslim News, Arab World News, South Asia News, Indian Muslim News, World Muslim News, Women in Islam, Islamic Feminism, Arab Women, Women In Arab, Islamophobia in America, Muslim Women in West, Islam Women and Feminism