New Age Islam News Bureau
14 Apr 2019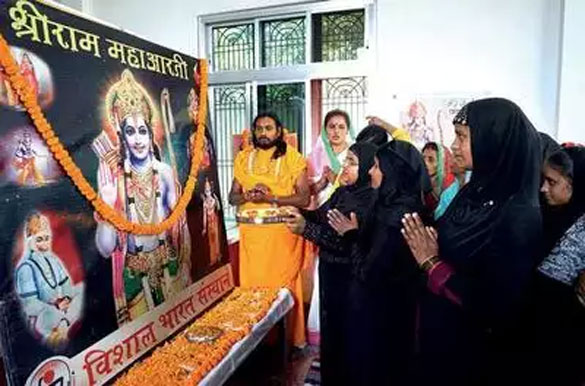 spreading communal amity: Muslim women perform Ram Aarti on the occasion of Ramnavami on Saturday. The tradition is being followed since last 13 years
----------
• Indian Woman, Torture By Her Ex-Husband, 'Embraces' Islam, Marries Pakistani Man
• Man Insults, Punches Pregnant Muslim Woman In Germany's Berlin
• Woman Muslim Convert Dies While Saving Others In NZ Terror Attack
• Monireh Arab-Shahi, Mother Of Civil Activist Yasamin Ariani, Arrested
• 'Lack Of Self-Belief Stops Women's Businesses From Taking Off'
Compiled by New Age Islam News Bureau
URL: https://www.newageislam.com/islam-women-feminism/muslim-women-perform-ram-aarti/d/118317
--------
Muslim Women Perform 'Ram Aarti' On Navami in Premchand's Village
Apr 14, 2019
Varanasi: A group of Muslim women on Saturday performed 'puja' and 'aarti' of Lord Ram on the occasion of Ram Navami while claiming that "he is an inseparable part of the Indian culture."
"Ayodhya hai humare jiyaratgah ka naam, jahan rahate hain Imam-e-Hind Shri Ram (Ayodhya is the place of our pilgrimage, where lives the Imam of India Shri Ram)," they added.
They performed 'puja' and 'aarti' of Ram at Lamhi, the ancestral village of great Hindi author Minshi Premchand. Associated with Muslim Mahila Foundation, these women have maintained this tradition for the last 13 years to spread a message of communal harmony. They recited Shri Ram Aarti and Shri Ram Prarthana scripted in Urdu before the picture of Lord Ram.
"Lord Ram is an inseparable part of Indian culture. We all are descendants of Shri Ram, who is the Lord of universe. Our ancestors had changed religion, but not culture," said MMF president Nazneen Ansari, who has also scripted Durga Chalisa, Hanuman Chalisa and Ramchartimanas in Urdu. "Evils like terrorism and communal hatred could be eliminated by following the path shown by Shri Ram," she said adding that Pakistan too could establish permanent peace in its land if it has faith in Shri Ram.
Many Muslim as well as Hindu women, including Najma Parveen, Vasirunnisha, Azmati Khatoon, Rukhsana Bibi, Archana Bharatvanshi, Mridula Jaiswal, Afsana and many others joined Nazneen in performing aarti and sang 'sohar' the celebrate the lord's birth. MMF members send handmade 'rakhis' to PM Narendra Modi on the occasion of Raksha Bandhan every year. They had vigorously campaigned for Modi in 2014 Lok Sabha election, and would do the same in this poll also.
https://timesofindia.indiatimes.com/city/varanasi/muslim-women-perform-ram-aarti-on-navami-in-premchands-village/articleshow/68868838.cms
--------
Indian Woman, Torture By Her Ex-Husband, 'Embraces' Islam, Marries Pakistani Man
APRIL 14, 2019
GUJRANWALA: An Indian woman named Tina has embraced Islam and married a Pakistani man Suleman in Gujranwala.
A Chandigarh resident, Tina, left home after years of torture by her ex-husband, arrived in Pakistan and converted to Islam.
The Indian Foreign Office has alleged that Suleman has forcibly held the woman hostage at his house, therefore, the Pakistani authorities should take steps for her repatriation to her homeland India.
However, the Ministry of Foreign Affairs in Islamabad has turned down Indian assertion.
https://www.pakistantoday.com.pk/2019/04/13/indian-woman-embraces-islam-marries-pakistani-man/
--------
Man Insults, Punches Pregnant Muslim Woman In Germany's Berlin
20.03.2019
A pregnant Muslim woman wearing a headscarf was attacked by an unidentified man in the German capital Berlin, reports said Wednesday.
The incident reportedly took place near Neukölln train station, where a man walking his dog started insulting two women for wearing headscarves.
The perpetrator reportedly punched the pregnant woman's abdomen, and punched the other woman's face and fled the scene, reports said.
The pregnant woman was hospitalized following the attack and Berlin police have launched an investigation.
In recent years, increasingly hostile attitudes toward immigrants and the Muslim community have been reported in Germany. In August 2018, massive far-right rallies rocked the city of Chemnitz, in eastern Germany, where skinheads hounded migrants and performed the illegal Hitler salute.
Interior Ministry figures show that at least 950 attacks occurred in Germany on Muslims and Islamic institutions in 2018 alone.
Germany has the second largest Muslim population in Europe.
https://www.dailysabah.com/islamophobia/2019/03/20/man-insults-punches-pregnant-muslim-woman-in-germanys-berlin
--------
Woman Muslim Convert Dies While Saving Others In NZ Terror Attack
March 18, 2019
A 65-year-old New Zealand woman sacrificed her own life while saving others when terrorist opened fire at the Linwood Mosque, Christchurch, on Friday.
Linda Armstrong was known to be cheerful and kind-hearted, who always helped others. On the fateful day, Sister Linda - as she was fondly known, threw herself before the gunman in a bid to save the lives of other women present in the mosque to offer prayers, reported Newshub.
Armstrong had converted to Islam two decades ago and had been with the Linwood Mosque for only two years. Edward Wadsworth, General Secretary of the Linwood Mosque said, "It did not matter who you were or what your background or beliefs or anything was. If you needed anything done she would find a way to do it."
Recalling how Armstrong helped several displaced people affected by wildfires in Nelson and Tasman District, New Zealand, Wadsworth said she drive a car load of essentials to help out. "Sister Linda always told me she had a peaceful time in Islam. She found true peace every brother sister was her family," Wadsworth added.
Recounting her heroic action, fellow worshiper Imam Lateef Alabi, said, "On the day there were other ladies there and she was like that (moving from side to side) but she got shot at. She put her own body before them." While Armstrong's next door neighbour who has not yet come to terms with her death said, "From what I've heard she threw herself over somebody to protect them and that's when she got the bullet. That's her, that's her."
https://www.khaleejtimes.com/international/rest-of-asia/woman-muslim-convert-dies-while-saving-others-in-nz-terror-attack
--------
Monireh Arab-Shahi, Mother Of Civil Activist Yasamin Ariani, Arrested
Apr 13, 2019
On Thursday, April 11, 2019, Mrs. Monireh Arab-Shahi, mother of the civil activist and theater actress, Yasamin Ariani was arrested. She was transferred to the notorious Qarchak Prison on the next day.
When referring to Vozara detention center in Tehran on Thursday April 11, 2019, at 10:30 am to get a news from her arrested daughter, Yasamin Ariani, Mrs. Monireh Arab-Shahi was arrested at the place.
It is said that regime's SSF, referring to their residents on Wednesday, April 10 had warrant to arrest them both mother and the daughter, but as Mrs. Arab-Shahi was not in. They only arrested Yasamin. The warrant was issued by Karaj's prosecutor's office.
There is no information of the reason of these two arrests.
Yasamin Ariani was arrested along with 50 other protesters on July 2, 2019, in Tehran when protesting the dire economic situation and the corruption. The arrest was carried out by security forces and they were transferred to Great Tehran and Qarchak's prisons.
Other women arrested along with Ms. Ariani were Azar Heydarian, Saba Kord Afshar, Mojdeh Rajabi and Niloufar Homafar.
Ms. Ariani was transferred to Evin Prison's women ward in early fall of 2018 and was condemned to serve one year, charged with "disrupting public order". She was released on Feb.14, 2019.
After her release, Ms. Ariani published a revealing letter on the pardons granted to the prisoners by the regime.
https://women.ncr-iran.org/2019/04/13/monireh-arab-shahi-mother-of-civil-activist-yasaman-aryani-arrested/
--------
'Lack Of Self-Belief Stops Women's Businesses From Taking Off'
Jamila Achakzai
April 14, 2019
Islamabad: The third Women Entrepreneurship Conference'19 (WECON '19) brought together women entrepreneurs, stakeholders and industry experts from diverse backgrounds under one roof at a local hotel on Saturday for discussion on their issues and challenges for finding solutions.
The organisers said the event's theme was 'khudi', which talked about self-belief and self-determination.
They said many brilliant women besides facing socio-economic challenges also suffered from a lack of self-belief and self-determination, which stopped their businesses from taking off.
Besides discussing the topics about the theme, the event, the media partner of which was Jang Media Group, also launched the WECON Movement, a nationwide initiative to help aspiring women entrepreneurs prevent business failures.
As part of the WECON Movement, two innovative platforms, the WECON Tribe and WE Portal, were launched.
The WECON Tribe was meant to help women entrepreneurs in early stages of their business journey through local communities, while the WE Portal was designed to create a place for women to market their products to corporates and organisations.
CEO of the Change Mechanics Sayyed Ahmad Masud said the WECON was launched by his organisation, a network of entrepreneurs, change agents and educators, to bring change and innovation to everyday life.
"Realising the constraints of women in the field of entrepreneurship and the resultant disparity in the ratio of male and female startups, we launched WECON," he said.
Ahmad Masud said the event was meant to showcase local women entrepreneurs as inspirations to students and budding entrepreneurs and create knowledge opportunities and collaborative framework to help organisations working in the field to connect and partner with each other. "By helping women succeed in business, we can address the most serious societal inequalities through innovation and entrepreneurship as women bring a unique perspective and can create practical solutions to everyday problems," he said.
Romella Hameed, founder and CEO of SMT: an online self-management training for special persons, said Pakistani women's participation in business activities was direly needed.
She said most women wanting to become entrepreneurs weren't encouraged and supported by their families but those who managed such hurdles somehow had turned out to be successful businesswomen.
She said as lack of finances, mentoring and networking were the major challenges startups faced, such events could help address them.
Gul Zeba Jawad, CEO of Pernia Couture, and vice-president of the Women Entrepreneurs Standing Committee at Rawalpindi Chamber of Commerce and Industry, said WECON was a very good platform for women entrepreneurs of different sectors and cities to meet and connect, and learn from experts.
She said women entrepreneurs faced multiple challenges including family and social pressures and financial and administrative issues but the entrepreneurship was all about facing and managing them.
Shannon Grewer, CEO of Victoria Road, complained about sexual harassment and discrimination against working women in the country and called for steps to end it. She, however, said Pakistan was changing for women entrepreneurs as they'd better chances of training, mentoring and growth compared with the past though finances continued to be serious issue for their development.
"Women entrepreneurs have still a long way to go," she said.
Clinical psychologist Uzma Sadaqat said she had come all the way from Lahore to interact with businesswomen and learn from their experiences and had a wonderful time at the event.
She said healthy discussions should happen among women about how to progress using their skills and talents, and the WECON was a very good platform for the purpose.
The organisers honoured successful women from different fields.
The Most Promising Female Led Startup award went to Ayesha Ahmed, co-founder, and CEO of Pak Agri Market, a tech startup that has established an online marketplace to address market access problems in the current supply chain faced by small farmers.
Founder of SWITCH Danielle Sharaf grabbed the Female Tech Entrepreneur of the Year award for bringing health solutions to adolescent girls, bridging the knowledge gap and empowering women across all socio-economic strata through cellular technology, while the Social Entrepreneur of the Year award went to founder and CEO of TrashIt Anusha Fatima for working on organic waste disposal by making nutrient-rich compost and empowering citizens to adopt a sustainable lifestyle.
Also, Tasleem Bibi got the Woman of Influence award for directly impacting the lives of more than 425 women and contributing to the livelihood of 1000s more, encouraging them to start their business.
https://www.thenews.com.pk/print/457604-lack-of-self-belief-stops-women-s-businesses-from-taking-off
--------
URL: https://www.newageislam.com/islam-women-feminism/muslim-women-perform-ram-aarti/d/118317
New Age Islam, Islam Online, Islamic Website, African Muslim News, Arab World News, South Asia News, Indian Muslim News, World Muslim News, Women in Islam, Islamic Feminism, Arab Women, Women In Arab, Islamophobia in America, Muslim Women in West, Islam Women and Feminism