New Age Islam News Bureau
18 Sept 2016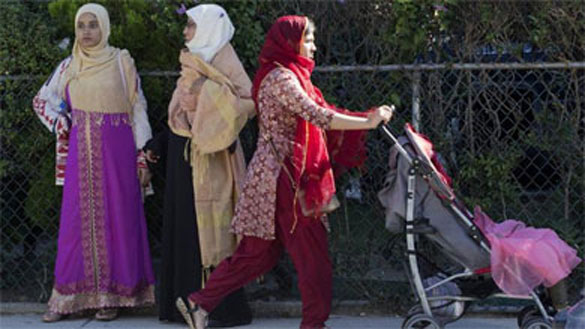 Photo: CLOSED TO CHANGE: Asma Zahra (extreme left) with other members of the All India Muslim Personal Law Board protest against proposed reforms at a press meet in Lucknow (Photo: Sanjay Sonkar)
• Court Frees Assailant Who Attacked Woman for Wearing Shorts in Istanbul
• Muslim Women Bear the Brunt of Islamophobia
• 'Women's Flotilla' To Gaza Accuses Israel of Causing Delays
• UAE's Sara Al Senaani Makes History
• From Within and Without, What Muslim Women in Mangaluru Think About the Burqa
Compiled by New Age Islam News Bureau
URL: https://newageislam.com/islam-women-feminism/muslim-women-outfit-opposes-instant/d/108590
--------
Muslim Women Outfit Opposes Instant Talaq
TNN | Updated: Sep 18, 2016
BHOPAL: Shabana Nisha, 21, looks younger than her age. Between 2012 and 2014, she was given Talaq twice. In 2012, maternal uncle of her husband Salim Khan, conveyed her the message of Talaq. "Your husband has divorced you by saying Talaq thrice," I was told by Salim's mamu, Nisha, a resident of Satna, told TOI.
Her first marriage was held in 2012 and she was divorced in a year's time. "That year, I was given Talaq while I was sleeping. In the morning I was informed about the decision," said Nisha, who studied only up to Class 10.
Now, she lives with her mother, who ekes out a living by rolling beedis. Her father died some years ago.
Khushbu Beghum, 22, also a resident of Satna, said she had learned about Talaq from few written words on a piece of paper. "When divorced, I was in third month of my pregnancy. And the reason cited for divorce was my husband Shah Alam, a driver, did not like me," she said. Khushboo, now works as a cook in Satna.
Both young divorcees came to Bhopal with Bharatiya Muslim Mahila Andolan (BMMA), a group of progressive Muslim women from across the country, which is fighting for legal abolition of verbal or unilateral Talaq.
Zakia Sonam, Delhi based co-founder of the movement, said, "We want codification of the law and change in light of Quran to save Muslim women from atrocities." BMMA said even clerics do not oppose this way of divorce, which is against Quran. BMMA is a national movement of Muslim women working in 15 states with a membership of over one lakh, Sonam said. Instant divorce has no mention in Quran, said Safia Akhtar, convener of MP chapter of BMMA.
"The Muslim personal law must be reformed in such a way that all discriminatory practices are struck down and Muslim women's constitutional and Quranic rights are safeguarded," Safia said.
Talking to TOI, Shahar Qazi Syed Mushtaq Ali Nadwi said, "As Talaq has been considered very bad in Islam, there is a long procedure for reconciliation between husband and wife explained in detail in the holy book."
timesofindia.indiatimes.com/city/bhopal/Muslim-women-outfit-opposes-instant-Talaq/articleshow/54386380.cms
------
Court Frees Assailant Who Attacked Woman for Wearing Shorts In Istanbul
September/18/2016
A court in Istanbul released on Sept.18 an assailant who attacked and injured a young woman on a public bus for wearing shorts, a charge that was admitted by the attacker, who claimed the victim's outfit was "not appropriate."
Abdullah Çakıroğlu was released by the court after his detention and interrogation, during which the 35-year-old assailant pleaded guilty to assaulting the victim, identified as A.T., by kicking her in the face, and reasoned his action by claiming he had a mental illness.
During his police interrogation, Çakıroğlu reportedly said: "I am receiving psychological treatment. I suddenly kicked [her] impulsively." While leaving the police station for the court, however, the assailant was recorded answering questions from members of the press, saying: "Friends, everything is under control. There is no problem. I will make the necessary explanation. I was attacked by vandals; 20 leftist terrorists attacked me. Everything happened according to Islamic law."
Çakıroğlu worked as a security guard at a private company and was reportedly heading home in the Çekmeköy district when he committed the assault.
In his initial testimony, Çakıroğlu said, "The shorts she was wearing were not appropriate. That is why I got angry and did the action."
Meanwhile, after Çakıroğlu's detention, victim A.T., whose occupation was identified as a nurse had gone to the police station to identify the assailant and stated that she was very happy that the man had been detained. "He did not allow me to enjoy my holiday that day; today is my holiday," she said, referring to the Eid al-Adha holiday, which began on Sept. 12.
The victim also thanked the only person on the bus who helped her after the attack, Mahir Kır, saying, "He helped me on the bus, although he did not know me. He was the only person who helped me. I really thank him."
Kır in response said that he had performed his duty as a citizen. Kır also identified the assailant after seeing him at the police station.
The brother of the assailant, meanwhile, said that Çakıroğlu was suffering from schizophrenia and refused to accept any treatment, state-run Anadolu Agency reported.
In a separate incident, a 23-year-old woman in the Bornova district of the western province of İzmir was also physically assaulted by a man who, along with his friend, approached the victim on a street in an attack which was also ignored by bystanders, daily Cumhuriyet reported.
The victim, identified as N.G., was hit in the face several times by the assailant, who first approached the woman and when she did not respond, allegedly attacked the woman saying, "No one can say 'no' to me."
The attack was initially ignored by people nearby and was later broken up by a couple of people who heard the woman's screams.
After the attack, the victim shared a post on social media describing and condemning the attack. N.G. said: "When he attacked me, no single person showed up saying 'what is this man doing?' I held his hand but my strength was not enough. Is this manhood, is this being human? What kind of a country has this turned into?" N.G. also posted photos of her injuries she claimed she sustained in the attack.
hurriyetdailynews.com/court-frees-assailant-who-attacked-woman-for-wearing-shorts-in-istanbul.aspx?pageID=238&nID=103980&NewsCatID=341
------
Muslim women bear the brunt of Islamophobia
18 September 2016
Week before last, a 35-year-old woman was standing outside a Valentino store in Manhattan when. As she later told the police, she felt heat on her left side. Her blouse was on fire and a man stood nearby with a lighter in his hand. The woman, whose name has not been released by the New York Police Department (NYPD), escaped with a hole in her blouse and no injuries. The NYPD is investigating the incident as a possible hate crime — the woman is Muslim, and she was wearing a hijab.
Almost every woman has an unsettling story about the difficulties of being a woman in public in the United States — whether it's a stranger walking behind us too closely, verbal abuse, unwanted sexual advances or physical attacks. But for Muslim women, these isolated incidents of misogyny or violence have taken on an additional, ugly edge.
Amid a surge of anti-Muslim policy proposals (including Republican presidential nominee Donald Trump's idea to ban Muslims from entering the US), 2015 had the highest number of anti-Muslim hate crimes — five times the pre-9/11 rate. And although the venom of anti-Muslim sentiment is directed against both men and women, it is a particularly gendered crisis. Women bear the brunt of Islamophobic prejudice.
Comprehensive data on the effect of discrimination and hate crimes targeting Muslim women are hard to find. (The FBI does not track hate crimes by gender.) But studies suggest that women, particularly those who wear hijab or niqab, shoulder a unique burden. Because women who wear hijab and niqab are visible representations of our religion, they face a significant risk of exposure to discrimination, harassment and attacks.
According to one researcher, 69 per cent of Muslim women who wore hijab reported at least one incident of discrimination; for those who did not wear hijab, it was 29 per cent. Non-governmental organisations that track anti-Muslim incidents in various parts of the world report record numbers of hate crimes and violent incidents targeting Muslim women. In the Netherlands, 90 per cent of victims reporting incidents of violence to Meld Islamofobie (Report Islamophobia) in 2015 were Muslim women; in France, the Collective Against Islamophobia reported that 81 per cent of violent incidents involved Muslim women, as did more than half of incidents reported to Tell MAMA, an NGO in Britain. In each study, women who wore visible symbols of Islam such as a hijab or niqab were more likely to be targeted.
To Muslim women, these numbers aren't abstract. They are real life. Just week before last, just days after my friend who wears hijab told me about being accosted in an airport bathroom and told to "go home where they wear those things" in front of her seven-year-old son, we reflected on two women who were attacked in New York City while pushing their babies in strollers. Their attacker expressed a similar sentiment — "Get the [expletive] out of America" — as she threw one stroller to the ground and tried to rip off the women's hijabs.
Much of the focus of late has been on France, even though Muslim women in the US have endured prohibitions on hijab and niqab at work, in public spaces such as swimming pools or at school for decades. Muslim women have been fired or not hired, like Samantha Elauf, who took her case to the US Supreme Court and won when Abercrombie and Fitch didn't hire her because of her hijab. They've been arrested, like Itemid Al Matar, who, while trying to catch a train, was tackled, detained and later subjected to a strip search by Chicago police. And they have been pushed out of the judicial process altogether, like in Michigan, which passed a court rule allowing judges to decide whether women in niqab can appear as witnesses.
Although Muslim men and women may both suffer from a presumption of guilt, women experience the additional presumption of victimhood. We're seen simultaneously as recognisable representatives of a religion to be "feared" and passive targets of male dominance. In turn, our absurd status as both villains and victims drives not only discrimination, harassment and hate crimes, but promotes cynical policy proposals designed to help us, which actually are rooted in stereotypes and anti-Muslim bias.
Officials and news pundits have long used this tactic and the guise of "women's rights" to promote anti-Muslim ideology. This thinly-concealed bias is central to the arguments of the 30 French coastal towns that banned the burkini. In a truly head-scratching moment, Laurence Rossignol, the French government's Minister for Women's Rights, defended the bans by stating: "The burkini is not some new line of swimwear; it is the beach version of the burqa and it has the same logic: Hide women's bodies in order to better control them."
Lost in this statement is the irony that these laws reinforce exactly what the minister purports to loathe.
Similarly, in the US, when Ibtihaj Mohammad became the first American Olympian to compete and win a medal while wearing hijab earlier this month, Rush Limbaugh tried to diminish the historic moment by stating: "But why celebrate a woman wearing something that's been forced on her by a religion, a religion run by men? ... She may actively agree to do it, don't misunderstand, but it's a religion run by men that subjugates and subordinates women."
Under heightened scrutiny and calls for vigilance, Muslim women have flocked to self-defence classes, some have contemplated removing their hijab to protect their families and others are wearing hijab to feel closer to faith during these uncertain times. I have experienced my own scare, when I was cornered by a man at a community dog park. After exchanging pleasantries, he snarled without warning or provocation: "Do you know what's wrong with Muslims?"
He punctuated his rant with a finger in my face and a grab at my shoulder when I tried to glance or back away. Through clenched teeth, he ranted that Muslim men are rapists and terrorists and that Muslim women are victims of their own oppression. I listened, silent calculations running through my head — I was alone in a dog park the size of one city block, and he was unpredictable and belligerent. Anything could have happened.
We have a long road ahead to realise full and equal rights, but it's not Islam that holds us back. It's pervasive prejudice and discrimination in all facets of our lives. Just as it's intellectually dishonest to believe that four police officers forcing a Muslim woman to remove her burkini on a crowded beach is a sign of progress for women, it's immoral to continue to allow anti-Muslim bias to close the doors of opportunity to us.
Discrimination in the name of women's rights or religious tolerance is still discrimination — ask any Muslim woman, if only to finally include us in the conversation about us.
— Washington Post
Rana Elmir is the deputy director of the American Civil Liberties Union of Michigan and lectures on issues related to Islamophobia, free speech and the intersection of race, faith and gender.
gulfnews.com/opinion/thinkers/muslim-women-bear-the-brunt-of-islamophobia-1.1897584
------
'Women's flotilla' to Gaza accuses Israel of causing delays
September 18, 2016
The small fleet of 2 vessels was set to carry dozens of women with the aim of breaching Israel's naval blockade of the Strip, however police and a bad engine slowed them down.
Gaza flotilla
Activists aboard a flotilla to Gaza [file]. (photo credit:REUTERS)
The flotilla to Gaza, which was set to arrive in early October carrying 30 women from around the world on two ships, got off to a late start.
One of the ships, the Amal (Hope) was forced to turn back after facing engine trouble. The second ship, the Zaytouna (Olive), set off only late in the afternoon after being delayed for many hours by local Italian police.
The flotilla's organizers accused Israel of causing the delays and stated that they hope the Amal will be able to return to sea after being repaired.
One of the passengers of the Flotilla, Zohar Regev, an Israeli who grew up on a kibbutz and has since relocated to Spain, spoke in an interview on the flotilla's website. Regev discussed her expectation of Israel to use force to stop the flotilla.
"We are committed to non-violence. We will not give Israel a reason to attack us violently," Regev stated.
She continued, "You need courageous people to set out on a flotilla like this. Silence on Israeli actions would be an outrageous injustice and shame."
The schedule for the 'Women's Boat to Gaza' flotilla (Screenshot)The schedule for the 'Women's Boat to Gaza' flotilla (Screenshot)
In addition to Regev was a media spokesperson for Arab-Israeli MK Haneen Zoabi (Joint List), Yehudit Elini.
In an act of support for the event, 55 members of the European Parliament appealed to the EU Minister of Foreign Affairs, Federica Mogherini, to urge Israel to ensure "safe passage" for the two ships.
Days before the flotilla launched, a diplomatic source told The Jerusalem Post's sister Publication Maariv that the Foreign Ministry was doing its utmost to deal with the matter. The source added that the ministry's efforts sought to minimize possible diplomatic and media harm caused by the flotilla.
MK Oded Forer (Yisrael Beitenu) turned to Knesset Director General Albert Sakharovich, demanding measures be taken against Elini. Knesset Speaker Yuli Edelstein told him in response that they would look into her participation and the "implications of this situation on her continued activity in the Knesset."
Likud MK Dr. Anat Berko turned to the head of Israeli Police investigations, Manny Yizhaki, asking that an investigation be opened against the flotilla's Israeli participants for committing security offenses.
"Zohar Birawi from England and Mazen Kahil from France are members of Hamas's European headquarters and are the flotilla organizers," Berko explained.
"Any Israeli citizen who took part in the flotilla came into contact with a foreign agent and committed an act of solidarity with a terrorist organization," Berko added.
In June, Israel and Turkey mended a six-year rift sparked by the Mavi Marmara incident, in which 10 Turkish citizens were killed attacking Israeli commandos.
Israel fears such flotillas could be used to transport materials to Gaza that could be used by terrorists to manufacture weapons and militant infrastructure.
Last June, the Israeli Navy intercepted a Swedish flotilla boat off the coast of Gaza without incident and towed the vessel into the Ashdod Port.
jpost.com/Arab-Israeli-Conflict/Womens-flotilla-sets-off-for-Gaza-with-a-rocky-start-467943
------
UAE's Sara Al Senaani makes history
September 18, 2016
RIO DE JANEIRO: The UAE's Sara Al Senaani won the bronze medal with a score of 5.09 in the women's shot put - F33 Final – also becoming the Emirates' first female medal winner at the Paralympic games in Rio de Janeiro on Friday.
It was an Arab conquest of the podium berths when Asmahan Boudjadar of Algeria and Qatar's Sara Hamdi Masoud won gold and silver respectively.
The final round saw seven competitors fighting for honours with three throws each at the Maracana main stadium.
Twenty-three-year old UAE's Sara did well in the starting attempts with figures close to the five-metre mark.
The first saw 4.61m on the scoreboard while the second throw was not counted, and in her third, Sara clinched the bronze medal with a distance of 5.09m.
Sara's victory gave the UAE their sixth medal in Rio Paralympics games. The UAE have already won two gold and three silver medals.
Earlier, UAE's Mohammad Al Hammadi claimed a brilliant gold in the wheelchair 800 metres, breaking his own Paralympic record in the process.
The gold added to the third silver won by shooter Abdullah Sultan Al Aryani bringing the UAE's medal tally to five on Wednesday before Sara's bronze.
Aryani had already bagged two silver medals for the UAE in the R7 men's 50-metre rifle SH1 competition and the R1 10m air rifle standing SH1.
Veteran Mohammad Khamis Khalaf won the UAE's first gold in the men's 88kg powerlifting competition.
TURKEY EVES WIN
Lithuania defeated the US 14-8 to win the men's gold medal and Turkey took the women's title with a 4-1 victory over China as the Rio 2016 goalball tournaments concluded at the Future Arena on Friday night.
Both teams went unbeaten throughout the competition to win the first gold medals in goalball for each country.
Lithuania's men had previously won silver medals at Sydney 2000 and Beijing 2008, while Turkey won men's bronze at London 2012.
CHINA DOMINATE
Chinese athletes dominated the wheelchair fencing competition at the Rio 2016 Paralympic Games, winning a record total of 17 medals, including nine golds.
After topping the table with 13 medals at Beijing 2008 and 10 at London 2012, China controlled both the men's and women's competitions in Rio to cement their status as the sport's powerhouse.
Spectator's guide to wheelchair fencing Brazil's Jovane Guissone carries home hopes in hotly contested Rio 2016 wheelchair fencing competition
Many of the Chinese fencers competed in multiple events and collected multiple medals, the most successful being Zhou Jingjing who, after a disappointing fourth place at London 2012, won three golds – in the women's individual (category B) and team épée and team foil - and a silver in the individual foil category B.
gulftoday.ae/portal/ea04b543-a867-44d4-b0c6-381e7a907ede.aspx
------
From within and without, what Muslim women in Mangaluru think about the burqa
Is there one Allah for women and another for men?
Anisha Sheth | Sunday, September 18, 2016
(Editor's Note: This is the second in a two-part series on the recent uproar in Mangaluru over a Muslim student wearing a head scarf to college. The first story was titled The battle of bigots over the burqa in Mangaluru)
"Family members will always comment. Just as I was stepping out of the house today, they asked me why I wasn't wearing a burqa. You know, I wear it if I feel like it, otherwise, I just chuck it somewhere. But it's useful when I have to work and the roads are dusty," Raheena Thokkotu said in a very matter of fact tone over the phone, while she was on an errand run.
Hailing from Punjalkatte, a village 48km from Mangaluru, Raheena moved to the city around 15 years ago when she got married. It is only in the past few years that the burqa has begun to matter, for reasons wholly unconnected with her personal life.
"I was the first Muslim woman in my village to complete PU. My father used to be a driver. He had travelled and seen women get an education. When he sent us to school, people would talk. We faced a kind of censure from other Muslims in the village. They would say 'What will she do with an education? Let her roll beedis at home and earn money for her wedding.' No one had studied beyond Class 5. But my father insisted that my sisters and I complete pre-university. It was my biggest blessing. For that, he will always be my hero," she says, with warmth in her voice.
But Raheena couldn't complete her degree as she got married. "My in-laws said they would allow me to study, but they didn't. I kept asking them to, but it never happened." So she decided to complete her Arts degree by enrolling in a distance education course.
She had a son, and married life continued for 17 years until 2012. "The very month I got my divorce I enrolled for an MA in journalism in Mangalore University. Sikkidde chancu (I finally had my chance)," she said laughing. She paid the fees for her course by working as a driving instructor. "I didn't take money from anyone. For two years I studied and was very happy," she says.
***
Twenty years ago, you would have been hard pressed to find Muslim girls in schools, let alone colleges. You would definitely not have found Muslim girls in numbers large enough to protest, the way the female (and male) members of the CFI (Campus Front of India) demonstrated in front of Mangaluru's Srinivas College. They campaigned that it was their right to wear the headscarf.
Contrary to their visibility today, both the large number of female Muslim students in coastal Karnataka and their black burqas, are fairly recent developments. And within the Muslim community, both the headscarf and different types of burqas hold complex meanings.
In August 2011, a 17-year-old pre-university student in a small town 33km away from Mangaluru made headlines. Haadiya Iqbal objected to her college's refusal to allow her to cover her hair with the dupatta of her uniform. She spent the better part of her second year in pre-university studying from home as neither she nor the college were willing to back down.
Today, Haadiya is 23 and is married. She completed PUC after the PU Department gave her permission to sit in the Class 12 board exams. She plans to do an MSc in Kuwait, where she is now settled. The burqa, is her constant companion, even though her mother never wore one.
"They never knew what the Quran says. But I have read it myself and I know that Islam says that a woman should wear loose-fitting clothes and cover her head. It need not be a burqa. Girls must only wear it after they mature (hit puberty)," Haadiya told The News Minute over the phone. She had just arrived the previous night from Kuwait.
"If a woman is wearing a burqa, or salwar kameez, and another girl is wearing a mini skirt, who will people look at?" Haadiya asks, echoing the standard argument of women's 'safety' that many proponents of the veil make. "I feel protected in a burqa." From what, I ask. "I don't like people being able to see my curves. Only my husband should be able to see me. Women must dress in a way that they are not attractive to the opposite sex. Men are supposed to lower their eyes," Haadiya says.
But many women and men argue that such rules are simply not prescribed in the Quran. Others maintain that regardless of whether they are or not, the idea of the hijab, or the veil, is simply misogynistic and patriarchal.
Even if one accepts the idea that the hijab is prescribed for men too, 29-year-old Zoya* says that its social enforcement is heavily biased against women. Zoya has lived and worked in Mangaluru for most of her life.
"Boys are supposed to wear the cap and grow a beard. Why are they not criticised if they don't? Why are we judged?" Zoya asks.
Raheena says there was a time when women of the region were indistinguishable. "Aisamma, Khadijamma, Jameela, Jayanti, Parvati, Leelavati wore the same clothes when they planted paddy saplings in the fields. Today, when I see an Ayesha, Fatima and Khadija, who have set out to obtain modern knowledge, demand different clothing, I wonder whether education has indeed made women knowledgeable. It is fundamentalist men who support the demand for different dresses. The fundamentalists who've set out to give the burqa a religious identity have no clue about the true purpose of clothing."
Underpinned by religious sanction, the pressure on girls to behave in 'Islamic' ways – including different degrees of veiling – is exerted early. It often results in a very stifled childhood for girls, robbing them of simple joys such as participating in extra-curricular activities and cultural programmes held in school.
In 2015, Mangaluru-based journalist and documentary filmmaker Mohammed Irshad released a short documentary titled Swargada Haadiyalli Kamarutiruva Kanasugalu (Shattered Dreams on the Path to Heaven). In the film, many primary school Muslim girls in villages across Dakshina Kannada district say that they would love to be part of the dance programmes organised for the Annual Day, but had been forbidden by their madarassa teachers. The standard refrain was, "We are Muslims, we are not allowed to dance." Boys, however, face no such restrictions.
Puttur-based Congress leader Zohra Nisar Ahemd says that boys and girls are made to believe this interpretation of the Quran since childhood. "Just take a walk around Mangaluru in the morning. You'll see girls as young as three going to attend Arabic classes in a burqa. It's fed to them since childhood. Is there one type of justice for women and another for men? Is there one Allah for women and a different one for men?" asks Zohra.
Many Muslim parents send their daughters to school because the scarf or burqa offers them a mental placebo. But because of the scarf or burqa, Zohra says, Muslim children have learned to maintain a distance from other children from a young age, and this distance continues into adulthood.
"A school is meant to be a place where people of different backgrounds study and associate as equals. If these differences increase, there will be no way for people from diverse backgrounds to get to know each other, and be friends," Irshad says.
Irshad's documentary was met with much criticism; he's got calls from men who threatened him. But what he faced was nothing compared to the venom and abuse directed at Raheena when she questioned religious strictures.
Although Raheena signed up on Facebook in 2012, it is only in the past one-and-a-half years that she freely expressed her views.
Before 2012, she worked a sub-editor for conservative Kannada publications. "Then, I used to think that women should wear a burqa." Doing a post-graduation in journalism changed her thoughts in many ways. Referring to her divorce, she said: "After I became free, I began to write openly. I couldn't until then," she says.
Raheena faced extreme abuse online when she wrote about her views on the burqa and on the idea of covering up. "They did not like me critiquing religion." People advised her to cover her face in public to avoid recognition. (She had uploaded photos of herself on Facebook.)
"If at all a woman thinks she needs to hide her body so that no one else should be able to see her, she's bankrupt in her thought. If she should question anyone, it should be the one who created her as a woman. Otherwise, she must show the way for men to change their mindset with her courage, conviction and actions. It is meaningless to think that she will go to heaven either because she has hidden her body or because she believes that her beauty is reserved only for her husband," Raheena says.
***
Zohra says that many Muslim women tend to wear the burqa not for themselves, but for the larger society. The personal and social pressure that Zoya had to negotiate illustrates this.
Zoya was one of the few Muslims girls in coastal Karnataka who obtained an education in the 1990s. Today, she is also a rarity in that she is still one of a few Muslim women who can make use of their education and work afterwards. Most college-educated Muslim women simply never make it to the workforce.
"I had to make a lot of compromises to get here. For the first year after I got married, I gave my family all my time. Gradually, my mother-in-law herself suggested I work," she says.
As reported in part one of this story, Zoya began to wear a scarf only after she got married. That's perhaps the only thing she hasn't been able to get around, but has taken it in her stride. "My mother-in-law also only covers her hair. My sister-in-law lives in Bengaluru, but she doesn't do even that. In the extended family though, people will talk if the daughter-in-law doesn't cover her hair. I cover my hair just because I don't want people to talk," Zoya says.
Quoting a line from the Shah Rukh Khan-Kajol hit Baazigar, Zoya says with a laugh: "I know this sounds filmy, but kuch paane ke liye kuch khona padtha hai. Nobody questions me today. I can do whatever I want."
During the week, she goes about with the scarf. But on weekends, she gets evenings off from the scarf: She and her husband hang out with their friends at places where the missing scarf would not raise any questions.
Regardless of their own views on the veil, Zoya, Haadiya, Zohra, and Irshad, all agree that no one should be forced into one or out of it.
Raheena says that all talk about the burqa reminded her of a story from Akkamahadevi's life.
(Akkamahadevi and Allama Prabhu are bhakti saints, widely revered in Karnataka for the wisdom in their vachanas, a type of literature that emerged from the bhakti movement.)
"Akkamahadevi rejected her husband and left her clothes behind with him to devote herself to her god Chennamallikarjuna. She worshipped him naked, her body covered by her long hair. Allama Prabha once asked her why she, who had given up worldly matters, displayed such smallness of mind by covering her body with her hair. To this, Akkamahadevi replied, 'It is not for me, but for you, who forever seek worldly pleasures'."
Raheena says that if we desire an equal society, the same rules must be applicable for all. "Man's custom of keeping women hidden from society stems from his failure to overcome his weakness and small-mindedness… But I think filmmaker K Asif settled the debate in his film Mughal-e-Azam, in which Anarkali tells Akbar: "Parda nahi jab koi khuda se, bando se parda karna kya."
thenewsminute.com/article/within-and-without-what-muslim-women-mangaluru-think-about-burqa-50047
URL: https://newageislam.com/islam-women-feminism/muslim-women-outfit-opposes-instant/d/108590
New Age Islam, Islam Online, Islamic Website, African Muslim News, Arab World News, South Asia News, Indian Muslim News, World Muslim News, Womens in Islam, Islamic Feminism, Arab Women, Womens In Arab, Islamphobia in America, Muslim Women in West, Islam Women and Feminism