New Age Islam News Bureau
6 March 2016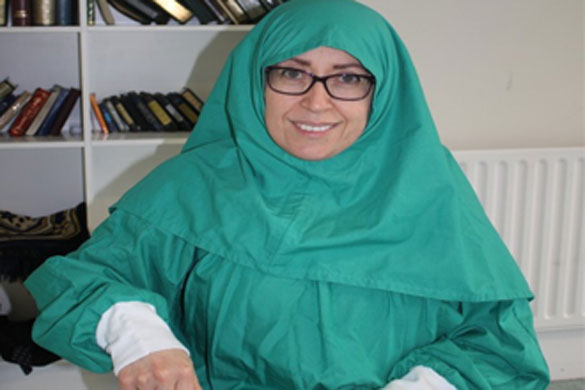 Photo: The new multi-faith dignity gown
------
• Muslim Woman 'Has Face Veil Ripped Off In Racist Attack' Outside London University
• Video Showing Haia Member Kicking Girl Out Of Mall Goes Viral
• Religious Parties Reject Women Protection Bill in Pakistan
• Shura Council Congratulates Bahraini, Arab Women
• PAF Guard's Bullet Kills Woman in Peshawar
• Indian Muslim Women's Body Moves SC against Personal Law
• Balochistan to Send Every Child to School: Minister
• A Saudi Researcher with 10 Patents to Her Credit
• The Thread That Links Israel's Female Murder Victims
• Gender Gap Still Plagues Education around the Globe
Compiled by New Age Islam News Bureau
URL: https://newageislam.com/islam-women-feminism/muslim-women-offered-multi-faith/d/106565
----------
Muslim Women Offered 'Multi-Faith Dignity Gowns' At Royal Bournemouth And Christchurch Hospitals
March 6th, 2016
Female patients are being offered new 'multi-faith dignity gowns' following complaints that traditional gowns violate the rules of Islam.
The Royal Bournemouth and Christchurch Hospitals, in Dorset, will now offer the gowns for women who want to protect their modesty for religious reasons.
The new garment includes sleeves which end at the wrist, two hair coverings, a face mask and a belt around the waist to ensure it does not come open at the back. It is worn over loose trousers.
The new multi-faith dignity gown
The Royal Bournemouth and Christchurch Hospital NHS Foundation Trust (RBCH) said that the gown has been introduced following feedback from female Muslim patients, but added that it will also be suitable for those of Hindu, Orthodox Jewish and Rastafarian faiths.
Sue Mellor, the trust's patient engagement manager, said: "Our trust is always seeking to improve the experiences of our patients and patient feedback is incredibly important to us.
"We work with as many minority and religious groups as possible to make sure we are catering for the needs of all our patients.
"When working with a focus group of Muslim ladies, we received very strong feedback that having to wear the usual hospital gown made them extremely uncomfortable, because it puts them in a position where they have to violate the rules of their faith.
"We wouldn't want this for any patient, so we introduced the new 'multi-faith dignity gown'."
Nada Fawal, a member of the patient focus group who helped to introduce the gown, explained: "We are absolutely delighted the trust has introduced the new gowns.
"For Muslim women, to have any flesh exposed, other than their face and hands, is like having very private parts of the anatomy, such as the breasts, displayed.
"This means wearing the normal hospital gown is uncomfortable for us.
"At the same time, we are also very conscious that when we are in hospital, NHS staff are trying to help us, so don't want to make life difficult for them.
"Now, thanks to the new gown, we won't have to worry about it, we can just request one of those - it's a great relief."
Those who would like to wear one of the new gowns have been advised to inform staff as soon as possible.
huffingtonpost.co.uk/2016/03/04/muslim-women-multi-faith-dignity-gowns-hospital_n_9385452.html
-------
Muslim woman 'has face veil ripped off in racist attack' outside London university
March 6th, 2016
A Muslim woman from a university's Islamic society was racially abused and had her face veil ripped off in a "disgusting" attack outside campus buildings, it is claimed.
The group of students were running a stall outside the Strand campus of King's College London as part of its Discover Islam week yesterday afternoon at 1pm when they were confronted by two men.
In an altercation lasting around 30 minutes, one woman had her niqab pulled away and suffered a string of racist taunts, it has been claimed.
One of the students running the stall wrote on Facebook afterwards that she was "absolutely sickened" by the "disgusting display of racism and Islamophobia".
She said: "A dear friend of mine was targeted and attacked physically for choosing to wear a veil that represents her relationship with God.
"She is free to do so. Before anyone thinks of claiming her choice of clothing provoked such a reaction, take a step (or two) back and ask yourself would you have said the same thing if she was wearing a different style of clothing that some other idiot felt offended by?
"If you would then you are that idiot. If you wouldn't then you are not so far from these bigots who attacked us."
Security complaint: Hareem Ghani has been speaking on behalf of the victims
In a statement the university said two of its security managers intervened, but students say it took a long time for them to take action and questioned why.
Speaking on behalf of the women, Hareem Ghani, a member of the university's Islamic Society, said the men kept asking: "Why are you wearing that on your face?"
Ms Ghani said: "It escalated from there and one of them reached out to the sisters and pulled off her niqab.
"Security were called but they only responded 15 minutes afterwards."
Geography student Mahamed Abdullahi said he stepped in to help after hearing one of the men tell the women: "I shouldn't have to see this on my streets."
He said: "They were looming over the women and moving towards them and being very aggressive, which is why security were called."
The 20-year-old said: "One of the students was trying to take a photo of the man for the police and he sort of lunged towards her. I had to physically get in the way and block him from attacking her."
The university said the two men finally left at around 1.35pm, shortly before police arrived.
A university spokesman said: "We are mindful of concerns raised around this incident and would like to reassure our staff and students that the safety and security of our campuses is of the utmost importance.
"The incident is now being investigated by the police, following the arrests made yesterday, and our CCTV footage will be provided as evidence as part of this process.
"We will continue to support the police in their investigation, which will take precedence over our own proceedings.
"However, we will also be reviewing the incident, including the CCTV evidence, to establish precisely what happened and further improve student safety on campus."
A spokesman for the Met Police said two men, aged 39 and 41, had been arrested under the Public Order Act following the incident and bailed until May.
standard.co.uk/news/crime/muslim-woman-has-face-scarf-ripped-off-in-racist-attack-outside-london-university-a3196501.html
------------
Video Showing Haia Member Kicking Girl Out Of Mall Goes Viral
Mar 2, 2016
JEDDAH — A video on social media showing a member of the Commission for the Promotion of Virtue and Prevention of Vice (Haia) rudely kicking a girl out of a shopping center has gone viral.
A source said the video sparked outrage among viewers raising questions on the role of the commission staffers.
"The video sparked a heated discussion on the lack of respect and courtesy among the commission members and the unpleasant image they portray," the source said.
Okaz/Saudi Gazette contacted the commission head in Makkah and he promised to issue a formal press release on the incident. He has not yet done that and the viewers are concerned whether the commission is taking such impolite actions seriously.
The source also said viewers wondered what caused the commission staffer to act so rudely.
"With not much detail shown in the video, the viewers are left to speculate whether the member had gone too far or the girl had done something terribly vile. All in all, viewers are calling for the commission to have in place etiquette workshops and training to better qualify field members and how they deal with threatening situations," said the source.
Psychiatrist Dr. Jamal Al-Tuwairqi said the commission's field members must go through communication etiquette programs, especially how to deal with women and respect their privacy.
"They need to know how to talk to women in a respectful manner. The Prophet (peace be upon him) had always advised us to treat women well. Those who abuse women are mentally sick," said Al-Tuwairqi.
He added there is absolutely no excuse for being vulgar and abusive toward women unless the field member has psychological issues which need to be checked by professional practitioners.
"The commission's field members should be the role models that all men in society follow as they preach the example of the Prophet (pbuh). They should also be evaluated regularly as such vile behavior must be penalized and condemned," said Al-Tuwairqi.
Lawyer Majed Qaroub said citizens must be more aware of their rights.
"The reason why the commission is separate from the courts is to ensure justice toward the citizens. The commission has the legal liability to arrest violators as are the police but it does not have the legal liability to conduct an investigation, that is the responsibility of the Bureau of Investigation and Public Prosecution," said Qaroub.
saudigazette.com.sa/saudi-arabia/video-showing-haia-member-kicking-girl-out-of-mall-goes-viral/
-------
Religious parties reject women protection bill
March 6th, 2016
ISLAMABAD: Mainstream religious parties belonging to all schools of thought on Saturday rejected the women protection bill recently passed by the Punjab assembly and termed the hanging of former Punjab governor Salmaan Taseer's assassin a judicial murder.
The announcement was made at the official residence of Maulana Fazlur Rehman in the Ministers Colony here. The meeting was attended by Jamaat-i-Islami emir Sirajul Haq, Awais Noorani, son of late Shah Ahmed Noorani and the leader of Jamiat Ulema Pakistan (JUP-N), Dr Sahibzada Abul Khair Mohammad Zubair (JUP-N), Allama Arif Wahidi of Islami Tehreek of Allama Sajid Naqvi and Allama Abdul Aziz Hanif of Markazi Jamiat Ahle Hadis led by Senator Prof Sajid Mir.
Announcing the decisions of the meeting, Maulana Fazlur Rehman said the participants rejected the 'judicial murder' of Mumtaz Qadri and called him a martyr.
Clerics from various schools of thought also describe Mumtaz Qadri's hanging as 'judicial murder'
"The mainstream religious parties will meet in Mansoora, Lahore, on March 15 to discuss the next course of action against the conspiracies being hatched by the government," the JUI-F chief said. He added that there were chances of a nationwide agitation against the ill-intended moves of the government – similar to the one organised by religious groups in 1977.
"We understand that the hanging of Mumtaz Qadri was based on a bad intent and it could be part of a conspiracy to abolish the blasphemy laws in Pakistan. But we will never tolerate this," he said, adding: "All such attempts by previous governments had failed and this will also happen now."
The JUI chief said the meeting also noted with concerns that the women protection bill had been promulgated by Punjab only to destroy and distort the family system in the country.
"We all have agreed that domestic violence and ill-treatment of women should end and we will welcome laws in this regard. But the clauses in this bill will eventually lead to the break-up of society," he added. "This is not right in an Islamic country and many clauses in the Bill are contrary to Quran and Sunnah."
He said the representatives of all the religious groups had decided to resist these moves as they termed it "conspiracies to make Pakistan a secular country." Allama Arif Wahidi said they considered Qadri's execution and passing of the women protection bill as devious moves by the ruling party as both the actions were planned and carried out secretly.
The religious leaders also criticised Pemra and the government over the blackout of all the news related to Mumtaz Qadri by the media.
When asked why he was speaking against the government when his party, the JUI-F, was a coalition partner, Maulana Fazal said he believed in a true democracy.
"This is the true spirit of democracy. We are with the government but we have our principles and will not be part of any illegal or un-Islamic act," he said.
About the allegations of former Karachi nazim Mustafa Kamal against the MQM chief, Maulana Fazal said, "As far as anybody's connections with RAW etc., are concerned, it is not our responsibility to check or correct it. Such allegations are not new regarding MQM but the agencies should be asked why they have failed to cap the alleged RAW links."
dawn.com/news/1243896/religious-parties-reject-women-protection-bill
-------
Shura Council congratulates Bahraini, Arab women
06/03/2016
Manama, Mar. 6 (BNA): The Shura Council on Sunday issued a press release marking the International Women's Day which coincides with March 8 each year.
The Shura Council congratulated Bahraini, Arab women and women throughout the world on this anniversary which celebrates the efforts and accomplishments of women in all walks of life.
The Council celebrates the International Women's Day under the motto "Readying for 50/50 Gender Equality on the Planet by 2030".
The Council hailed His Majesty King Hamad bin Isa Al Khalifa and His Majesty's patronage, care and support to Bahraini women and boosting their role in the community in line with Bahrain Vision2030 in recognition of the huge role of women in the kingdom's construction and development process and their contributions in all fields.
The Council expressed its appreciation of the efforts undertaken by the Supreme Council of Women (SCW) led by Wife of His Majesty the King, President of the Supreme Council of Women (SCW) Her Royal Highness Princess Sabeeka bint Ibrahim Al Khalifa, in achieving the millennium development goals (2015MDGS) boosting the role of women, gender equality, activation of the kingdom's comprehensive development strategic plan in line with the ongoing reforms of His Majesty the King, reaffirming that the plans and programmes will continue to be set up to implement sustainable development goals beyond2015 in the social, economic and environmental dimensions, including the fifth goals of gender equality, the fourth goal of ensured good quality, fair and comprehensive education for all.
The Council asserted it will spare no efforts in supporting the empowerment of Bahraini women, boosting women's status through enactment of more legislations that will realise the aspirations of women and fulfill their requirements.
The Council cited the formation of Equality Opportunity Committee in the Council's General Secretariat in harmony with the efforts and initiatives adopted by the kingdom in activation of the principle of equality in opportunities and the inclusion of women's requirements in development, as part of cooperation and coordination between the Shura Council and the Supreme Council of Women.
The Shura Council expressed its sincere wishes for Bahraini women to achieve more success and attain all their aspirations, ambitions and hopes.
bna.bh/portal/en/news/714564
-------
PAF guard's bullet kills woman in Peshawar
March 6th, 2016
PESHAWAR: A woman was killed when a Pakistan Air Force (PAF) guard opened fire on a car near Bacha Khan International Airport (BKIA) here on Saturday evening.
Police said that the incident took place at around 5pm. A police official told Dawn that incident took place after the car did not stop after the PAF guards signaled it to stop.
A police official at West Cantonment police station identified the slain woman as Bashirun Nisa, a resident of Akora Khattak area of Nowshera.
The family was on its way home after picking one of its members who had returned after performing umrah.
The police official said the guard was probably panicked after the vehicle did not stop despite being signaled to do so. He said a single bullet was fired, which struck the woman.
The woman was rushed to the Combined Military Hospital, Peshawar, where she died of wounds.
Police said the family did not register an FIR and took the body home. A senior police official said both parties agreed to a settlement and did not press the charges.
dawn.com/news/1243856/paf-guards-bullet-kills-woman-in-peshawar
-------
Indian Muslim Women's Body Moves SC against Personal Law
TNN | Mar 5, 2016
Kozhikode: Nisa - a progressive Muslim women's forum based in Kozhikode - has filed a petition in the Supreme Court seeking to declare sections in the Muslim personal law dealing with the practice of triple talaq, polygamy, nikah halala (bar against remarriage with divorced husband without an intervening marriage with another man) and inequality in intestate succession as unconstitutional.
Nisa president V P Zuhara, who has been fighting for Muslim women's rights for nearly two decades, has sought to implead in the suo motu PIL registered by the apex court last October titled 'Muslim women's quest for equality'. "We are just asking for the basic rights guaranteed by the Constitution to all Indians," Zuhara said.
The apex court had earlier this week admitted a similar petition filed by another Muslim woman challenging the practice of triple talaq as unconstitutional, and issued notice to the Centre, tagging the petition along with the suo motu PIL.
The petition said women who practiced Muslim faith were still subject to grave social evils that found sanction in the sharia. "The practice of talak- i- bidai (triple talaq) whereby the husband can dissolve the marriage by pronouncing talaq three times, in the presence of at least two persons, and not necessarily in the presence of the wife is most primitive and goes against the sanctity of marriage," it said.
The petition said the practice of Muslim men being permitted to have up to four wives was unfair. It also stated that the succession rules in Muslim personal laws grossly violated the right to equality as it stipulated that if a Muslim man died intestate leaving behind an only daughter, she has to share the property with his brothers/sister while such is not the case when the deceased is survived by an only son.
The petition said that any protection afforded to personal laws under Article 25 has to be subject to the rigorous test of Articles 13, 14 and 15. Zuhara pointed out that Muslim states like Malaysia have considered reform in their personal laws.
Reacting to the development, K Alilutty Musaliar, general secretary of Samastha Kerala Jamiyyathul Ulama, the largest body of traditional Sunni scholars in the state, said sharia laws could not be questioned.
timesofindia.indiatimes.com/city/thiruvananthapuram/Muslim-womens-body-moves-SC-against-personal-law/articleshow/51272625.cms
-------
Balochistan to send every child to school: minister
March 6th, 2016
QUETTA: Balochistan Education Minister Abdul Rahim Ziaratwal has alleged that a number of teachers hired to teach science subjects are incompetent. He made this observation while addressing a ceremony in the border-town of Chaman that marked the launch of the education department's campaign 'to send every child to school'.
"Most teachers recruited for subjects such as botany, physics, chemistry, zoology and biology cannot teach them," Mr Ziaratwal said, adding that he could not understand who had hired them.
Balochistan Planning and Development Minister Dr Hamid Khan Achakzai, MNA Abdul Qahar Wadan of PkMAP, education secretary Abdul Saboor Kakar, tribal elders of the border town and senior officials attended the ceremony.
The education minister expressed anger over the low standard of education in government-run educational institutions. He said that the government was paying exorbitant salaries, ranging from Rs20,000 to Rs100,000, to teachers but none of their students managed to secure positions in the board examinations.
In contrast, he said, private school teachers were paid Rs5,000 to Rs10,000, but their students were securing top positions.
"We have not done justice with government educational institutions. We are responsible for this situation in the public sector," Mr Ziaratwal said, adding that in the past, teachers came from other provinces whereas now, local people were being recruited but they were not performing their duties.
He said that the government had decided to improve the situation in the education department. "We have to take strict and unpopular decisions for the betterment of education in the province," Mr Ziaratwal announced.
He said that teachers who were found to be absent from duty would face strict action, including suspension from service, deferral of salaries and withdrawal of facilities.
He said that the government has decided to send every child to school in Balochistan, for which purpose the campaign has been initiated across the province.
dawn.com/news/1243906/balochistan-to-send-every-child-to-school-minister
-------
A Saudi researcher with 10 patents to her credit
Mar 5, 2016
Saudi women have shown that they are more than capable of overcoming the many obstacles and hurdles imposed on them by society, winning praise and acclaim locally, regionally and internationally for their achievements in various fields.
Dr. Huda Al-Mansour is one of the many Saudi women who have contributed to society with their achievements and inventions.
Since her childhood, Huda has shown great interest in inventions. She hails from Al-Ahsa. Her father played an important role in drafting the Saudi Labor Law.
Al-Mansour said her parents are her role models. They played an important part in molding her.
"My father always told us to arm ourselves with education and ethics while my mother encouraged us to be active socially and have a strong will to get things accomplished," she said, during a recent interview.
Graduating from Cairo University's School of Sciences in 1985, Al-Mansour worked as a laboratory specialist at King Fahd Hospital before traveling to the United Kingdom in 1992 to complete her postgraduate studies.
She earned her master's degree in clinical chemistry in 1994 before returning to the Kingdom where she was appointed the director of a hereditary blood disease center.
Today, Al-Mansour has 10 international patents registered under her name, including a screw to fix long bones, photo laser syringes, an electromagnetic device to treat chronic and incurable diseases, and food supplements that treat senility-associated diseases.
Al-Mansour has a doctorate in hematology and is responsible for establishing the Kingdom's premarital checkup program.
"While trying to get the program off the ground," Al-Mansour said, "I cried in front of top government officials because I wanted them to listen and understand the long-term effects of genetic diseases on society."
She said she fought tooth and nail to make the premarital medical checkup mandatory for all men and women getting married.
"I want our future children to grow up healthy and free from hereditary blood diseases, which make their lives difficult. I worked day and night to get the premarital medical checkup program approved by officials," she said.
Al-Mansour is still trying to get approval from Saudi authorities to allow her to sell some of her patented inventions on the Saudi market.
One of her patents is for a supplement registered in the United States in 2012 as an effective treatment of osteoporosis.
"Brittle bones disease is widely spread in our country. I thought I would get official approval for this invention but until now I have not had any luck although this treatment has produced impressive results and some Saudis buy it from Canada," she said.
She hopes that Saudi inventors and innovators will get increased support in the future, especially those who have registered their inventions with the US patent authorities.
Al-Mansour dreams that one day all her patents will receive full official support from the Kingdom's health authorities.
She said she believes her inventions will revolutionize medical treatment in Saudi Arabia.
saudigazette.com.sa/saudi-arabia/a-saudi-researcher-with-10-patents-to-her-credit/
-------
The Thread that Links Israel's Female Murder Victims
March 6, 2016
This week, after months of perseverance, I finally finished Roberto Bolaño's "2666." Those familiar with the book will understand why I am so smug. At a cool 1,000-plus pages, "2666" is no easy read. It is also deeply violent. At its centre lies the Mexican fictional border town of Santa Teresa, which is plagued by a stream of murders of women. For hundreds of pages Bolaño catalogues the deaths in cold, forensic language, each morbid detail blurring into the next.
The cases, more often than not, remain unsolved. But littered among them are cases of husbands, or boyfriends, or lovers, who killed the woman they had professed to love.
If you look at statistics on victims of sexual assault and rape, the majority are victims of relatives, love-ones and acquaintances. The same, it would seem, can be said of murder. Last month, Haaretz published an interactive feature, in Hebrew, on the 102 women murdered in Israel since 2011. In more than half of the cases the perpetrator was a husband or partner.
Israeli Arabs, who make up only 20 percent of the general population, took up a large proportion of the data. Some 37 per cent of the victims were Arab Israelis, 22 percent were from the former Soviet Union, 24 percent were "veteran Israelis" (a strange category used by the editors that I can only assume means broadly "Jews born in Israel"), 9 percent were foreigners, and 3 percent were unknowns. Ethiopian Israelis, who make up only 2 percent of Israel's population, made up 7 percent of the victims.
At least 15 women were murdered each year since 2011. 2016 already looks to be following suite, with five murders recorded at the time of publication.
Israel's female murder rate pales in comparison with countries in Latin America, which is the most violent continent for women. According to a recent report, seven out of the ten states with the highest female murder rate are in the Americas. These include El Salvador, which saw 8.9 murders per 100,000 women in 2012, Colombia with 6.3, and Guatemala with 6.2. Also in the top ten were Russia with 5.3 and Brazil with 4.8. Bolaño's dear Mexico also makes that list. There, according to UN figures, 740 women were killed in Ciudad Juarez, the inspiration for his Santa Terera, between 1993 and 2009.
The general homicide rate in Israel is far lower - only 2 per 100,000 in 2012 - but when it comes to murders of women at least some of the issues are the same: domestic abuse and general levels of violence. Honor killings are another issue. In one well-known case in the town of Ramle, 10 women from one extended family were murdered, with only two convictions to date.
According to the UN, across the world, intimate partners are responsible for the deaths of women. "The most common form of violence experienced by women globally is physical violence inflicted by an intimate partner…. Several global surveys suggest that half of all women who die from homicide are killed by their current or former husbands or partners," the organization says. In Australia and Canada, the rate is between 40 and 70 percent. In America, one-third of women are killed by partners. In the UK in 2013, 86 women were killed by lovers or former lovers.
It is no coincidence that, in disparate corners of the globe, women are murdered by men who profess to love them. This is a trend that crosses boundaries and historical periods. Underlying it is a gap between the genders that is often filled by violent hatred.
But this is not just a question of lofty ideas about feminism and misogyny. Even in the countries where women have the most opportunity and equality, there is clearly still a problem that stems from the way men and women relate to each other. If a detective were to spot a pattern in a series of murder case files, they couldn't just ignore it now, could they?
Haaretz's recently published statistics are a reminder that, in a country where the violence of the conflict and the occupation dominate the discussion, there is another kind of violence that affects women on both sides. It should be addressed as a matter of urgency.
forward.com/sisterhood/335181/the-thread-that-links-israels-female-murder-victims/
-------
Gender gap still plagues education around the globe
March 6, 2016
Want more news? Sign up for free newsletters to get more of the AJC delivered to your inbox.
A lot of kids around the globe don't get the chance to learn to read or write, but twice as many girls don't compared to boys. That's about 16 million primary school-aged girls compared to 8 million boys.
Overall, more than 63 million girls aren't in school -- a number the United Nations says is increasing despite pledges to stop gender education gaps.
The United Nations says 63 million girls currently aren't in school, and it's a number that is expected to rise.
And of the girls who are in school, more than 5 million will drop out, though the U.N. says some might pursue education later on.
Factors -- like poverty, conflict and gender prohibitions -- are to blame, especially in regions like South and West Asia, sub-Saharan Africa and Arab states.
But those regions have made progress in the average amount of time kids spend in the classroom.
In 1990, South and West Asian girls used to receive about six years of school. They now receive 11.
Sub-Saharan Africa and Arab states also saw increases, but boys overall are often still getting an extra year of education in these regions.
Even though girls are spending more time in school, data can be skewed when they repeat grades -- that and starting their education later means kids will be less likely to finish.
The result? Nearly 757 million adults and 115 million young people are illiterate, and two-thirds are women. While rates have been improving for men, little has changed for women.
ajc.com/news/news/world/gender-gap-still-plagues-education-around-globe/nqfBz/
URL: https://newageislam.com/islam-women-feminism/muslim-women-offered-multi-faith/d/106565
New Age Islam, Islam Online, Islamic Website, African Muslim News, Arab World News, South Asia News, Indian Muslim News, World Muslim News, Womens in Islam, Islamic Feminism, Arab Women, Womens In Arab, Islamphobia in America, Muslim Women in West, Islam Women and Feminism