New Age Islam News Bureau
26 Oct 2016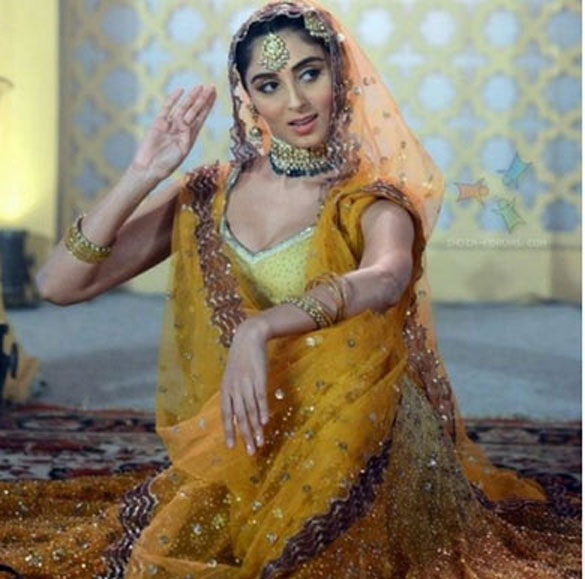 [Pernia Qureshi performing at a promotional event for her debut film, "Jaanisaar"/Pinterest]
--------
• Hijab in High Places: Muslim Women Leaders Explain the Challenges Of Visibility
• Nat Geo's Famed 'Afghan Girl' Sharbat Bibi Arrested By FIA in Peshawar
• Zaitoon Bano a strong Pakhtun feminine voice
• Two Pakistani Women Married To Indians Go Missing
• The Iraqi Women Who Escaped ISIS But Lost Everything
Compiled by New Age Islam News Bureau
URL: https://www.newageislam.com/islam,-women-and-feminism/new-age-islam-news-bureau/muslim-women-in-the-hindu-dancing-arts--a-history/d/108927
------
Muslim Women in The Hindu Dancing Arts: A History
October 26, 2016
Of the 10 major forms of Indian classical dance, Bharatnatyam, Kathak and Kuchipudi, forms endure as the most popular in terms of mainstream visibility. Each of these forms is rooted in centuries' old Hindu tradition, with Kathak and Kuchipudi traceable to the ancient Hindu text of Natya Shastra, a treatise on dramatic arts. Despite the well-established Hindu origins of these dance forms, Muslims have long been heavily involved in the Hindu dancing arts—especially in Kathak and Kuchipudi.'
For generations, Muslims have graced famed stages to tell spirited and ancient stories for the pleasure of attentive gods that exist outside of their scope of religious observance. One of the earliest widely recognized Muslim classical dancers were a Kathak performer: a Lahori woman named Tara Chaudhri. She received her Kathak training under Pandit Pyare Lal of the Punjab Gharana and later continued her training under Ustad Aashiq Hussain Khan.
In 1943, Chaudhri traveled to South India to complete her training and eventually opened a bharatnatyam school upon her return to Lahore.
Chaudhri, who passed away in September 2013 in Karachi, Pakistan, was a celebrated and highly venerated performer. Although her name has largely gone unnoticed, she was highly praised by other renowned Kathak performers for her skill, beauty and grace. In one 1949 article published by The Straits Times titled, "Pavlova of Punjab"—likening Chaudhri to Russian ballerina Anna Pavlova—she was praised for her mastery of multiple dance forms and was proclaimed to be "in a class by herself."
Chaudhri was not the first, and certainly not the last notable Muslim to participate in Hindu dance forms. Today, Pakistani-born Pernia Qureshi—a successful fashion designer and talented kuchipudi performer—is famed for her achievements in these classical performing arts. She was formally trained in both kuchipudi and kathak styles under gurus Raja Reddy and Kumudini Lakhia.
Reddy and his wife received both the Padma Shri and the Padma Bhushan awards from the Government of India for their services to the field of the arts; Lakhia is credited with innovating the kathak form by transitioning from solo spectacles to group coordination. The expertise and skill of these gurus have certainly translated in Pernia's training and consequent successful dance career.
Her most recent high-profile show in February 2016, "Chandni Raatein," garnered a wealth of critical praise and was attended by many of her Bollywood friends at the Mumbai performance. Her dancing has also been powerfully exhibited in Muzaffar Ali's 2015 film "Jaanisaar," in which she plays the role of the elegant and sophisticated courtesan Noor.
Qureshi is joined by many other talented Muslims in the practice of Hindu arts today, including Guru Syed Sallauddin Pasha from Karnataka and KM Abu from Kerala. The former is a famed bharatnatyam and kathakperformer while the latter holds a PhD in Mohinyattam—a sensual dance form that derives from Kerala. In Pakistan, Nahid Siddiqui Nahid performs at perpetually sold out shows in Islamabad, recognized as one of the most spellbinding kathak performers in the country. Muslim representation in these varied forms, however, goes beyondthe terrain of famous and publicly visible dancers. Many South Asian Muslims continue to receive classical training for recreational enjoyment, despite the widely held belief that these forms solely constitute Hindu participants.
Of all the dance forms discussed, it is noteworthy that kathak, specifically, is recognized as the unifying link between Muslims and Hindus in South Asia. Despite the form's Natya Shastra origins, over centuries of practice,kathak, as it has existed in recent history and continues to exist today, is a form that draws heavily from Islamic influences, with many kathak performances even incorporating the recitation of Sufi poetry. It thus bridges the two communities and serves as an art that harmonizes their separate worlds.
As a result, kathak has earned the reputation of, paradoxically, being a form that is both flexible in its ability to absorb the influences around it, while remaining rigid in its preservation of the elegance and veracity of the first North Indian kathakars.
While there are a number of Muslim classical dance forms, including but not limited to oppana, mappila pattu andkolkali, most of these forms have South Indian origins tying them to either Karnataka or Kerala. Accordingly, it was likely that as these forms emerged they flourished in the South among communities of Muslims therein, the vast Muslim populations of North India were nonetheless drawn to the practice of the Hindu dance forms prevalent in the North—especially kathak—rather than the southern forms that were largely inaccessible for them in terms of consumption and training.
Muslim footprints are bountiful in the history of Hindu classical dance. This is a testament to the unique ability of the arts to facilitate cultural interconnectedness between seemingly separate communities, even in hotbeds of political strife. The names highlighted above do not even begin to illuminate the breadth of Muslim dancers' contributions to various classical traditions, but they do, however, exemplify the transcendence of religion in circles of creative expression.
http://www.india.com/brown-girl-magazine/muslims-in-the-hindu-dancing-arts-a-history-1616779/
--
Hijab in High Places: Muslim Women Leaders Explain the Challenges Of Visibility
26/10/16
Noor Tagouri knew she wanted to be on television since she was 8 years old, but a career as a newscaster seemed incompatible with her hijab, or head scarf. "How can you do that on TV?" said the naysaying voice in her head. She assumed that, when she was old enough to make her own choices, her hijab would go out the window.
Instead, fresh out of college, Tagouri became a local TV news reporter in the Maryland/D.C. area, head scarf and all. At age 22, she now anchors and produces stories around the world for Newsy—and is on the way to achieving her dream of becoming the first hijabi anchor on U.S. television.
THE ECONOMY DEPENDS ON DIFFERENT PERSPECTIVES
American Muslim women who wear hijab are one minority whose ideas are rarely heard. Though often invoked symbolically as the face of their religion (a 2011 survey from Pew Research reported that about six out of 10 American Muslim women are hijabi, of about 3.3 million Muslims in total now), they are seldom seen in positions of leadership. But when they do break the glass ceiling—battle-tested by the constant struggle against stereotypes and the pressure to fit into norms—hijabi women exhibit some of the qualities most essential to success: fearless drive, creative thinking, empathy, and the ability to not to sweat the small stuff.
Yet women like Tagouri and minorities are often underrepresented in key creative or decision-making roles. According to a 2016 report from the Women's Media Center, for example, less than two-thirds of news organizations had at least one woman among their top three editors, and only 15% had at least one person of color among the top three. Newsrooms are similarly homogenous. In 2014, women of color made up only 6% of staff (both print and online), compared to 56% white men and 32% white women.
This despite the fact that we know that different perspectives impact the bottom line.
A 2015 report from McKinsey & Company found that leadership teams with a range of problem-solving approaches, perspectives, and ideas make better decisions and are more innovative. And diversity correlates with better performance: McKinsey's survey of 366 companies showed that gender, racial, and ethnic diversity tracked with bigger financial returns—15% and 35% above the national average, respectively.
Female hires are increasing, the chair of the American Society of News Editor's Diversity Committee reports, but more needs to be done to achieve full representation.
WEARING A VEIL OFFERS NO PLACE TO HIDE
For Tagouri, finding the confidence to put her hijab-clad self in front of the camera—without regard for what others might say or think—required wrestling with her identity "as a woman, as a feminist, as a Muslim," she says. The paradox of wearing the veil in the U.S. is that there's nowhere to hide; it takes courage to stand out. This hard-fought process of reclaiming her difference and learning to wear it with pride has made Tagouri "fearless and unapologetic."
Noor Tagouri
"It helped me find my own voice and power," she says. "I don't need to conform to what anyone deems beautiful, perfect, or worthy enough." In a field where appearances matter and the best-known anchors have a predictable coiffure and look, Tagouri's hijab serves as a reminder to herself that she has more to offer. "It's a symbol of my growth, of how far I've come," she says. "It empowers me to carry myself a certain way and make more of an effort to be a leader." As an artifact of her personal strength, she says it prompts her to speak up for her ideas and work hard to bring something unique to the table.
CHALLENGING ASSUMPTIONS
Other hijabis agree. Wardah Khalid, a foreign policy analyst regularly consulted on Middle East issues by members of the government and media outlets, says, "Putting myself out there as a result of wearing the hijab has definitely made me more confident in who I am. Like it or not, when I put it on, I represent a lot of different things. The best thing to do is to own that."
Wardah Khalid
The onus of representing a whole community to Main Street and Capitol Hill alike motivates Khalid to excel. She has challenged Texas Senator Ted Cruz on his stance on "radical Islamic terrorism," provided policy recommendations on ISIS to the White House and Congress, consulted for the U.N. on lone wolf terrorism, and explained geopolitical issues in numerous columns and TV appearances.
Even negative feedback like hateful comments on a blog post make her more determined. She works hard to define her own narrative before anyone else can. "Walking into the halls of Congress, it's very white-male dominated. I definitely felt that I stood out," she says. But that feeling evaporates as she takes charge. "Once I open my mouth, show that I'm competent, and know what I'm talking about," she explains, "any issues I might have go away."
CREATIVITY OUT OF CONFLICT
Layla Shaikley's resume is full of accomplishments. The L.A.-born alum of MIT's School of Architecture and Planning is a tech entrepreneur, winner of a prestigious NASA internship, coproducer of the viral video "Muslim Hipsters: #mipsterz," cofounder of TedxBaghdad, and cofounder of software startup Wise Systems. Her ability to innovate is, according to Shaikley, inseparable from her experiences as a "visibly Muslim woman."
Shaikley explains that her creativity and communication skills are a result of "all the explaining and learning how to pitch and sell myself" she did as a teenager growing up after 9/11. She resented the "false narratives" and Islamophobic stereotypes that proliferated. "My identity and beliefs as a Muslim woman are far from that," she says. "I am adventurous, stylish. I love travel, I love science, and I am an independent thinker." Despite Shaikley's many facets, "ultimately, as a Muslim-American, I had to live in and constantly fight against an identity that I was completely unaffiliated with."
Layla Shaikley
She turned to fashion and style as "a tangible form of expressing my mixed identity." This attentiveness to "design as messaging" is a hallmark of her work, whether she is designing software, social housing strategies, architectural plans for a Baghdad War Archive, or styling a video. "What else can I add to represent the things that I care about, or believe in, or both?" she asks herself.
"If any woman chooses to wear the hijab, she's definitely expressing her independent thinking and her ability to make decisions for herself," Shaikley says. Bold moves are par for the course. "There are parallels between being really super creative and facing these kinds of constructs," she contends. "Any kind of conflict or challenge usually makes me a better designer."
STRENGTH IN VULNERABILITY
Tagouri says that the hardest part of being a reporter is getting people to trust you. As an American hijabi, she understands the wariness. "I have an empathy for communities that have been misrepresented because I know what that's like," she says. For an investigative report on an abandoned housing facility for the mentally disabled in the D.C. area, former staff and residents were initially reluctant to open up to her. Sharing her own struggles helped win them over.
"It took time to gain their trust," she says. "People with disabilities in the black communities don't always have their narratives communicated in the best of light." Repeat visits to someone's house, or hours spent on the phone in frank personal conversations resulted in a show of compassion and commitment to honoring that person's story. An iconic New York City graffiti artist who is notoriously press shy recently agreed to grant Tagouri a live interview after speaking to her off the record for two hours. Finally, he told Tagouri, "I know what reporters are like. They just take the story and run with it. But I know you're not going to do that."
Caring about "getting the cultural nuances right" and "sharing in the vulnerability" of those she talks to matters because she's experienced the stigma that results when mainstream narratives get it wrong.
PICKING BATTLES AND CHANNELS
Shaikley, Khalid, and Tagouri all say they've been fortunate to be surrounded by supportive peers and mentors. At the same time, in the wider professional world, occasional comments or questions can demoralize them. But it's not always worth it to engage.
"Honestly, that's energy, that's human capital being expended on beating a dead horse, rather than being channeled into other activities," Shaikley says. "Other peers may be doing something to better themselves, to strengthen their futures or their minds; you're sitting there fighting about what you're not."
Khalid describes receiving two mildly offensive comments about her appearance at an Iran policy meeting. But she felt both came from a place of ignorance. "For something that is so little, I'm not going to ruin a relationship by calling them out," Khalid says. "I knew it didn't come from a bad place."
All three women boast creative side projects that educate and challenge assumptions about Muslim identity so that other aspiring young Muslims like themselves don't have to. Shaikley's Mipsterz video celebrates the daily lives of a group of Muslim women in hijab, eschewing "burqas, bombs, or other symbols ignorantly associated with the hijab on our heads" for "skateboards, sunshine, and good times." Tagouri tours as a motivational speaker for girls and, this October, became the first hijabi woman to appear, fully clothed, in Playboy for their "Renegades" issue. Trojan horse-like, she used Playboy's platform to offer a vibrant, humanizing portrait of a millennial Muslim woman that shatters stereotypes. After deciding to wear the hijab post-college, Khalid began the Houston Chronicle's Young American Muslim column to give her "old coworkers and classmates and neighbors who probably didn't understand the hijab a glimpse of my life as hijabi woman."
Each believes that embracing the hijab has helped them focus on what matters to them most. As Shaikley says, "There are a lot of feminist undertones with the decision to veil parts of yourself in order to make other parts of yourself shine."
https://www.fastcompany.com/3064954/the-future-of-work/muslim-women-leaders-on-the-challenges-of-embracing-their-differences-in-
--
Nat Geo's Famed 'Afghan Girl' Sharbat Bibi Arrested By FIA in Peshawar
Oct 26, 2016
Nat Geo's famed 'Afghan Girl' Sharbat Bibi was arrested by the Federal Investigation Agency (FIA) on Wednesday in Peshawar, an official said.
Bibi was arrested from her home for alleged forgery of a Computerised National Identity Card (CNIC), the FIA sources said. Bibi had Pakistani and Afghan ID cards in her possession, and both ID cards have been recovered from her, the FIA sources said.
"FIA arrested Sharbat Gula, an Afghan woman, today for obtaining a fake ID card," Shahid Ilyas, an official of the National Database Registration Authority (NADRA), told AFP.
Ilyas said that FIA is also seeking three NADRA officials who were found responsible for issuing CNIC to Bibi, who have been at large since the fraud was detected.
He said Bibi faces seven to 14 years prison time and fine between $3,000 to $5,000 if convicted by court over fraud.
Bibi has been charged under Section 419, 420 of the Pakistan Penal Code and Section 5(2) of Prohibition of Corruption Act.
An FIA official said the officer who issued the ID cards to Sharbat Bibi is now working as a deputy commissioner in customs and got bail-before-arrest to avoid arrest in the case.
Last year, NADRA issued three CNICs to Sharbat Bibi and two men who claimed to be her sons. Issuance of CNICs were in violation of the rules and procedures of NADRA.
NADRA's vigilance department and an FIA official rejected information provided on the NADRA form as fake, and the FIA official ordered cancellation of CNICs of Sharbat and her alleged sons.
Details of the form had claimed that Sharbat Bibi had two sons. The official maintained that Sharbat Bibi has two daughters and a two-year-old son.
The official added that relatives present at the given address have refused to recognise two persons listed as her sons in the form.
An inquiry had been launched with NADRA officials under fire for issuing CNICs to foreign nationals without legitimate documentation.
'Mona Lisa of Afghan war'
Sharbat Bibi became famously known as the 'Afghan Girl' when National Geographic photographer Steve McCurry captured her photograph at the Nasir Bagh refugee camp situated on the edge of Peshawar in 1984 and identified her as Sharbat Gula.
She gained worldwide recognition when her image was featured on the cover of the June 1985 issue of National Geographic Magazine at a time when she was approximately 12 years old.
That photo has been likened with Leonardo Da Vinci's Mona Lisa.
National Geographic also made a short documentary about her life and dubbed her the 'Mona Lisa of Afghan war'.
Take a look: Afghan Girl
She remained anonymous for years after her first photo made her an icon around the world and until she was discovered by National Geographic in 2002.
After Sharbat's family granted her permission to meet with the man who photographed her 17 years ago, McCurry knew immediately, even after so many years, that he had found her again.
"Her eyes are as haunting now as they were then," he had said.
Fate of Afghan refugees
Pakistan has been tackling the Afghan refugee crisis for over three decades; the UNHCR has acknowledged it as the "largest protracted refugee situation globally".
It is estimated that some three million Afghan refugees are living in Pakistan, half of whom are unregistered.
Since 2009, Islamabad has repeatedly pushed back a deadline for them to return, but fears are growing that the latest cutoff date in March 2017 will be final.
Read more: Pakistan hosts third highest number of refugees: Amnesty
The Human Rights Watch (HRW) has spoken against the forceful return of Afghanistan refugees from Pakistan, reminding the government of their obligation to protect all Afghans in the country, including those not registered as refugees.
Uncertainty about future, tightening of border controls, and security crackdown against foreigners living in Pakistan have already sped up the return process despite deteriorating security in Afghanistan due to increased attacks by Taliban and an aggravating economy.
The main factor driving the accelerated process is, however, said to be the documentation requirement for visits to Afghanistan. Doubling of cash grant by the UNHCR for voluntary returnees from $200 to $400 per individual and Pakistani incentive of free wheat for the relocated camps for three years are some of the other factors.
Besides harassment by law enforcement agencies, there are reports about increased negative attitudes of the community towards refugees due to involvement of some of them in the crime and terrorism.
http://www.dawn.com/news/1292383
--
Zaitoon Bano A Strong Pakhtun Feminine Voice
October 26, 2016
PESHAWAR: Speakers at a literary function here on Tuesday declared Pashto fiction writer Zaitoon Bano a strong feminine voice saying the octogenarian depicted the plight of women in a Pakhtun society very well.
Tribute was paid to the writer for huge contributions to both Pashto and Urdu literature.
The Academy of Letters, Peshawar chapter, organised the event to honour Zaitoon Bano here at the hall of Abasin Arts Council (AAC).
The speakers said Zaitoon Bano had always raised voice for the rights of Pakhtun women at a time when only a few could dare speak even a word for it.
They said born to enlightened parents, Bano had paved the way for the bright future of women writers and motivated a large number of them to display their talents while fighting for genuine rights.
Speakers say writer bluntly advocates women's rights
Zaitoon Bano told participants Pakhtun women had been endowed with enormous talents and therefore, they should be given a workable space to bring out their hidden abilities.
She said women should come forward to change their condition through own strength.
Prof Abaseen Yousafzai said Zaitoon Bano, being author of several books, TV and radio plays, was a trendsetter in Pashto as she introduced a style of diction peculiar only to feminine expression.
He said the KP culture department recently brought out Zaitoon Bano's complete works.
"Ms Bano is a symbol of bold expression in Pashto. She gave a vision of freedom of speech to all Pakhtun female writers," he added.
Noted writer Mushtaq Shabab, who is also honorary secretary of Abasin Arts Council, Peshawar, said Zaitoon Bano being a prolific writer had rendered invaluable services to Pashto and Urdu languages.
He said Zaitoon Bano was a multifaceted personality as she had contributions to almost all literary genres.
"I have rendered a few of her Pashto short stories into Urdu and garnered great fame. The characters of Ms Bano's stories are drawn from real life. She is bold and blunt when it comes to the rights and role of women in our society," he said.
Regional director of PAL Said Wali Khial Momand said his organisation had published a book on the life and literary contributions of Ms Bano and would continue celebrating living legends of the soil.
He said literati like Bano were precious asset for the country.
Noted writer Samina Qadir said Zaitoon Bano risked her life even when she had launched her career as a writer.
"Ms Bano became a role model for Pakhtun women writers in KP and Fata. She had taught female writers how to express themselves in a rigid society like ours. "Ms Bano inspired woman writers to bring out their latent talent and use their pen to bring about a substantive change their plight," she said.
Professor Dawar Khan Daud said although, Zaitoon Bano had displayed her inborn talent in more than fields yet writing short stories remained her strong forte in which she had portrayed a true picture of a Pakhtun woman.
He said not only did Ms Bano depicted women's role but she also shed light on the character of Pakhtun man in her stories.
"Bano's writings are a great inspiration for youngsters both male and female as she is not a chauvinist but a realist," he said.
Other speakers, including Dr Shehla Sardar, Zubeida Zoobi, Tahir Shah, Aziz Ejaz, Professor Sattar Lowaghari, Ilyas Thalwaal and Professor Aseer Mangal, highlighted various aspects of the life and works of Zaitoon Bano.
http://www.dawn.com/news/1292305/zaitoon-bano-a-strong-pakhtun-feminine-voice
--
Two Pakistani Women Married To Indians Go Missing
October 26, 2016
Ahmedabad: Two Pakistani sisters married here have gone missing along with their two children after they walked out of their homes in Paldi area of the city, police said today.
Arif Memon and Mohammad Soheb, both brothers, married to Ayeshabibi and Navirabibi, respectively, filed a complaint stating that their wives have gone missing.
"The sisters who are Pakistani nationals and married to brothers from Ahmedabad left their homes in Paldi along with their two children — a two-year-old boy and a three-month-old girl–on evening of October 23," Paldi police station sub-inspector R D Gojiya said.
"They also carried their passports and marriage certificates. They are untraceable since then," he added.
He said that CCTV footage outside the residences of Memon and Soheb showed the women leaving with their belongings and children.
There is no mention of the reason in the complaint on why the women left their house.
Ayeshabibi had come to India around four years ago, while her younger sister Navirabibi two years back.
"They cannot leave for Pakistan because for that they will have to seek permission from police for visa," Gojiya added.
http://www.siasat.com/news/two-pakistani-women-married-indians-go-missing-2-1050076/
--
The Iraqi Women Who Escaped ISIS But Lost Everything
October 26, 2016
Debaga, Iraq (CNN) -- Zainab's eyes are hazel, and a sliver of olive skin peeks from the stretchy turquoise scarf wrapped tightly around her face. Over her shoulder is an insulated bag with the word "Lunch" on it that she is using as a purse. Her nails are lacquered red, the tips just starting to chip. And on her feet are leopard-print flip-flops.
I imagine Zainab before ISIS as a confident teenager, full of verve.
But now, in her eyes, I see grief and a girl beaten down before even entering adulthood.
The 17-year-old is among the girls and women I meet at Debaga, a refugee camp erected in 2014 to shelter Iraqis fleeing the Islamic State after it seized Mosul as the jewel of its self-proclaimed caliphate. Among Debaga's residents are more than 15,000 children and 8,000 women.
They are from Mosul, Qayarra, Hawija, Tikrit, Kabruk, Tal Qaif, Nimrud, Makhmur. From cities, towns and villages where once they led lives filled with aspiration, if not joy.
Zainab arrived here a week ago, after her life in Hawija imploded with the intrusion of ISIS. She liked going to the market and hanging out on street corners and park benches with her teenage friends. She attended a co-ed school and hoped to finish 12th grade one day.
"I wanted to improve my Arabic. I wanted to learn how to read and write better. Life was beautiful before Daesh," she said, referring to ISIS by its Arabic name.
But after ISIS, her parents worried for their daughter. Tales of rape and other horrific abuses of women had spread across Nineveh; of the capture and enslavement of non-Muslim women from Yazidi and Christian communities, acts that ISIS claims are justified in the Quran.
So Zainab, who is Muslim, was married off at 16 to save her from ISIS. Three months ago, she became pregnant. In the madness of escaping her ISIS-held town, she lost her baby. She says little about it except there was a lot of blood.
In the grand scheme of Iraq's suffering, perhaps Zainab's is low on the scale. Perhaps it does not compare to the sexual slavery of women or the torture, killing and other horrendous atrocities committed by ISIS.
Pirate radio risks death to fight ISIS on airwaves
But what happened to her is also an assault. She was a child still and robbed of her freedom, her life's trajectory altered because of an ideology that does not value her worth as a woman. Early marriage for girls has emerged, sadly, as a coping mechanism under the militants.
The representative in Iraq for the United Nations Population Fund, Rama Balakrishnan says: "This is equally violent."
Women wait for their turn to see a doctor at a UN-funded clinic at the Debaga camp. Many have not received proper reproductive care and suffer from the trauma of abuse.
Women wait for their turn to see a doctor at a UN-funded clinic at the Debaga camp. Many have not received proper reproductive care and suffer from the trauma of abuse.
My mind weighs heavy with the tales the Iraqi women tell. Most have fled their homes in recent days and are able to portray a fresh picture of life under ISIS in places that are severed from the outside world -- without television, phones or the internet.
It's not that the lives of these women were untouched before the militant men in black arrived and brandished their guns and had their way. Things had been getting worse for women in Iraq since the 2003 US-led invasion, the rise of sectarian strife and fundamentalist Islam. But in the summer of 2014 came the biggest blow when ISIS enforced its extreme ideology in northern Iraq.
We have lost our freedom. We have lost everything.
Choose that ideology or face the wrath of ISIS: Those were the only options. The women began wearing gloves and socks with their black abayas and niqabs and could show only their eyes in public. Even then, they were barred from looking at any man other than their husbands.
"They are not Muslims," Iman, 26, says of the ISIS fighters. "Islam does not say those things. But they lashed us, beat our husbands if we did not comply. So we did."
Iman and the other women shared their stories on the condition that CNN use pseudonyms and not show their faces. They live with a palpable fear of being discovered; even in this camp, monitored by the United Nations and other international humanitarian agencies, they are uneasy, anxious.
I fix my gaze beyond Debaga and think of the war unfolding just a few miles from these arid flatlands and oil fields. Fierce fighting has erupted to drive ISIS out of Nineveh province and its capital, Mosul.
This camp of tents, tarps and corrugated metal in the Iraqi desert serves as an oasis for the desperate. The number of people here displaced from ISIS-controlled towns and villages has swollen to nearly 35,000; Debaga could soon burst at the seams if predictions of an exodus from Mosul hold true.
Humiliated and frightened in public, the women tell me they became prisoners in their own homes. They had little choice but to attempt dangerous escapes.
Iman's belly is so big that even under her swirling black robes, I can tell she is pregnant.
"Nine months," she says. "Any time now."
In that state, she left her home on the outskirts of Mosul and walked for 10 hours with her husband and two young children before they were picked up by approaching Iraqi forces and delivered to the Debaga camp two days ago. She had not been receiving proper pre-natal care, and the doctors at the camp determined she will need to be taken to a hospital in the Kurdish hub of Erbil for a cesarean delivery.
I ask about her journey from Mosul, why she fled in her condition. Her initial answer is wholly expected: "I was afraid for my daughter."
Mosul offensive enters second week: All you need to know
She continues: "But I was afraid as much for my son. He would have been brainwashed by them and one day forced to join their ranks."
It is, she says, a mother's nightmare. She did what she had to do: risk the life of her unborn child to save the others.
The prospect of a military victory over ISIS in Mosul offers glimmers of hope for a better future, but the women are unsure if life can ever be the same again.
How long, they ask, will it take to reverse the damage that has been done; to undo a perverse way of thinking that does not see women as human beings? How long before they can walk in the streets without constantly surveying their surroundings?
We sit on plastic chairs outside a small center for women set up behind cloth-draped fences. No men are allowed to enter. The women learn life skills here and find comfort in one another. Occasionally, they let slip a smile.
The UN agency also provides vital health services to the women, including reproductive care and counseling for those scarred by trauma.
Women displaced by war are at serious risk of being cut off from essential health services and life-saving emergency obstetric care, says Balakrishnan, the 42-year-old native of India who oversees women's programs at the camp.
In Iraq, he says, the concerns are greater because of the nation's high fertility rate. Of every 200,000 Iraqis who arrive at refugee camps, 8,000 are likely to be pregnant women.
Many have been raped and are carrying the children of men who are not their husbands. That's the conclusion of Dr. Nieran Munther, who delivers babies at the Debaga camp. Munther says sometimes the babies look nothing like the women's husbands. Other times there is no husband at all, making it difficult to process paperwork if those women need care at more sophisticated hospitals in the Kurdish region.
Life was beautiful before Daesh (ISIS).
In the process of fleeing their homes and living in the camps, pregnant women often lift heavy objects like buckets of water and suffer miscarriages. The physical strain can also dislodge contraceptive devices like IUDs and cause vaginal bleeding.
And they suffer at the hands of husbands who are also damaged by war and take out their stress and anger on their wives.
Leila, 19, tells me ISIS shot and killed her sister's husband, a policeman in Kabaruk, in front of the family. Leila's own husband survived but was forced to grow a beard and stop wearing shorts. He had been traveling from their home near Mosul to work in a restaurant in Erbil, but after ISIS he could no longer go. Nor could he find work, and he shut himself off from the world.
How ISIS is fighting to keep its Iraqi stronghold
"We were hungry," says Leila, the only woman who allowed CNN to use her real name. "The owners of our market were kind and we ate because of their generosity. They said we could pay them back after we were free.
"My husband changed, though," she said. "He developed mental problems. He began beating me and my children. These horrifying things have affected him. He was not like this before."
Leila, too, is pregnant -- five months. She already has two little girls.
"We have lost our freedom," she says. "We have lost everything."
With those terrible words, we leave Debaga and head for the main highway that will return us to the relative safety of Iraq's Kurdish region.
Our convoy's security guard tunes the radio to 97.5 FM and we hear the roars of ISIS, describing grisly victories in Syria, Libya and here on the Ninevah Plains. Between their boasts are repetitive recitations from the Quran.
A chill conquers me; these are, after all, the voices of the men who shattered the lives of the women of Iraq.
http://edition.cnn.com/2016/10/26/middleeast/mosul-offensive-women-escaped-isis/
--
URL: https://www.newageislam.com/islam,-women-and-feminism/new-age-islam-news-bureau/muslim-women-in-the-hindu-dancing-arts--a-history/d/108927
New Age Islam, Islam Online, Islamic Website, African Muslim News, Arab World News, South Asia News, Indian Muslim News, World Muslim News, Women in Islam, Islamic Feminism, Arab Women, Women In Arab, Islamophobia in America, Muslim Women in West, Islam Women and Feminism