New Age Islam News Bureau
27 Dec 2018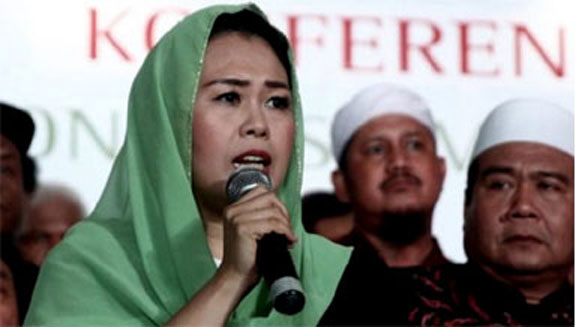 Sabah Yadim rejects proposal to allow Muslim women to enter Unduk Ngadau pageant
------
• Hijab-Clad Jamia Student Barred From Exam, UGC Gets Notice
• Saudi Women Lead the Way in Al-Ula Winter Festival
• Korean Movie about Inspiring Women Screened In Riyadh
• Noushin the 86th Woman Executed Under Rouhani
• Muslim Women Urge for Unanimous Passage of Triple Talaq Bill
• Benazir Bhutto was a stateswoman, inscriber of history: Bilawal
• Women Police Officer Who Inspires a Generation in Pakistan
• World Hijab Day Encourages Women to Voice Their Choice
• Turkish Female Entrepreneurs Do Well At CERN, Inspiring Others
Compiled by New Age Islam News Bureau
URL: https://www.newageislam.com/islam-women-feminism/muslim-women-malaysia-denied-participation/d/117283
--------
Muslim Women in Malaysia Denied Participation in Pageant
Dec 26, 2018
The Sabah chapter of Yayasan Dakwah Islamiah Malaysia (Yadim) criticized a plan by organizers of the state-level Unduk Ngadau Kaamatan beauty pageant to allow Muslim contestants to enter the contest. Sabah Yadim director Samin Ongki said the State Islamic Administration Enactment and the fatwa issued by the State Fatwa Committee clearly prohibited Muslim women from entering the beauty pageant."We respect it as it is only a proposal, but we cannot consider it, and I call upon every district officer in Sabah as the organizing chairman of the district-level Kaamatan fest celebration to deny participation of Muslim women in the beauty pageant. It was reported that the state-level Unduk Ngadau Kaamatan beauty pageant would seek approval of the Sabah Islamic religious affairs authority to allow Muslim women to enter the annual beauty contest.
However the Islamic government authorities regard the proposal by the state-level Kaamatan Festival Unduk Ngadau organising committee to allow Muslim women to participate in the beauty pageant as inappropriate. Usia chief, Datuk Sairin Karno said Unduk Ngadau has been organised for a long time and its concept and objectives are already known. Therefore, it is best it remains that way and not to create controversy by suggesting the participation of Muslim women in this beauty pageant. Sairin also agreed with the views expressed by Samin Ongki, the Sabah director of Yayasan Dakwah Islamiah Malaysia (Yadim) on the matter as the latter's strong arguments were based on the Sabah Islamic Administration Enactment and the edict issued by the State Fatwa Committee.
https://beautypageants.indiatimes.com/others/muslim-women-in-malaysia-denied-participation-in-pageant/articleshow/67258345.cms
--------
Hijab-Clad Jamia Student Barred From Exam, UGC Gets Notice
Dec 27, 2018
NEW DELHI: The Delhi Minorities Commission (DMC) has issued a notice to secretary, University Grants Commission, saying that the debarring of Jamia Millia Islamia student from appearing for the NET exam for wearing a hijab was "a clear case of discrimination against a religious minority and an attempt to keep it away from the national mainstream."
Demanding answers to why it was done, the DMC has asked the UGC whether it was going to rectify its mistake. Pointing to the Kerala high court decision, the DMC said that they had issued a general order earlier saying that no such discrimination should be made against people who wear religious clothes.
Speaking to TOI, DMC chairperson Zafarul Islam Khan said that the commission had last month issued orders to respect the religious rights of Muslim and Sikh women. "Despite that we saw this happening," he added.
Umaiyah Khan, a student of Jamia was not allowed to participate in UGC-Net exam for wearing a hijab (scarf). The DMC in its statement said that "the Kerala HC has clearly allowed Muslim women to appear in exams and tests wearing a hijab".
The DMC also has asked the secretary, UGC, to reply why this discrimination was allowed, and "how would you propose to undo the injustice done to the Muslim women prevented from appearing in the NETJRF exam wearing hijab."
According to a senior HRD official, the candidate was not told to take the exam without the "hijab" but was asked to remove it and show her face during the frisking.
https://timesofindia.indiatimes.com/city/delhi/hijab-clad-jamia-student-barred-from-exam-ugc-gets-notice/articleshow/67263957.cms
--------
Saudi Women Lead the Way in Al-Ula Winter Festival
RAZAN FARHAN ALAQIL
December 27, 2018
Saudi Arabia's historical riches are getting increased government support to highlight their significance in the Kingdom's tourism industry.
But the country's rich heritage is also the subject of growing interest from people around the world who want to visit the Kingdom.
Both factors — support and interest — are combining to create a strong future for Saudi tourism.
In the past few weeks, the "Winter at Tantora" festival in Al-Ula has showcased the area's historical heritage and hidden natural treasures.
People from around the Kingdom have been taking part in the festival, either managing the event or displaying traditional crafts.
There has been an impressive increased participation from women this year. One of the leaders behind the promotion of the festival is Iman Al-Mutairi, marketing director for tourist destinations at the Royal Commission for Al-Ula.
Her work to promote not only Al-Ula, but all of Saudi Arabia as a major tourism destination is inspirational. Women such as Al-Mutairi are showing they can run large-scale events and are also empowered by their love for their jobs.
In an interview, Al-Mutairi said that women had taken on a host of major roles at the "Winter at Tantora" festival. With strong support from the Kingdom's leadership to empower Saudi women, we are seeing many examples of female skill and potential.
The festival is bringing history to life through the work of passionate people who are committed to what they are doing because they believe in the greater message and vision of the whole group. Individual women make up a collective team that works to promote Al-Ula and its historic sites.
Tantora festival is strengthening tourism, enriching culture, highlighting nature and history, building community and empowering women — all part of the Kingdom's Vision 2030 reforms.
We are witnessing a cultural transformation in Saudi Arabia that will affect the way we view our culture and present it at home and to the world.
The work of women shines a light on the fact that, yes, we are changing and developing, but we are doing so with passion and a love for the Kingdom that binds us together.
Women in Al-Ula, including Al-Mutairi and hundreds of others, are actively working to transform the way the Kingdom promotes itself in the tourism and cultural industries.
http://www.arabnews.com/node/1426321
--------
Korean Movie about Inspiring Women Screened In Riyadh
2018-12-26
RIYADH — The Embassy of Korea held a screening of the Korean movie "Run off/Kukkadaepyo 2" as part of the Ambassador's Choice: Screening of Films 2018 at the Indian Embassy auditorium on Friday.
Korean Ambassador JO Byung Wook welcomed the guests and gave a short introduction on the movie and how Korean women exceled in almost all fields.
In his remarks, Ambassador JO informed the participants about the Korean cultural exhibition in Riyadh, which was inaugurated on Dec. 19 and would continue until March 15 at the National Museum. He hoped that exhibition would enhance the Saudi public's understanding of Korea's cultural heritage and history.
"Run off/Kukkadaepyo 2" revolved around various women, including a North Korean defector, a banned short track skater, a middle-aged woman and a middle school student who came together to form the first South Korean woman's national ice hockey team.
The movie is inspiring on how women are capable of achievements despite the odds. It was directed by Kim Jong-Hyeon, starring Soo-Ae as Lee Ji-Won and Oh Dal-Su as Kang Dae-Woong. The coach of the team and other team members are Oh Yeon-Seo, Ha Jae-Suk, Kim Seul-Gi, Kim Ye-Won, Jin Ji-Hee, Park So-Dam and Cho Jin-Woong.
http://saudigazette.com.sa/article/551109/SAUDI-ARABIA/Korean-movie-about-inspiring-women-screened-in-Riyadh
--------
Noushin the 86th Woman Executed Under Rouhani
23 December 2018
A young woman identified only as Noushin, 25, was hanged on Saturday, December 22, 2018, the Iranian state-run ROKNA news agency reported.
It is not clear in which city and prison the execution took place.
The young woman had been interviewed by a state-media reporter just before being hanged as she was waiting in the courtyard for her sentence to be carried out.
Noushin was convicted of murdering a man, Soheil, who had promised to marry her, but took advantage of her, and subsequently brutalized, blackmailed and forced her into having sexual relations with his friends. (The state-run ROKNA news agency - December 22, 2018)
Noushin did this for a month before she decided to stop this situation by killing the man who was forcing her to do so.
Noushin is the 86th woman to be executed during Rouhani's tenure.
She is not the first victim of violence who is being executed for defending herself and her dignity.
Iranian women who are victims of violence receive no support from the government. They are either forced to go back home with the same husband who batters them or are sentenced to execution, or retribution in kind, if they commit murder in self-defense.
Reyhaneh Jabbari, an interior designer, was executed on October 25, 2014, after seven years of imprisonment for defending herself against rape by a senior Intelligence Ministry official.
At least a dozen women linger on death row in Qarchak Prison in Varamin for reacting in self-defense against violence. A similar situation exists in other prisons across Iran where many of the women convicted of murder have acted in self-defense in the face of violence directed against them.
https://women.ncr-iran.org/iran-women-news/5651-noushin-86th-woman-executed-under-rouhani
--------
Muslim Women Urge for Unanimous Passage of Triple Talaq Bill
December 27, 2018
The Bharatiya Muslim Mahila Andolan (BMMA) on Wednesday called upon the government and the opposition parties to pass the law on Muslim triple talaq bill through "consensus, without political point-scoring".
On Thursday, the Parliament is scheduled to discuss the proposed 'The Muslim Women (Protection of Rights on Marriage) Bill', 2017, after the government issued an Ordinance on it earlier this year.
The Ordinance was brought after the government failed to push it through the Rajya Sabha during the monsoon session of Parliament owing to lack of unanimity among various political parties, said BMMA Co-Founder Zakia Soman.
The Ordinance makes instant triple talaq a punishable offence with a three-year jail term, and Soman urged that it would be ideal if both Houses of Parliament pass the Bill unanimously, especially since some important amendments have been made to the original Bill.
For the much-anticipated legislation, she said that today women across the country are protesting, writing to women's commissions and observing token fasts for legal protection.
"We urge all political parties to recognise, acknowledge and extend their support to the demands of Muslim women. For too long have they (Muslim women) been discriminated against the faced insecurity, fears for life, threats of instant divorce, polygamy, juvenile marriage and deprivation of inheritance rights," said Soman.
However, now the Muslim women have organised themselves, armed with the knowledge of both their constitutional rights and rights as per the Quran, which need to be acknowledged and realised by all political parties, she pointed out.
"The tide is turning. This law, if it becomes a reality, will be important and the BMMA will continue to fight for comprehensive codification of Muslim family law where gender-just provisions pertaining to age of marriage, mehr, consent, polygamy, halala, muta, maintenance and inheritance are also legislated upon," Soman added.
The BMMA has published its version of a comprehensive Muslim family law and demanded that the government consider the same for further discussions to work towards a comprehensive law which has been hanging for long, she said.
https://www.indiatoday.in/india/story/muslim-women-urge-for-unanimous-passage-of-triple-talaq-bill-1417993-2018-12-27
--------
Benazir Bhutto was a stateswoman, inscriber of history: Bilawal
December 26, 2018
NAUNDERO: Pakistan People's Party (PPP) Chairman Bilawal Bhutto Zardari while paying rich tribute to Shaheed Mohtarma Benazir Bhutto on her 11th anniversary of Martyrdom said she was a stateswoman and an inscriber of the history.
She had embraced Punjab, Sindh, Khyber Pakhtoonkhawa, Balouchistan, Kashmir and Gilgit-Baltistan like a unifying chain in her entire life.
Her assassination was in actual, meant to ambush the pace of progress and prosperity and on the dream of Pakistan's enlightened moderation and democratic Pakistan, he added.
On this occasion of 11th Martyrdom day anniversary of Shaheed Mohtarma Benazir Bhutto, who was the first woman Prime Minister of the Muslim World, Bilawal Bhutto Zardari in his message said that since day one she started her political career, she never took rest but as giant leader, she continued to struggle for the rights of the people and for taking the country to the heights of the glory of peaceful, prosperous and democratic Pakistan.
"On becoming country's first woman PM, she took steps for transforming the country into a real welfare state and gave entirely peoples-friendly policies and programmes", he said adding, "She developed the soft image of Pakistan internationally and courageously added the missile defence shield to the nuclear programme of the country and the defence of it."
Shaheed Mohtarma Benazir Bhutto had made Pakistan an invincible state, the PPP Chairman said.
He said that the ideology of Shaheed Zulfikar Ali Bhutto and the vision of Shaheed Mohtarma Benazir Bhutto both are the keys to a modern and brighter Pakistan.
He vowed that the PPP would keep these two abreast and would continue to struggle for making their dreams of developing Pakistan as modern welfare state come true.
Bilawal Bhutto Zardari said that each year her Day of Martyrdom is commemorated, which in fact is a message to the enemies of the democratic Pakistan. The enemies of Pakistan are destined to remain defeated while Shaheed Mohtarma Benazir Bhutto's mission would remain invincible.
https://www.thenews.com.pk/latest/411040-benazir-bhutto-was-a-stateswoman-inscriber-of-history-bilawal
--------
Women Police Officer Who Inspires a Generation in Pakistan
By Kaswar Klasra
26 December 2018
A woman police officer made history in Pakistan by becoming the country's first-ever additional Inspector General of Police.
In Pakistan's conservative society, it is difficult for a woman to achieve a high rank in her profession. The police is particularly a male-dominant service. Therefore, the elevation of women police officers to a high rank in the police department is exceptional.
However, Helena Saeed made headlines in Pakistani press last week after authorities appointed her additional Inspector General (IG) of police, even though an official notification of her promotion is yet to be issued.
News of her promotion to the rank of additional IG spread across Pakistan. People took to the social media to send congratulatory messages on her promotion.
Highest ranking
A lady Sahirah Rizwan tweeted: "Congratulations to Pakistani women Helena Saeed becomes the 1st ever Woman to B promoted as AIG Police (Bps-21) in the history of the Pakistan Police. Helena is from Baluchistan & is the highest ranking female officer of the PSP. Excellent. She is a motivation for our women".
Pakistan Political Awareness Forum also sent out a message on Twittter congratulating Helena Saeed over her promotion. "Congratulations to Helena Saeed who becomes the 1st ever woman to be promoted as AIG Police (Bps-21) in the history of the Pakistan Police. Helena is from Baluchistan and is the highest ranking female officer of the PSP. She is a motivation for our women."
Helena is taking the mission of her husband ASP Rizwan Khan Tareen forward, who was martyred fighting militants on April 24, 1995. Helena is currently posted at National Police Bureau, Islamabad.
Law enforcement
Women constitute only 0.86 percent of the total strength of law enforcement agencies in Pakistan and there are only 3,734 women employed in this sector as compared to 425,631 men serving at different levels. Helena Saeed is the only woman police officer who was earlier promoted to the ranks of Deputy inspector General (in 2016).
Working in the police department for 27 years, she has taken part in several operations and has solved many complicated cases. She was also the first woman to join police force as Assistant Police Officer (ASP), thus setting a precedent for educated women to join a law enforcement agency that was deemed fit only for men.
Now that educated women are following in her footsteps by joining police force as ASPs, the enhanced role of women police in Pakistan is no longer an exceptional occurrence.
Excellent opportunities
Muhammad Tahir, commandant of National police Academy Islamabad, told Al Arabiya English that more women are joining the police force as ASPs now. "There are excellent opportunities for women in police department. We are glad that more women are pursuing career in police which is need of the hour".
Still authorities need to do a lot more to attract women to join the police department. Last year, a report of Pakistan's National Police Bureau revealed that the percentage of women in police remains below two per cent.
According to report compiled by the National Police Bureau (NPB), there are a total of 391,364 police personnel across the country, of which only 5,731 are women. As per standards, women's participation in the police department should be at least 10 percent.
https://english.alarabiya.net/en/features/2018/12/27/Struggling-to-survive-Syrian-refugees-in-Lebanon-fall-deeper-into-debt.html
--------
World Hijab Day Encourages Women to Voice Their Choice
26.12.2018
World Hijab Day is all set to launch its 2019 campaign on Wednesday, aiming to encourage women to "voice their choice" of wearing the hijab, according to the founder of the annual event.
"#FreeInHijab is the much needed hashtag for our current global situation where women in hijab are labeled by media as oppressed and symbolically imprisoned," Nazma Khan told Anadolu Agency in an exclusive interview ahead of the campaign launch.
"Through this hashtag, women are encouraged to voice their choice of wearing the hijab; thus dispelling common misconceptions," Khan added.
World Hijab Day, created in 2013 to encourage women of all religions and backgrounds to wear the hijab in support of Muslim women.
It is celebrated worldwide every year on Feb. 1.
In 2017, World Hijab Day became a nonprofit organization, with a mission to fight discrimination against Muslim women through awareness and education, according to its official webpage.
She said 2019's motto for the day is "Breaking Stereotypes, Shattering Boundaries", while the campaign also includes "promoting World Hijab Day both online and offline globally".
Khan said her motive behind the creation of the day was the hardships she faced due to her hijab when growing up in New York City.
"I was constantly bullied in middle school and high school. Discrimination took on a different height after 9/11," she said, recalling the Sept. 11, 2001 attacks in the U.S.
"Every day, I would face different challenges just walking on the street; I was chased, spat on, surrounded by goons, called a terrorist, Osama bin Laden, etc," she said, adding that it was "devastating" and she did not want anyone else to go through the same thing.
"Therefore, I thought to myself, if I could invite sisters from all faiths and backgrounds to walk in my shoes just for a day, perhaps things would change," she said, and thus, Khan came up with the idea of World Hijab Day.
She said women wearing hijab for one day in solidarity would give an idea of the things hijabi women face on a daily basis.
"Perhaps, this one-day experience will make them see the hijab in a different light," she added.
Khan said there were many milestones in the past five years and one of them was the recognition of the day by New York state in 2017.
The same year, the House of Commons of the U.K. hosted an event marking the day, where Prime Minister Theresa May also attended, she added.
In 2018, the Scottish Parliament also hosted a three-day exhibition to mark the day, and the Philippines also took steps to declare Feb. 1 as national hijab day.
"With the aforementioned recognitions by government bodies, our movement is continuously working towards reducing gender discrimination," Khan said.
On accusations of spreading an ideology of political Islam, Khan said: "There's no politics involved in a movement which tries to bring awareness about women who are being unfairly targeted simply because they choose to wear the hijab. It's simply awareness."
Stating that it was a nonprofit and volunteer-based organization, Khan said since the beginning of the campaign, "they have seen positive changes in many people's lives".
"We have seen non-Muslim mothers accept their Muslim daughters by experiencing what they go through by donning the hijab for a day," she said, adding people from different walks of life stand in solidarity with their "hijabi peers" for one day.
"Stories like this go on, and it only takes one day. And this is to remind anyone that wants to change the world, that it only takes one day," Khan noted.
She said the day "serves as a reminder to be a Muslim who has responsibilities for the betterment of the society at large."
https://www.aa.com.tr/en/americas/world-hijab-day-encourages-women-to-voice-their-choice/1349116
--------
Turkish Female Entrepreneurs Do Well At CERN, Inspiring Others
December 27, 2018
Since Turkey became an associate member of the European Organization for Nuclear Research (CERN) in May 2015, several Turkish firms have been awarded with orders as part of the project following the intense efforts of Turkey's Union of Chambers and Commodity Exchanges (TOBB). Among these firms, the share of companies run by female bosses exceeded 20 percent, a very inspirational development for Turkish entrepreneurs.
CERN has been expanding since 2010. Currently, 22 countries are categorized as full members and three countries are in the process of reaching full membership, while five countries are associate partners of the project.
TOBB Chairman Rifat Hisarcıklıoğlu noted that Turkey became an associate member of CERN in 2015 and stressed that more than 20 percent of the Turkish firms that have received offers from the project are run by female bosses. "The success of Turkish female bosses at CERN will certainly be an inspirational role model for young women entrepreneurs," Hisarcıklıoğlu said.
Following Turkey's membership, an industrial liaison office was established as part of TOBB-CERN cooperation. The office has so far provided significant advantages for Turkish firms in their deals with the project. TOBB-CERN Industry Liaison Representatives Council head Hakan Kızıltoprak stressed that the council strives to get more offers from CERN for Turkish industrialists.
The positive approach of CERN to female entrepreneurs, Kızıltoprak said, incites them to work more and engage with more projects in CERN.
Turkish females thriving in CERN projects
Figabara Elektrik Marketing Director Burcu Alpoğuz said CERN officials contacted them for copper products, saying they could not supply the quality products they wanted. Having visited CERN and made on-site examinations, Alpoğuz said she convinced the authorities about manufacturing the desired copper products."They visited us later and sent their orders directly to Figabara. Thus, Figabara became the first Turkish company to procure supplies for CERN without tender and a very important problem was resolved for CERN," she added.
Gaye and Misten Turgut from Mistel Kablo Elektrik, which provides flexible copper materials that CERN wants, said that they have exported materials they produce to the domestic market and many European countries, as well as the Middle East, with 30 years of firm experience. Stressing that they aim to work with zero error, the Turgut sisters said they would like to be further involved in CERN's projects.
Gözüküçük Makine's owner Zuhal Gözüküçük said she took over the business after her husband's passing, adding she finished the Vocational School of Machinery as her second university to increase her knowledge in this field. With the help of the fairs they attended abroad, Gözüküçük said that they exported 60 percent of production to countries such as Britain, France, Germany, Italy, Sweden, Switzerland and Belgium. "Being the supplier of a major project like CERN from the heart of Anatolia honored us on behalf of Kayseri and became a reference for our later works," she said.
Mapsis Metal Managers Filiz Akkaş and Pelin Özkal, who are among the successful business women involved in CERN projects, said that they are an organization of women entrepreneurs that aims to progress by looking forward, considering the details and never saying, "I cannot." Saying that Mapsis always carries out its activities with the logic of "doing better," Akkaş said that planned work is of great importance in this regard.
https://www.dailysabah.com/technology/2018/12/27/turkish-female-entrepreneurs-do-well-at-cern-inspiring-others
--------
URL: https://www.newageislam.com/islam-women-feminism/muslim-women-malaysia-denied-participation/d/117283
New Age Islam, Islam Online, Islamic Website, African Muslim News, Arab World News, South Asia News, Indian Muslim News, World Muslim News, Women in Islam, Islamic Feminism, Arab Women, Women In Arab, Islamophobia in America, Muslim Women in West, Islam Women and Feminism