New Age Islam News Bureau
8 Oct 2016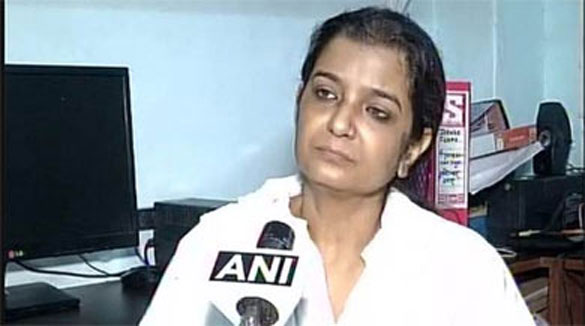 The petitioner in triple Talaq case, Noor Jahan
------------
• 'Secular' India Can't Let Women Suffer Under a Derogatory System: Centre On Triple Talaq
• Not In Favour Of Uniform Civil Code, Want Codification of Muslim Personal Law: Noor Jahan
• Iran's First Female Triathlete Shirin Gerami Set To Make History at Ironman Kona
• Indonesia Launches Campaign to End Female Genital Mutilation (FGM) Practices
• Emir Sanusi Advocates for Codified Islamic Family Law
Compiled by New Age Islam News Bureau
URL: https://newageislam.com/islam-women-feminism/muslim-women-islamic-countries-enjoy/d/108801
----
Muslim Women In Islamic Countries Enjoy More Equality Than In India: Minister
Oct 7, 2016
NEW DELHI: Muslim women in Islamic countries enjoy more equality than in India, Women and Child Development Minister Maneka Gandhi said on Friday reacting to the Centre's reply in Supreme Court on triple talaq where it favoured a relook on the law on constitutional grounds.
"The Centre's stand on triple talaq is right. We should be thinking about rights of women. The practice is not prevalent in other Muslim countries where they have more equality," she said.
The Ministry of Law and Justice, in its affidavit in the Supreme Court, referred to constitutional principles like gender equality and secularism.
"The issue of validity of triple talaq, nikah halala and polygamy needs to be considered in the light of principles of gender justice and the overriding principle of non-discrimination, dignity and equality," it said.
The Centre said that religion could not be the reason to deny equal status to women.
"The fundamental question for determination by this court is whether, in a secular democracy, religion can be a reason to deny equal status and dignity available to women under the Constitution of India," it said.
The government also underlined the need to examine personal laws in the light of gender justice.
"Personal law must be examined in the light of overarching goal of gender justice of women ... The question arises as to whether the preservation of such diverse identities can be a pretext for denying to women the status and gender equality they are entitled to," it said, adding that personal law is a "law" within the meaning of the Constitution and "any such law which is inconsistent with fundamental rights is void".
http://timesofindia.indiatimes.com/india/Muslim-women-in-Islamic-countries-enjoy-more-equality-than-in-India-Maneka-Gandhi/articleshow/54742737.cms
--
'Secular' India Can't Let Women Suffer Under a Derogatory System: Centre On Triple Talaq
October 8, 2016
Defending the Centre's opposition on the triple talaq system, Union Electronic and IT Minister Ravi Shankar Prasad on Saturday asserted that in a secular nation like India, women cannot be allowed to suffer under such an arbitrary and derogatory system.
Listing out the Centre's three-fold stand which was given in response to the Supreme Court over certain petitions filed by Muslim women, Prasad told ANI that firstly, the issue concerns only and only about the dignity, non-discrimination of women, respect to them and gender justice and India being a secular country governed by a constitution, the abiding values of its constitution about gender justice, dignity of women needs to be respected.
"The second is, India is a secular country. Secularism is a basic structure of the Constitution. Can we, where we have got a secular India, allow the women to suffer a kind of a system which is derogatory and arbitrary?," he said.
Illuminating the third point, the Union Minister mentioned that in more than a dozen Islamic countries ranging from Bangladesh to Syria and even Pakistan, matrimonial laws have been regulated by law including triple talaq.
"If in acknowledged Islamic countries, change of matrimonial laws is not found to be violating Sharia, how can such a plea be raised in a secular country like India?," he said.
Yesterday, the Centre filed an affidavit in the Supreme Court on Triple Talaq and polygamy validity. According to the affidavit, the Centre said that there is no reason women in India should be denied their constitutional rights.
"Validity of Triple Talaq and polygamy have to be seen in light of gender justice, equality and dignity of women," stated the Centre in its affidavit.
The Government also said that polygamy and triple talaq do not adhere to constitutional values and, therefore, cannot be accepted. The Muslim law board had earlier claimed that triple talaq is a 'personal law' and, hence, cannot be modified by the Centre.
http://www.financialexpress.com/india-news/secular-india-cant-let-women-suffer-under-a-derogatory-system-centre-on-triple-talaq/411193/
--
Not In Favour Of Uniform Civil Code, Want Codification of Muslim Personal Law: Noor Jahan
October 8, 2016
A day after the Law Commission asked the public seeking response on abolishing the practice of triple Talaq or implementation of a uniform civil code, the petitioner in triple Talaq case, Noor Jahan, has said that she is not in favour of the uniform civil code. "Not in favour of Uniform civil code, seeking codification of Muslim Personal Law," Noor Jahan told ANI.
Keeping in view the debate on uniform civil code, the law body had sought public opinion on the revision of family laws to avoid social injustice.
The Law Commission on Friday had issued an appeal, saying that the objective behind the same was to address "discrimination against vulnerable groups and harmonise the various cultural practices," assuring that "norms of no one class, group or community will dominate the tone and tenor of family law reform".
"The Commission hopes to begin a healthy conversation about the viability of a uniform civil code and will focus on family laws of all religions and the diversity of customary practices, to address social injustice rather than plurality of laws," law panel chairman Justice B S Chauhan (retd) had said on Friday.
The petitioner Noor Jahan had sought an order from the Supreme Court stating that Section 2 of Muslim Personal Law (Shariat) Application Act, 1937, was unconstitutional as it violated fundamental rights guaranteed under Articles 14 (equality), 15 (non-discrimination), 21 (life) and 25 (religion) of the Constitution. In her petition, Jahan has questioned whether an unilateral and arbitrary divorce through triple Talaq should deprive the wife of her rights in her matrimonial home as also her right to have the custody of her children.
http://indianexpress.com/article/india/india-news-india/not-in-favour-of-uniform-civil-code-want-codification-of-muslim-law-noor-jahan-3071962/
--
Iran's First Female Triathlete Shirin Gerami Set To Make History at Ironman Kona
Friday October 7th, 2016
KAILUA-KONA, HAWAII – On Tuesday, just four days before the start of the 2016 Ironman World Championship, competitors from around the globe were settling in to Hawaii's heat and humidity. Some took time to relax and enjoy the scenery, while others made sure to get in a pre-race practice swim or ride.
Shirin Gerami was just receiving a final blessing to represent Iran in Saturday's race.
"This will be the first time a female will be officially representing Iran in an Ironman," says Gerami, 26, who also will be making her U.S. debut. "What was important to me was to create an opportunity where all women could access triathlons, to reap the psychological, physical and social benefits of sports—to swim, bike, run, immerse in nature and grow as a person. I believe what is most important is to have the opportunity."
Gerami already transcended history in 2013, as Iran's first female triathlete, following the International Triathlon Union World Championships in London. This weekend, Gerami is slated to become the first Iranian female to compete in the world championship's 2.4-mile swim, 112-mile bike and 26.2-mile marathon. She's also on the verge of transforming the way Islamic culture is viewed—and treated—in sport.
​By representing her country and respecting Islamic culture, Gerami agreed to respect the rules and regulations of Iran, which requires women to be covered in public settings. She'll be sporting clothing that will cover her entire body, apart from her hands and face.
"I believe clothes offering full body covering aren't necessarily a hindrance," Gerami says. "In a day and age of such advanced technology and skills, there is bound to be a solution that would cover the body, but would not put the athlete at a performance disadvantage. I am super curious to know where this clothing journey will ultimately take me."
One thing's for sure: this expedition will take Gerami on a path that will ultimately change the way women of Islamic faith approach—and are permitted to approach—sport, especially triathlon.
"The journey to Ironman Kona has been real life," Gerami says. "It's been a journey where I have been touched very deeply and [I'm] extremely humbled by the support everyone has shown along the way. It has deepened my faith in the kindness, light and beauty in all human beings."
But Gerami has more in mind than just helping to eliminate a cultural divide. She's hoping that her garments will help to inspire women who may have other complications in regard to body exposure, including personal and health ailments.
"My hope is that by finding the right solution, the clothes would then provide an opportunity for more women to access sports," Gerami says. "Women who prefer to cover in order to respect religious or cultural values, personal modesty, body confidence issues, health and skin problems, [or] sun protection."
According to Gerami, triathlon is a relatively new sport in Iran and even though men are authorized to compete, their problem lies within race logistics.
"For men, it's not so much the question of obtaining permission to do triathlons, but the challenge lies in having access to good facilities, knowledge and coaching, funding, racing opportunities and experience—all that is needed to develop a sport in a place where it previously did not exist," she says.
Sharing in Gerami's cultural greatness is eight-time Ironman champ, Paula Newby-Fraser. Her role, rather than being a coach, is as a mentor, who reminds Gerami about the reality associated with being the focus of attention. Newby-Fraser encourages her to verbalize her feelings on her Ironman quest.
"What I'm learning on a daily basis is just how much the journey she has undertaken into mainstream triathlon is such a new territory for everyone," Newby-Fraser says. "Culturally, I am ashamed to admit that we are very naïve and ignorant in our understanding and appreciation of her heritage, and, yes, have been broadly lazy to make the effort to truly understand."
Newby-Fraser credits Gerami as being an individual who has the power to teach the world about objectives that are sometimes described as broad, unknown and unclear.
"People are always inspired and positive about what she is trying to achieve, but the doing and real action is quite different," Newby-Fraser says. "[The] calls, letters, sitting around embassies, facing the realities of moving around the world with deadlines, being caught in bureaucracies, [and] realizing that verbal support to help does not necessarily mean actually investing time, real resources and energy. By no means is this a negative—it's just the reality, and we have slowly but surely found a way to keep moving forward."
But for Newby-Fraser, the ride with Gerami has been awe-inspiring and humbling. "I'm 54 years old," Newby-Fraser says. "To feel and engage with the idealism and unjaded dreams and energy of a young woman in this day and age, I love [it] so much. It has been a gift."
As Saturday's world championship approaches, Gerami looks to do the unthinkable—to triumph on a stage that goes far beyond medals of accomplishment.
"For me, sports have always symbolized the unity of people in hard work, hopes and aspirations," Gerami says. "The bringing together of people from different walks of life in harmony, friendship and respect for each other—the celebration of the beauty in our diversity, and showcasing the best qualities of mankind."
http://www.si.com/edge/2016/10/07/shirin-gerami-iran-triathlete-ironman-world-championship-kona
--
Indonesia Launches Campaign To End Female Genital Mutilation (FGM) Practices
October 8th, 2016
Tunyati, the mother of a 7-month-old girl, had her daughter circumcised as soon as she was born and is convinced that she was fulfilling an Islamic religious duty.
"I'm following God's order and it's been done for generations," 36-year-old Tunyati says, holding her baby in her lap, gently rocking her as she speaks.
"Everybody in my extended family, male or female, was circumcised."
Many in Indonesia, the world's most populous Muslim-majority country, share Sunyati's belief.
A United Nations report released this year revealed that Indonesia, Egypt and Ethiopia are home to half of the estimated 200 million women and girls around the world who have experienced female genital mutilation.
The Indonesian government is now making a new push to end female genital cutting, after previous attempts were met with opposition from Islamic groups.
"We have formed a task force to approach religious leaders, traditional leaders and women's organizations to make them aware that the practice has to end," Yohana Yambise, minister for women and children, told reporters last month.
The UN figure for Indonesia is based on a 2013 basic health survey conducted by the country's Health Ministry, which found that 51 per cent of girls aged up to 11, or about 14 million girls, have experienced female genital mutilation.
No comparative data for Indonesia is currently available that would indicate whether the practice has declined over the years, the government said.
Globally, the percentage of girls aged 15 to 19 years old who have undergone cutting has declined from 51 per cent in 1985 to 37 per cent today, according to the UN.
"We have embarked on a big research project, and I hope based on the research we can come up with a new policy [on female genital mutilation]," Yambise said.
The 2013 government study found that female circumcision was found across all economic and education levels, with slightly higher rates for urban areas.
Nurlela Nurani, a 26-year old midwife at a maternity clinic in Tapos, on the outskirts of Jakarta, said the worse forms of female genital mutilation had been abandoned in the area.
"Some people have come here asking their daughters to be circumcised," she said.
"We told them we don't do that anymore because the government says it's a violation of children's rights and has no medical benefits," she said. "We only do the cleaning, not cutting."
Some Muslims believe that female circumcision can prevent odour and infections caused by the accumulation of secretions on vaginal lips. They also say it reduces the sensitivity of the clitoris and therefore diminishes sexual response.
"For boys, circumcision is obligatory, but for girls, it's recommended," said Hasanuddin Abdul Fatah, the head of the fatwa commission at the semi-official Indonesian Council of Ulema.
"The Health Ministry's ban is not in line with sharia and anything that sharia prescribes must have benefits," he added. "Now the question is: Are we following the Health Ministry or sharia?"
The Health Ministry banned female genital mutilation in 2006, but backed off four years later after pressure from Muslim organizations and allowed the practice to be carried out by health care professionals.
That regulation was then repealed in 2014, but there are no specific penalties for those who carry out female genital mutilation.
"Female circumcision isn't identical to female genital mutilation," said Wara P Osing, head of reproductive health promotion at the Health Ministry.
"Much of the practice in Indonesia is mainly ceremonial and does not cause injuries to the female genitalia," he said.
He acknowledged that female genital cutting was a sensitive issue in Indonesia.
"It's got a lot to do with the fact that some sections of the society believe that female circumcision is a tradition or a religious practice which has to be observed," he said.
Though statistics are unavailable, Osing said he believed the practice has decreased significantly thanks to growing awareness that female genital mutilation is a form of violence against children.
"Efforts to curb female circumcision cannot be made by the Health Ministry alone, because the problem is rooted in traditional and religious practices that have been passed from generation to generation," he said.
http://www.albawaba.com/news/indonesia-launches-campaign-end-female-genital-mutilation-fgm-practices-890562
--
Emir Sanusi Advocates For Codified Islamic Family Law
Oct 8 2016
The Emir of Kano, Muhammadu Sanusi ll has blamed lack of codified Islamic family law as a factor behind common misunderstanding among families in northern Nigeria. Speaking yesterday at the sideline meetings of the International Monetary Fund/World Bank Annual Meeting in Washington DC, he said Nigeria, with the largest Muslim population in Africa, has failed to codify its Islamic family laws, a situation that allows for several abuses against women and children, denying them most of their rights.
Emir Sanusi said the controversy of multiple interpretations of Islamic family law has made room for some citizens to introduce attitudes that are totally un-Islamic in the running of their family affairs. "In Kano, we came up with initiatives bringing together some experts in Islamic law from Bayero University, and other fields for deliberation on the possibilities of codifying the Islamic Sharia in family issues such as early marriage, girl-child education and reproductive health," he said.
"The essence is for them to look at the reforms taking place in other parts of the Islamic world and connect them with what is happening locally."
However, Emir Sanusi said, "There is always a challenge when reforms come from outside. Locals usually resist what they see as impositions. Sometimes you see people from Britain, America and France, and they come with priority issues such as domestic violence, child marriage and everything is thrown out, because they will ask 'what is this agenda for?'"
According to him, there have been only a few attempts to have significant reforms in some parts of the Muslim world.
http://www.dailytrust.com.ng/news/general/domestic-violence-emir-sanusi-advocates-for-codified-islamic-family-law/165772.html
--
URL: https://newageislam.com/islam-women-feminism/muslim-women-islamic-countries-enjoy/d/108801
New Age Islam, Islam Online, Islamic Website, African Muslim News, Arab World News, South Asia News, Indian Muslim News, World Muslim News, Women in Islam, Islamic Feminism, Arab Women, Women In Arab, Islamophobia in America, Muslim Women in West, Islam Women and Feminism