New Age Islam News Bureau
21 Nov 2015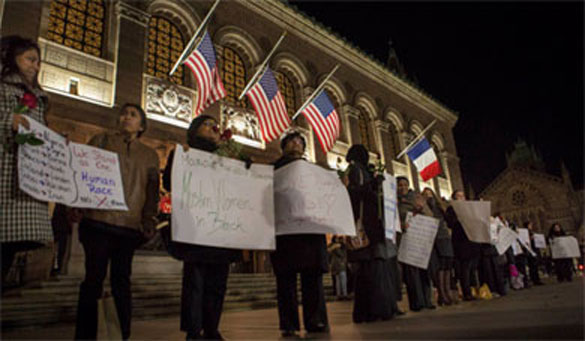 A group of about two dozen Muslim women gathered outside the Boston Public Library in Copley Square to mourn the victims in Paris in what they called a "silent vigil." (Jesse Costa/WBUR)
• Muslim Women Feeling 'Unsafe': Manitoba Islamic Association
• Muslim Women Hold Boston Vigil to Mourn Victims in Paris
• Women Not Dictated in India, Says Union Minister Smriti Irani Drawing Flak
• Bollywood actress Shabana Azmi, Worried about Intolerance, Says 'Dissent Must be Respected'
• India: In Gujarat, Five Muslims Held Under Law against Child Marriage
• Charismatic Aseefa Bhutto Zardari on Her Way to the Top
• UK Woman Found Guilty Of PKK Terror Offenses
Compiled by New Age Islam News Bureau
URL: https://www.newageislam.com/islam,-women-and-feminism/new-age-islam-news-bureau/muslim-women-feeling--unsafe---manitoba-islamic-association/d/105366
------
Muslim Women Feeling 'Unsafe': Manitoba Islamic Association
Nov 20, 2015
Manitoba's Muslim community feels threatened after recent acts of Islamophobia in Ontario.
"Especially women now, they are feeling [threatened] after the attacks [in] Toronto, everyone is feeling sometimes unsafe," said Eptifam Esshaki, spokesperson for Manitoba Islamic Association.
In Toronto, two women riding a subway on Wednesday were verbally assaulted and physically accosted, the Toronto Transit Commission reported.
On a separate public transit system in the Greater Toronto Area, racist graffiti against Muslim girls was discovered in a train washroom.
Last weekend, a mosque in Peterborough, Ont., was burned down, an act being treated as a hate crime.
There are concerns around the world that recent attacks in Paris could spur anti-Muslim violence. Recent instances of Islamophobia in Canada bring those threats closer to home, said Esshaki.
"Especially when we hear the news, attacking Muslim women with hijab and pulling them, threatening them and beating them up. I think it's a big threat for us, yes," said Esshaki.
She hopes that an open house this weekend will help prevent any assaults from arising in Winnipeg.
"We are hoping to reach out to other communities and other faiths to understand [Islam]," said Esshaki.
The annual open house at Winnipeg's Grand Mosque gives non-Muslims an opportunity to tour the mosque and ask questions, including about: "Islam, about terrorists, about women's rights, human rights, hijab/niqab, praying time," Esshaki said.
She said the questions do work to break down barriers, even if they may be difficult or expose potential Islamophobia.
"[The open houses] build bridges between the communities and better understanding [of] us and our community," she said.
The Grand Mosque's open house takes place on Sunday from 3 p.m. to 5 p.m. at 2445 Waverley St.
http://www.cbc.ca/news/canada/manitoba/muslim-women-feeling-unsafe-manitoba-islamic-association-1.3327662
---------
Muslim Women Hold Boston Vigil To Mourn Victims In Paris
Nov 21, 2015
In the wake of the terror attacks in Paris, a group of local Muslim women gathered in Copley Square Wednesday to mourn the victims.
About two dozen women gathered for what organizers called a "silent vigil" near the steps of the Boston Public Library in Copley Square. They stood in a line, quietly, carrying red roses and signs with messages like "Love trumps evil," "Pray for the world" and "Spread hope."
"In light of what's happened in Paris, we're here to show solidarity, and to show that we're here for humanity, essentially," said Hibah Nour, 26, of Shrewsbury, who attended the event.
The event was called "Muslim Women In Black: Mourning for Humanity." The vigil was also an occasion to acknowledge lives that have been lost in other "senseless acts of violence both abroad and in the U.S.," according to Malika MacDonald, of Everett, who helped organize the gathering.
She had teardrops drawn near her right eye to "show my sadness" and a piece of paper taped over her mouth that read, "But you don't hear me though." MacDonald said she feels Muslim women's voices are often silenced and she hoped the event would show people that Muslims are also grieving.
"It's important for us to come together and show the world that there is still hope," she said. "With each life lost, a piece of humanity is lost. This is not the world that I want for my children and my grandchildren."
Those gathered Wednesday said they felt anger, sadness and fear after the Paris attacks. Several also had Paris connections.
Nour said she has close friends who live in Paris, but none were hurt in the attacks.
"It hit close to home that at any moment or any given day that could have been me and my family," Nour said.
Melissa Bergstrom, 32, of Somerville said she has been worried about taking the subway or walking down the street since the attacks.
"I felt a deep sense of realization that this is what happens all over the world, and the fear that I'm feeling these last couple days is the fear that people all over the globe live with every moment," Bergstrom said. "It just makes me feel compassionate to every single person out there that's living in fear or that's dealing with something like this."
Bergstrom said she doesn't identify with any particular religious group and attended the event to connect with others and express what she has been feeling since the attacks.
"I had been searching online for a way to connect with the community and when I found this event I immediately knew that I had to be here in person showing support and just physically spending time with people that are hurting as well," Bergstrom said.
Among the group, there was also frustration and dismay over the attacks being linked to Islam. ISIS has claimed responsibility for the attacks. At the vigil, many said they feel the terrorist group misrepresents Islam.
"My faith does not involve violence," said Marwa Morgan, a Boston University graduate student from Egypt. "Even if there are some people who have radical ideas and who do things that are violent that doesn't mean that we all think the same way, and that doesn't mean that we all approve of what's happening."
Morgan said Islam teaches tolerance.
"I feel like I don't need to apologize every time something like that happens and say 'well this is not happening in my name,'" she said. "It's just pathetic that we start thinking that we need to say we disapprove [of] terrorism, because it should be common sense."
MacDonald also condemned ISIS and expressed frustration over how the group is associated with Islam.
"Everything that they stand for and everything that they perpetrate is completely contradictory to our teachings," MacDonald said. "If you were to kill one innocent person in this life, it's as if you had killed all of mankind, and that is quoted from the Koran."
Some who gathered Wednesday were also concerned about backlash toward Muslims after the Paris attacks.
Nour said her mother wears a head scarf, and since the attacks she has talked to her mother about being careful and paying attention to her surroundings. Nour also expressed disappointment over recent comments by some governors, who said they would not accept any more Syrian refugees.
"They've been running from these people that pose a threat to the entire world," Nour said. "The least we can do is help them. I can only imagine if we were in that situation, and we needed that help ourselves."
On Monday, Gov. Charlie Baker said he opposes allowing additional Syrian refugees to be resettled in Massachusetts until he knows more about the government's screening process. Of the 12 million Syrians displaced by civil war since 2011, fewer than 100 Syrian refugees had resettled in the state as of last month.
Nour said she'd like to see leaders come together to deal with these major issues.
"It's almost as though love is fading out and hate is taking over," Nour said. "So, I would love to see world leaders step up to the plate and help Syrian refugees."
That message of working together is exactly what MacDonald is hoping to spread.
"There's so many forces right now that are trying to divide us and instill fear in us," she said. "This is the first step to show the world that we are here, and we want to work toward peace hand in hand."
http://www.wbur.org/2015/11/19/paris-attacks-muslim-community-vigil
---------
Women Not Dictated in India, Says Union Minister Smriti Irani Drawing Flak
All India | Press Trust of India | November 20, 2015
NEW DELHI: Union Minister Smriti Irani today found herself in a spot when her remarks that women in the country are not told "what to wear, whom to meet and where to go", drew voices of dissent from an audience she was addressing.
"In India, I don't think any woman here is dictated what to wear, how to wear, whom to meet, when to meet....I am of the opinion, I don't think anybody is dictated here, you are not told," she said while interacting with American journalist Tina Brown at an event in New Delhi.
As many from the gathering vociferously disagreed with the Human Resource Development Minister's remarks, Ms Brown drew her attention to it.
Putting up a brave front, Ms Irani responded, "Are you told? I am sorry. I am not. My apologies ladies."
Backing her remarks, Ms Irani said she did not come from a celebrated family but an absolutely lower middle class family which told her to determine her own future.
The minister, however, admitted that there were challenges "which everyone has to face".
Asked about the debate on intolerance, Ms Irani said that "India is aware of its challenges but is also adept in handling those challenges through rule of law."
She emphasised that the country is secular where oath, even at the highest level, is taken on Constitution and not any religious book.
Ms Irani was also asked by Ms Brown about her earlier criticism of Prime Minister Narendra Modi and what made her change her stance later.
"I think I am a living example of Mr Modi's capacity to forgive. I am a living example of Mr Modi's capacity to recognise talent and to reason," Ms Irani said.
She said that in 2004 when PM Modi met her, he told her to not to judge him through newspapers articles but by his work.
http://www.ndtv.com/india-news/women-not-dictated-in-india-says-smriti-irani-drawing-flak-1245723
-----
Bollywood actress Shabana Azmi, Worried about Intolerance, Says 'Dissent Must be Respected'
Indo-Asian News Service | November 20, 2015
Bollywood actress Shabana Azmi on Friday expressed her solidarity with those who have been raising the issue of intolerance in the country. She said the growing intolerance was "worrying" and that the fringe elements needed to be "put down". (Also Read: Ashoke Pandit Slams Pahlaj Nihalani for Making James Bond Sanskari)
"The growing intolerance in the country is extremely worrying. The debate currently is not just about putting the fringe elements down, but also about respecting dissent," Shabanaji said while addressing a session at the Women in the World India Summit.
Shabanaji, a former member of parliament, stood her ground and said that in a pluralist country like India, "there are bound to be disagreements and dissent must be respected".
"Intolerance will continue, but the question remains how the state will deal with this," the actress said.
Many artistes and writers in the country have been raising the issue of growing intolerance in the country. Last month, a group of filmmakers returned their National Awards condemning the murders of rationalists like MM Kalburgi and recent killings related to rumours of beef-eating and cow slaughter.
http://movies.ndtv.com/bollywood/shabana-azmi-worried-about-intolerance-says-dissent-must-be-respected-1245582
------
India: In Gujarat, five Muslims held under law against child marriage
By Satish Jha
Nov 21, 2015
Five persons from the Muslim community have been arrested under the Prevention of Child Marriage Act (PCMA), 2006, by Gaikward Haveli police station. The accused — husband of the minor, three witnesses and the priest (Quazi) who performed the Nikah (marriage) — were later granted bail.
The development comes following a Gujarat High Court's directive on September 23 that allowed police to take action against the accused under the Act, noting that "the provisions of PCMA would prevail over Muslim personal laws".
"As per the court's order, we have booked the five persons in the case on Thursday and recorded their statements. They were arrested and later released on bail. We are probing it further," said senior police inspector V M Selar of Gaikwad Haveli police station.
Those arrested have been identified as Yunus Usman Shaikh, 28, a resident of Raikhad, who married the minor 12 years younger than him, Gulam Mohammed Aslam Safi Malek, 48, a resident of Jamalpur Chakla who allegedly performed the nikah. Three others were Vasim Diwan, 25, Sufiyan Shaikh, 25, both residents Raikhad, and Mujib Shaikh, 23, a resident of Danilimbda. On April 4, the girl's father had filed a complaint against Shaikh for alleged abduction and rape, and also under Section 18 of the Prevention of Children from Sexual Offences Act (POCSO), 2012. The girl was a standard XI student. Following the FIR, Shaikh moved the High Court through his lawyer Soeb R Bhoharia, seeking relief on the grounds that he was in love with the girl, who left her parental home on her own, and they got married. Justice J B Pardiwala ordered to quash the sections pertaining to rape, abduction and POCSO since Shaikh and the girl were "governed by their Personal Law that is the Mohammedan Law. A Muslim girl, who is above 15 years of age or has attained puberty, is at liberty to marry even if there is no consent from the parents."
http://indianexpress.com/article/india/india-news-india/in-gujarat-five-muslims-held-under-law-against-child-marriage/
---------
Charismatic Aseefa Bhutto Zardari on Her Way to the Top
November 21, 2015
ISLAMABAD - Charismatic Aseefa Bhutto Zardari is set to ease her way into practical politics which may see her lead the Pakistan People's Party one day.
The youngest daughter of former premier Benazir Bhutto made a soft entry by casting her first vote in Tando Allahyar in the second phase of Local Governments elections.
Her father Asif Ali Zardari, a former President and co-Chairman of the PPP, has always encouraged her to engage more in the politics.
Last month, her older sister Bakhtawar Bhutto Zardari was named the party's social media chief to assist her brother Bilawal Bhutto Zardari –the party chairman.
Bakhtawar's appointment marked the third generation of Bhutto women to join the party's leadership.
Her grandmother Nusrat Bhutto led the PPP after the execution of Zulfikar Ali Bhutto, and her martyred mother Benazir Bhutto was leader from November 1982 to December 2007.
There is plenty of support for Bilawal and Bakhtawar in the PPP but Aseefa enjoys more charisma like her late mother and grandfather Zulfikar Ai Bhutto.
'Voted,' she tweeted after casting the ballot for the first time.
"@AseefaBZ casts the 1st vote of her life," said Bakhtawar who accompanied her to Tando Allahyar.
Unlike her elder brother and younger sister, Bakhtawar has not been too enthusiastic about participating in practical politics but PPP workers believe it is her destiny as the heir of Zulfikar Ali Bhutto, Benazir Bhutto and Asif Ali Zardari.
Aseefa was born on February 2, 1993 and will attain the age of 25 – mandatory to contest polls - before the 2018 general elections.
There are strong signals from the PPP that all the three children of Benazir Bhutto will contest the next national elections.
The young daughter of Benazir Bhutto is famous among the young generation of Pakistan and among the lovers of the PPP.
She is completing her education from Dubai and is the ambassador of UNICEF for the treatment of polio in Pakistan.
She is famously the first Pakistani baby to be vaccinated against polio after her mother launched a major immunisation drive in 1994 and has since become a national ambassador for the campaign.
A close aide claim Zardari was eager to see Aseefa as the leader of PPP in future and has not been shy to express this desire.
A few months earlier, the former President said Aseefa would take part in active politics in next few years.
PPP leaders suggest Zardari wanted all his children to take part in politics and co-lead the party while he remains the mentor.
When Zardari was the President, between 2008 and 2013, Aseefa was regularly invited to join functions at the President's House or at the Prime Minister's House.
Analysts wonder whether she might have more campaigning fire in her belly than her brother Bilawal – roundly criticised for staying away during 2013 general elections - and whether she might ultimately emerge as the keeper of the Bhutto political flame.
Zardari himself believes Aseefa has the guts to lead the PPP and carry on her mother's mission in the years to come.
PPP leaders told The Nation, the rise of Aseefa will not mean the fall of Bilawal.
"They will lead together as a team," a party stalwart said.
Another PPP leader said most diehard workers see Benazir Bhutto in Aseefa and wanted her to take the top seat.
http://nation.com.pk/national/21-Nov-2015/charismatic-aseefa-on-her-way-to-the-top
---------
UK Woman Found Guilty Of PKK Terror Offenses
21 November 2015
An 18-year-old woman with Kurdish roots has become the first person in Britain to be convicted of joining the PKK.
Silhan Ozcelik was found guilty of preparing terrorist acts after she ran away from her family in an attempt to join the organisation, which Britain has listed as a terrorist group since 2001.
She told the court during her trial at the Old Bailey Criminal Court in central London that she had left to pursue a boyfriend in Brussels, but on Friday a judge told her she had been "stupid, feckless and deeply dishonest" and jailed her for 21 months.
The court was told Ozcelik had left her London home in October 2014 when she was aged 17, leaving behind letters and a 25-minute video message telling her family she was going to join the terrorist group.
Ozcelik, a British citizen whose family have Kurdish roots, left London on a train to Brussels on Oct. 27, 2014. She told the court she had arranged to elope because her family would have disapproved of the match, and that she decided to return to Britain on Jan. 16, 2015 because she ended up doing domestic chores.
The jury took less than a day to find her guilty of preparing terrorist acts between Oct. 1 and 27, 2014. She is believed to be the first British resident to convicted of ties to the PKK.
She was jailed for 21 months, including the eight months she has already served waiting for her trial.
The Metropolitan Police said they had no evidence Silhan Ozcelik had travelled as far as Turkey during her time outside of the U.K.
http://www.worldbulletin.net/europe/166555/greek-coast-guard-sinks-refugee-boat
---------
URL: https://www.newageislam.com/islam,-women-and-feminism/new-age-islam-news-bureau/muslim-women-feeling--unsafe---manitoba-islamic-association/d/105366