New Age Islam News Bureau
8 March 2013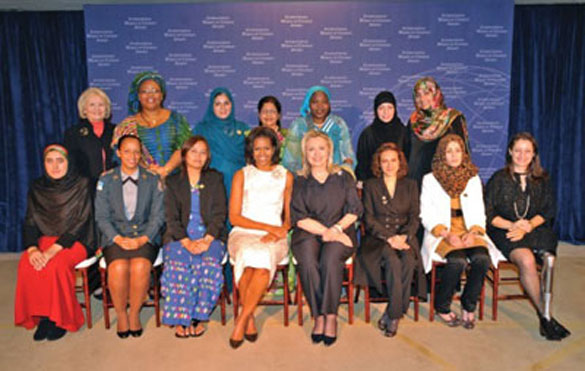 Photo: Shad Begum at the Women of Courage Award ceremony, flanked by US First Lady Michelle Obama and Secretary of State Hillary Clinton, in 2012. PHOTO: COURTESY SHAD BEGUM
---------
• The Drive to Control Female Sexuality Is Alive and Well in the Modern Arab World
• Women's Day: Thanking Those Who Do Thankless Tasks in the UAE
• Muslim Women Block Jews from Temple Mount, Police Intervene
• Indian Women Largely Excluded From Growing Sectors, Reveals an ILO Study
• Activist Samira Ibrahim Denied International Women of Courage Prize over Anti-US Tweets
• Defying hostile mindsets, Shad Begum, Winner of Courage Award, fights on
• Let's Have a Look on Personal Rights Guaranteed To Women in Islam
• UAE Women Put Their Family's Health before Their Own, Survey Shows
• Enable UAE Women to Rise to the Top, A Dubai Conference Is Told
• Somaliland: Police Force Deploys Newly Graduated Female Officers Nationwide
• Kuwaiti Women Balance Tradition and Equal Rights
• UN Women's Commission Begins Annual Session
• Muslim Women Speak Out In Global Online Exhibition
• Emirati Women Beat the Odds to Become Leaders in Higher Education
Compiled by New Age Islam News Bureau
URL: https://newageislam.com/islam-women-feminism/'muslim-women-being-subjected-exclusionary/d/10697
----------------
'Muslim Women Being Subjected To Exclusionary Practices'
Mar 8, 2013
All religious personal laws are discriminatory and must change..
Problems faced by the fair sex, particularly the Muslim women, came to the fore at an international conference here on Wednesday. There was a general consensus about the exclusionary practices suffered by Muslim women in society at large and within the community in particular.
The three-day conference on "Status of Muslim women in Indian sub-continent" got underway at the Maulana Azad National Urdu University (MANUU) with a call to go beyond the stereotype image of Muslim women and re-establishing their identity from an authentic Islamic perspective.
"The socio-political mobilisation in different parts of the world, particularly the "Arab spring" and the strong presence of women in it, is having a great impact. Women's rights would be central to the new Constitutions being framed in these countries," hoped Zoya Hasan, Dean, School of Social Sciences, JNU, Delhi.
In her key note address, Prof. Zoya said the socio-political mobilisation had picked up in India too, particularly after the horrific rape of the paramedic in Delhi. Yet the socio-economic status of women remained dismal. Even the Sachar Committee report, which was hailed as progressive, had missed the Muslim women aspect.
Prof. Zoya dwelled at length on the Shah Bano case and said the reversal of the apex court's verdict by the Rajiv Gandhi government had led to the intensification of communal politics in the 1990s. Subsequently, there was a strong advocacy for uniform civil code by the BJP. "There is agreement that all religious personal laws are discriminatory and must therefore change. Whether it should be through State-sponsored civil code or internal reform is the question," she said.
Muslim women in India, she said, faced many challenges. They also suffered disadvantages in education, employment and access to welfare programmes. Prof. Zoya regretted the emphasis on personal laws, when it came to Muslim women's rights as though they were entirely responsible for their problems. "This has resulted in glossing over the economic, political and social problems that define everyday experiences of Muslim women," she remarked.
Hameeda Naeem, Professor of English, Kashmir University, said the diverse views about Shariah laws and crisis in their implementation had become a road block in social justice for women. She wanted critics within Muslim community to come together for bringing out reforms.
Striking a dissenting note, Uzma Naheed, member, Muslim Personal Law Board, said there was no scope for change or improvement in Islamic laws. The condition of Muslims would have been different if they had followed Islamic teachings fully. She regretted that Muslim religious groups were not doing their bit for education and overall development of women of the community.
Vice-Chancellor, MANUU, Mohammad Miyan, said there was need for creating awareness about rights of Muslim women.
http://www.thehindu.com/news/cities/Hyderabad/muslim-women-being-subjected-to-exclusionary-practices/article4485441.ece
----------------
The Drive to Control Female Sexuality Is Alive and Well in the Modern Arab World
Mar 8, 2013
A millennium ago, a writer in Baghdad by the name of 'Ali ibn Nasr al-Katib produced a good sex guide called the Encyclopaedia of Pleasure. Among his top tips: "Conversation and kissing are particularly important when the sexual union is over because they are indicative of a lovers' kindness, where as silence, besides creating an embarrassing situation, would make the woman regret what she has done."
Fast-forward to the 21 century, and such sexual etiquette is in short supply--at least according to my female friends in Cairo. Azza, a forty-something middle class mother of three, summed their experience: "Five minutes, and it's only his pleasure." Forget French-kissing, forget foreplay. "He kisses her et cetera? That's not true—it's one minute only. After kissing, it's straight to sex, then he sleeps, then he watches TV."
Azza is not alone. I've heard her story time and again over the past five years as I travelled across the Arab region, talking to men and women about sex: what they do, what they don't, what they think and why. Sexuality might seem a strange focus in these tumultuous political times across in the Arab world. It is, in fact, a powerful lens with which to study a society because it offers a view not just into intimate life, but also of the bigger picture: politics and economics, religion and tradition, gender and generations that shape sexual attitudes and behaviours. If you really want to know a people, start by looking inside their bedrooms.
In today's Arab world, the only socially-accepted context for sex is heterosexual, family-sanctioned, religiously-approved, state-registered marriage—a social citadel. Anything else is "forbidden", or "shameful" or "impolite". The fact that large segments of the population in most countries are having hard time fitting inside the fortress—especially the legions of young people, who can't find jobs and therefore can't afford to marry—is widely recognized, but there is also widespread resistance to any alternative. Even within marriage, sex is something to do, not to discuss. And when sex is broached in public—in the media, for example—it is most often as a crisis or a scandal or a tragedy.
Even within marriage, sex is something to do, not to discuss.
On the face of it, there is plenty of bad news about—especially when it comes to women. The drive to control female sexuality is an age-old feature of patriarchy, and is alive and well in the modern Arab world, given new impetus by the rise of Islamic conservatives in the wake of the Arab Spring. It's reflected in statistics: in Egypt alone, 80 per cent of 15-17 year olds women are circumcised, in large part to tame their sex drive by cutting the clitoris, so the thinking goes; and less than 5 per cent of young women get any sort of sexual education from schools, routinely sent out of the classroom in the rare event that teachers indeed willing to teach the lesson. It's reflected in laws which, for example, allow rapists off the hook if they marry their victims, or lesser punishment for "honour crimes" (more often than not against women who are thought to have impugned their family's reputation through some sort of sexual infraction) or in higher burdens of proof for adultery by men than women.
And it weaves throughout the countless stories I heard of sexual double standards: young women, so fearful of losing their virginity and therefore their chances of marriage that they engage in anal sex to preserve their hymens thereby leaving themselves wide open to HIV. Or wives wanting more in the bedroom, but afraid to ask for satisfaction or show any initiative, lest they displease their husbands and get a reputation for having a past. Egypt, Tunisia, Libya, Yemen may have got rid of the father of the nation, but patriarchal attitudes still run deep—including among women, young and old, educated and less learned, who endorse, say, female genital mutilation or condone a husband divorcing his wife if she sexually strays or refuses to put out.
Sexual violence, in and out of marriage, is one of these tools of control. Its elimination is the theme of this week's negotiations at the United Nations in New York on the status of women and today's International Women's Day celebrations. As with anywhere else in the world, sexual violence is a regrettable fact of life in the Arab region. Just ask the more than half of young Egyptian women who experience sexual harassment on city streets, or the third of Tunisian women who have been abused by their nearest and dearest—including sexual violence—over the past year, or the women who are on the receiving end of rape as a weapon of mass destruction in the Syrian civil war.
Speaking out
Fortunately, women are proving themselves more than just victims. In Egypt, for example, the recent spate of sexual attacks on women in Tahrir Square, combined with a resistance to the Islamic conservatives' views of a woman's "rightful" place , are encouraging a growing number of women—and, thankfully, men as well—to stand their ground and speak out against sexual violence and a woman's right to the public space. This is a sign of the times, and part of a greater freedom of expression, and action, millions is now emboldened to exercise.
That being said, many women's rights groups in the region have been reluctant to address issues of sexuality beyond negative rights—freedom from coercion or discrimination or violence, for example. A woman's right to a sexual pleasure, for example, or to access sexual information or to express her sexual feelings and ideas, or her right to have children how and when she chooses (or not all) or her right to the tools to control her own body, such as abortion, or to keep the status of her hymen to herself, is not something most groups have wanted to touch with a bargepole—in part because of the social stigma around sex.
However, there is a new generation of women leaders and NGOs, like Nasawiya in Lebanon, or Muntada Jensenaya, which works with Palestinians, which are prepared to tackle these issues head-on. It isn't easy though; one of the region's leading new feminist groups, which is busy fighting for women's political engagement, both as voters and representatives (women occupy less than 10 per cent of parliamentary seats across the region) and economic empowerment (less than a quarter of women have jobs) —vital to achieving sexual rights, for sure—keeps its own youth sexuality education and empowerment programmes under wraps.
Politics, religion and sex are the three "red lines" of the Arab world: subjects you're not supposed to tackle in world or deed. But just as people in countries across the region are busy contesting received wisdoms in politics, and are starting to challenge of the role of religion in public policy, I hope they will start asking them same hard questions of sexual life. Critics who say that to talk of such matters is "un-Islamic" and a sell-out to the West, need to be reminded that theirs is not the only reading of the past and present, and that Islam—including the Prophet Muhammad himself—and Arab culture has a long history of celebrating sexual pleasure, for men and women. Achieving justice, freedom, dignity and equality in the bedroom, is an important part of realizing these goals in public life, and vice versa: the political and sexual are natural bedfellows.
Shereen El Feki is the author of Sex and the Citadel: Intimate Life in a Changing Arab World, published this week by Chatto & Windus
http://www.independent.co.uk/voices/comment/international-womens-day-in-the-arab-world-women-arent-supposed-to-talk-about-sex--let-alone-enjoy-it-but-that-might-be-changing-8526111.html
----------------
Women's Day: Thanking Those Who Do Thankless Tasks in the UAE
Ramona Ruiz
Mar 8, 2013
ABU DHABI // Today is a celebration of women's achievements but some have chosen to honour others' contributions.
Labour of Love UAE has partnered with ETA Ascon's welfare department to celebrate International Women's Day with the workers at MBM, a facilities management company. The majority are cleaning staff who are from Sri Lanka, Nepal, Bangladesh and the Philippines.
"Their continued service to us and contribution to their families and communities back home should not go unnoticed," said Angel Wesley, an American lawyer for a private company in Abu Dhabi who runs the charity.
"We all owe our gratitude to them for the thankless jobs they do, which make our lives easier and better in a lot of ways."
Like their male counterparts, the women have given up the comforts of family and a familiar culture to move away from their homes to a new country, she said.
Year-round, the charity gives female workers a break by planning activities to enrich their lives and enjoy time with others.
International Women's Day reminds women of their right to the freedoms and opportunities that allow them to pursue their ambitions, said Rita Mayer, founder of Libraries for Labour Camps.
"For the ladies in our labour camps, we commemorate this day with them to show them our support and encouragement that they may achieve these goals," she said.
"Showing our labourers appreciation helps give them validation and affirmation of their value in our society. Gratitude is a great way to impart dignity to those who are doing work that at times may feel undignified."
Babs Klijn, founder of Feel Great Helping, an informal network of volunteers that helps charities, shares the same view.
"International Women's Day provides a chance to celebrate hard-working women, whose strength and love for their families back home drives them to work in a foreign country, often away from their own children," she said.
Feel Great Helping ran one of the games organised by Labour of Love UAE at the West Coast ladies' camp in Mussafah last Friday.
"My desire to give back to this wonderful community that led me to get involved in volunteering and helping those who are less fortunate than me," said Ms Klijn, an Abu Dhabi resident for two years.
The non-profit Abu Dhabi Cause Connect is celebrating International Women's Day with a Pink Pilates class to honour breast cancer survivors in the UAE.
"It's very important to encourage and empower women to be strong, healthy, energised, and inspiring to be the leaders in the world," said Taghrid Khoury, a breast cancer survivor and a Pink Pilates instructor.
She offers free Pilates classes twice a month to breast cancer patients and survivors at her home studio.
"We celebrate and honour the inspirational women who have shown great strength and commitment raising nationwide awareness about breast cancer," said Mame Diop, a co-founder of the charity.
Members of the UAE branch of Gabriela, a Filipino women's rights group, are celebrating International Women's Day for the second year in Dubai.
About half of the 58 members are housemaids. To mark the occasion, there will be discussions to help women realise their worth and role in society, the various forms of violence against women and ways to prevent them.
"We'd like to let our women, particularly the domestic helpers, feel they're important," said Ana Marasigan, a member of the group. "They also need to know their rights as women and as migrant workers."
The group provides counselling, mostly to housemaids, who have suffered physical, psychological and sexual abuse in the hands of their employers. It also runs sessions for housemaids and office workers about violence against women.
rruiz@thenational.ae
http://www.thenational.ae/news/uae-news/womens-day-thanking-those-who-do-thankless-tasks-in-the-uae#ixzz2MwTwanfC
----------------
Muslim Women Block Jews from Temple Mount, Police Intervene
Police were forced to intervene Wednesday morning when Muslim women blocked Jewish tourists from reaching the Temple Mount. The site closed.
By Chana Ya'ar
3/6/2013
Police were forced to intervene Wednesday morning when Muslim women blocked Jewish tourists from reaching the Temple Mount, and ultimately the situation led to closure of the site for several hours.
Several Jewish groups were touring the area, according to Israel Police spokesman Mickey Rosenfeld, who told Arutz Sheva the Muslim women blocked the tourists and refused to allow them access to the site. Police were escorting each Jewish group, he added, to ensure their safety, and security officers immediately intervened to stop the confrontation.
However, a number of Arab men then arrived at the scene where the Al Aqsa mosque is also located, and joined the Muslim women's efforts to block the tourists.
As a precaution, police closed the site for a short period of time, Rosenfeld said, adding that the site was expected to reopen at midday, assuming there were no further problems.
"Police are assessing the situation after the two incidents that occurred this week," Rosenfeld told Arutz Sheva.
The incident marked the second time this week that Muslim women have succeeded in preventing Jews from accessing the holiest site in the Jewish faith.
Muslim worshipers also succeeded in forcing police to close the Temple Mount plaza this past Sunday due to a similar incident.
Former Labor MK Daniel Ben-Simon told Arutz Sheva that he spent a long and unpleasant wait to reach the holy area, only to be told it was closed due to "tensions."
There has been a long history of closing the Temple Mount plaza in the face of Arab anger against Jews on the site, which Muslim worshipers at the mosque often use as an excuse for violence and rioting, particularly after inflammatory Friday sermons.
A visit by then-Opposition leader MK Ariel Sharon in the year 2000 served as the excuse by PLO/Palestinian Authority Chairman Yasser Arafat to launch the Second Intifada (public uprising), also referred to in Israel as the Oslo War.
Israel's military is training at present for the possibility that the PA may soon launch a formal Third Intifada, a source said, although Israeli security officials have said they believe the Palestinian Authority is not interested in escalating the situation prior to the upcoming visit of U.S. President Barack Obama, slated to arrive in Israel on March 20.
IDF Spokesperson Brig.-Gen. Yoav Mordechai called on media to show "responsibility and caution" when referring to PA Arab violence as an "intifada on the way."
In a statement last week, Mordechai said, "For the past few weeks, I have been hearing declarations about an intifada that has supposedly broken out in Judea and Samaria. The power of prophesy was given to fools, and I do not know what the new day will bring," he wrote in a post on his Facebook page.
"But aren't some responsibility and caution required when making premature declarations of an intifada?"
http://www.israelnationalnews.com/News/News.aspx/165940#.UTm3StbfDqF
----------------
Indian Women Largely Excluded From Growing Sectors, Reveals An ILO Study
By Rukmini Shrinivasan, TNN | Mar 8, 2013
The number of women in India's workforce has fallen so sharply that it has skewed the global numbers, prompting an International Labour Organization investigation. The study has found that while higher educational enrolment and problems with data explain some of this decline, exclusion of women from fast-growing sectors of India's economy is a very real problem.
Labour force participation rate (LFPR) refers to the proportion of the working-age population that is either employed or seeking work. Female LFPR generally tends to be lower than male. Overall, female LFPR in India declined by 10% between 2005 and 2010. Out of 131 countries globally, the 2010 numbers place India 11th from the bottom.
Full report at:
http://timesofindia.indiatimes.com/india/Indian-women-largely-excluded-from-growing-sectors-reveals-an-ILO-study/articleshow/18858273.cms
----------------
Activist Samira Ibrahim denied International Women of Courage prize over anti-US tweets
Associated Press
Mar 08 2013
Washington: The Obama administration is postponing the award for the Egyptian activist, who rallied worldwide attention against forced "virginity tests" on female protesters.
The State Department announced earlier this week that Samira Ibrahim would be among 10 recipients of the International Women of Courage award presented by Secretary of State John Kerry and Mrs Obama today.
But State Department spokeswoman Victoria Nuland said the US would hold off on awarding Ms Ibrahim while officials investigate the tweets, which include support for attacks against US diplomatic installations and praise for a terrorist assault against Israeli citizens in Bulgaria.
Ms Ibrahim, who has already arrived in the US, says her account was hacked, though the comments stretch back several months.
Full report at:
http://www.indianexpress.com/news/activist-samira-ibrahim-denied-international-women-of-courage-prize-ov.../1085035/
----------------
Defying hostile mindsets, Shad Begum, Winner of Courage Award, fights on
By Baseer Qalandar
March 8, 2013
PESHAWAR: As Shad Begum collected her Women of Courage Award from the hands of US First Lady Michelle Obama in 2012, many at the ceremony were stunned to note that a woman from 'conservative and terror-plagued' Lower Dir could be worthy of such prestige.
Running a training institute for the handicapped in the Malakand division since 1994, the activist cum entrepreneur imparts technical training to people with disabilities. Her services were recognised globally on International Women's Day last year.
Full report at:
http://tribune.com.pk/story/517526/defying-hostile-mindsets-shad-begum-fights-on/
-----------
Let's Have a Look on Personal Rights Guaranteed To Women in Islam
Posted on: 08 Mar 2013
New Delhi: Islam is a magnanimously monotheistic religion and followers of this religion are called Muslims. However, there are so many myths about the practices of Islam especially with regard to the personal rights of women. Those who are unfamiliar with the faith, often have misunderstandings about its teachings and practices. One of the most common misconceptions is to consider it misogynistic (anti-women) religion in the light of the practice among Muslim women to keep their whole bodies including their faces veiled, ensuring no say in the matter of divorce and restrictions on the various normal functions.
Full report at:
http://post.jagran.com/lets-have-a-look-on-personal-rights-guaranteed-to-women-in-islam-1362733597
----------------
UAE women put their family's health before their own, survey shows
Emily Cleland
Mar 8, 2013
ABU DHABI // Three in five women between the ages of 41 and 50 put their family's health ahead of their own, even though half of them have average or poor health, a survey has found.
The study was released ahead of International Women's Day today.
Just 19 per cent of women in that age bracket exercise daily, compared with 35 per cent of similarly aged men.
Full report at:
http://www.thenational.ae/news/uae-news/health/uae-women-put-their-familys-health-before-their-own-survey-shows#ixzz2MwTouk73
----------------
Enable UAE Women to Rise to the Top, A Dubai Conference Is Told
Vivian Nereim
Mar 8, 2013
DUBAI // Women need more accommodating work environments to rise to the top, a conference heard.
Flexible hours, the ability to work from home, access to reliable childcare and better maternity leave would help women to more easily reach leadership positions, said Khuloud Al Nowais, chief sustainability officer at the Emirates Foundation for Youth Development.
"Women are inherently productive beings that are expert multi-taskers, but we need enabling environments to support our success," Ms Al Nowais said.
Full report at:
http://www.thenational.ae/news/uae-news/enable-uae-women-to-rise-to-the-top-a-dubai-conference-is-told#ixzz2MwWApxvZ
----------------
Somaliland: Police Force Deploys Newly Graduated Female Officers Nationwide
By: Latifa Yusuf Masai
MANDERA (Somalilandsun) - The police training college has graduated its 26th batch of recruits which is solely composed of Female officers who are to serve in various stations of the country.
At a graduation ceremony officiated by The minister of Interior Hon Mohamed Duur Arale at the police academy in Mandera district 150 female police officers took oath to enforcement the law and order thus official deployment to various duty stations nationwide.
Also in attendance to witness the graduation at the colourful were the Minister of Justice Hon Hussein Ahmed Aideed, national police commissioner Gen Abdilahi Fadal Iman, Prisons commissioner, UNDP representatives and relatives and friends of the graduates.
Full report at:
http://somalilandsun.com/index.php/politics/government/2425-somaliland-police-force-deploys-newly-graduated-female-officers-nationwide
----------------
Kuwaiti women balance tradition and equal rights
By Madison Ferril
Mar 8, 2013
For many Americans, thinking of Kuwait may spark thoughts of the First Gulf War.
However Dr. Alessandra Gonzalez, an alumna and research fellow with the Baylor Institute for the Study of Religion, thinks of feminism. Gonzalez is the author of the book ­ "Islamic Feminism in Kuwait: The Politics and Paradoxes." It brings the paradox of feminism in this small Middle Eastern country to the forefront.
Gonzalez said she became interested in Islamic feminism while searching for a topic for her dissertation.
Full report at:
http://baylorlariat.com/2013/03/08/kuwaiti-women-balance-tradition-and-equal-rights/
----------------
UN Women's Commission Begins Annual Session
Mar 8, 2013
TEHRAN (FNA)- The United Nations commission focusing on women kicked off its annual session with a call to eliminate violence against women and girls.
"Ending violence against women is a matter of life and death," Deputy Secretary-General Jan Eliasson told the opening of the two-week session of the Commission on the Status of Women in New York on Monday, the UN News Center reported on Tuesday.
"The problem pervades all countries, even in the most stable and developed regions," Eliasson added.
Full report at:
http://english.farsnews.com/newstext.php?nn=9107150270
----------------
Muslim Women Speak Out In Global Online Exhibition
March 6, 2013
"MUSLIMA: Muslim Women's Art & Voices" Features Fearless Reformers, Renowned Artists and Emerging Talent
By The International Museum of Women
MARCH 6, 2013
SAN FRANCISCO — /PRNewswire/ -- The International Museum of Women (IMOW) announces the debut of MUSLIMA: MUSLIM WOMEN'S ART & VOICES (muslima.imow.org) a groundbreaking international collection of artwork, stories and ideas from contemporary Muslim women. The free online exhibition features exclusive interviews with leading women's rights advocates from countries including Iran, Afghanistan, and Bosnia and showcases the barrier-breaking creativity of female artists from every region of the world.
Full report at:
http://www.heraldonline.com/2013/03/06/4670697/muslim-women-speak-out-in-global.html#storylink=cpy
----------------
Emirati Women Beat the Odds to Become Leaders in Higher Education
Melanie Swan
Mar 8, 2013
DUBAI // Like many countries around the world, the UAE has a major imbalance in the number of women in leadership roles within higher education.
While there are many school head teachers, the same cannot be said at the country's colleges and universities.
Dr Muhadditha Al Hashimi, the first woman to become a director within the federal Higher Colleges of Technology (HCT), is looking to change this as she takes charge of Sharjah Women's College.
Full report at:
http://www.thenational.ae/news/uae-news/education/emirati-women-beat-the-odds-to-become-leaders-in-higher-education#ixzz2MwTfAJtq
----------------
URL: https://newageislam.com/islam-women-feminism/'muslim-women-being-subjected-exclusionary/d/10697