New Age Islam News Bureau
12 Nov 2016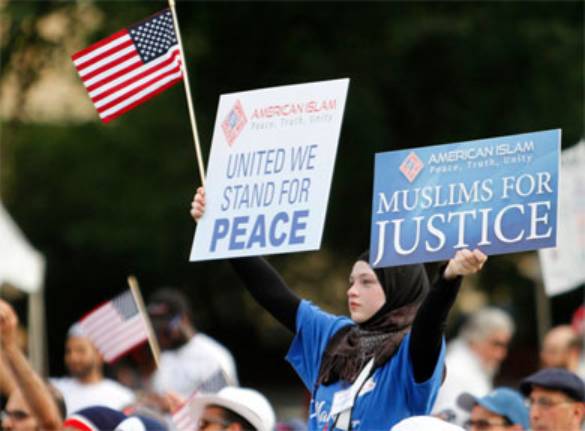 Muslim women across the country have reported being attacked by white Trump supporters after the election. ANDREW BIRAJ/GETTY IMAGES
------
• FIA Arrests Nadra Official for Allegedly Issuing Fake CNIC To 'Afghan Girl' Sharbat Gula
• Housewife Standing Trial for Social Media Post
• Buhari Urges Muslim Women to Strive For National Prosperity
• Muslim Women in Singapore Speak Out
Compiled by New Age Islam News Bureau
URL: https://www.newageislam.com/islam,-women-and-feminism/new-age-islam-news-bureau/muslim-women-across-america-face-attacks-in-the-wake-of-donald-trump-s-win/d/109086
-------
Muslim Women across America Face Attacks in the Wake of Donald Trump's Win
12/11/2016
U.S. voters elected Donald Trump as president on Tuesday, and many people's worst fears are coming true as violence breaks out against people of color across the country. One of the most aggressively targeted groups is Muslim women.
In 48 hours since Election Day, Muslims, African-Americans and Mexican-Americans have reported being verbally and physically attacked just two days after Americans elected a candidate who called Mexican immigrants "rapists" and said he would try to ban Muslims from the United States. Now, people of color are trying to figure out how to respond.
Some attacks are being carried out in Trump's name. A woman at San Diego State University alleges that two men robbed her after they made comments about Trump and Muslims. Another woman reported that a Trump supporter pulled a knife on her friend while they were on a bus on the University of Chicago Urbana-Champaign campus. Leena Aggad, a Muslim woman in Albuquerque, New Mexico, said a man tried to rip her hijab off.
"I am, of course, scared about the Islamophobic acts of terror and I definitely think more will occur," Aggad told The Huffington Post. "With Trump being president, a lot of people are, I feel, more encouraged to act upon their racist ideas."
While these attackers reportedly targeted Muslim women, other groups have experienced similar aggression. Social media was flooded with testimonies of racial targeting. The University of Kansas is now recruiting volunteers to escort students who feel unsafe to class.
This is one of the biggest worries for people who are scared of Trump's rhetoric — that because he won the election, people feel justified in their hatred of people who aren't like them, and will turn to violence. Many Muslims woke up in an America where they no longer felt safe to walk the streets, especially in conservative cities and neighborhoods.
"Me and my family are scared to live our lives, honestly," Aggad said. "I now have to protect myself with pepper spray and other forms of defense, when I should feel safe in my own hometown. I want the best for this country, and unfortunately, Trump is not what's best."
Now, Muslim women across the country are having to make sacrifices. Due to concerns about safety, some are considering taking off their Hijab, a headscarf that is an emblem of faith and is worn for a variety of personal reasons.
Following the Sept. 11 terrorist attacks, there was a spike in hate crimes against Muslims. The tension died down for a time, until recently. The rise of the Islamic State group, paired with Trump's anti-Muslim rhetoric, means hate crimes against Muslims have returned to their 2001 levels.
Muslims are rallying together to find a solution. For the Council on American-Islamic Relations, an organization dedicated to advocacy and outreach for the Muslim community, there's plenty of work that needs to be done.
The Dallas chapter, which has been busy over the past year trying to combat armed vigilantes protesting outside mosques in the area, plans to host outreach events and self-defense workshops. That these events have become commonplace is a reality Salem said her community has to accept.
"This is a realization of our worst fear," Salem said. "But this is it — we're in this situation. We have huge concerns, but at the same time, there's an overwhelming call to get busy."
In an attempt to quell the instability, CAIR released a statement on Thursday calling for Trump to repudiate the attacks his supporters have carried out. Although he's concerned, Salem remains optimistic and urges fellow Muslims to stay level-headed.
"We're a not a community of despair, we're a community of action; a lot of it is empowering each other to go about our daily business," said Salem, who wears a hijab. "But we need active community leaders. We get behind our computer screens and get whipped into a frightened emotional state ... we have to focus on safety, but life also has to go on."
Violence has increased only days after the election, but with at least four years of a Trump presidency looming, there is much uncertainty about what will happen next. Even if the attacks do slow down, many Muslims are wondering when they will be able to feel safe in America — if ever.
The Huffington Post is documenting the rising wave of anti-Muslim bigotry and violence in America. Take a stand against hate.
http://www.huffingtonpost.in/entry/attacks-muslim-women-trump_us_5824f46ce4b0ddd4fe798f10
--------
FIA arrests Nadra official for allegedly issuing fake CNIC to 'Afghan girl' Sharbat Gula
ALI AKBAR
November 12, 2016
The Federal Investigation Agency (FIA) on Friday arrested an official of the National Database and Registration Authority (Nadra) for allegedly issuing a fake Computerised National Identity Card (CNICs) to Nat Geo's famed 'Afghan Girl' Sharbat Gula.
Nadra's Assistant Director Amaad was arrested during a raid in Peshawar and presented before the judicial magistrate. The official had been suspended last year prior to an inquiry into the case and then absconded, DawnNews reported.
After a court hearing, Amaad was sent on physical remand for three days.
The FIA had earlier lodged FIRs against the three Nadra officials over charges of issuing fake CNIC to Sharbat Gula. However, the remaining two suspects, also assistant directors at Nadra, were granted bail before arrest by the court.
Sharbat Gula was arrested by the FIA on October 26 from her home in Peshawar for alleged forgery of a CNIC.
Bibi had Pakistani and Afghan ID cards in her possession both of which were recovered from her, FIA sources said at the time.
Gula was sent to prison on judicial remand by a local court in Peshawar after she declined to confess her guilt in a case of alleged forgery for getting Pakistani CNIC. The court also ordered her deportation.
Later, the Khyber Pakhtunkhwa government decided to stop her deportation on humanitarian grounds and as a goodwill gesture towards Afghanistan.
However, Sharbat Gula refused to stay in Pakistan and left for Afghanistan earlier this week, where she was welcomed by President Ashraf Ghani.
http://www.dawn.com/news/1295684/fia-arrests-nadra-official-for-allegedly-issuing-fake-cnic-to-afghan-girl-sharbat-gula
--------
Housewife standing trial for social media post
November 12, 2016
Yusniar, a 27-year-old housewife, never thought that a comment on her personal Facebook account would put her in detention, lead to a trial and possibly send her to jail.
A resident of Jl. Sultan Alauddin in Makassar, South Sulawesi, Yusniar has been charged with violating the 2008 Electronic Information and Transactions (ITE) Law and the Criminal Code (KUHP) on defamation, which carry a maximum penalty of six years in prison.
She was detained by the Makassar prosecutor's office on Oct. 24 and has been undergoing trial at the Makassar District Court since Nov. 2.
The case began when Sudirman Sijaya, a councilor of the Jeneponto legislative council in South Sulawesi, who said he was also a lawyer, filed a report against Yusniar over a Facebook post.
She wrote a status on March 14 in Makassarese that read: "Thank God. The problem is finally over. Stupid councilor, stupid lawyer. [You] want to help a guilty person, [but it is] clearly my parents' land [that you] came and disturbed."
The post came a day after her parent's house on Jl. Sultan Alauddin was attacked by 100 people, including Sudirman. Yusniar did not mention any names in her status.
Yusniar's lawyer, Abdul Azis Dumpa of the Makassar Legal Aid Institute (LBH), said on Thursday that the charge was forced and did not have any legal standing.
"The status on my client's Facebook account did not contain elements of insults or defamation because no name was mentioned. The plaintiff does not have legal standing," he said.
However, Sudirman insisted that the status clearly referred to him and was publicly known about.
"I didn't know about Facebook. I know about the status because many people told me that I was abused and insulted," he said.
Meanwhile, Yusniar questioned the case, saying she wrote the status simply as a form of expression as she was emotional after the mob damaged her parents' house. The property had been involved in a family dispute between her father Baharuddin and his sister Daeng Kebo.
Efforts to settle the dispute were made by the Pa'baeng-baeng subdistrict administration but Daeng Kebo failed to attend.
"All of a sudden on March 13 a group of some 100 people came, promptly damaging [the property], but we stopped them," Yusniar said, adding that someone then yelled, "Just demolish it! I am a councilor and a lawyer".
"In fact we did not know who had come," she said.
Tamalate Police personnel stopped the mob from demolishing the house. The police also organized a meeting between the two disputing parties and Sudirman prepared a document for a peaceful agreement. The case was not taken to court and Baharuddin considered it over.
The event inspired Yusniar to write the Facebook status that later led to her detention. She and her father visited Sudirman three times in Jeneponto to apologize and ask him to halt the case, but Sudirman refused, she said.
Two proposals for suspended detention have been filed but have not yet been granted.
The case adds to a list of people implicated in crimes because of the draconian law, which has been deemed by the public as a threat to freedom of expression. The most infamous was housewife Prita Mulyasari, who was declared guilty and sent to prison for complaining about OMNI International Hospital in 2009 through a private email that went viral. The most recent case involved a man in Medan, North Sumatra, who was sentenced to 14 months in prison in August for being tagged in a story on Facebook.
The House of Representatives passed a revised draft of the ITE Law on Oct. 27, which provided more detail on online defamation to prevent multiple interpretations. However, further steps are pending and the law has not yet taken effect.
http://www.thejakartapost.com/news/2016/11/12/housewife-standing-trial-for-social-media-post.html
--------
Buhari Urges Muslim Women to Strive For National Prosperity
November 12, 2016
President Muhammadu Buhari has urged Muslim women not to despair but strive to keep alive the hope for a better Nigeria. In doing this, the President appealed to the citizens not to relent in praying for his administration.
The President made this remarks at the 31st Annual National Conference of the Federation of Muslim Women's Association of Nigeria (FOMWAN) held in University of Lagos Main Auditorium, Akoka, Lagos.
Represented by All Progressives Congress (APC) National Leader Asiwaju Bola Ahmed Tinubu, Buhari said his administration was poised to surmount the present challenges.
He said: "The leadership we have come to offer our dear nation, Nigeria, is one that is committed to leading the people into the enduring heritage of worthy values and all-pervading welfare.
"As required by sense of responsibility in leadership, we wish to admit that the period of economic hardship that has coincided with our assumption of office till date, is a most demanding one.
"This is one stretch of a time exerting serious pressure on every household. It therefore implies that the impact would be more on women, as managers of resources for families. This is the reason our party, the All Progressives Congress, has been voted into power. Clearly, the journey has been inevitably rough.
"I urge you not to despair, but pray and trust in almighty Allah, the only one that can guarantee the safe berthing of ships, irrespective of any magnitude of turbulence on the high seas."
In the speech that was read by Osun State Governor Rauf Aregbesola, Buhari urged Nigerians to complement and support government's efforts to take the country out of the present economic challenges.
He reiterated his administration's commitment to women's welfare as demonstrated in the rescue, rehabilitation and re-integration of the 21 released Chibok girls.
He added that government would not relent in securing the release of the remaining girls.
Advertisement
The President hailed FOMWAN and congratulated the umbrella body of all Muslim women organization in the country on their 31st yearly National Conference.
Aregbesola in his own capacity as a special guest commended FOMWAN for restoring sanity in the society.
He described women as nation builders, enjoining them not to relent in shaping the society in positive ways.Lagos State Deputy Governor, Dr Idiat Oluranti Adebule, lauded FOMWAN for their consistency in discussing relevant issues since its establishment 31 years ago.
Adebule said: "There can be no more appropriate time than now to use our influence as women to correct the negative perception of Islam due to the activities of those who use the platform to perpetrate heinous crimes against humanity."
The guest speaker, Dr. Abdul-Hakeem Abdul-Lateef, Lagos State Commissioner for Home Affairs, said peace and security could be attained when Nigerians change their negative attitudes and collectively support government to transform the nation.
"We must also have respect for the rules and Nigerians must unite for prosperity. If we adhere to all these, development will set in,'' he said.
FOMWAN National President Hajia Amina Omoti said the peace and security were important components for development in any society, adding: "Where peace and security are threatened, there will be no development in terms of the infrastructure, social, economic and educational sectors of the nation.
"We urge government to formulate and implement policies to meet the immediate needs of Nigerians as a way of ensuring peace and security."
Hajia Omoti lauded President Buhari's anti-corruption stance and urged the administration to pursue to a logical conclusion all cases against corrupt officials that contributed to the current hardship faced by Nigerians.
She also commended the Federal Government's efforts on the release of 21 of the abducted Chibok girls and called for sustained negotiation for the release of the remaining girls.
https://www.today.ng/news/nigeria/213363/buhari-urges-muslim-women-strive-national-prosperity
--------
Muslim women in Singapore speak out
NOVEMBER 12, 2016
When Nurul Huda Rashid was in primary school, a classmate pointed at her arm and asked: "How come you're so dark and have hair on your hands?"
She did not answer, burning instead with shame and anger.
When she got home that day, she grabbed her father's shaver and held it to her arm, "slowly and quietly shaving away that shame and anger" – until her mother walked in.
The next day, she went to school with just one arm shaved.
Nurul's story is one of the 31 deeply personal accounts that make up a new e-book of essays and poems by young Muslim women in Singapore.
Perempuan: Muslim Women In Singapore Speak Out is an honest and unapologetic look at these women's experiences and their struggles to balance cultural and societal expectations with their own individuality.
Written mostly in English, with a couple of entries in Malay, the 186-page book is curated by Gender Equality Is Our Culture, an Aware (Association of Women for Action and Research) project aimed at promoting the understanding that women's rights are compatible with the culture of Muslims in Singapore.
The book, which delves into issues such as gender roles, body image, sexual identity, and rites and rituals in the Muslim community, can be purchased from major e-book retailers, including Amazon, iBooks and Google Play Books.
A limited run of 100 physical copies will be available and can be pre-ordered for S$9 (RM27) from the Aware website (tinyurl.com/jte57uj) until Sunday.
Nurul's essay, "The Why And Why Not Of Being An Indian Muslim Woman", is a revealing account of stereotypes at play as she recounts the barrage of questions that she has received about her identity over the years.
Some were curious to know why she claimed to be Muslim when she was Indian – with a classmate pulling her hand up to another Indian girl's to compare their skin colour.
At university, where she wore the tudung, other questions came her way: "How come you can speak good English?" or, referring to her jeans, "Usually, women who wear the tudung don't wear such 'modern' clothes".
Nurul, now a 33-year-old lecturer – she declines to say where – says: "We somehow live in a society that seems rather comfortable with stereotypes. I don't feel compelled to 'break free' from supposed stereotypes because I aim to be who I am.
"But when it comes to the 'breaking' of stereotypes, I believe it's the task of those who bear or impose said labels – especially onto others – to recognise the problems that come with such a way of thinking. It's largely their responsibility to not subscribe to such categories, and they should learn to free themselves of it."
Her essay was among the submissions Gender Equality Is Our Culture received during an open call for stories in June.
Its project coordinator, Filzah Sumartono, 26, says a recurring theme among the submissions was that of choice: These women wanted to have a say in what they wore, what they did with their bodies and whom they could be with.
"Even in modern, multicultural Singapore, being a Muslim woman still comes with myriad social pressures, expectations and harmful stereotypes – all of which ought to be critically addressed in our everyday social interactions and in our national conversation," she says.
The stories in Perempuan discuss stereotypes frankly and deal boldly with taboo topics such as discrimination.
Filzah says of the decision to take on thorny topics: "We have shied away enough."
"In all of society – including among Muslims – we need to better understand diverse experiences of gender, sexuality and culture. We can start by listening to the stories that every person has about herself and seeking to understand that different lives can co-exist."
Staying silent on some of these topics just because they are tough to talk about does no one favours, she adds. Not openly discussing discrimination, for one thing, helps breed harmful stereotypes.
In a cheeky piece titled "A Muslim Woman's Guide To The Workplace", a woman who wants to be known only as Raudah recounts her experiences at the office – from sitting through entire conversations conducted in Mandarin to dealing with comments such as "Eh, you wear like this very nice. You look like Halimah Yacob". Halimah is the Speaker of Singapore's Parliament.
Women who wear their religion on their heads share their thoughts on the tudung – and the expectations it brings too.
Nurul Fadiah Johari, 27, who started wearing the tudung at 11, has always struggled with the double standards imposed on people who don the tudung, "as though they are placed on a higher moral plane and thus expected to be perfect human beings".
"When public morality is weighed so heavily upon how one dresses, it creates a lot of pressure on the individual to conform and so I wanted to speak about such issues," says the graduate student at the National University of Singapore.
She wrote two stories for the book, as an act of catharsis and a way to make sense of her journey and struggles. Through her stories, she says, she wanted readers to understand that the road to self-acceptance is a tough one.
"I also wanted readers to know that it is perfectly human to have struggles with spirituality, self-expression and seeking autonomy, especially in a social environment which demands Muslim women to be submissive and accepting of what is expected of them," says Fadiah.
"I wanted to be raw and honest in my writing, even if it challenges dominant interpretations of the religion. I wanted my readers to know that it is all right to be angry, or even sometimes have conflicting sentiments, with certain social norms and expectations because it means that we are actively negotiating with society." – Straits Times/Asia News Network/Nur Asyiqin Mohamad Salleh
http://www.star2.com/culture/books/book-news/2016/11/12/muslim-women-in-singapore-speak-out/
--------
URL: https://www.newageislam.com/islam,-women-and-feminism/new-age-islam-news-bureau/muslim-women-across-america-face-attacks-in-the-wake-of-donald-trump-s-win/d/109086
New Age Islam, Islam Online, Islamic Website, African Muslim News, Arab World News, South Asia News, Indian Muslim News, World Muslim News, Womens in Islam, Islamic Feminism, Arab Women, Womens In Arab, Islamphobia in America, Muslim Women in West, Islam Women and Feminism, Moderate Islam, Moderate Muslims, Progressive Islam, Progressive Muslims, Liberal Islam