New Age Islam News Bureau
22 Dec 2012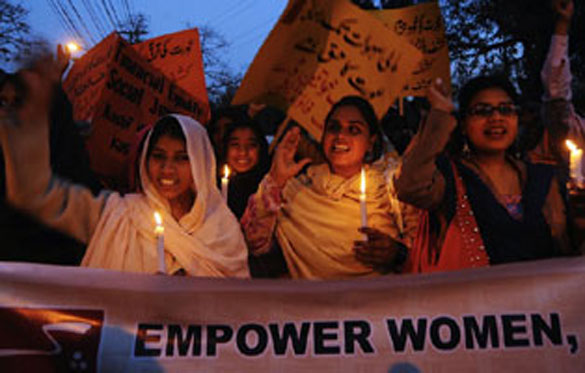 • Mother of 'I am a bomb' T-shirt boy in French court
• Qur'an answered all my questions: Maryam Jemeelah
• Women: Provisions of constitution seen as a threat to hard-won gains
• Maldives: Attorney General drafts bill outlining executing death sentence, favours lethal injection
• Saudi Arab: Mentoring the modern Muslim woman
• Pakistan: Rights of Working Women's day today
• Woman gets one-year jail for N-material export
• Forum for Businesswomen in Islamic Countries concludes in Bahrain
• Long Island Hospital to Repair Afghan Girl's Shattered Face
• Africa: Ahead of Tomorrow's Glamorous Event - Face of Fashion 4 Africa Contestants Speak
• 3.5 million children miss polio vaccine: WHO
• Women being empowered in line with Benazir's thinking: Tauqeer
• Muslim women at work in UK
• Manhunt after 2 women go missing
• Woman killed as train rams rickshaw
• One killed as Nigerians quarrel over girl
Compiled by New Age Islam News Bureau
Photo: Pakistani human rights activists hold candles march (File)
URL: https://newageislam.com/islam-women-feminism/muslim-women-mutual-divorce-talaq/d/9775
------------
Muslim women & mutual divorce: Talaq should not be exercised by husband without wife's consensus
Dec 19, 2012
M Y KHAN
In a first, some Muslim women have raised their voice against unilateral divorce by Muslim males. The issue raised by a female organisation in Mumbai is that talaq (divorce) should not be exercised by a husband without a consensus with his wife and that women too should have the right to divorce a husband. One has to examine this issue from the Shariah (Muslim law) point of view.
The Quran has specifically directed Muslims that nikaah (marriage) has to be completed with the positive agreement of a man and woman without any pressure before two Muslim witnesses, and a wakeel (a representative lawyer) and qazi (cleric) has to execute this agreement.
A nikaah agreement is a legal document and it does not contain any provision of a right of unilateral talaq to be exercised at will by the husband.
The Quran recommends a counselling process and mutual negotiation under the guidance of a qazi and four other sober persons. If no solution satisfying both husband and wife is possible, then talaqcan be uttered three times in consecutive three months, during which months the husband and wife can reconsider their stand. Thus, a Muslim husband has to go through a process and divorce is the last alternative.
Unfortunately, Muslims hardly follow Quranic procedure and most of the time, they exercise talaq three times in minutes. It is ironical that no maulvi (expert on Islamic studies) has raised any objection when a male person does not divorce his wife on the basis of Quranic laws.
As regards women's right to divorce a husband, she can dissolve the marriage by following a procedure of khula (arbitration). The arbitrator should be a highly honest Muslim, or both of them can go for arbitration to a civil court.
The government of a country can recognise the civil court as a civil arbitrator for divorce by a woman. However, it may be clarified that Islam does not speak of a civil court, but a civil court can only work as arbitrator.
The grounds for a decree of dissolution of a marriage according to the Muslim Act followed in some Muslim countries are (a) whereabouts of a husband are not known for four years, (b) husband has neglected or did not provide for her maintenance or he has been sentenced to imprisonment for seven years, (c) husband has failed to perform without reasonable cause marital obligations for a period of three years, (d) he is impotent or suffering from leprosy, (e) he is cruel and attacks his wife or compels her to adopt an immoral life, and (f) he obstructs her religious duties and he has more than one wife without her consent.
For a woman, it is not necessary to get separation from her husband only through a divorce, she can legally stay in separation from her husband if she is capable of financing her expenditures. However, there is a Hadith (the Prophet's sayings) that even if a woman does not give any reason for divorce, she can still get a divorce by presenting her case to the arbitrator.
In this case, the whole issue is that she should have a capacity to earn or have a regular income. In view of this, it becomes necessary that Muslims should provide education compulsorily to their daughters and there should not be any objection to their working outside the house.
Muslims have to make efforts to set up educational institutions, general as well as professional, so that a Muslim woman also becomes capable of facing the challenges of a man's world. NGOs should try hard and, in fact, should accord spreading education among Muslim girls the status of a movement.
Unfortunately, the experience is that even in women's institutions, Muslim girls are withdrawn from education after matriculation or, at the most, after the XIIth standard. In technical institutions like MBA or engineering colleges, Muslim girl students are hardly found.
The point is that instead of begging for rights through legal provisions and Acts, it is advisable that Muslim parents and organisations should work honestly to help their daughters by equipping them with professional education so that they are competitive and can excel in any office and function in society with pride and dignity.
Maulvisand Muslim social leaders can play a unique role in furthering progress and strengthening technical education along with religious education among Muslim women.
The Union government should pass an Act that no one in the country can obstruct and stop a woman from going for a job or getting an education irrespective of religion, and religious preachers as well as leaders should not be permitted to frighten or to stop them from attaining higher education. It may be understood that obstruction in education has to be considered an antinational activity.
(The author is former economic advisor of Sebi)
http://articles.economictimes.indiatimes.com/2012-12-19/news/35912648_1_talaq-muslim-women-muslim-husband
------------
Mother of 'I am a bomb' T-shirt boy in French court
December 19, 2012
The mother and uncle of a three-year-old boy named Jihad appeared in a French court on Wednesday for sending him to school in a top bearing the words "I am a bomb".
The long-sleeved T-shirt also had the words "Jihad, born on September 11" emblazoned on the back when he turned up at his nursery school in the southern town of Sorgues near Avignon on September 25.
His mother and uncle are charged with condoning a crime over the alleged reference to the 9/11 attacks on New York and Washington in 2001. The uncle bought the top and the mother dressed her son in it when she sent him to school that day.
The judge at the court in Avignon agreed to a request by their lawyer for the trial to be postponed until next year for technical reasons and set March 6 as the date for the next hearing.
The accused made no comment to reporters as they left the courthouse.
Jihad's teacher alerted the authorities after he turned up in the offending top and a few days later the town mayor, Thierry Lagneau of the conservative UMP party, asked prosecutors to investigate.
"I condemn the attitude of the parents who shamefully took advantage of the person and the age of this child to convey a political message," Lagneau said.
The mother and uncle of the boy, who official records show was born on September 11, 2009 and was given Jihad as his first name, were not known Islamists, prosecutors said.
The mother was astonished at the reaction to her son's top and at the proportions the affair had taken on, they added.
http://www.hindustantimes.com/world-news/Europe/Mother-of-I-am-a-bomb-T-shirt-boy-in-French-court/Article1-976737.aspx
------------
Qur'an answered all my questions: Maryam Jemeelah
21 December 2012
Maryam Jemeelah, a New York-based Jewish woman who reverted to Islam at the age of 27, passed away recently in Lahore. She was 78. Below is the fourth part of her interview, which she had given to Islamic Bulletin, a few years back:
Once I had studied the Mishkat, I began to accept the Holy Qur'an as Divine revelation. What persuaded me that the Qur'an must be from God and not composed by Muhammad (peace be upon him) was its satisfying and convincing answers to all the most important questions of life, which I could not find elsewhere.
As a child, I was so mortally afraid of death, particularly the thought of my own death, that after nightmares about it, sometimes I would awaken my parents crying in the middle of the night. When I asked them why I had to die and what would happen to me after death, all they could say was that I had to accept the inevitable; but that was a long way off and because medical science was constantly advancing, perhaps I would live to be a 100 years old! My parents, family, and all our friends rejected as superstition any thought of the Hereafter, regarding Judgment Day, reward in Paradise or punishment in Hell as outmoded concepts of by-gone ages. In vain I searched all the chapters of the Old Testament for any clear and unambiguous concept of the Hereafter. The prophets, patriarchs and sages of the Bible all receive their rewards or punishments in this world. Typical is the story of Job (Prophet Ayub). God destroyed all his loved-ones, his possessions, and afflicted him with a loathsome disease in order to test his faith. Job plaintively laments to God why He should make a righteous man suffer. At the end of the story, God restores all his earthly losses but nothing is even mentioned about any possible consequences in the Hereafter.
Although I did find the Hereafter mentioned in the New Testament, compared with that of the Holy Qur'an, it is vague and ambiguous. I found no answer to the question of death in Orthodox Judaism, for the Talmud preaches that even the worst life is better than death. My parents' philosophy was that one must avoid contemplating the thought of death and just enjoy as best one can, the pleasures life has to offer at the moment. According to them, the purpose of life is enjoyment and pleasure achieved through self-expression of one's talents, the love of family, the congenial company of friends combined with the comfortable living and indulgence in the variety of amusements that affluent America makes available in such abundance. They deliberately cultivated this superficial approach to life as if it were the guarantee for their continued happiness and good-fortune. Through bitter experience I discovered that self-indulgence leads only to misery and that nothing great or even worthwhile is ever accomplished without struggle through adversity and self-sacrifice. From my earliest childhood, I have always wanted to accomplish important and significant things. Above all else, before my death I wanted the assurance that I have not wasted life in sinful deeds or worthless pursuits. All my life I have been intensely serious-minded. I have always detested the frivolity, which is the dominant characteristic of contemporary culture. My father once disturbed me with his unsettling conviction that there is nothing of permanent value and because everything in this modern age accepts the present trends inevitable and adjust ourselves to them. I, however, was thirsty to attain something that would endure forever. It was from the Holy Qur'an where I learned that this aspiration was possible. No good deed for the sake of seeking the pleasure of God is ever wasted or lost. Even if the person concerned never achieves any worldly recognition, his reward is certain in the Hereafter. Conversely, the Qur'an tells us that those who are guided by no moral considerations other than expediency or social conformity and crave the freedom to do as they please, no matter how much worldly success and prosperity they attain or how keenly they are able to relish the short span of their earthly life, will be doomed as the losers on Judgment Day. Islam teaches us that in order to devote our exclusive attention to fulfilling our duties to God and to our fellow-beings, we must abandon all vain and useless activities, which distract us from this end. These teachings of the Holy Qur'an, made even more explicit by Hadith, were thoroughly compatible with my temperament.
As the years passed, the realization gradually dawned upon me that it was not the Arabs who made Islam great but rather Islam had made the Arabs great. Were it not for the Holy Prophet Muhammad (peace be upon him), the Arabs would be an obscure people today. And were it not for the Holy Qur'an, the Arabic language would be equally insignificant, if not extinct.
To be continued next week
www.islamicbulletin.com
The kinship between Judaism and Islam is even stronger than Islam and Christianity. Both Judaism and Islam share in common the same uncompromising monotheism, the crucial importance of strict obedience to Divine Law as proof of our submission to and love of the Creator, the rejection of the priesthood, celibacy and monasticism and the striking similarity of the Hebrew and Arabic language.
In Judaism, religion is so confused with nationalism, one can scarcely distinguish between the two. The name "Judaism" is derived from Judah-a tribe. A Jew is a member of the tribe of Judah. Even the name of this religion connotes no universal spiritual message. A Jew is not a Jew by virtue of his belief in the unity of God, but merely because he happened to be born of Jewish parentage. Should he become an outspoken atheist, he is no less "Jewish" in the eyes of his fellow Jews.
Such a thorough corruption with nationalism has spiritually impoverished this religion in all its aspects. God is not the God of all mankind but the God of Israel. The scriptures are not God's revelation to the entire human race but primarily a Jewish history book. David and Solomon (peace be upon them) are not full-fledged prophets of God but merely Jewish kings. With the single exception of Yom Kippur (the Jewish Day of Atonement), the holidays and festivals celebrated by Jews, such as Hanukkah, Purim and Pesach, are of far greater national than religious significance.
http://www.arabnews.com/qur%E2%80%99-answered-all-my-questions
Amid fear of attack on students, Malala asks Pakistan not to rename college after her
An official says Malala Yousufzai, who was shot by the Taliban for promoting girls' education, has urged Pakistan to reverse a decision to rename a college in her honour to avert militant attacks on students.
The 15-year-old who became a symbol of youth resistance to the Taliban made the request after students broke into the school, tore down Malala's pictures and boycotted classes in her home town of Mingora. They say renaming the college endangers their lives.
Senior government official Kamran Rehman said on Friday Malala called him from London, where she is being treated for critical wounds from the attack on Oct. 9. The Taliban said it targeted her for promoting education for secular girls.
Malala's case won worldwide recognition for the struggle for women's rights in Pakistan.
http://www.thehindu.com/news/international/amid-fear-of-attack-on-students-malala-asks-pakistan-not-to-rename-college-after-her/article4225382.ece
------------
Women: Provisions of constitution seen as a threat to hard-won gains
By Abeer Allam
December 19, 2012
Egyptian women and men fought police brutality side by side during the 18-day revolution that brought down President Hosni Mubarak. The engagement of women in the revolt had raised hopes in liberal circles that the post-revolution constitution would usher in a new era of equal rights.
But the Islamist drafters of the constitution document were careful to drop language banning discrimination on the basis of sex, along with religion and origin – an omission critics say breaches international conventions ratified by Egypt. In addition, a phrase prohibiting trafficking in women in a previous draft was excluded from the final document. The charter also insists that "no international treaty that contradicts the provisions of this constitution shall be signed".
Advocates of women's rights say they fear a setback to gains earned after years of campaigning, particularly in family law, which granted women the right to no fault divorce and gave them custody of children until the age of 15.
"The draft constitution does not place an obligation on the state towards guaranteeing equality," says Hania Sholkamy, a women's rights advocate. "It considers whatever is happening inside the family a private affair and does not define childhood, opening a back door for underage marriage."
Neither Freedom and Justice (FJP), the political arm of the Muslim Brotherhood, nor its allies in the Salafi Nour party have complained. Mohamed Saad al-Azhari, a Salafi cleric on the panel that drafted the constitution, has argued for the abolition of legislation setting the minimum age of marriage at 18.
When asked about the state ban on female genital mutilation during his presidential campaign, President Mohamed Morsi, in an apparent bid to avoid shocking his more conservative supporters, said it was a private affair between mother and daughter.
But his remarks drew criticism in liberal circles and among women activists who battled for decades to criminalise the widespread practice. Brotherhood officials say there are no plans to lift the ban.
Some also fear that new provisions in the constitution enshrining Islamic jurisprudence as the main source of legislation could undermine the status of women. They argue that ultraconservative legislators in the coming parliament might be tempted to seek out restrictive texts to impose their particular social vision.
But Omaima Kamel, a professor of medicine and adviser to Mr Morsi, says the Brotherhood has "no intention to abolish women's gains or laws", adding there is a plan to encourage female participation in political life. She did not, however, rule out a review of existing laws.
"We have a vision and we have the right cadres to implement it," she says. "We might review the laws to give women more choices and freedom. If she wants to work or not to work, it will be up to her to decide. The goal is a strong family and a strong woman free to make her own decisions without state interference."
To the relief of liberals, the final draft constitution did not include a controversial clause that stipulated that equality for women would be subject to conformity with rulings of Islamic law.
Islamist women insist that their leaders are committed to women's economic and political empowerment and point to the fact that the FJP ran more women on its electoral list than liberal parties. They see women's freedom, as understood by liberals, as alien to Egyptian society and say attempts to protect women's role in the household do not contradict their objective of expanding their role in the economy and society.
Activists, meanwhile, argue that extreme rhetoric over the past two years has forced the debate on equality out into the open.
Ms Sholkamy says the FJP has felt obliged to put forward more women to support its position. "The good thing is that all political parties recognised that female politicians are important and that they have to be visible," she says.
The perceived threat to women's public role has helped move the issue from the realm of state-sponsored feminism, which imposes change from the top, to the grassroots, some activists say.
Since the revolution, young women from both rural and urban areas have used social media to raise awareness about issues such as sexual harassment.
Older women, appalled by the attack on visitation and custody rights, have joined rallies and sit-ins against changes to the personal status law. Activists argue that, when the pressure comes from the people, it will be difficult for any government to impose its own vision on the whole society.
"When there was harassment in the street 17 years ago, I just stopped walking in the street. But young women [now] defy harassment and keep on showing up [at protests]," says Iman Bibers, who runs awareness campaigns.
"Girls died for this revolution and others are not ready to be told to 'go home we will decide for you'."
http://www.ft.com/cms/s/0/b9c71238-4853-11e2-8aae-00144feab49a.html#axzz2FlS9JLMj
------------
Maldives: Attorney General drafts bill outlining executing death sentence, favours lethal injection
By Ahmed Nazeer
December 20th, 2012
Attorney General Azima Shukoor has drafted a bill outlining how the death sentence should be executed in the Maldives, with lethal injection being identified as the state's preferred method of capital punishment.
Shukoor today held a press conference to provide local media with information about the bill, which is also to be opened for public comment.
Full report at:
http://minivannews.com/society/ag-drafts-bill-outlining-executing-death-sentence-favours-lethal-injection-49351
------------
Saudi Arab: Mentoring the modern Muslim woman
By SAMAR FATANY
22 December 2012
"Saudi Women in International Organizations" was the theme of a meeting which gathered together more than 150 professional women in Jeddah to celebrate the launch of CellA+ a nonprofit organization of Saudi professional women under the umbrella of Al-Nahda Women's Philanthropic Society which is also observing its 50th anniversary.
Full report at:
http://english.alarabiya.net/views/2012/12/22/256429.html
------------
Pakistan: Rights of Working Women's day today
December 22, 2012
Saturday, December 22, 2012 - Islamabad—National Working Women's Day will be observed today (Saturday) to acknowledge the economic contributions made by women to the country.
The day is being observed for the last two years when the former Prime Minister Yusuf Raza Gilani made a decision to this effect.
Full report at:
http://pakobserver.net/detailnews.asp?id=188102
------------
Woman gets one-year jail for N-material export
December 22, 2012
WASHINGTON - A judge sentenced a woman Thursday to one year in prison for conspiring to ship material to Pakistan for a nuclear reactor. US District Judge Emmet G Sullivan also ordered Xun Wang to pay a $100,000 fine and perform 500 hours of community service. Wang admitted helping send three shipments of high-performance epoxy coatings from US to Pakistan through China without required export licence. She pleaded guilty in November 2011.
Full report at:
http://www.nation.com.pk/pakistan-news-newspaper-daily-english-online/national/22-Dec-2012/woman-gets-one-year-jail-for-n-material-export
------------
Forum for Businesswomen in Islamic Countries concludes in Bahrain
2012-12-21
By Mohammed al-Jayousi
Participants at the Sixth Forum for Businesswomen in Islamic Countries, held last week in Bahrain, discussed different ways to support and encourage women entrepreneurship.
Forum participants approved the establishment of a network for businesswomen in Islamic countries, to be headquartered in Karachi, Pakistan. They also approved a proposal to create a women's chamber of commerce and industry based in and Bahrain.
The forum, first held in Sharjah, the United Arab Emirates, in 2005, brought together 350 participants from 36 countries, as well as representatives from the chambers of commerce in Afghanistan, Bosnia and Herzegovina, the Comoros Islands, Jordan, Kyrgyzstan, Libya, Malaysia, Mali, Morocco, Pakistan, Qatar, Saudi Arabia, Syria, Tunisia, Turkey, Turkmenistan, Full report at:
http://al-shorfa.com/en_GB/articles/meii/features/2012/12/21/feature-02
------------
Long Island Hospital to Repair Afghan Girl's Shattered Face
By Associated Press
December 21st, 2012
A Long Island hospital will perform surgery on a 6-year-old Afghan girl who was shot in the face by the Taliban in Afghanistan.
The New York Post reports little Marizeh will undergo surgery Friday at South Nassau Communites Hospital in Oceanside, N.Y. The newspaper withheld her last name to protect her surviving family members in Afghanistan.
Full report at:
http://www.longislandpress.com/2012/12/21/li-hospital-to-repair-afghan-girls-shattered-face/
------------
Africa: Ahead of Tomorrow's Glamorous Event - Face of Fashion 4 Africa Contestants Speak
BY OMAR WALLY
21 DECEMBER 2012
Contestants of the most glamorous show of the year 'Face of Fashion 4 Africa' have spoken of their minds the reason behind participating in this much anticipated event.
The competition, which is expected to brought together young boys and girls for glamour, glitz and sensational beauty is slated for Saturday 22nd December 2012, at the Kairaba Beach Hotel. The Face of Fashion 4 Africa Gambia initiatives is an international modeling competition aim to showcase Africa in a beautiful and attractive way. Some of the contestants who spoke to What's On, explained as to why taking part in this noble initiatives design to unearth hidden talents.
Full report at:
http://www.dailytimes.com.pk/default.asp?page=2012\12\22\story_22-12-2012_pg7_11
------------
Women being empowered in line with Benazir's thinking: Tauqeer
21 DECEMBER 2012
KARACHI: The International Working Day of Women was marked here on Friday under the auspices of the Directorate of Women Development (DWD) and the Women Development Department (WDD), Sindh government. The ceremony was chaired by Tauqeer Fatima Bhutto, Sindh Minister for Women Development
Full report at:
http://www.dailytimes.com.pk/default.asp?page=2012\12\22\story_22-12-2012_pg7_28
------------
Muslim women at work in UK
December 22, 2012
A recent report published by the All Party Parliamentary Group on Race and Community revealed that Muslim women are encountering discrimination at work from the application stage, through interviews, at recruitment agencies, and in the workplace itself. Some individuals were even compromising their religious beliefs by removing their hijabs and changing their names to English sounding names in order to obtain employment.
Full report at:
http://www.nation.com.pk/pakistan-news-newspaper-daily-english-online/international/22-Dec-2012/muslim-women-at-work-in-uk
------------
Manhunt after 2 women go missing
December 22, 2012
LAHORE – Lawmen have launched a hunt for recovering two women who went disappeared in the provincial capital, police said on Friday.
Sabzazar resident Sadaf was allegedly kidnapped by Nadeem since she attended the Samanabad Girls College. The Millat Park police have registered a case on the complaint of her father Nawaz Rahmat.
Full report at:
http://www.nation.com.pk/pakistan-news-newspaper-daily-english-online/lahore/22-Dec-2012/manhunt-after-2-women-go-missing
------------
Woman killed as train rams rickshaw
December 22, 2012
A woman was killed and two of her children and a rickshaw puller were injured when a train hit a rickshaw and two other vehicles at Khilgaon level crossing in the capital yesterday.
The dead is Ratna Khandaker, 35, wife of Ripon Khandakar of the city's Goran area.
Ratna along with her two children Khandaker Ashfaq Rifat, 14, and Atika Sultana Roshni, 6, was on her way to Dhaka Central Jail to meet her husband Ripon, a BNP activist. Police detained him on December 10 from a procession in front of the BNP central office in Full report at:
http://www.thedailystar.net/newDesign/news-details.php?nid=262087
------------
One killed as Nigerians quarrel over girl
Dec 22, 2012,
CALANGUTE: An argument between two Nigerians over a Ukrainian woman led to the brutal murder of one of them at Parra early Friday.
Police sources said Michael Nzube, 28, was in a romantic relationship with a woman from Ukraine and his friend Chukwebuka Henry Ejimkonye, 31, had started making advances towards her which Nzube resented.
Full report at:
http://timesofindia.indiatimes.com/city/goa/One-killed-as-Nigerians-quarrel-over-girl/articleshow/17715402.cms
------------
URL: https://newageislam.com/islam-women-feminism/muslim-women-mutual-divorce-talaq/d/9775