New Age Islam News Bureau
1 Dec 2016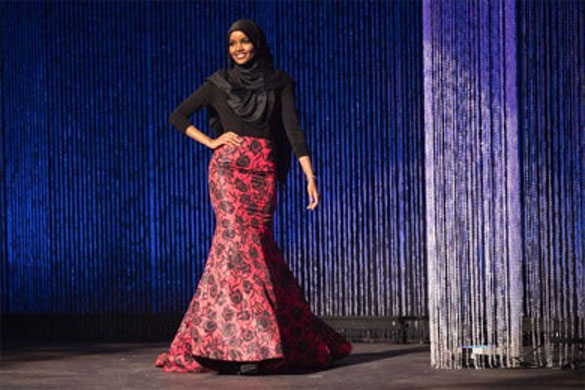 PHOTO: Halima Aden said she has received messages of support from people all over the world for her choice. (AP: Star Tribune's Leila Navidi)
--------
• Pakistan Women Share Iqbal's Message in Special Sitting
• Women Migrants Fearing Rape Take Contraceptive Injections
• Why Do So Many Muslim Women Find It Hard To Integrate In Britain?
• Women Education Fuels GDP Growth By 3%
• Journey of Emirati Women in Four Decades
Compiled by New Age Islam News Bureau
URL: https://www.newageislam.com/islam,-women-and-feminism/new-age-islam-news-bureau/muslim-woman-wears-hijab,-burkini-in-minnesota-beauty-pageant/d/109251
--------
Muslim Woman Wears Hijab, Burkini in Minnesota Beauty Pageant
Nov 30, 2016
BURNSVILLE: A Muslim woman has become the first to compete in the Miss Minnesota USA pageant while fully clothed.
Halima Aden made the semifinals of the competition over the weekend while wearing a hijab. She also wore a full-body outfit called a burkini during the swimsuit competition.
The Minneapolis Star-Tribune reports Aden's swim outfit stood in contrast to those of the other 44 contestants, most of whom wore bikinis.
Before the competition, the 19-year-old Somali-American woman told Minnesota Public Radio News that the pageant was "a great platform to show the world who I am."
http://timesofindia.indiatimes.com/world/us/Muslim-woman-wears-hijab-burkini-in-Minnesota-beauty-pageant/articleshow/55703189.cms
--------
Pakistan Women Share Iqbal's Message in Special Sitting
December 01, 2016
LAHORE - Allama Muhammad Iqbal had advocated indifference to wealth condemning lust for worldly riches, Justice (r) Nasira Javed Iqbal observed yesterday.
She was presiding over a special sitting titled "Fikr-i-Iqbal Aur Khawateen Ka Kirdar", which was jointly organised by the Nazaria-i-Pakistan Trust and Pakistan Movement Workers Trust at the Aiwan-i-Karkunan-i-Tehreek-i-Pakistan.
Nasira Iqbal said the national poet gave the message of unity and unanimity to the Ummah. "It is the need of the hour to comprehend his message fully and act upon it," she urged the participants of the sitting.
Begum Mehnaz Rafi, Prof Dr Parveen Khan, Prof Musarrat Kalanchvi, Begum Safia Ishaq, Begum Khalida Jamil, Prof Halima Sa'adia, and a large number of students, teachers and women from various walks of life were also present on the occasion.
"He was born to a mediocre family. He reached a high position by dint of his hard work. He expressed his love for the Holy Prophet (PBUH) in his poetry and exalted the status of women in society," Nasira added.
Other speakers said that Allama Muahammad Iqbal was an advocate of freedom of expression and he had created a passion for autonomy among the Indian Muslims.
Begum Mehnaz Rafi observed that Allama Muhammad Iqbal's concept brought a new country into existence. "He pulled the Muslims out of their social, economic and intellectual lethargy through his dynamic poetry."
Dr Parveen Khan observed we must revive the thoughts and reflections of Allama Muhammad Iqbal and strive to transform Pakistan into a country of his dreams.
Begum Safia Ishaq observed that Allama Muhammad Iqbal raised the political consciousness of women. Simplicity was a salient feature of his personality.
Prof Halima Sa'adia observed that Iqbal gave us the concept of 'Khudi'. "He exhorted us to identify our potential and devote our faculties to nation-building activities."
Prof Musarrat Kalanchvi observed that Allama Iqbal had multi-faceted personality. He was a thinker, statesman, politician and a consummate poet. His immortal ideas brought him to the fore-front of humanity, she added.
Begum Khalida Jamil observed that Iqbal's poetry as well as his personality revolved round the VENERATION and love for the Holy Prophet (PBUH).
http://nation.com.pk/lahore/01-Dec-2016/npt-women-share-iqbal-s-message-in-special-sitting
--------
Women Migrants Fearing Rape Take Contraceptive Injections
December 01, 2016
LONDON - Women migrants fleeing wars, political instability and poverty are taking contraceptives in the expectation of being raped but are so desperate they still embark on the journey, a human rights group said on Wednesday.
Women and girls who risk sexual violence as they flee their home countries are getting contraceptive injections as a precautionary measure, said researcher Hillary Margolis from New York-based Human Rights Watch.
"For someone to know that they are at such risk of sexual violence, and yet they are determined to continue on that journey," she told Trust Women, an annual women's rights and trafficking conference hosted by the Thomson Reuters Foundation.
A record 65.3 million people were uprooted worldwide last year, an increase of 50 percent in five years, according to the UN refugee agency. Data shows developing countries host 86 percent of refugees, led by Turkey with more than 2.7 million Syrians.
The UN children's agency UNICEF earlier this year said children in refugee camps in France were being subjected to sexual abuse including rape, violence and forced labour daily.
The UNICEF report also included cases of young women being subjected to sexual demands in exchange for a promise of passage to Britain and campaigners said this was not limited to France.
Amnesty International said it had spoken to women who said they lived in constant fear of sexual violence on the journey to Libya and rape was so commonplace that they took contraceptive pills before travelling to avoid becoming pregnant.
Margolis said she met a number of female migrants in Italy who had taken birth control ahead of their perilous sea journey from Libya "because of the high risk of rape".
At least 4,690 migrants have died in the Mediterranean this year while trying to reach Europe, compared to 3,777 in 2015. Most have died while crossing from North Africa.
"The idea that a woman who is travelling with men is automatically safe is a fallacy," Margolis said. "There are women who are coerced into travelling with men, who are trafficked, exploited, who may be experiencing domestic abuse."
Joanne Liu, president of medical charity Medecins Sans Frontieres, added that the international community was failing refugee and migrants.
Turkey agreed in March to stop migrants and refugees crossing by sea to Greece in exchange for financial aid, accelerated European Union membership talks and other concessions.
"In the policy we have right now, where we are deterring people from fleeing for their lives, we are aggravating and exacerbating their vulnerabilities," she told the conference.
"And for women, there is even more hardship because women became the battlefield of war, of abuses. It's not a new phenomenon and we are not at the end of it."
http://nation.com.pk/international/01-Dec-2016/women-migrants-fearing-rape-take-contraceptives
--------
Why do so many Muslim women find it hard to integrate in Britain?
27 November 2016
As gender politics go, it was unquestionably a modest step, but in Bradford's Carlisle business centre the development felt seismic.
For five years Haniya had been striving to secure a job in digital marketing. It seemed not to matter that the 28-year-old had the qualifications, the aptitude, the ambition. Friends watched her confidence drain away. Haniya considered removing her hijab, the Islamic headscarf. Burying the fact she was a Muslim became the final option.
In front of 50 women at the centre in Bradford's Manningham district, Haniya announced she'd finally entered the workplace. "That was great news, but for many discrimination within the labour market, along with a lack of opportunities, creates a fatigue that eventually erodes self-esteem," said Bana Gora, chief executive of Bradford's Muslim Women's Council .
Haniya had triumphed where most peers had failed. Being a Muslim woman in Brexit Britain offers few advantages but does guarantee membership to the most economically disadvantaged group in UK society. In Manningham, where the last census found three-quarters of its 20,000 population were Muslim, the prevailing concern is that emboldened bigotry and Islamophobia unleashed in the wake of the Brexit vote threatens to marginalise Muslim women to the point that they are effectively excluded.
Seven miles from the business centre, past Bradford's central mosque and south along the A651, lies the west Yorkshire market town of Birstall. Here, outside its library at 12:53pm on 16 June, Labour MP Jo Cox was fatally attacked by an extreme rightwing terrorist as the EU referendum campaign approached its finale.
Cox's murderer Thomas Mair was sentenced to prison for the rest of his life. The 53-year-old is a white supremacist who considers immigration anathema to British values and who hoped his crime would inflame multicultural tensions.
Bana Gora, right, chief executive of the Bradford Muslim Women's Council and chair Selina Ullah.
Bana Gora, right, chief executive of the Bradford Muslim Women's Council and chair Selina Ullah. Photograph: Gary Calton for the Observer
The government's forthcoming report into integration – the first state-backed exploration of the issue for 15 years – arrives against a febrile backdrop. Conceived in July 2015, the report's lead author, Louise Casey, appreciates that the debate on race, the self-identity of Britain itself, has shifted dramatically since its inception.
Casey's team are acutely sensitive to how the rightwing media will articulate its contents, particularly new Home Office research confirming that pockets of London, Birmingham and other cities are increasingly mono-ethnic with immigrant populations larger than 50%, confirming a steep rise over the last decade. "It'll be seized upon by Brexiters, who'll want to close the border, while the left aren't able to talk about it," said a source close to Casey's review.
But the report's main thrust remains unaltered, namely attempting to improve "opportunity and integration" for ethnic minorities who largely remain on the outside looking in. Issues of segregation and inequality remain, factors identified in the wake of the 2001 race riots that engulfed Manningham and prompted a Home Office report that identified parallel lives between ethnicities that "do not touch at any point, let alone overlap".
Gora says things have improved vastly in the period since, but the shift of Islamophobic rhetoric into the mainstream has perturbed Bradford's Muslim women.
"These are scary times, there's a heightened fear and anxiety over what the future holds. The Muslim community feels it's under a magnifying glass. The rhetoric in the media, constant negative messages being disseminated. It's unsettling," she said. Even in Manningham, racist attacks have happened. "We've had women with their headscarves ripped off," said Gora nodding to Carlisle Road, lined with charity stores and a green-domed masjid.
Casey's 17-month investigation across the UK, which included a visit to Manningham's business centre, found that Muslim women were being squeezed further from mainstream society. Many had given up trying to find a job. Acquiring economic independence, pursuing a career, meeting new people had become a pipe dream for the majority. A three-tiered system of discrimination was discovered: being a woman, being from an ethnic minority, and finally being a Muslim.
In a briefing note to Casey, the Runnymede Trust said that Pakistani and Bangladeshi women encountered "discrimination at every stage of the recruitment process".
Selina Ullah, chair of the MWC, said the cumulative rejection from prospective employers allied to horror stories from friends meant that many felt unable to land a job. "They don't really believe they can do things, they start automatically screening themselves out of certain positions, subsconciously thinking they are not worthy. They know they're not on a level playing field to start with."
She added: "If you have a CV fit for purpose and you've been rejected for similar jobs on many occasions, it affects you. Issues of low aspirations and confidence combined with a degree of racism start in the education sector." Various studies quantify the marginalisation of Muslim women. MPs in August revealed that white women are three times less likely to be unemployed (6.8%) than black women (17.7%). Bottom of the pile were Pakistani and Bangladeshi women (20.5%). Last year the Office for National Statistics found almost two-thirds of Muslim women aged 16-64 were out of work. By contrast 69% of British working-age women had a job. Numerous reasons are cited, including insufficient role models, along with cultural pressures on women to focus on their families rather than build careers.
Casey's research found that in some parts of the UK, particularly Birmingham, even when women turn to the local mosque they can be sidelined. "Many don't have a voice; when they go to volunteer at the mosques the men don't give them any opportunities. They're locked out," said Fiyaz Mughal, director of Faith Matters, which contributed to the integration review. He says the recruitment process itself can prove a tortuous affair riddled with bias. Women recount illegal forms of interrogation at job interviews like being asked if they are married or if they will contemplate removing their headscarf. "They keep saying: 'I can't get a job, I've applied hundreds of times.' Others tell us: 'When I turn up I get questions like would I wear that all the time?" In August the parliamentary women and equalities committee urged ministers to introduce "name-blind recruitment" to stop employers dismissing names that were not white-sounding.
"There's a subconscious bias against foreign-sounding names, names that are hard to read. Secondly, recruitment panels like to recruit people who look like themselves. If you are a Muslim woman wearing a headscarf it depends on whether the panel buy into it," said Ullah. Considerable evidence indicates that a minority are willing to "buy into" the hijab.
On Tuesday, Bradford's MWC will unveil a new book on the heritage of the hijab, noting its similarities to head coverings connected to Judaism and Christianity. More than 300 people have been invited to its launch at the city's National Media Museum, an event designed to strengthen bonds beween the Abrahamic faiths. Gora hopes the book's message might dampen hostility towards the hijab which has become deeply politicised over recent years.
Mughal says women are frequently targeted in the street for wearing the headscarf. New police figures obtained by the Observer reveal that incidents of anti-Muslim hate crime are eight times higher this year in Bradford than Rotherham, the South Yorkshire town where the grooming scandal has prompted racial tensions.
West Yorkshire police recorded 40 incidents in Bradford between January and September, the highest number for any town and city in the force area. Of the 137 cases recorded in West Yorskhire, 60 were violence against the person and 47 harassment.
The anti-Muslim hate crime hotline Tell Mama recorded another 23 incidents in the region during that period. a new national anti-hate crime campaign will be unveiled in parliament with a focus on ensuring ethnic minority communities feel more protected. Another welcome development, according to Gora, is if Casey's review helps precipitate a change in the language used: "There needs to be more positive language, the government's rhetoric needs to be looked at. We cannot continue with this language of Muslims as the enemy within."
Few are holding their breath. Critics say the principal word in Casey's review – integration – is clumsy and loaded, giving the impression that unless ethnic minorities commit to total assimilation they have failed.
Yet in this corner of West Yorkshire there is also hope. Concerned that the buoyant textile industry near Bradford was employing low levels of Muslim women, the council introduced initiatives to entice its local Pakistani and Bangladeshi workforce into a sewing academy. Mark Clayton of Bradford council said: "Women are by far the largest group adversely affected directly by inequality, which can be compounded by economic, social and cultural barriers."
It is a truth that affects most of the UK's estimated 1.5 million Muslim women, a societal bias that Casey's report hopes to start addressing.
https://www.theguardian.com/world/2016/nov/27/bradford-muslim-women-integration-casey-report
--------
Women Education Fuels GDP Growth By 3%
Dec 1, 2016
By Shahd Alhamdan
AMMAN — There are still 150 million girls that are not in schools and one in five girls in developing countries does not finish primary schools, according to Nicolla Hewitt, Middle East Advisor for ‹Girl Rising› global campaign.
During her speech about The Power of Girls, Education and Entrepreneurship in the last day of AMWAJ 2016 forum in Amman, Jordan, Hewitt said Go Rising is a global movement that is inspired by people for educating girls.
She said "when girls do have education opportunity, the GDP goes up by three percent and girl income will rise by 25 percent every year she stays in school.»
Hewitt added that one in seven girls in developing countries gets married before she is 15. Girl who stays in school for 7 years has less children and marries later and girl who stays in school GENERATES more income up to 25 percent each year she stays.
She announced that in 2017 they are going to make a film for 12 minutes in Saudi Arabia.
"We are picking Saudi Arabia since more women are educated than men there, with a 91 percent literacy rate. But there, the problem is not getting to school, it is getting a job,"Hewitt said.
During the last day AMWAJ 2016, which is an international sustainability and entrepreneurship forum organized by PepsiCo and Revolve Media, several sessions were held stressing several topics in the MENA region including, women empowerment, unemployment, water issues, and entrepreneurship.
The first session was focused on connecting and investing in water and energy projects. Young entrepreneurs have talked about their businesses in several panels and sessions.
One of the sessions focused on the role of the private sector in driving sustainable development and Waleed Abd El Rahman, the founder of getMum, which a food business, talked about his story and how several households are working with him from home to provide the start-up customers, including employees, lunch meals.
There was also a panel under the title 'Women Agents of Social Change and Drivers of Economic Growth'. THE SPEAKERS were women with start-up businesses in different fields such as fashion.
AMWAJ 2016 is focused on offering socially innovative ideas, sharing best practices and finding practical solutions to build inclusive societies for a sustainable future in the MENA region. The forum brings together leaders in environmental sustainability, social entrepreneurs and media to create a socially responsible community – in water and energy conservation as well as social innovation.
http://saudigazette.com.sa/business/women-education-fuels-gdp-growth-3/
--------
Journey of Emirati women in four decades
November 30, 2016
Dubai: Reem Al Fahim, CEO of Sedra (Services for Educational Development Research and Awareness) Foundation, is an example of an Emirati leader who has excelled in her field and says that her GENERATION was lucky to grow up with a very different mindset and opportunities, which she said was thanks to the education they received.
"It is important to say that as Emiratis growing up, our gender was not important; what mattered was we always received the same message — we should educate ourselves and make use of everything that was being developed for us, so we can prepare to give back to our society," she said.
Sedra is a non-profit organisation that acts as management consultants for public and private institutions and enablers empowering children, teenagers and adults with disabilities and their families.
"Speaking for myself, being in the social field, it wasn't the idea of being successful to MAKE MONEY or become a leader; it was always because of the service [involved]. How can I best be of service to my country and what were the needs? How could I step up?"
She was always reminded by her grandmothers and aunts of the importance of making the most of the opportunities.
"While growing up, they (grandmothers and aunts) always reinforced the message that you are so lucky to be able to learn … Please don't waste these opportunities and these years."
Open-minded people like her father, who has been always supportive of the aspirations of his four daughters, were raised by the older generation of women and their teachings.
What she has learnt from the first GENERATION of Emirati women, which she said she will pass on to her children is, "Take pride in everything that you do and give 150 per cent to everything that you do."
'Incredible how much has changed'
"Anyone who can work should work till the day he/she dies," says Fatima Humaid Hudaiba Aldarmaki, as she takes a short break from her perfume-making to speak with Gulf News.
The 60-year-old Emirati mother of 10 and a business owner has come a long way from the young girl in Al Ain who did not even get an education until she was married with three children.
She thanks the late Shaikh Zayed Bin Sultan Al Nahyan and Her Highness Shaikha Fatima Bint Mubarak, Chairperson of the General Women's Union, Supreme Chairperson of the Family Development Foundation and Chairwoman of the Supreme Council for Motherhood and Childhood, for everything that she and other women like her have achieved.
"It is incredible just how much has changed in such a SHORT space of time," said Aldarmaki.
Aldarmaki is the founder of Nefayef Perfumes, a business she started when she realised just how popular her homemade perfumes and incense were in the community. With a shop in Abu Dhabi's Delma mall and plans to open a second branch in Al Ain early next year, she recalls a time when her current reality was not deemed probable.
"In the old days, when I was a young girl, women were raised to be very shy. They were strong, with strong ideas and personalities but we were brought up to not be 'loud', that was just the culture in those days," she said.
Aldarmaki said that Emirati women were always strong and hardworking, explaining that she remembers women going back to work on farms as early as a day after giving birth, something she said you will not see today.
However, she said education was not big on the agenda in those days, specially among women, instead women were expected to marry and run the house and all the responsibilities that came with it.
"But things started to change with Shaikh Zayed's leadership. He educated people about the importance of education, for everyone," she said.
"The community has changed, mindsets have changed," said Aldarmaki. "If a woman wants to be anything today, and she is capable, no one will stop her. This is our society today," she added.
"Women are 50 per cent of the community, one hand cannot clap. Emirati women have always done their part in the community and thank God, they have achieved enormous success in all levels and fields," she said.
http://gulfnews.com/news/uae/society/journey-of-emirati-women-in-four-decades-1.1937306
--------
URL: https://www.newageislam.com/islam,-women-and-feminism/new-age-islam-news-bureau/muslim-woman-wears-hijab,-burkini-in-minnesota-beauty-pageant/d/109251
New Age Islam, Islam Online, Islamic Website, African Muslim News, Arab World News, South Asia News, Indian Muslim News, World Muslim News, Womens in Islam, Islamic Feminism, Arab Women, Womens In Arab, Islamphobia in America, Muslim Women in West, Islam Women and Feminism, Moderate Islam, Moderate Muslims, Progressive Islam, Progressive Muslims, Liberal Islam