New Age Islam News Bureau
12 July 2022
• Star Striker Hajra Khan Looking Forward to Pakistan Women Football Team's Return to Action after Eight-Year Gap
• Sharjah's Big Heart Foundation Changes Lives of More Than 500 Women in Egypt
• Turkish Female Thrill Seeker Motorcyclist, Asil Özbay, To Pen Memoirs in Book
Compiled by New Age Islam News Bureau
URL: https://newageislam.com/islam-women-feminism/muslim-headscarf-germany-hijab/d/127465
--------
Muslim Woman Wearing Headscarf Attacked In Germany; Head Covering Torn Off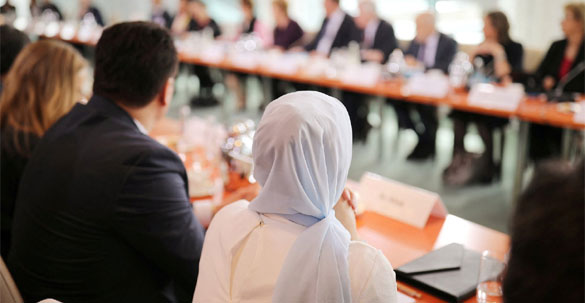 A woman wearing a headscarf attends a migration summit at the German Chancellery in Berlin, Germany, March 2, 2020. (Reuters Photo)
------
July 12 2022
A woman wearing a headscarf has been assaulted in the German capital Berlin, with her head covering torn off, local media has reported.
A 37-year-old attacker is said to have torn off the headscarf of the victim, 39, and hit her head and upper body, said the daily Der Tagesspiegel on Saturday.
The attack took place in a restaurant in the Weissensee district, the daily added.
According to the daily, another racist attack took place in Berlin's Prenzlauer Berg district on Friday during which a man, 52, racially insulted two women.
The attacker was arrested and taken to a clinic for abnormal behavior before being released, the daily said.
Although Germany's Constitution guarantees freedom of religion, Muslims, especially women wearing headscarves, often face discriminatory practices in education and the labour market.
The country has witnessed growing racism and anti-Muslim sentiment in recent years, fueled by the propaganda of neo-Nazi groups and the far-right Alternative for Germany (AfD) party.
Germany, a country of over 83 million people, has the second-largest Muslim population in Western Europe after France.
Among the country's nearly 5.3 million Muslims, 3 million are of Turkish origin.
Source: Trt World
https://www.trtworld.com/europe/muslim-woman-wearing-headscarf-attacked-in-germany-58754
--------
Star Striker Hajra Khan Looking Forward to Pakistan Women Football Team's Return to Action after Eight-Year Gap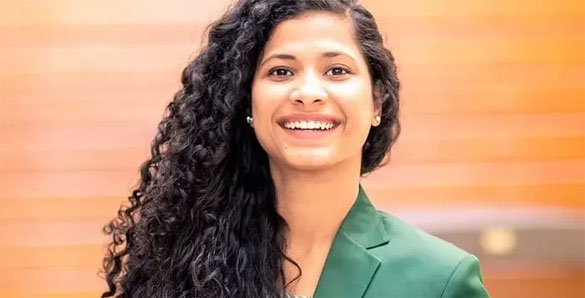 Hajra Khan
-----
Umaid Wasim
July 8, 2022
KARACHI: It's been an excruciatingly long wait for the Pakistan women's football team to return to international action. And perhaps no player has felt that pain as much as star striker Hajra Khan.
Hajra was 20 the last time the national team played with a promising career on the horizon. Eight years on, her peak as a player might have passed but nonetheless, she's looking forward to Pakistan's participation at this year's SAFF Women's Championship in Nepal.
Pakistan's football has been mired in crisis since 2015 due to infighting in the Pakistan Football Federation and while the men's national team has found fleeting action since then, it's the women's game which has suffered the most.
The last time the women's team played an international tournament was at the 2014 edition of the SAFF Women's Championship which was hosted by Pakistan.
But with the FIFA-appointed PFF Normalisation Committee back in charge of affairs and the 15-month suspension on it lifted by the world's football governing body last week, Hajra is hoping women's football in the country will bounce back strongly.
"It's been a long time coming," Hajra told Dawn on Thursday, "… eight long years, we've missed out on so many tournaments and qualifiers [for AFC events. It's really motivating to [kind of] know that after the ban is lifted, the first tournament that's coming just short of two months we'll be participating."
This year's edition of the SAFF Women's Championship is set be held in Nepal from Aug 29 to Sept 10 and the PFF NC has to send its entry by Friday. Sources in the NC told Dawn on Thursday that the entry will be sent and the national team will be participating.
Discussions have also been held by the NC on where to hold the team's training camp for the event. While Abbottabad has been mentioned as a potential venue with its altitude helping players acclimatise to the conditions in Nepal, there is strong backing for Lahore — where the PFF headquarters are situated — to hold the camp as football activity is returning to the country after a long time.
For now, though, the focus is about getting the team to participate rather than dwelling too much about the results it produces.
"I think it means a lot just to get back on the FIFA women's rankings regardless of the results because you know eight years is a long time to be inactive in international competitions," said Hajra.
"Once we prove our presence and hopefully the drive the girls have to change the game and finally play, it's really going to boost the morale for the rest of the coming months and perhaps the next entire year the Normalisation Committee is in charge.
"Hopefully a path can be set up for more international tournaments to come so I think it will be great and there is no doubt that the girls will be working hard as they have been out for such a long time."
Pakistan was suspended by FIFA in April last year after a group of officials led by Ashfaq Hussain Shah — elected president in PFF polls conducted by the Supreme Court but never recognised by FIFA — seized control of the PFF headquarters from the NC.
At the time of the takeover, the National Women's Championship was underway in Karachi and was forced into an abrupt halt. The officials of Ashfaq's group tried to carry on with the championship with Raheela Zarmeen — then PFF's director of women's development — asking teams if they wanted to continue participating.
Teams, however, backed out and Raheela told Dawn on Thursday she had not been approached by the PFF NC to retake her role.
"They have not approached me yet," she said. "Neither have they taken me on board after NC announced they have got possession [of the PFF headquarters]."
The PFF NC has to act quickly as trials for the women's team have to be held and coaching appointments still have to be made.
Dawn has reliably learnt that Dani Limones, who was PFF's technical director at the time of the takeover, has been approached by the PFF NC but it is not yet confirmed whether he will return to his post.
Source: Dawn
https://www.dawn.com/news/1698748
--------
Sharjah's Big Heart Foundation changes lives of more than 500 women in Egypt
June 25, 2022
Tawfiq Nasrallah
Cairo: The Big Heart Foundation (TBHF), a Sharjah-based global humanitarian organisation dedicated to helping people in need worldwide, has changed the lives of more than 500 underprivileged Egyptian women and indirectly benefited more than 2,300 people through a women-empowerment project.
TBHF's Ready Made Garments (RMG) Factory was launched in 2019 in rural area of Qena Governorate in Upper Egypt. It currently hires 426 female employees (142 full-timers and 284 part-timers), in addition to 80 staff members who work in a vocational training centre that provides relevant training and skills for women to enter the workforce. It aims to enhance women's participation in the labour market.
Self-sufficient factory
The factory is self-sufficient and covers its entire operational costs while also allocating a percentage of profits to develop training programmes, implement safety measures, and acquire new machinery to enhance the quality of its products that are currently distributed across several Egyptian governorates. Going forward, the RMG Factory plans to market its high-quality products to neighbouring countries in the emerging markets of Asia and Africa.
Call for donors
While stressing that 100 per cent of donations are allocated to supporting all those in need, particularly women and children, the foundation urged all donors and philanthropists to join hands and help change the lives of underprivileged individuals, saying it welcomes donations from all around the world.
Big Heart delegation
A high-level delegation from the Foundation led by Mariam Al Hammadi, Director of TBHF visited the factory last week. Saleh Alsaadi, Deputy Ambassador of the UAE to the Republic of Egypt; Reem Bin Karam, Director of NAMA Women Advancement, representatives of diverse UAE media institutions, and members of the Egyptian media, accompanied the TBHF Director during the visit.
The Big Heart Foundation had launched the $605,000 RMG Factory in Upper Egypt on a 500-metre square area as an extension of its ongoing development efforts in the area since 2017, including vocational training programmes to equip women with relevant training and skills to be able to enter the workforce. The project was implemented by the Egypt Network for Integrated Development (ENID) under United Nations Development Programme (UNDP).
Humble start
The factory commenced operations with 30 female employees only in 2019 and has since developed its training programmes and advanced its operations to cement its success and today, indirectly benefits more than 2,300 individuals, including families and extended relatives of employees.
Located in close proximity to the homes of its female workers, the Ready-Made Garments factory is the first of its kind in the Upper Egyptian District of Qena Governorate to manufacture export products. Launched to provide a source of sustainable income for beneficiary families, the factory provides a favourable work environment where the health and physical conditions of its workers are prioritised, and societal customs and traditions of the area are adhered to.
The opening of 12 nurseries near the factory to care for the children of employees has further attracted more females to work in the factory.
Vital contributor
Commenting on the visit, Mariam Al Hammadi, Director of TBHF, said: "We are proud of the outstanding efforts made by the RMG Factory in creating a sustainable economic enterprise within three years, and firmly establishing itself as a model for investment development projects. The fact that the factory's growth and expansion have been facilitated under the leadership of Egyptian women gives us more reasons to be proud of this project."
Ambitious idea
TBHF Director added: "Founded on an ambitious idea to utilise the energy and capacities of Egyptian women and the community, the factory has bolstered its status in the Egyptian market by meeting the local demand through long-term contracts, something which reflects the quality of products produced in the factory, and its commitment to becoming a vital contributor to the Egyptian economy."
Al Hammadi added: "We hope that the success of the garment manufacturing business will lay the framework for the development of similar economic projects to expand the scope of our humanitarian efforts across rural areas of Egypt in line with the vision of Sheikha Jawaher bint Mohammed Al Qasimi, wife of His Highness the Ruler of Sharjah and Chairperson of TBHF, to empower women, develop their skills, and support them to help advance the local communities."
Bilateral relations
For his part, Saleh Alsaadi, Deputy Ambassador of the UAE to Egypt, said: "The enduring bilateral relations between the UAE and Egypt have become a model for Arab-Arab relations. This distinguished relationship based on mutual respect has flourished since the founding of the UAE and under the leadership of the late Sheikh Zayed bin Sultan Al Nahyan and the late Sheikh Khalifa bin Zayed Al Nahyan. Today, it continues to prosper under President His Highness Sheikh Mohamed bin Zayed Al Nahyan, and His Highness Sheikh Mohammed bin Rashid Al Maktoum, Vice President and Prime Minister of the UAE and Ruler of Dubai, and their brothers, Their Highnesses, the Rulers of the Emirates."
He added: "What distinguishes the humanitarian approach of the UAE, apart from its broad global appeal, is that it stems from pure humanitarian considerations and reflects the authentic nature of the Emirati people and their leadership, and their commitment to Islamic principles and values. Underlying the humanitarian values of the UAE is its vital role in strengthening relations with various countries and peoples of the world."
Humanitarian support
Lauding TBHF's initiatives and projects in Egypt, Alsaadi emphasised that Egypt looks upon any Emirati humanitarian support to any sector or region in Egypt as "brotherly support", and added that any investments in the scientific, creative, and artisan-led economy in Egypt are investments in the development of the people of a country that is widely considered to be a key player in ensuring the stability of the Arab region.
TBHF efforts across Egypt
Over the past years, TBHF's focus to deliver services and implement projects in Africa increased, particularly in Egypt. TBHF was able to broaden the scope of its services as well as development and humanitarian projects in cooperation with many strategic partners like the United Nations Development Programme (UNDP), Egypt Network for Integrated Development (ENID), Magdi Yacoub Heart Foundation (MYF), National Cancer Institute, Ahl Masr Foundation, among others.
The Foundation's mandate is to protect and empower vulnerable children and their families in vulnerable situations across the world. Since then, TBHF has provided health, education and emergency aid services — among others — to almost 4 million people in need more than 25 countries.
Source: Gulf News
https://gulfnews.com/uae/sharjahs-big-heart-foundation-changes-lives-of-more-than-500-women-in-egypt-1.88835023
--------
Turkish Female Thrill Seeker Motorcyclist, Asil Özbay, To Pen Memoirs in Book
July 12 2022
Following her adventurous trip to 45 countries in five continents on a motorcycle, Asil Özbay, a 35-years-old academic from the western province of İzmir's Gediz University, is now preparing to collect her years of experience into a book titled "Anın İçinde Rutinin Dışında" (In the Moment Out of Routine).
"I have been writing about my journeys for years; it will be a motivational book with warnings for travelers," said Özbay, who ended her Africa route in April, which she started in the middle of the pandemic.
"I attended all the youth programs I came across while I was at university," Özbay said, adding that she started to explore different geographies with these student programs.
Özbay decided to work as a chess coach in prisons in her spare time when she started her master's degree. "During this period, I realized that even being able to take risks is a freedom, and I decided to take trips on a motorcycle."
Özbay, who set on her first trip with the Balkans route, started to go on trips for three months during summer vacations. In her second tour, Özbay went to Spain, France and Morocco, which was followed by Georgia-Russia-Mongolia, Iran-India-Pakistan-Nepal routes and finally Africa.
First trips were decided after a research and a plan, but after a while, it turned into a lifestyle, Özbay said. "Motorcycle is like my home now. I drove for 11 hours straight in Siberia because I couldn't find a place to stay."
"I collect a piece of land from every country, and I want to plant an olive tree, a symbol of peace, with them," she said.
"I also leave letters to my future children in different parts of the world. Sometimes I bury it in a certain place whose location I know, and sometimes I give it to a family I met," she added.
She also pointed out that being a female traveler in some geographies has disadvantages. "There were towns in Pakistan where I had never seen a woman."
But as a woman, one seems more reliable, according to Özbay.
"The families you meet invite you to their homes, and you can learn about those cultures more easily."
Source: Hurriyet Daily News
https://www.hurriyetdailynews.com/turkish-female-thrillseeker-motorcyclist-to-pen-memoirs-in-book-175269
--------
URL: https://newageislam.com/islam-women-feminism/muslim-headscarf-germany-hijab/d/127465
New Age Islam Islam Online, Islamic Website, African Muslim News, Arab World News, South Asia News, Indian Muslim News, World Muslim News, Women in Islam, Islamic Feminism, Arab Women, Women In Arab, Islamophobia in America, Muslim Women in West, Islam Women and Feminism