New Age Islam News Bureau
3 May 2018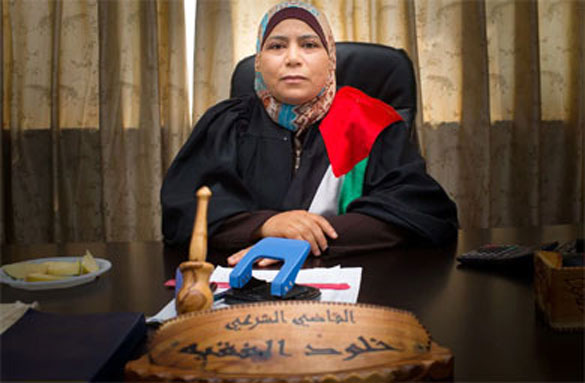 Kholoud al-Faqih is one of the first female judges to serve in an Islamic court of law. (Idle Wild Films)
-----
• This Palestinian Lawyer Is One of the First Women to Preside Over A Sharia Court; 'The Judge' Is Her Story
• NA Unanimously Adopts Resolution Condemning Anti-Women Remarks
• Saudi Businesswomen to Meet Dutch Counterparts to Develop Leadership Skills
• Tough Road for Iraq's Female Candidates In May 12 Elections
• Pakistani Girl Wins US State Department's Emerging Young Leaders Award
• Women Journalists in Afghanistan Defiant In The Face Of Violence
• Iran: A Majlis Deputy Admits "New Slavery" Conditions Of Women Workers
Compiled by New Age Islam News Bureau
URL: https://www.newageislam.com/islam-women-feminism/muslim-woman-protests-discrimination-her/d/115133
--------
Muslim woman protests discrimination at her local mosque in New York
May 02, 2018
'They don't run the Masjid on the basis of Islam in America and don't see the importance of involving women and the youth in the committee'
A Bangladeshi American woman is raising her voice against what she calls "discrimination against women and young girls" at her local mosque in New York.
Jabin Ahmed Ruhii, a resident of Hudson, New York, has alleged that Muslim women were excluded from the Hudson Islamic Centre's ground breaking ceremony this week despite repeated requests.
The local Muslim community is building its own centre nearly 20 years after it was founded. So far, they have prayed out of the basement of the existing building.
She says the invitation letter was addressed to "Brothers and Sisters" but the men were explicitly told that women were not part of the gathering.
In a strongly worded Facebook Post, Ruhii said "Islam is for everyone, not just those with a particular reproductive organ."
Speaking to the Bangla Tribune later, she said most of the committee members are first generation Bangladeshis who migrated to the United States at the age of 30 or 40 and they run the masjid based on their interpretation of Islam back home.
"They don't run the Masjid on the basis of Islam in America and don't see the importance of involving women and the youth in the committee," she said.
Many of the young women and men in the community are highly educated, successful, and they believe they could be an asset to the Islamic Centre—both financially as well as in connecting with other communities, she added
Ruhii, 24, works as a family intervention specialist at the Warren Street Academy, an alternative school program that serves students who may have been at risk of dropping out because of their circumstances. She is also the co-founder and co-president of Hudson Muslim Youth.
She says she left several messages for the Islamic Centre's president Abdul Hannan, but did not get any response.
"It was extremely hurtful to see non-Muslim women invited to the event but there was no room for Muslim sisters," said Ruhii.
Talking to a local newspaper, Hannan said the ceremony had limited seating arrangements, so women and children were asked not to attend.
"There is no discrimination allowed in our mosque or religious ceremonies," he said. "People, men and women, can worship together."
At the same event, a volunteer at the Centre was quoted as saying: "No female Muslim worshippers attended Sunday's ceremony because it's an Islamic tradition for women to worship in a separate space, and the Centre couldn't accommodate that".
While many mosques in America now allow women to pray with men in the same room in segregated areas, there's a large number where they are not allowed. Many studies have also reported a generational divide within the community, as young Muslims feel that the Islam of their parents does not directly address the issues they face in America.
A few Muslim groups like "Make Space" are now trying to focus on the younger generation and address their American Muslim identity.
Ruhii's Facebook post has so far drawn strong support from many women and men in the community and she hopes that it will spread to other parts of the country.
"I chose not to remain silent because I have seen this discrimination since I was a child. If things don't change now, they will continue forever," she says.
https://www.dhakatribune.com/world/north-america/2018/05/02/muslim-woman-protests-discrimination-local-mosque-new-york/
--------
This Palestinian Lawyer Is One of the First Women to Preside Over A Sharia Court; 'The Judge' Is Her Story
By Vanessa H. Larson
May 2, 2018
What's it like being one of the first female judges to serve in an Islamic court of law? That's the subject of the inspiring documentary "The Judge," an intimate profile of Kholoud al-Faqih, who in 2009 was one of two women appointed to preside over a sharia court in the West Bank — becoming the first in that role in the Palestinian territories and still among only a few such female judges in the world
American filmmaker Erika Cohn (who co-directed the Emmy-winning 2015 documentary "In Football We Trust") charts the path of the pioneering Faqih, who comes across as a relentlessly upbeat advocate for women despite the difficulties of working in a patriarchal Middle Eastern society.
Originally a lawyer helping battered women, Faqih was determined to become a judge in the West Bank's sharia courts, which hear family cases. Women had been judges in Palestinian criminal law courts since the 1970s, but they had never served in sharia courts. Islamic jurisprudence has traditionally been the province of male magistrates and religious scholars.
"I laughed, and I thought it was a joke," recalls Sheikh Tayseer al-Tamimi, the former chief judge of the West Bank's sharia court system, describing his reaction when Faqih first approached him about the idea.
But after Faqih convinced the chief justice that the Hanafi school of Islamic law that was in place in Palestinian territories permitted women to be judges, she and another female lawyer successfully passed the requisite exam. Their appointments paved the way for the first female marriage officiant to be appointed a few years later.
Cohn uses a cinéma vérité style, showing Faqih on the job as she handles cases with aplomb: negotiating alimony, for example, from the family of a man who has abandoned his wife. Other issues include those both commonplace (child custody) and more culturally specific, such as honor killings, or men wanting to take additional wives (as allowed by Islam).
Viewers also get to know Faqih outside of the courtroom, in warm family scenes at home with her lawyer husband and their four children, or visiting her elderly parents, who only finished middle school but supported their 12 children's education.
The film touches on some professional hurdles: Faqih and her female colleagues have faced opposition from a conservative sheikh, and a restructuring of the courts by a traditionalist chief justice meant that Faqih was effectively demoted for a period of several years.
Indeed, these challenges could have been explored more thoroughly — both to give broader context for the achievements of the film's subject and to create a more compelling (and chronologically clear) dramatic arc. And although Faqih speaks eloquently about women's rights and what she stands for, a bit more personal introspection might have been illuminating.
"The Judge" presents a rare Western view of the Middle East that doesn't frame Palestinians' lives in reference to Israel, which is barely mentioned. It also offers a robust counternarrative to stereotypes of Arab and Muslim women as powerless. Islamic legal principles might be the formula here, but the quest for justice is universal.
https://www.washingtonpost.com/goingoutguide/movies/this-palestinian-lawyer-is-one-of-the-first-women-to-preside-over-a-sharia-court-the-judge-is-her-story/2018/05/01/cf9b30ba-499e-11e8-827e-190efaf1f1ee_story.html?
--------
NA unanimously adopts resolution condemning anti-women remarks
May 02 2018
ISLAMABAD: National Assembly on Wednesday unanimously adopted a resolution condemning the anti-women remarks issued by parliamentarians.
The resolution put forwarded by Pakistan Tehreek-e-Insaf lawmaker Shireen Mazari was changed three times on the objection of Speaker Ayaz Sadiq before passed unanimously.
The first draft of the resolution named Pakistan Muslim League-Nawaz leaders Rana Sanaullah and Abid Sher Ali, which were taken off on the objection of the speaker.
Mazari demanded that the lawmakers should apologise for their derogatory remarks on the floor of the house.
Meanwhile, PTI lawmaker Murad Raas on Tuesday submitted a resolution in the Punjab Assembly condemning provincial Law Minister Rana Sanaullah's remarks against party's female workers.
The resolution called for Sanaullah's immediate dismissal from the Law Ministry and demanded an apology over his 'derogatory' remarks towards female participants of a PTI rally in Lahore on April 29.
On April 30, a day after PTI's rally at Lahore's Minar-e-Pakistan, Sanaullah had said, "The women who attended the rally were not from honourable families because their dance moves implied where they had actually come from."
Sanaullah is not the only Pakistan Muslim League-Nawaz (PML-N) leader who has drawn ire in the past few days over his misogynist remarks.
Federal Minister Tallal Chaudhry, at a separate press conference, had said: "We don't ask whose house you [Imran Khan] stay at when you visit London. It is another matter altogether what you do over there. When it comes to your wife, she remains veiled, but our mothers and sisters are for display?"
A third PML-N leader, Abid Sher Ali, issued derogatory remarks against PTI's Shireen Mazari while addressing a public gathering in Faisalabad on Sunday night.
Abid Sher Ali said that while Mazari was protesting against Finance Minister Miftah Ismail's budget speech in the National Assembly, she had said: "Don't touch me."
"What is there to touch?" he asked the crowd.
https://www.geo.tv/latest/193778-na-unanimously-adopts-resolution-condemning-anti-women-remarks
--------
Saudi Businesswomen to Meet Dutch Counterparts to Develop Leadership Skills
May 03, 2018
RIYADH: A delegation of Saudi businesswomen will travel to the Netherlands next week to meet their Dutch counterparts, visit companies and share experiences that will be helpful in developing business leadership skills.
The trip is being organized by the Netherlands Embassy in Riyadh.
Dutch Ambassador Joost Reintjes said: "We have started this because the role of women in Saudi society is now changing. It is not only about allowing them to drive, but also about work culture, business, and entrepreneurship. There are a lot more Saudi women running their own companies or starting their businesses.
"The idea is that a group of businesswomen from different Saudi sectors will be in the Netherlands from May 6 to May 11. They will meet business partners, officials, visit companies, different places, they have a meeting with the Amsterdam mayor and they will explain to their Dutch counterparts, including female entrepreneurs from Holland, what is happening in Saudi Arabia."
He said the delegation will include six businesswomen from the Kingdom, who will join a group of six businesswomen from the UAE.
Reintjes said 60 years ago, the position of women in the Dutch labor market was completely different. "Now they can do what they want. The situation in the Kingdom is also changing," he added.
Marene Madi, an adviser on educational and economic affairs at the embassy, said: "The program is mainly a combination of official and business visits. During the official visits, they will meet members from the ministry and representatives from government entities, while on business visits they will meet their counterparts in the Netherlands to share their experiences, discuss market opportunities and future partnership."
A member of the delegation, Maha Sulaiman Al-Nuhait, co-founder and CEO of Athar, a consultancy for sustainability and corporate social responsibility, told Arab News: "We are looking forward to this, having a wonderful time with our Dutch counterparts, sharing our experiences and exchanging ideas on business development."
http://www.arabnews.com/node/1295626/saudi-arabia
--------
Tough Road for Iraq's Female Candidates In May 12 Elections
May 03, 2018
BAGHDAD: Iraqi women running for parliament this month are undaunted, despite many challenges they face ahead of the May 12 elections — including unprecedented smear campaigns complete with sex videos that have forced some to withdraw from the race.
Many see the vote as a chance to push women's issues to the fore in this traditionally male-dominated society.
There are concerns that women's rights are being eroded, 15 years after the US-led invasion toppled dictator Saddam Hussein with hopes of bringing democracy to a nation long staggering under wars, oppression and countless economic and social problems.
Nearly 2,600 female candidates are vying for a quarter — a quota allotted to women under the constitution — of parliament's 329 seats in these elections, the fourth since Saddam's 2003 ouster.
http://www.arabnews.com/node/1295781/middle-east
--------
Pakistani Girl Wins US State Department's Emerging Young Leaders Award
May 03, 2018
WASHINGTON: The US Department of State honoured 10 outstanding young leaders from around the world, including Dania Hassan from Pakistan in recognition of her efforts to promote positive social change in the education sector of Pakistan, in a graceful ceremony on Wednesday, says a press release.
Dania Hassan, 18, after attending summer school at John's Hopkins University through the US Summer Sisters Exchange Programme, a programme of US Pakistan Women Council, established an organization called "Fun to Learn," through which teams of volunteers conduct extracurricular programmes in underprivileged schools in Pakistan.
She is the youngest high achiever of the Pakistan-US Alumni Network's "30under30 series."
Pakistan's Ambassador to the US, Aizaz Chaudhry, applauded the efforts made by the US Pakistan Women Council to promote Women Empowerment and Entrepreneurship.
While congratulating Ms Hassan, Ambassador Chaudhry said that Pakistani youth and Pakistani women are vibrant, robust and passionate and are excelling in various fields.
He urged the council and its partners to identify more opportunities to enhance future cooperation.
Earlier, the US-Pakistan Women Council organized a pre-award event at the residence of Ms Shaista Mahmood, who is the founding member of the council to celebrate the achievement of Ms Hassan.
The event was well attended by the senior officials of the State Department, board members of US Pakistan Business Council, prominent community members and students.
https://nation.com.pk/03-May-2018/pakistani-girl-wins-us-state-department-s-emerging-young-leaders-award
--------
Women Journalists in Afghanistan Defiant In The Face Of Violence
2 May 2018
The cold-blooded murder took place just days before World Press Freedom Day marked annually on May 3rd.
Outside the Afghan capital, the dangers of reporting the news, particularly as a woman, have never been so apparent.
Sediqa Sherzai is the news director of Radio-TV Roshani, a media organization In Kunduz in the north of Afghanistan. Her female reporters are under constant threat not only from insurgents but also from men who do not want women to work in the media.
"When insurgents seized Kunduz in 2015, they came immediately for our station because they didn't like our content focused on women's rights," she said. "Even though most of our reporters fled in advance of their arrival. They looted our equipment and destroyed what they could not take."
Elections
Despite the challenges of working as a woman in the media in a conservative and conflict-affected country, Sediqa Sherzai is committed to ensuring that the voices of Afghan women area heard ahead of the country's elections slated for October this year.
In the volatile province of Kunduz where some territory is beyond government control, women say they fear to speak to the media and talk about human rights, much less advocate openly for democracy and change. Even Sediqa Sherzai and her staff of women shy away from photographs, cautiously protecting their identities.
Elections are considered essential to solidify fragile the social and human rights advances made during the last 17 years. The struggle for full women's suffrage in Afghanistan, reminiscent of similar fights in centuries past in other nations, has gained broader international support in the last two decades.
UN in Afghanistan
Pushing for change, the United Nations Assistance Mission in Afghanistan (UNAMA) has supported initiatives that offer space for Afghan women from across all sectors of society to advocate against oppression and conflict, and also to stand up for basic human rights, including their right to vote.
UNAMA's chief, Tadamichi Yamamoto, said on the occasion of World Press Freedom Day that the UN continues to push for the government "to implement measures to improve journalist safety and foster an open media where no voice is silenced through fear."
Ms Sherzai said the unwritten code to silence women runs deep in Kunduz. "Women don't want to talk because they are under threat, but also because of traditional restrictions, including fathers and husbands forbidding them from talking."
As news director in a city besieged by war, she faces the dilemma of trying to dispatch reporters to the field. "We can't say we are accurately reflecting the views of women when even our own female reporters are under constant threat," she said.
Democracy
Even if Kunduz, a bustling city of some 500,000 citizens, was not enduring near-constant conflict, there would still be immense obstacles standing in the way of women's full participation in democracy, according to media officials and human rights advocates.
"This is a pervasive issue across our society as even highly literate men in business and in government don't want their women to vote," said Lida Sherzad, an advocate working with the Afghanistan Women's Network (AWN). "There is an immense price to pay in terms of psychological damage and pressure on women, including their children, and these mothers are asking me why they should even participate in elections if no one is protecting them."
The right for women to vote goes hand in hand with several of AWN's efforts to create new social networks and connect different groups of women in a common effort to speak out for women's leadership and to end violence against women.
Women's rights advocates say that while progress has been slow at times, the last 17 years have witnessed immense gains for Afghan women, who under Taliban rule in late 1990s and through most of 2001 were confined to their homes and prevented from obtaining an education.
Many women working in the media in Kunduz left during the Taliban rule, but Sediqa Sherzai said that stand' if the insurgents re-enter the city for a third time in five years, she will "defend the station if necessary."
https://news.un.org/en/story/2018/05/1008802
--------
Iran: A Majlis deputy admits "new slavery" conditions of women workers
02 May 2018
Women's presence in Iranian production units without receiving sufficient pay is tormenting.
Ahmad Amirabadi Farahani, a member of the presiding board of the mullahs' parliament from Qom, asserted the above and added, "Oppression of women in some production units in payment of their wages and long working hours is new slavery."
The remarks were made in a gathering praising women job creators in the Province of Qom, on Monday night, April 30 2018.
Amirabadi said, "One of the issues that torments us and unfortunately exists throughout the province is women's presence in production units without receiving sufficient salaries... I have visited these production centers. Some women are working more than the legally sanctioned working hours and the wages they receive are rather small."
In another part of his speech, Amirabadi acknowledged that women are kept at their work place for long hours and they are paid wages less than men. He said women and girls "go to work at these production centers since early morning and work up to 12 hours with a meager wage of 400,000 toumans (a month)." (The state-run ISNA news agency - May 1, 2018)
https://women.ncr-iran.org/iran-women-news/5029-iran-a-majlis-deputy-admits-new-slavery-conditions-of-women-workers
--------
URL: https://www.newageislam.com/islam-women-feminism/muslim-woman-protests-discrimination-her/d/115133
New Age Islam, Islam Online, Islamic Website, African Muslim News, Arab World News, South Asia News, Indian Muslim News, World Muslim News, Women in Islam, Islamic Feminism, Arab Women, Women In Arab, Islamophobia in America, Muslim Women in West, Islam Women and Feminism