New Age Islam News Bureau
17 December 2021
• The Women Of Jammu And Kashmir Defy Odds To Succeed
• Iranian Female Handball Player Defects Because Of 'Restrictions'
• Parties in Pakistan Asked To Award Tickets To Women In Elections
• Lifesaving Support For New Mothers In Crisis-Wracked Afghanistan
• Pakistan Punjab Governor Proposes Increase In Women Seats Quota
• The Spread Of Violence Against Women In Iran, The Mullahs' Ploy To Control Society
Compiled by New Age Islam News Bureau
URL: https://www.newageislam.com/islam-women-feminism/kerala-iddah-divorce-khula/d/125984
--------
Muslim Woman Moves Kerala HC Seeking Exemption from "Iddah "After Divorce through "Khula"

Dec 18, 2021
KOCHI: A Muslim woman has approached the Kerala high court seeking exemption from the mandatory 90-day waiting period, termed "iddah", to remarry after divorcing her husband through "khula".
The 25-year-old woman from Thalassery has contended that she had been living separately for over two years and had not had sex with her husband during this period. "Iddah" which, among other purposes, is meant to determine the paternity of a child if one is born after divorce, is therefore unnecessary, she argued. She is willing to prove medically that she is not pregnant, the plea said.
After considering the plea during an admission hearing on Thursday, a division bench comprising Justice A Muhamed Mustaque and Justice Sophy Thomas has issued a stay on a family court's order of November 19 barring her from remarrying following "khula", a divorce process initiated by a woman. It was in April this year that the HC had held that "khula" is legally valid.
As per the petition filed through advocate TP Sajid, the woman got married in July 2017 and had been living separately since June 2019. She and her one-year-old son were allegedly chased out of her matrimonial home by her husband after she questioned vulgar messages from a woman on her husband's phone, the petition said.
A petition seeking divorce, return of gold ornaments, and payment of maintenance is pending before the Thalassery family court since February last year. Meanwhile, the HC judgment that a woman can initiate divorce through "khula" was delivered and the woman sent a notice to her husband on October 21 informing him of divorce through "khula". However, the family court at Ernakulam, considering a petition filed by the husband seeking restitution of conjugal rights, had issued an order restraining her from entering into a second marriage on the basis of "khula".
Source: Times of India
https://timesofindia.indiatimes.com/city/kochi/muslim-woman-moves-hc-questions-90-day-waiting-period-after-divorce/articleshow/88348045.cms
--------
The Women Of Jammu And Kashmir Defy Odds To Succeed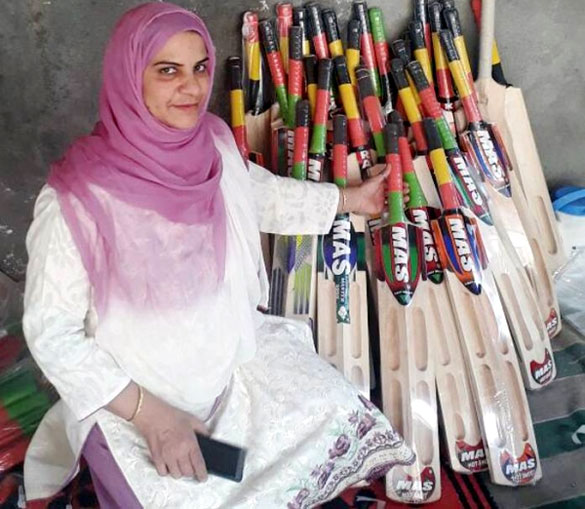 Srinagar's Rifat Jan shares her journey of managing and running the only female run bat-making unit in Jammu and Kashmir. — Courtesy photo
----
December 18, 2021
By Shariyat Fatima
NEW DELHI — "I have never feared anything and have always been determined to take up any challenge and see myself through it", says Srinagar's Rifat Jan, while sharing her journey of managing and running the only female run bat-making unit in the state.
Jan was initially reluctant to run this business, given how she already had the full responsibility of her household and family on her hands — as most women in Kashmir generally do; it is not uncommon for the financial spending of day-to-day and bigger occasions to be entrusted to the women of the house. However, following her father-in-law's demise and their dire financial circumstances, the strong-willed woman had no other choice than to restart the unit that her father-in-law had originally set up in the 1970s.
Over the years, since having taken up this venture, the business only grew under Jan's dedicated direction, evidenced by the new manufacturing units that were set up in Awantipore, Anantnag and Pampore. The business caters to demand from states all over the country, particularly Mumbai and Chennai.
This is just one example of such strong will that is a hallmark of women in the Indian Union Terittory of Jammu & Kashmir. It is true that Kashmiri women live in a patriarchal society, with the changes in the global and national social fabric being reflected in the UT to a very minimal level. They have continued to be tied to their gender roles, and with the stark affairs of the state, remained in the clutches of oppressive home lives and the repercussions of the unrest in the valley region.
Large numbers of women in the region often face harsh circumstances of a merciless life, having to raise children singlehandedly and running households with no prior arrangement of getting a steady income. Despite the limitations, women in the state do not shy away from dreaming big, nor do they hesitate to face, and subsequently overcome, all possible obstacles that stand in their way of achieving said dreams.
While illiteracy is one of the biggest hurdles for women achieving their dreams in the Union Territory, institutions such as the Crafts Development Institute at Srinagar provide skilled training in declining regional and highly coveted arts, such as Namda(a traditional carpet created with rolled and pressed wool).
At a time when misinformation and negative news coverage remains rampant, it becomes important to also view Kashmir through the lens of human growth — beyond the politics and security aspects, and into the stories of positive reinforcement.
Business ventures and entrepreneurship are key electives that women in Kashmir have been focusing on for the past few years. In the past decade, an expanding number of Kashmiri women have picked work or business ventures as their underlying strides toward a career. Gender economics, in a state that has seen slow social development, has emerged as a turning point.
The bifurcation of the state of Jammu and Kashmir into a Union Territory with its legislature was heavily driven by the lack of economic progress in the region; amidst political uncertainties, real-time development in the region has long suffered.
For example, economic growth in the state has long been erratic, with state gross domestic product (GDP) fluctuating between -3.2 percent to 17.7 percent over a span of two years. However, post bifurcation, total export from the UT stood at $188.18 million in 2019-20 while financial year 2021 saw exports at $159.64 million.
Women like Arifa have also seen benefits, succeeding in making their dreams a reality and also doing noteworthy work to pave the way for other women and artisans to have a better life and livelihood. What started as a desire of being a self-starter for Arifa grew into a popular business which further allowed her to extend employment to 12 women out of a total of 25 workers, while training countless others over the years.
At present, Kashmir's cottage handicrafts industry provides direct and gainful employment to around 340,000 artisans overall. Recognizing the difficulties women and artisans go through, female entrepreneurs who 'make' it also focus on establishing an all-women cooperative with the shareholders being the artisans so the profits could circle back to the group putting in all the hard work.
Amidst all the chaos of the region, and the unprecedented living circumstances brought on by the global pandemic, the women of this region have not backed down from chipping in to the best of their ability, to be of aid to the community.
Putting aside any and all self-interests, women entrepreneurs have made their mark in all walks of life, from women-owned dairy businesses limiting their products to the essentials needed by people, to fashion designers turned into manufacturers of face-masks and protective kits.
Being an agrarian state, 65-70% of Jammu and Kashmir's population depends upon agriculture, either directly or indirectly. Given the most common means of making a livelihood, Kashmiri women have also turned to agricultural endeavors to fulfill their ambitions of independence and self-sustenance.
From Nusrat Jahan Ara, who quit her government job to start her flourishing cut-flower business nearly two decades ago, to Fareeda Bano, who started her own silk worm unit and gives employment to 10 other women; these entrepreneurs have turned their lives around, and helped others do the same.
In this regard, as a UT, the Indian government's direct focus on the region's economic growth has seen the recent launch of an INR 200 crore cluster development fund of Small Industries Development Bank of India (SIDBI); a Jammu and Kashmir Bank scheme for INR 500,000 financial assistance to girls between 18 to 35 years of age to start their own businesses; and a Punjab National Bank (PNB) scheme for meeting credit requirements of upto INR2 crores for the hotel and tourism industry which includes small-scale travel agencies.
In April 2021, the government of Jammu & Kashmir signed 456 memoranda of understanding (MOUs) with various firms for a potential investment worth INR23,152 crore ($3.17 billion); the benefits of these are poised to greatly support small businesses and start-ups in the region which are being increasingly dominated by women.
The grit that women have shown in the face of adversity has also been aided by efforts of the local government, as was the case for Fareeda. Commendably so, the government of the Union Territory has also been actively involved in catering to the interests of female entrepreneurs, and in the process of empowering and uplifting them.
Various government schemes such as UMEED, SAATH and HAUSLA have also gone a long way in providing support to women who want to step into the entrepreneurial field. Over 50,000 self-help groups — with the aim of helping rural women — exist in the region, and have been associated with over 450,000 women.
"Let not fear overpower your aspirations. Fear is only in the mind. You only need courage to take that first step. Once you do take that first step, the path will unfold before you."
Coming from a woman who has already beaten the odds, these words ring true for all those who already have, or hope to make a better future. The stories of these women are oft overshadowed by the conflict of the region, however, it's essential to give them the recognition they deserve in order to further their growth.
— Shariyat Fatima is a freelance writer based out of India. She is pursuing a masters in psychology and can be reached at shariyat.fatima11@gmail.com.
Source: Saudi Gazette
https://saudigazette.com.sa/article/614854/World/Asia/The-women-of-Jammu-and-Kashmir-defy-odds-to-succeed
--------
Iranian Female Handball Player Defects Because of 'Restrictions'
December 17, 2021
Shaghayegh Bapiri, an Iranian handball player who defected to Spain this week, told VOA Persian on Thursday that she saw no future for women handballers in Iran if conditions for players do not change.
Bapiri, 30, has been a constant fixture on the Iranian women's national handball team and at the Iranian government funded Sepahan Club since 2015 and was one of Iran's most experienced players at this week's 25th International Handball Federation Women's World Championship in Spain.
On Wednesday, she left the Sercotel Sorolla Palace Hotel where the Iranian women's national handball team had been staying in Valencia and announced her intention to seek asylum. The other members of Iran's national women's handball squad left Spain on Thursday. Bapiri was not among them.
In her first interview since defecting, she told VOA that "restrictions imposed" on the women's sport in the Islamic republic led to her decision not to return home.
This means her family will likely have to forfeit some $35,000 (15 billion Iranian rials) she was forced to put up as collateral before she was allowed to leave Iran. Iran's government sometimes requires traveling athletes to use personal assets as collateral to ensure their return home.
"If there was no hefty collateral, no one would return," she said, speaking in her native Farsi.
In an interview this week, a tearful Bapiri talked about "insurmountable pressures on women sports, there are a lot of discrepancies between male and female sports in Iran … this difference I cannot accept."
The former national squad's top scorer mentioned that just before the tournament, she was reprimanded by Iran's Handball federation for a "like" on an Instagram story that was critical of their taking part in the Spain tournament. She also said the mandatory head gear required by the federation was an obstacle to her performance.
"In our first match, my hijab was pulled by the competition. The federation official yelled at me after the match. I had no control over it. I cannot accept to be treated as such by the federation," she told VOA.
In Spain, Iranian Handball Federation President Alireza Pakdel denied the accusations made by Bapiri. In an interview with VOA Persian, the president said instead, the athlete's actions "put all the Iranian female athletes at risk of not being sent for international competitions."
There have been high-profile Iranian athlete defections before. Mina Alizadeh, a former member of Iran's women national rowing team, defected in 2010. Olympian medalist Kimia Alizadeh, no relation to Mina, did not return home after leaving Iran on a tourist visa. The athletes' families are still living in Iran.
Bapiri was born in the city of Sanandaj, the capital of Kurdistan province in Iran. She described abuse she has received for being part of Iran's Sunni Muslim minority and an ethnic Iranian Kurd.
"If you're a Kurd and Sunni, you get a different treatment in Iran. You're constantly ridiculed for being a Sunni. I cannot take that anymore. I am a human being," she said.
Iran's mistreatment of its religious and ethnic minorities is regularly highlighted by the State Department in its annual country report.
Bapiri told VOA that she has no regrets about her choice and plans on pursuing her education without feeling the pressure of being constantly monitored or harassed about what she posts on social media.
Source: VOA News
https://www.voanews.com/a/iranian-female-handball-player-defects-because-of-restrictions-/6359103.html
--------
Parties in Pakistan Asked To Award Tickets To Women In Elections
December 18, 2021
MANSEHRA: Civil society activists have demanded political parties to award tickets to women aspirants for the local government elections to bring them into the national mainstream.
"If women are not given a leadership role, we cannot expect economic change in our lives and status," Yasmin Bibi, a former tehsil councillor, told a women-only gathering organised by the Saibaan Development Organisation in Balakot on Friday.
The women rights activists, former local government representatives and officials of various public sector departments attended the forum. Yasmin said that it was an encouraging sign that the Aawaz 11 constituted a women learning forum where they could raise their voice against societal discriminations and gender-based violence.
Speaking on the occasion, Saibaan chief Sahibzada Jawad Alfaizi said that his organisation had been working to help marginalised segments of society.
"We have been providing a platform to women to discuss their issues and finalise their strategy to deal effectively with them," he said.
Speaking on the occasion, religious scholar Maulana Saeed Abdullah said that Islam gives women equal rights like that of men and independence of mobility to earn livelihood for them and their families.
"Women should actively pursue their carrier as business entrepreneurs and other public and private positions to change their economic condition as Islam gives them independence to do it," he said.
Sajida Khan, a differently abled social activist, told the gathering that men and women were largely amputated of their limbs in the 2005 devastating earthquake but the latter were still deprived of their due rights.
Source: The News Pakistan
https://www.thenews.com.pk/print/917658-parties-asked-to-award-tickets-to-women-in-elections
--------
Lifesaving support for new mothers in crisis-wracked Afghanistan
December 17, 2021
KABUL — The Malalai Maternity Hospital is one of the busiest in the Afghan capital, Kabul, welcoming around 85 babies into the world every day, including 20 by Caesarean section. But the ongoing crisis in the country is drastically undermining the staff's capacity to care for their patients.
"Shortages of equipment, supplies and medicine, a lack of fuel and heating facilities, especially now with winter approaching, and uncertain support from partners are just some of the challenges we're facing," said Shahla Oruzgani, head midwife at the maternity hospital.
At the Ahmad Shah Baba Hospital, where Dr. Aqila Bahrami works, the outlook is no less bleak. "We used to receive regular support from an international NGO, but their staff left in the aftermath of the events in August. Now we are in serious need of medical supplies," she told the UN reproductive and sexual health agency, UNFPA.
These two hospitals were among the first in Afghanistan to receive emergency reproductive health kits from UNFPA.
They contain essential drugs, medicine and equipment to ensure safe deliveries and support the reproductive, maternal and newborn health needs of at least 328,000 people.
More than 300 kits are being provided to hospitals and through mobile health teams, both in Kabul and across 15 provinces, with additional distributions planned for the coming weeks.
Since Kabul fell to the Taliban in August, more and more women have been seeking maternal healthcare from the Malalai hospital, many of them internally displaced from the northern provinces of Afghanistan into the capital.
Although the number of patients has gradually returned to normal as the displaced moved elsewhere, the hospital's supplies have been left badly depleted.
Oruzgani fears the situation could get far worse should the healthcare system fail completely. Preliminary estimates warn that the current humanitarian emergency and suspension of lifesaving reproductive services for women and girls could cause up to 58,000 additional maternal deaths, 5.1 million unintended pregnancies and a near doubling of the unmet need for family planning over the next four years.
In a country where a woman dies every two hours from pregnancy-related complications, Ms. Oruzgani said: "The kits are critical at this time, as hospital resources are running out and the support we were receiving has dwindled. We can't be sure where our next assistance will come from."
Investments in public health have made great strides towards improving essential care in Afghanistan over the past 20 years, and the maternal mortality ratio has more than halved from 1,450 deaths per 100,000 live births in 2000, to 638 per 100,000, in 2019.
Yet this remains one of the highest rates in the world, and unless the current crisis is immediately addressed the health system could buckle. This would undo decades of progress on maternal health care and carry grave consequences for the lives of more than 4 million women and adolescent girls of childbearing age.
Despite escalating insecurity and hostilities, UNFPA and partners continue to operate and in October reached over 97,000 people with life-saving sexual and reproductive health and protection services, including prenatal care, safe delivery, antenatal care and family planning. — UN News
Source: Saudi Gazette
https://saudigazette.com.sa/article/614830
--------
Pakistan Punjab Governor Proposes Increase In Women Seats Quota
December 18, 2021
LAHORE: Punjab Governor Chaudhry Sarwar while proposing to increase the quota of general seats from 5 percent to 10 percent for women contesting general elections said that democracy and parliament will be strengthened if more women will contest elections.
The present government under the leadership of Prime Minister Imran Khan is working to ensure the protection, development and prosperity of women. Islam gives equal rights and respect to women and strictly forbids gender discrimination against women.
He was addressing an event on women empowerment organised by the National Commission on the Status of Women (NCSW) at Governor's House here Friday. Chairperson NCSW Nilofar Bakhtiar, US Counsel Generl , William K Makaneole, Chairperson Women protection Authority Fatima Chidhar, MNA Sadaqat Abbasi, MPAs Ahsan Ch, Uzma Kardar, PTI central member Sh Qaiser Ayub and others were also present on the occasion.
Expressing his commitment to ensure equal rights and opportunities for women, the governor said that women were proving themselves in every field at national and international level. He said that Islam teaches respect, dignity and protection of women. He said, gone are the days when women were forcibly silenced, more legislation on women's rights and pre-existing laws had to be strictly enforced. He said that the perpetrators of rape were no less than terrorists they should be dealt with iron hands as per law.
He said that it was necessary to provide equal opportunities and conducive environment to women, adding that the present govt was utilising all resources for women empowerment. Ch Sarwar said that the message of Islam is the message of humanity for all irrespective of race and colour. He stressed that the protection of women's rights is essential to make the society progressive.
Source: The News Pakistan
https://www.thenews.com.pk/print/917752-sarwar-proposes-increase-in-women-seats-quota
--------
The spread of violence against women in Iran, the mullahs' ploy to control society
November 23, 2021
The Iranian Judiciary covers up violence against women
In today's Iran, we witness the constant spread of violence against women. We learn increasingly horrendous facts every day. The authorities attempt to cover up cases of violence against women, but in many instances, these cases are too obvious to be neglected. The clerical regime's failure to prosecute the perpetrators fully and its eagerness to release them indicates that it is taking advantage of this situation.
Repression is one of the two main pillars that drive the clerical dictatorship's survival. Consensus on the repression of women reigns highest for this regime.
The clerical regime has not signed the Convention on Elimination of All Forms of Discrimination Against Women (CEDAW). Repression in Iran primarily targets women, thereby controlling all society. Iran's regime is the number one executioner of women in the world. State violence perpetrated against women, under the pretext of the political situation or Hijab, etc., is several-fold more intense than the social or domestic violence that women experience.
Ebrahim Raisi, a mass murderer responsible for a vast number of political executions, is in power. Under his rule, the prospects for better conditions for women seem less feasible than ever before.
In this pamphlet, you will read about:
Assailant shooting women in bright day light is at large
Judges, prosecutors insult and humiliate female plaintiffs
Misogynous laws and patriarchal culture discriminate against women
In the last two years, we have witnessed a steady stream of the brutal and merciless killings of women. These events, whether under the pretext of honor killings or family disputes, all point to the fact that the men of Iranian society, under the rule of so-called clerics, rely on the law that recognizes men as heads of households and the owners of women.
Such laws, and the dominant misogynous culture, open the door to men to exact revenge from the women in the family in the face of any economic or social pressure. Moreover, violence against women has never been criminalized under this regime and is deliberately ignored by the Judiciary.
According to research conducted by Parvin Zabihi, a women's activist in Marivan, Kurdistan, during the last 20 years, 1,200 women have been subjected to "honor killing" in Iran. "The law is written by men, and the culture is the product of a patriarchal and classist society," she stated (The state-run Salamatnews.com – October 23, 2021).
In an article published on November 19, 2020, on the state-run Jahan-e-San'at website, Mohammad-Reza Mahboubfar, a regime social pathology expert, wrote, "Iran ranks first when it comes to domestic violence."
"Currently, social harms are sweeping the country, and no home is safe in Iran," Mahboubfar added.
Then he revealed horrendous figures, "If this trend continues, the number of honor killings in the country, 450, could increase to 2,736 cases by the end of the year" (The state-run Jahan-e-San'at website – November 19, 2020).
According to Article 220 of the Islamic penal code, "If a father or grandfather from the father's side kills his child or grandchildren, he will not be subjected to "Qesas," (i.e., Retribution) but he must pay the blood money and will be lashed."
A bill tangled among political views
Women's rights activists have succeeded in bringing the issue of the spread of violence against women in Iran into the social discourse. A bill aiming to prohibit violence against women was under discussion until Romina Ashrafi, 14, was beheaded by her father on May 21, 2020. In response to the public outcry, 24 days after Romina was killed, Rouhani, then-president of the clerical regime, rushed to the scene and hypocritically ordered the passage of a bill titled, "Protection, Dignity, and Security of Women" (The state-run IRNA news agency – June 13, 2020).
The Judiciary had referred the bill to the government in the late summer of 2019. The Judiciary not only changed the title of "Prohibition of Violence Against Women" to "Protection, Dignity, and Security of Women," it also omitted 15 articles in the original bill, thereby changing the intent. Then-MP, Parvaneh Salahshoori, called the bill a "lion without mane, tail, or belly" (a Persian expression meaning good-for-nothing or of no use) and admitted that it would not be of any help regarding the spread of violence against women. According to Salahshoori, "If this bill is passed, women will sink into a more horrendous situation."
Nonetheless, the bill stalled for 16 months under the Rouhani government. Eventually, on January 14, 2021, Rouhani's parliamentary deputy, Hossein-Ali Amiri, announced that the bill had been introduced in Parliament.
The bill has been shelved in Parliament for 10 months and is not given any priority. In fact, with every report of shocking violence against women and murder, the bill has passed from one parliamentary commission to another.
According to Ali Mojtahedzadeh, a lawyer, "the bill of 'the Prohibition of Violence against Women' is tangled among political views" (The state-run ILNA news agency – October 19, 2021).
Source: Women NCR
https://women.ncr-iran.org/2021/11/23/the-spread-of-violence-against-women-in-iran-the-mullahs-ploy-to-control-society/
--------
URL: https://www.newageislam.com/islam-women-feminism/kerala-iddah-divorce-khula/d/125984
New Age Islam, Islam Online, Islamic Website, African Muslim News, Arab World News, South Asia News, Indian Muslim News, World Muslim News, Women in Islam, Islamic Feminism, Arab Women, Women In Arab, Islamophobia in America, Muslim Women in West, Islam Women and Feminism