New Age Islam News Bureau
12 Jun 2019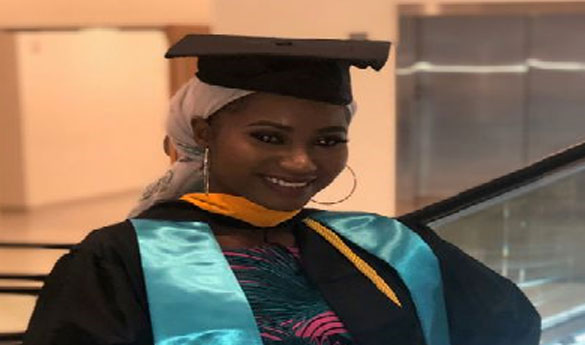 Photo: PHOTO PROVIDED BY FATOUMATA CAMARA
-------
• Montreal Woman Says STM Bus Driver Didn't Stop For Her Because Of Her Niqab
• Paterson Police Welcome First All-Female Class and First Hijabi Officer
• Boris Johnson Defends Comments about Veiled Muslim Women At Launch
• Islamic Charities Push Death for 'Apostates' And Female Subjugation
• Poor Services for Women and Statistics are Alarming: Fadoua Bakhadda
Compiled by New Age Islam News Bureau
URL: https://www.newageislam.com/islam-women-feminism/muslim-woman-investigated-her-own/d/118863
--------
Muslim Woman Investigated Her Own Hate Crime After NYPD Dismissed Her Case
"I told myself I wasn't going to be one of those cases that got abandoned," said Fatoumata Camara, who dug up video proving she was beaten and robbed.
By Rowaida Abdelaziz, HuffPost US
A Muslim woman who was robbed and brutally beaten by a group of young people last month says the New York Police Department and the Bronx District Attorney's office failed to properly investigate until she dug up video evidence proving the hate crime.
Fatoumata Camara, 22, said the authorities' lack of investigation into the May 10 beating that sent her to the hospital with a broken nose and a head injury forced her to do the investigative work herself, uncovering surveillance video from a business near the crime scene. Camara, who lives in the Bronx and wears a hijab, said the NYPD reopened her case and is investigating the attack as a possible hate crime after she presented the footage this week.
"I told myself I wasn't going to be one of those cases that got abandoned," Camara told HuffPost. "I was going to get justice for what happened to me that night."
Camara, who graduated from college with a degree in engineering on May 29, said an NYPD official told her earlier that the case had been closed due to lack of evidence.
Authorities disputed the claim that they abandoned the case. The DA's office said the case was not closed, but was referred to the NYPD. The NYPD said the investigation "is active and ongoing" by the 42nd Precinct detective squad. Police did not elaborate.
In recent years anti-Muslim hate crimes have soared in New York and in the U.S. The New York chapter of the Council on American-Islamic Relations documented a 74% increase in anti-Muslim hate crimes in the state since 2016. The U.S. saw a 17% rise in hate crimes last year, with Muslim individuals being the target of over 18% of religiously motivated hate crimes.
Women like Camara who wear hijabs face an increased threat due to their visibility as Muslims. The New York City Commission on Human Rights found that black Muslim women living in the Bronx were at "notably high risk for bias motivated assaults," with 1 in 5 women having experienced physical assault.
Camara was attacked on her way home from a New York City College of Technology award ceremony, where she was honored for her work as student government treasurer. She boarded a bus at the Grand Concourse and 167th Street stop outside the college.
Once seated, approximately 10 to 12 young men and women, including some teenagers, began to harass and taunt her, she said. They threw sunflower seeds, she said, and called her racial and sexist slurs, including "dumb, black bitch." They also mocked her "stupid headwrap," according to Camara.
The group followed her when she got off the bus at 168th Street and Third Avenue. The surveillance footage shows Camara being pushed, punched and kicked. One person pulled off her hijab.
It wasn't until a bystander intervened that the attack briefly halted. But then the attack resumed and an individual is seen striking Camara again.
Police eventually arrived. Some of the assailants ran, but officers took three people into custody. They were later released without charges.
Camara was taken to St. Barnabas Hospital in the Bronx, where she was treated for a broken nose and a head injury. Her bag ― which included a stipend reimbursement check for $500, her Social Security card, her state identification and her U.S. passport ― were stolen, according to her lawyer. Her engagement ring was damaged during the attack and her clothing was torn.
Later, Camara met with police officers at the 42nd Precinct, where she was shown photos of 18 people and asked to identify her attackers, including the three people taken into custody the night of the assault, according to her lawyer. Camara, traumatized and unable to clearly see the attackers during the assault, couldn't pick out anyone in the photos, so she said investigators told her they were closing the case.
"It was unfair for me. I'm the victim of this whole situation," said Camara. "For them to just drop my case like that because I couldn't identify these people through photos, I was very upset."
Ahmed Mohamed, Camara's lawyer and the litigation director at CAIR-New York, said authorities weren't taking the report seriously enough.
"We have such a clear case of not only a crime being committed, but of a hate crime taking place," Mohamed said. "There's clear evidence. Our client not only provided some of this evidence to the detectives, district attorney, but instead of investigating and doing their jobs, the NYPD, the district attorney, decided our client's life just didn't matter enough for them to take it seriously."
On May 14, Camara went back to the precinct and requested a copy of the police report. Instead, she said an official gave her a letter from the legal department denying her access to the report because it had been sealed by court order. She said she twice since tried to meet with detectives handling her case, to no avail.
"I had to run after them every day just to get answers from them," she said of the detectives. "It shows they don't care. I have the right to be protected in this country."
Not long after that, Camara noticed a business near the scene of the beating had surveillance cameras. She met with the business owners and obtained the footage, then forwarded it to the police and media outlets.
Camara said police finally reached out to her on Monday after media reports featuring the footage.
She said she hopes with the video, police can find the attackers. But she said the authorities' lack of support has left her traumatized.
"I'm scared to go out by myself now. Because of this incident, I don't know what's going to happen to me," said Camara. "I just hope this doesn't happen to somebody else from my community."
https://www.huffingtonpost.in/entry/muslim-woman-investigated-her-own-hate-crime-after-nypd-dismissed-her-case_n_5cfeca32e4b0da64c5362d58
----------
Montreal woman says STM bus driver didn't stop for her because of her niqab
Zineb Benrochd tracked down the driver and discovered a history of hateful comments about Islam
Verity Stevenson, Jonathan Montpetit · CBC News · Posted: Jun 11, 2019 5:14 PM ET | Last Updated: June 12
Zineb Benrochd, 23, has worn a niqab since she was 19. She says it is a way for her to exercise her beliefs. (Verity Stevenson/CBC)
Zineb Benrochd was standing at a bus stop in broad daylight last week, wearing her niqab, when a bus whizzed right past her.
The 23-year-old Montrealer wondered why. She says she looked the driver up online and discovered a trail of Islamophobic social media posts.
In 2010, for instance, the bus driver posted: "I'm so happy and in a good mood today, that I love everybody, except the [expletive] who wear the hijab or the veil. Sorry, but I can't stand them."
But when Benrochd took to Facebook in an attempt to call out the bus driver's behaviour, she was soon bombarded with dozens of messages — some angry, some hateful — from other Montreal transit employees defending their colleague.
The Société de transport de Montréal has opened an investigation into the incident. Benrochd has also filed complaints with the Montreal police hate crimes unit and Quebec's human rights commission.
While the driver's motivations are unclear (attempts by CBC News to contact her were unsuccessful), the incident occurred as Quebec politicians are set to vote on a proposed law that restricts where religious symbols can be worn in the province.
Among other things, the law will require Quebecers to uncover their face in order to receive public services where their identity is in question. The details are still being worked out, but that could include taking the bus.
In screenshots Zineb Benrochd took of apparent Facebook posts by the bus driver who did not pick her up (CBC was unable to independently verify the post because it appears to have been subsequently deleted or made private), the woman makes comments against Islam and Muslim women. (Submitted by Zineb Benrochd)
The bill has sparked heated debate, and many Muslim women in the province have reported being the target of an increasing number of Islamophobic incidents since it was tabled in March.
"I'm used to people telling me, 'Go back to you country,'" said Benrochd, who grew up in Montreal.
"But [the bus] is a public service. You do not have a right to discriminate against me. You do not have a right to choose not to give me my right to service."
'Impossible for her not to have seen me'
On Thursday morning, Benrochd was waiting for the 128 bus at the corner of Muir and Tassé streets in Montreal's Saint-Laurent borough. The two streets are wide, relatively quiet and residential.
"It's impossible for her not to have seen me," Benrochd told CBC News a day after the incident.
At the mall, on the bus: Muslim women say racist incidents are now part of daily life
The bus stop is next to a stop sign, across the street from an elementary school. As the bus approached, Benrochd noticed the driver was ignoring her.
She started waving her hands to get the driver's attention. Benrochd said the driver glanced at her, then turned away and continued on her route without opening the bus doors.
Benrochd said she felt contempt in the bus driver's actions and decided to try to confront the woman.
She called a friend, who quickly picked her up in a car and the pair drove to Du Collège Metro station, where they knew the bus would have to make a longer stop.
The 128 bus stop at the corner of Muir and Tassé streets is in a residential area across from an elementary school. (Verity Stevenson/CBC)
Benrochd walked up to the driver and, with her cellphone filming, asked why she had not stopped.
"Well, I didn't see you," the driver replied.
"You looked at me," Benrochd said.
"No, no, I didn't see you. I saw that you were there after," the driver said, becoming agitated.
In another video, Benrochd filmed the bus driver flagging down police and complaining to the officers about being filmed.
Backlash online
Benrochd posted the videos on Facebook around noon on Thursday. Soon, several people identifying themselves as STM employees were commenting in the driver's defence.
CBC News was able to identify some as union representatives for STM bus drivers. One of these representative said in a post directed at Benrochd: "A normal Quebecer would have waited for another bus."
Benrochd found the bus driver's profile by searching through the friend lists of the accounts commenting on her videos.
Benrochd says the woman bus driver on the 128 line in Montreal's Saint-Laurent Borough didn't stop for her. (Verity Stevenson/CBC)
On the bus driver's profile, she says she found at least 10 posts insulting Muslim women for wearing the veil or criticizing Islam as a whole.
In one post from January 2016, the woman shares an article about the STM's effort to hire more immigrants and calls it "discrimination."
Benrochd shared screengrabs of the posts, which CBC News could not independently verify. They appear to have since been deleted or made private on the bus driver's Facebook profile.
The bus driver changed her profile picture the day after the incident, but other pictures on her profile identify her as the same person in Benrochd's video.
On Sunday evening, the bus driver wrote several messages to Benrochd on Facebook, saying she was on leave, though it's unclear if it is voluntary. She acknowledged the posts Benrochd found were hers, but said she is not racist.
Benrochd shared screengrabs of the exchange with CBC News.
Quebec government aims to define religious symbols in amendment to secularism bill
"I am trying to understand your customs and beliefs," the driver said.
"It really was not in bad faith. Even if I looked at you, sometimes we're in our bubble. I'm sorry and if we had a respectful encounter instead of you filming me, I would have been able to give you my version."
She asked to meet in person, but Benrochd said she preferred dealing through official channels.
The woman also tried to call Benrochd through Facebook Messenger several times and said, "make a woman of yourself and answer."
Hanadi Saad, founder of Justice Femme, an advocacy group for Muslim women, says there has been an increase in Islamophobic incidents since Bill 21 was tabled. (Julia Page/CBC)
In a statement, the STM said, "At all times, even on social media, STM employees are required to respect the values inscribed in our code of ethics."
The transit agency also said that, though regrettable, it does occasionally happen that a bus driver accidentally misses a stop.
"The appropriate measures will be taken based on the conclusions of our inquiry," the agency said.
Troublesome social climate
Hanadi Saad, founder of Justice Femme, an organization that provides moral and legal support to Muslim women who have been harassed, caught wind of the incident after Benrochd posted it on social media.
After Benrochd made a Facebook post with videos she took of interactions with the bus driver, several Facebook users identifying themselves as working for the STM began commenting in defence of the driver. (Screenshot/CBC)
To Saad, the driver's actions appeared Islamophobic.
"She did it deliberately because she did not like what Zineb was wearing," Saad said. "She was the only one at the bus stop."
Saad's organization responded to more than 40 cases of Islamophobia directed at Muslim women between March, when the religious symbols bill was tabled, and May.
ANALYSISDecision time for Quebec government as it tries to pass 2 nationalist bills by week's end
The bus driver may have held racist beliefs against Muslims for years, Saad said, but she believes Bill 21 has emboldened public displays of intolerance.
"The message people receive from the CAQ [provincial government] now is you can discriminate against people. 'We are normalizing the discrimination,' that's the message," she said.
Saad called Benrochd's move to confront the driver and file the complaints "courageous."
Benrochd says she was motivated by concerns that the Bill 21 debate has created a sense of impunity for those with distorted views of Muslims and other minorities.
"They feel like they're never going to get punished," she said. "It's just going to get worse."
https://www.cbc.ca/news/canada/montreal/stm-bus-driver-niqab-passenger-says-discrimination-1.5168391
----------
Paterson police welcome first all-female class and first hijabi officer
Hannan Adely, North Jersey Record Published 1:58 p.m. ET June 11, 2019 | Updated 9:26 p.m. ET June 11, 2019
Paterson's new class of police officers is breaking historic ground as the first all-female class, including among them the first Palestinian-American woman and hijabi.
Mayor Andre Sayegh swore in the three officers, Yeniry Medina, Gabriela Toribio and Serein Tamimi, at a City Hall ceremony Tuesday in what he called a "proud moment for the city of Paterson."
"They're trailblazers," Sayegh said, as he introduced the new officers. "They've broken the glass ceiling. Now young Patersonians, young people in our schools and our streets, can look up and say, 'I want to be just like them.' "
The women started in a class of six Paterson recruits, including four women and two men. After a rigorous six-month program of physical and academic training, the three were left standing.
Tamimi, 22, who came to the U.S. when she was less than a year old, ran track in high school, majored in justice studies at Montclair State University and excelled at the academy. On Tuesday, she became the first city police officer to wear a hijab, or Islamic headscarf, in the city.
She hopes to inspire other young Muslim women to follow their dreams, but also wants to set an example for other Americans who may not know much about Muslims.
"I want to be there for the community and be able to relate to them in a sense, and let everybody know, if they need anything, they can ask questions," said Tamimi, whose mother, sister and cousin cheered her on in the audience.
"I want to show them that we're not what the media portrays us to be," she said. "We're friendly people, we love what we do and we are there for the community."
Toribio and Medina are Dominican-American and have lived their whole lives in Paterson. They join a police force of just over 400 people, including 57 women.
Crash: Helicopter crash pilot killed was volunteer firefighter, highly trained
Public office: Growing number of Muslim candidates elected across NJ, nation
West Point accident: Memorial service scheduled for West Point cadet killed in training accident
Toribio, 22, said she was inspired to become a police officer because of an encounter with a kind cop who helped her when she was a kid and because of the example set by police officers in her family.
"I wanted to be like them and make a difference," she said.
Medina, 27, said she wanted to join the Police Department to help the community.
https://www.northjersey.com/story/news/2019/06/11/paterson-police-welcome-first-all-female-class-first-hijabi-officer/1410115001/
----------
Boris Johnson defends comments about veiled Muslim women at launch
Wednesday 12 June 2019
Boris Johnson defended comments comparing veiled Muslim women to letterboxes and refused to clarify his past illegal drug use as he launched his leadership campaign with a warning the Tories will face "mortal retribution" if the UK doesn't leave the EU by 31 October.
While Michael Gove has faced calls to quit the race over an admission of past cocaine use, and other candidates have revealed their histories with illegal substances including cocaine and opium, Mr Johnson appeared to side-step the issue when challenged by journalists.
The front-runner to become the next Prime Minister has been accused by rivals of "hiding in a bunker" because he has only faced media questions once this year, and took just six questions from reporters.
Mr Johnson said he "cannot swear that I have always observed a top speed limit, in this country, of 70mph" when asked whether he had ever done anything illegal.
Sky News political editor Beth Rigby was booed and jeered by supporters of Mr Johnson, including some MPs in the audience, as she asked about a newspaper column in which he wrote that "it is absolutely ridiculous that people should choose to go around looking like letter boxes."
Mr Johnson said that "of course I'm sorry for the offence that I have caused". But he went on: "Occasionally some plaster comes off the ceiling as a result of a phrase I may have used, or as a result of the way that phrase has been wrenched out of context and interpreted by those who wish for reasons of their own to caricature my views.
"But I think it's vital that we as politicians remember that one of the reasons why the public feels alienated now from us all as a breed, is because too often they feel we are muffling and veiling our language, not speaking as we find - covering everything up in bureaucratic platitudes, when what they want to hear is what we really think."
The former foreign secretary presented himself as the one candidate among the contenders bidding to succeed Theresa May who could stop Jeremy Corbyn seizing the keys to No 10.
"I think maturity and a sense of duty will prevail. I think it will be very difficult for friends in Parliament to obstruct the will of the people and simply to block Brexit," Mr Johnson said.
"I think if we now block it, collectively as parliamentarians we will reap the whirlwind and we will face mortal retribution from the electorate."
Mr Johnson insisted he wanted a "sensible, orderly" departure from the EU but said the country had to be ready for a no-deal Brexit if it was to get the terms it needed from Brussels.
"It is only responsible to prepare vigorously and seriously for no-deal," he said.
"The best way to avoid that is to prepare for it and be absolutely clear to our friends and partners that we are prepared to do that."
Nigel Farage launched the Brexit party in November 2018 after quitting UKIP
Brexit party 'at risk of receiving impermissible donations', warns regulator
He warned that failure to deliver on the referendum result would create an "existential threat" for both Labour and the Conservatives.
"Around the country there is a mood of disillusion, even despair, at our inability to get things done," he said.
"After three years and two missed deadlines we must leave the EU on October 31."
https://www.scotsman.com/news/politics/boris-johnson-defends-comments-about-veiled-muslim-women-at-launch-1-4946001
----------
Islamic charities push death for 'apostates' and female subjugation
Posted: Wed, 12 Jun 2019
Four Islamic charities are promoting material suggesting 'apostates' should be killed, women should be subordinate to men including by accepting marital rape and homosexuality is not innate.
The National Secular Society has reported the charities to the charities regulator, the Charity Commission, after NSS research found they link to or explicitly carry extremist material on their websites.
The commission has said it will open "assessment cases" into the charities in response to the NSS's concerns.
The website of Islamic Centre Leicester, a charity which exists to "promote the spiritual teachings of the Islamic religion", says the punishment for 'apostasy' is death.
In response to a question about whether there is a punishment for "Muslims who leave the fold of Islam", the charity says: "All the schools of thought agree that a person's apostasy must be proven by the testimony of two male witnesses. Furthermore, all agree that the apostate's punishment is death."
It outlines details of a process which follows, in which the individual is imprisoned for three days, before adding: "If the apostate still refuses to revert, then he is killed."
It adds that women cannot be political leaders and tells a man experiencing same-sex attraction that his feelings are not innate.
It also promotes links to "pre-checked" websites which promote the killing of those who leave Islam and hateful views of Ahmadi Muslims and Jews.
The website of Thamesdown Islamic Association, which runs Swindon Mosque in Wiltshire, has a downloadable book which promotes marital rape, wife beating and female subjugation.
Croydon Mosque and Islamic Centre's website includes a downloadable pamphlet which promotes female subordination, including through the wearing of the burka.
The Slough Islamic Trust links to websites which promote anti-LGBT statements.
Islamic Centre Leicester and Thamesdown Islamic Association have charitable status solely on the basis that they promote the Islamic religion.
National Secular Society spokesperson Megan Manson said: "Charities benefit from tax breaks and recognition that they serve the public benefit. The charitable status of any organisation which promotes material calling for the death of innocent people or pushes misogynistic and anti-LGBT attitudes should therefore clearly be questioned.
"Our research continues to find religious charities which not only do not serve a public benefit but do active harm. This means public money is funding damaging practices and attitudes. It is also over-burdening charity regulators and damaging public confidence in the charitable sector.
"The government could take a significant step towards tackling these problems by removing 'the advancement of religion' as a charitable purpose, so there is no assumption that organisations which promote religion are serving a public benefit."
Earlier this year the NSS published a major report, For The Public Benefit?, which makes the case for removing 'the advancement of religion' as a charitable purpose. 'The advancement of religion' is one of 13 purposes which can justify an organisation being granted charitable status under the Charities Act of 2011.
In April the NSS raised concerns with the Charity Commission about three more Islamic charities which linked to extremist content. The commission said it would investigate the charities in response.
https://www.secularism.org.uk/news/2019/06/islamic-charities-push-death-for-apostates-and-female-subjugation?utm_source=feedburner&utm_medium=feed&utm_campaign=Feed%3A+nssnews+%28NSS+News%29
---------
Poor Services for Women and Statistics are Alarming: Fadoua Bakhadda
At the recent Women Deliver 2019 Conference in Vancouver, Canada – one of the largest conferences on women's rights – a session was organized on women issues in humanitarian settings in the Arab states region.
Fadoua Bakhadda Poor Services for Women and Statistics are Alarming
The panel of speakers at the Women Deliver 2019 Conference in Vancouver, Canada
Rudroneel GhoshBy Rudroneel Ghosh -
Rudroneel Ghosh is a Jr Assistant editor with The Times of India, India's largest English daily.
Jun 11, 2019
Rabat – The panel of speakers included Her Royal Highness Princess Sarah Zeid of Jordan, Dr Shible Sahbani (regional adviser on reproductive health, United Nations Population Fund), Dr Daniela Ligiero, executive director and CEO of Together for Girls, Ms Berangere Boell-Yousfi, representative UNFPA, Libya, Ms Fadoua Bakhadda, executive director, Moroccan Family Planning Association, and Ms Ayah Al-Oballi, senior officer at Mercy Corps' Regional Centre for the Advancement of Adolescent Girls, Jordan.
Each of the speakers delved into the double discrimination that Arab women face in the region on account of both conflict and social conservatism. In fact, such is the plight of many Arab women that things like sexual and reproductive health and rights are well beyond their reach. And the reality of conflict-ridden and conflict-affected states means that many Arab women are constantly living in insecurity and being pushed into power-asymmetry situations. Thus the incidents of child marriage and survival sex being reported from places like Syria and refugee camps in Lebanon and Turkey.
In this regard, I spoke with one of the panel speakers, Ms Fadoua Bakhadda of the Moroccan Family Planning Association, on women's issues in Morocco, including those of migrants to the country. Here are the excerpts:
What has been the process since Marrakech hosted the Global Forum on Migration and Development last year?
Since the migration forum, Morocco has been hosting more and more migrants. It is welcome that the ministry of migration developed PPP (public-private partnerships) actions to respond to this situation. Investing more on migrants' inclusion and supporting healthcare system for migrants and refugees are the needs of the hour.
What is the overall status of Sexual Reproductive Health Rights (SRHR) in Morocco?
Concerning SRHR in Morocco, we do have many challenges. The abortion law is not updated, even if the government launched a reform of it in 2015. The new Gender Based Violence law that just came in at the end of 2018 is not as effective as it should be. Child marriage is still a big challenge. The poor services for women and statistics are alarming. We have a lot of work that remains to be done.
The Moudawana was enacted in 2004, what has been the progress and what more needs to be done?
Concerning the Moudawana, some good advancements have been made. Now Morocco recognizes the infant of a Moroccan woman as Moroccan, and we are doing fine concerning child rights in the family. However, divorce is still high and many people haven't understood the Moudawana well, and women are rebelling against everything sometimes.
Has the training of female preachers or morchidates contributed to women's empowerment in Morocco and can they be agents of change for women, especially in rural Morocco?
For morchidates, look we do have some ones that are really conservative, but most of them are doing their best to change women's minds. We still have a lot to do because the education system of those religious leaders is mainly based on religion and some soft skills. They are not well knowledgeable about women's needs and human rights
What are your organization's future plans?
My organization's future plan is to sustain existing feminist movements in the MENA region to empower women through education, access to SRHR and humanitarian aid.
https://www.moroccoworldnews.com/2019/06/275603/poor-services-women-morocco/
URL: https://www.newageislam.com/islam-women-feminism/muslim-woman-investigated-her-own/d/118863