New Age Islam News Bureau
1 Jul 2018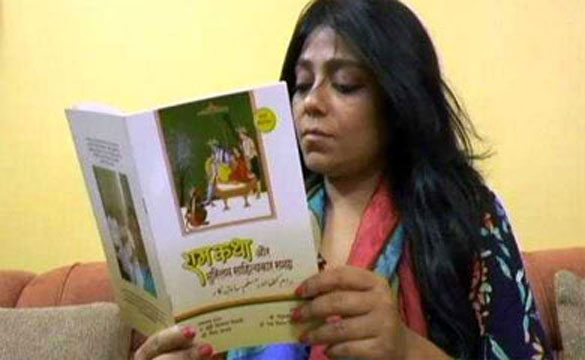 Muslim woman translates books on Lord Rama into Urdu language | City- Times of India
-----
• Record Number of Women from India Go For Hajj This Year
• Saudi Arabian Woman Designs Abayas for Freer Lifestyles
• Swedish Woman Embraces Islam at Imam Reza (AS) Holy Shrine
• Muslim Woman Working For Cow Protection Seeks PM Modi Help
• More Women Seek Cosmetic Gynaecology Procedures in UAE
• Turkish Woman Who Lost All Teeth in Botched Operation Begs For Euthanasia In Europe
Compiled by New Age Islam News Bureau
URL: https://www.newageislam.com/islam-women-feminism/muslim-woman-kanpur-india-translates/d/115697
--------
Muslim Woman from Kanpur, India, Translates Ramayana into Urdu
Jun 30, 2018
KANPUR: Setting an example of inter-community harmony, a Muslim woman from Kanpur has translated the text of Ramayana into Urdu. Dr Mahi Talat Siddiqui, a resident of Prem Nagar area, said that she wanted Muslim community to be aware of the goodness of Ramayana along with the Hindus.
Around two years ago, Badri Narayan Tiwari, a resident of Kanpur, gave a copy of Ramayana to Dr Talat, after which she decided to translate it in Urdu.
"Just like holy texts of all religions, Ramayana also gives us a message of peace and brotherhood. It has been written very beautifully. I felt relaxed and peaceful after writing the text in Urdu," Dr Talat said.
She said that it took her more than one and a half years to translate it. She focused on the fact that the translations shouldn't change the original meaning of the text.
"Some people of the society spread violence by instigating religious issues, but no religion teaches to hate each other. People of all religions should live together with love and goodwill, and it is necessary that each other's religions should also be respected," she said.
https://timesofindia.indiatimes.com/city/kanpur/muslim-woman-from-kanpur-translates-ramayana-into-urdu/articleshow/64808356.cms
--------
Record Number of Women from India Go For Hajj This Year
30th June 2018
NEW DELHI: The change in Hajj policy has led to a sharp rise in the number of Indian women undertaking the pilgrimage.
More than 47 percent of the total number of pilgrims going for Haj this year are women, which is the highest ever representation of women in Hajj from India, says the ministry of minority affairs.
Till last year, it was mandatory for a Muslim woman to be accompanied by her husband or a Mehram (a person with whom marriage is unlawful) for pilgrimage to Saudi Arabia. For the first time this year, Indian women will be going on Haj without the company of a male relative.
The women under the new category need to travel in a group of four and should be over the age of 45 years. Though this regulation (enabling women to perform Hajj without a male relative) was passed by Saudi authorities many years ago and subsequently adopted by many countries, it is being introduced by India from this year.
Of the total of 1,75,025 Indians going for Hajj this year, more than 47 per cent are women, which is a record, said Union Minister for Minority Affairs Mukhtar Abbas Naqvi while addressing an orientation camp for Haj officers in Delhi. Of the total number of pilgrims, 1, 22,971 are going through the Haj Committee of India while rest of are going through private tour operators (PTOs).
According to details of pilgrims going through HCOI, statistics of which is maintained by the ministry, the percentage of women pilgrims has been around 45 percent in the last five years. The percentage of women in 2013, 2014, 2015 and 2016 stood at 45.82 %, 45.24%, 45.05% and 45.57 % respectively. Last year, the percentage of women pilgrims going through HCOI touched the 46 % mark, and this year it has risen further to 46.9 percent.
"The number of women pilgrims going for Haj is certainly the highest ever this time," said a senior ministry official. "We have checked with PTOs also. The total percentage of women has easily crossed the 47 % mark."
The new category of women which allows women to travel without male relatives is definitely a factor for this rise, he added.
Eleven states are sending a total of 1,308 Indian women for Haj under the new category. Kerala leads the pack, as it is sending 1,124 women, which is more than 85% of the women pilgrims, under the "no mehram" category.
West Bengal, Uttar Pradesh, Karnataka, Tamil Nadu, Maharashtra, Rajasthan, Puducherry, Madhya Pradesh Assam and Uttarakhand are the other states sending women for Haj under this category.
Among the several schools of thoughts in Islam, there are some which prohibit women from travelling alone. Considering the rise in their number and the introduction of "no mehram" category for women pilgrims, Naqvi said the ministry has made elaborate arrangements for their safety and well being this year.
For the first time, women Hajj coordinators and Hajj assistants are being sent to assist women pilgrims, he said. A total of 98 women Hajj officers are being sent to Saudi Arabia for the purpose, a ministry official said.
http://www.newindianexpress.com/thesundaystandard/2018/jun/30/record-number-of-women-go-for-hajj-this-year-1836150.html
--------
Saudi Arabian Woman Designs Abayas For Freer Lifestyles
June 28, 2018
JEDDAH: When Saudi Arabia's ban on women driving ended on Sunday, fashion designer Eman Joharjy and her friends drove to Jeddah's seafront where they exchanged their car for bicycles.
The colorful, embroidered jumpsuit abayas they donned stood out among the sea of women wearing similar loose-fitting full-length robes but in the traditional black. Yet no one stopped them.
Women in Saudi Arabia are rapidly gaining more freedoms under a reform agenda spearheaded by Crown Prince Mohammed bin Salman, who wants to transform the Kingdom's economy.
The government recently allowed women to join the security forces and no longer requires them to have a male relative's consent to open a business. And while now they can drive, they still need permission to get married and travel abroad.
Mohammed bijn Salman laid the ground two years ago for many social changes, including the return of cinemas and public concerts, by curbing the powers of the religious police.
These days at sunset, as the Arabian heat eases, women do sports along the promenade.
"Women feel encouraged by the government support. They are telling them, 'You can go run and play sports'," said Joharjy. "But let's change from a sedentary society to a more active one."
In 2007, frustrated by a lack of abayas made for running or cycling, Joharjy designed one for herself. She began making them for friends and selling what she dubbed the "sporty abaya."
Colorful racks display designs for different activities like the driving abaya, which features a hoodie, tight elbows to prevent the sleeves from catching on the steering wheel, and shorter lengths to make switching pedals easier.
Most importantly for Joharjy, there is no trace of black.
"They reflect freedom and the willingness to embrace life and make it easy for the modern woman," she said. "Besides, women love color."
She is optimistic that Saudi Arabia's social rules will ease further. But she still believes that many women will continue to wear the abaya in one form or another.
For her, the robe is like the Indian sari, a symbol of cultural heritage rather than religion.
http://www.arabnews.com/node/1330831/lifestyle
--------
Swedish Woman Embraces Islam at Imam Reza (AS) Holy Shrine
June 30, 2018
A woman from Sweden converted to Islam in a ceremony held at the holy shrine of Imam Reza (AS) in Mashhad, northeast Iran.
According to the website of the Astan (custodianship) of the holy shrine, Patricia Jenson changed her name to Fatemeh Zahra.
She said the reason for her conversion was realizing that Islam is a perfect religion.
"After studying the Quran and Islamic books, I found Shia Islam the most perfect religion," she added.
Speaking at the ceremony, Seyed Mohammad Javad Hasheminejad, director of the Astan's pilgrims affairs, hoped that the new convert will become an ambassador of Islam in her society.
He also stressed that despite all attempts by the enemies and the world arrogance to foment Islamophobia, more and more people in the West, including in Europe, embrace Islam.
The new convert was given a copy of the Holy Quran and a number of cultural gifts at the end of the ceremony.
http://en.abna24.com/news/iran/swedish-woman-embraces-islam-at-imam-reza-as-holy-shrine_899826.html
--------
Muslim woman working for cow protection seeks PM Modi help
June 30, 2018
Bhopal (Madhya Pradesh) [India], June 30 (ANI): Mehrunnisa Khan, Madhya Pradesh Rashtriya Gau Raksha Vahini President, has sought help from Prime Minister Narendra Modi and Chief Minister Shivraj Singh Chouhan for her safety.
Speaking to ANI, Mehrunnisa alleged that she was thrashed and abused by her in-laws for being associated with cow protection and for voicing her opinion against Triple Talaq.
"I was thrashed and abused by my in-laws for being associated with cow protection and for speaking against Triple Talaq. I have been complaining for last three months but Police is not cooperating. I appeal Chief Minister and Prime Minister for help," said Mehrunnisa.
Earlier, Mehrunnisa had revealed that her parents and daughter have turned against her since the day she joined this profession.
"From the day I joined this cause, I have been receiving death threats from not just outsiders but from my own family. Even after moving away from them, they keep telling me to leave this as it hampers their reputation. I do not how working for animals, who cannot even say anything is ruining their reputation," she had told ANI.
Despite the threats, Mehrunnisa is continuing to run a cow shelter in Neemuch district, 500 kilometres away from her home. She also said the threat to her life would not stop her from working in cow shelters. (ANI)
http://www.india.com/news/agencies/muslim-woman-working-for-cow-protection-seeks-pm-modi-help-3140296/
--------
More Women Seek Cosmetic Gynaecology Procedures in UAE
June 30, 2018
Women need vaginal tightening due to child birth and natural aging process.
Due to increase in parity and high standards of living in the UAE, an increasing number of women are seeking cosmetic gynecology procedures in the UAE.
These include vaginal tightening and G-spot enhancements, according to Dr Aisha Al Mukhtar, obstetrics and gynecology specialist at Health Shield.
"There is no clear statistics on how many women get these procedures performed, but on an average, in a well-known busy gynecology clinic the rate is about four to five surgical vaginal tightening procedures per month and 40-50 laser vaginal tightening sessions per month," she tells Khaleej Times.
Women are also undergoing G-spot enhancement procedures for a better sexual life, says the doctor.
"If the woman has persistent or recurrent inability to reach orgasm during sex, G-spot enhancement is used to enhance her sexual pleasure and gratification," Dr Aisha says.
"This is usually done by injecting filler into a woman's G-spot area, making it to project lower into vagina and become easily stimulated," she tells while explaining the procedure.
However, before these procedures are done, the doctor obtains a detailed patient medical history including previous treatment modalities. "We also have to determine why the patient seeking treatment and understand her expectations," she says.
Clinical examination of the patient is done to determine the type of procedure whether surgical vaginoplasty or by laser vaginal rejuvenation (LVR) taking in consideration her future family planning while a pregnancy test is also performed at least one day prior to procedure as well as a pap smear test done.
Women need vaginal tightening due to child birth and natural aging process. Sometimes, it is needed to control urinary incontinence or bowel movements issues.
"Up to 76 per cent of women experience a widened vagina resulting in decreased vaginal sensation and loss of pleasure during sex and dissatisfaction of both partners," says Dr Aisha, adding that other reasons were aesthetic and for vaginal remodeling.
The surgical procedure usually is advisable after a woman completes her family while the LVR can be done at any time during her life.
Vaginal tightening procedure is surgical and vaginoplasty requires anesthesia as well as hospitalisation. "The vaginal wall is repaired and the muscles are strengthened using deep suture," explains the doctor.
LVR needs to be performed three to four times for most people to get the intended outcome. "These sessions are performed with a break of few weeks to allow the area to recover. It is an office procedure so no anesthesia required and takes less than 15 minutes."
Dr Aisha says that reduction of labia minora has increased in popularity and is the most frequently performed vaginal procedure worldwide. "Women frequently give non-aesthetic reasons for seeking surgery like discomfort with clothing, interference with sports," she adds.
https://www.khaleejtimes.com/news/uae-health/more-women-seek-cosmetic-gynecology-procedures-in-uae
--------
Turkish Woman Who Lost All Teeth in Botched Operation Begs For Euthanasia In Europe
June 27 2018
A Turkish woman who lost all of her teeth in a botched cosmetic operation has told journalists that she is considering going to Belgium or Holland to end her life with an assisted suicide.
According to the story published by Demirören News Agency on June 26, 41-year-old tourism expert Sunay Öztürk's tragedy started after she underwent a teeth whitening operation at a private dental clinic in the southern province of Antalya on Jan. 25.
The woman's 20 teeth were cut by the dentist and — despite her warnings that one of her teeth ached — were covered with zirconia crowns.
After the pain became unbearable in a few days, the mother of two went back to the dentist, who pulled out three teeth after getting a written approval from Öztürk.
The pain did not stop in the following days and the woman kept going back to the dentist, resulting with the loss of 32 teeth.
But even after losing all her teeth, Öztürk told the agency "the unbearable pain" continued.
In the end, a brain and neurology surgeon diagnosed the woman with trigeminal neuralgia, a chronic pain disorder that affects the nerve responsible for sensation in the face and motor functions such as biting and chewing.
Öztürk underwent another operation, this time at Akdeniz University, in which her trigeminal nerve was removed, but the pain still continued, she said.
"I've tried 10 different medications prescribed by doctors. I can't speak or move my mouth. I can't eat properly, except soup and other liquids. I've lost 34 kilograms," Öztürk reportedly said, adding that she now considers going to a European country that allows assisted suicide if the latest drugs she is testing cannot stop the pain either.
"Holland and Belgium have euthanasia rights. I want to die instead of enduring this pain," she told the agency.
Turkey's Medical Ethics Association president Prof. Ayşegül Demirhan Erdemir noted that Turkish laws do not permit euthanasia.
"This is considered a murder in Turkey," Erdemir said, stressing that trigeminal neuralgia can cause extreme pain but "there are treatments and all methods should be tried."
Prof. Sibel Çakır from Istanbul University's psychiatrics department stressed that extreme pain can lead to depression, anxiety and even provoke thoughts of suicide.
"The patient should seek help from a psychiatrist, too," Çakır said.
http://www.hurriyetdailynews.com/turkish-woman-who-lost-all-teeth-in-botched-operation-begs-for-euthanasia-in-europe-133840
--------
URL: https://www.newageislam.com/islam-women-feminism/muslim-woman-kanpur-india-translates/d/115697
New Age Islam, Islam Online, Islamic Website, African Muslim News, Arab World News, South Asia News, Indian Muslim News, World Muslim News, Women in Islam, Islamic Feminism, Arab Women, Women In Arab, Islamophobia in America, Muslim Women in West, Islam Women and Feminism