New Age Islam News Bureau
24 Dec 2019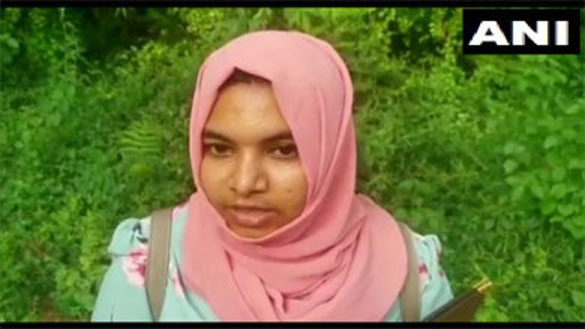 Muslim Student, Rabeeha Abdurehim, Barred From India University Graduation over 'Support of CAA Protests'
-----
• Muslim Student, Rabeeha Abdurehim, Claims She Was Barred From India University Graduation over 'Support of CAA Protests'
• Investing In Women Is Investing In Peace, Indonesia Tells Afghanistan
• Pakistan: "Saving One Christian Girl Suffering Persecution Will Help Others"
• The Women at the Front Lines of India's Citizenship Law Protests
• 2019 In Review: A Roller-Coaster Ride For Women's Rights And Gender Equality Around The World Including India
• Muslim Woman Awarded $120,000 After Police Removed Hijab for Mugshot in 'Humiliating' Experience
• Muslim Women Hit the Road in Kanpur to Protest Crackdown
Compiled By New Age Islam News Bureau
URL: https://www.newageislam.com/islam-women-feminism/muslim-student-rabeeha-abdurehim-claims/d/120613
------
Muslim Student, Rabeeha Abdurehim, Claims She Was Barred From India University Graduation Over 'Support of CAA Protests'
24.12.2019
New Delhi (Sputnik): A Mass Communications student from India's southern state of Kerala was barred from her graduation ceremony at Puducherry University, allegedly due to suspicions that she was an Anti-Citizenship protester. Indian President Ram Nath Kovind attended the ceremony as the guest of honour.
Rabeeha Abdurehim rejected her gold medal to show support for countrywide protesters against the new controversial Citizenship Amendment Act (CAA) that grants citizenship to illegal immigrants from six religious minorities – Hindus, Parsis, Jains, Christians, Buddhists, and Sikhs, from Afghanistan, Bangladesh, and Pakistan but excludes Muslims.
Abdurehim claims she was only allowed into the convocation hall after the President left the ceremony and students were presented with certificates and medals.
Abdurehim has received huge support from social media activists for her decision.
In her Facebook post, she said that she never imagined that the momentous occasion of receiving a gold medal would turn out to be a strong and peaceful message to the people across India.
She further clarified that she was never asked to remove her headscarf by the authorities as the news is being peddled.
Earlier, another top student at the same University, Karthika B. Kurup had also decided to boycott the convocation as a mark of protest against the controversial law.
The Students Council of Puducherry University had last week called on students to boycott the convocation as a mark of protest against the controversial Citizenship Law and National Register of Citizens and in solidarity with their counterparts in other parts of the country.
https://sputniknews.com/asia/201912241077756168-muslim-student-claims-she-was-barred-from-university-graduation-over-support-of-caa-protests/
------
Investing in women is investing in peace, Indonesia tells Afghanistan
Mon, December 23, 2019
Indonesia's most senior diplomat has urged Afghanistan to empower its women so that they can play a more significant role in peacebuilding, calling on the government to draft more inclusive policies and promote affirmative action in the war-torn and ultra-patriarchal country.
In support of the Afghan peace process, Indonesia hosted on Friday a two-day dialogue featuring dozens of Afghan women led by Acting Minister for Information and Culture Hasina Safi.
Foreign Minister Retno LP Marsudi, Indonesia's first woman foreign minister and a champion of women's empowerment in foreign policy and peacebuilding, called on the Afghan government to put in place mechanisms to fulfil women's specific needs.
"If we want to invest in peace, then we should invest in women," the minister asserted in her opening speech. "There can be no peace nor stability in Afghanistan, or in other countries, without the involvement of women."
Dialogue, as a tool for peacebuilding, is also a very important way to bridge the differences among Afghan women from various backgrounds, Retno said, underlining Indonesia's insistence that no woman or girl should be left behind in the future of Afghanistan.
In another pledge of support for Afghan peace, the minister said Indonesia would follow up the Jakarta dialogue with a number of training and skilling projects for Afghan women, and said she would visit the country early next year as a follow-up to current proceedings.
The two sides must identify concrete steps to enhance the role of women, helping to formulate policy that encourages their participation in the economic field or women's rights protection.
"What we want to see is a durable peace in Afghanistan – I know that almost every Afghan feels fatigue at the conflict and war in Afghanistan," she said.
Acting Minister Safi welcomed Indonesia's initiative and said that Friday's event would further strengthen cooperation for peace in Afghanistan, especially among women of the two Muslim-majority countries.
The event has allowed women to speak about empowerment in an enabling environment – something that is still hard to come by in Afghanistan despite the government's efforts.
When extremist Taliban insurgents swept to power in 1996, women were forced to stay home, barred from most jobs and deprived of their right to an education.
After the militants were toppled in late 2001 and a United States-backed government took over, gender equality was enshrined in the Afghan constitution, though discrimination remains rife.
While women have made significant gains since the days of the Taliban, they are still subject to deeply held sexist beliefs that persist across Afghanistan.
There are also fears the Taliban might one day return to power, just as negotiations between the US and the militant group for an eventual peace settlement collapsed in September.
Indonesia has offered various forms of assistance for the peace process, from training Afghan diplomats and hosting dialogues, to establishing an Indonesian Islamic Center in Kabul.
In July, in an effort to broker peace between the Afghan government and the Taliban, then-vice president Jusuf Kalla met with the latter's de facto political leader Abdul Ghani Baradar. Last May, the government hosted a trilateral ulema conference featuring participants from Indonesia, Afghanistan and Pakistan.
Retno said Indonesia was also talking to the US, Pakistan, Norway and Germany, as well as any other parties involved in the peace process, repeating the need to empower women for peace. (tjs)
https://www.thejakartapost.com/news/2019/12/23/investing-in-women-is-investing-in-peace-indonesia-tells-afghanistan.html
------
Pakistan: "Saving one Christian girl suffering persecution will help others"
23/12/2019
Over two months after the abduction and forced conversion of Huma Youmus in Pakistan, her Catholic lawyer speaks out about the importance that winning the case and bringing her home will have on numerous girls in similar positions.
By Francesca Merlo
38 year-old Catholic lawyer, Tabassum Yousaf, considers assisting persecuted Christians her mission, and a service to God and her Church. This is why she has not allowed the threats she has received to "stop her", as she defends Huma Younus' parents in their battle to get their daughter back.
Huma's story
Huma is a 14-year-old Christian girl from Zia Colony in Karachi, Pakistan. On the 10th of October, whilst her parents were out, she was abducted from her home and forced to convert and marry a Muslim man.
Though her parents received Huma's conversion papers and marriage certificate - to a man named Abdul Jabar - the family are sure the papers are fake, due also to them being dated to the very same day the young girl went missing.
Recently, Huma's abductor has threatened both her parents and their lawyer, Tabassum Yousaf, that he would accuse them of blasphemy. The High Court of Sindh lawyer has worked on many cases of forced marriage, and speaking with Aid to the Church in Need, she says that these threats are common. She explains that the abductors often say, "If you do not stop searching for your daughter, we will rip pages out of the Koran, place them on your doorstep, and accuse you of profaning the sacred book".
Abduction in Pakistan
Abducting for the purpose of forced conversion and marriage is a major issue in Pakistan. Most of the victims are Christian or Hindu girls and young women - both religious minorities in the country - who are forced to wed against their will to much older Muslim men.
Of the 159 cases reported between 2013 and 2019, some 16 girls and young women have gone before the Sindh High Court asking for support against their forced marriages.
Tabassum Yousaf explains:
"Many Christians do not know that they have the same rights as Muslims. The poverty and lack of education of our brothers and sisters in faith allows Islamic fundamentalists to abuse their social, political, economic and religious powers to persecute Christians. And the judiciary is under strong pressure from political parties, which do not provide minorities with the right legal support".
Aid from ACN
This is why the economic support provided by Aid to the Church in Need (ACN) is "fundamental", she adds. With the charity covering costs, the family will be able to pay for an experienced Muslim lawyer, and, if necessary, take the case to the Supreme Court.
"And if we win and bring Huma home, such a sentence will also greatly help the many other Christian girls kidnapped and forcibly converted to Islam. But to do this we need international pressure, because despite our efforts to draw attention to the case, everything in Pakistan is at a standstill".
Pope and Prince
Just this month, Pope Francis dedicated part of his catechesis during a General Audience to the many Christians today who are "persecuted and marginalised".
"Today in the world, in Europe," the Pope pointed out, "many Christians are persecuted and they give their lives for their faith, or are persecuted with white gloves, that is, left aside, marginalized."
"Martyrdom," he stressed, "is the air of the life of a Christian, of a Christian community."
Along with Pope Francis, offering his support this month is HRH the Prince of Wales. In a Christmas video message specifically aimed at persecuted Christians, Prince Charles highlights that, as Christmas is approaching, those "who carry the cross of suffering today" are held in his thoughts and prayers.
https://www.vaticannews.va/en/church/news/2019-12/persecuted-chrtistians-pakistani-kidnapped-girl-forced.html
------
The women at the front lines of India's citizenship law protests
by Neha Dixit
New Delhi, India - "Why is everyone asking why so many women are out on the streets in protest? Women have always been protesting all their lives. Did you just wake up?" asks 20-year-old Salma Khan, a postgraduate student at Jamia Millia Islamia University in the Indian capital. It is about 2pm on December 16, and Salma is holding a heavy box with water bottles and pamphlets for protesters at a demonstration on the university campus.
As protests continue against India's contentious anti-secular Citizenship Amendment Act (CAA) that excludes Muslims and the National Register of Citizens (NRC), some of the key images galvanising demonstrators are that of young women on the front lines - dancing and singing defiantly, holding witty posters, protecting fellow male protesters from police brutality, handing out roses to the police and gathering in public places in large numbers across the country.
Protesters like Salma, as with many other women students in India, contend not only with getting their voices heard, but also family opposition to their studies.
"My parents would have rather spent money on my wedding than on my higher education," says Salma who comes from Agra. Four years ago, she finally convinced her parents to allow her to sit the university admission test.
Recently, they saw her in a protest picture. "'You did exactly what we were scared of. What about our honour now?' they told me," she says.
Although the number of women in higher education in India has risen in the past few years to comprise 47.6 percent of the students currently enrolled, the societal expectation is for women to remain passive bystanders when it comes to political protest.
Swati Sinha, 24, a student from Lucknow who has attended every protest march in New Delhi since December 12, the day after the citizenship law was passed, says: "My parents want me to get married soon. First, this country needs to stay worth having a family. It is now or never."
The determination and defiance of young women like Salma and Swati have become more visible in recent years. The 2012 anti-rape movement in India galvanised mass support and stirred the consciousness of many teenage students at that time. Since then, women's participation at demonstrations has grown with the help of women-led movements.
Break the Cage
Many women cite the Pinjra Tod (Break the Cage) campaign as what introduced them to organised protests. This Indian women's collective of university students and alumni advocates for less regressive regulations at hostels and other college accommodation for female students. It counters the security narrative that these places use to restrict women from being in public spaces. Many Indian colleges impose arbitrary curfew timings as early as 5.30pm for women residents citing security reasons.
The campaign, which saw women take to the streets at night to protest, spread quickly across women's colleges in India. Thousands of students protested against the time restrictions and demanded that "safety" and "security" should not be used to silence women's right to mobility and freedom among others. Campaigns were successfully led at Jamia Millia Islamia University, Delhi University, Aligarh Muslim University, Punjab University, Banaras Hindu University, and many more.
"A lot of media is calling students 'first-time protesters'. Were they blind to us protesting against curfew timings, sexual violence, #MeToo cases? Do they only notice protests driven by men? Women students are actually well trained in mobilising through practice," says Salma, who participated in a 2015 project denouncing rape culture by posting sanitary pads with protest messages around Jamia University.
A number of women are maintaining the hidden infrastructure of the continuing CAA protests across university campuses.
Apart from running errands like organising snacks, warm clothes, and mics for protesters and making posters, women students are compiling contact details of doctors, lawyers and police stations for emergency help.
"The protest may have been led by men in many parts but how did they spread so quickly across the country? Because women students have been quietly working round the clock from their homes in an organised manner to circulate messages regarding protest venues and subsequent police action," says Swati.
When a number of students were beaten up by the police on December 15 at Jamia University, students at the on-campus hostel for girls from the state of Jammu and Kashmir provided first aid to some 150 female and male students. In August this year, the disputed region was split into two union territories by the Indian government. The internet blackout and the communication blockade continue in Kashmir, now for more than 140 days. It is the longest ever internet shutdown imposed by a democracy.
Bushra Khanum, 21, a second-year postgraduate student who lives at the hostel, says: "We have grown up with police and army brutality all our lives. We know how to treat teat gas itches, skin burns and baton injuries."
Fighting for an education
Najima Begum, a 24-year-old doctoral student at Jamia University who comes from Imphal, in the country's northeast, joined the protests partly because of her own struggle to pursue an education.
When she was 18, her parents locked her inside her room for more than a week because she wanted to go to New Delhi. "I refused to eat anything all those days," she says. Her parents were opposed to sending her 2,500 kilometres (1,553 miles) away for her education.
"Mine is a conservative family. Most women are born to get married. They could see no reason to send me away only if they had to find me a groom eventually," she says.
She stuck to her demand. Ten days later, her parents gave in.
Najima grew up in Manipur, a state which like Kashmir is under the controversial Armed Forces Special Powers Act that allows security forces to arrest people, search any premises, and fire upon anyone with complete legal impunity. Human rights violations including killings, disappearances and sexual violence by security forces have been reported in the state.
Because New Delhi was her escape from the violence she witnessed while growing up, Najima says she avoided "political things" at university. Yet, she could not hold herself back from participating in the current protests.
Najima researches biotechnology and its effect on the poor. Part of her fieldwork involves visits to the Rohingya settlement near Kalindi Kunj, just 5km (3 miles) away from the university campus. She says that since the CAA was passed, there is a sense of despondency among the teenage girls in the settlement.
"A couple of them have been waiting for the past two years to apply for admission in class 10, but as refugees, they do not have the right paperwork to do so because they are not Indian citizens," she says.
According to the latest home ministry data, there are more than 14,000 UNHCR-registered Muslim-majority Rohingya in India who fled religious persecution in Myanmar. However, security agencies estimate the number of Rohingya living illegally in India to be 40,000.
"With the Citizenship Act, now it would be impossible for many of them to get a college education because of their religion. Many may meet the same fate as the deported family," she says, referring to a family of five deported back to Myanmar in January.
Najima says that she joined the protests because "she understands the meaning of higher education in a woman's life".
Since the protests erupted, her parents have demanded that she return home. "I now know Manipur, Delhi, and Kashmir are alike. So let me just deal with my parents at home and I will be back to deal with things here. I won't stop," she says.
Atmosphere of security
With many hostels closing for the winter holidays, Subhashini Shriya, a founding member of the Pinjra Tod campaign, says that once home, many women are not allowed by their parents to attend local protests.
But pictures of women at the forefront of the protests have helped create an atmosphere of security that has inspired other women to keep returning - and more to join.
Subhashini says: "In the past few years, women's participation in all mass movements has also increased because there have been consistent women-led movements to make the public domain more accessible."
Sarika Chaudhary, 23, a master's in philosophy student at Jawaharlal Nehru University and protester, sees women demonstrating as a mark of solidarity with those affected by the NRC - which requires a trail of documentation women often do not have such as voter cards to prove being a legal citizen - and to protect the personal rights they have fought hard to win.
"The rising sectarianism, casteism, inflation, unemployment - the women are at the receiving end. All kinds of restrictions are being imposed on women in the name of honour and community," she says. "They feel the urgent need to protest because they don't want to lose the freedoms they have fought so hard for at home and outside."
For the first time in her life, on December 19, Nargis Saifi, 33, a stay-at-home mother with a six-year-old daughter was arrested by the police at the protests against the CAA and NRC. Later, she received several calls from her extended family members reprimanding her for being an irresponsible mother.
"I told them that I am protesting for her rights too," she says. "And for the rights of homeless people, my domestic worker and anyone who has no documents because they are too caught up in their struggles to stay alive every day."
Back at the protests, Salma disconnects a call from her parents who are ringing to convince her to return home.
"Women are not just protesting for their rights," she says, "but for the rights of everyone, in the hope that others will stand up for our rights too."
Some names have been changed to protect the identity of the students. Salma Khan, Swati Sinha and Najima Begum are pseudonyms.
https://www.aljazeera.com/indepth/features/women-front-lines-india-citizenship-law-protests-191223061447173.html
------
2019 in review: A roller-coaster ride for women's rights and gender equality around the world including India
By Miriam Berger
December 23, 2019
From the streets of Chile and Iraq to Lebanon and Hong Kong, women have been at the forefront of protest movements against crippling economic inequality, corruption and inept government. They are braving live fire, rubber bullets, arrest and even death to deliver one message to those running the show, namely largely men: It's time for them to go.
All over the world, 2019 has also been a year of amplifying alliances between feminist and LGBTQ communities: from legal battles over trans rights and same-sex marriage in Kenya and India, to the movements pushing for more inclusive and gender-neutral language in places such as Germany and Argentina.
It has been a year of loss and pain, as well: the countless women killed by their husbands, brothers and acquaintances; the tragedies of gender-based violence that occasionally generate international headlines before all too often fading from public memory.
Here's a look back at 10 key wins, losses and patriarchy-smashing moments for women's rights and gender equality in what has been a roller coaster of a year.
1. Women in India made history by entering a men-only temple
The year kicked off with women literally standing hand-in-hand to demand equality.
Millions of devotees each year visit the Sabarimala temple in the southern Indian state of Kerala. That is, except women of menstruating age, who were denied entry as part of a long-standing tradition.
In 2018, India's Supreme Court ruled this prohibition illegal. Several women and girls attempted to enter after the ruling was issued but were pushed back by men, who subjected them to harassment and threats.
So, on Jan. 1, women in Kerala joined hands and formed a symbolic wall stretching over 300 miles to protest what they decried as discrimination.
Two days later, at 3:45 a.m., two women finally pushed their way into the temple: A university professor and a government employee, both in their 40s, entered the inner sanctum of the Sabarimala temple. Their presence set off clashes between protesters and police in the state capital. One of the women's family members disowned her.
It was a historic step forward in both the battle for women's rights and religious freedoms in India, which in recent years has experienced a surge in Hindu nationalism. But there have been steps backward since.
Opponents are appealing the court ruling. And in November, seven women were attacked, including with chili spray, when trying to enter the temple.
2. Canada finally acknowledged its 'genocide' of indigenous women
Canada's 1.6 million indigenous people already knew something was wrong. For decades, their women and girls have gone missing, either vanishing or being killed at alarming rates. Police showed little interest in solving the cases. No one in power was listening.
2019 brought bittersweet clarity. In January, a commission appointed by the government to investigate the phenomenon released its results: The report found what amounts to a "race-based genocide" of Canada's indigenous women and girls, who remained "under siege."
"Genocide is the sum of the social practices, assumptions and actions detailed within this report," the 1,200-page report concluded. It detailed how "appalling apathy" mixed with "colonialist structures" left these women and girls tragically unprotected.
3. Kenya's Supreme Court upheld ban on same-sex relations
Kenya was at a critical fork in the road this year: Would it join South Africa to become only the second African country to legalize same-sex marriage, or would the Supreme Court uphold a British colonial-era law outlawing sodomy and same-sex relations?
In the end, the court chose the latter: In May, it ruled that Kenya's law banning gay sex and criminalizing same-sex relations with up to 14 years in jail did not violate the defendants' constitutional rights.
Activists hope that Kenya's Court of Appeals, which is higher than the Supreme Court, will hear their appeal. In the meantime, they will keep organizing and living their lives.
Worldwide, same-sex relationships are banned in more than 70 countries, almost half of which are in Africa.
4. When women in the Middle East rallied for equality in inheritance and citizenship laws
The future of the Middle East is quietly being shaped by a female-led struggle over inheritance and citizenship laws.
Inheritance laws in many countries in the region are based on a conservative interpretation of Islamic jurisprudence, or sharia law. Under these laws, female heirs inherit half as much as their male counterparts. It's a way of restricting women by making them financially dependent on male relatives and keeping social power and wealth concentrated among men.
Under another set of laws common throughout the Middle East, women can't pass down their citizenship to their children or spouse, while men can. That means the children of a Lebanese woman married to an Egyptian man don't qualify for Lebanese citizenship. These laws are similarly a way of limiting a woman's freedoms – in this case, whom she wants to marry – and a means of controlling and restricting a country's national makeup.
Inheritance isn't the hottest of topics. But changes to these patriarchal laws would reverberate widely, improving the social and economic status of women in the Middle East. The struggle gained even more visibility this year.
In November, a Coptic Christian woman in Egypt won a court case to receive the same inheritance as her brothers, after arguing that Islamic family law shouldn't apply to her. During the ongoing protests in Iraq and Lebanon, women have been at the forefront of the push for change – inheritance and citizenship laws included. Last year, Tunisia's cabinet approved a bill enshrining equal inheritance rights for men and women: The legislation, which is facing some opposition, awaits passage in parliament. All of this is helping to push the issue to the forefront.
5. More men were acquitted of rape because of Spain's antiquated law
Under Spanish law, a victim must be conscious and forcibly assaulted for the crime to count as rape. Critics of the law have repeatedly pointed out the obvious to anyone familiar with sexual assault: Many victims freeze up or can't fight back during assaults as a self-defense mechanism, while consent by its very definition can't be given if the victim is unconscious.
No matter, at least under Spanish law. In October, a court found five men guilty of sexual abuse – but not of rape – after they gang-raped an unconscious 14-year-old girl in Manresa, in the northeastern region of Catalonia, in 2016.
Eleven people said they witnessed the crime. Some also reported being threatened by the assailants, who were ages 19 to 26.
Activists later labeled the men the "Wolf Pack of Manresa," a reference to another high-profile and controversial rape case in 2018, in which five men charged with gang-raping an 18-year-old were at first acquitted of rape before the Supreme Court overturned the decision.
After the initial 2018 ruling and ensuing protests, the government formed a commission that recommended changing Spain's legal definition of rape. That hasn't happened yet.
In the meantime, the Manresa victim is still in counseling, her attorney told the court.
"In another flash, I am crying and someone with glasses is on top of me. There were lots of people" masturbating, the victim had earlier testified. She later added, "It hurt, I don't remember any more."
6. Teens in Argentina led the call for gender-neutral language
It was a year of increasing visibility for gender and LGBTQ+ equality struggles around the world. In Argentina, teens led the way: They championed gender-inclusive forms of Spanish, a language traditionally structured along a male-and-female binary.
"In classrooms and daily conversations, young people are changing the way they speak and write – replacing the masculine 'o' or the feminine 'a' with the gender-neutral 'e' in certain words – to change what they see as a deeply gendered culture," The Washington Post's Samantha Schmidt reported. "Their efforts are at the center of a global debate over gender, amid the growing visibility of non-binary identities and a wave of feminist movements worldwide. A big part of the battle is being waged over language."
As Schmidt found, in Argentina, these gender-neutral forms are growing in popularity, with children's books, university departments, courts, activists and even the new president using this more inclusive Spanish.
7. South Koreans confronted the 'molka' epidemic and rape culture among K-pop stars
In November, K-pop star Goo Hara, 28, was found dead in her apartment in Seoul in what investigators say could have been a suicide. Goo reportedly also had attempted to kill herself six months earlier.
Her personal struggles, which K-pop stars are discouraged from sharing, became public in 2018: That's when she broke another barrier and came forward to accuse her ex-boyfriend of secretly filming them having sex and threatening to distribute the footage. Goo was not alone. In November, a South Korean court found two male K-pop stars guilty of raping unconscious women, secretly filming the encounters and then distributing the videos – a phenomenon known in South Korea as "molka." The case, one in a number involving male K-pop celebrities, has rocked the lucrative industry, known for its clean-cut music and predominantly female fan base.
The case coincided with growing public attention on – and anger at – endemic misogyny and the molka epidemic. Last year, tens of thousands of women marched in Seoul against molka under the slogan "My Life is Not Your Porn." Still, actual change has been slow to materialize.
As Seoul-based journalist Haeryun Kang wrote in November in The Post, "Most spy cam-related bills, including some that aim to fine or imprison service providers who don't delete such footage from their websites, continue to stall in the National Assembly, leaving the victims of these crimes to continue to try to find justice in a flawed system."
8. Nigeria's #MeToo movement erupted
This year, several #MeToo-style movements took off in Nigeria, as well as other parts of West Africa, as women came forward about the sexual abuse, harassment and rape they have long suffered in silence.
In northern Nigeria, a conservative and mainly Muslim part of the country, a young pharmacist tweeted in February about how her boyfriend allegedly almost killed her. Soon #ArewaMeToo – Arewa meaning 'north' in the local Hausa language – was taking off.
In June, Busola Dakolo, 34, a well-known Nigerian photographer, publicly accused Biodun Fatoyinbo, her former pastor, of raping her twice years ago. After the explosive interview aired, other women contacted Dakolo to tell her that Fatoyinbo, a prominent pastor in the capital, had sexually assaulted them, as well.
The outrage among women that ensued was fierce. But so also was the backlash. Fatoyinbo took a leave of absence from his church but is back at the pulpit now and has denied all allegations. Nigeria's most influential Muslim leader, meanwhile, has formally banned #ArewaMeToo.
9. Chile's feminist battle cry ringing around the world: "The rapist is you!"
Protests broke out in Chile in October against crippling economic inequality and failing government policies – and opened the floodgates for all kinds of dissent with the status quo, gender-based violence included.
In late November, the Chilean feminist collective Las Tesis penned a chilling anthem, "Un violator en tu camino," or "A rapist in your way." The message of female anger and defiance quickly resonated and spread around the world.
"The patriarchy is a judge that judges us for being born, and our punishment is the violence you don't see," the chant begins. It later continues, "It's femicide. Impunity for the killer. It's disappearance. It's rape. And the fault wasn't mine, not where I was, not how I dressed . . . The rapist is you. It's the cops, the judges, the state. The president. The oppressive state is a rapist."
1o. Women symbolized uprisings in Sudan, Lebanon and Iraq
In 2019, uprisings rocked the male-led political establishments in Sudan, Lebanon and Iraq. In Sudan, months of protests culminated in the April ouster of Omar Hassan al-Bashir, the African country's longtime dictator, who has been accused of war crimes. Women in conservative Sudan were at the forefront of the demonstrations. One protester, 22-year-old Alaa Salah, became a symbol of the revolution after a video of her leading chants, while dressed in traditional white garb, went viral. That women, who generally make up half the population, have political grievances and opinions to share is no surprise.
In Iraq, women shouting into megaphones, attending to the wounded, organizing protest camps, feeding protesters and even facing off with security forces have helped to sustain two months of demonstrations, which are challenging the corrupt and sectarian political system set up after the Iraq War.
And in Lebanon, where the public has been protesting for weeks against the sectarianism and corruption plaguing the government, one fearless woman embodied the spirit of the revolution when she expertly kicked an armed man trying to prevent her from protesting. The video went viral.
Now comes the second struggle, say women's activists: to move beyond the fetishization of female protesters and to actually support and institute real gender-attuned political change.
http://www.newsindiatimes.com/2019-in-review-a-roller-coaster-ride-for-womens-rights-and-gender-equality-around-the-world-including-india/
------
Muslim Woman Awarded $120,000 After Police Removed Hijab for Mugshot in 'Humiliating' Experience
By Spencer Neale
December 23, 2019
A court awarded a Muslim woman a $120,000 settlement after police forced her to remove her hijab in front of male jailers for a mugshot in 2013.
Aida Shyef Al Kadi, who was born in Ohio and moved to Minnesota so her child could receive special medical care, was arrested after a judge issued a warrant for Al Kadi because she failed to appear in court for a traffic violation. After turning herself in, Al Kadi was ordered to remove her hijab and abaya, a dress that covers the body, in front of male jailers at the Ramsey County jail.
U.S. District Court Judge John Tunheim awarded the settlement last week after Al Kadi sued Ramsey County for violating her constitutional rights and appeared with lawyers at the Minnesota headquarters of the Council on American-Islamic Relations earlier this month.
"It was one of the most humiliating and harmful experiences of my life," said Al Kadi. "I knew that I did not want any other Muslim woman to experience what I did."
Al Kadi initially refused to remove her hijab and was allowed to take the religious clothing off in a separate cell in front of a single male jailer. She agreed to remove the clothing after receiving assurances that the photos would not appear online.
Months later, Al Kadi found the photos on a website that requires payment for mugshots to be removed. After the mugshots were taken, Al Kadi was given a bedsheet to cover herself with.
"A bedsheet belongs on a bed … not a human being," Al Kadi said during her deposition.
Since the incident, new policies have been implemented so that another similar incident does not occur. One new policy makes it so that women do not have to remove their hijab in front of male jailers.
"Ramsey county's values hold that the rights, beliefs, well-being, and dignity of all our residents are protected and honored in all aspects of what we do," said Ramsey County Board Chair Jim McDonough in a statement. "The practices outlined in the agreement to improve the booking process for those with religious head coverings better reflect these values."
https://www.washingtonexaminer.com/news/muslim-woman-awarded-120-000-after-police-removed-hijab-for-mugshot-in-humiliating-experience
------
Muslim women hit the road in Kanpur to protest crackdown
Dec 24, 2019
Kanpur: Thousands of Muslim women unexpectedly spilled out on the road on Monday, asking the police to stop raids and release those detained after Saturday's violence.
Before staging a sit in on the Yatimkhana-Talaq Mahal road, they told the authorities that most of the detained men were from their families but were not part of any protests on Saturday.
The women's protest around 4 pm rendered the relatively calm situation a little tense, as thousands of people began pouring on the streets in their support.
The women, with their faces covered, said there was a perpetual fear in the localities that the police would conduct raids and would take away their family members without fault.
They said the police planned to use ladders to enter their houses during the raids, which were conducted early on Sunday morning in Dalelpurwa.
The cops, trying to maintain peace in the violence-hit area, went into a tizzy with this unexpected protest, as the women angrily confronted the police officers sent to speak to them.
Circle officer, Anwargunj Saifuddin Beg and SHO Veer Singh, who were the first to respond to the situation returned, as the women wanted to speak to senior authorities.
The women said the people were being targeted since Saturday when the police and anti-Citizenship Act/NRC protestors clashed.
Police have detained nearly 25 people who are being questioned apart from the eight arrested so far.
According to them, all these people were taken away from their houses despite not being involved in the protest. "These are innocent people; they should be released immediately and the raids should stop," they said.
The Muslim areas reverberated with the calls of "Jaagte Raho" as thousands spent Sunday night on the roads in anticipation of police raids. Rumours flying thick and fast about the raids and police using ladders kept people on the edge.
District magistrate Vijay Vishwas Pant and SSP Kanpur Anant Deo reached Talaq Mahal from a meeting with Muslim clerics at Ghareeb Nawaz Hall and spoke to the protesting women.
The SSP assured them the police would not conduct any raids and the people would be arrested only on the basis of hard evidence.
https://www.hindustantimes.com/chandigarh/cold-tightens-grip-on-punjab-haryana-with-narnaul-colder-than-shimla-at-1-2-c/story-NVg0wxD3Ist4uB59Gr6iPJ.html
------
URL:https://www.newageislam.com/islam-women-feminism/muslim-student-rabeeha-abdurehim-claims/d/120613
New Age Islam, Islam Online, Islamic Website, African Muslim News, Arab World News, South Asia News, Indian Muslim News, World Muslim News, Women in Islam, Islamic Feminism, Arab Women, Women In Arab, Islamophobia in America, Muslim Women in West, Islam Women and Feminism