New Age Islam News Bureau
6 Apr 2019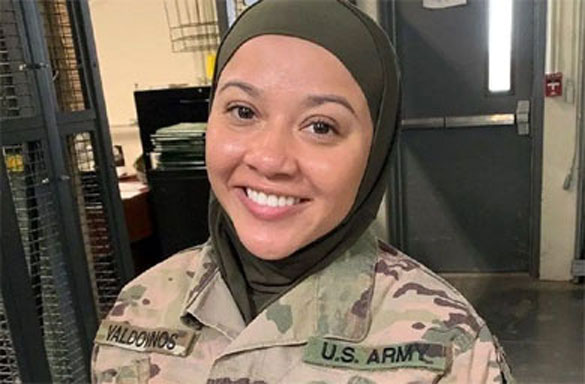 Sergeant Cesilia Valdovinos, a Muslim soldier, will be suing the US army after her command sergeant major allegedly forced to take off her hijab in front of their colleagues. ( Military Religious Freedom Foundation )
-----
• Indonesian Religious Court Rebuked Over Child Marriages
• Aurat March Posters Ignite Feminist Firestorm in Pakistan
• Iraqi Boy Risks All To Rescue Yazidi Woman from Islamic State
• Fixation on the Hijab as 'Anti-Feminist' Does a Disservice to NZ Muslim Women
• For Afghan Refugee Women, There's No Escape from Violence
• Women Singers Test Limits, Signal Afghanistan's Changing Times
• Afghan singer fears Taliban return will curb women's rights
Compiled by New Age Islam News Bureau
URL: https://www.newageislam.com/islam-women-feminism/muslim-soldier-sue-army-after/d/118248
--------
Muslim Soldier to Sue US Army after Ordered To Remove Hijab
06.04.2019
A Muslim soldier is preparing to sue the U.S. Army over allegations that her command sergeant major allegedly forced her to take off her hijab in front of their colleagues.
"I got called a terrorist. I got called [Daesh]," Sgt. Cesilia Valdovinos, who is serving in the 704th Brigade Support Battalion, said in a recent interview with Yahoo!, as reported by the Independent. "I hear comments that I'm the reason why 9/11 happened. There's a lot of anger and animosity."
Valdovinos filed a complaint with the military's Equal Opportunity Office last month after her Command Sgt. Maj. Kerstin Montoya forced her to remove her hijab in front of others and pulled her out of rank, saying that her hair was not done to regulation standards underneath, according to the Army Times. "I felt embarrassed and religiously raped in a sense," Valdovinos said in an email to the Military Religious Freedom Foundation (MRFF), a nonprofit advocacy organization.
In a memorandum signed in 2017, the U.S. Army had taken new steps to make it easier for religious minorities to obtain approval to dress and groom themselves according to their religious customs while serving in the military. The army revised the uniform policy to set appearance standards for people seeking religious accommodations to wear beards, turbans and headscarves. An approved religious accommodation continues throughout the soldier's career and may not be revoked or modified without approval of the Secretary of the Army, the memo says. The new rules allow headscarves, or hijabs, for Muslim women. They must be of a similar color to the uniform and be free of designs or markings, unless they are camouflage and worn with a camouflage uniform.
https://www.dailysabah.com/americas/2019/04/06/muslim-soldier-to-sue-us-army-after-ordered-to-remove-hijab-1554498601
--------
Indonesian Religious Court Rebuked Over Child Marriages
April 5, 2019
Church and rights activists have slammed Indonesia's religious court for "abusively" granting permission for thousands of underage children to marry.
Indonesian law sets the minimum age of 19 for man and 16 for a girl to marry. However, the religious court — for Muslims to resolve matters concerning religion such as marriage — has the authority to give dispensation to people below the minimum age.
According to an annual Supreme Court report released this week, the religious court issued 13,251 marriage dispensations in 2018, which was roundly condemned by activists.
Activists and the U.N. consider child marriage a violation of a child's rights, especially girls with regard to development and exposure to health risks, as well as physical, psychological and sexual abuse.
Susanto, chairman of the Indonesian Child Protection Commission (KPAI), accused the religious court of approving child marriages wantonly just because it has the authority to do so.
"It should halt or at the very least curb permission," Susanto told ucanews.com on April 4.
"We have to make sure children grow and develop," he said.
"We have to consider various aspects of girls such as education, psychology, and health," he said.
He said the commission wants to see the government revise the law and increase the minimum age, from 19 to 23 for males and from 16 to 21 for females, which should be strictly enforced.
Arist Merdeka Sirait, chairman of the National Commission for Child Protection, said the religious court appears oblivious to the consequences of allowing children to marry.
"The court needs to consider their future because it generates other problems too, such as poverty and domestic violence," he said.
Yuli Nugrahani, an official of Gender and Women Empower Secretariat at the Indonesian Bishops' Conference, expressed dismay at the high figure.
She said child marriage negatively affects children, particularly girls, physically and psychologically because they are deprived of a normal childhood.
"If a girl is not prepared mentally and physically to get married, when she gets pregnant, it can be life threatening or lead to abortion," she said.
Nugrahani said child marriage in Indonesia is endemic and traditional among ethnic groups, while some parents want their children to get married young for economic reasons.
Instead of giving dispensation, she said, the religious court should be actively preventing teenagers from getting married.
"Prevention is important and can be done by providing education, counseling, and advocacy to children, parents, and society, like what the Catholic Church is doing," she said.
According to the Indonesian Statistics Agency, about 340,000 Indonesian girls aged 15-18 are married each year, making the 7th highest prevalence globally and the second highest in Southeast Asia after Cambodia.
https://www.ucanews.com/news/indonesian-religious-court-rebuked-over-child-marriages/84905
--------
Aurat March Posters Ignite Feminist Firestorm in Pakistan
April 6, 2019
ISLAMABAD: The posters at the Aurat March 2019 were just part of the colourful spectacle as tens of thousands of women took to the streets for the second year in major cities across Pakistan, marking International Women´s Day on March 8.
But this year the slogans caught the attention of the media, many of whom showcased them online, while a handful of the most provocative went viral — igniting weeks of outrage, with shocked organisers reposting a slew of violent threats.
The uproar has provoked a rare and at times acrimonious debate on women's rights and cultural values in a conservative Muslim country that has, until now, been largely unconcerned with the global #MeToo movement.
Celebrities and television personalities have weighed in, and a retaliatory "Men´s March" was even organised in Karachi, though reports suggest just two showed up.
One Karachi cleric, offended by a poster that announced "My body, my choice", used twisted logic to claim that men, also, have agency over their bodies –"My body my choice … your body your choice … Then men´s body men´s choice," he argues in a video which swiftly went viral, with tens of thousands of views.
Many of the informal group of activists behind the march said they had expected a reaction, but were taken aback by its ferocity.
"The level to which they took offence, to the point of giving death threats to people who were the organisers … is too much," says Lubaina Rajbhoy, a graphic designer whose posters evoking Communist revolutions became emblematic of the march.
The backlash against the slogans, Rajbhoy said, "shows a height of intolerance in our country, which again is one of the purposes of the march".
Women have long fought for basic rights in Pakistan, where activists say men commit "pervasive and intractable" violence against them.
Much of society lives under a patriarchal, outdated code of so-called "honour" that systemises the oppression of women who defy tradition by, for example, choosing their own husband or working outside the home.
Hundreds of women are killed by men in Pakistan each year for "honour".
As with women´s movements elsewhere, the uproar was partly fuelled by fears "feminism" means hatred of men — "which is not true at all", says organiser Leena Ghani.
"We are asking for … equal rights for all," she said. "To be honest, everyone is affected by patriarchy."
But the signs also invoked what many saw as the encroachment of elitist and Western cultural values on a conservative society.
Posters invoking menstruation provoked disgust with reproductive rights majorly lacking.
And signs promoting divorce and a woman´s rights in marriage were perceived as an attack on Pakistan´s social structure, in which traditional marriages play a central role.
Ride-sharing app Careem caught part of the backlash when it released a lighthearted ad two weeks later showing a runaway bride, the caption reading: "If you want to run away from your wedding, book a Careem bike!"
Critics filed a legal petition against the ad, calling it an "unethical promotional campaign".
Television host Madiha Masood was among those publicly criticising the march, suggesting it was a project driven by foreign powers.
"I will not encourage my daughter to depict inappropriate hand gestures, hold a cigarette in her fingers and say, ´My time has come´. I´m very sorry, I wouldn´t want such a daughter," she told AFP.
Another high-profile critic was Pakistani feminist icon and poet Kishwar Naheed, who reportedly said she believes feminists should keep their culture and traditions in mind so as not to go astray– much to the surprise of many who had looked to her for inspiration.
For the marchers, criticism of the posters is a distraction — though the designer Rajbhoy noted the controversy is now being broadcast to women all over the country.
"It´s important for them to see that … there is this group of women that are actually coming out of their homes and marching, and perhaps they wish to participate in it in the future."
https://www.pakistantoday.com.pk/2019/04/05/aurat-march-posters-ignite-feminist-firestorm-in-pakistan/
--------
Iraqi Boy Risks All To Rescue Yazidi Woman from Islamic State
Amberin Zaman
April 5, 2019
AL-HOL, Syria — With his slender frame and gentle smile, Diya Hamad seems an unlikely self-appointed rescuer of Yazidis from the barbarous Islamic State (IS). But that is precisely what the 16-year-old from the Iraqi city of Samarra is. "He is a hero," declared Nabil Hassan, the manager of the al-Hol camp in northeastern Syria where tens of thousands of Iraqis fleeing IS have been sheltering ever since the jihadis killed and plundered their way through Iraq in 2014.
Today, al-Hol is home to many more thousands of refugees, the wives and children of IS fighters who made their last unsuccessful stand in the small village of Baghouz. Among them remain an unknown number of Yazidi women they enslaved and abused until they were finally vanquished by the US-backed Syrian Democratic Forces (SDF) on March 22.
Until a month ago, Hamad was among them, hanging on in Baghouz to help a Yazidi woman escape, knowing that he might not be so lucky. But he was. He survived and his mission to rescue the woman called Salwa has been accomplished. She is back with her community.
Hamad's tale of bravery extends back to 2014, when he, his mother, two brothers and two sisters took refuge in the town of Qaim when IS struck. The jihadis quickly caught up with them. "When we tried to return to Samarra, they said 'we will kill you' so we were forced to stay," Hamad told Al-Monitor on a recent afternoon in al-Hol. That is where he met Salwa.
His face lit up when he recalled their first encounter.
"The minute I saw her, I felt like she was my sister. She was being kept as a slave by a Russian IS member in the house next to ours. He was short and fat and she hated him." There were 15 other women in the house, all Russians whose husbands were away fighting. As the fat man kept guard over them, he used and abused Salwa. One day she slipped across the garden into Hamad's house and told the family her story. She was terribly lonely because she was unable to communicate with the other women in the house who only spoke Russian. She began coming every day and her tormentor only allowed it because he knew she would not dare to escape. What he didn't know was that Hamad was determined to make sure that she did.
Salwa is from Iraq's Sinjar region, where IS embarked on its genocidal slaughter of the Yazidis, an ancient religious minority that has suffered centuries of persecution, largely based on the false premise that they worship the devil. Under this pretext the jihadis decided it was perfectly in order to murder their men and enslave their women en masse.
The scale of the butchery is only beginning to surface. On March 15, Iraqi authorities began to exhume the first mass grave of Yazidis in the village of Kocho, south of Sinjar, where 400 men were killed, leaving only 19 survivors. Women and children were taken captive, among them Nobel laureate Nadia Murad, who has dedicated herself to promoting their cause. A girl who was taken along with Murad that day was recently found in al-Hol. Camp administrators declined to provide her name for security reasons. Publishing Hamad's photograph, they said, would put him at risk too.
The Yazidis' exploitation didn't end with IS. Ziyad Rustam, a spokesman for Yazidi House, an advocacy group in the Kurdish-administered town of Amude in northern Syria, confirmed that smugglers have been extorting money from victims' families, claiming to have rescued the women themselves even after they were saved by the SDF. For this reason, camp officials are keeping all information about the Yazidis strictly confidential as they continue their search amid the thousands of freshly arrived jihadi women and their children who are stretching camp resources to the bursting point.
"Some of these poor [Yazidi] women and children were kidnapped and held by these villainous profiteers directly from IS and used as servants and sexually abused before being sold back to their own families," Rustam told Al-Monitor in a telephone interview. "The SDF is the force that protects them," he said.
Cathy Otten, the author of the widely acclaimed account of the Yazidi tragedy "Ash on Their Faces," concurred, saying, "It wasn't uncommon for families to be contacted and extorted all over again either by IS members, criminals or professional smugglers." She told Al-Monitor, "Cases of extortion appear to have increased in the chaos of IS' collapse. Yazidi families had no choice because there's never been any official [Iraqi] effort to get the women and children back. So the families had to pay thousands of dollars to smugglers, exortionists and criminals along every step of the journey."
Hamad was clearly not motivated by money. "I love Salwa; she is like a family member. I could no longer bear the idea of her suffering," he said over a meal of chicken and rice that he barely touched. Camp officials explain that he has difficulty eating because he was starved in Baghouz for so long. "We became so desperate we picked apart unexploded bombs [mortar shells] and boiled the white powder inside and ate it," he said. "It made us feel sick."
How did he wind up in Baghouz? The family's odyssey hadn't ended in Qaim. When coalition planes began bombing the city, they picked up and left together with IS, crossing the border into al-Keshma in Syria. "We didn't know what else to do," he explained. In al-Keshma, Hamad began searching for Salwa. Then one day "God answered our prayers" and she showed up at the family's doorstep accompanied by a jihadi fighter. "When my mother saw her they embraced and they both broke into tears and then for the first time I saw Salwa smile."
They gave her a room, and Hamad began plotting her rescue in earnest. He managed to spirit her unnoticed to the local bazaar, where they used a merchant's phone to contact her family, who in turn found a smuggler. But the smuggler was found out by the jihadis and executed. In the meantime, the SDF began closing in and captured the nearby town of Hajin. In a further unlucky twist, Salwa's "husband," by then slightly trimmer, turned up to reclaim her. Hamad arranged for his mother and siblings to turn themselves over to the SDF. But he stayed on in the hope of rescuing his adopted Yazidi sister.
Al-Keshma fell to the SDF soon after. Once again he followed the jihadis under a torrent of coalition bombing to Baghouz on the off chance of finding Salwa. He did — in a small tent with the Russian — and then a "miracle" occurred. The man disappeared once again. After three months of living on boiled weeds and a botched attempt to hand her smuggled to safety, Hamad finally managed to engineer their escape to the SDF lines as panic set in among the jihadis. They went in a car but were separated as soon as they turned themselves over.
"They said I was from the Islamic State." And so it was Salwa's turn to rescue Hamad. She told them their story. Soon Hamad was reunited with his beloved Salwa and the rest of his family in al-Hol and Salwa is now reunited with hers.
"I hope to visit her in Sinjar. That is my dream," Hamad said.
Until then, he won't know the full truth of her reception back home. Rustam said that some Yazidi victims resist returning because of the stigma of being an IS slave. Others leave children conceived from such forced unions behind. Otten observed, "On a surface level, formerly enslaved women have been accepted back by Yazidi officialdom, but in practice things are rarely so straight. Yazidism is a hugely conservative and insular religion and Yazidis have the same sense of shame and honor as other religious groups in the region." Salwa's troubles may not be over yet.
https://www.al-monitor.com/pulse/originals/2019/04/syria-iraqi-boy-risk-rescue-yazidi-woman-islamic-state.html
--------
Fixation on the Hijab as 'Anti-Feminist' Does a Disservice to NZ Muslim Women
Nidha Khan
April 6, 2019
There are Kiwi-Muslims still grieving.
There are Kiwi-Muslims still numb, upset, scared, angry, and emotionally exhausted.
And, in such a time, it is deeply upsetting and unsettling for commentators like Heather du Plessis-Allan to re-ignite narrow-minded conversations about how wearing the hijab is an anti-feminist act.
"Sure it's a difficult choice for a feminist to make," she wrote in the Herald on Sunday. "How do you show support for a persecuted minority but at the same time continue to stand up for the rights of women? … Surely, supporting them was the most important thing to do. Which is to say, supporting all Muslims was more important than being a feminist in the day immediately following the attack. But that doesn't mean the PM, or any other feminist, should tell themselves it's OK to continue to wear the headscarf."
Frankly, I am tired of this narrative that Muslim women, especially those who choose to wear the hijab, are anti-feminist or oppressed.
In New Zealand, we have no laws mandating a woman to wear a hijab, so why does it bother people when a woman chooses to wear one? What unsettles you? Is it because you believe that you are more capable of making the right choice for a hijabi woman and that you must step in, enlighten them, and speak on their behalf? If you do, then you are disempowering Muslim women and stripping away Muslim women's agency. That is anti-feminist. That is a disservice to Muslim women.
If you truly cared about the "oppression" of Muslim women, you would be fiercely questioning why we do not have a single Muslim person in parliament. You would be asking why there is such a jarring lack of diversity in our government agencies. You would be asking why we do not have a single hijabi news reporter or commentator on mainstream television. You would be asking why we have bus doors being slammed in the face of a hijabi woman. You would be asking what more we could do to make Muslim women feel safe and included in New Zealand.
It would be refreshing to see the discourse about Muslim women change. For it to shift away from this fixation on whether a Muslim woman chooses to wear a hijab and whether wearing a hijab is "anti-feminist".
Where is the discourse about how Muslim women use the teachings of Islam – a heavy emphasis on charity, remaining honest and truthful, practicing patience – and how they bring that to life through their service and interaction with their family, workplace, and community?
Where is the regular commentary that highlights female Muslim role models in our community? It seems as if the only time we really want to give any attention to Muslim women and feminism is when non-Muslim women comment on the hijab.
https://thespinoff.co.nz/society/06-04-2019/fixation-on-the-hijab-as-anti-feminist-does-a-disservice-to-nz-muslim-women/
--------
For Afghan Refugee Women, There's No Escape from Violence
BY FARIBA NAWA
APRIL 5, 2019
The WhatsApp messages began in 2016. The first was from Hoor, a 16-year-old girl looking for work in Turkey. In a series of voice clips, she confided that she had run away from Kunduz, Afghanistan, after her uncle sold her as a bride to a man in his 50s. She made it to Istanbul, but as a woman on her own still feared for her safety.
Months later, my phone dinged with more messages. This time, it was 17-year-old Fatima. She and her sister Madiha, 18, had escaped forced marriages in Herat, Afghanistan. They were smuggled into Turkey with their older brother Ehsan, but he had gone missing. Now the two were working on farms in an Anatolian village, facing daily harassment.
Next came the popular Afghan YouTube star Sahar Aryan, who reached out with photos of herself in the hospital after she said Afghan men assaulted her in Kirsehir, a small, conservative town in Turkey where she was waiting for asylum to a third country through the United Nations. She had run from Kabul to escape death threats for singing onstage.
Aryan had been a contestant on the controversial Afghan television show Afghan Star, akin to American Idol. As part of the competition, she had sung "Stoning," a song condemning the ongoing practice of killing adulterers by bludgeoning them to death with rocks.
The performance—and others like it—had earned her the ire of conservative Afghan men in Afghanistan and in Turkey. In her sparse Kirsehir apartment, Aryan was recovering from the beating that had left her with a head injury, bruises, and a black eye.
These Afghan girls and women, on the run from domestic violence, death threats, sexual assault, forced marriage, and a 40-year war, are by themselves—some for the first time in their lives. Although the 3.5 million Syrians who have made their way to Turkey might make more news, the number of Afghans entering the country is now surpassing Syrian arrivals.
Over the next three to five years, the United States plans to have all its troops out of Afghanistan. The Taliban, eager to return to power, have promised that this time will be different. Officials such as Sher Mohammad Abbas Stanikzai say they will allow women to attend school and work—two activities that the group previously banned. But the fleeing Afghan women have little hope that their lives will be better. Simply put, Aryan told me, "There's a culture against women." And changing it will not be easy.
After all, the United States has spent more than $1.5 billion trying to uplift Afghan women since ousting the Taliban in 2001. The results have been mixed at best. Millions of girls went back to school. Thousands of Afghan women went back to work, and some even joined the government, sports teams, and the military. In urban centers and safer rural areas, women thrived, but on the front lines where the war raged, they remained stranded with few resources.
In turn, as airstrikes and suicide bombings continued, scores of refugees—including tens of thousands of women—fled the country. Advocacy groups such as the Afghan Women's Network and Women for Afghan Women say that if the Taliban revoke rights for women once they join the government, more will be trying to get out. Western governments should prepare themselves: "You'll have so many Afghans coming to your doors unless you show interest and start talking to the Taliban about the kind of governance you want. You can't support a government that stones women," Shaharzad Akbar, a Kabul-based Afghan political activist, told me.
In 2011, the United Nations High Commissioner for Refugees estimated that about 3,500 Afghan women had registered as refugees in Turkey to seek asylum to a third country. The number increased to about 40,000 in 2017, in part because of the European Union deal with Turkey to stop refugees from crossing to Europe, which meant that more Afghans stayed there. The U.N.'s International Migration Office believes that thousands more are undocumented.
The women who have fled Afghanistan to Turkey have typically done so with the help of smugglers. Although they are looking for safety, they often face even more abuse on the trail or in the conservative Turkish towns they are assigned to once they reach that country's borders.
With the influx of Syrian and other refugees, Turkey stopped assigning refugees to its bigger liberal towns, which it says are overcrowded. There may be some truth to that, but it means sending women to places where they will lack a support network.
In small towns, foreign women living alone can be mistaken for prostitutes. Fatima and Madiha work in bakeries and farms seasonally, but they've been propositioned countless times. One morning, a group of migrant men threw a rock at their apartment window, and the women hid for a month. A Turkish social worker told me that unemployed migrant me also harass Turkish women, leading to fights with Turkish men. Lone migrant men do make up a large population of Afghans entering Turkey, and Ankara has especially focused on deporting and detaining those who are in the country without the proper documents.
For the women, waiting out the violence is still worth it. Eventually, they hope, their asylum applications to other countries will be accepted. Until then, they dutifully show up every two weeks at their local police station to keep their asylum cases active. Hoor, Fatima, and Madiha have completed their first round of interviews and are waiting to be resettled in the United States. That could take a while. Under the Trump administration, decisions on refugee cases are slow in coming. All the women would like to go to New York City and enter university and work. They talk to each other via WhatsApp and want to stay connected once in the United States, but refugees do not have the option to choose their city unless they are sponsored by an American. Hoor is afraid that wearing a headscarf may make her a target of hate if she ends up in a city without many Muslims. "I just want to go where I can feel safe," she said.
Aryan, the singer, has taken a different path.
With long dark hair and ruby red lipstick, Aryan has a nervous laugh and a penetrating voice. She sits on her bed and sings in the middle of the night, sometimes waking her Turkish neighbors with Persian poetry and Turkish sonnets.
Born in Iran to an Iranian mother and an Afghan father, Aryan's childhood was grim with violence. Her father abused her mother, and they divorced; he took the children to Azerbaijan, where he kept them under strict control. Fluent in Turkish and Farsi, Aryan said she secretly joined a choir in Baku because her father wouldn't let her sing. Like the Taliban, he believed that music, especially a woman singing, was haram.
In 2013, Aryan, which is her stage name, made a dangerous move. She traveled to an unlikely place to pursue her music career: Afghanistan, where she had family but would be free of her father's restrictions. There, she performed songs dedicated to women's rights. For any young artist in Afghanistan, the pinnacle of success is being able to sing on Afghan Star, and Aryan was thrilled when she made the cut. She lost the competition but gained recognition.
"After Afghan Star, I was followed on the street. I had to move six times. Finally, I came out with full hijab. I was speaking about feminism in Afghanistan on Instagram and received many threats," Aryan said. In Kabul, she was living with her paternal aunt, but her cousin beat her with his fists and kicked her in the stomach after her stage performance. She moved out, but when men recognized her in public, they taunted and insulted her too. Aryan said she talked back, and they became violent.
"It's not one person that's after me. Men who are Islamists and hate women and want women to sit at home, and want to use women as slaves, they are after me. They didn't want me to sing. They didn't want their mom or sister to learn from me," she said.
To their dismay, however, Aryan became a role model for some younger urban women. Sahar means "dawn" in Farsi, and her fans began using the slogan "Sahar nazdikast," meaning the dawn or change is near. As her popularity grew, Aryan knew she couldn't stay in Afghanistan.
Aryan didn't expect the violence to follow her to Turkey, though. Once there, the Turkish government assigned her to Kirsehir, a tiny town in the center of the country. She moved in with other Afghan refugee women and worked in a Turkish restaurant. But they weren't the only Afghans in town—migrant Afghan men, also traveling alone, would loiter in the town square catcalling to women.
On one cold December night, Aryan was leaving a friend's house with her laptop when three men yelled at her in Farsi, saying she had given Afghan women a bad name, dishonoring them as men. As usual, Aryan shot back, telling them to mind their own business. Instead, they attacked her—one held her throat as the other hit her head. The men ran as police and an ambulance arrived. Aryan was hospitalized for two days, traumatized and in pain.
"The biggest danger to me in Turkey is the same Afghans I was running away from have come here," she said. Aryan requested reassignment to Istanbul, where she believed she would be able to more safely continue her music, but she said she was denied. She moved anyway, forsaking her chances of asylum in the West. She is now seeking residency in Turkey, making more music videos and working for a real estate agency. Her music is no longer as dark.
Aryan said she misses her friends in Afghanistan, but now that the Taliban are seeking a comeback, her hopes of returning are slim. She said peace will come when every Afghan woman rises to fight back. Her fight is the message of power in her music. "I'm singing about a country that's being battered and beaten, and I'm being battered and beaten for it. Am I worse than those men who rape women, who kill others? I don't think I'm that much of a sinner just for singing," she said.
In Afghanistan, women are banding together to lobby the U.S. government for continued help, protest violence on social media, and call on the Taliban to include them in the peace talks. Marjan Mateen, Afghanistan's deputy education minister, told me she traveled to provinces across the country to speak to women in urban and rural areas about what they want for their future. She found that their opinions were colored by their experiences of violence and poverty. In safer areas, women wanted development. In war zones, security was the priority.
The West has invested too much in Afghan women to allow the Taliban and other extremist groups to crush their hopes. If there's peace, women must be a part of it, but they need international allies. And their message has been loud and clear: If you don't want us in your countries as refugees, then help us make Afghanistan safe and free.
As long as the war rages, women will be a target of violence—and not just in their own counties. Male violence among refugees is another dark impact of the fighting, and it will haunt host countries like Turkey until the problem is fixed at the root. That root is in Afghanistan, where there are no quick fixes, just a long process of cultivating a durable peace.
https://foreignpolicy.com/2019/04/05/for-afghan-refugee-women-theres-no-escape-from-violence/
--------
Women Singers Test Limits, Signal Afghanistan's Changing Times
OROOJ HAKIMI
April 5, 2019
Soria Hussaini was not sure what would happen when she decided to perform the first Kabul street concert by a woman in recent memory.
The 20-year-old, whose family fled civil war in Afghanistan for Iran during the 1990s, worried about her safety. But nearly 50 people watched the unadvertised concert by Hussaini's rock group, Azadi, in the city's Kart-e-Char neighborhood in March, singing and clapping along with the music.
"Some were against this concert, but we did not give up," she said. "We are all scared of suicide bombings, explosions, abductions and other issues in this country."
Hussaini's concert was unusual both for its public setting and the positive response it received in a country where views on women and entertainment are often ultra-conservative.
In sharp contrast, a video surfaced this week and was widely shared on social media showing men whipping a woman, purportedly a Taliban punishment for singing in public. It was not clear when the video was filmed, but it generated fierce online criticism of the Taliban.
Reuters was not able to verify the authenticity of the video. Taliban spokesman Zabihullah Mujahid said he could not confirm the video depicted members of the group, and that it was investigating the incident.
Intensifying peace talks between the United States and the Taliban have brought a focus on the place of women in Afghan society. Many say they fear greater freedoms won in recent years will be eroded under a settlement with the Islamists.
The Taliban banned women from playing music or appearing in public with their faces visible when in power from 1996 to 2001.
One symbol of the changes since the Taliban were overthrown is 18-year-old Zahra Elham, who last month became the first woman to win the vote-in singing competition Afghan Star in the 14 years since local TV station Tolo began screening the popular show modeled on American Idol.
"They finally supported a girl. That day, I witnessed that there is justice, they let a girl move forward," she said.
Not everyone celebrated her success, however, said Elham, who recalled a frightening 2-km walk home from the TV studio one night in January, as her celebrity grew.
"Everyone was taunting me on the way," said Elham, who hails from the Hazara ethnic minority that has long suffered discrimination in Afghanistan. "There were comments about ethnicity since, in our tribe, it is not desired for a girl to become a singer. Now my fear has increased."
#MyRedLine
TV journalist Farahnaz Forotan, 26, received a more supportive reaction when she launched last month a social media movement with the hashtag "MyRedLine", encouraging women - and men - to publicly declare what rights they would not surrender.
Forotan launched the movement by declaring that her pen, symbolic of her profession, was her red line. Since the Taliban government fell in 2001, a robust media industry has emerged in Afghanistan, including many female journalists.
Forotan's personal RedLine video has been viewed nearly 12,000 times on Facebook. She is planning visits to all 34 Afghan provinces to expand her campaign.
"I thought that we were at a more sensitive and historic situation than any other time in the past and this sensitive and historic situation needs historic deeds," she said.
Supporters recorded short smartphone videos of themselves declaring their own "red lines", including a female lawyer citing her work defending women's rights.
"We emphasize that we won't go back," Forotan said, referring to the Taliban era. Meanwhile Hussaini, who still lives in Iran, is already planning two more Afghan street concerts, one in Bamiyan province and another in Kabul. "I see a good future in Afghanistan and am hopeful that street concerts will become more common here," she said.
https://www.thejakartapost.com/life/2019/04/05/women-singers-test-limits-signal-afghanistans-changing-times.html
--------
Afghan singer fears Taliban return will curb women's rights
April 6, 2019
Zahra Elham, the first female winner of the popular Afghan singing show 'Afghan Star, is a prominent symbol of how women have managed to rebuild their lives and identities, following the brutal Taliban rule between 1996 and 2001.
But the 18-year-old, who won the contest in March, worries that if the Taliban makes a comeback in Afghanistan against a backdrop of ongoing peace talks, it will compromise the hard-won freedom of women in the country, who were oppressed and stripped of their basic rights under the Taliban regime, reports Efe news.
She says that the Afghani women should stand united against any assaults on their freedom.
"I am definitely worried of a Taliban come back. They never accepted shows like the 'Afghan Star', particularly the participation of women and girls," Elham said.
The Taliban completely banned music during their rule and forbade the participation of women in all social activities.
"I stood against all odds and broke all social and cultural barriers to show people that girls can win if they decide to. I am sure we (women) can also overcome the problem of a Taliban comeback."
Elham competed in the show, that started airing in 2005 a few years after the end of the Taliban rule in the country, and is the first female contestant in 14 years to win the title of the most popular televised singing competition in the country.
She says she went through some of the most difficult days of her life to win the title and continues to receive threats to stop her singing.
According to the teenager, nobody expected her to win, when she announced her decision to take part and travelled to Kabul from Quetta in Pakistan, where she has been living with her family for the past 16 years as a refugee.
The family fled their village in Malistan, in the war-torn southern Ghazni province, when she was only two.
Among hundreds of contestants, only a few of them female, she made it to the top 12 and finally won the title in March.
"I can't express the feeling I had that day... But my win was not just mine; it was for all Afghan girls, who have not been allowed to show their talent and skills due to social and cultural restrictions and threats from the conservative part of the society," the singer said.
Conservative Afghans have always condemned the 'Afghan Star' show as un-Islamic and an effort to mislead the young generation of the country.
Which is why, while the title brought Elham fame and recognition, it also exposed her to threats to her safety and security, both online and offline.
"A mullah (cleric) has already in a video speech issued my death warrant. He threatened I should be stoned to death," she said.
Another man urged her to stop singing and "go and become a housewife, polish shoes, cook potatoes".
During the competition, the police foiled an attempt by a taxi driver to kidnap her.
"It was one of the most terrible days of my life as the incident happened when the competition was underway," she adds.
But her life is not just threats and hatred. There are some moments she cherishes, too.
"There are my fans, who congratulate me and take selfies with me when they spot me in the city. That gives me hope that our society is changing, that there is some tolerance and respect for women among our people."
Elham says she inherited her love for music from her father when she was a child.
"My first inspiration was my father, who plays the flute. He learnt it when he was a shepherd back in our home village in Ghazni years back."
She is now hoping to record three songs, one of them about her mother, but paucity of money is holding her back.
"The other day I visited a composer. He asked for $2,000 only for composing, so a whole song will cost me up to $7,000, an amount completely unaffordable for me," she says, adding that unlike previous seasons of the 'Afghan Star', this year there was no cash prize for the winner.
The young singer is now hoping to make a career in professional singing.
https://www.business-standard.com/article/news-ians/afghan-singer-fears-taliban-return-will-curb-women-s-rights-119040600133_1.html
--------
URL: https://www.newageislam.com/islam-women-feminism/muslim-soldier-sue-army-after/d/118248
New Age Islam, Islam Online, Islamic Website, African Muslim News, Arab World News, South Asia News, Indian Muslim News, World Muslim News, Women in Islam, Islamic Feminism, Arab Women, Women In Arab, Islamophobia in America, Muslim Women in West, Islam Women and Feminism