New Age Islam News Bureau
1 May 2016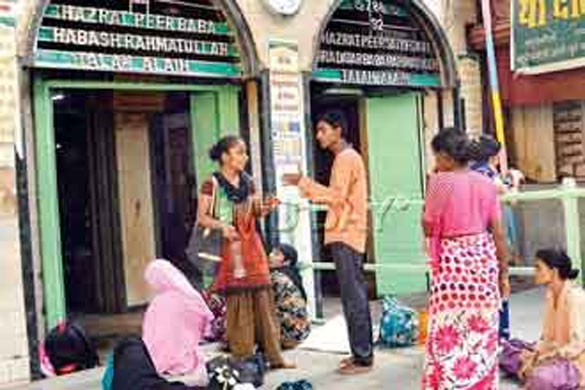 Photo: Reay Road's Mira Datar Dargah is said to be the baithak of Hazrat Sayid Ali Mira Datar, whose dargah at Unnava in Gujarat is far more famous. Devotees often come and spend the day here, getting food from the benevolent.
----------
• Iran's New Parliament Has More Women than Clerics
• Deobandi Islamic Clerics Dismisses Desai's Campaign
• USA: Shiite, Sunni Muslim Women Gather to Find What's Common, Not Different
• UAE Women Rising In Positions Of Power And Influence
• Why Pak Is Convulsing Over a Woman's Account Of Her Sex Life
• It's Just Lunch? Not For These Strong Muslim Women
• Police Investigate Alleged 'Hate Crime' Against Muslim Woman outside DC Starbucks
Compiled by New Age Islam News Bureau
URL: https://newageislam.com/islam-women-feminism/muslim-places-worship-mumbai-with/d/107161
-----------
Muslim Places of Worship in Mumbai with a Direct Connect To Women
01-May-2016
While Haji Ali simmers over equal praying rights, women quietly nurture their alliance with other Dargahs, some tailored to rid their woes
A surprise greets you when you walk up a steep, not-very-wide flight of stairs to the Ma Haji Ali Dargah. Across a carpeted terrace is the entry to the Dargah, through which both men and women can enter.
This is the mausoleum of a woman very dear to Khwaja Haji Ali, whose famed and now controversial tomb sits across the sea from this one on Worli Seaface. The caretaker Zahir Shail says some legends say it belongs to his mother, others believe it is his sister. He isn't sure which and asks us to "check the Internet".
What Shail does share is that, unlike the more famous Dargah, this one is an equal space shared by men and women. Inside, there are no barricades that prevent either gender from touching the mazhar.
"It's a woman's mazhar so there's no question of not allowing women," says Shail. Built in 1908 as a token of devotion by Haji Ismail Hasham, whose family-owned Sir Yusuf Mohammed Trust now runs it, sees approximately 250 devotees every day, which rises to 500 during Thursdays, Fridays and Sundays.
At Haji Ali, the average daily rush is an estimated 10,000 to 15,000 thousand, which doubles during Thursdays, Fridays and Sundays. The numbers, are in fact, one of the reasons that Haji Ali trustees have used to support the restriction of women in the sanctum sanctorum, now a subject of raging debate.
On Thursday, rights activist Trupti Desai of the Bhumata Brigade tried to enter the Dargah after successfully campaigning for entry of women to the Shani Shingnapur temple in Maharashtra last month. But the chaos between pro and anti groups foiled her attempt to enter.
In 2011, Haji Ali's trustees restricted women's entry into the sanctum sanctorum — a move which was challenged in the Bombay High Court. Historical rights to graves The trustees had earlier told the court that entry of women in close proximity to the grave of a male Muslim saint is considered a grievous sin in Islam.
It's a claim that Dr Zeenat Shaukat Ali, former professor of Islamic Studies at St Xavier's College and currently Director of the Wisdom Foundation (a global secular, democratic peace initiative), says, is misguided. The Quran mentions the Prophet's daughter Fatema as visiting her granduncle's grave once a week, says Shaukat Ali. The Prophet's grave too, adds Ali, was built in his home which he shared with his wife Ayesha. "So, during her life, Ayesha was living next to the grave."
In fact, in other parts of the world, certain mosques too are open to women, says Delhi-based writer Sadia Dehlvi, who is author of the 2012 title, The Sufi Courtyard: Dargahs of Delhi. "It is not mandatory for women to go to the mosque and thank God for that — will they run their homes or run to the mosque?" Most mosques outside India, she adds, have separate chambers for women to pray and a separate entrance too. In the subcontinent, it hasn't been a tradition, but there is no bar against women.
A sisterhood of strangers
Elsewhere in Mumbai, when one asks about Dargahs frequented by women besides Ma Haji Ani — where a stand stacked with bangles represents prayers for marriage and children — among the first names to be shared is the Mira Datar Dargah.
In a crowded lane at Reay Road, lined with dhoop and dhaga sellers, the over 300-year-old Dargah is a legend unto itself with stories of faith healing. It's more of a baithak and doesn't have a grave, and in many senses is a 'branch' of the more famed Hazrat Sayid Ali Mira Datar Dargah at Unnava in Gujarat.
Dehlvi's words come true here. She says that within Islamic society, Dargahs hold a unique position as they have developed as a participatory space for men, women and children across all faiths and classes. Mosques, meant strictly for prayer, are not places one can sit around in.
As you enter the Dargah, there is a division of spaces for men and women to sit. We sit down to speak to the women and within minutes, a sisterhood builds.
Shaheen Qureshi, a regular for 35 years, guides us to Anusuya Siddhu Malusare, who estimates her age to be 80. She started coming to the Dargah, famed for the daily loban and nagada which help the affected get rid of evil spirits, to cure her of the pain in her limbs.
Visits to doctors, she insists, don't help. "The tests don't show anything," pitches in Radha, a young Dombivli resident sitting near us. She suffered from regular bouts of unconsciousness which, she says, remained undiagnosed for most of her life. Believing that it was the work of an evil spirit, Radha started coming to the Dargah and felt better after regular Hazri (when in the presence of the baba, the evil spirit is made to appear). Mira Datar Baba whose Dargah it is, chime in the three women, "daant ke neeche se shaitan ko chabaate hain".
Here, as in Haji Ali, women are not allowed into the sanctum sanctorum. The rest of the Dargah is open to all. But, ask anyone and they will say it is women who are affected more.
Family that takes care
Sayyed Saleem Rizvi, the current caretaker of the Hussain Tekri Imamwada, near Vakola Masjid, proffers a reason: "Often, the spirits affect the house, which women have a direct connect with. Also, women are likely to come in the presence of the Lord more easily than men, who may have to go to work."
As we sit on a Thursday morning in front of the imamwada at Rizvi's home, a woman standing next to us is in a state of trance. "Nahin sataaoonga… itni taaqat naahin hai," she utters on repeat, obviously taking on the male gender. Rizvi is unfazed. "There's nothing to be scared of. This is God's place. No harm will come to those who bear goodwill," he says.
His family has been living in the house since before Independence. "We have had the imamwada — essentially a private praying space — forever. However, it was not always open to public. Our family would visit the Hussain tekri at Ratlam in Madhya Pradesh on an annual visit. Once, during loban there, it came to our mind that we should open it to everyone," he says. That was around 30 years ago. Miracles started occurring almost immediately.
Ramesh Patel, a Vakola resident, who also pitches in with the caretaking of the imamwada, says when he came here the first time, three cloves ejected out of his foot; the sign of an evil presence. The woman in trance beats her head on the floor and sometimes, stops to slaps herself. She doesn't mind us interrupting her routine when we ask her name. "Reena," she smiles. Many women, tired from the hajiri, sit or sprawl in the open area outside the home. "They leave by night. The family needs some time off, after all," says Patel.
Common restrictions
Here, like elsewhere, it's advised that women stay away during their menstruation cycle. But the restriction, says Ali, is not only for women. "Islam lays great stress on hygiene. So, anytime there's any emission from the body, you are required to clean yourself and then go for prayers." Both Dehlvi and Ali stress that there are certain spaces where women are allowed and men aren't. One example is the Khwaja Qutub Dargah in Delhi.
Here, in the inside chamber, women are not allowed. However, inside the complex lies a smaller Dargah of Khwaja Qutbuddin Bakhtiar Kaki's wife and wet nurse, called the Dai Sahiba Dargah, where men are not allowed. Gender politics is not restricted to only women, it seems. Equality might be an aim for both Desai and Haji Ali Trustees.
mid-day.com/articles/right-to-pray-mid-day-tours-muslim-places-of-worship-in-mumbai-with-a-direct-connect-to-women/17185183
---------
Iran's new parliament has more women than clerics
01-May-2016
TEHRAN: Iran's new parliament will have more women than clerics when its members are sworn in this month, a first in the Islamic republic and a sign of the country's evolving politics.
Official results Saturday showed that reformist and moderate politicians allied with President Hassan Rouhani won a big victory in second round parliamentary elections.
The outcome saw them outnumber their conservative rivals -- many hardliners lost seats -- for the first time since 2004 and capped a remarkable comeback for reformists after years of isolation.
After the second round of elections a record 17 women will become lawmakers in the 290-seat parliament -- one more than the number of clerics, which has hit an all time low.
In the first parliament that followed the Islamic revolution in 1979 there were 164 clerics elected.
Some of the country's most prominent politicians are clerics and have previously been lawmakers including Rouhani who was an MP between 1980 and 2000.
Two earlier presidents, Ayatollah Akbar Hashemi Rafsanjani and Mohammad Khatami, are also past members of parliament.
However clerical numbers have steadily fallen since 1980 with 153 elected in the second parliament, 85 in the third, 67 in the fourth and 52 in the fifth.
The outgoing legislature had only 27 men of the cloth. Of the 16 who will enter parliament next month 13 have conservative political leanings and three are reformists.
Although the 17 women, nearly all reformists, elected represent only nine percent of the total it is a high for the Islamic republic and almost double the nine conservative women in the outgoing chamber. The previous high for female MPs was 14.
Results show there will be 133 reformists in the new parliament, 13 shy of a majority but more than the conservatives' 125 MPs. The remaining seats went to independents and minorities.
The second ballot on Friday was needed because no candidate won the minimum 25 percent required during the first round of voting on February 26.
dawn.com/news/1255639/irans-new-parliament-has-more-women-than-clerics
-------
Deobandi Islamic clerics dismisses Desai's campaign
Sunday, 01 May 2016
Deobandi Islamic clerics have dismissed the campaign by the Tripti Desai for entry in the Haji Ali Dargah as `cheap publicity stunt'. The clerics said entry of women in Dargah is not in their interest and could have serious consequences for them. The clerics said the entry of women in Dargah is `Biddat' and against the tenets of Islam and visit by male is also forbidden if unislamic rituals like `Chadar, Kawwali and Tabaruk' are practised there.
Earlier in February this year the Islamic seminary Darul-Uloom Deoband came to the defence of two Muslim women from Rajasthan — Afroz Begum and Jahan Ara — who became Qazis (judges), who, in Islamic legal jurisprudence, has the authority to function as the head of informal arbitration centres to sort out disputes related to personal laws as well as other matters. Deoband's support for the two women came after conservative religious clerics in Rajasthan protested against the two women being awarded the certificate of "Qaziat" by a Islamic training Centre in Mumbai.
Bhumata brigade founder Tripti Desai is leading the campaign to allow entry of women into places of worship. She is protesting to gain entry of women in Haji Ali Dargah.
Deobandi clerics said women have not been allowed in graveyards or in the Dargah since the time of Prophet Mohammed. The prohibition is in apparently in place to save women from harassment and from being teased by miscreants. Women were not allowed at places where many men are present and activities like Qawwali are held because it leads to harassment.
Maulana Mufti Yade Ilahi Kasmi, head of the Abna-e- Darul Uloom said `` some people in the World are rasing the demand for the freedom to the goats and sheep's so that they could easily shoot the animal. It's the divine ordain that the women should stay in Purdah and they have been forbidden even from going to graveyard''. Maulana said `` even if under pressure of agitation, women should not go to Dargah until there is some specific reason''.
Arabic scholar and head of Al Koran foundation Maulana Nadimul Wazdi said ``Tripti Desai is spearheading this campaign only to gain overnight publicity. Biddit (deviation from Islamic practices) is being openly practised in places like Haji Ali Dargah in Mumbai. Islam has given all the rights to the women and they should lead their life within the confines of the Islamic laws''.
Maulana Tariq kasmi, head of Jamia Hussania `` Islam has directed the women to stay is Purdah which is for their own security and their privacy could be breached if they visit graveyard and Dargah, so it's strictly forbidden in Islam''. He added 11 even the male muslims should also not visit the Dargahn and mazaar where ``Chaddar' and flowers are offered on the grave and later the flowers are distributed among the devotees as Tabarruk or Prasad in Hindi , this is against the basic tenets of Islam''
dailypioneer.com/state-editions/lucknow/clerics-dismisses-desais-campaign.html
-------
USA: Shiite, Sunni Muslim women gather to find what's common, not different
May 1, 2016
"We don't want to live in a polarized world," Jafri said. "And we don't want to live in isolation. We want to know each other."
AhlulBayt News Agency - Iram Jafri's older brother was 39 when he was killed as he left his office in Pakistan in 2001.
Raza Jafri, she said, was targeted by terrorists because he was a prominent surgeon who also was a Shiite Muslim. He left behind a wife and three young sons.
"He was someone that everyone looked up to. He was very loving, very nurturing. He would guide me," said his sister, a pediatrician who lives in Galena, Delaware County. "He was an icon in a lot of ways for the family and for the community."
As a Shiite, Jafri doesn't blame Sunni Muslims. She blames extremists.
Though a theological disagreement between the Shiite and Sunni denominations is viewed as the cause of conflict in many parts of the Muslim world, Jafri said it has never been an issue for her or the Muslim women — both Shiite and Sunni — she calls friends.
"The divide is not there in our hearts," she said.
Jafri, 47, is one of a handful of Shiite Muslim women who recently began fostering friendships with Sunni Muslim women from the Columbus branch of the Turkish American Society of Ohio.
The Shias worship at the Ahlul-Bayt Society of Columbus, about a half-mile from the TASO office on Dublin-Granville Road west of Worthington, but they only recently met, linking up through Worthington Interfaith Neighbors. They gathered on Monday at the home of the group's co-founder Barbara McVicker, a member of St. John's Episcopal Church in Worthington.
"We don't want to live in a polarized world," Jafri said. "And we don't want to live in isolation. We want to know each other."
Extreme voices are often heard in the media, but these women live lives of moderation, said TASO member Gulcin Ozer, 40, of Worthington.
"As moderate people, we want to get together, and as we get together we see our commonalities are much more than our differences. So those are the things we want to highlight in this kind of gathering," said Ozer, a biomedical informatics researcher at Ohio State University's Wexner Medical Center.
A hope is that the women's friendships can encourage similar bonds in their communities, said Nimet Alpay of TASO.
"Women are the true community builders, and they are family builders, they are relationship builders," said Alpay, 42, of Worthington. "I really value the togetherness of this group, women coming together, trying to reach out to each other and trying to learn from each other, and just being together and setting an example to others."
But, the women say, there are hurdles in the effort to encourage other Muslims to mingle with groups that are different from themselves. Many speak English as a second language, lack the confidence or knowledge to reach out or simply stick to the comfort zone of people who share the same cultural background.
TASO's women's group has branched out, holding conversation events and cooking classes. Recently, it hosted an interfaith gathering that allowed participants to try the Turkish art of Ebru. Alpay said such efforts take dedication to community outreach, volunteers and fundraising.
She first learned of Shiite Muslims at a small Islamic center she attended as a doctoral student at Michigan State University 20 years ago.
"That was the first time I noticed the diversity in my own faith," said Alpay, a mathematics and statistics faculty member at Franklin University who is Sunni. "It was so beautiful. People came from different countries, from different backgrounds. ... They worshipped in the same way, in front of the same God, Allah. That was so empowering for me."
Saba Hashim, 38, of Powell, is an Iraqi-born Shiite who grew up in the United Kingdom and has spent about 16 years in the United States, where she is studying to become a certified public accountant. She wasn't aware of the Sunni-Shiite split until the Iraq War.
"It didn't even occur to me that a Sunni brother or sister would be different," she said.
Regardless of denomination, these Muslim women also find commonality in their disgust of Islamophobic rhetoric in the media and their loathing of extremists.
Ayser Hamoudi of Dublin, a Shiite and retired physician, noted that many Muslims are among the victims of the brutal ISIS militant group.
"These people know no religion. There's no way you can believe in a creator and do what they do," Hashim added. "No religion teaches hatred toward any of your brothers or countrymen or humans, and Islam is very much about brotherhood of humanity."
She said several members of her extended family have been killed in Iraq by suicide bombers.
"So we hate them just as much as the next person."
en.abna24.com/service/america/archive/2016/05/01/751232/story.html
---------
UAE women rising in positions of power and influence
Filed on May 1, 2016
Women in the UAE are influencing cultural and economical advancements for their country.
More and more UAE women are finding seats at the table. From government cabinets and multinational boardrooms to mentoring and funding associations and CEOs of their own startups, women in the UAE are influencing cultural and economical advancements for their country.
The uae is a leader in the Middle East in terms of closing the gender gap in business and government. Maryam Mohammed Al-Rumathi, Chairwoman of the Emirates Business Women Council, reports that women now occupy seven out of 40 seats on the National Union Council; businesswomen account for 15 per cent of board seats for UAE chambers of commerce and industry; and women-owned businesses contribute 10 per cent of the total value of the private sector in the UAE.
Managing Director of Al Gurg Group Raja Easa Al Gurg is a potent example of women rising in power and influence. Ranked second in Forbes list of most powerful Arab women in the business category, Raja Al Gurg also holds a place on Forbes most powerful women in the world list for 2015.
Chief executive of Al Jaber Group Fatima Al Jaber and CEO of GE Gulf Dalya Al Muthanna also make Forbes most powerful Arab women list in the business category. In government, Shaikha Lubna Al Qasimi, Minister for International Cooperation & Development, and Maryam Mohammed Al Roumi, Minister of Social Affairs, are recognised for their contributions in advancing the UAE.
Moving women into the private and public sectors is essential for the UAE to realise its aspirations to become a major player in the global economy as a diverse and innovative contender.
As director of the International Money Fund Christine Lagarde points out: the gender gap in the Middle East and North Africa (Mena) region's labour force is almost triple the average of that in other developing regions. If this gap had been reduced to just double the average in the past decade, Gulf countries could have seen $1 trillion in output or annual gains of six percent of the GDP.
Global management consultants A.T. Kearney report that reducing the gender gap by just 25 per cent can add 100 million women to the labour force by 2025 and increase the size of the OECD economy by 12 per cent by 2030.
While the UAE is a leader in the region in terms of women entering the workforce, with a 63 per cent increase, the ratio of women to men in senior positions in the Gulf countries remains one of the lowest in the world, an average of just nine per cent in GCC countries compared to 35 per cent in the Americas, 29 per cent in Africa and 21 per cent in Europe. Across the world in 2014, 17 per cent of Fortune 500 board seats were held by women. In GCC countries during the same year, women-held board seats ranged from 0.01 per cent to 1.7 per cent.
Emirati women constitute 76.8 per cent of those enrolled in UAE universities, far surpassing the educational levels of men in the region, but education levels haven't translated into a commensurate rise of their numbers into positions of power and influence.
The government is keen to support women in the workforce, their place on boards and their ability to start their own businesses with initiatives like compulsory quotas for board membership and startup funding. Yet Emirati women only own two and a half percent of small and medium enterprises in the country.
(To be concluded)
The writer is business startup strategist and founder of Wealth Dynamics Unlimiteg. Views expressed are his own and do not reflect the newspaper's policy.
Kanan Naheta's passion for art, fashion and jewellery turned her boutique into a thriving business within a year.
Kanan, a graduate in apparel and fashion design from a reputed university in Mumbai and trained under the leading fashion gurus in India with international acclaim, opened Gehna Jewellery Boutique along with her husband Pranit Naheta in February 2015 in Dubai.
Gehna's outlet at Gold and Diamond Park showcases a gleaming tradition of Rajasthani and Mughal jewellery, brought forth by years of study and unmatched craftsmanship.
Pranit's family business Jaipur Jewels has the legacy of seven generations of jewellery makers, and is a well-reputed name in India's jewellery industry.
Kanan and Pranit took it upon their shoulders to take forward the bequest of his forefathers.
"Since 2013 we have been participating in exhibitions throughout the region to distinguish how the market would response to our brand," Kanan said.
She said that launching a retail business internationally was a family dream.
"With Dubai being known as the 'city of gold' and its spectacular development in all spheres, encouraged us to move here," Kanan said.
She realised a gap in the market for high quality hand-crafted Indian artisanal jewellery that charms a wider audience.
"Most of the stores offer a commercial outsourced variety of artisanal polki meenakari jewellery hence we wanted to give the region a flavour of true heirlooms and finely crafted pieces from our ateliers in Jaipur," she said.
"Our jewellery combines the 21st century woman with a bit of vintage glamour. Having seven generations of expertise in precious stones, pearls, diamonds, and artisanal jadau jewellery has also built our credibility and gives us an advantage in this market," Kanan said.
The family is well-known for their craftsmanship and have created some of the most exquisite pieces of jewellery for the Patiala royals back in the days.
"Today at our Jaipur atelier we have the descendants of the same craftsmen who worked with my husband's forefathers," she said.
"Our parent company 'Jaipur Jewels' has a legacy of over 150 years. It was important for us to live up to the family legacy," Kanan said.
Within one year Gehna has developed a loyal client base within the GCC, Africa and Pakistan, through direct communication and consultancy.
"Making a name in the market which is dominated by big players was not easy. We realised that the best way to build our brand is to focus on how to communicate the right brand proposition that fills the gaps," Kanan said.
"We have developed a unique tone of voice, and implemented an aggressive marketing strategy by advertising in the right publications, as well as adapting our range of products to suit the lifestyle needs of the Middle East," she added.
She said that, as an entrepreneur, managing the workload is a tough task.
"We wear many hats, Pranit is a GIA gemmologist and jewellery designer, and I have more of a fashion background, and gained extensive experience by learning from the best in the industry such as Wendell Rodrigues, Hemant Trivedi, and Neeta Lulla. Together we make the perfect business pair, and handle all aspects of the business ourselves," she said.
Kanan noted it's very important to develop the right tone of voice and think about how to effectively communicate the brand values.
Kanan personally handles all marketing aspects for her brand.
"For us it started with our retail shop, our complete interior is conceptualised by ourselves in an effort to make our boutique merchant more successful. We have thought about every single detail from the display areas to the tabletops, sofa cushions, and paintings on the walls. Everything in our boutique speaks of handcrafted elements since it resonates with the ethos of the brand," she concluded.
- riaz@khaleejtimes.com
khaleejtimes.com/business/local/uae-women-rising-in-positions-of-power-and-influence
---------
Why Pak Is Convulsing Over a Woman's Account Of Her Sex Life
May 1, 2016 Moni Mohsin
Earlier this week, a young Pakistani woman wrote a candid piece online about her premarital sex life in Islamabad. Alleging that Pakistanis watch more porn privately than any other nation in the world (she didn't quote her sources) while publicly maintaining a façade of piety, she took them to task for being a bunch of sexually repressed hypocrites. She didn't just dole it out; she was pretty forthright about herself. She listed the number of partners she'd had (a dozen by the age of 19) and described the location of her trysts (cars, expensive hotel rooms, and once her boyfriend's father's office which had an attached bedroom – your surprise is not unmerited).
But she didn't have a great time because of all the secrecy, lies and subterfuge involved. And the fact that her partners were an unadventurous, boring lot.
She had the gumption to write all this under her own name: Zahra Haider. Miss Haider currently lives in Canada where she is dating non-judgmental, non-Pakistani men and having, by her own account, a fulfilling experience.
Meanwhile in her home country, the proverbial s*** has hit the fan. Her compatriots — most of them men, I must add — have spewed their fury, outrage and disgust in a stream of abusive tweets. Admittedly a few have also maintained that her private life is her own business. I won't go into what some have threatened to do to her but suffice it to say she has been denounced for all manner of sins. She's a liar. She's a slut. She's brought shame to her family.
Shame to her name. Shame to the nation. (Funny how any number of factual reports of child abuse, gang rapes and honour killings don't bring the nation into disrepute but one woman's personal views on sex between consenting adults disgrace us all.) No doubt it's only a matter of time before Miss Haider is also accused of being a traitor. Obviously she's been put up to it for some vast but undisclosed sum by the enemies of our nation to 'show us in bad light'. Obviously she should promptly pack her bags and shove off to the decadent, immoral West where she so clearly belongs. Were she not already there.
By far the weirdest accusation being hurled at her comes from a fervent supporter of Imran Khan's opposition party, PTI. In a truly bizarre stretch of the imagination, this particular rant holds PML-N,
Stealth of nation: Zahra Haider's real crime is that she's been candid about her love life and worse, found her Pakistani lovers wanting
Stealth of nation: Zahra Haider's real crime is that she's been candid about her love life and worse, found her Pakistani lovers wanting the ruling party, responsible for the shame heaped upon the nation by Miss Haider's shocking disclosures. Why? Because she was once the class fellow of Maryam Nawaz, the Prime Minister's daughter. Yes, go figure.
Quite clearly, Miss Haider has become a lightning rod for all sorts of ugly prejudices, insecurities and anxieties. It is worth stressing that what she says in her article is hardly revelatory. We all know that there's plenty of pre- and extra-marital sex around, and has been forever. That we like to deny its existence for reasons of honour or propriety is no secret either. In providing her own evidence, Ms Haider has made clear the disconnect there. All she's asked for, really, is more openness and honesty.
I can see why her demand has discomfited many. She's asking for a fundamental change in societal attitude, one that goes against millennia of custom and tradition. When that change involves women, men go ballistic. If any evidence were needed simply consider the bitter opposition to the Punjab's protection bill for women. But I suspect Miss Haider's real crime is that she's made so bold as to talk of her love life openly and worse, found her Pakistani lovers wanting.
The depressing fact is that men the world over resent outspoken, confident women. The Guardian newspaper recently ran a survey in Britain investigating online abuse experienced by its writers and discovered that female columnists, particularly non-white female columnists, were subjected to much greater, much nastier trolling than their male counterparts. Had Miss Haider's article been penned by a man, I'm convinced it would not have generated half as much controversy as it has. But because she's a woman, and a desi woman at that, she must be put in her place. Misogyny is rampant everywhere but online it is out of control.
Though it pains me to admit it, I'm not surprised by the viciousness. For that matter, Ms Haider couldn't have lived in Pakistan for 19 years and not known that. But she wrote it any way. So kudos to her.
blogs.timesofindia.indiatimes.com/just-a-mint/why-pak-is-convulsing-over-a-womans-account-of-her-sex-life/
---------
It's just lunch? Not for these strong Muslim women
By Monica Rhor
April 30, 2016 Updated: April 30, 2016 11:54pm
From left, Afshan Jilani and Safra Khan celebrate the birthday of Fatima Sultan, standing, along with Bibi Khan, Saira Jilani and Lily Nasar during their regular Friday lunch meeting in Houston.
Their laughter reverberated over the clatter of cups and silverware, drifting past the lunch-hour cacophony of La Madeleine.
The women were gathered round a rustic wooden table, nursing oversized blue cups of cappuccino and tall glasses of iced tea. They greeted each other all at once, words colliding and clashing, like schoolgirls at a cafeteria table.
It had been a few weeks since their last get-together, and there was much territory to cover.
As always, their conversation would dart like quicksilver from one topic to another. Career women and community activists, outspoken and irreverent, rooted to Houston and proud of their roots, they refute stereotypes simply by being themselves.
Lately, in the wake of terrorist attacks in Paris and San Bernadino, Calif., and election-year rhetoric vilifying Muslims, their talk has turned time and again to those stereotypes, to frustration with media tropes of oppressed women veiled from head to toe in black, to the pain caused by the hostile stares of strangers, to the sorrow of seeing their children made to feel unwelcome in their own country.
But first things first.
Someone threw out a question inspired by Saira Jilani's latest Netflix obsession: Who are you on "Friends"?
"A little of all of them," said Bibi Khan, who wore a peach hijab and ready smile.
"I ask my kids: 'Who am I?' and they say, without hesitation, Monica," confided Jilani. "I look at her and go: That is so me, so OCD about everything."
"Let's talk about who Lily is," Khan proposed with a mischievous gleam.
They considered Lily Nasar, whose blond hair is pulled back into a bun.
"Rachel?" suggested Jilani.
"Phoebe?" countered Khan's daughter, Safra.
"She's a cross between Rachel and Phoebe," decreed Khan, as they all broke into laughter and leaped to the next subject.
Don't get the wrong idea. They are not just ladies who lunch. This is a group to be reckoned with.
Jilani, on sabbatical after 20 years in the corporate world, serves as program director for Speak Up, a group that raises awareness of social issues affecting Muslims. Bibi Khan, a former credit analyst and social services chair for the Islamic Society of Greater Houston, is planning a citywide unity rally, one of the 19 projects-and-counting on her plate. Her daughter, a University of Houston business major, is helping set up a mental health center, where Fatima Sultan, a licensed therapist, will provide counseling. Along with Nasar and Afshan Jilani, Saira's mother, they all recently staged an interfaith meet-and-greet between Muslims and Christians.
Like many Houstonians, their journey to this city began in other places. Saira Jilani, who was born in London and moved around the world for her engineer father's work, came to Houston as a high school sophomore. Khan, the daughter of Guyanese immigrants of Indian descent, grew up in Queens, N.Y., and moved to Houston in 1996, looking for a family-friendly city for her children. Sultan was 6 months old when her Pakistani parents left Chicago and settled in Kingwood.
Bibi Khan and her daughter choose to wear head scarves; the others do not. Nasar, married to a Pakistani man, is a convert; the rest were born into Muslim families.
About two years ago, they were brought together through community service with the An-Anisa Hope Center, a domestic violence prevention agency founded by Bibi Khan and named after the fourth chapter of the Quran, an Arabic word that - fittingly - means "The Women."
As An-Nisa gradually expanded to include mental health services, ESL classes and a food pantry, the relationships deepened, and the women began taking on leadership roles in the community. Among their recent projects: an all-day conference exploring issues of identity among American Muslims, a cultural sensitivity workshop for Houston Police Department cadets, and a "human library" event where non-Muslims could learn more about Islam.
The friends now spend "a lot of time together," joked Nasar. "A. Lot. Of. Time."
Their lunches, usually on Fridays before or after services at the mosque, are a time to debrief, decompress and digress. At this recent gathering, they were still buzzing from the success of the interfaith event at Cypress Creek Christian Church and Community Center.
"Everyone across the board has the same issues. Everyone goes through difficult times," Khan said, recalling a conversation with a Christian woman who had dealt with problems with her children.
"As humans, we are all the same," said Afshan Jilani. "We are one."
That, her daughter said, was the point of a recent workshop in Kingwood, called "A Day in the Life of a Muslim."
There, she talked about her husband's contributions to housework.
"He makes me breakfast in the morning. He makes the bed, and he does laundry," Saira Jilani recounted. "I'm saying this and two ladies in the audience. Their faces  …"
"Their jaws dropped," finished Khan.
"They were like … What?" Jilani continued. "A Muslim man? A Pakistani man? Does this for you?
Sultan jumped in.
"If people knew how many Muslim men are so scared of their wives …," she paused, her words interrupted by peals of laughter. "They would be like, what's going on here? They have no idea."
"Just think of our friends," mused Khan. "Women are more aggressive than their husbands. Let's be real."
"Maybe it's us," Sultan teased. "Have you thought about that?"
Another round of raucous laughter.
"Want to hear something funny?" asked Khan, now on a roll. "So, one day I decided I was going to vacuum."
"One day! After 20 years!" her daughter chided with affection. "I was shocked."
Khan tossed her a side-eye glance.
"Let me go back to my vacuum story," she said, undeterred by the teasing. "I decided one day, because my husband usually vacuums and all that, today I'm going to do it."
Sultan could not resist.
"Do you know how to turn it on is the question?"
Khan did not miss a beat. "That was the problem."
"I knew it!" Sultan cheered, as the table dissolved into chuckles. "I knew it!"
About 45 minutes in, after the talk swerved from housework and husbands to the appeal of the HPD cadets and men in uniforms, the tone got political. And personal.
The day before, news broke that the militant Islamic group known as ISIS had called for the assassination of Clear Lake leader Waleed Basyouni. It was a reminder of the threat posed by extremists - and the shadow cast on all Muslims.
"These people who are in ISIS hate those of us who are American Muslims, who are good Muslims," noted Afshan Jilani.
"Not just American, everyone," said Sultan. "It's horrible."
"They are not Muslim," added Khan. "The moment they have an intention of doing something like this, we don't consider them Muslim anymore."
"I feel like terror has no name, no face, no nothing," agreed Jilani. "They are doing it for their own agenda, a political agenda, and they make everyone else with that religion look bad."
"No one on this planet hates this group more than our people," Sultan said, emotion spilling from her voice.
As the threat from ISIS and radical terrorists has grown, so has the hostility toward Muslims in this country. A hostility, the women lamented, felt most acutely by their children.
Sultan described her 12-year-old daughter cringing at news reports of violent incidents, praying "Please don't let it be a Muslim."
Jilani described her 8-year-old son coming to her after a speech by Donald Trump and asking, "Do we have to pack up?
"You were born here," she told him. "You are so American to the core. We have a picture of you in a cowboy hat."
"The kids get the rough part of this. They are the ones out there," Sultan sighed. "They're in school. They have to hear names. They have to hear teachers say crazy things that are not close to the truth."
She glanced around the table, at the women nodding, at the friends who in a few moments would encircle a fruit tart decorated with three candles and sing her "Happy Birthday."
"This is my circle. No one is going to say anything like that to me."
houstonchronicle.com/news/houston-texas/houston/article/It-s-just-lunch-Not-for-these-strong-Muslim-women-7386011.php
---------
Police Investigate Alleged 'Hate Crime' Against Muslim Woman Outside DC Starbucks
04/30/2016
Donald Trump protester. (Credit: a katz/Shutterstock) Donald Trump protester. (Credit: a katz/Shutterstock)
Police are investigating a reported hate crime against a Muslim woman in a Washington, D.C., Starbucks, by a woman who allegedly said she supports Donald Trump for president.
The suspect verbally insulted the woman because of her faith, shouting threatening jeers at the woman before leaving the location, reports WUSA9. The suspect then returned, throwing a unidentified liquid all over the women, before fleeing the scene.
The suspect shouted at the women, who reportedly wore a hijab, "You are a worthless piece of trash and a Muslim," and "We don't want you here in this country," according to the police report reviewed by WUSA9.
The Council on American-Islamic Relations (CAIR) asked the Metropolitan Police Department (MPD) Friday to preserve any surveillance video which may have captured the incident. The Muslim woman came to CAIR and said the suspect, a white woman with blond-hair called her "f**king Muslim trash," and allegedly said she hopes when Trump gets elected he sends, "all of you terrorist Muslims out of this country," according to CAIR's press release.
CAIR says the police arrived on scene but told the woman they could not do anything because of the Trump supporter's right to free speech. The suspect left, as did the MPD officer, but that is when the woman allegedly returned, throwing liquid over the Muslim woman, who called police again, reports WJLA.
The encounter happened in the 5500 block of Connecticut Avenue NW on April 21, at roughly 10:30 p.m. The suspect reportedly fled the Starbucks along Connecticut Avenue NW heading south. The MPD said they are conducting a hate crime investigation.
Ibrahim Hooper, communications director for CAIR said in the statement, "We urge investigators to seek out and preserve any surveillance video relevant to the case and to bring hate crime charge enhancements once the alleged perpetrator has been apprehended."
dailycaller.com/2016/04/30/police-investigate-alleged-hate-crime-against-muslim-woman-outside-dc-starbucks/
URL: https://newageislam.com/islam-women-feminism/muslim-places-worship-mumbai-with/d/107161
New Age Islam, Islam Online, Islamic Website, African Muslim News, Arab World News, South Asia News, Indian Muslim News, World Muslim News, Womens in Islam, Islamic Feminism, Arab Women, Womens In Arab, Islamphobia in America, Muslim Women in West, Islam Women and Feminism