New Age Islam News Bureau
3 Apr 2016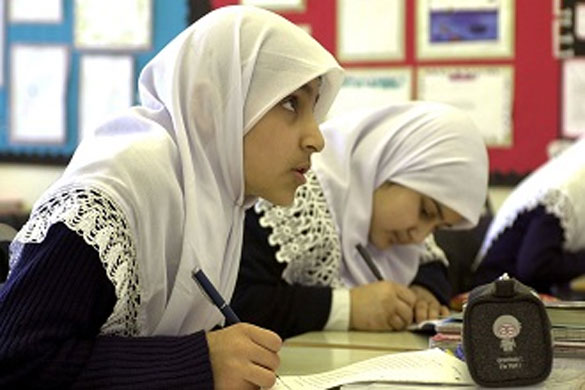 Photo: The academic success of Muslim schoolgirls marks a 'cultural transformation', say researchers. Photograph: Jamie Jones/REX/Shutterstock
-----------
• Young Muslim Women Take Lead over Men in Race for Degrees in UK Universities
• Gang Rape Case Settled For 1,200 Kgs of Wheat in Pakistan
• Pakistan Religious Parties Plan to Table 'Women Bill' In NA, Senate
• Kurdish Women on the Front Lines against ISIS
• Towards Safe Migration of Lankan Women
• PM Modi Hails All-Women IT Centre As 'Glory of Saudi Arabia'
Compiled by New Age Islam News Bureau
URL: https://newageislam.com/islam-women-feminism/muslim-participation-lowest-among-women/d/106853
------------
Muslim Participation Lowest Among Women in Workforce in India: Report
April 3, 2016
Pune-based Dr Razia Patel, who was part of a high-level committee that recommended a complete ban on oral, unilateral and triple talaq (divorce), said that a bleak picture persists on the overall status of Muslim women in the country. Among all communities studied, Muslim women are the lowest on labour force participation rate.
Dr Patel was part of the 14-member committee chaired by Dr Pam Rajput, which was appointed by the Ministry of Women and Child Development in 2013 to assess the status of women in the country since 1989 and to evolve policy interventions. The committee, which completed its surveys in 2015, paid special attention to women in marginalised communities. Razia Patel, who is an associate professor at the Indian Institute of Education in Pune, told The Indian Express that the central committee had strongly recommended a complete ban on oral, unilateral and triple talaq. "We have also recommended that justice through courts should be accessible and fast so that women are not required to go to unconstitutional arbitration courts," she said.
"It makes wives extremely vulnerable and insecure regarding their marital status," said Patel. These women experience high levels of violence at home and outside, she said. When it comes to customary practices and personal laws, Adivasi, Muslim and Dalit women are far from being equal to their male counterparts and these laws and practices are actively used against them by their community, she added. Muslim women lag behind in almost all key socio-economic indicators of development. They are economically and educationally marginalised, have low social status, experience domestic abuse as well as "communal violence spurred by identity politics", Patel said.
The report states that Dalit, Muslim, Adivasi, elderly and differently-abled women have low levels of educational attainment. While Adivasi and Dalit women have a relatively large workforce share, Muslim women have the lowest participation rates.
According to the 2011 census, the total number of women workers in India is 149.8 million. Though most women make an economic contribution in one form or another, much of it is not documented. Only 25 per cent of women are working, less that half per cent are seeking work and the total women labour force is a mere 25.3 per cent, and there has been a steady decline in the last decade.
Only 15.5 per cent of urban women are in the workforce compared to 30 per cent in rural India. Within this, the share of Muslim women in the workforce is less than 10 per cent, Patel said. According to the 66th round of the National Sample Survey Organisation (2009-10), out of every 1,000 women in the labour force, only 101 were Muslims.
Appoint Commission on Muslim women
We have strongly recommended the appointment of a Commission on Muslim Women that will map and suggest actions on issues related to them, Patel said. There is a need to review and update current schemes for Muslim women to assess their effectiveness in terms of social indicators apart from introducing special schemes in collaboration with the Mahila Bank and nationalised banks for availability of credit to them, the committee has said. Improve accessibility to girls schools, hostels and implement RTE provisions in letter, review the curriculum to add the latest vocational life skills and make it more friendly and flexible for "migratory communities like Muslims" and monitor healthcare schemes for Muslim women's participation, are some of the recommendations of the committee. Programmes such as Mahila Samkhya be introduced in areas with high Muslim concentration so that they can develop leadership and socialisation skills among women, apart from the speedy rehabilitation of women in relief camps, have also been recommended.
indianexpress.com/article/cities/pune/muslim-participation-lowest-among-women-in-workforce-report/99/print/
-----------
Young Muslim Women Take Lead over Men in Race for Degrees in UK Universities
Saturday 2 April 2016
Muslim girls are academically outperforming their male counterparts for the first time, researchers have found.
A "new and remarkable" cultural shift will be revealed this week to the British Sociological Association annual conference, when it hears evidence that more young Muslim women have been gaining degrees at British universities than Muslim men, even though they have been under-represented for decades.
Younger generation of British Muslims showing shift in attitude to gender roles
Dr Nabil Khattab of the Doha Institute for Graduate Studies in Qatar, and Professor Tariq Modood of the University of Bristol, found that 25% of Muslim women aged 21-24 now have degrees, compared with 22% of Muslim men of the same age.
After studying the GCSE results of 6,600 candidates in England, the academics also found that average scores in school tests at ages 11 and 14 were higher for Muslim girls than boys.
"Muslim girls seem to be outperforming Muslim boys, especially in relation to their school performance," said Khattab. "This is very interesting, given what we know about the gender gap among Muslims, not only in education but also in the labour market. While older men are more likely to be degree-holders than their female counterparts, younger women are more likely to have degrees."
Khattab explained that the trend for girls to outperform boys had been well observed among non-Muslim students for some time. "On the other hand, it is very new among Muslims," he said. "Nevertheless, that it has happened at all is remarkable when one considers that in 1990 and 1991 Pakistani and Bangladeshi men admitted to higher education outnumbered their female peers by more than two to one and more than three to one respectively."
Khattab suggested that one possible reason for Gang Rape Case Settled For the change might be the fact that Muslim women, particularly those planning to become economically active after leaving school, appreciated that they were "likely to face labour market penalties due to widespread stereotypes and racism, perhaps more so than Muslim men".
He explained: "This can reinforce their determination to obtain higher education qualifications not only as good as those of the majority group but even better, in order to resist the anticipated labour market discrimination preventing them from achieving a desired job."
The findings suggest that the younger generation of Muslim women in Britain mark a distinct break with the past. "It is possible that Muslim women who are British-born, unlike their mothers, have undergone a cultural transformation," Khattab said.
The academics also suggested that the reason why Muslims overall were less likely to have degrees and attend an elite university than non-Muslim pupils was due to them falling behind at primary school. However, when the data was adjusted to remove the initial deficit, they found that in secondary schools Muslim pupils performed as well as non-Muslim students, and were catching up with them by the time they took GCSEs. "Once we take the previous school performance into account, Muslim students seem to be performing as well as the majority group, even in attending elite Russell Group universities," they claim.
"At the GCSE level, there was a clear advantage among Muslims. This finding is striking, given the well-established educational disadvantages among some Muslim ethnic groups, most notably Pakistanis and Bangladeshis."
theguardian.com/education/2016/apr/02/muslim-women-men-degrees-jobs-market-british-universities
-----------
Gangrape case settled for 1,200kg of wheat in Pakistan
PTI | Apr 3, 2016
ISLAMABAD: A gangrape case in Pakistan has been allegedly settled for 1,200kg of wheat by local elders, highlighting the grave travesty of justice in the country.
A police case was registered few days ago on complaint of the 14-year-old victim's brother in Ghulam Nabi Shah area of Umerkot district in Sindh province.
The victim's father said that following the registration of the case and the subsequent arrest of the main suspect, he was forced to settle the dispute through the 'jirga', a traditional system of settling disputes through tribal elders, and was promised a compensation of 1,200kg of wheat.
The jirga was held under the supervision of a local influential landlord, he added.
He said that after he refused to accept the compensation he was forced to leave the area with his family. He alleged that since local media highlighted the issue, local elites have been threatening him to keep mum and withdraw the case, the report said.
Deputy inspector general of police Mirpurkhas division Javed Alam Odho, took notice of the incident and directed Senior superintendent of police Umerkot to investigate the case and provide protection to the victim's family.
The station house officer of Ghulam Nabi Shah, Arif Bhatti, said local police had registered the case on March 21 under Sections 376 (2) and 34 of the Pakistan Penal Code, and has already arrested the prime suspect.
The official, however, said he was not aware of any jirga being held in the jurisdiction of his police station.
Pakistani courts have declared jirga system as illegal and their decisions as non-binding but such jirgas are held in remote areas.
timesofindia.indiatimes.com/world/pakistan/Gangrape-case-settled-for-1200kg-of-wheat-in-Pakistan/articleshow/51666865.cms
-----------
Pakistan Religious Parties Plan to Table 'Women Bill' In NA, Senate
Apr 3, 2016
LAHORE: Religious parties have decided to propose a new women protection bill in the National Assembly and Senate in place of the Punjab Protection of Women Against Violence Act, 2015.
A 24-member steering committee, headed by Jamaat-i-Islami leader Liaquat Baloch, has authored the bill.
"The new bill proposes protection and empowerment of women of Pakistan in light of Islam, doing away with the Punjab government's women protection law which is un-Islamic," a Jamaat-i-Islami leader told Dawn after the Nizam-i-Mustafa Conference attended by 35 religious parties at Mansoora here on Saturday.
He said the steering committee had thoroughly examined the Punjab Protection of Women Against Violence Act, 2015, and reached the conclusion that no amendment was required (to this law). "The government has only one option — repeal this law and pass the one proposed by the steering committee (of the religious parties) which will completely be based on Islamic tenets," he said.
The conference declared that there would be no compromise on the Punjab's women protection law and vowed to continue struggle for enforcement of the Nizam-i-Mustafa in the country.
According to a joint declaration adopted in the conference, the Punjab women protection law is an "attack on the Muslim family system".
"This moot condemns maltreatment of women, but the government cannot be permitted to disturb unity of the (Muslim) family system through the new law passed by the Punjab Assembly," it said.
According to the declaration, the Punjab women protection law had been "totally rejected" by women across the board and Ulema of all schools of thought. "The Council of Islamic Ideology has also termed it against Shariah. Under the constitution, any law violating Shariah has no legal status."
Last month, religious parties had warned the government to withdraw the women protection act or face 1977-like movement. The government, however, paid no attention to the warning and asked them to propose amendments.
Then the clerics decided to form a steering committee to come out with a new draft law. "If the government creates hurdles in the passage of our bill we will certainly be on the roads," the JI leader said.
The declaration reiterated the stance of all clerics of all schools of thought on blasphemy laws. "Any amendment to the blasphemy laws is unacceptable. Execution of Mumtaz Qadri is a judicial murder."
The conference demanded release of those arrested in Islamabad (in connection with a protest against the execution of Qadri) and withdrawal of cases against them.
The declaration denounced efforts of a section of the media to ridicule Islamic rites, causing provocation and promoting Indian culture, besides obscenity and nudity, and stressed that this tendency must be checked effectively.
It condemned the recent suicide bombing in Lahore, besides all forms of terrorism and extremism, and observed that these were aimed at weakening the country's ideology, solidarity and economy.
It said Indian intelligence agency's terrorist network was aimed at weakening Pakistan and demanded that RAW agents or spies taken into custody must be handed down exemplary punishment under the law.
The declaration condemned the government's propaganda against seminaries and linking them with terrorism.
It criticised efforts aimed at pushing the Kashmir issue on back burner and the government's silence over victimisation of the pro-Pakistan people in Bangladesh.
Jamaat-i-Islami Emir Sirajul Haq, chief of his own faction of Jamiat Ulema-i-Islam Maulana Fazlur Rehman, Jamaatud Dawa chief Hafiz Mohammad Saeed, JUI-S head Maulana Samiul Haq, Dr Abul Khair Zubair, Prof Sajid Meer, Hafiz Aakif Saeed, Allama Sajid Naqvi, Pir Ejaz Hashmi, Pir Abdur Rahim Naqshbandi and Pir Haroon Gilani were prominent among those who attended the conference.
Published in Dawn, April 3rd, 2016
dawn.com/news/1249672/religious-parties-plan-to-table-women-bill-in-na-senate
-----------
Kurdish women on the front lines against ISIS
Apr 3, 2016
One of the most fascinating aspects of my recent trip to Rojava, the Kurdish region of Syria, was its leaders' focus on empowering women.
The failure of many Mideast nations to let women play a major role in politics and society has severely impeded their development. At the farthest extremes, Saudi Arabia treats women like mentally impaired children while the Islamic State enslaves them.
But in Rojava and North Syria — a self-proclaimed federal state that is recognized by no other country — things are very different. There, the non-Arab but Sunni Muslim Kurds have taken the opposite tack.
Women hold many of the highest posts in Rojava and women's rights are taught in school. Moreover, the Syrian Kurds have a female force, the YPJ, that fights fiercely alongside male soldiers against Islamic State jihadis in Syria and even inside neighboring Iraq.
Would that this approach could be copied throughout the region, although that is hard to imagine. One can only hope that Rojava's philosophy of female liberation can survive in this Kurdish enclave that is threatened from all sides.
Drive through Kurdish towns in Rojava and you will see banners on the main streets that display the faces of fallen Kurdish soldiers, including many women. Sometimes the female portraits are clustered around the mustached visage of Abdullah Ocalan, the ideological guru of the Turkish PKK rebel group. Ocalan's thinking has also shaped the outlook of the dominant political party in Rojava, the Democratic Union, or PYD.
Whatever one thinks of Ocalan, now imprisoned in Turkey, his philosophy insists that freedom for women is the essential component of political freedom. "We call this the 'revolution of women,'" says Hediye Yusuf, co-president of the Kurdish federal state.
I interviewed her in an ornate, former state-owned oil company headquarters in the northern Syrian town of Rumaylan. A petite women with uncovered hair, and wearing a black pants suit, white sweater, and no makeup, Yusuf exuded authority. "If you want to see the revolution of Rojava, women are the majority of the structure," she said.
Yusuf became politicized in the 1990s when Ocalan was living in exile in Syria. "It was his ideas on women that attracted me the most," she says. "I believe in the freedom of women. We were interested in how PKK women were fighting in the mountains. We began thinking, 'Why couldn't we do things like this?'"
Yusuf spent more than two years in prison under the Assad regime. Released after the Arab spring revolt started, she helped draft a new law on women's rights that abolishes polygamy, which is facing resistance from Arabs in Rojava. She also helped establish the YPJ.
At a YPJ office in Qamishli, Rojava's largest city, I got a glimpse of the impact that the force has had on many young Kurdish women.
Deniz Sipan, an attractive 21-year-old, dressed in fatigues, was an architecture student in Damascus when the Arab Spring began in 2011. Her nervous family decided to relocate (temporarily, they thought) to their ancestral home in the Kurdish region of Syria.
Sipan soon realized that in this more conservative area her options were limited to teaching — and getting married.
"Kurdish women when they get married, they give up life," she said, making a face, and speaking in the excellent English she learned from watching old American movies. "I didn't like this idea."
So, despite her parents' misgivings, she joined the YPJ and became a front-line sniper.
"Female fighters have their own personality," she said proudly. "No one can control them and they are highly respected. It gives you the confidence to trust yourself more."
In the fierce battle to liberate the Yazidi areas of Sinjar, Iraq, which were seized by the Islamic State in 2014, she was initially assigned to the rear guard.
"I couldn't believe it at first that I could do it," she says. Eventually, she was on the front lines in 2015.
"I am fighting for society to understand that they have to let women do what they want," she says. "I fight for my country and for women. I saw many women fight better than any man."
"The men like to fight alongside women," she added, "because the women smile and laugh when they are fighting. It keeps morale up."
Sipan says she intends to stay in the military and is eager to go back to the front. If women just return home, she says, the situation will revert to male control "over everything."
It is hard not to wonder what will happen to her and her colleagues. On her cellphone are pictures of military mates who look like U.S. college students on spring break, the women with long flowing hair, the men with happy smiles. But Kemal, a 24-year old commander who trained her as a sniper, was blown up by a suicide bomber, and her best friend, Penaber, 19, a fellow female sniper, was shot dead at the front.
Can the example of Kurdish women fighters inspire Arab women elsewhere in the Middle East? Unlikely, but one would like to think so.
"If women are free, society is free," says Sipan's older colleague Nujin Roj, who returned from Turkish exile to join in the struggle.
The Rojavan Kurds are trying to promote this message in a resistant Middle East.
Trudy Rubin is a columnist and editorial-board member for the Philadelphia Inquirer. Readers may write to her at: Philadelphia Inquirer, P.O. Box 8263, Philadelphia, Pa. 19101, or by email at trubin@phillynews.com.
eagletribune.com/opinion/column-kurdish-women-on-the-front-lines-against-isis/article_a1f284b3-b7d2-516a-be58-d2a0b7dd7b7f.html
Towards Safe Migration of Lankan Women
03rd April 2016
BATTICALOA (EAST SRI LANKA): Migration of Sri Lankan women to the Middle East as housemaids is now accepted as "unavoidable" in view of poverty. It is also seen as a "must" to earn much needed foreign exchange to import even daily necessities.
However, there is increasing anxiety to ensure that the migration is safe, and that they are not cheated, harassed or tortured by the agents or employers.
"We are opposed to the demand that migration as housemaids be stopped. Such a demand takes away a woman's right to choose her occupation or to go abroad. What we are campaigning for is safe migration. This is especially because women migrants are uneducated, poor and ill informed," said Rahini Baskaran, Batticaloa District Coordinator of "Inayam", an NGO working for Safe Migration.
Lanka is unable to provide jobs and adequate earnings to its people, even as lifestyles are changing and peoples' aspirations are going up. According to the World Bank, 40 percent of the population lives on only LKR 250 per day. Food prices are high and there is a shortage of 500,000 houses. Education is de jure free, but not de facto. Migrating to send home earnings is the only way out. And women migrate substantially because they are more goal oriented than men.
"Although most migrants have no complaints and repeat migration is common, there are disturbing incidents which call for vigil," Rahini said.
Out of the 243 cases Inayam studied in 2013, there were 7 in which homicide was declared as suicide.In one case, a maid was killed within a month of her migration.A Muslim maid had come back with a broken limb. Another maid's womb was affected by the thrashing she received, Rahini said.
27 year old Najiba from Kathankudy (name changed) found that the "household" she was to work at, was a brothel. "I fled in nine days" she said.
The agents themselves sexually exploit women because they pay them to migrate, Rahini added.
"Inayam" works with the government to ensure that the maids go with proper documentation which clearly state the terms of the contract. It educates them on their rights and what they should do if illtreated.
"We need district level training centres. There should be one in Batticaloa district as it occupies the fourth place in migration of women," Rahini said.
Older returnees who had gone in the 1980s said there was little or no harassment then, unlike now.
"Arab men then were old fashioned and didn't even talk to us. We too kept our distance. But now both the Arab employer and the migrant maid are different and unsavory incidents occur," explained 70 year old Adeeba Umma of Maruthamunai.
newindianexpress.com/world/Towards-Safe-Migration-of-Lankan-Women/2016/04/03/article3361032.ece
-----------
PM Modi hails all-women IT centre as 'glory of Saudi Arabia'
PTI | Apr 3, 2016
RIYADH: Prime Minister Narendra Modi on Sunday interacted with Saudi women IT professionals at the first-of- its-kind all-women TCS training centre in the heart of the city here and invited them to come to India.
"For the world it is considered to be a main headline news that in Riyadh today I am meeting those IT professionals who I can say today represent the glory of Saudi Arabia," Modi said while interacting with Tata Consultancy Services (TCS) women professionals in Riyadh.
He spent around 40 minutes at the centre and even posed for selfies.
"All of you must come to India; I assure you a very warm reception. The atmosphere I am witnessing here today has the potential to give a strong message to the world," Modi said.
At the TCS Centre 1,000 women work in BPO Operations, 85% of whom are Saudi nationals.
"In this very competitive world today, if we are to progress then all forces have to progress together and have to move ahead and in it when I say forces, we are talking not only natural resources but also human resources. And in human resources human power plays a very important role, if the capacity of the woman are built and they are linked with the development process, then development of any country is speeded exponentially," the Prime Minister said.
"I would also like to heartily congratulate TCS that in India they have set up a training centre which trains young men and women, and those trained men and women, go out in the digital world and empower the entire world," he said.
Modi stressed that in the IT profession, India has made its place in the world.
#WATCH:Employees of Tata Consultancy Services (TCS) all women IT & ITES Centre in Riyadh take 'selfies' with PM Modihttps://t.co/48BgSvEShH
— ANI (@ANI_news) April 3, 2016
"I invite all of you to come together to India and you will see for yourself the impact you will make on Indians," he said.
"I have one suggestion, I have seen that in governance and for transparency, technology has a very big role to play and for me e-governance is easy, economic and effective governance. And I myself try my level best to update myself with technology and if you want any information in real time about India, me and the selfies that you took along with me today, and for all information, please download the Narendra Modi app," Modi said.
Riyadh: A TCS employee takes a selfie with PM Modi #ModiInSaudiArabia pic.twitter.com/b6n2m21ADj
— ANI (@ANI_news) April 3, 2016
TCS established the first all-women Business Process Services (BPS) centre in Riyadh in 2013.
The centre brings a unique business model to Saudi Arabia and serves as a rich training ground for building new capabilities, skills and careers for women in the country.
timesofindia.indiatimes.com/india/PM-Modi-hails-all-women-IT-centre-as-glory-of-Saudi-Arabia/articleshow/51669533.cms
URL: https://newageislam.com/islam-women-feminism/muslim-participation-lowest-among-women/d/106853
New Age Islam, Islam Online, Islamic Website, African Muslim News, Arab World News, South Asia News, Indian Muslim News, World Muslim News, Womens in Islam, Islamic Feminism, Arab Women, Womens In Arab, Islamphobia in America, Muslim Women in West, Islam Women and Feminism