New Age Islam News Bureau
03 October 2021
• A Muslim Woman Who Is Subjected To Abuse On A 'Daily Basis' And Almost Had Her Niqab Set On Fire In Most Islamophobic Place In London Said She Is Scared To Go Out
• Yes, Muslim Women Do Have A Sense Of Humour: Henry Jackson Society
• Supermodel Farida Khelfa Dismantles Prejudices Of Muslim Arab Women In Latest Documentary, From the Other Side of the Veil
• Glasgow's Ahmadiyya Muslim Community Seek To Educate On Women's Rights In Islam
• Fighting The Ridiculous Misconceptions Around Having A Stoma Bag As A Muslim Woman
• Five Things To Know About Philippine President Duterte's Daughter
Compiled by New Age Islam News Bureau
URL: https://www.newageislam.com/islam-women-feminism/islamophobic-london-muslim-woman/d/125497
--------
A Muslim Woman Who Is Subjected To Abuse On A 'Daily Basis' And Almost Had Her Niqab Set On Fire In Most Islamophobic Place In London Said She Is Scared To Go Out
By Matthew Dresch
2 OCT 2021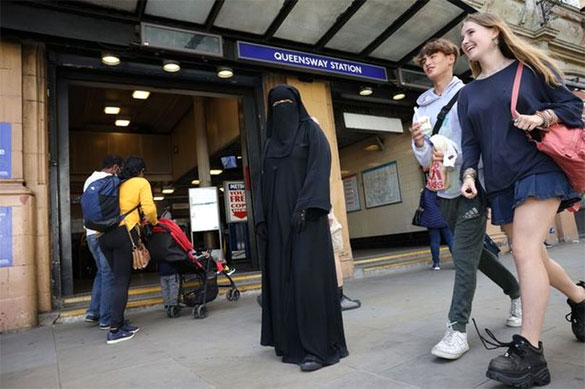 Souad has been called an 'ISIS bride' in public (Image: Daily Mirror)
-----
A Muslim woman who is subjected to abuse on a "daily basis" and almost had her Niqab set on fire by youths said she is scared to go out.
Souad Mohammed, 47, lives in the London borough of Westminster, which has the highest number of Islamophobic hate crimes in the capital.
The mum-of-three who is a community worker has previously been called an "ISIS bride" and "Osama Bin Laden's wife" while out in public.
Every day we'll send you a free email at around 12pm with 12 stories to keep you entertained, informed and uplifted. It's the perfect lunchtime read.
The MyLondon team tells London stories for Londoners. Our 45 journalists cover all the news you need - from City Hall to your local streets.
"When I got on the bus I received a text message. Someone called out from behind and said to the bus driver 'stop the bus she's going to detonate'.
"He was saying 'you are going to get blown up any time now' and told people I was Osama Bin Laden's wife. I had to get off the bus, the driver didn't do anything."
She has been a victim of racist and verbal abuse numerous times but says she has nowstopped reporting incidents to the police as they happen so often.
She was the first in her family to wear the religious garment, which she says gives her spiritual fulfilment and makes her feel less vulnerable to sexual harassment.
However, she detected a backlash against the veil, in particular after the 7/7 bombings in Edgware Road, Westminster, and other parts of London.
Source : My London
https://www.mylondon.news/news/west-london-news/muslim-mum-three-terrified-after-21745894
-----------
Yes, Muslim Women Do Have A Sense Of Humour: Henry Jackson Society
By 5Pillars (RMS)
03-10-2021
This week, Dr Rakib Ehsan, a research director at the think-tank the Henry Jackson Society (which many believe is deeply Islamophobic), initiated a Twitter pile-on against a visibly Muslim woman for a sarcastic tweet of hers which he mistakenly thought was serious.
Now anyone mildly familiar with mainstream Muslim discourse would understand that Ms Afzal was being sarcastic here, poking fun at those who criticise other Muslims for doing anything celebratory that isn't strictly Islamic.
While many mainstream Muslims are religiously observant, many also like to ridicule those Muslims who act holier-than-thou on social media, commonly known as the "haraam police."
To misunderstand something as basic as this, one would have to be very out of touch with British Muslims as whole. However, Mr Ehsan succeeded in doing precisely this. Quote tweeting Ms Afzal, he wrote:
Clearly Mr Ehsan failed to pick up on Ms Afzal's sarcasm and used this opportunity to trigger his own followers to instigate a Twitter pile-on against her.
Indeed, following this, Ms Afzal had to respond to several tweets from Mr Ehsan's followers explaining that her tweet was actually sarcasm. Ms Afzal also repeatedly requested that Mr Ehsan delete his tweet but he failed to respond.
Following this incident, several Twitter users – Muslim and non-Muslim alike – expressed their disapproval of Mr Ehsan's actions, including Miqdaad Versi of Muslim Council of Britain and the original tweeter who expressed her excitement for Christmas, Fatima Said.
Mr Ehsan then appeared to try to draw attention away from his outrageous tweet by engaging Mr Versi in a back and forth argument. However, he still failed to apologise, retract or even rationalise his tweet.
But it is the wording and context of Mr Ehsan's tweet that remains worrying. It betrays his inability to consider that a British Muslim woman might actually have a British sense of humour.
It seems to me that within everything he propagates about British Muslims is the underlying notion that we are not really British. Clearly, the idea that Ms Afzal might have been joking was not in Mr Ehsan's mind – too far-fetched an idea to even consider.
Most ironically, Mr Ehsan questioned Ms Afzal's ability to "cultivate stronger interfaith relations" in Britain based on her joke tweet, while he himself, through his own tweet, sought to perpetuate further division. Bizarrely, the HJS website states that "social cohesion" and "race relations" are his areas of expertise. It is very worrying indeed that this individual has consulted parliamentarians and policy makes on these matters.
Further, I believe it reveals his low regard for Muslims in general, that he would jump to the worst conclusion he could think of instead of practicing husn al dhan, i.e. having positive regard for others rather than being quick to accuse them of ill-intent. This is an Islamic value of which it seems he has yet to become acquainted with.
It is also difficult to ignore the jubilant tone of Mr Ehsan's tweet which began with "ladies and gentlemen" as though gleeful at the opportunity to expose a Muslim woman and someone who is also a supporter of the Labour party in one single tweet. Clearly in his mind this was a killing-two-birds-with-one-stone moment.
The Henry Jackson Society is a neoconservative pressure group which was paid over £80,000 by the Home Office to produce a report about Islamist terrorism. The right-wing William Shawcross was previously a director of HJS, only resigning after becoming chairman of the Charity Commission – an organisation which has been accused by many Muslim groups of singling out Muslim organisations to be investigated.
Earlier this year Shawcross was appointed by the government as the "Independent Reviewer of Prevent" – a counter terrorism strategy which many believe unfairly targets the Muslim community. Mr Ehsan – being a research fellow for HJS – gives us just a hint of the insidious nature of the Islamophobia industry and how it can affect public policy.
This was not simply a Twitter dispute – this was another example of the continued attacks on visible Muslim women in politics which seek to erase Muslim women from public life through intimidation and over-scrutinising their every word.
Ultimately, Ms Afzal and Ms Said are two outspoken Muslim female friends who were simply having some personal banter on Twitter. Mr Ehsan, unfortunately and rather creepily, decided to wade in to this space and display it to his many Islamophobic followers.
Such opportunism and glee in trying to catch out Muslim women is unsettling and also rather discouraging to Muslim women who may aspire to get involved in politics. Regardless of whether an apology or retraction is made, this has been a very revealing incident indeed.
Source : 5Pillarsuk.
https://5pillarsuk.com/2021/10/02/yeah-muslim-women-do-have-a-sense-of-humour/
---------
Supermodel Farida Khelfa Dismantles Prejudices Of Muslim Arab Women In Latest Documentary, From the Other Side of the Veil
Francesca Fearon
Oct 3, 2021
Tall and chic in that quintessentially Parisian way, Farida Khelfa is a model, muse, actress and documentary filmmaker.
She was a darling of the Parisian nightlife scene in the 1980s, forging lifelong friendships on the dance floor with designers Jean-Paul Gaultier, Christian Louboutin, Azzedine Alaia and photographer Jean-Paul Goude. Khelfa was eventually lured on to the catwalk, and was one of the first prominent Arab supermodels – decades before diversity became part of the fashion agenda.
She still occasionally models for her designer friends, most recently for Fendi's spring couture collection, but at 61, her interests now lie behind the camera rather than in front of it.
Farida Khelfa for an A&L story, Oct. 2013, on the Italian fashion designer Elsa Schiaparelli, who had her heyday in the 1930s and 1940s. For a Colin Randall storhy in A&L, Oct. 2013.
Over the past 10 years she has made documentaries about her famous friends, starting with Gaultier and later Louboutin. In 2012, she filmed Nicolas Sarkozy on his French presidential campaign trail with Francois Hollande, and released a documentary filmed in the aftermath of the Arab uprisings in Tunisia in 2011, shortly after the fall of president Zine El Abidine Ben Ali.
Her latest project is a thought-provoking film called De L'Autre Côté du Voile (From the Other Side of the Veil), which was released in July on Khelfa's YouTube channel.
Born in Lyon to Algerian parents, Khelfa ran away from her strict upbringing as a teenager, attracted by the bright lights of Paris. This background gives her some insight and understanding of Arab culture, and in her latest documentary, she uses this to offer a refreshing perspective on women living and working in the Middle East. Her aim is to dismantle the prejudices and misconceptions surrounding Muslim Arab women in the region.
"It's a very personal project," tells The National. "I wanted to let these women talk and to listen to them, because a lot of people speak for them, and you rarely hear them talk. For me it was fascinating to see their work and see what's changing."
The film features a series of interviews shot in Dubai, Saudi Arabia, Qatar and London, with women from across various creative sectors, including fashion designers and stylists, writers, artists, a chef, a film producer and the director of an NGO who runs infrastructure projects in low-income countries.
"I originally thought I would be making a fashion film," Khelfa says. She was inspired by a trip organised by Vogue Italia and luxury retailer Rubaiyat in 2016 to a Saudi Arabia talents competition in Jeddah, where she co-judged with Silvia Venturini Fendi and Alberta Ferretti. "I discovered all these young women and was surprised by the quality of their work and how well they knew fashion."
While in Jeddah, Khelfa was invited to Dubai's Fashion Forward, which sparked the idea of making a film on fashion in the region. However, in Dubai, she met not only designers but their friends, who were artists, chefs and writers, and realised there was scope to expand the brief and give all these women a platform. Her mission was to redress the dated and inaccurate way western media portrays women from the region.
Fashion was the starting point. The documentary explores the rich history of traditional garments, such as the abaya, through interviews with designers such as Dubai's Faiza Bouguessa, Wadha Al Hajri in Qatar and Reem Al Kanhal in Saudi Arabia.
Mariam bin Mahfouz, designer at Sotra and Haal Inc, who won a special award at the Saudi talents competition, suggests that abayas do not necessarily hide the wearer. "It is another play-off from fashion," she says. "It caters to modesty but isn't necessarily something that's not fun or stylish. It became a genre for fashion for us [designers]. It is very empowering … it is like wearing a superhero cape."
Khelfa went on to visit galleries and museums, and met creatives such as Saudi artist Manal Al Dowayan, who lives in London, and Ghada Al Rabea, who was the only one of her subjects who chose to appear in a niqab and abaya. Khelfa offered everyone the choice of how they dress during filming and recognised Al Rabea was making a statement by wearing hers.
20 x 10 x 23 cm eachat Home Ground exhibition at the Aga Khan Museum in Toronto (Photo by Miguel Veterano, Capital D Studio © Barjeel Art Foundation) NOTE: For Anna Seaman's feature in Arts & Life, July 2015
Wearing a niqab as an artist is a challenge, Al Rabea admits, because she is constantly asked how she can be an artist and veiled at the same time. "I knew I had to disassociate my appearance from my painting, so the audience is not influenced by my beautiful or disturbing appearance, and see only my painting," she says.
She remembers being asked by a Dutchman at one of her exhibitions about wearing the veil and she responded by asking him how he thought people perceived him? "I don't allow myself to judge you, so why do you judge me?" she said. Her message is to not judge on appearance, but for people to see beyond her abaya and consider what she thinks, desires and dreams of.
Khelfa describes Al Rabea as a charismatic hard-worker who creates paintings that are full of joy and light. "It was not the idea I had before of the Saudi woman, and so it was interesting for me to deconstruct the misconceptions in the West about Muslim women."
Fatma Al Remaihi, chief executive of the Doha Institute, appears in a powerful interview in Farida Khelfa's latest film. Getty Images
Khelfa removes herself from the conversation and gives her subjects the space to speak their truth. In another powerful interview, Fatma Al Remaihi, chief executive of the Doha Institute – a company that supports budding Arab filmmakers – highlights how 20 per cent of independent films in the Middle East are made by women, compared to only 9 per cent in the US. These women are not necessarily feminists or typical of their culture, but are strong and confident and striving for independence.
As Al Dowayan points out, Saudi women are depicted in one of two ways: the activist who ends up in jail or the veiled and oppressed victim. The women in the middle, working towards change within the system, are ignored.
It is rare to see a documentary with footage like this. Khelfa let the filming develop organically, with subjects introducing her to others. "It is always the best way," she says. "I had the same experience when I was filming in Tunisia after the revolution. If you plan too much in advance for a documentary it isn't good. You have to live in the moment."
She believes the openness of her subjects was encouraged by her personal experience as a filmmaker of Algerian heritage. "I don't come from the same background, but I come from a Muslim culture and that is probably why they felt comfortable with me."
De L'Autre Côté du Voile is being released at a time of tension in Khelfa's home country, following the French government's attempt to ban girls under the age of 18 from wearing the hijab in public. The bill, debated by parliament in April, drew condemnation from around the world and led to the viral #HandsOffMyHijab protests and fears of Islamophobia deepening in France.
Khelfa wants her documentary to be constructive. "I was very touched by these women; moved by the way they wanted to achieve things. It's worth listening to them and seeing past the veil and all the stereotypical opinions that obstruct our view of these women. I hope the documentary will open more eyes."
Source : The National News
https://www.thenationalnews.com/lifestyle/luxury/2021/10/03/supermodel-farida-khelfa-dismantles-prejudices-of-muslim-arab-women-in-latest-documentary/
-----------
Glasgow's Ahmadiyya Muslim Community Seek To Educate On Women's Rights In Islam
By Local Democracy
02-10-2021
Following the Taliban takeover in Afghanistan, there have been increasing reports over the change in status for women in accessing education or having a job.
While the barbaric and outdated restrictions are being enforced by the hard-line Taliban government however, they have led to conflicting views and some beliefs that women hold an inferior status, or that are not truly free, when practising Islam.
Now Glasgow's Ahmadiyya Muslim Community are looking to educate people and are hosting a unique online event on Sunday to discuss the misconceptions of women's rights in the Islamic religion.
The virtual event will be streamed live across Facebook and YouTube on October 3 at 6pm where viewers will be able to listen to talks and have their questions answered.
Spokesperson Ahmed Owusu-Konadu said: "One of the areas which is very much misunderstood in the public eye is the rights of women in Islam.
"The media don't tend to show this side of Islam, they report on the Taliban and other organisations who abuse women. People think that is what Islam teaches.
"The rule of the Taliban has become an issue because the women in the country are trying to move out, they have been stopped from achieving an education or working.
"We thought now is the right time to educate the public and let them know what the teachings of Islam are and show that the atrocities which are happening around the world by these so-called Islamic nations, are not associated with our religion."
Owusu-Konadu added: "When it comes to the spiritual aspect both men and women are equal in the eyes of God. Whatever station a man can reach a woman can reach as well and vice versa.
"However when it comes to the physical aspect the way the almighty God has made us is a bit different and we include that in our responsibilities with our families, in the community and within the religious sector.
"For instance men and women don't play together in football because the physical build up is different. When it comes to athletics, women wouldn't run with Usain Bolt because that is unfair.
"It comes down to the physical aspect of it. God has made man physically stronger and bigger which would mean we use that form of protection for the women.
"If you see a man abusing a woman, that is contrary to what his build is supposed to be used for. He is supposed to protect his wife and family."
Owusu-Konadu added: "People should come to this platform of education. Education is key. Education is power. We need to look at people in the right way rather than stereotyping them and understanding what they stand for.
"Because groups like the Taliban and Isis align themselves with Islam for their own selfish interests people mistake that for the Islam religion.
Source: News.Stv.Tv
https://news.stv.tv/west-central/citys-muslim-community-seek-to-educate-on-womens-rights-in-islam?top
-----------
Fighting the ridiculous misconceptions around having a stoma bag as a Muslim woman
Omma Ahmed
02 OCT 2021
"She won't ever get married."
"Which daughter is the sick one?"
"Do you know how stressful this has been for your mother?"
"Don't tell anyone about your bag or illness. They'll call you disabled."
I was unprepared for all of this when nine years ago, I went into hospital for a routine examination under anaesthetic to look for signs of inflammation in my stomach and five days later, woke up from emergency surgery with a stoma bag. A stoma (ostomy) is an opening on the wall of the abdomen that diverts the contents of the bowel out of the body. A bag fits around the stoma to collect the contents.
I had been suffering from symptoms such as blood in my stool, extreme weight loss, diarrhoea and excruciating cramps for almost a year as medication had no impact and my symptoms got progressively worse before I was diagnosed with Crohn's. Crohn's Disease is one of the two main forms of Inflammatory Bowel Disease (IBD). It causes inflammation of the digestive system and there is no cure. This means that it is ongoing and life-long, although you may have periods of good health (remission) as well as times when symptoms are more active (relapses or flare-ups).
Initially I felt relieved after my diagnosis. There was finally a name for what I had been going through and it wasn't cancer (yes I was guilty of Googling my symptoms!). After the diagnosis and as I learned more about my illness, anxiety and dread began to set in, knowing I would have to deal with this in some form for the rest of my life. Even 10 years on, this reality is hard to accept at times.
Although Crohn's can sometimes be managed with medication, in severe cases you may need surgery to remove part of your bowel and have a stoma created. Before being diagnosed with Crohn's, I had never even heard of a stoma. When a nurse first mentioned a stoma bag and where I would want it placed, I felt confused and blindsided. How long would I have a stoma? What would it look like? Would it smell? Would everyone be able to tell I had one? Would my clothes still fit me? As I was internally freaking out, my mum, who was standing next to me in the hospital, started crying. She imagined a huge bag hanging from my stomach, similar to a catheter bag and was worried about what that would mean for me.
Growing up in a Pakistani community means marriageability was always the hot topic of conversation at gatherings, whether here in London or back home.
So when I got my stoma bag at age 23, all talk of marriage seemed to skip past me. I would either have to endure pitying looks and faux concern about my health, or ignorance about ever having been sick. People outside of my family would assume that because I outwardly looked okay, I was now fine. They didn't seem to understand that a chronic illness meant I would never be cured.
I didn't mind not being considered for marriage because it was never an ambition or achievement for me, but it angered me that the reason was due to an illness I had no control over. Why was I seen as 'unmarriageable' because I didn't go to the toilet to take a shit? Why did having an illness mean that I was now unworthy of being valued as a partner for someone? Did a bag on my stomach really mean I was unlovable? If anything, it should have shown my resilience and an example of how capable I am of taking care of myself and still remaining positive about life.
I've had my stoma for nine years now, and because of my experience I decided to create an Instagram page and start a blog to help organise my thoughts and connect with people I can relate to. Not only has this made me feel self-acceptance, I've also had many people, especially other South Asian girls messaging me with dilemmas and questions about my stoma. I know I would have wanted to have these conversations when I was coming to terms with my own health condition.
I'm trying to use this digital space to dispel myths around the stoma. I write about how it doesn't affect the way I practice religion as the misconceptions are rife. For example, I have been asked what breaks your ablution when preparing for the five daily prayers or whether you can still fast during the month of Ramadan.
Naturally I have been asked about marriage and how to tell a future spouse about an illness or stoma. Since getting married during lockdown in 2020, I now have some experience in this area.
I've also been asked about sex and intimacy related issues such as how to purify yourself after sex and if you have to remove your stoma bag each time before washing. Answering these types of DMs always feels important as having a stoma can make you feel like an outcast, but it's important to normalise talking these questions through, especially about sex.
I want people to remember that just because they may have a health condition or are missing (part of) an organ, it doesn't make them less than anyone else. It's important to surround yourself with support even if it is in the form of an online community. It's so easy to feel like an outcast, but there is comfort in knowing you're not alone and you'll find people who will understand exactly what you are going through.
It's now been three years since I had further surgery to make my stoma permanent. Life with a chronic illness may be different to what I initially might have imagined, but what is normal anyway? Normality is subjective, so thrive in your new normal.
Source: Gal-Dem.Com
https://gal-dem.com/fighting-the-ridiculous-misconceptions-around-having-a-stoma-bag-as-a-muslim-woman/
-----------
Five things to know about Philippine President Duterte's daughter
By Karen Lema
October 3, 2021
MANILA, Oct 3 (Reuters) - Philippine President Rodrigo Duterte's surprise retirement from politics after his term ends next year has cleared the way for his daughter Sara Duterte-Carpio's presidential run.
Just as her father did, Duterte-Carpio, 43, trained as a lawyer before entering politics in 2007 when she was voted in as her father's vice mayor.
In 2010, she succeeded Duterte to become the first female mayor of Davao, a city of over 1.6 million people 1,000 km (600 miles) from the capital Manila, replacing her father who served as mayor for over two decades.
Her image is as down-to-Earth as that of her father in a country where tough plays well: She once punched a court official who challenged her; she rides big motorcycles; and her children are nicknamed Sharkie, Stingray and Stonefish.
Duterte-Carpio last month said she was not yet a candidate for higher office because she and her father had agreed only one of them would run for a national role next year.
Reflecting that statement, she filed on Saturday to run for Davao mayor for a third time. The same day, however, her father announced his retirement from politics and said his daughter would run for president, with his closest loyalist, Senator Christopher "Bong" Go as vice president. read more
In July, Duterte-Caprio launched a Facebook page with a video saying she wanted the public to get to know her, while "run, Sara, run" banners, posters and t-shirts have popped up across the archipelago of 110 million people.
Duterte-Carpio told Reuters earlier this year she had decided not to extend the political dynasty to the presidency. "I made a chart where I listed the whys and why-nots before I decided that I am not going to run," she said, adding she had not told her father the reason.
Political analysts said last-minute changes to the list of presidential candidates were possible, with the deadline for withdrawals and substitutions still more than a month a way.
They suspected father and daughter could be using the same tactic Duterte used in 2015 when he joined the presidential race at the eleventh-hour after repeatedly denying interest. read more
Still, former political science professor Temario Rivera said a Duterte-Carpio-Go tandem would be "weak" because Go does not have a political base that could help bring in votes.
Though she has never held national office, Duterte-Carpio is by far the most popular presidential prospect, showed successive opinion polls this year. read more
But other potential candidates cut into her lead in a poll of 2,400 people in September by Pulse Asia, with her support dropping to 20% from 28%.
Boxer Manny Pacquiao, who has made his presidential run official after retiring from boxing, rose one notch to fourth, with 12% support from 8% previously.
Another potential contender is the namesake son of late dictator Ferdinand Marcos, who was just behind Duterte-Carpio in the poll. Analysts said Marcos may even run alongside Duterte-Carpio, either as president or as her vice president.
Two others have declared their intention to run: Manila Mayor Francisco "Isko Moreno" Domagoso, a former actor, and Senator Panfilo Lacson, an ex-police chief - supporters of both expect them to file certificates of candidacy in coming days.
Vice President Leni Robredo, who was elected separately from Duterte in the last vote, is also expected to announce her decision to run for the presidency this week, her supporters have said. Like Pacquiao and Lacson, Robredo saw an increase in support in the latest Pulse Asia survey.
Analysts said it is crucial Duterte's successor is a loyalist, to insulate him from potential legal action at home or by the International Criminal Court over thousands of killings since 2016 during his war on drugs.
For Carlos Conde, Philippines researcher for New York-based Human Rights Watch, no one can protect Duterte better than Duterte-Carpio.
But Duterte-Carpio showed her independence three years ago when she united political factions to oust a presidential ally as lower house speaker.
She has not been so outspoken on the drugs war that has been a centrepiece of Duterte's administration, but has said prevention and rehabilitation should be part of drug policy, and that "law enforcement should be quick to the draw".
She has also not been as close to China as her father - whose close ties to Beijing rattled the traditional alliance with the United States and a domestic security establishment with close U.S. ties.
"We should be a bystander in the China versus U.S. issue," she told Reuters. "We should collect friends outside of the two, so that if one turns their back on us, we still have nine. And if both forget about us, we still have eight. And if eight leave us, we should stand alone."
Source: Reuters
https://www.reuters.com/world/asia-pacific/five-things-know-about-philippine-president-dutertes-daughter-2021-10-03/?rpc=401&
---------
URL: https://www.newageislam.com/islam-women-feminism/islamophobic-london-muslim-woman/d/125497
New Age Islam, Islam Online, Islamic Website, African Muslim News, Arab World News, South Asia News, Indian Muslim News, World Muslim News, Women in Islam, Islamic Feminism, Arab Women, Women In Arab, Islamophobia in America, Muslim Women in West, Islam Women and Feminism